This hearty Steak Soup recipe is chock-full of tasty ingredients, resulting in the most comforting dish! A combination of sirloin and ground chuck adds lots of tender protein, while the mixed veggies, beef broth, and seasoning fills out the rest of the soup.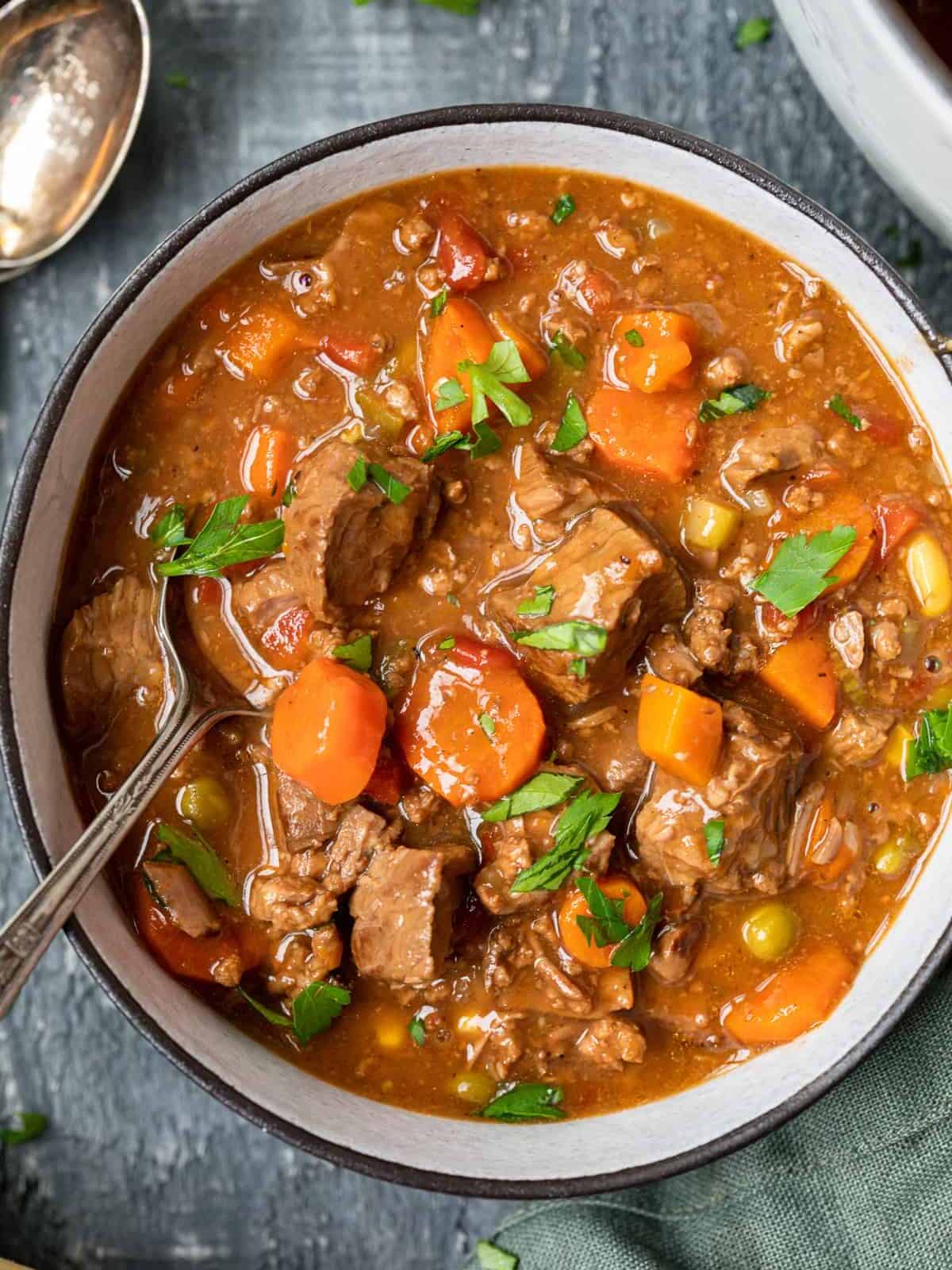 What's in this Steak Soup Recipe?
This is my mom's famous steak soup recipe, adapted from and inspired by the famous Plaza III steakhouse in Kansas City. It's a hearty mixture of veggies, sirloin, and lots of seasonings!
Vegetable Oil: Helps the vegetables cook without burning.
Mirepoix: A combination of carrots, celery, and onion that adds rich flavor to the base of this soup.
Unsalted Butter: Adds richness to the vegetables and combines with the flour to create a roux.
Garlic: Adds an earthy flavor and a pungent aroma.
Ground Chuck: A premium version of ground beef that adds luscious fat and flavor to this soup.
Sirloin: I like to use top sirloin; trim any excess fat and cut it into 2-inch pieces.
All-Purpose Flour: Combines with the unsalted butter to create a roux that helps thicken the soup.
Unsalted Beef Broth: Forms the base of this soup.
Water: Helps add volume to the soup without adding extra sodium.
Red Wine: Adds a rich depth of flavor to this soup.
Ac'cent Seasoning: Also known as MSG, this seasoning enhances the flavors of this soup. It's totally optional, though!
Beef Stock Concentrate: Adds rich beefy flavor to the soup.
Frozen Mixed Vegetables: An easy way to add extra nutrients to this soup. I like a mix with sweet peas, corn, carrots, and green beans.
Petite Diced Tomatoes: Add a touch of acidity and sweetness.
Black Pepper: Helps the flavors of this soup pop.
Pro Tip: If you prefer, you can swap out the red wine for more beef broth.
Variations on Kansas City Steak Soup
I think this soup is absolutely perfect as is, but feel free to change it up to suit your personal tastes. You can add whatever vegetables you like, such as diced peppers, edamame, broccoli, or cauliflower.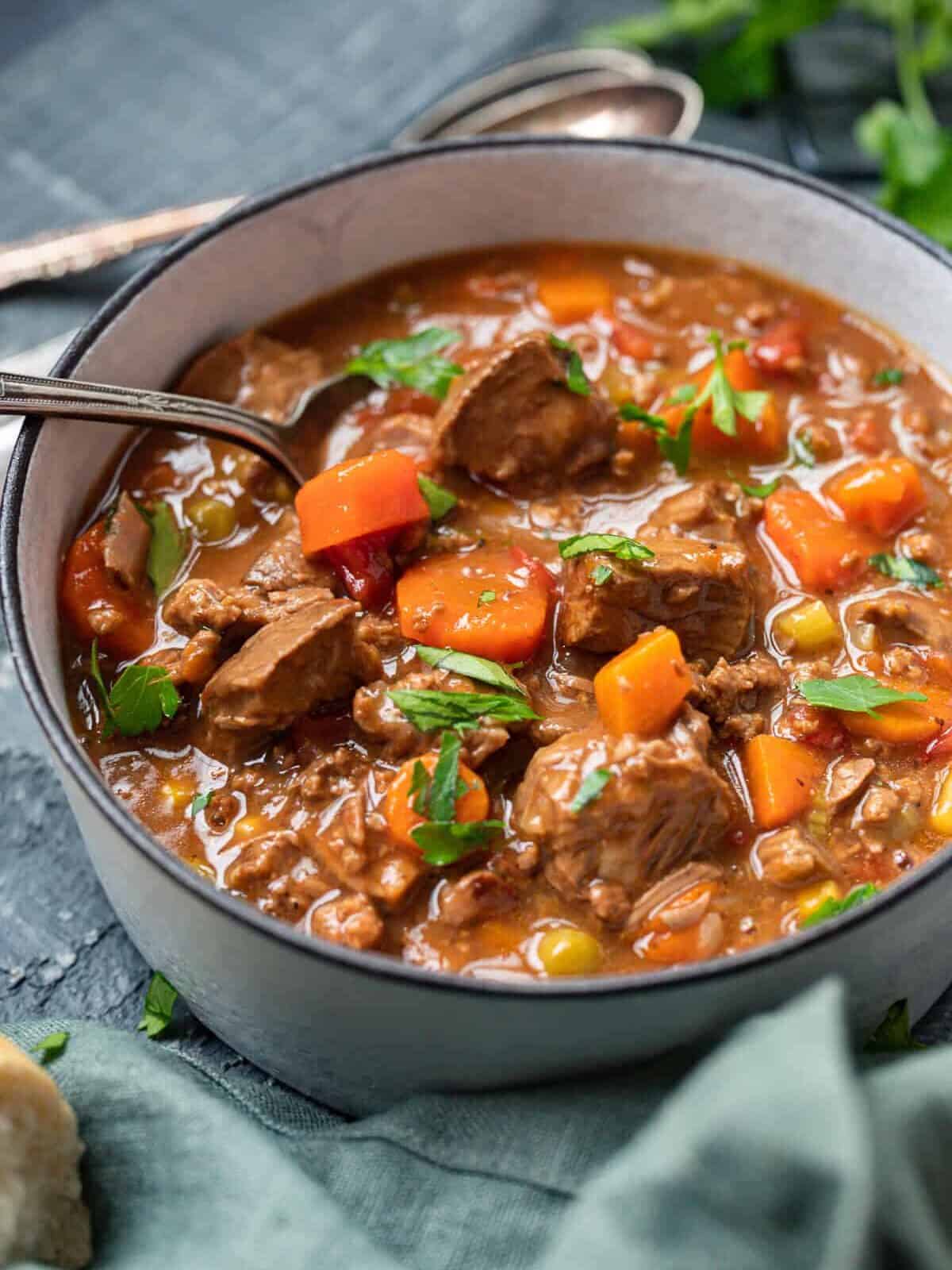 What type of beef makes the best soup?
I love to use a combination of ground chuck and sirloin steak. Chuck is incredibly flavorful, and sirloin is super tender!
Should you sear meat before making soup?
Yes! I like to get a nice bit of browning on my steak before adding it to the soup to add extra flavor.
Why is the beef in my soup tough?
If the sirloin is tough after cooking, you likely need to cook it for a bit longer to help it break down and become tender.
Is MSG safe to add to soup?
The Ac'cent seasoning, which is MSG, is perfectly safe to add to this soup. MSG is a great flavor enhancer when added in small amounts. However, you can leave it out if you prefer.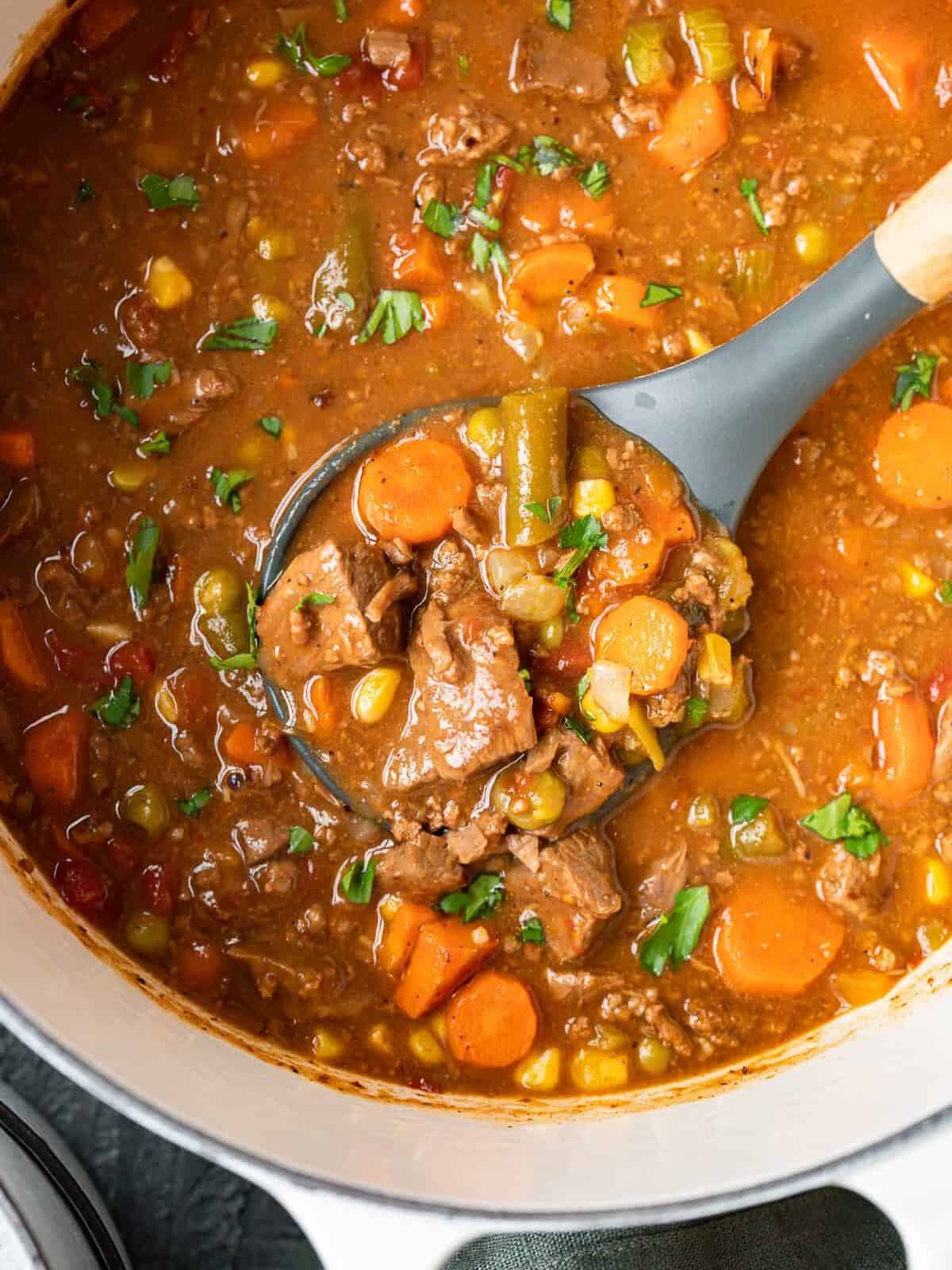 How to Store and Reheat
Store leftover steak soup in an airtight container in the refrigerator for up to 4 days. Reheat in a pot set over medium-low heat or in the microwave in 30-second increments until warmed through.
How to Freeze
Freeze steak soup in an airtight container or Ziplock bag for up to 3 months. Let thaw overnight in the refrigerator before reheating.
Serving Suggestions
Serve this hearty steak and vegetable soup with a side of cornbread, dinner rolls, or skillet bread. Some favorite salads I like to pair with this soup include copycat Olive Garden salad, spinach berry salad, or green goddess salad.
More Beef Soup Recipes We Love