Philly Cheese Steak Soup is the most delicious soup recipe you'll eat this season. If you like cheesesteak sandwiches, then you'll love this bread bowl soup recipe. It's filled with all of the same ingredients and flavors, but it's in soup form, in a bread bowl, with plenty of extra cheese!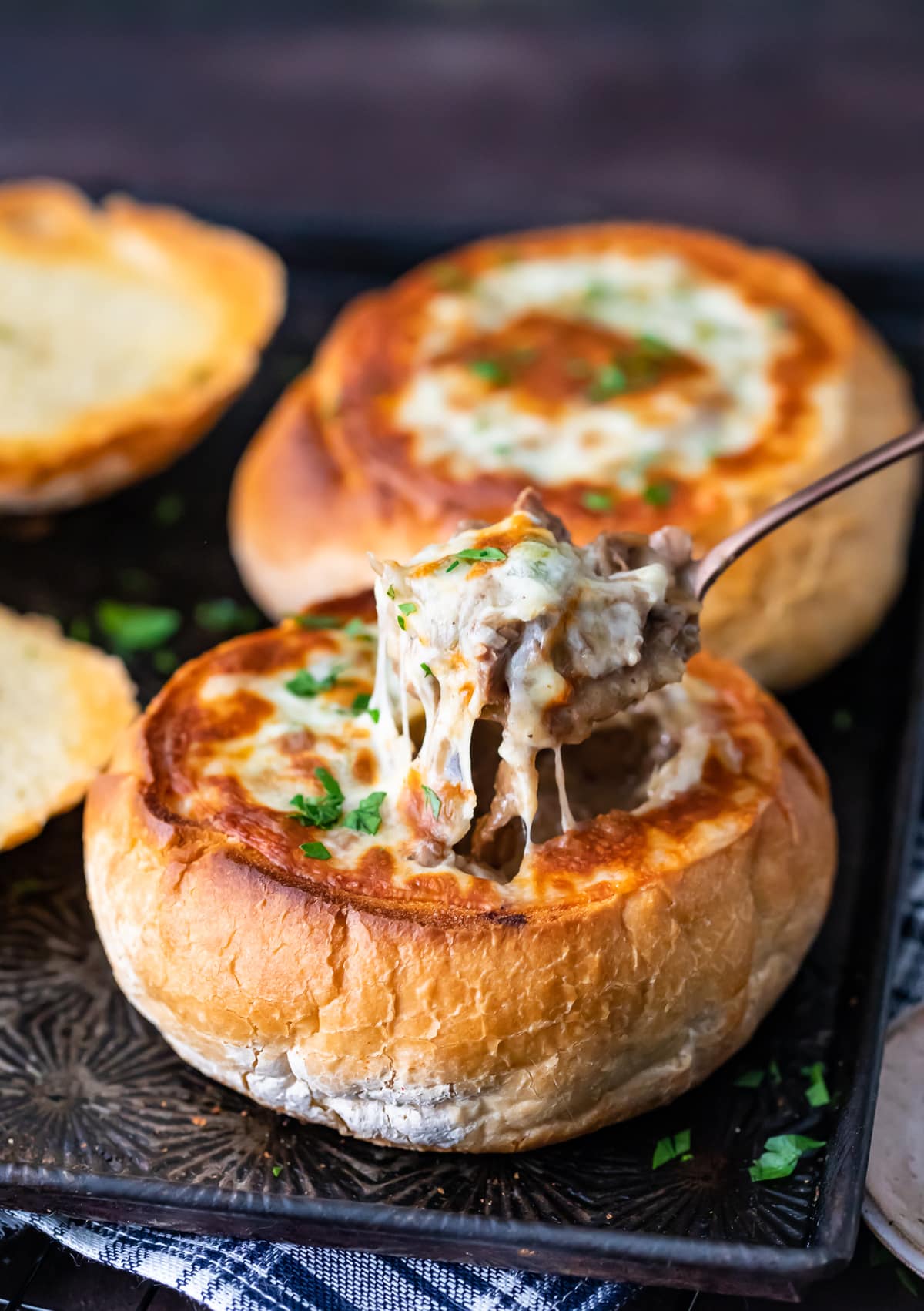 Philly Cheese Steak Soup Recipe
Philly Cheese Steak Soup brings together all of the best flavors from a cheese steak sandwich, and turns it into a cheesy, delicious, irresistible bread bowl soup!
A Philly Cheese Steak sandwich is all about the meat, the cheese, and the bread. I've made Philly Cheesesteak Sloppy Joes before, and let me tell you: it makes a great sandwich!
But it's so easy to turn this classic into the perfect soup too. All you need is the roast beef, the cheese, and a bread bowl, and you've got the most comforting homemade meal.
I just love the way this soup melds together inside of the bread bowl. Everything comes together so perfectly to create the most delicious dish.
That last slice of cheese broiled on top of the bread bowl really makes all the difference too, so you get a final bite of cheesiness as you pull a spoonful of soup out of the bowl and put it into your mouth!
This Philly Cheese Steak Soup recipe is one of my favorite soups of the season. I've got plenty of chicken soups and healthy soups, but this soup is alllll about the flavor and comfort. A great thing to serve on a cold winter night!
This Philly Cheese Steak Soup in a Bread Bowl is perfectly cheesy and so incredibly delicious!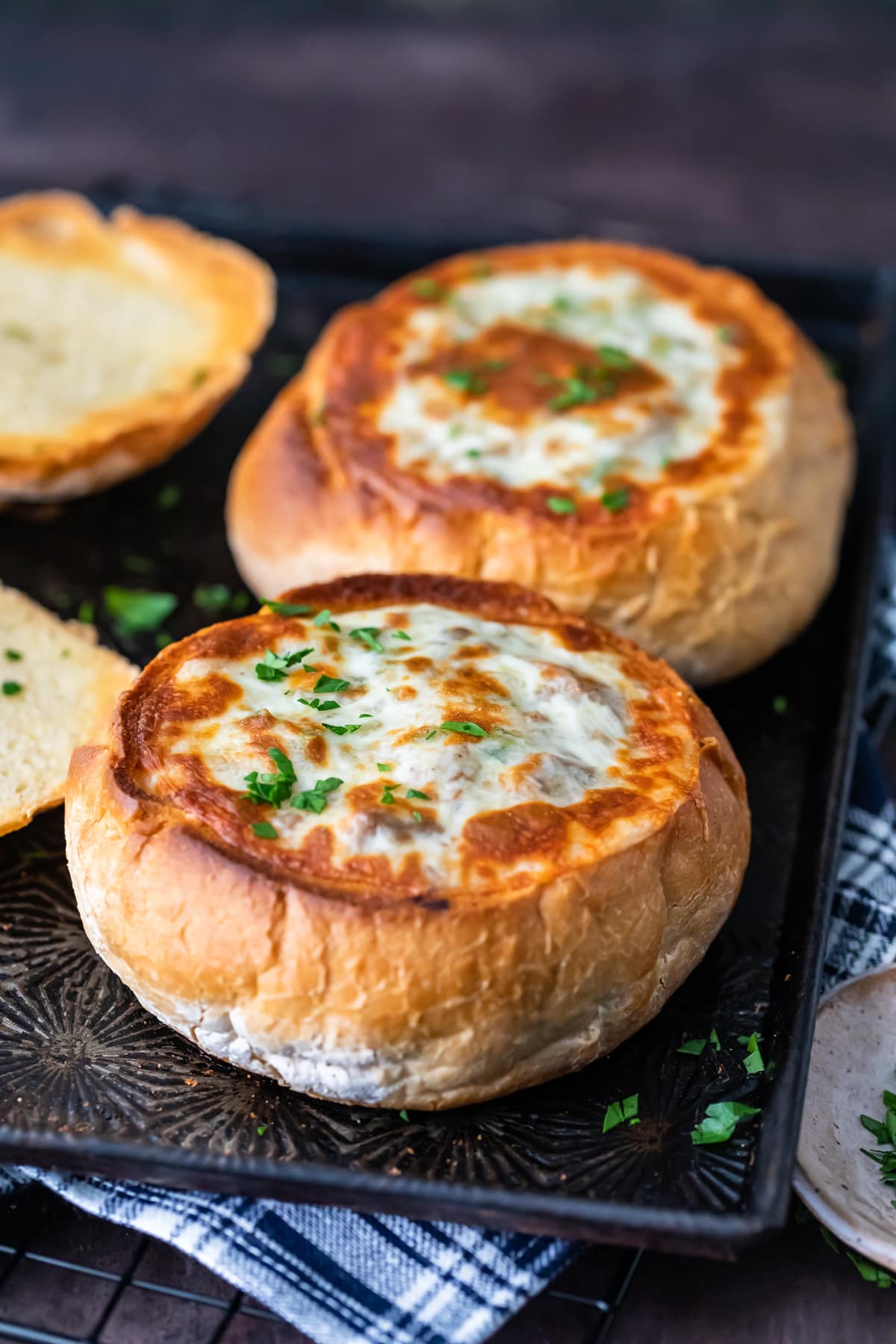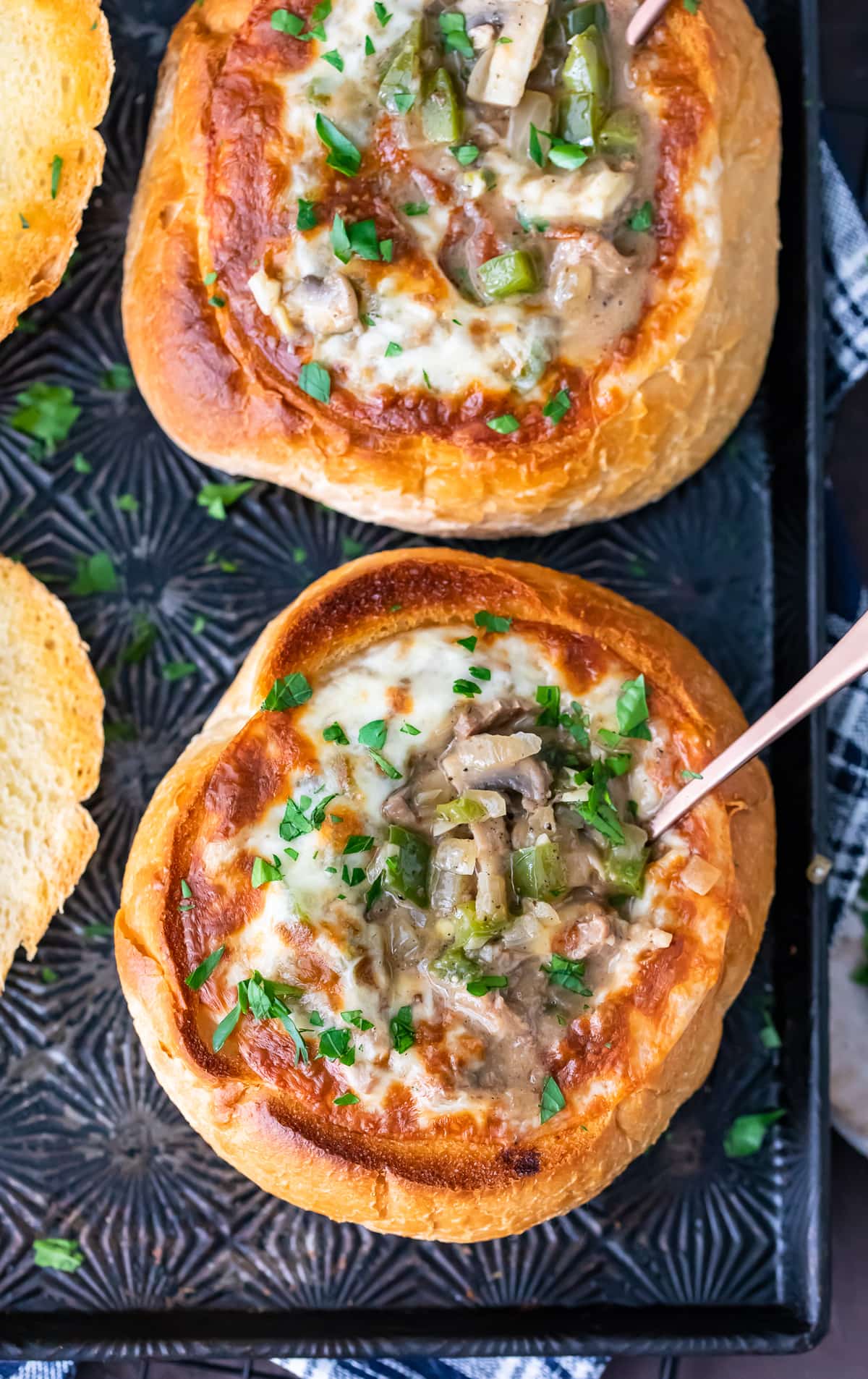 Best Cheese Steak Soup Recipe
I never thought to turn a cheesesteak (one of the best sandwiches) into a soup until recently, but now I'm hooked. The ingredients are just PERFECT for a hot and hearty soup, I don't know why I didn't think of it sooner.
Meat and cheese cooked together and served in a bread bowl….I can't think of anything better! Now I'm determined to turn every delicious food ever into a soup, because soups are the ULTIMATE comfort food.
Philly Cheese Steak Soup Ingredients:
Roast Beef (thinly sliced)
Provolone Cheese
French Onion Soup
Onions
Green Pepper
Mushrooms
Garlic
Red Wine
Beef Broth
Heavy Cream
Worcestershire Sauce
Butter
And of course you can't forget the bread to make your own bread bowls for this soup! Any small round loaves will work.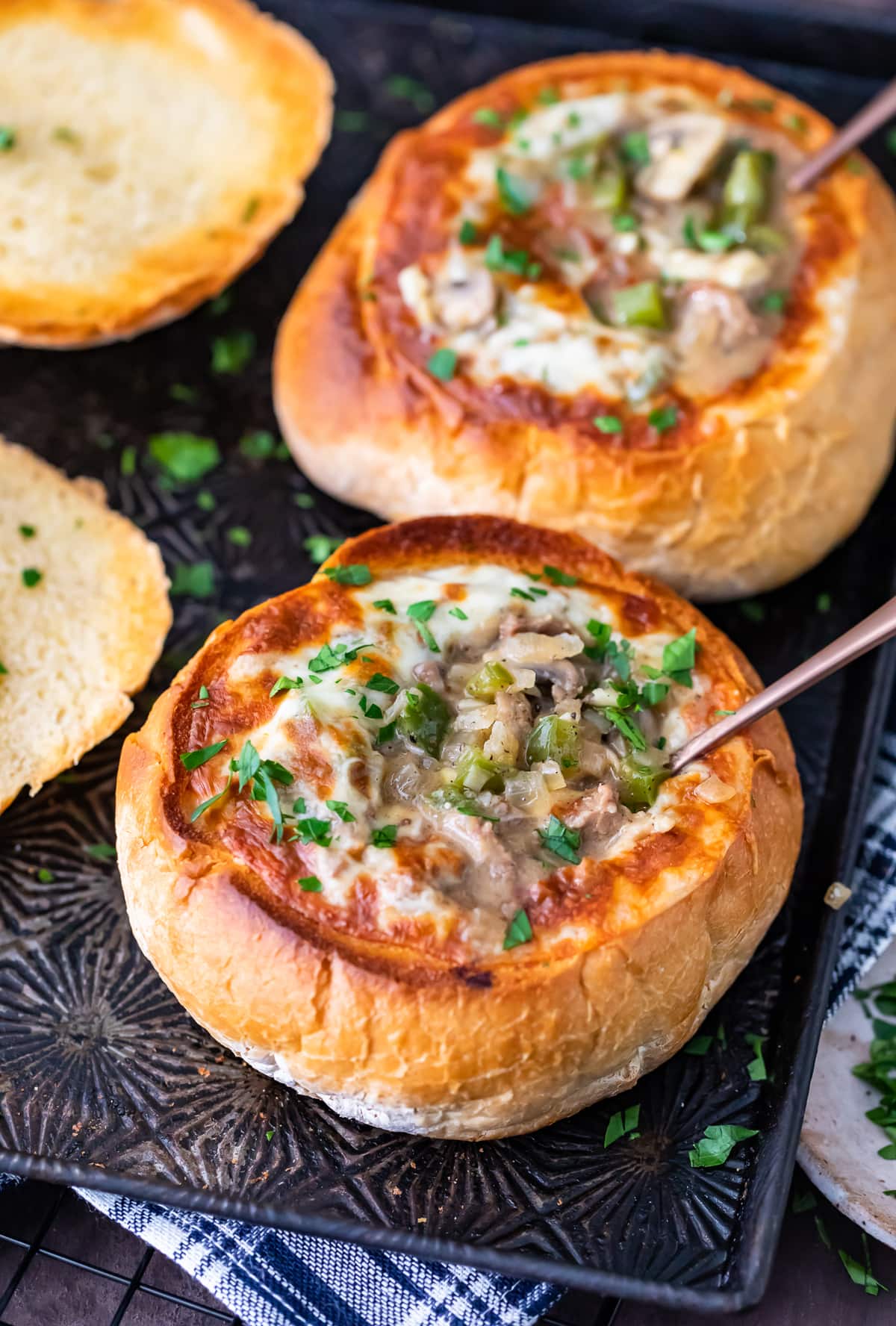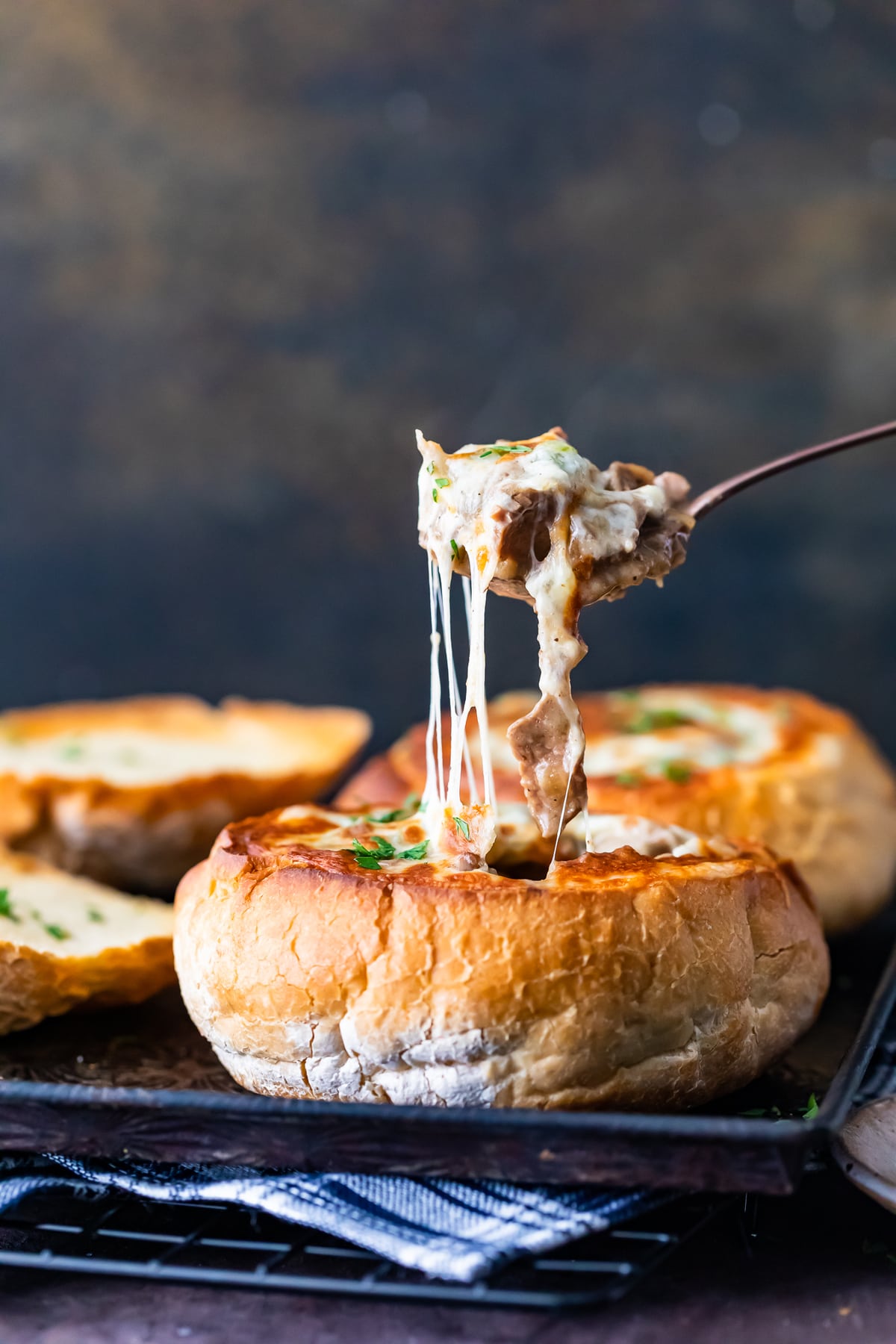 How to Make Philly Cheese Steak Soup
The thing I love about soup is that prep time is usually short, so they're pretty easy to make…and they're DELICIOUS. Anything hot, bubbly, savory, and cheesy is good in my book.
How to make philly cheese steak soup:
Season the beef and set it aside.
Heat butter and oil in a large skillet, then add in the onions and green peppers & cook 3 minutes. Add in the mushrooms and cook another 3 minutes. Add garlic and cook 30 more seconds. Then transfer it all to a bowl and set aside.
Brown all of the beef slices in the skillet, then transfer to a plate.
Slowly add in the red wine, beef broth, French onion soup, and Worcestershire sauce and stir.
Next, add the vegetable mix and the beef back in and bring the soup to a boil. Then reduce heat and let the soup simmer for 30-60 minutes. (Make the bread bowls while it cooks)
Add in heavy cream and let the soup simmer another 15 minutes, stirring often.
To serve in bread bowls:
Take the baked bread bowls and fill up each one with soup.
Place a slice of cheese over the top of each bowl.
Place the bread bowl soups (on a baking sheet) into the oven and broil until the cheese melts.
Serve them while they're hot and fresh out of the oven!
You can jump to the recipe card for full ingredients & instructions!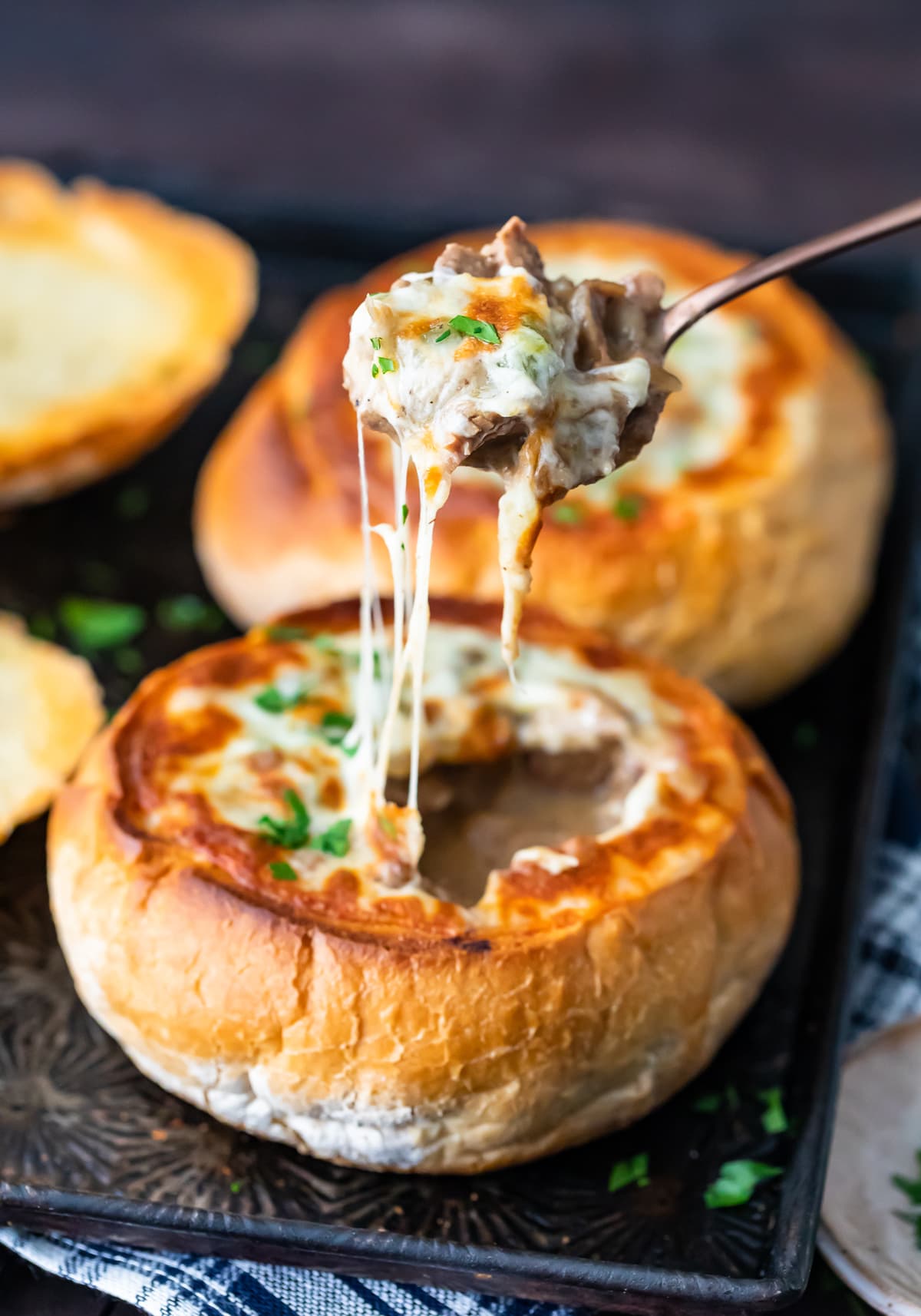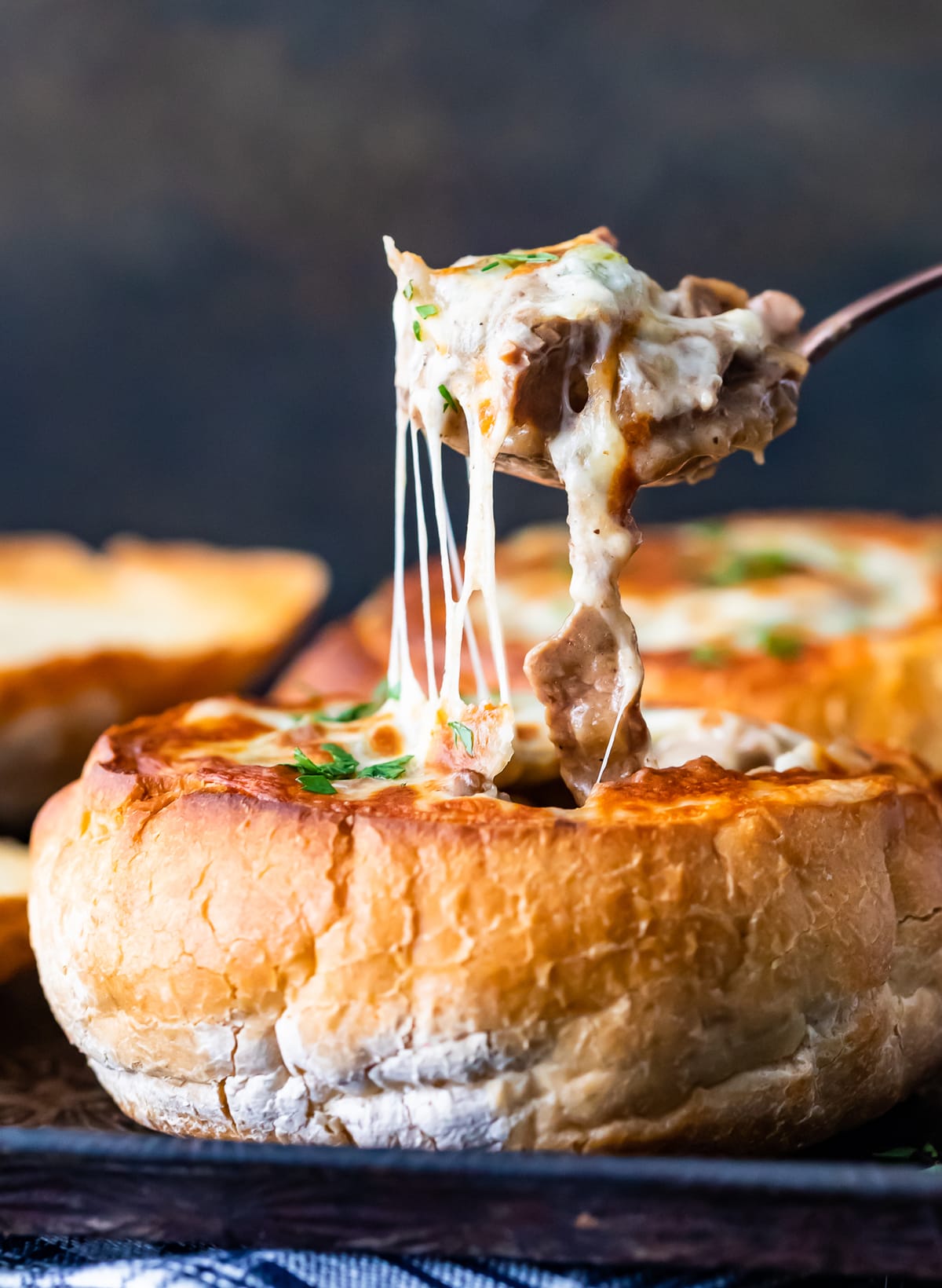 How to Make a Bread Bowl
Making your own bread bowls is super easy. For some reason they seem so fancy, but there's really nothing to them. Just get some small round loaves of bread at the store (any type of bread you prefer; get loaves that make a good bowl size).
Make these while the soup is simmering so that they're ready to fill when the soup is done.
How to make a bread bowl:
Cut 1/2 inch to 1 inch off the top of each loaf.
Hollow out the inside of the bread, leaving a 1 inch wall as the bowl.
Place the bread bowls (along with the tops that you removed) on a baking sheet, and brush all over with olive oil.
Bake for 15 minutes at 350°F.
That's it! After baking, set them aside until the soup is ready to pour in. You can make these and fill them with any kind of soup you like.
Bread Bowl Soup Recipes
Bread bowls are kind of amazing. What's not to love about a bowl made out of a bread? A bowl that you can EAT with dinner? They're great for soups and dips, but I'll use them for basically anything that you eat out of a bowl.
Bread bowl soups are my favorite, because they just add an extra level of comfort to comfort foods. Exactly what I need in the winter!
More bread bowl soups and other bread bowl recipes: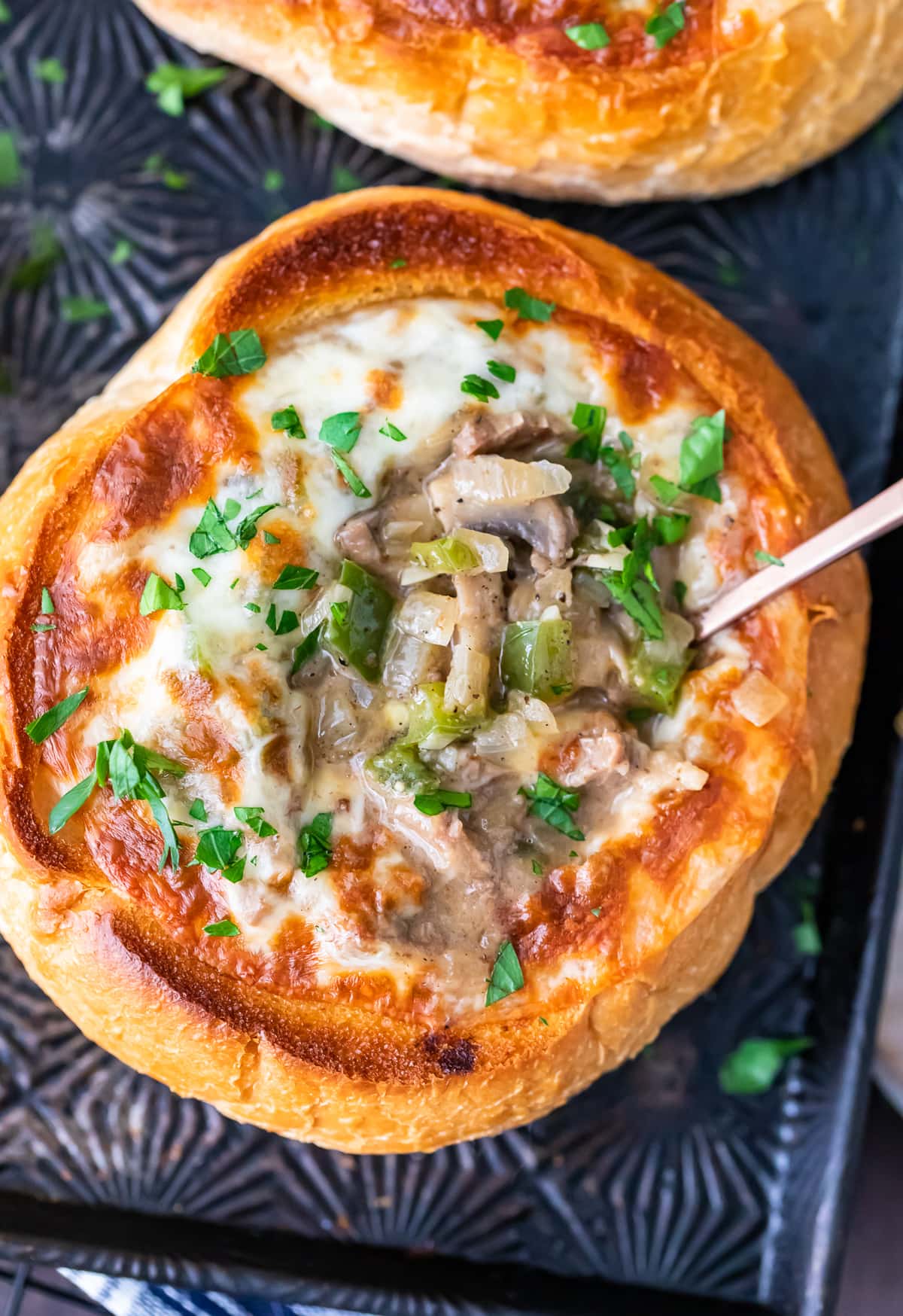 This Philly Cheese Steak Soup recipe is just heavenly…assuming heaven is filled with meat and cheese in a bread bowl. I'm not sure. But I AM sure that you'll love this soup, so make some a get to eating!
Try some of our other DELICIOUS soup recipes this season:
If you make this recipe be sure to upload a photo in the comment section below or leave a rating. Enjoy! You can also jump to recipe.