Cool Ranch Doritos are fun, tasty, easy, and cheap to make at home! This homemade Doritos recipe will impress your family and is sure to be made again and again. Once you learn How to Make Doritos you'll never go back to buying bag after bag. You'll be in love with this Cool Ranch Doritos Recipe and want to learn how to make all the flavors.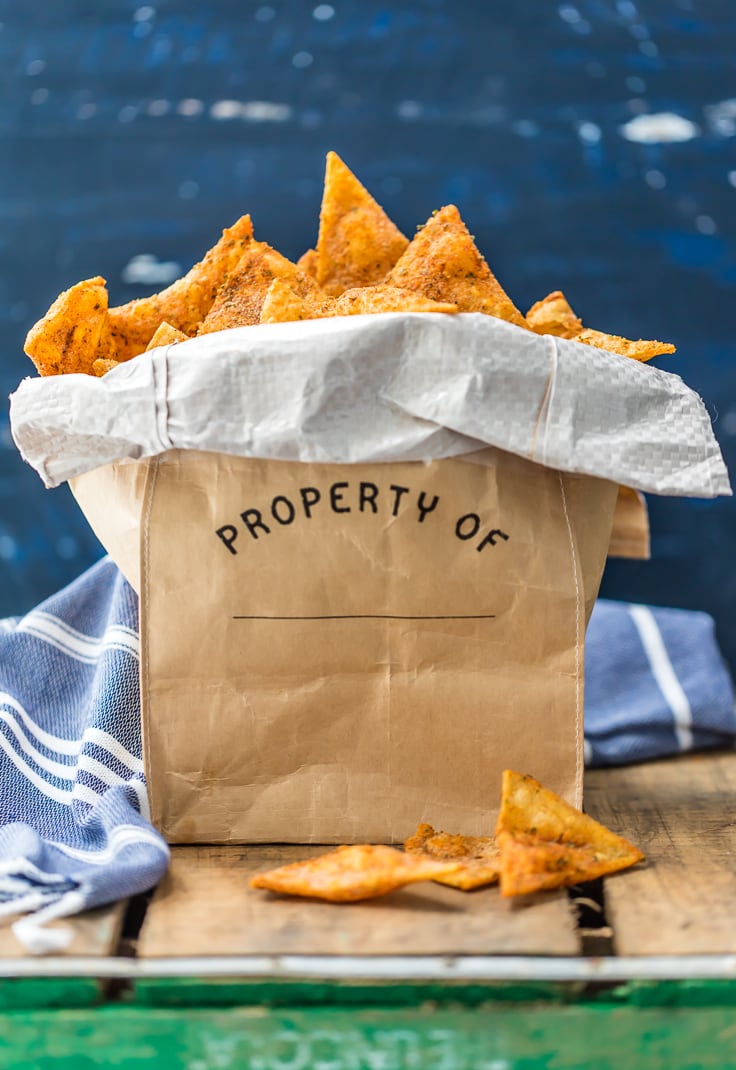 Cool Ranch Doritos Recipe
Cool Ranch Doritos are so easy to make for yourself at home. This homemade Doritos recipe costs less and tastes even better than the original!
Cool Ranch Doritos are one of our favorite snacks. Unfortunately, they are not cheap and they aren't exactly healthy either! The good news is that you can make Doritos at home, and they taste amazing (even better than store bought). This homemade Doritos recipe is incredibly easy, and it takes no time at all to make.
You can have sticky cool ranch fingers and a happy hubby in under 30 minutes! If you're like me, you'll have all the Doritos ingredients in your house already (except for maybe the tortillas), so you can whip these up in no time. These homemade Cool Ranch Doritos are so fun and simple, I can't believe I hadn't made these before!
I love snacking on these while watching reality TV, and they are the PERFECT snack for the Super Bowl or any big game day. Kids will love them, and you will feel good knowing exactly what's in them.
Make these delicious Homemade Cool Ranch Doritos and start snacking away!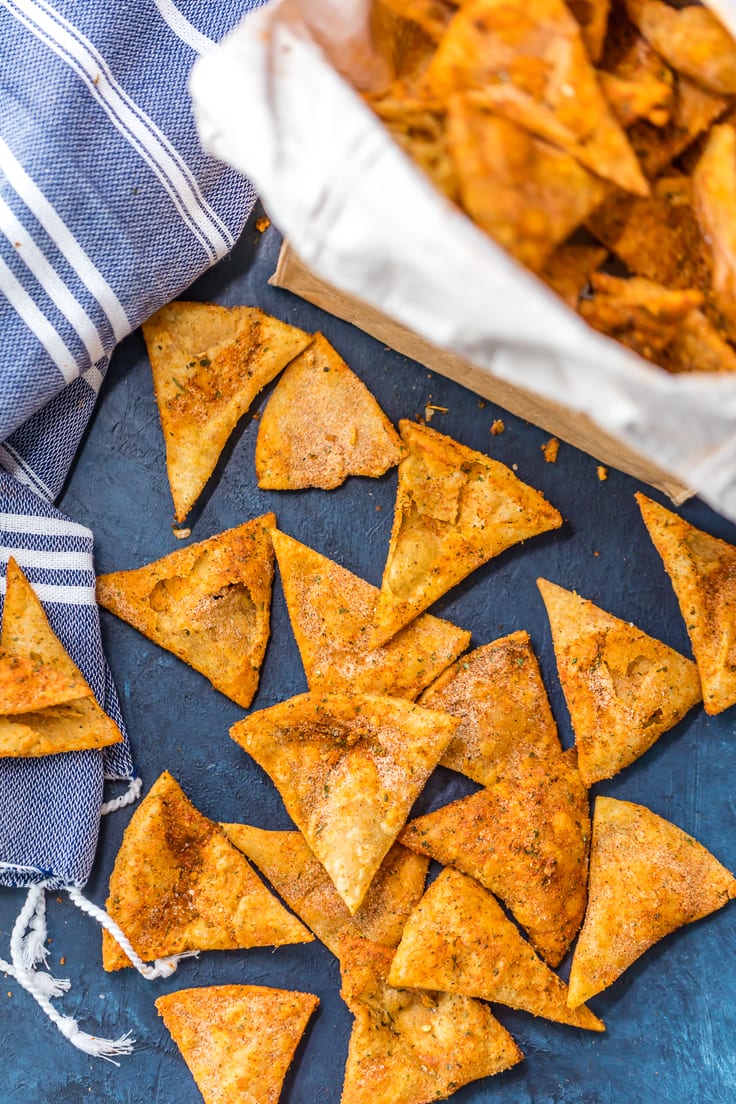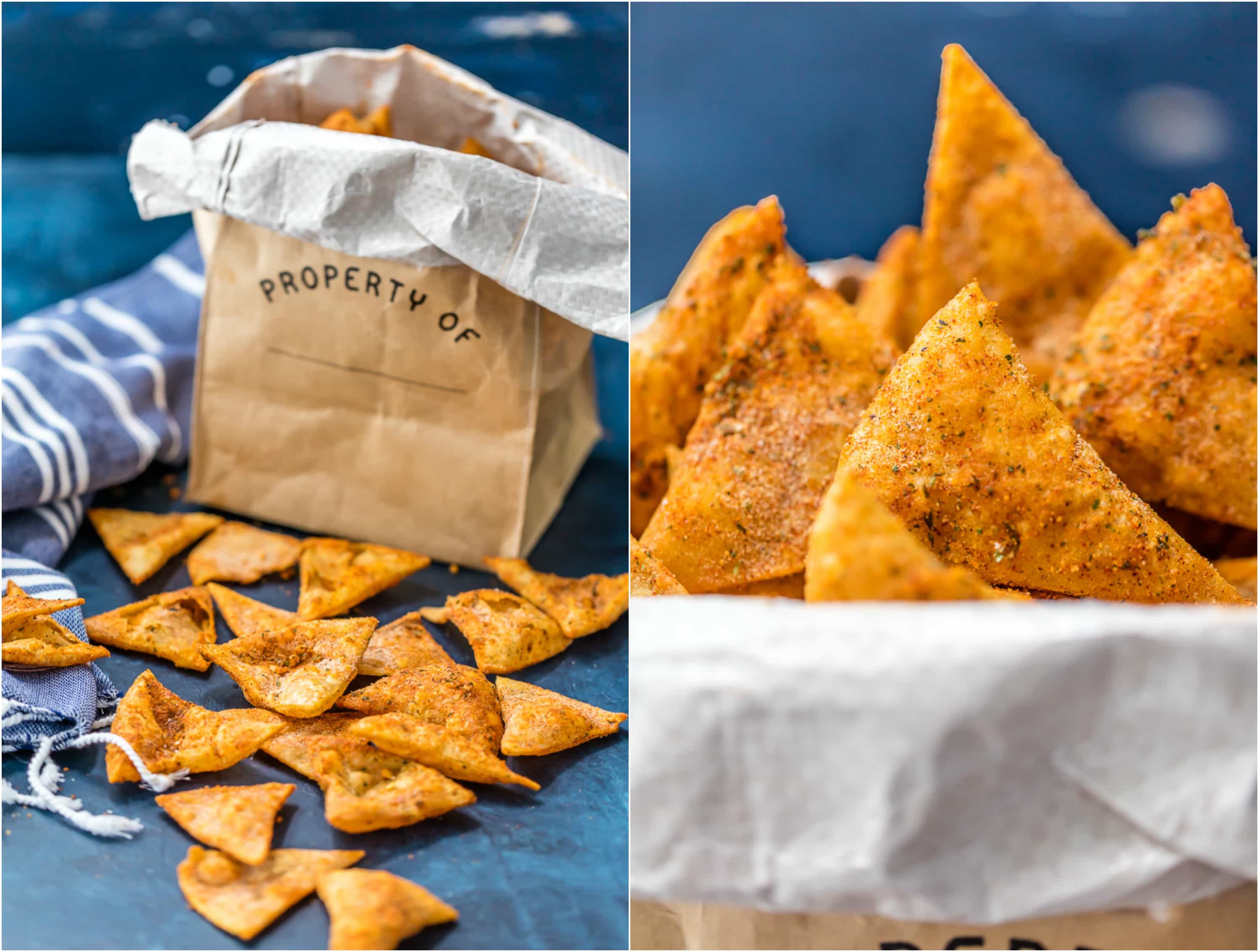 Homemade Doritos Recipe
Pat almost died when I made this copycat Doritos recipe. I mean, this is his version of heaven. And since they're homemade Doritos, we are telling ourselves they are healthy. Of course they're fried, which means they are not actually healthy, BUT…we are in denial. And I'm okay with that! Besides, I'll always take a homemade version, where I know exactly what's in them, over a bag of chips made in a factory.
The only negative with these homemade Cool Ranch Doritos is how messy your fingers get. But that happens whether you buy them at the store or make them at home. And I don't know if that really counts as a negative, because that's kind of part of the fun of Doritos, right?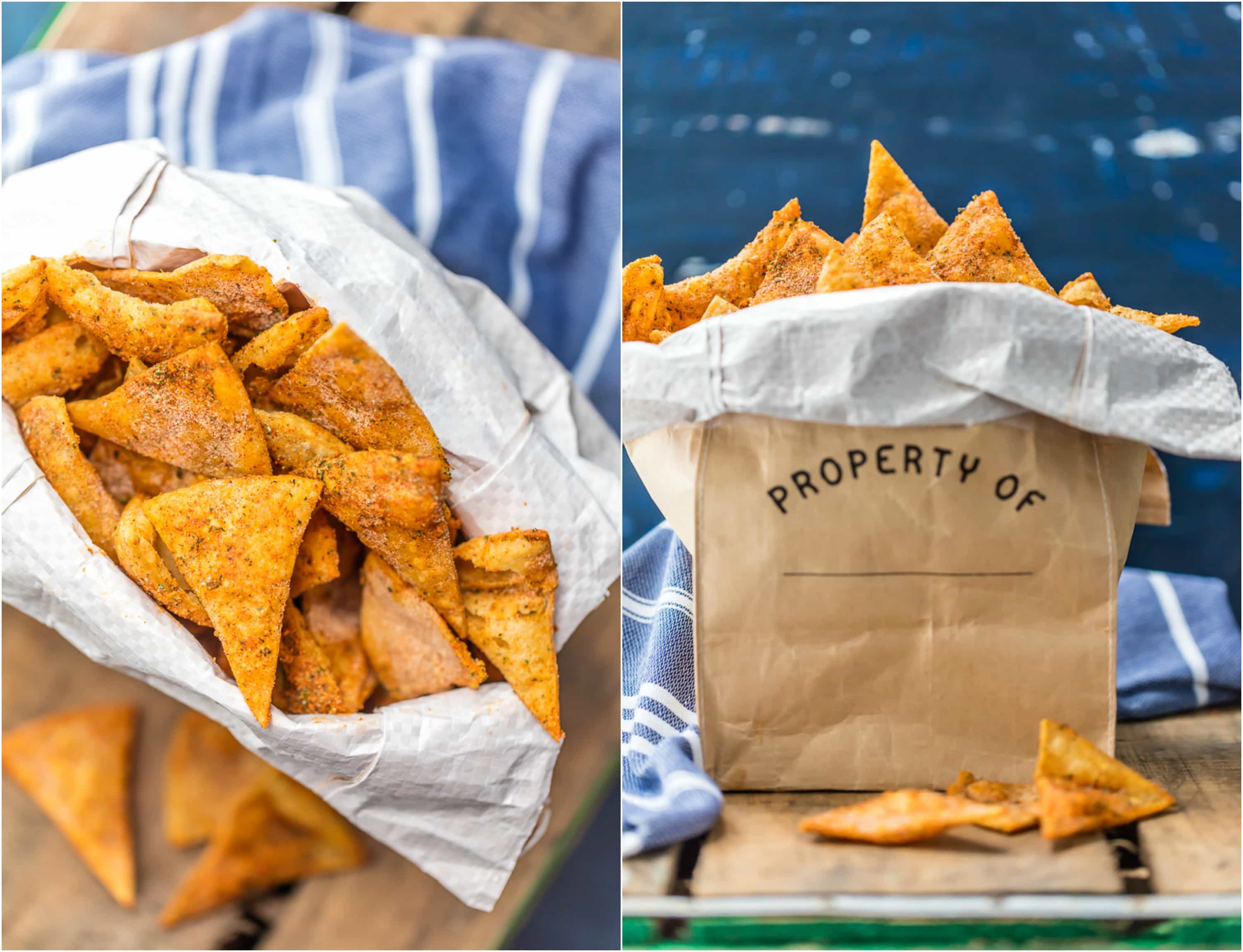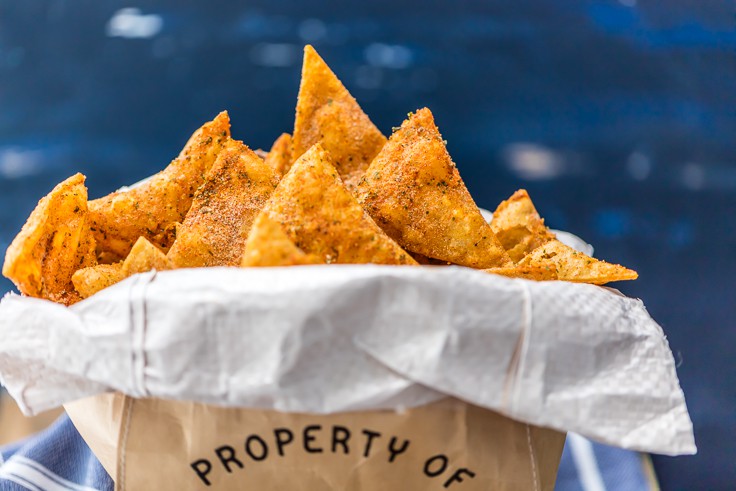 Doritos Ingredients
Have you ever looked at the Doritos ingredients on a bag at the store? They are…well, it's a typical list of ingredients you'd find in processed foods. Which is I am all about this homemade doritos recipe, despite the fact that they aren't necessarily "healthy". I want to indulge in junk food, and I'd rather do it with homemade junk food!
Luckily, there are less ingredients than you might think in this homemade version. Just tortillas and a few seasonings to get the perfect cool ranch flavor!
Homemade Doritos Ingredients:
Corn Tortillas
Dry Ranch Seasoning
Smoked Paprika
Garlic Powder
Onion Powder
Salt
Plus some oil for frying. These Homemade Cool Ranch Doritos are a must make! I want to try a bunch of different Doritos flavors with this recipe, or even create my own. I definitely want to try it with my Homemade Taco Seasoning…yum! How good does that sound?
This homemade Doritos Recipe is sure to make you famous with your kids and spouse!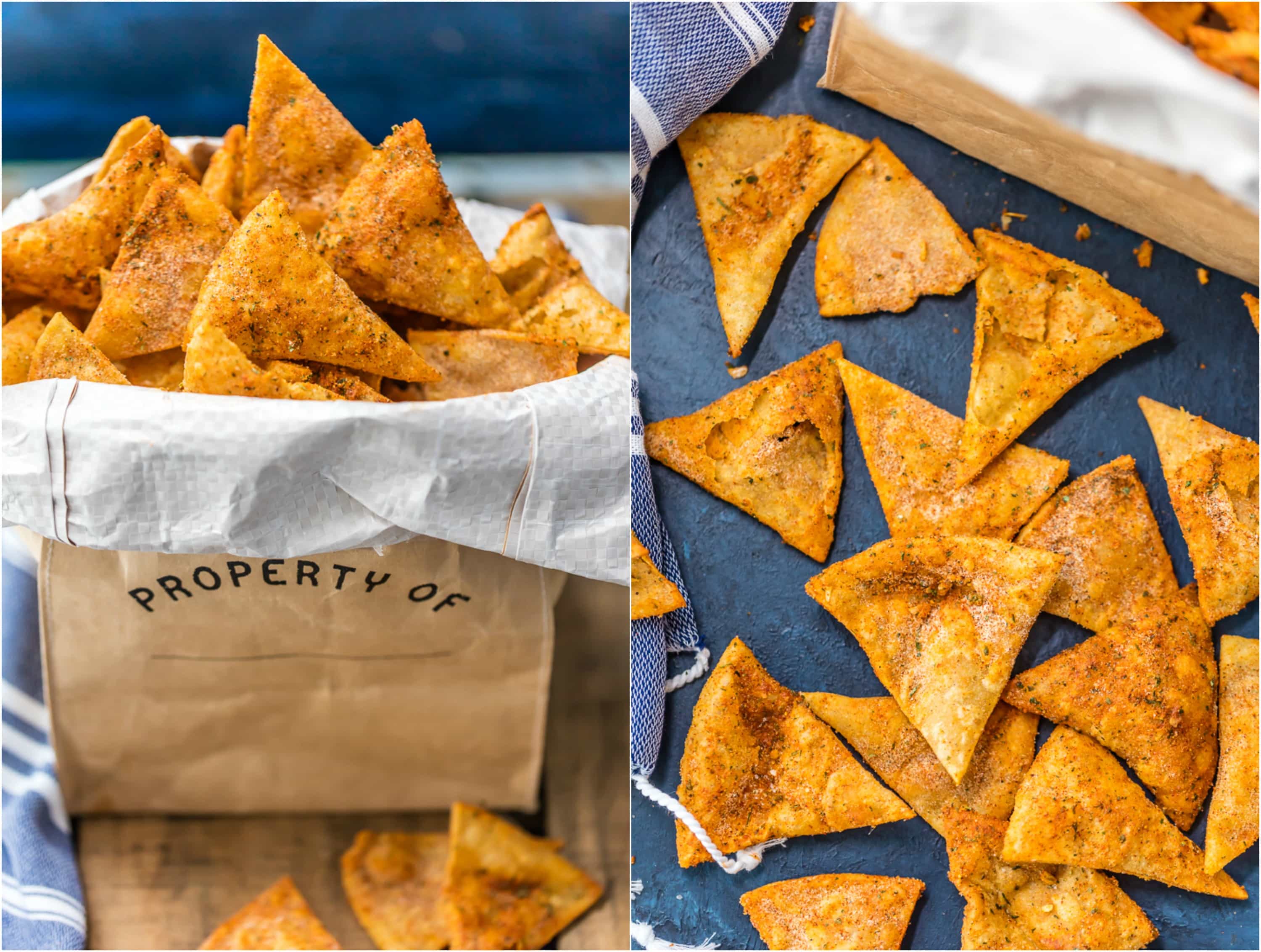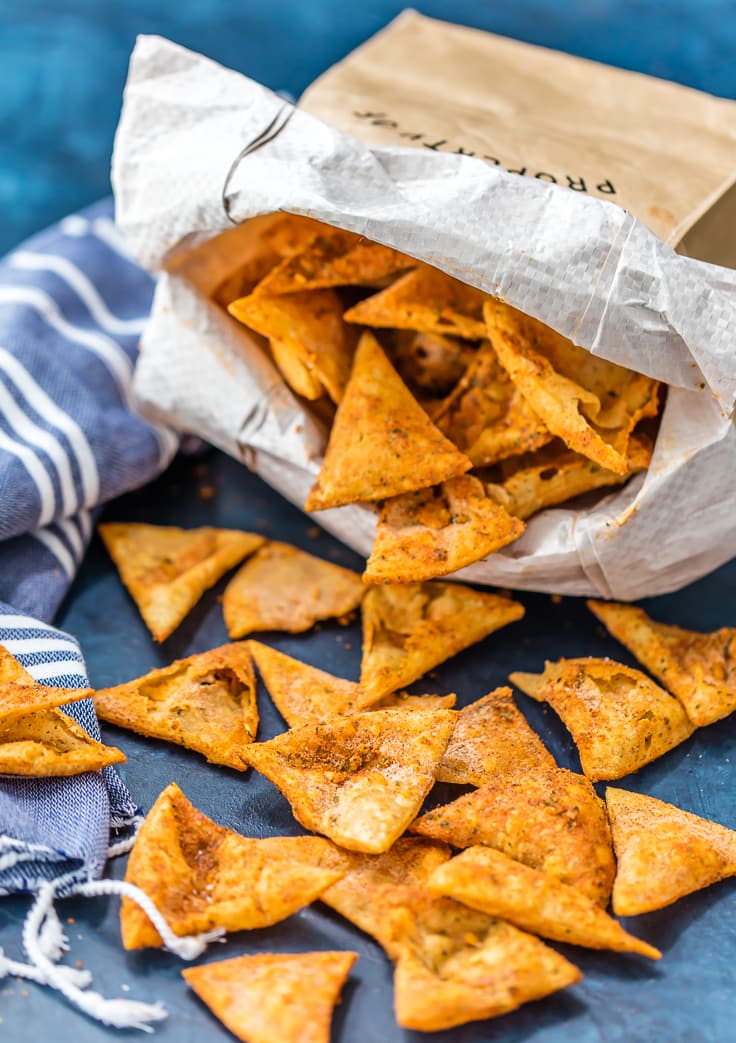 How to Make Cool Ranch Doritos at Home
All you need is a few ingredients and about 30 minutes to make these Cool Ranch Doritos. They are so easy to make, so delicious, and so fun for parties. It's the best thing to snack on in front of the TV, while watching movies, or on game day!
How to Make Cool Ranch Doritos:
Heat oil in a dutch oven or deep set pot. Oil should reach 350°F before frying.
Cut the uncooked tortillas into triangular wedges (like chips!)
In a mixing bowl, combine ranch seasoning, paprika, garlic powder, onion powder, and salt.
Fry the tortillas in batches for about 3 minutes, until they get crispy. Use a wooden spoon to carefully press them and de-puff them (they will fill up with air while frying).
As soon as you remove the tortillas from the oil, place them on a paper towel lined plate. Then sprinkle and toss them in the cool ranch seasoning.
This homemade Doritos recipe makes about 5-6 dozen chips, so plenty to snack on. Store them in an airtight container or resealable plastic bag, and they will last up to 2 weeks (assuming you don't eat them all!).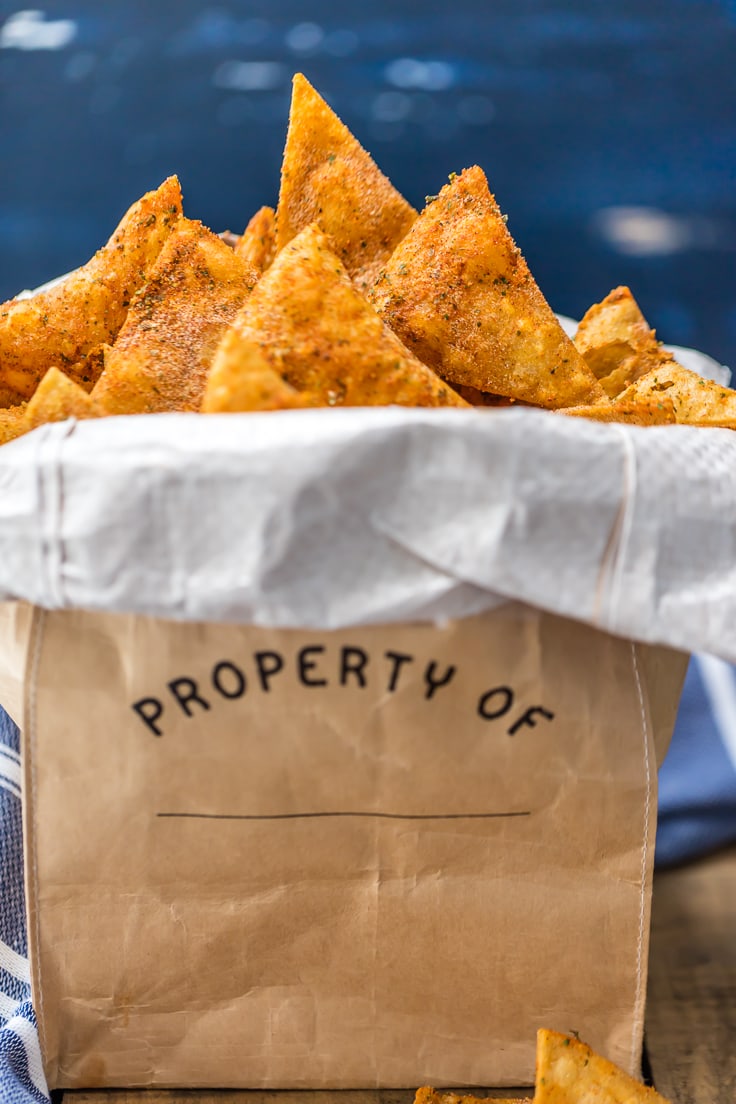 Now that I've conquered making homemade Cool Ranch Doritos, there are so many other flavors I can't wait to try. SO EASY! You're gonna love it.
Watch the video and See the recipe card below for full details on How to Make Doritos. Enjoy!
If you like this homemade doritos recipe, try these other fun snack recipes: