Mango Salsa is a fruity, flavorful spin on traditional salsas. Replacing tomatoes with mango chunks creates something super fresh and fun. This easy mango salsa recipe can be used as a dip with tortillas chips, but it also makes a great topping for tacos, chicken, and more.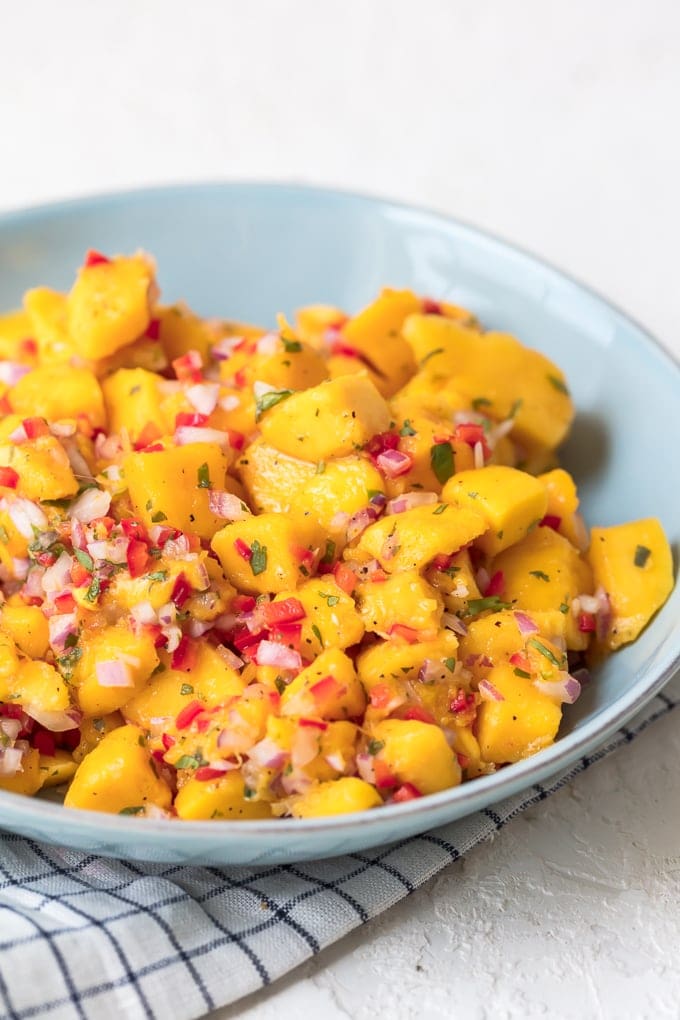 Mango Salsa Recipe
Mango Salsa is a fresh and fruity salsa recipe perfect for parties, appetizers, or for toppings. Try this salsa with our Mango Salsa Chicken, or just eat it with chips!
Fruit salsas are one of the freshest and mots flavorful things. I love this Mango Salsa recipe because it's just so incredibly delicious. The way the sweet mango juices mix with the onions, peppers, and other ingredients is so perfect. The fresh mint adds just a hint of coolness, and there's just enough spice from the jalapenos to add a kick.
This mango salsa recipe is a nice change from regular salsas, and it's just as versatile. I could eat this all up with tortilla chips, and it makes a great dip to serve at parties or alongside tacos. Yes, put mango salsa on your tacos! You can thank me later.
I made this salsa specifically to use as a topping on my Sangria Chicken recipe, and it is amazing. Try it out on chicken, salmon, or pork. It adds such a fresh flavor!
Learn how to make mango salsa with this delicious and EASY Mango Salsa Recipe. Eat it with tortilla chips, with tacos, or with chicken. You can't go wrong!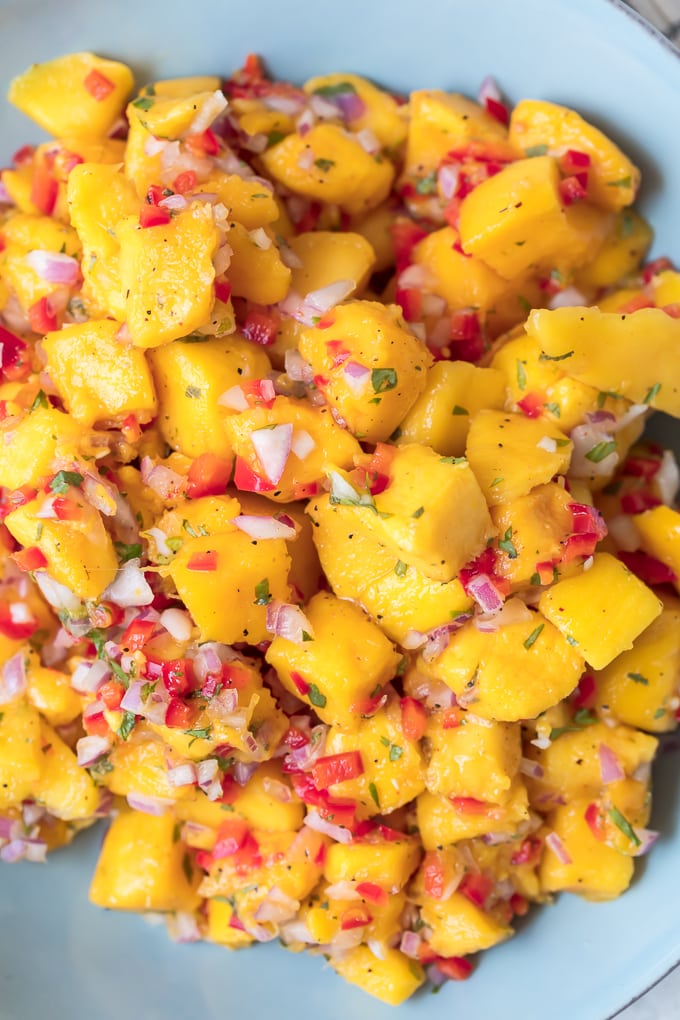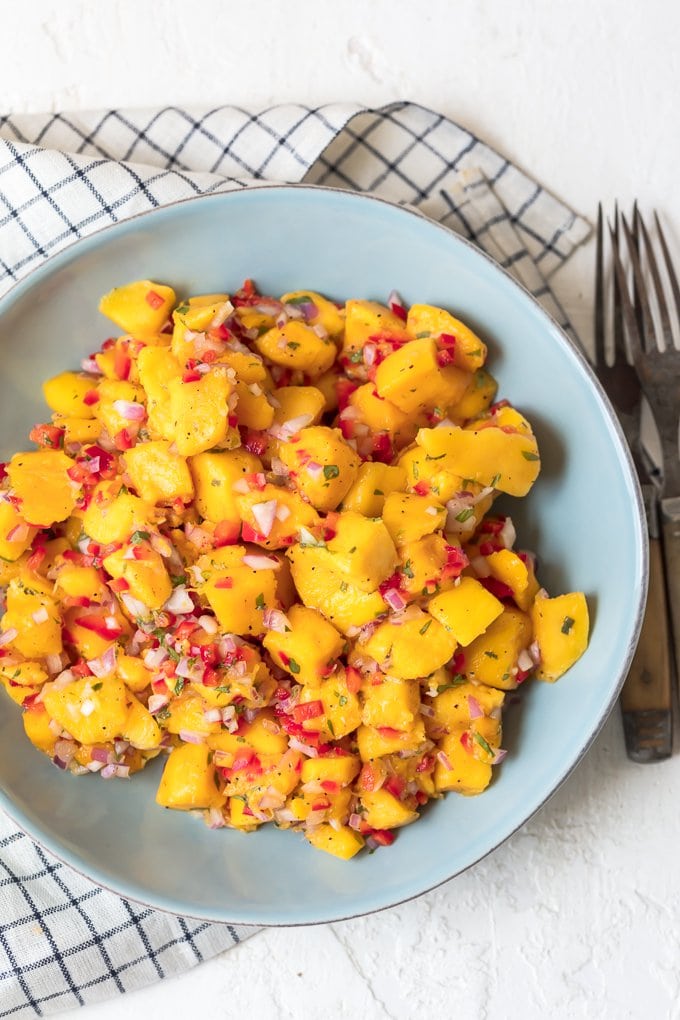 How to Make Mango Salsa
This is the easy part! All you have to do to make mango salsa is collect your ingredients, then mix them together in a bowl. Simple and done. You can make this salsa ahead of time, but it will start to get quite juicy after a few hours. So just consider that before making/using it. It still tastes just as good though!
Mango Salsa Ingredients:
Mango Chunks
Red Onion
Jalapenos
Lime Juice & Zest
Red Bell Pepper
Cilantro
Mint
Salt
Pico Fruta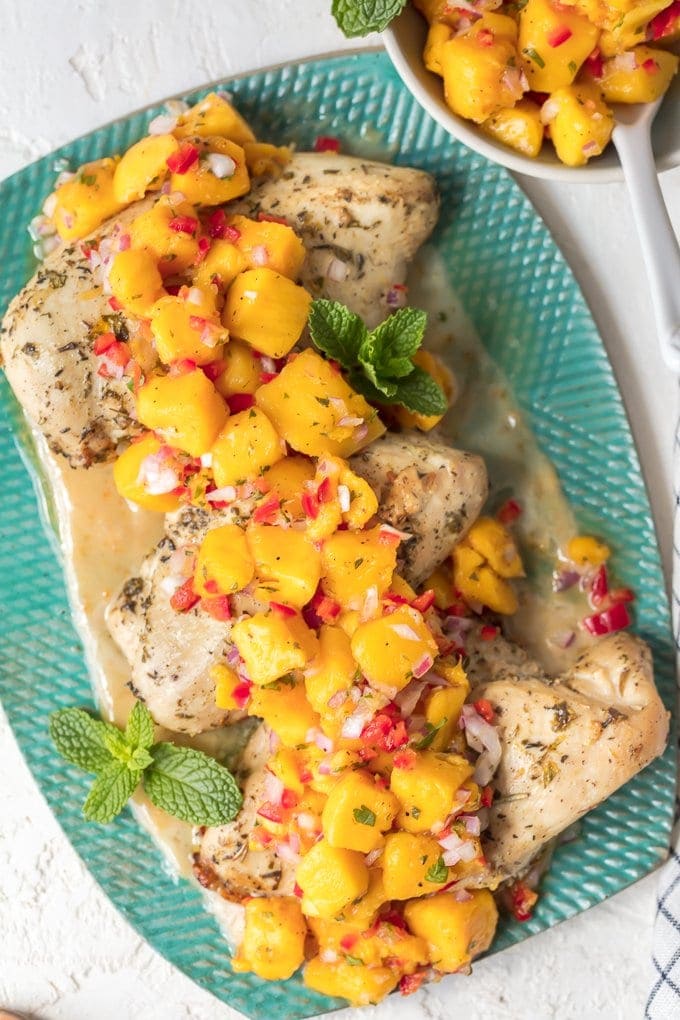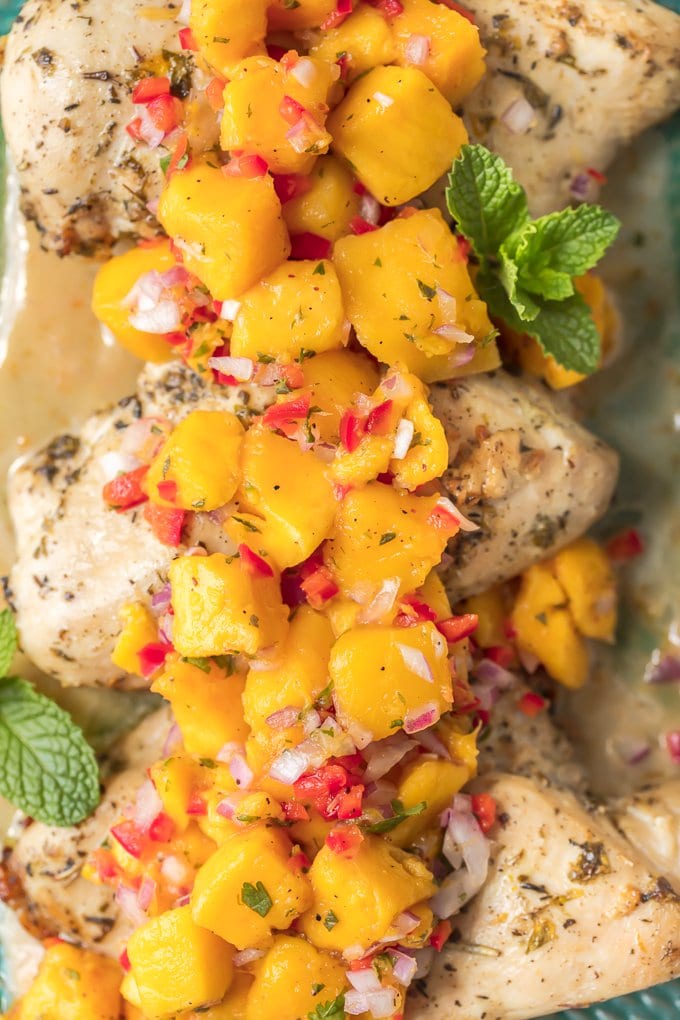 What is mango salsa good with?
Mango salsa makes a great dip for chips, but it also makes a delicious topping for all kinds of food. Eat it with tortilla chips, eat it on tacos, or eat it on salmon. I especially love it with chicken, which is why I created this Mango Salsa Chicken Recipe.
How long does mango salsa last in the refrigerator?
Homemade mango salsa will last in the refrigerator for up to one week if you store it in an airtight container. However, the juices from the mango will start to leak and form a puddle in the salsa. If you don't mind juicier salsa, then it's fine to eat as is. If you plan to use it as a topping, then use a slotted spoon to place the salsa on tacos, chicken, etc. to get rid of the excess juice.
Can you freeze fresh mango salsa?
You can freeze mango salsa if you want to save it for later use. I recommend placing it in freezer-safe bags so that it can lay flat, instead of freezing into large chunks. Store the salsa in serving size portions so you can easily grab, thaw, and use when needed.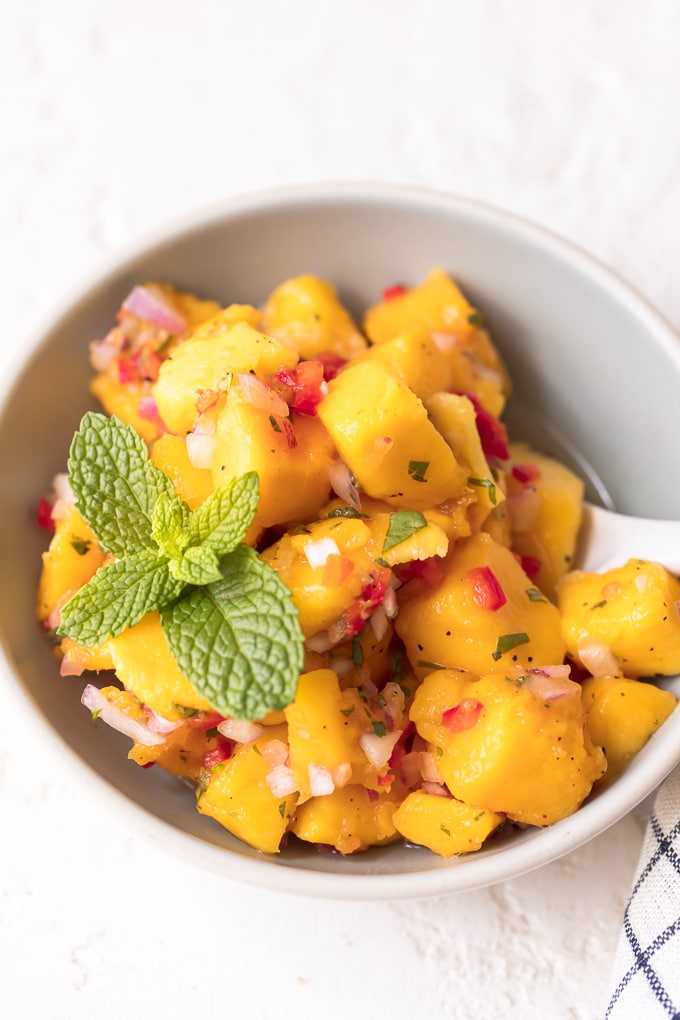 I can't wait for you to try this beautiful mango salsa recipe. Eat it with chips or eat it with chicken. You really can't go wrong no matter how you use it!
See the recipe card below for details on how to make Mango Salsa. Enjoy!
If you like this recipe, try these other fun salsa recipes too: