Italian Salsa comes together in no time, using only 5 ingredients! Made from scratch in a few minutes you'll love the flavors in this easy salsa recipe. Perfect as a dip or bruschetta topper.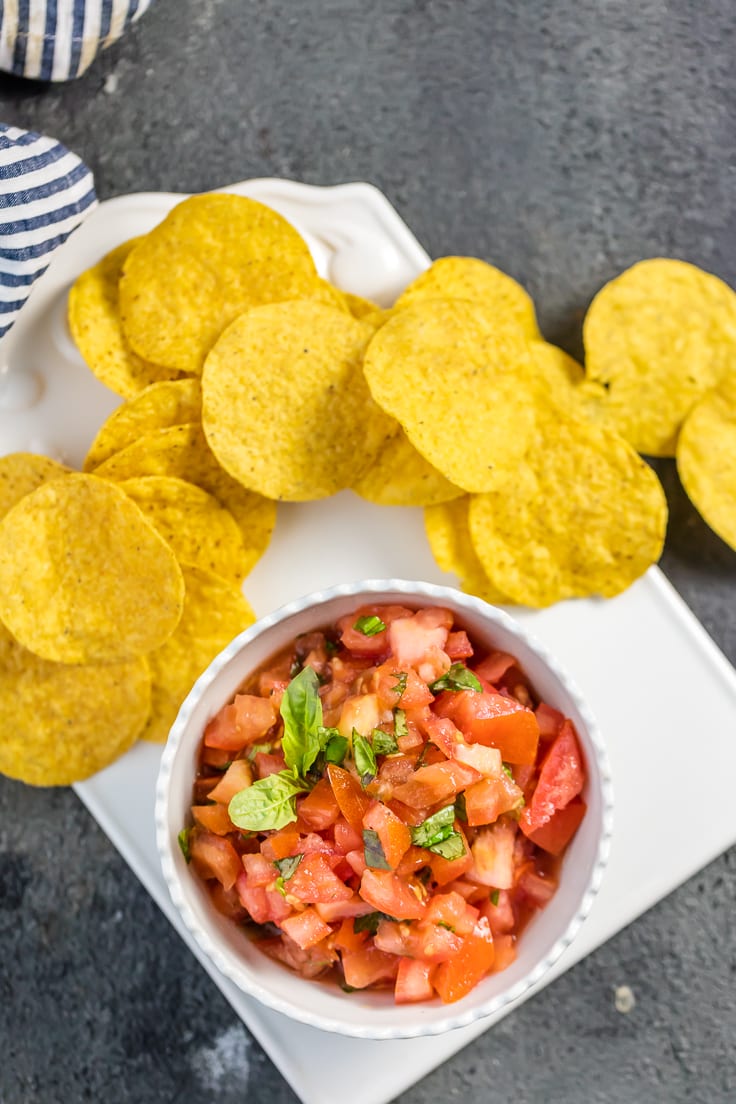 Italian Salsa Dip
This Italian Salsa recipe came to me quite by accident one day. While trying to make a simple salsa I discovered I didn't have any cilantro or lime juice, two much needed ingredients for fresh salsa. So I substituted balsamic vinegar for the lime juice and basil and garlic for the cilantro. The result? A fresh, healthy tomato dip that is so delicious, I've been making it ever since!
Call it salsa, call it bruschetta, whatever the name, this chunky, vibrant dip is perfect for chips, pita bread, crackers, you name it! This Italian salsa begins and ends with fresh, juicy tomatoes. I love making this salsa with tomatoes out of the garden, but you can find delicious options at the grocery store too. It's a good excuse to scope out farmers markets in your area!
As you know, dips are my very favorite food group! This one shot to the top of the list as soon as I tasted it. It's perfect for a game day appetizer!
Be sure to try my Tomatillo Avocado Salsa and Salsa Verde too!
Why You'll Love this Balsamic Tomato Salsa Recipe:
HEALTHY: Made from scratch with fresh ingredients, this recipe is full of the good stuff! It's vegan and gluten-free.
GREAT FOR A CROWD: This is an easy recipe to scale up or down, so it's a great option if you are entertaining.
QUICK AND EASY: It takes minutes to make up a big batch of this Italian salsa and it can be made ahead of time too.
This salsa is so wonderfully fresh thanks and the balsamic vinegar gives it an amazing sweet and tangy flavor. It's a must make for this tomato season!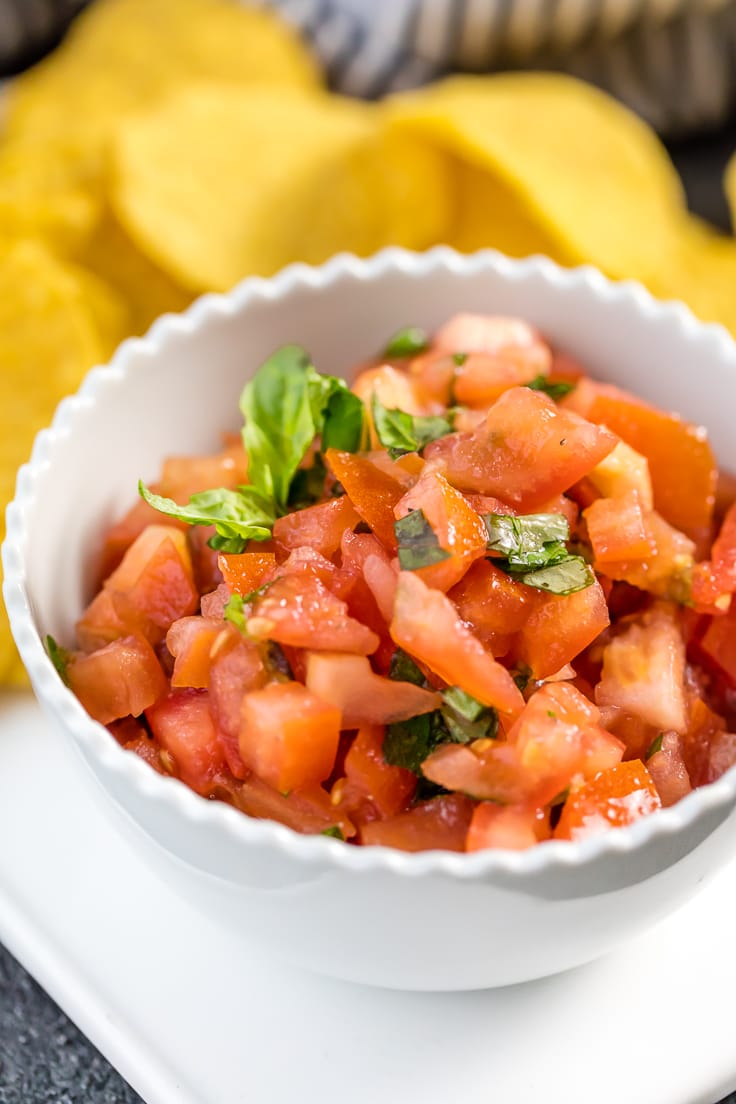 What Ingredients Do I Need to Make Italian Salsa?
You only need 5 ingredients to make this tasty salsa! Aside from the tomatoes which are the star of the show, this salsa is bursting with all the quintessential Italian flavors:
garlic
fresh basil
olive oil
balsamic vinegar
You could also add parsley, onion, olives or capers for extra texture and flavor.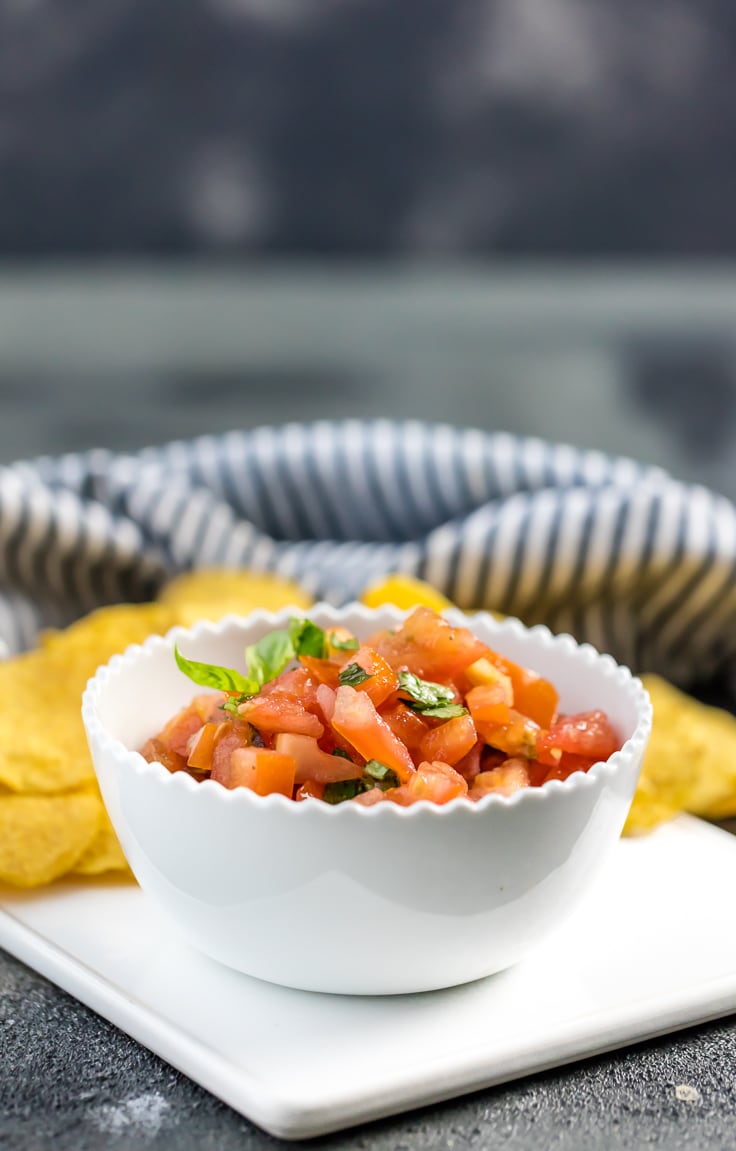 How to Make Italian Salsa
This salsa recipe comes together in just minutes! It's so easy, fragrant, fresh and absolutely delicious! Here's what to do:
Chop up a bunch of ripe tomatoes into bite size pieces.
Then dice some fresh basil leaves. If you don't have fresh on hand, feel free to use dried basil.
Toss that together with balsamic vinegar, olive oil, garlic powder (you can chop up some fresh garlic if you'd like) and some salt and pepper.
Serve in a bowl with a pile of pita chips, tortilla chips or crackers. Delish!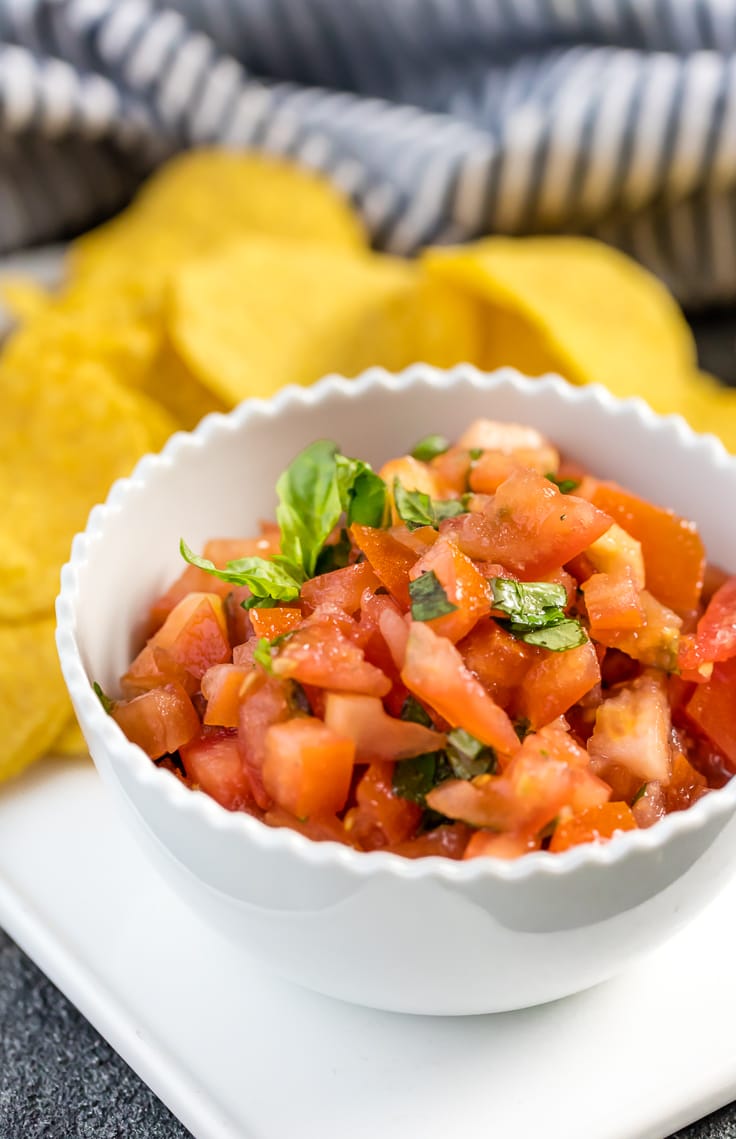 Frequently Asked Questions
What are the best tomatoes to use?
You can make this salsa with any tomatoes you like! I like to use Roma as they are nice and firm and have fewer seeds and paste tomatoes are a favorite. You could use cherry tomatoes for a sweeter salsa. Just make sure they are ripe and you are good to go!
Can you make it ahead of time?
Yes! This is a great make ahead dish and will keep well covered in the fridge for a couple of days once made. Depending on how watery your tomatoes are, some juice may pool in the bottom of the bowl when it sits, but you can easily drain this away to serve.
Is it spicy?
This Italian salsa isn't spicy at all so it's perfect for the whole family. If you want to add a bit of kick, you can mix in a few dried chili flakes or a freshly chopped red chili.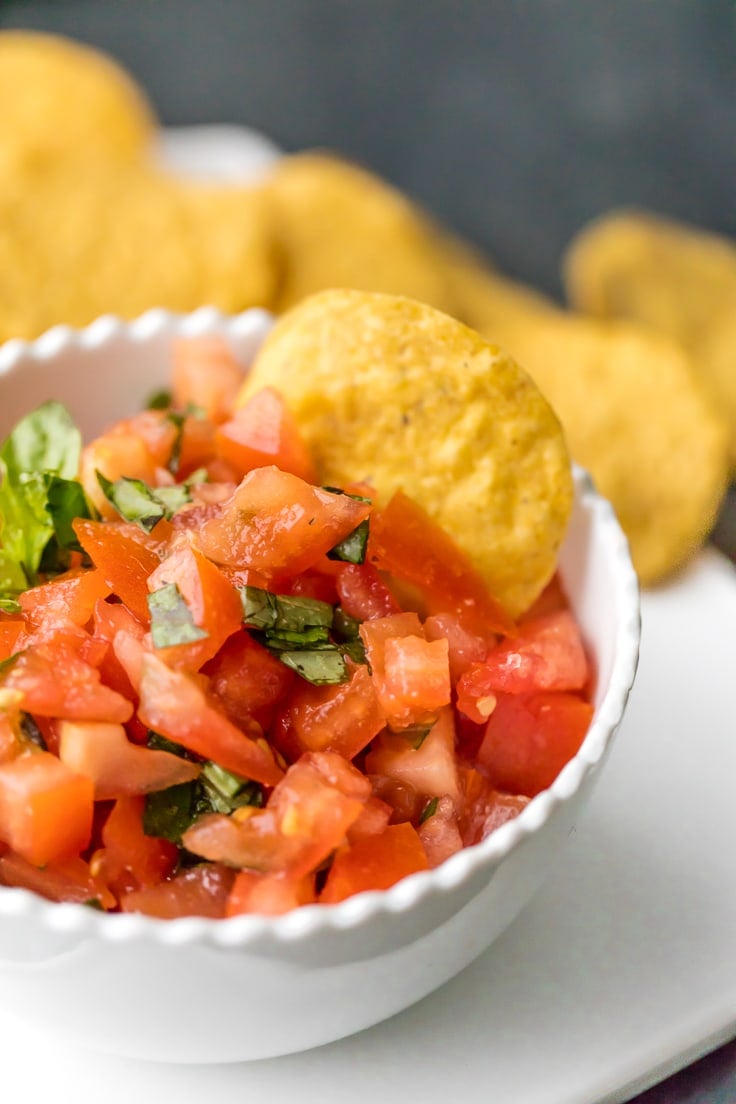 Serving Suggestions
This Italian salsa is perfect for dipping and topping! It's great served with some chips or loaded on to crostini for something a little fancier! Try it with my Homemade Tortilla Chips.
Tips!
Chop the tomatoes as finely as possible to make sure that the balsamic and olive oil mix together with the tomatoes fully. If making a bruschetta topping, you can make the tomatoes slightly larger.
If your tomatoes have a lot of seeds, you can remove them so that it's not too watery.
If your tomatoes aren't very sweet, try mixing in a teaspoon of sugar.
This recipe is a great way of mixing up your usual Mexican salsa recipe. It's so delicious, you'll be adding it to everything!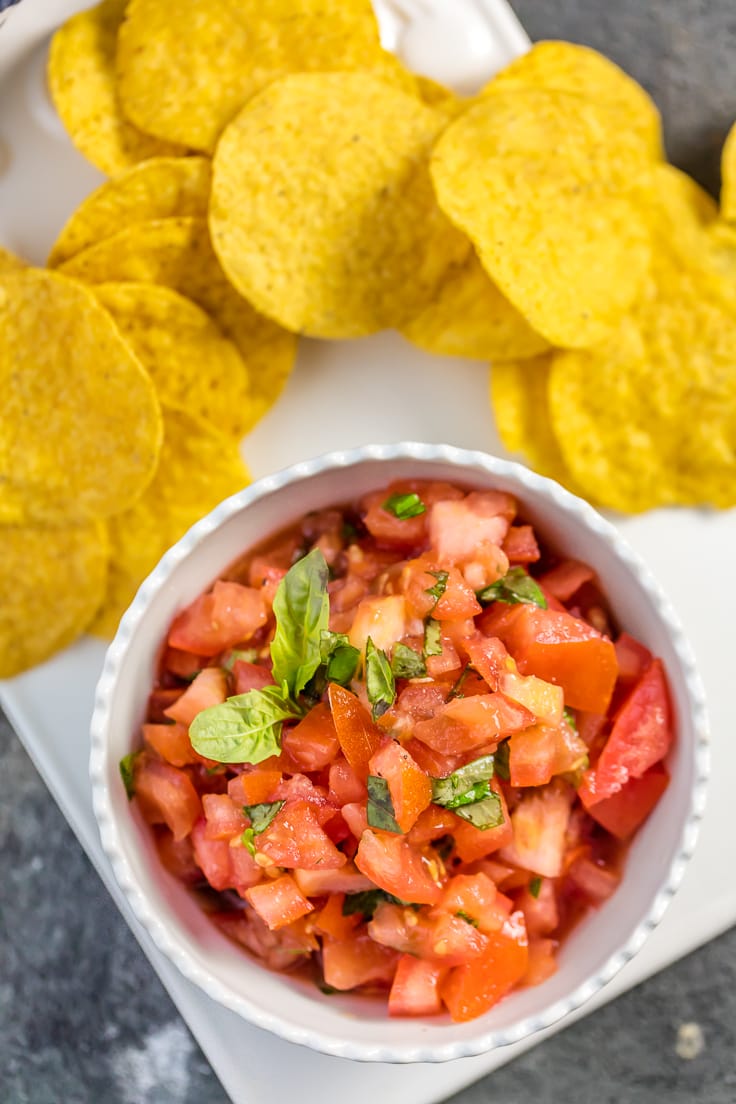 Fresh salsa and plenty of chips? That makes for a good day in my book! Hope you love this recipe. Enjoy!
More Delicious Dips
Try a few of these other dips, and keep the chips coming!
If you make this recipe be sure to upload a photo in the comment section below or leave a rating. Enjoy! You can also jump to recipe.