Dutch Oven Lasagna, or Stove Top Lasagna, will blow your mind! You'll never make a fully traditional lasagna recipe again after making this easy stove-top version. We are addicted to this melty, cheesy, and simple Italian recipe! This one pot lasagna is one of the BEST dutch oven recipes we have tried.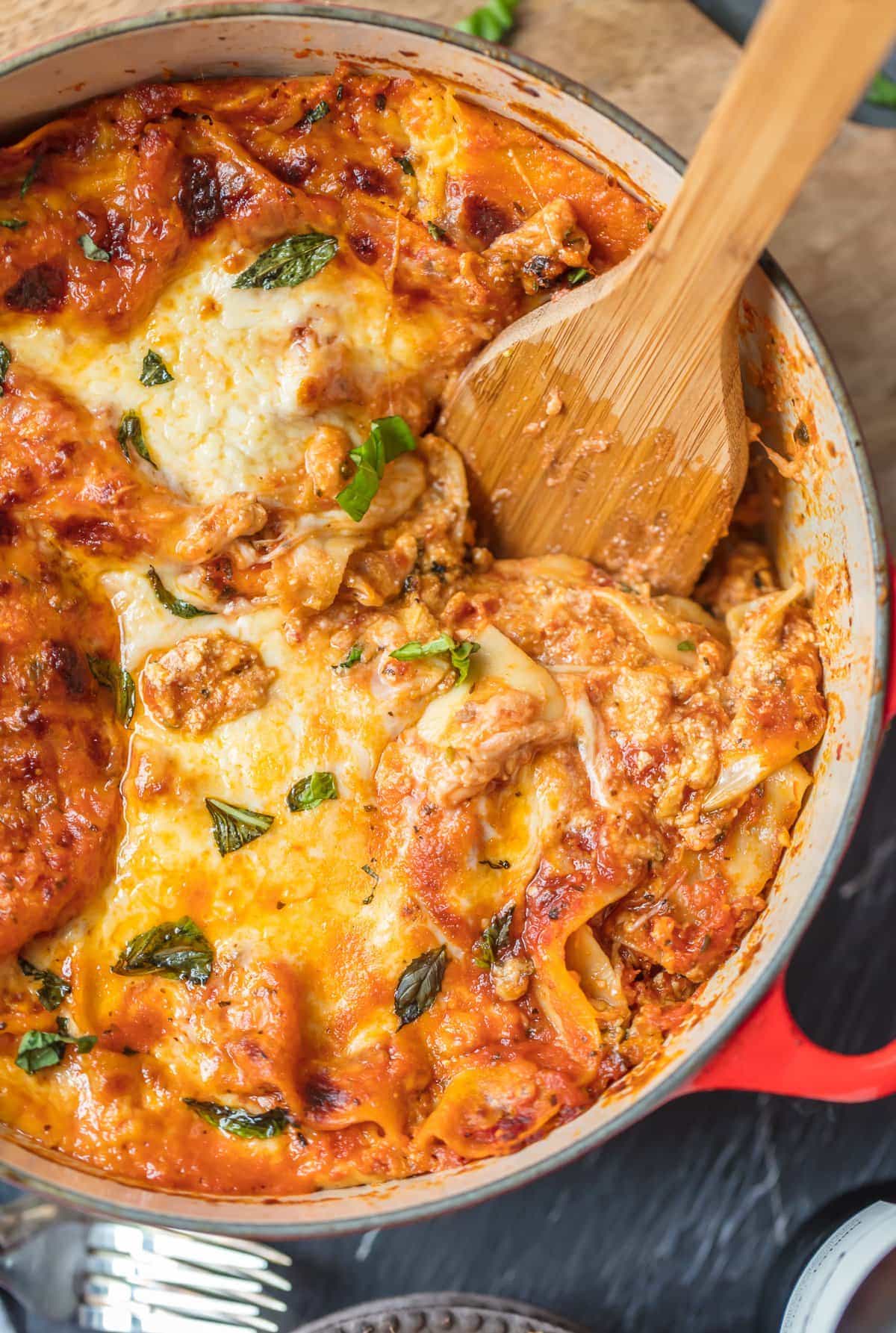 Dutch Oven Lasagna on the Stove top
Dutch Oven Lasagna is an easy version of the most classic comfort food recipe of all time!
This stove top lasagna recipe is so easy and so perfect. It's a deliciously cheesy one pot meal that the entire family will love.
This easy lasagna recipe is made with no boil noodles, ricotta cheese, beef and Italian sausage, and lots of other tasty ingredients. Everything is made in the dutch oven, and it cooks it to perfection.
This easy dutch oven recipe is so delicious and so simple. You can feel like you're eating at the best restaurant while in the comfort of your own home. I love that feeling!
Why You'll Love this Easy Lasagna Recipe:
ONE POT DINNER: You can make dinner from start to finish with just one pot! Dinnertime will be so much easier, and clean up will be a breeze.
CHEESY: This lasagna is sooo cheesy and delicious. We use mozzarella, parmesan, and ricotta, so there's plenty of cheese to go around.
FAMILY FAVORITE: Everyone will love this easy lasagna dinner. Make a weeknight dinner that will bring the whole family together!
This easy Dutch Oven Lasagna recipe is so tasty and so easy to make on the stove. No need to heat up the oven or dirty up a bunch of dishes!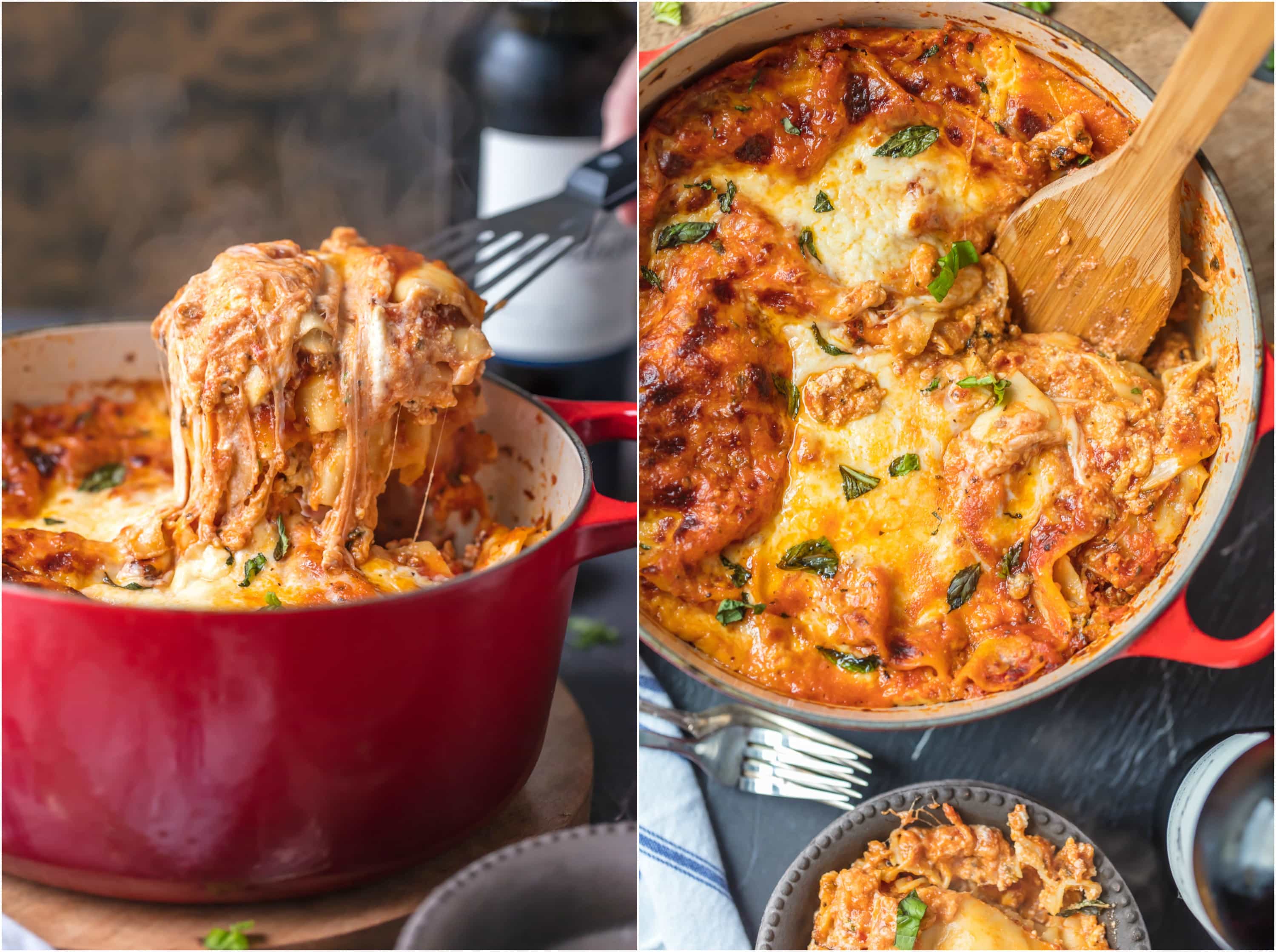 One Pot Lasagna Ingredients
No boil lasagna noodles: Using no boil noodles means you can skip the boiling part and get right to assembling the lasagna.
Ricotta: Use ricotta cheese for the filling, or substitute cottage cheese.
Beef: Use ground chuck.
Italian Sausage: I love adding sausage into the mix with the beef. But you can skip the sausage and add more beef if you prefer.
Wine: Use a dry or semi-dry red wine. Or replace with an equal amount of water or broth instead.
Marinara: You can use your favorite jarred sauce, or make some homemade marinara.
You can see the full ingredients list in the recipe card.
How to Cook Lasagna on the Stove Top
Be sure to see the recipe card below for full ingredients & instructions!
Beat together egg, ricotta, and parsley to make the cheese filling.
Brown the beef and sausage in the dutch oven, then drain and set aside.
Saute the onion and garlic, then add the wine, marinara, and red pepper flakes. Cook briefly then combine with the meat.
To assemble the lasagna: meat sauce, noodles, sauce, ricotta, cheese. Then repeat two more times.
Cook on low heat for 30-40 minutes. Then let it rest 10 minutes before serving.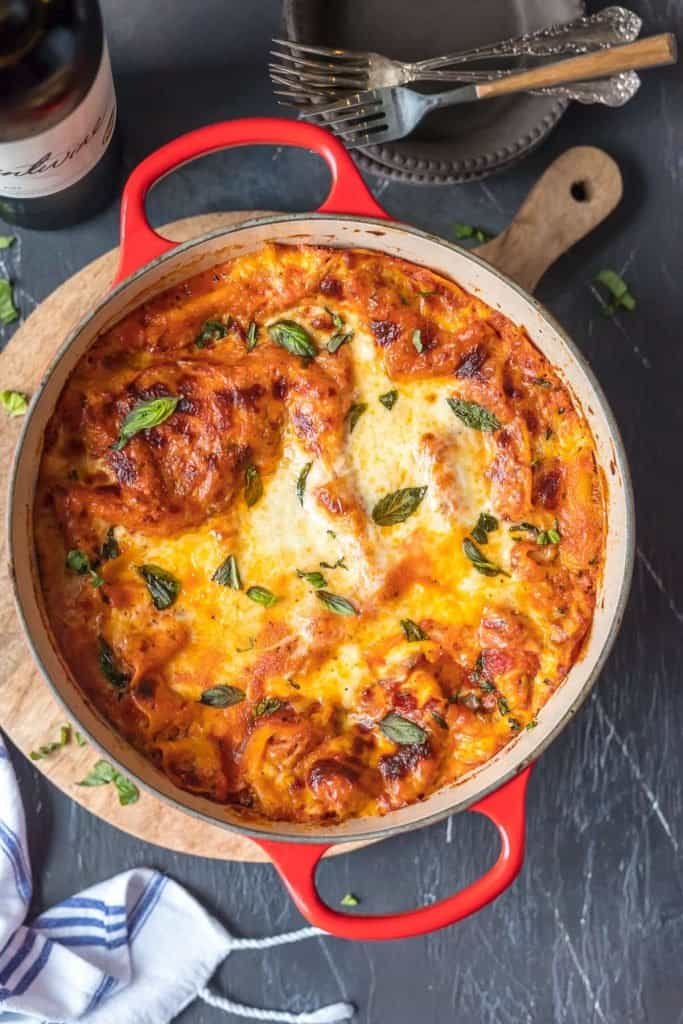 Easy Dutch Oven Lasagna Dinner
This stove top lasagna is one of those EASY Dutch Oven recipes that you'll make again and again. I cannot wait for you guys to try this and let me know how you like it. I have a feeling you're going to make it part of the rotation around your table.
One pot meals are always the best for the busy weeknight dinners when doing dishes is the absolute last thing you want to be stuck doing. Or on weekends when the fun is calling! Nothing better than noodles, tomatoes, cheese, and basil. It's just that simple.
How long do I cook this lasagna?
Once the ingredients are prepared and the lasagna has been assembled, it will need about 30-40 minutes to cook.
Can you use a dutch oven on the stove top?
Absolutely! You can use a dutch oven on the stove or in the oven.
Can I use chicken instead of beef?
If you prefer, use ground chicken in place of beef. You could also use chicken sausage if you like.
Should I cover lasagna while it cooks?
Yes, place the lid on the dutch oven while the lasagna cooks on the stove.
Why do you mix egg into the ricotta?
We're mixing an egg into the ricotta cheese to help hold it together. This keeps it from getting too runny when cooked.
Can I use regular lasagna noodles?
If you can't find no-boil lasagna noodles, you can use regular noodles for this recipe. You'll just have to boil them beforehand, and then follow the recipe as is.
Serving Suggestions
This easy lasagna recipe is so cheesy, and will be more than welcome at dinnertime. Of course your focus will be on the main dish, but a few side dishes never hurt. Serve it up with some bread, a salad, and maybe some veggies. Or serve a fun appetizer before dinner!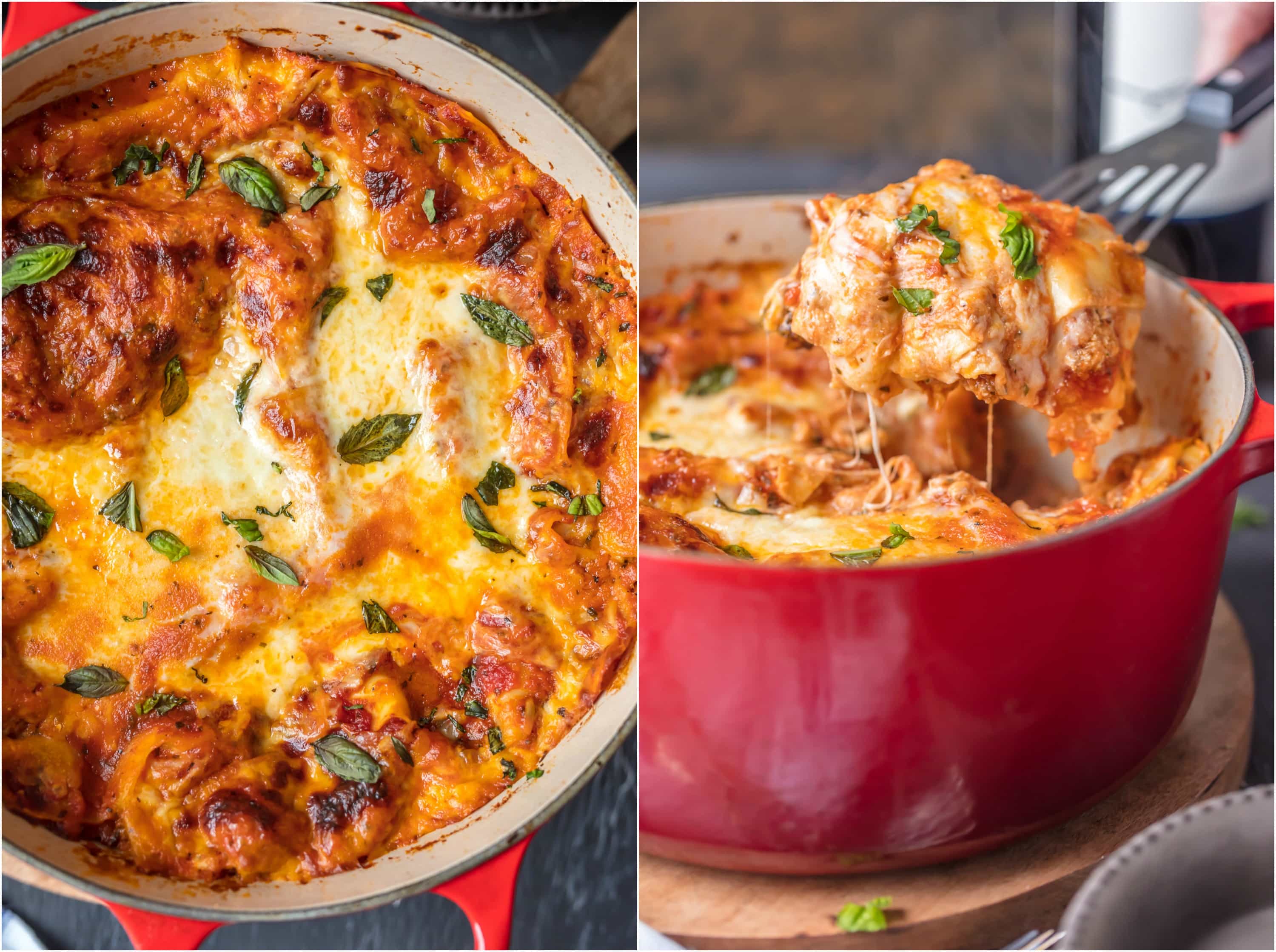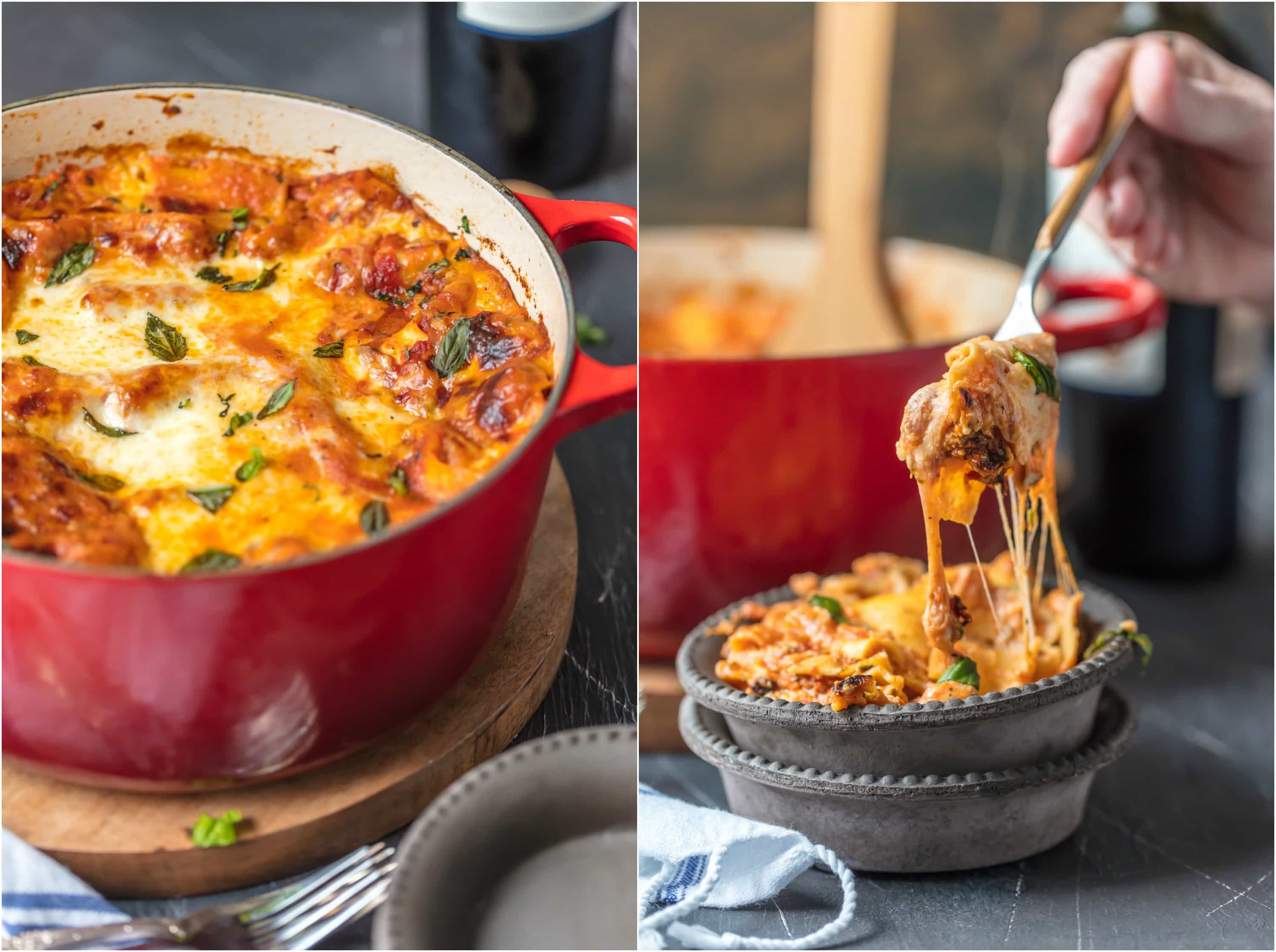 Tips!
Keep a large mixing bowl next to the stove, so you can use it to mix the meat and sauce between steps.
When assembling the lasagna, start with a layer of sauce, otherwise the noodles will stick to the bottom
The lasagna is done when the noodles have hydrated/softened, everything is fully heated through, and the cheese will be hot and bubbly.
If you like, place dutch oven under the broiler for a couple of minutes to brown.
It will be very hot when you dig in, so let the lasagna rest 10-15 minutes before serving.
Store leftovers in an airtight container in the fridge, for up to 4 days.
What are no boil lasagna noodles?
No-boil lasagna noodles are exactly what they sound like: they're noodles that don't need to be boiled before layering into the lasagna. This means you can skip a step, assemble the lasagna, and make everything in one pot! The noodles will absorb moisture from other ingredients (like the sauce and ricotta) and hydrate as it cooks. This little hack sounds like magic, and it makes this lasagna recipe so easy!
What are the benefits of using a dutch oven?
This is one of my kitchen essentials! Much like a good cast iron skillet, a dutch oven can be used in so many different ways. It's sturdy and has a heavy bottom, which is great for even heating. You can use it on the stove (like we do with this lasagna recipe), put it in the oven, make soups and stews, braise meats, or even make homemade bread.
If you don't already have one, I highly recommend investing in one for your kitchen!
Dutch Oven Recipes We Love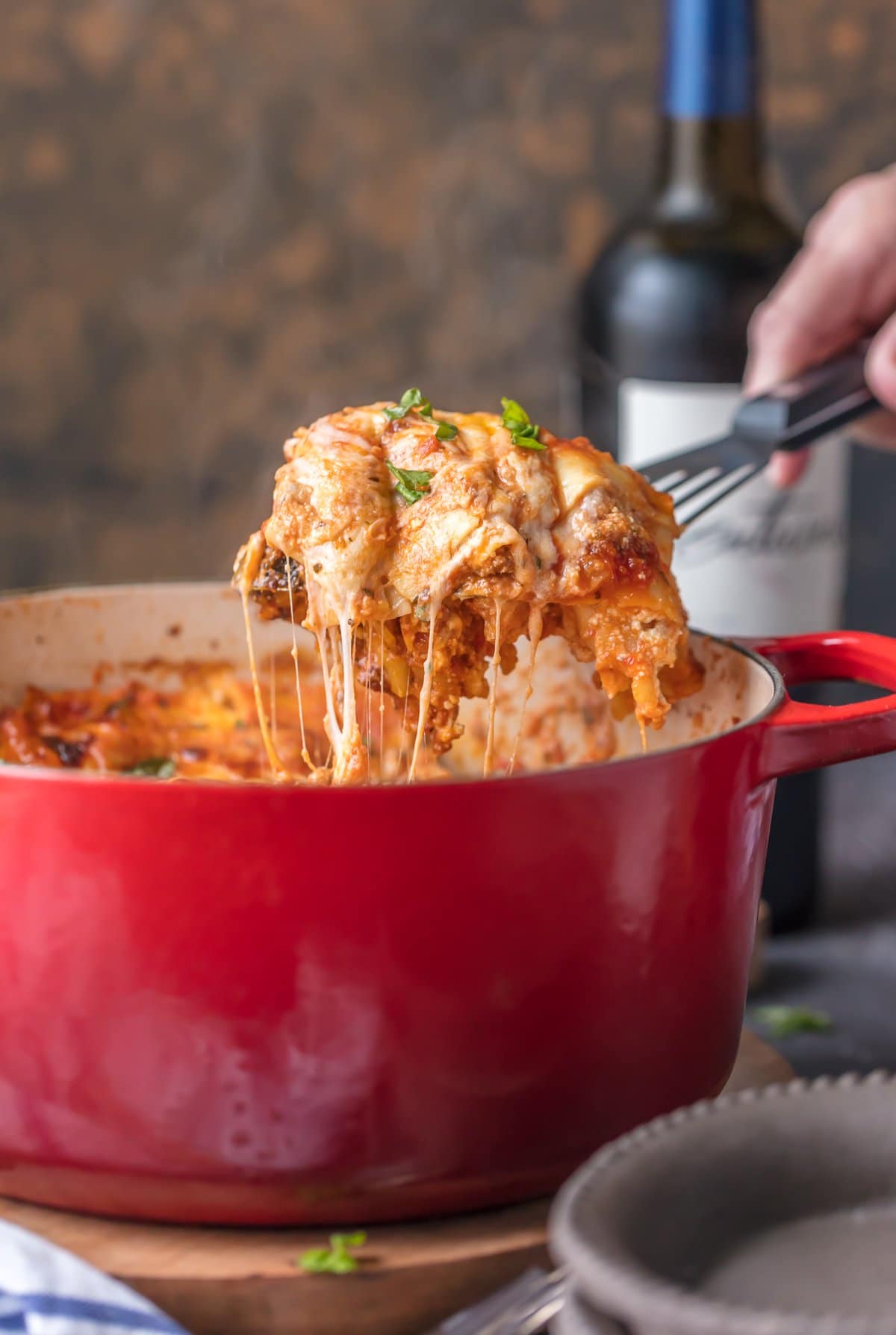 Whether you call it one pot lasagna, dutch oven lasagna, or stove top lasagna, I just know you're going to LOVE this easy, cheesy recipe. This has quickly become a reader favorite, and I know it'll be a favorite at your house too!
More lasagna recipes to make for dinner
If you make this recipe be sure to upload a photo in the comment section below or leave a rating. Enjoy!