Pimento Cheese Deviled Eggs are the ultimate appetizer! Creamy and flavorful pimento cheese adorns hard-boiled eggs for that perfect combination of textures. The best part is that this easy recipe comes together in just 15 minutes!
What's in Deviled Eggs with Pimento Cheese?
If you love classic deviled eggs, you're going to love this recipe with the addition of creamy pimento cheese! You might already have just about everything you need in your kitchen right now! This is a budget-friendly recipe you'll love whipping up with ease.
Hard Boiled Eggs: Hardball your eggs, peel, and cut in half. They can be cooked and stored ahead of time so they're ready to use!
Mayonnaise: Mayo creates a creamy base when mixed with the yolks.
Cheddar Cheese: Sharp cheddar gives the most authentic pimento cheese flavor, but you can also use white cheddar, pepper Jack, or Colby cheese.
Pimentos: Pimentos are a type of red pepper with a sweet flavor and very little heat, similar to bell peppers.
Yellow Mustard: This adds a tanginess to the yolk mixture.
Worcestershire Sauce: This adds a tangy, savory, umami flavor.
Spices: A mix of black pepper and garlic powder gives the filling the perfect savory and spicy taste.
Green Onion: This is a great garnish when chopped nice and thin.
Pro Tip: Top off your deviled eggs with smoked paprika to give them a pop of vibrant color and just a touch of smoky flavor.
How can I garnish these for serving?
These pimento deviled eggs are eye-catching on their own, but you can take them up a notch by adding bright and tasty garnishes. Add diced pimento peppers, bacon crumbles, diced chives or green onion, and a sprinkle of paprika or sea salt.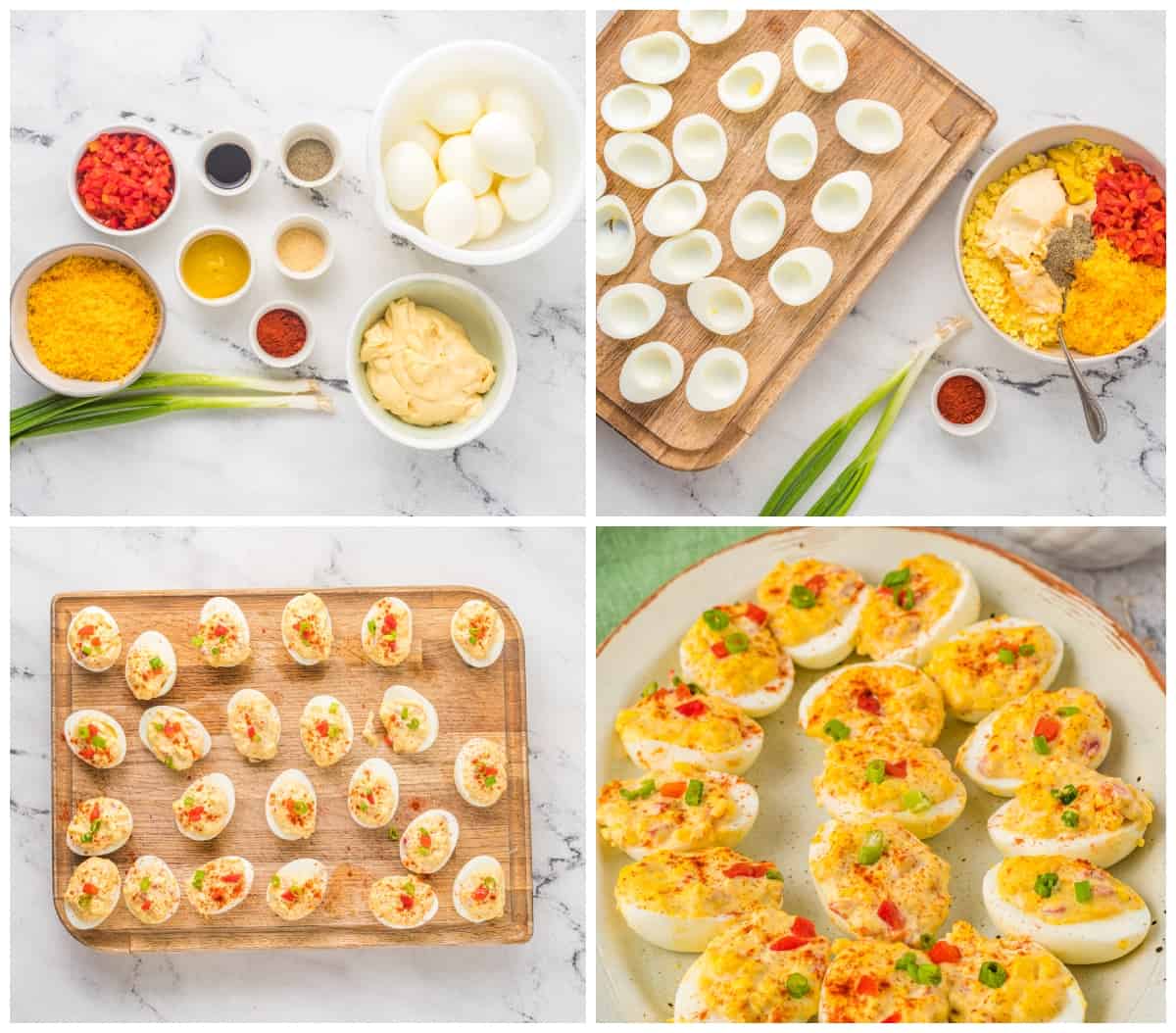 What is pimento cheese?
Pimento cheese is a spread made of cheddar cheese, mayonnaise, and pimentos. It's commonly served on crackers and vegetables or in sandwiches.
Where can I find pimento peppers?
Pimento peppers are readily available in most grocery stores. Look for them near the roasted red peppers.
What is the best way to fill a deviled egg?
I like to use a piping bag (or a Ziplock bag with the corner cut off). This prevents mess, and you can choose a fun piping tip to make your deviled eggs look extra fancy. You can also spoon the filling into the eggs, but this may take a bit more finesse.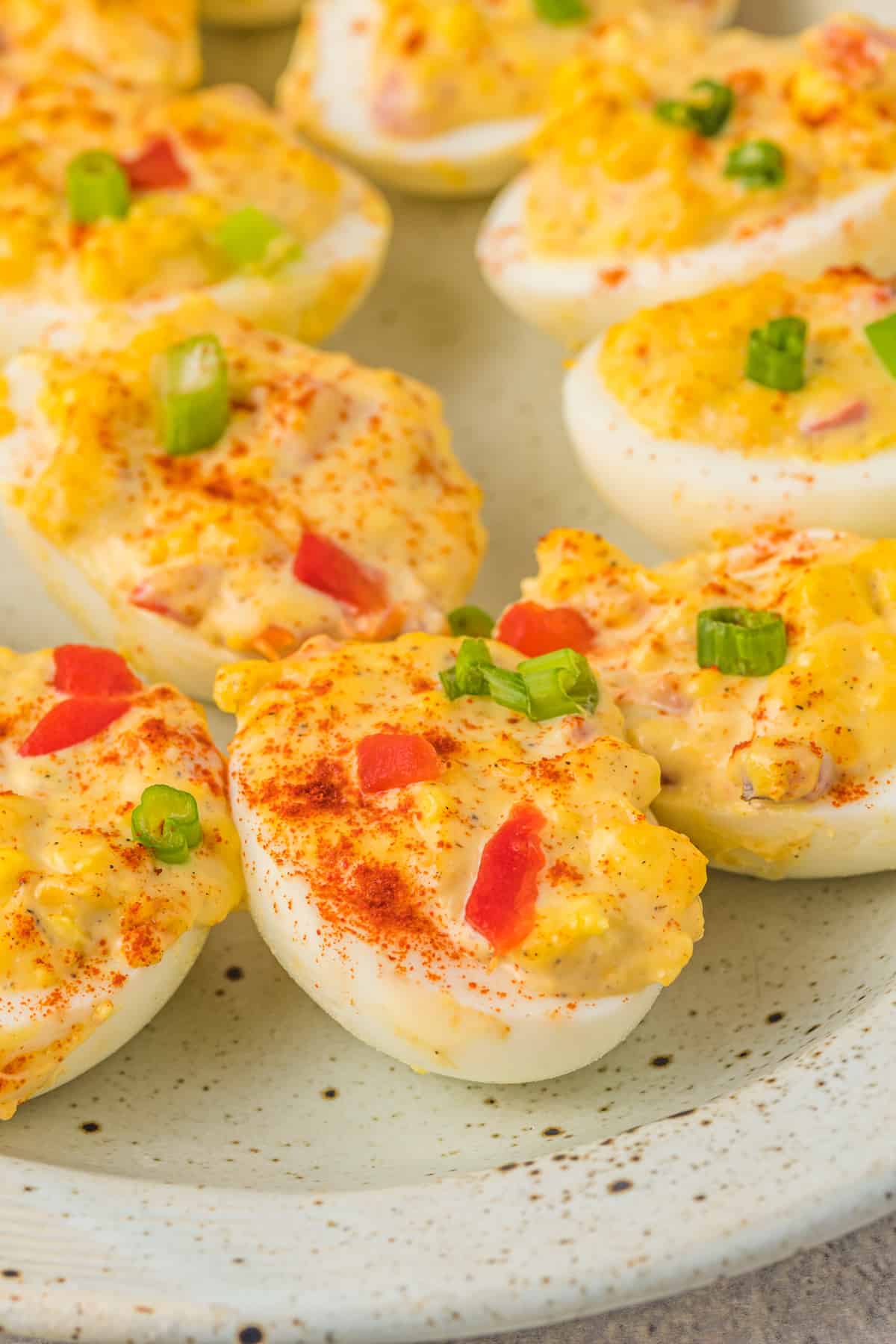 How to Store Leftovers
Store leftover pimento cheese deviled eggs in an airtight container in the refrigerator for up to 2 days. Bring to room temperature before serving. I do not recommend freezing these.
Serving Suggestions
These make a great Easter appetizer, and you'll want to serve your pimento cheese deviled eggs with other finger foods and dips to keep your guests grazing and happy! Some of my favorites include ham roll ups, ranch dill pickle dip, and Air Fryer sausage balls.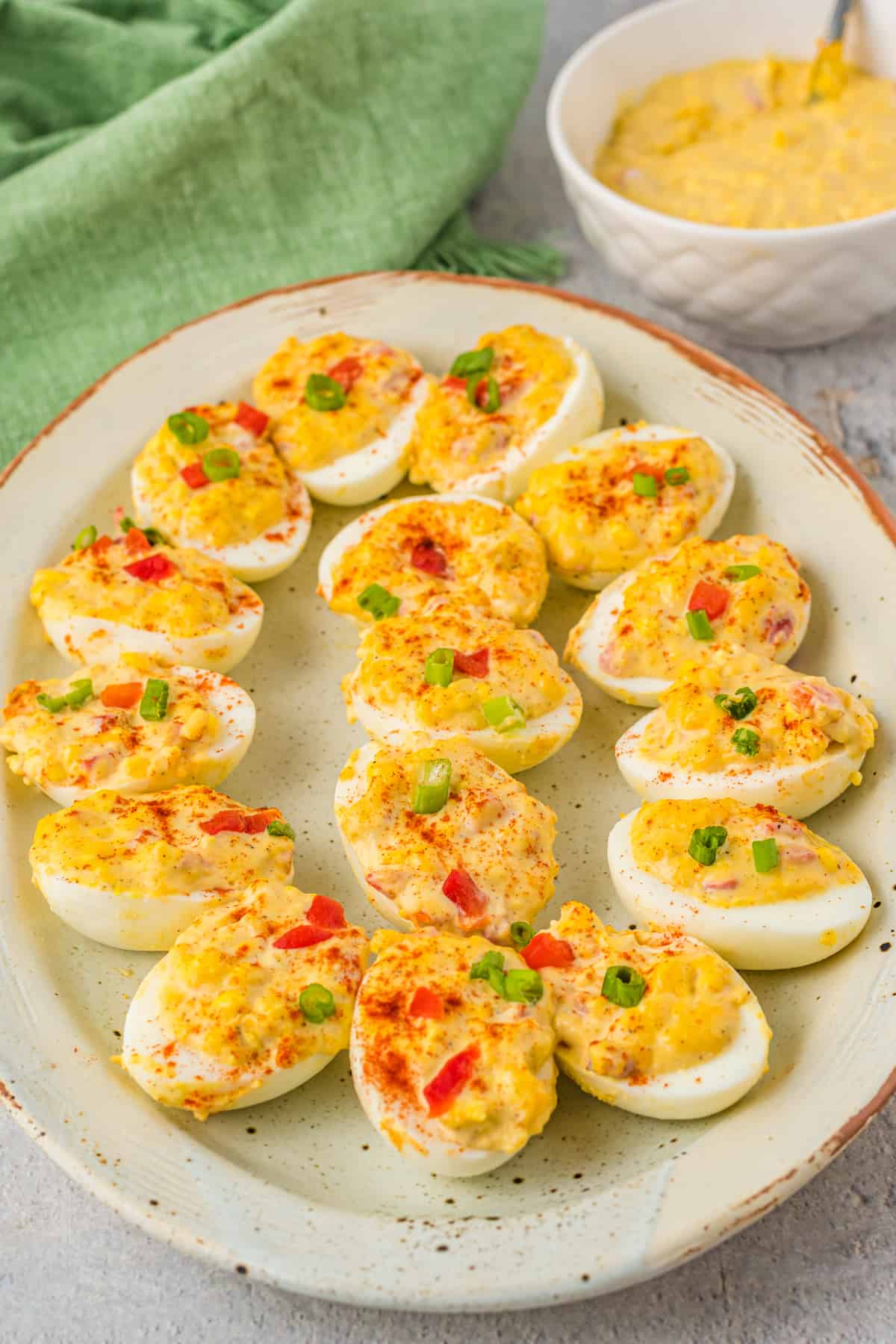 More Deviled Egg Recipes We Love