Eggs Benedict is one of my all time favorite breakfast dishes and it's so easy to make! A homemade hollandaise sauce smothers poached eggs and Canadian bacon, all atop an English muffin. Delicious!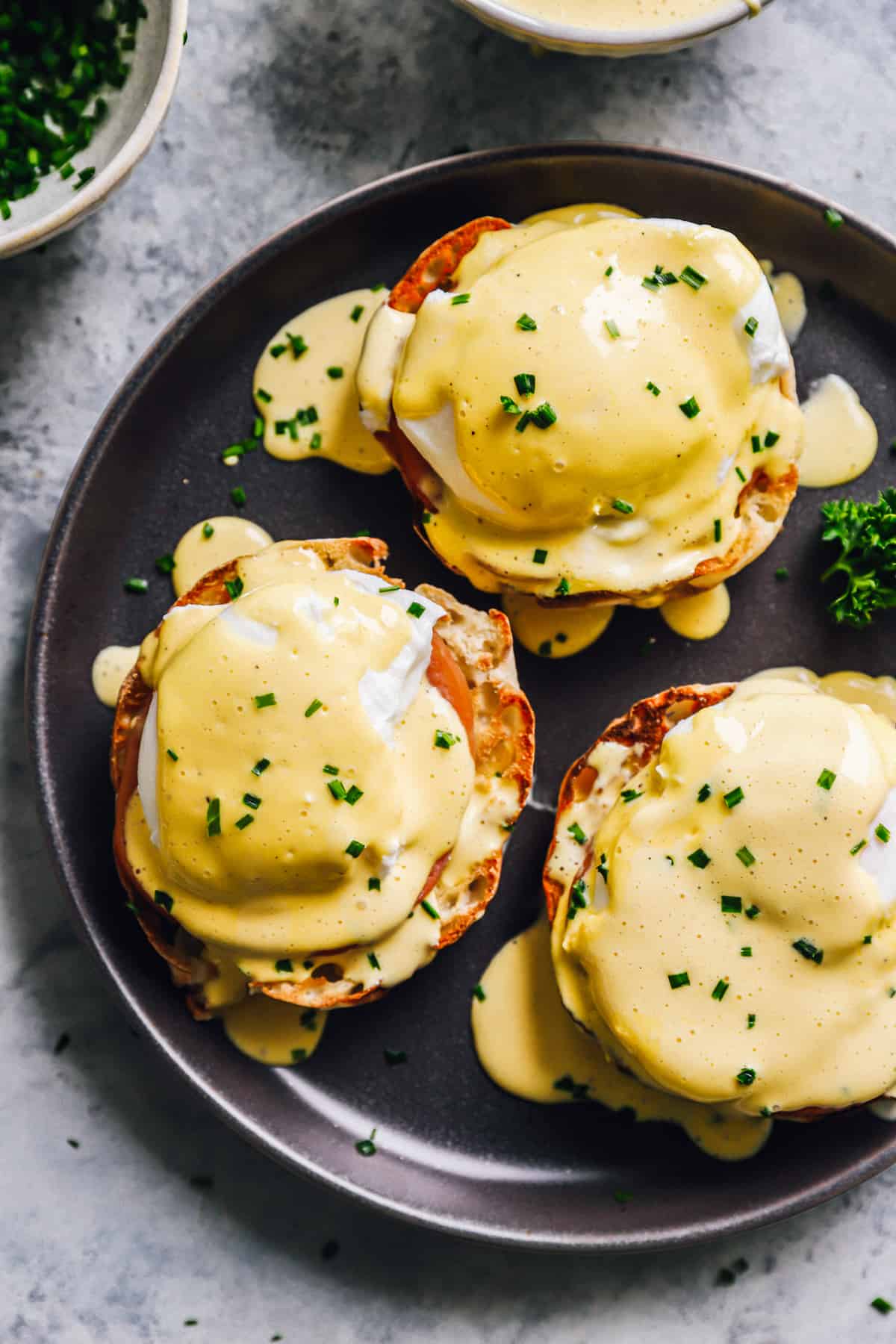 Easy Eggs Benedict
There's nothing quite like cutting through the lovely layers of an eggs benedict! The runny poached egg, the savory bacon and the fluffy English muffin provide the most satisfying breakfast bite! It's such an easy breakfast, and of course it's an awesome brunch treat too!
Looking for some more brunch ideas? Why not also try my Eggs Benedict Casserole and my Cheesy Sausage and Potatoes Recipe!
Why You'll Love this Classic Eggs Benedict Recipe:
QUICK & EASY: Packed with flavor, this breakfast comes together in a snap!
A DELICIOUS SAUCE: The homemade hollandaise sauce is simple but packs a creamy and savory punch, perfect over eggs and bacon!
SATISFYING: Protein packed eggs, savory bacon and an English muffin – it's a hearty breakfast or brunch that'll set you up for the day!
Make a restaurant favorite easily in your own kitchen! Only a few simple ingredients are needed.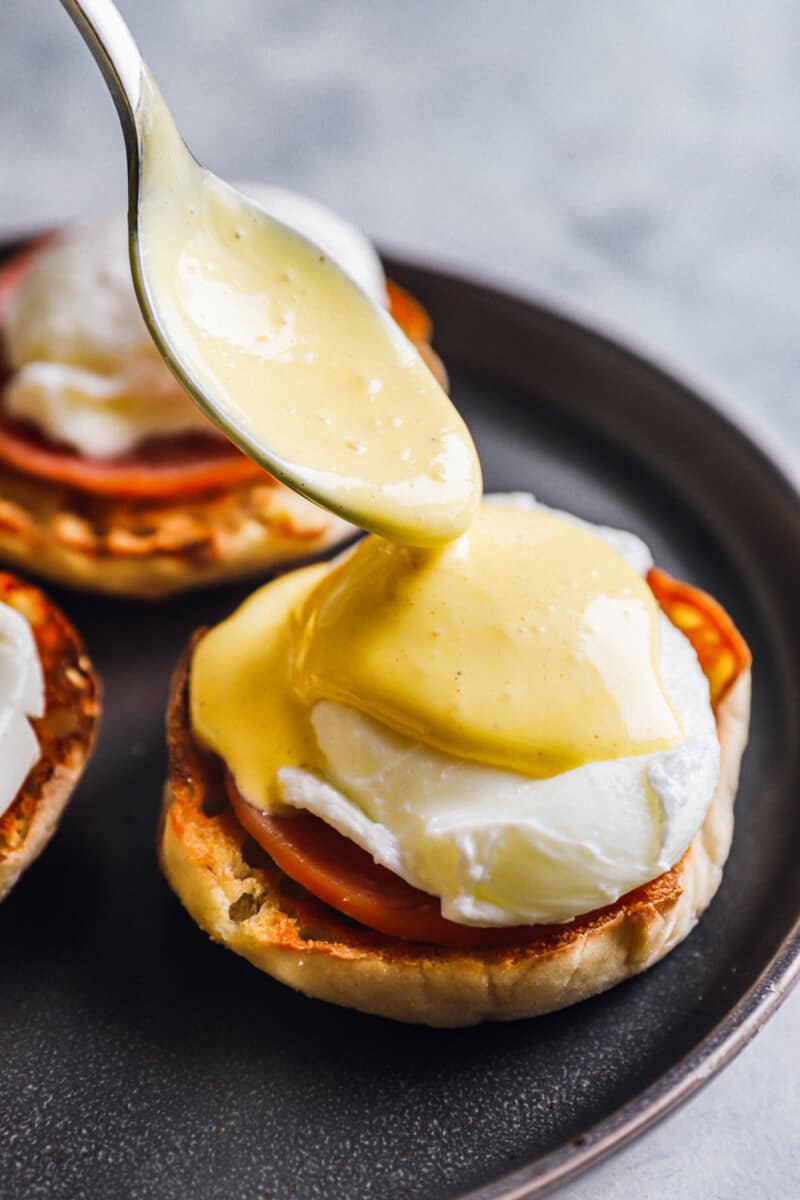 How to Make Eggs Benedict
You can jump to the recipe card for full ingredients & instructions!
Cook your sliced muffins and Canadian bacon under the broiler.
Poach your eggs in a large saucepan.
Blend your hollandaise sauce ingredients in a food processor.
Layer your ingredients onto the English muffin and spoon on the sauce.
Garnish, serve and enjoy!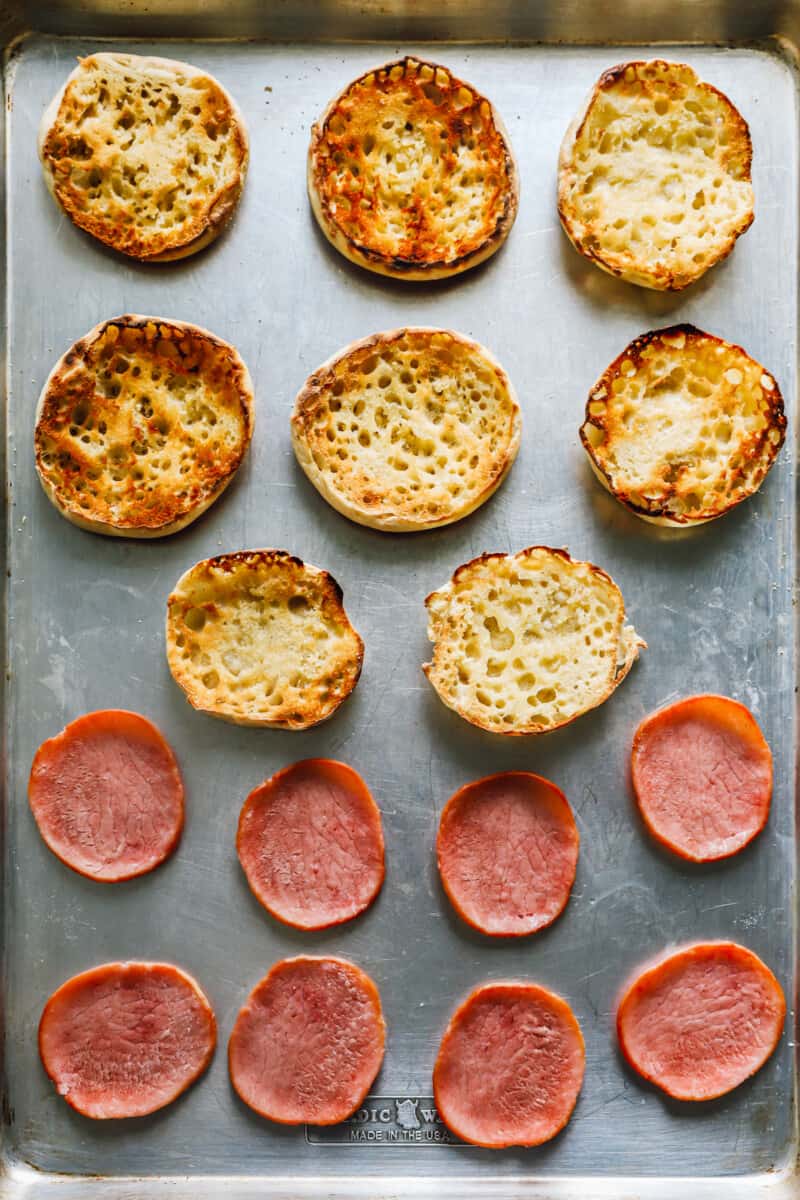 What is eggs benedict?
Eggs Benedict is an American breakfast dish consisting of poached eggs and sliced ham on toasted English muffins, covered with Hollandaise sauce.
How do I poach an egg?
To poach an egg, fill a large, high-sided skillet with water. Add 1 tablespoon of white wine vinegar and bring the water to a gentle simmer over medium-low heat. Crack an egg into a small bowl and then drop it into the water. Swirl a spoon gently around the egg to create a small vortex. Cook for 3-4 minutes, then remove with a slotted spoon and dab gently with a paper towel to remove any excess water.
What do I do if my Hollandaise sauce breaks?
If the sauce starts to break, gradually add hot water, 1 tablespoon at a time, until it comes back together. If the sauce does not come back together, discard and start over.
Serving Suggestions
These yummy eggs benny are a meal in their own right, but you can certainly amp up your breakfast or brunch with some of these favorites:
This hollandaise sauce is divine! Rich and buttery with a distinctively savory taste. This is the perfect dish for Mother's Day brunch, Valentine's Day, or any weekend that calls for a special breakfast.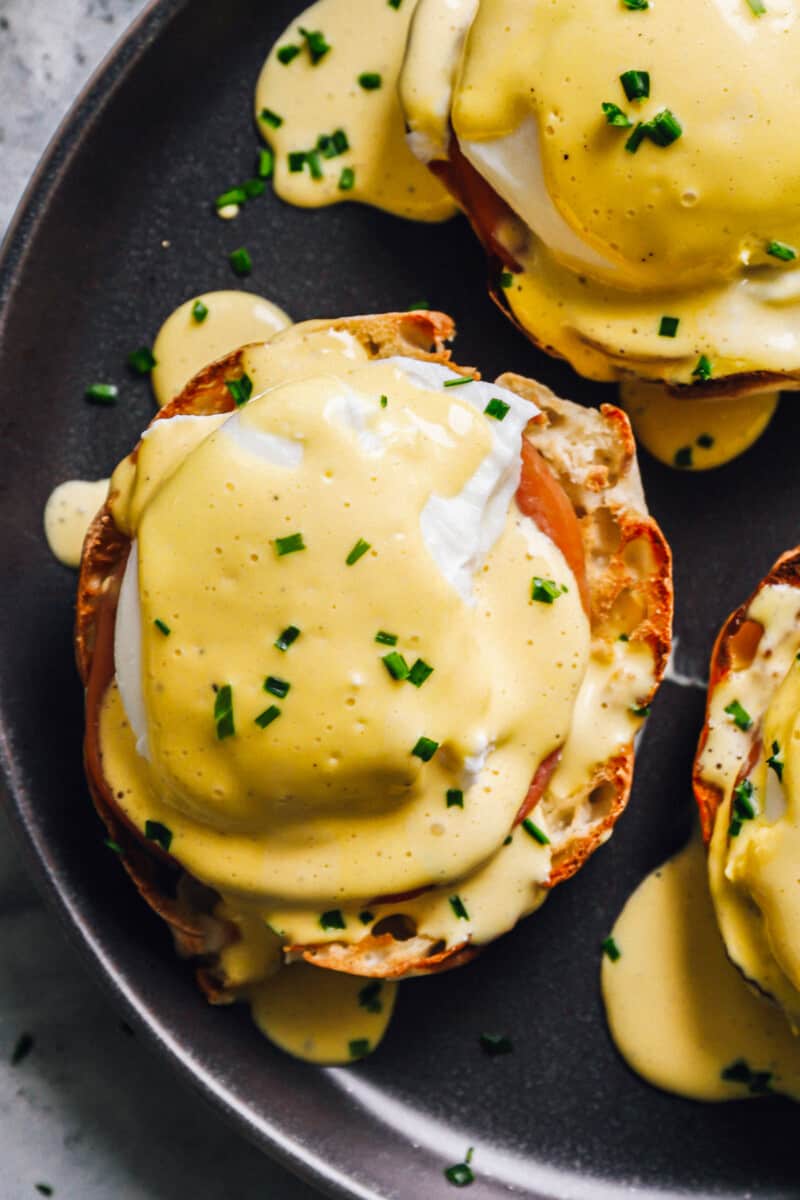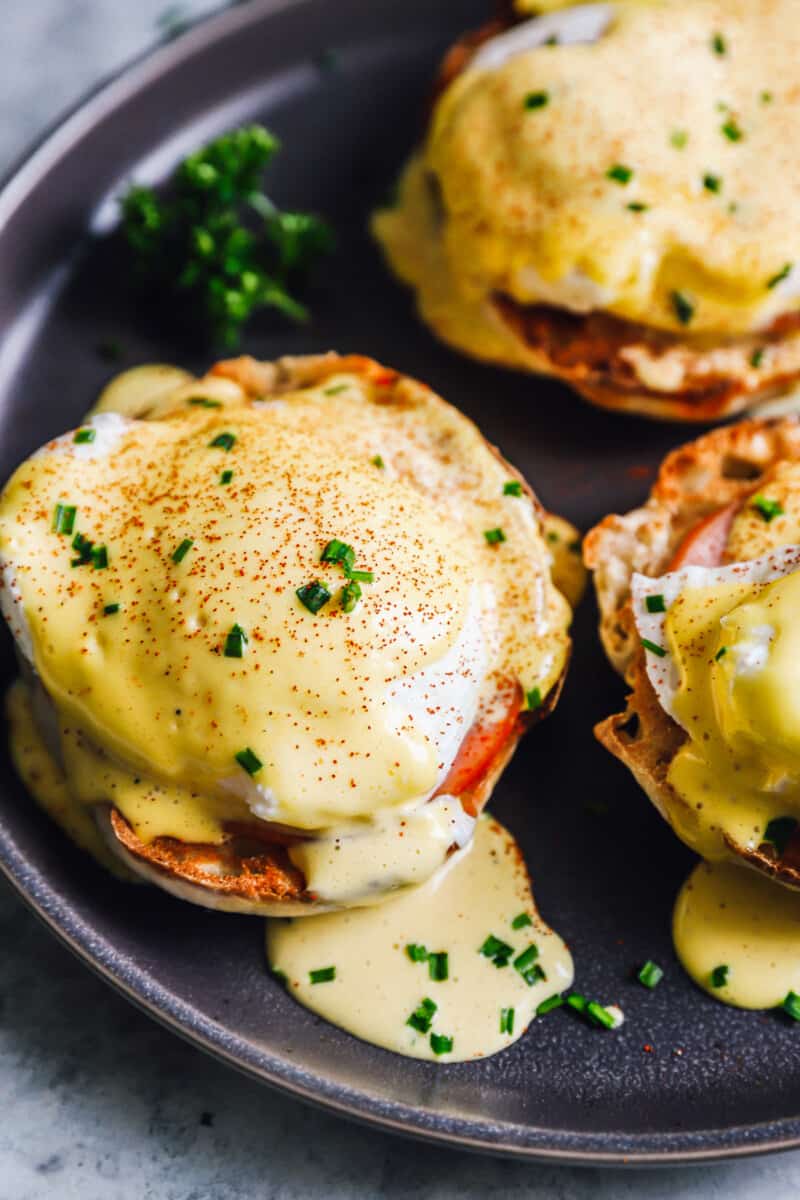 Make Ahead Instructions
Poach the eggs up to 2 days in advance. Reheat them in boiling water for 30-60 seconds when ready to serve.
Make the Hollandaise sauce up to 1 day ahead and gently reheat it in the microwave for 10-20 seconds.
I do not recommend cooking English muffins or Canadian bacon ahead of time. Both will be soggy when reheated.
Storage Instructions
Store fully-assembled eggs Benedict in an airtight container in the refrigerator for up to 1 day. Store poached eggs in an airtight container in the refrigerator for up to 3 days.
Tips for Perfect Poached Eggs
To reduce the white strings that form around eggs when poaching, first crack your eggs into a small mesh sieve and hold over a bowl to strain off the excess watery egg whites. Then, transfer to a ramekin.

Use an egg poaching pan if you have one.
Use the freshest eggs possible. Fresh egg whites will be thicker and spread less in the water.
Don't add salt to the water. This will cause the eggs to spread more.
If you're having trouble poaching more than 1 egg at a time, just cook them one at a time. Poaching eggs takes time to master.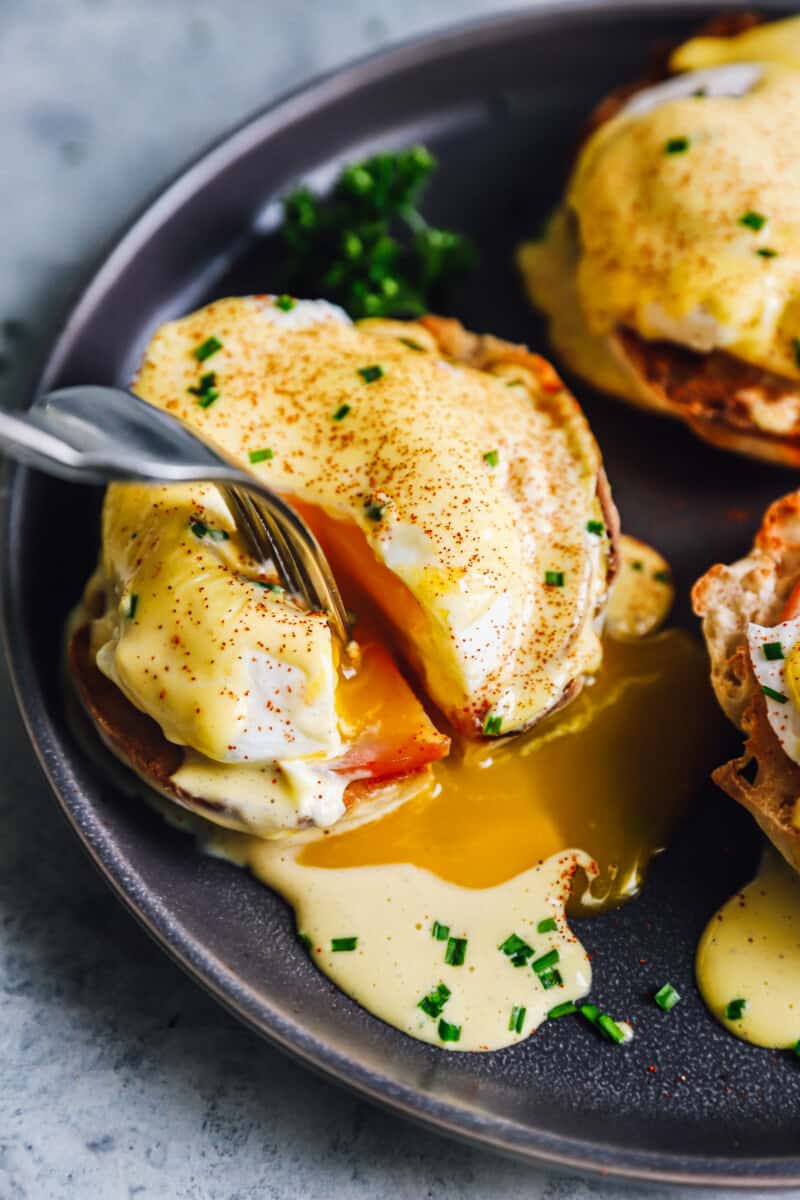 All the flavors of eggs benedict sit perfectly with one another, it just works so well. A creamy hollandaise, runny eggs, salty bacon and a fluffy muffin to mop everything up with – super satisfying and so easy to make!
If you make this recipe be sure to upload a photo in the comment section below or leave a rating. Enjoy! You can also jump to recipe.