Easy Mint Chocolate Ice Cream Pie is the perfect summer sweet treat, and it's made with only three ingredients! This is such a simple way to make an ice cream dessert for your family. It's sure to please!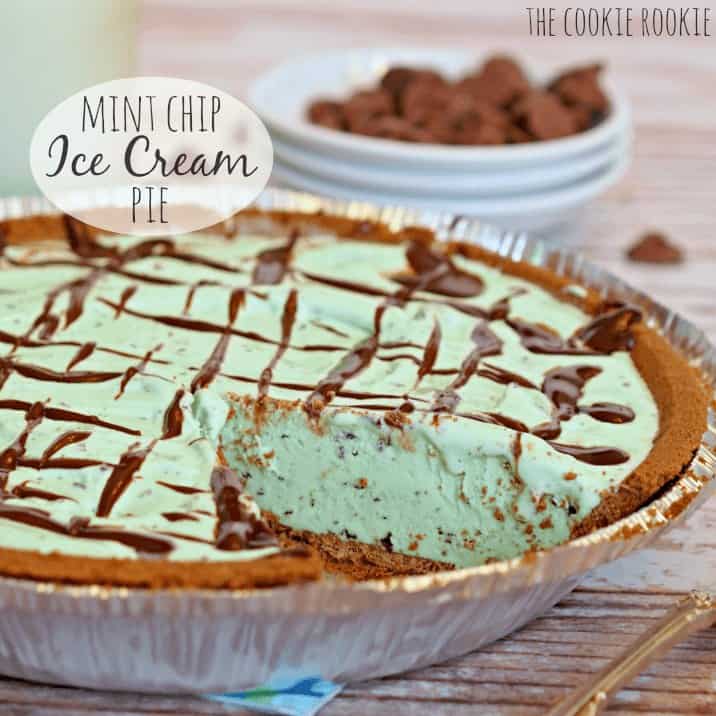 Mint Chip Ice Cream Pie Recipe
There's nothing more refreshing on a hot day than a slice of ice cream goodness. The only downside? Well, I'm lazy. I don't want to leave the house, find a Dairy Queen, and buy one. Because of this, I decided that I'll just have to start making celebratory ice cream desserts at home.
First up is this three-ingredient Easy Mint Chip Ice Cream Pie. My reaction, the first time I tried it? Holy Yum! I found this recipe on Pinterest and it took me to the cutest blog. See the original recipe HERE.
I've made some easy stuff on this blog, but this might actually be the easiest recipe I've ever made. You'll only need three ingredients: ice cream of your choice, Cool Whip (regular or lite), and pre-made pie crust from the store.
Talk about the perfect sweet treat for the ultra-lazy days–this is my kinda deal. Sometimes you just need an easy, no-fuss dessert you can whip up in a hurry. This is your ticket.
Why you'll love this Chocolate Mint Ice Cream Pie Recipe:
Make your own: Who wouldn't want to make ice cream pie at home–just like the ones from the ice cream shop!
Easy to make: Only three ingredients, using a pre-made cookie crust.
Customizable: It can be made in any flavor!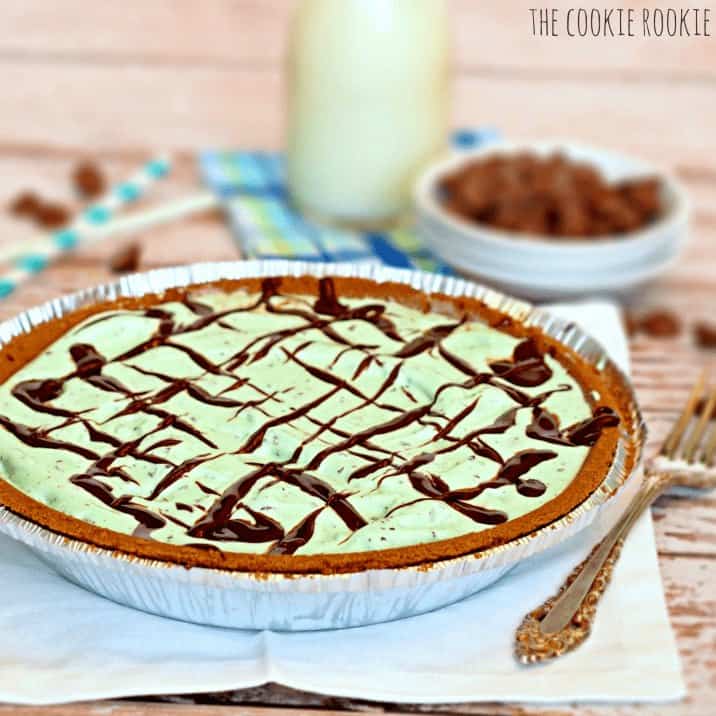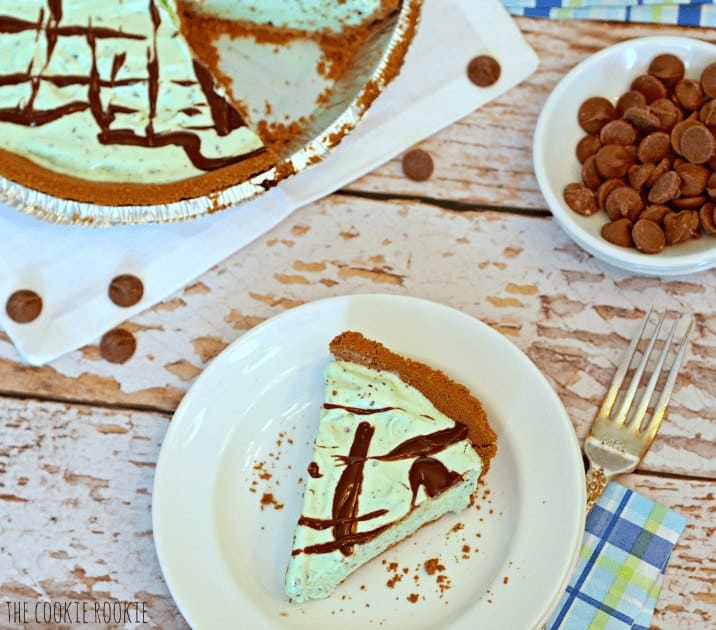 Ingredients
Mint chip ice cream – or your favorite ice cream.
Cool Whip – you can use lite Cool Whip with the same great results.
Pie crust – I used a chocolate cookie crust for the mint pie and graham for the toffee pie. Both were delicious!
Topping – hot fudge or caramel taste great.
Trademark note: In the spirit of transparency, please note that some of these ingredients are trademarked products. Dairy Queen, Cool Whip, Nilla, and Oreos are proprietary brands that I want to acknowledge and give credit to.
How to Make This Ice Cream Pie
Be sure to see the recipe card below for full ingredients & instructions!
Mix Cool Whip and softened ice cream.
Spread into a pre-made cookie pie crust.
Top with any sauces or garnishes you choose.
Freeze at least two hours before serving.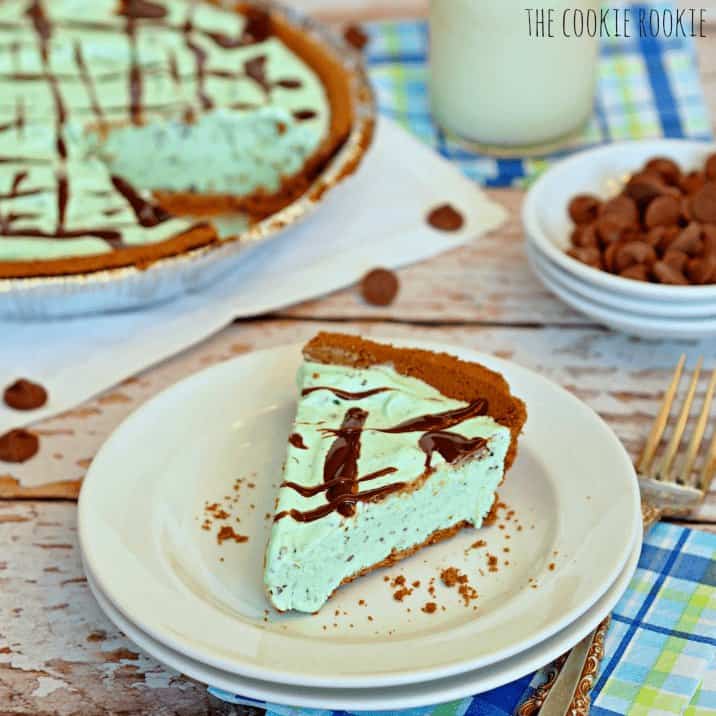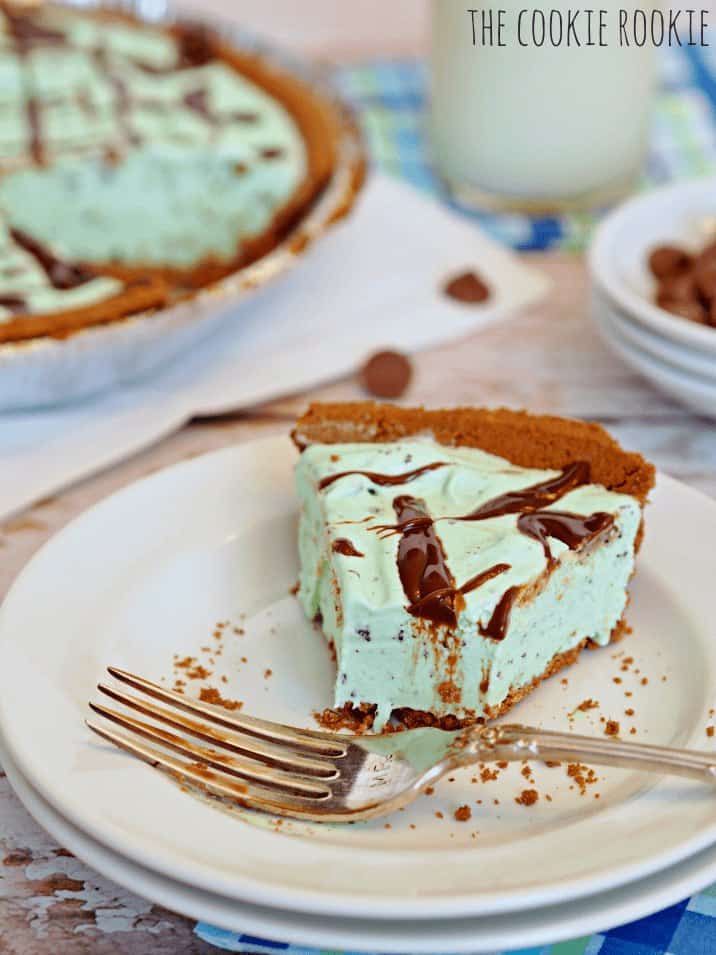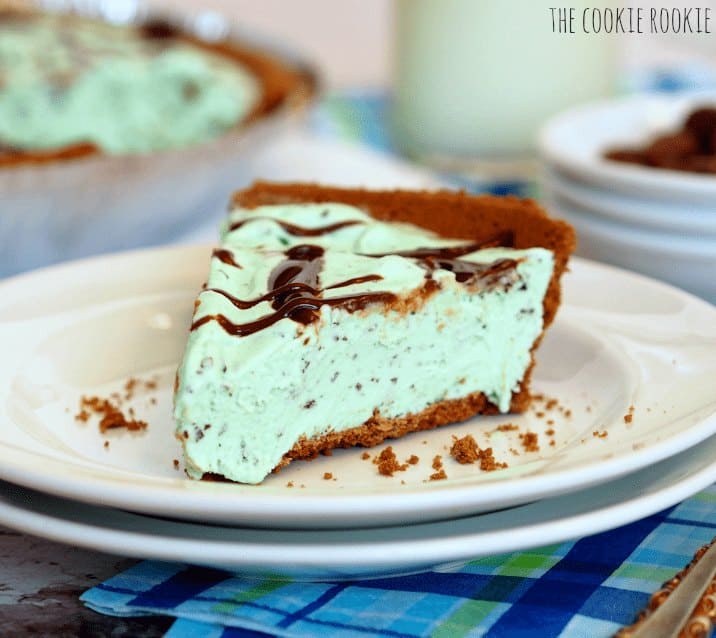 What are Cookie Crusts?
Cookie crusts are pre-baked pie crusts that you find in the grocery store (in the baking aisle). Instead of a regular pastry like you'd see in an apple pie, cookie crusts are made from crushed cookies, like Oreos, Nilla wafers, or graham crackers.
They add a fun, sweet element to a dessert, and because this Ice Cream Pie recipe doesn't require baking, you can use these cookie crusts straight from the package!
What Are the Best Toppings For This Pie?
Depending on the flavors you use for your ice cream pie, there are so many topping options. Here are some delicious topping ideas:
Whipped cream
Chocolate fudge sauce
Caramel sauce
Miniature chocolate chips or shaved chocolate (I shave a large chocolate bar with a vegetable peeler)
Chopped nuts
Maraschino cherries
Crushed Oreos
Sprinkles
What Other Flavors Can You Try?
I can't believe I lived my life up until now not knowing how to make this recipe! I have tried it with toffee ice cream and salted caramel sauce in a mini-pie crust. Guess what? It was amazing!
This recipe would be great in so many flavors, like peanut butter, chocolate, strawberry, or coffee. You could even try a sherbet for a fruity variation. Choose your favorite ice cream and go for it!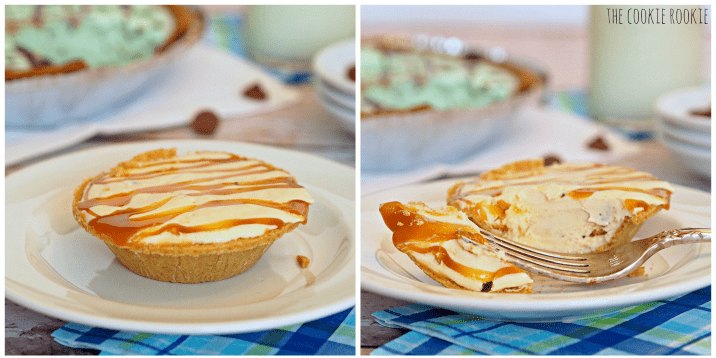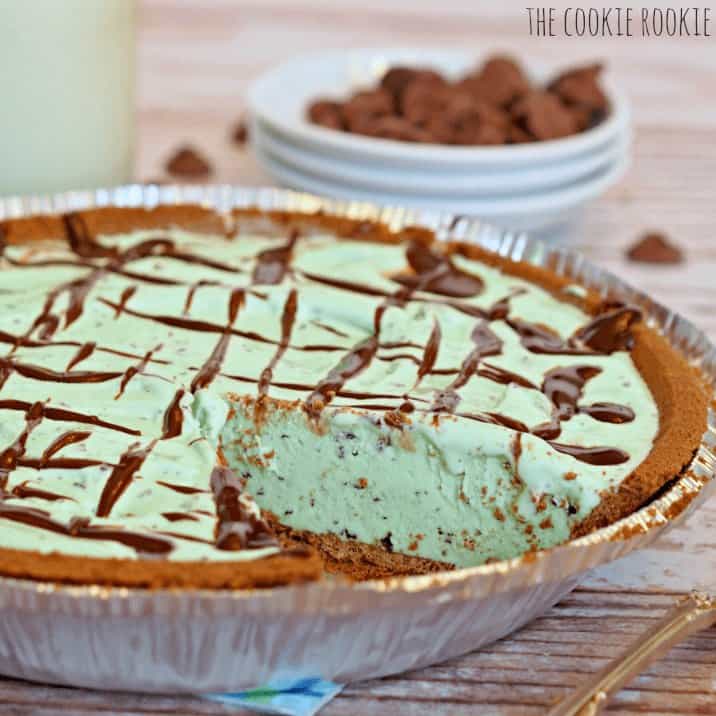 I hope you can find a reason to celebrate with this Easy Mint Chip Ice Cream Pie sometime soon. Let me know what flavors you try! Enjoy :)
Check Out These Other Delicious Pies
If you make this recipe be sure to upload a photo in the comment section below or leave a rating. Enjoy!