This simple no bake Strawberry Lemonade Freezer Pie is prepped in minutes! Easy, delicious, and refreshing. The perfect summer treat. I love the creamy lemonade filling mixed with the tart strawberries. Summer here we come!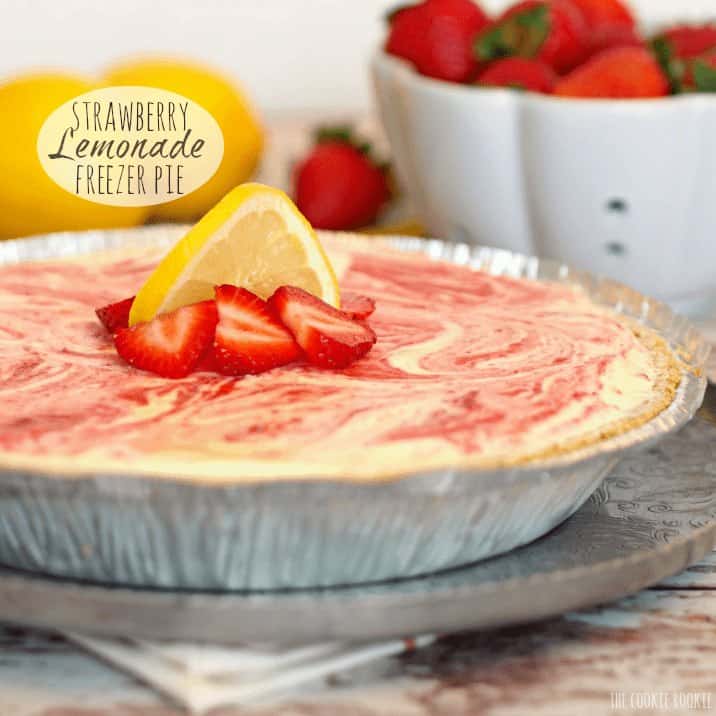 Autumn may be on its way, but there is still time for some delicious tastes of summer. Its still ice cream season in my book. (it can be ice cream season all year long as far as I'm concerned!) This weekend I made a super simple Strawberry Lemonade Freezer Pie…and I think I'm hooked. I love easy dessert recipes, and this is one of the easiest of them all. And just as tasty as if I'd slaved all day. Perfect!
Why this Lemonade Pie is so good
A light and refreshing dessert, with fresh strawberries.
An easy no bake dessert.
A zesty citrus kick from the lemons and lemonade.
A summer favorite that you'll want all year round.
Ingredients
Pie Crust – premade graham cracker crust works great.
Cool Whip – low fat.
Lemonade – canned lemonade concentrate delivers a great, zesty flavor.
Strawberries – chopped. You can use fresh or frozen.
Sugar
Yellow Food Coloring – optional but pretty!
Garnish – lemon slices and strawberries.
How to make this Lemonade Freezer Pie
Be sure to scroll to the bottom for the full recipe
Combine strawberries and sugar in a food processor. Then, in a mixer, combine cool whip, lemonade and sweetened condensed milk and pour the lemonade mixture into the pie crust. Then pour the strawberry mix on top.
Freeze until well frozen, then slice and serve.
Enjoy!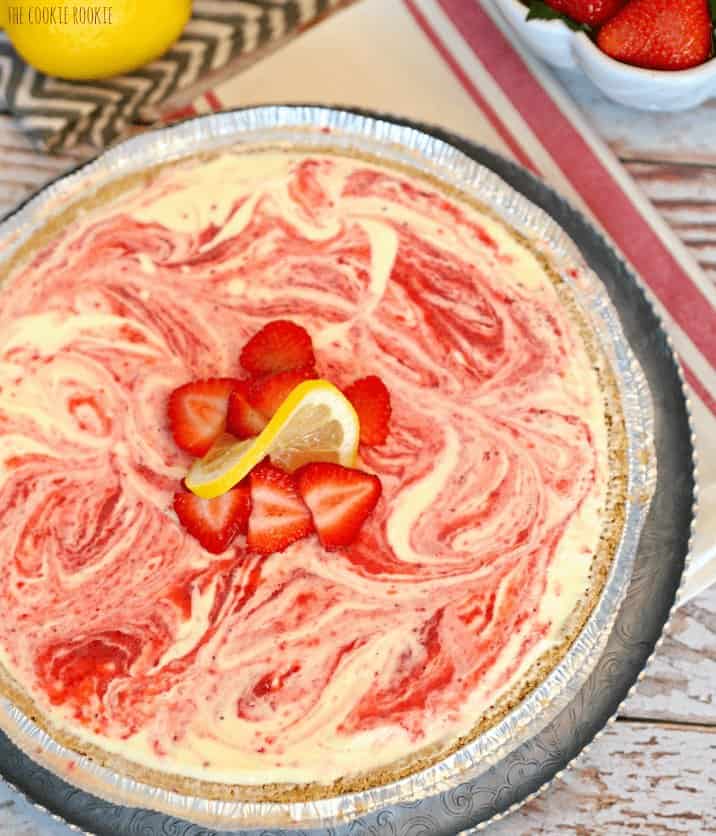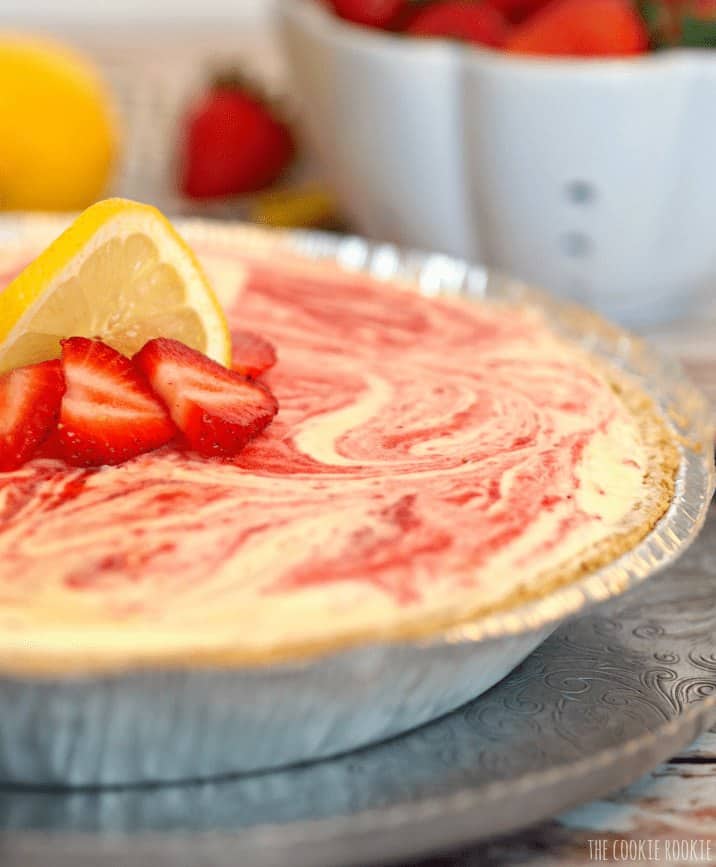 What is a freezer pie?
A freezer pie, or Ice Box Pie is a delicious classic southern dessert that was named after the ice box that these pies were kept cool in. These Ice Box Pie were quick and easy to make, required no cooking in the heat of summer, and could be stored in the icebox until it was served. … Iceboxes date back to the 1830s.
A delicious lemon dessert
I have always loved lemons. Lemonade, lemon meringue, lemon bars, lemon in my tea, you get the idea. Turns out I love lemons in freezer pie form as well!! Its just such a light and refreshing flavor. A summer favorite that I'll cling to year round.
No bake dessert
When it's too hot to cook, use your freezer instead of your oven!
There's never a bad time to make a pie this easy! Sometimes you want to create a dust cloud of flour in the kitchen and bake a marvelous dessert, other times you just want something sweet – tout suite!
This freezer pie, is a delicious no bake dessert and a great go-to treat with minimal fuss . No cooking. Just mix ingredients, pour into the pie crust and slam in the freezer – done!
I hope this little slice of heaven brightens up your day! Just the idea that it's waiting for me in my freezer when I get home is making mine a bit better.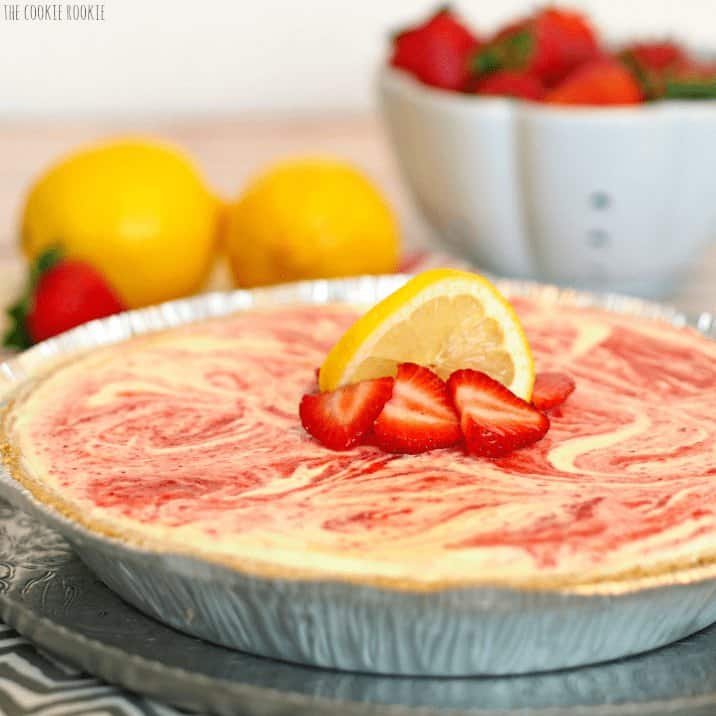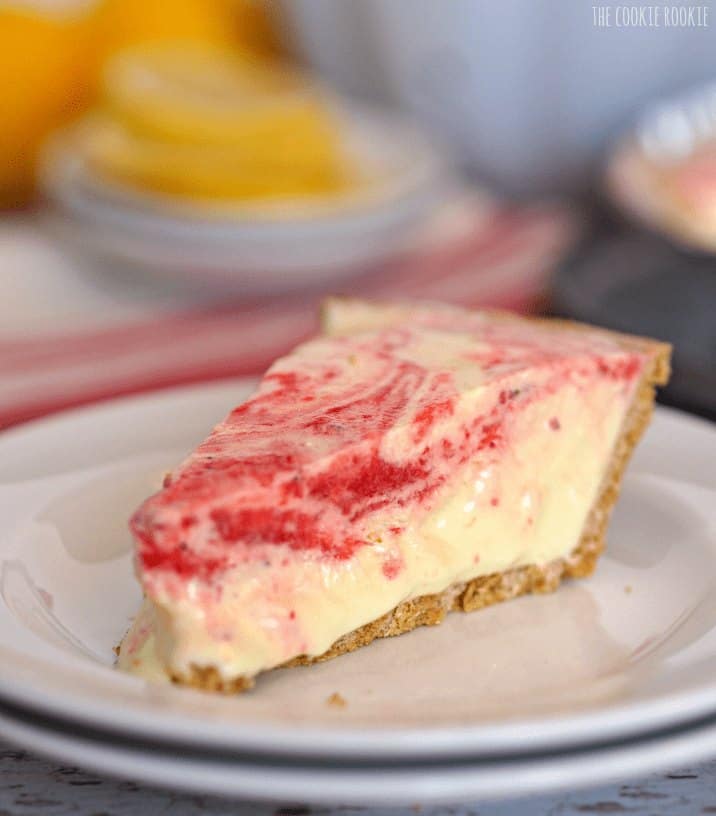 Top Tips
Store in the freezer and bring out just before serving. The only drawback to this lemonade pie is how quickly it seemed to melt. Which isn't that big of a drawback. Just means you have to eat it faster!
Save time and stay ahead of the game by making a few pies at once. Perfect for party prep!
Return any leftover pie to the freezer.
Top with slices of lemon and strawberries.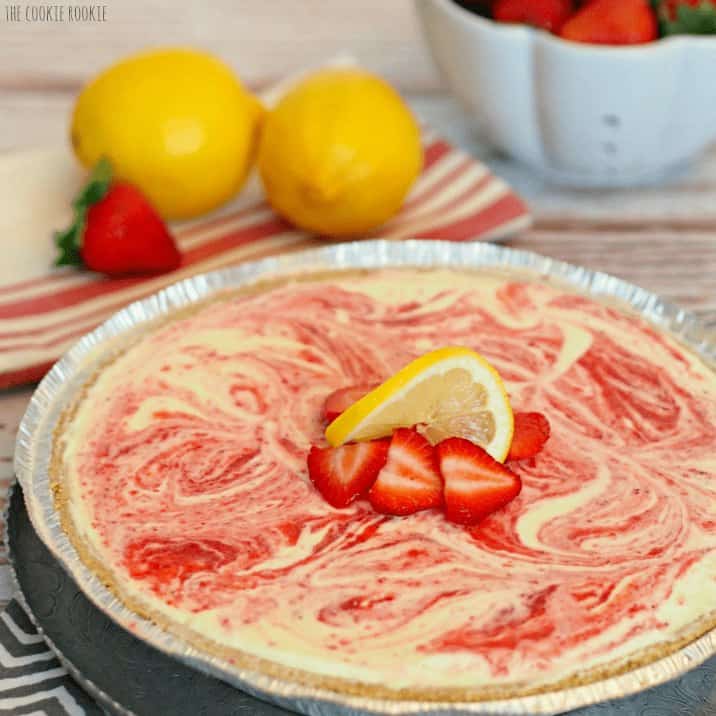 Check out these delicious frozen desserts
Have you tried this Strawberry Lemonade Freezer Pie? Feel free to leave a star rating and I'd love to hear from you in the comments below!