This air fryer broccoli recipe makes the best, crispiest broccoli ever. It's quick and simple to make, taking only minutes to cook with just a handful of ingredients. Plus, it's healthy and delicious, and goes with all of your favorite meals!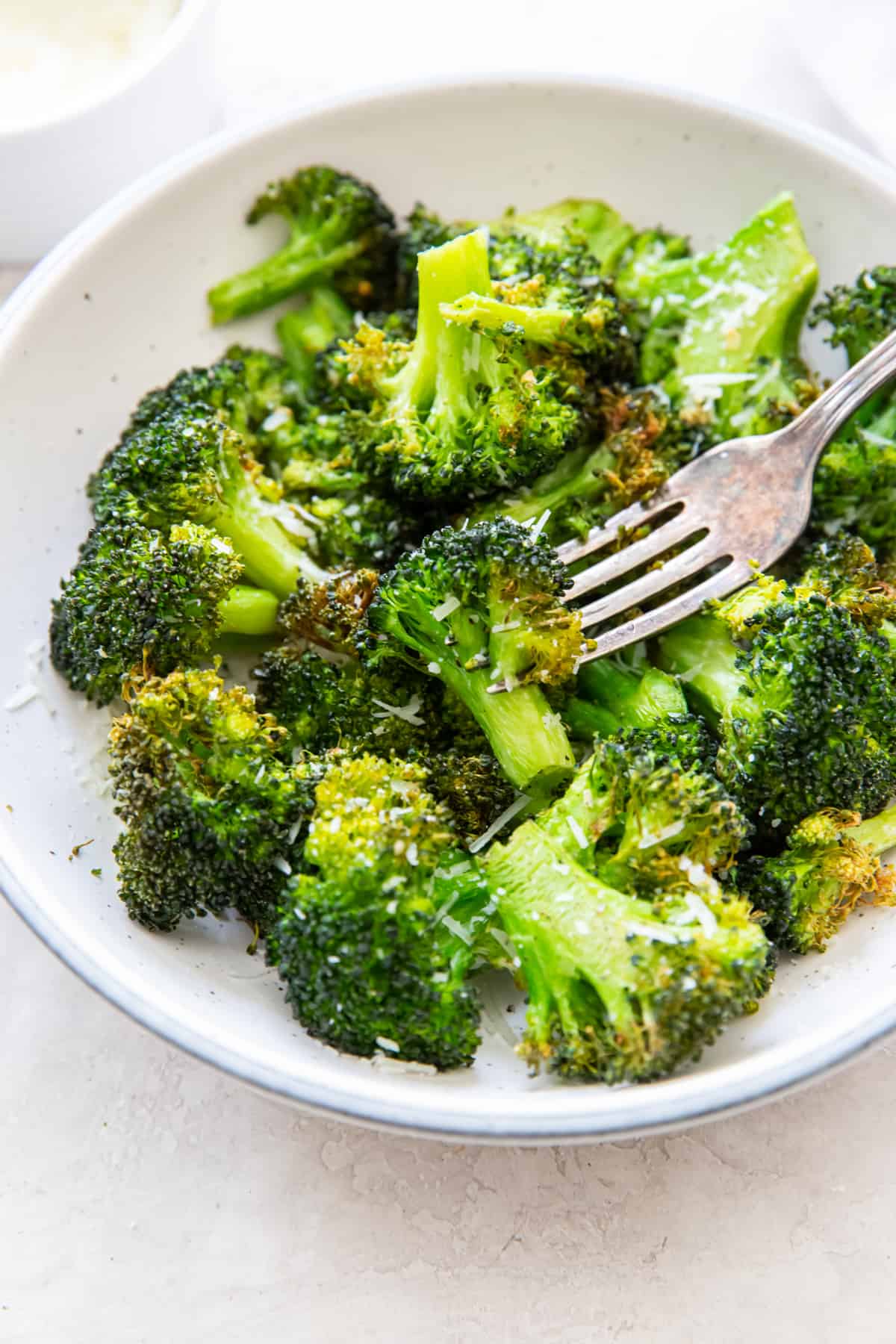 What's in this Air Fried Broccoli Recipe
You only need a handful of simple ingredients to make broccoli in the Air Fryer. In fact, all you actually need is broccoli and oil, but I've added a couple of things into the mix for more flavor.
Broccoli: Cut a head of broccoli into florets.
Oil: Use olive oil to coat the broccoli with the garlic and seasonings.
Garlic: Mince 2 cloves of garlic.
Parmesan: Sprinkle the cheese on after air frying.
Seasonings: Add salt and pepper to taste, and use some red pepper flakes if you want a little bit of heat.
What else can I add to this broccoli in the air fryer?
This is such a simple and straightforward recipe, so you can make this broccoli with any flavor combination you like.
Make this ranch broccoli by simply adding ranch seasoning.
Add bacon crumbles.
Add a squeeze of lemon juice and/or toasted breadcrumbs.
Toss the cooked broccoli in your favorite dressing, such as Ranch or Caesar.
Toss the broccoli with sesame oil and soy sauce, cook, and top with toasted sesame seeds.
Omit the Parmesan and toss with curry or za'atar seasoning.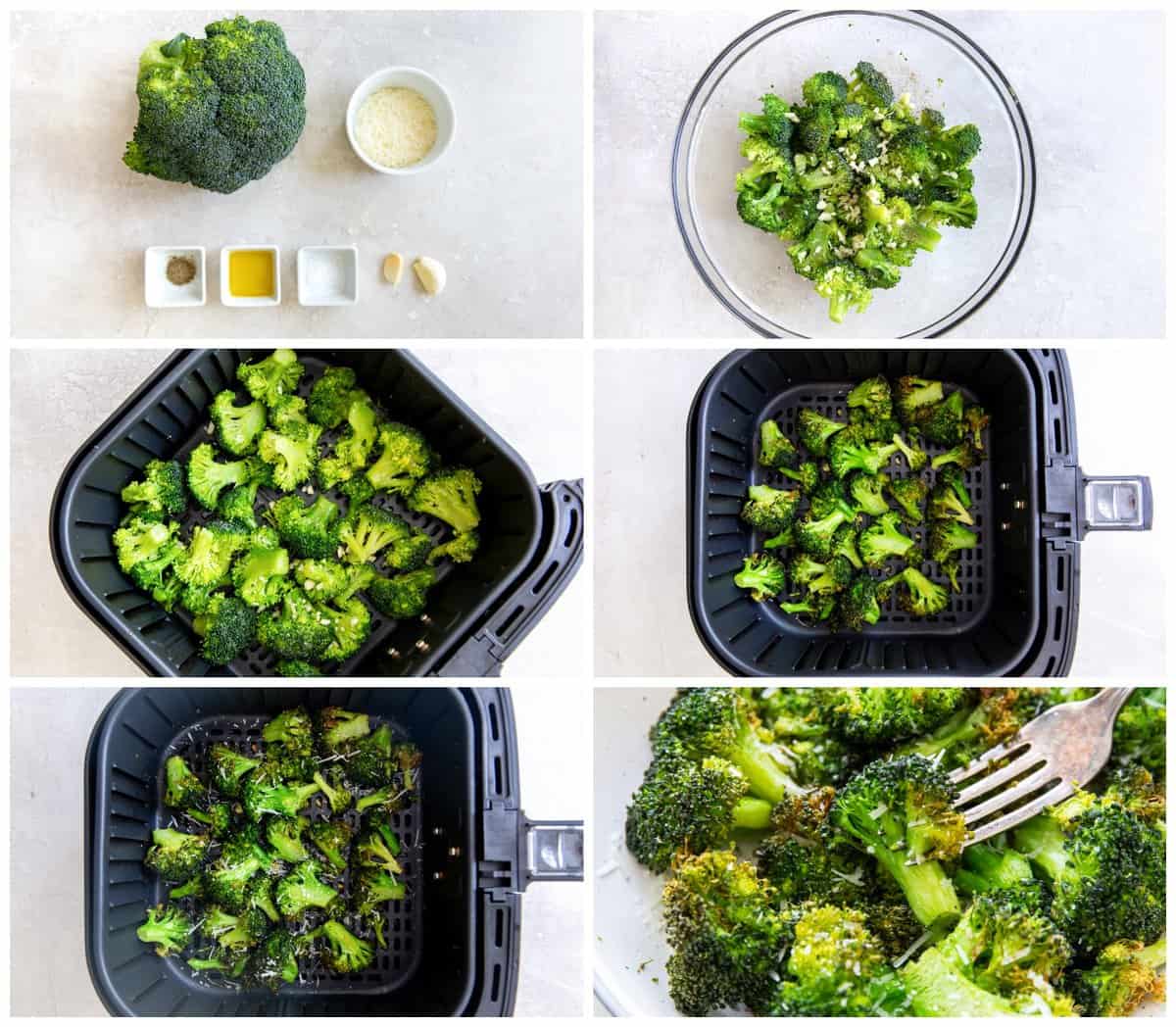 Should I steam broccoli before air frying it?
Nope! There's no need to precook the broccoli in any way before air frying it.
Can I air fry frozen broccoli?
Yes, but it will turn out more like steamed broccoli due to the excess water. I recommend using fresh or thawed and drained broccoli.
How do I keep air fryer broccoli from burning?
If you notice that your broccoli is browning too much (or even burning), add 1 tablespoon of water to the bottom of the air fryer. This will keep the broccoli more tender and prevent burning.
Is air fryer broccoli healthy?
Yes! Air fryer broccoli is healthier than traditional roasted or pan-fried broccoli because it uses much less oil.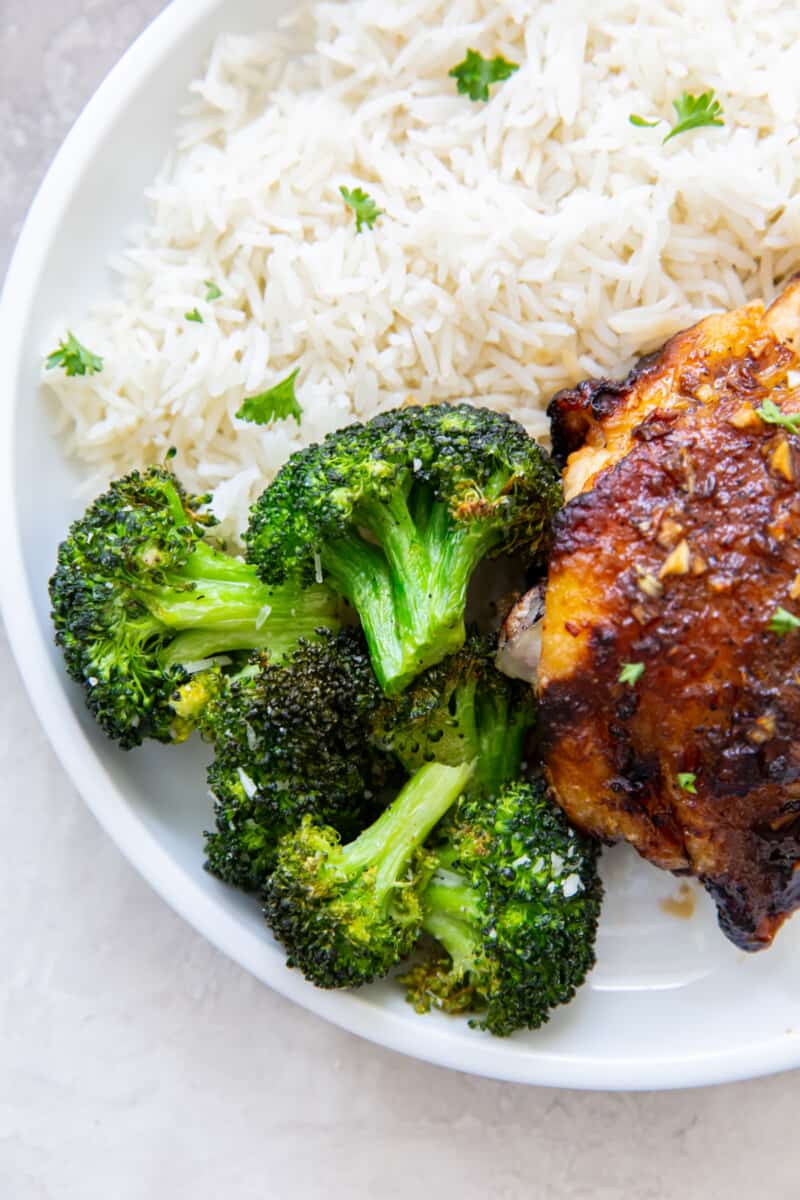 How to Store and Reheat
Store leftover air fryer broccoli in an airtight container in the refrigerator for up to 5 days. Reheat in a 350-400°F air fryer for 4-5 minutes.
How to Freeze Air Fryer Broccoli
Freeze broccoli florets in a single layer on a lined baking sheet until solid, about 1-2 hours. Transfer to an airtight container or resealable bag to store for up to 3 months. Let it thaw overnight in the refrigerator before reheating fir best results.
If reheating straight from frozen, increase the time in the Air Fryer (as instructed above), and expect a more steamed texture.
What to Serve with Crispy Broccoli
This crispy garlic parmesan broccoli goes so well with any of your favorite meals, like Parmesan crusted tilapia and Parmesan crusted chicken. It actually makes a great add-in for pasta dishes too, so try tossing it in with your Chicken Alfredo for more veggies.
No matter how you season it, you can serve up Air Fryer broccoli with anything from Grilled Chicken Breast to Seared Ahi tuna.
If you make this recipe be sure to upload a photo in the comment section below or leave a rating. Enjoy! You can also jump to recipe.