French Dip Sandwich, or French Dip Au Jus, is a delicious and easy way to enjoy crockpot beef! We create a Beef Au Jus sandwich with tender beef, provolone cheese, toasty bread, and of course the dipping sauce. Such a simple crockpot recipe that the entire family will love. This French Dip Sandwich Recipe is a winner!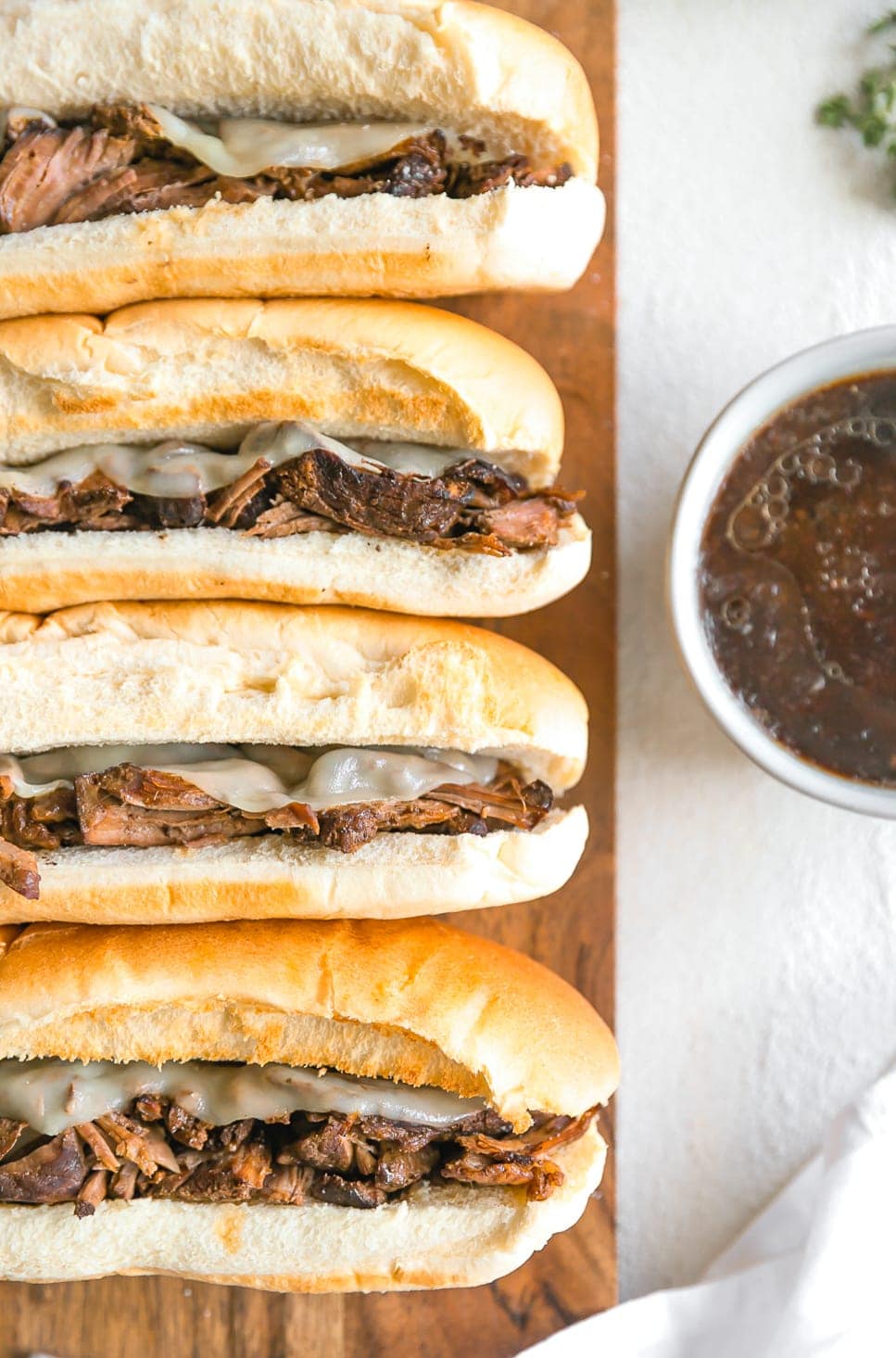 Crock Pot French Dip Sandwich Recipe
Beef Au Jus French Dip Sandwiches are so good! They definitely hit the spot when I want some comfort food. The beef is so tender from cooking in the slow cooker and the juices make it so tasty! It is a great meal to throw in the crockpot before work and then dinner is ready by the time you get home! Easy!
If you've always wondered how to make au jus or French Dip Sandwiches, today is the day you learn. You're going to love this Crock Pot French Dip!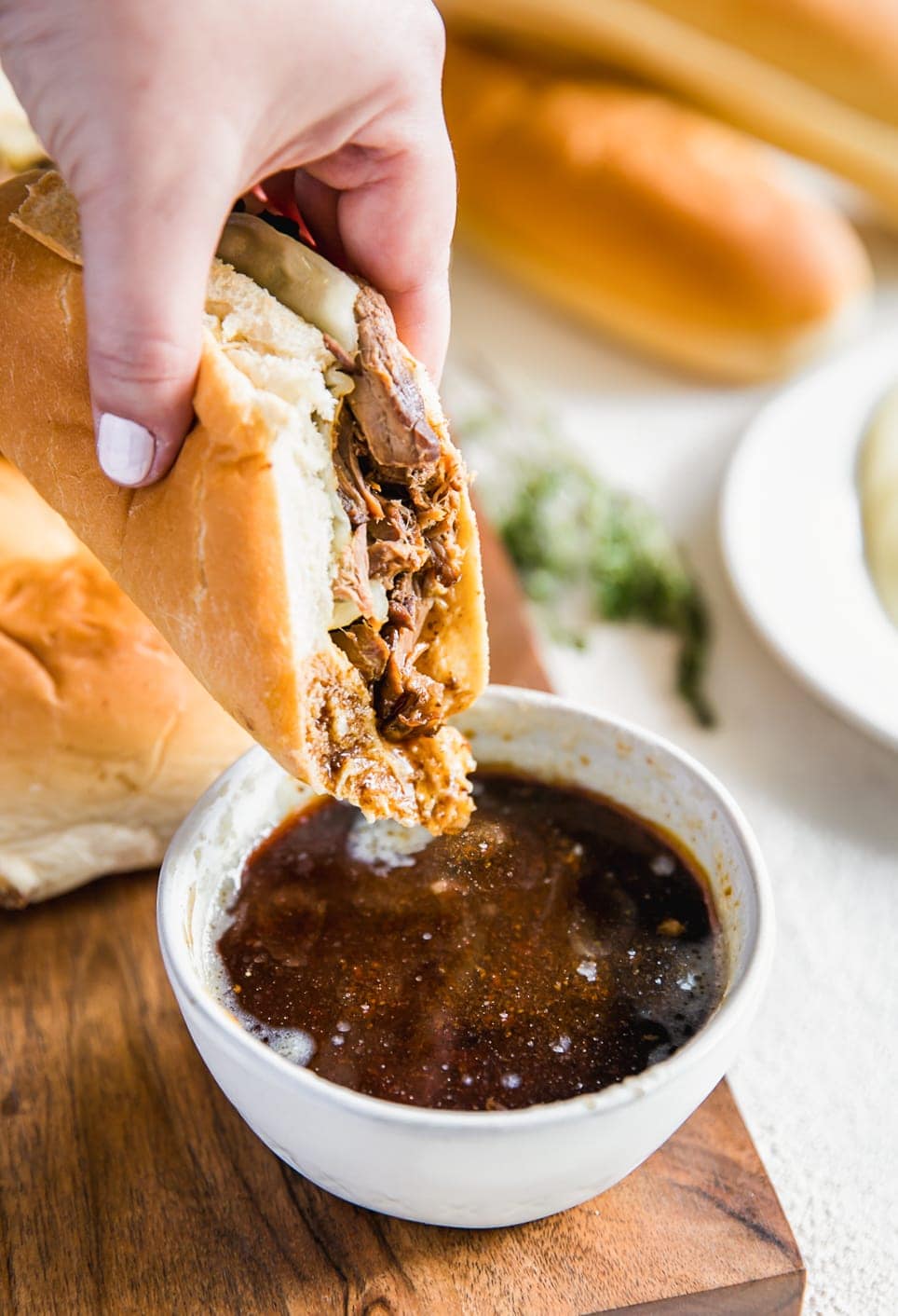 Our Favorite French Dip Recipe
I originally published this Crock Pot French Dip with my Mom right after she had helped me begin to learn how to cook, back in 2012. When we head to Mom's and she has these toasty French Dip Sandwiches warming in the oven, I know it's about to be an amazing night.
This is what I wrote about this Beef Au Jus back in 2012 (I didn't remember that I had her make this for Pat the first time he met them!):
My mom came into town this weekend and helped me cook some of my favorite recipes that she makes. It was a great weekend…and especially great to have her help. Usually i just have to call her 25 times during each recipe to ask questions!!! I had a couple demands of what i wanted to make together, and French Dip Au Jus was at the top of my list.
This is such a great meal that is always crowd-pleasing. It's also perfect for leftovers. I had her make this for Pat the first time I brought him home to Kirksville to meet the parents.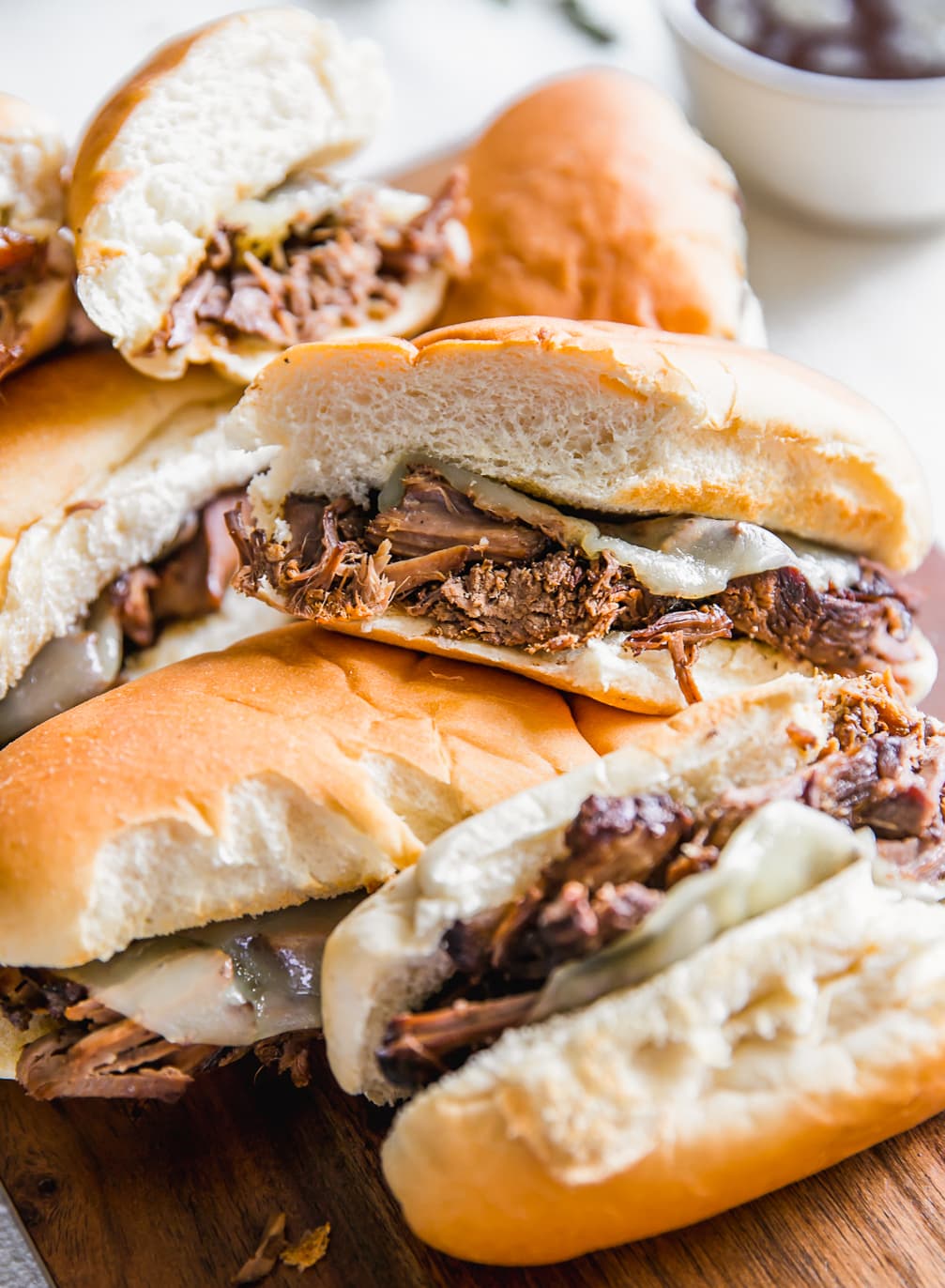 Kid Friendly Slow Cooker French Dip
It's so fun to look back and see how things have changed. Honestly it makes me tear up a bit thinking of how I was so afraid of cooking back then, and now not only am I comfortable in the kitchen, cooking has become my passion, career, LIFE. How did that happen?! It's a blessed life for sure. Thank you Mom for helping me make these French Dip Sandwiches all those years ago. For setting The Cookie Rookie in motion.
How to make French Dip/Au Jus
Start by making the Beef Roast. This is the easy part because all you need is a slow cooker! You simply put the au jus packets, Italian dressing packets, Beef broth, and a 5 lb. beef roast into your crockpot (I LOVE CROCKPOT RECIPES!) and cook on low for 6-8 hours. That's the part I love. Set it…and walk away. Play with your kids…annoy your husband…watch reality tv…THE WORLD IS YOUR OYSTER!
After the beef is fully cooked, remove it from the crock pot and strain the broth with a metal strainer. The broth can be used for DELICIOUS dipping sauce for the sandwiches (THIS IS A MUST!). If dipping French Dip Sandwiches isn't your jam, you can use the sauce for open faced roast beef sandwiches! Drizzle that sauce Errrrrrrrrywhere.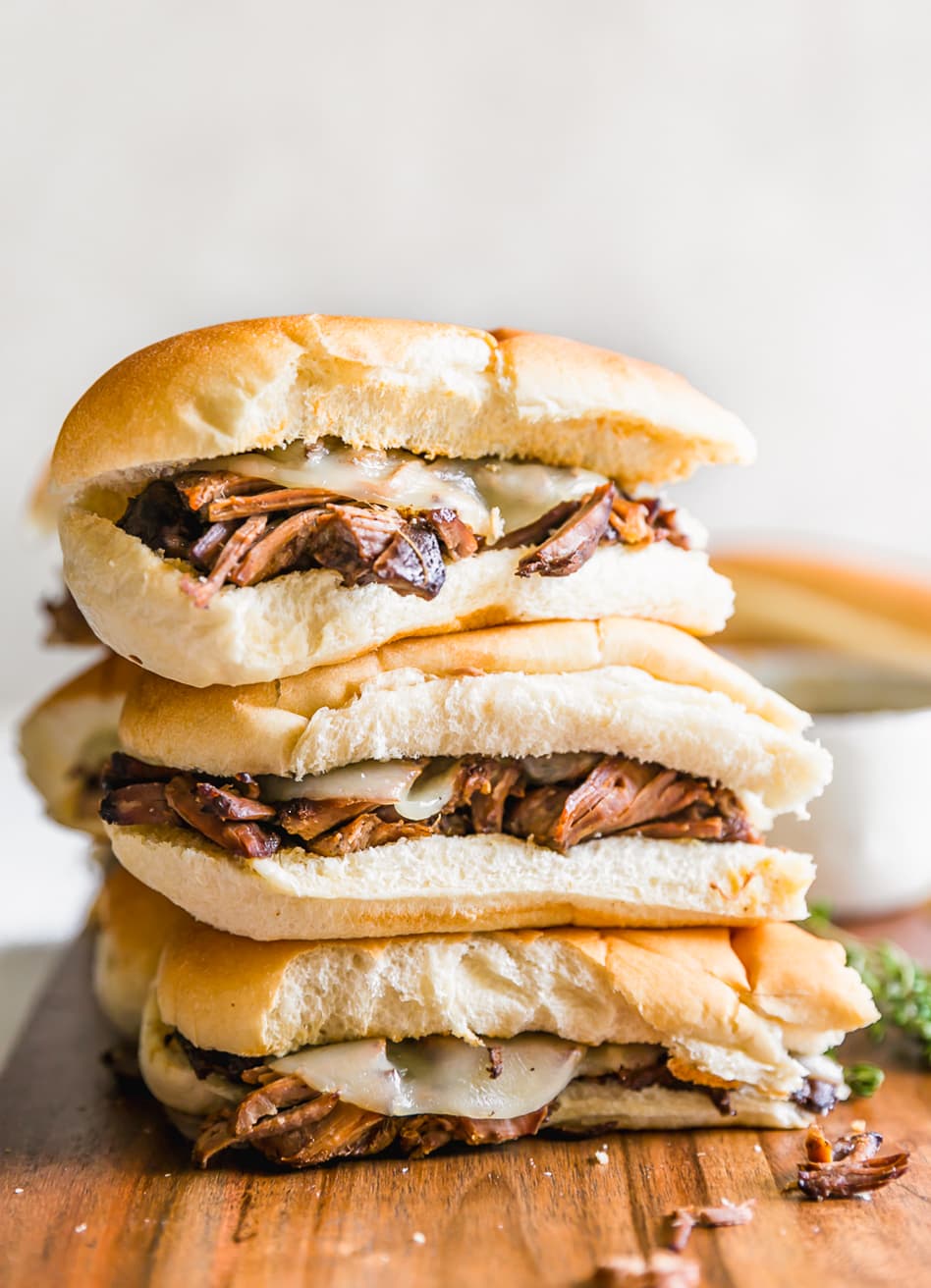 Why do they call it French Dip?
Because it's traditionally served on a French roll. That was easy…huh? We like it on a hoagie because you can really hold on while you dip in that amazing sauce.
What kind of cheese is on a French Dip?
You want a creamy white cheese such as mozzarella, provolone, or if you live in STL like me, provel is an awesome option!
How do you make French Dip Sauce (Beef Au Jus)?
The sauce will automatically be made in the slow cooker as the beef cooks. If you need more sauce you can always prepare au jus according to package instructions on an au jus packet. You should have plenty of sauce made in your crockpot as your beef cooks, however.
What kind of beef roast is best?
We use a top or bottom round roast (boneless chuck roast) for this French Dip Au Jus Recipe. It's okay to use a tougher cut for this recipe because it will get super tender in the crockpot.
Watch the video or see the recipe card below for details on How to Make Crock Pot French Dip Sandwich Recipe. Enjoy!
Looking for the perfect pairing? We've got you covered! Try these favorites: