French Dip Sandwich, or French Dip Au Jus, is a delicious and easy way to enjoy crockpot beef! We create a Beef Au Jus sandwich with tender beef, provolone cheese, toasty bread, and of course the dipping sauce. Such a simple crockpot french dip recipe that the entire family will love. This French Dip Sandwich Recipe is a winner!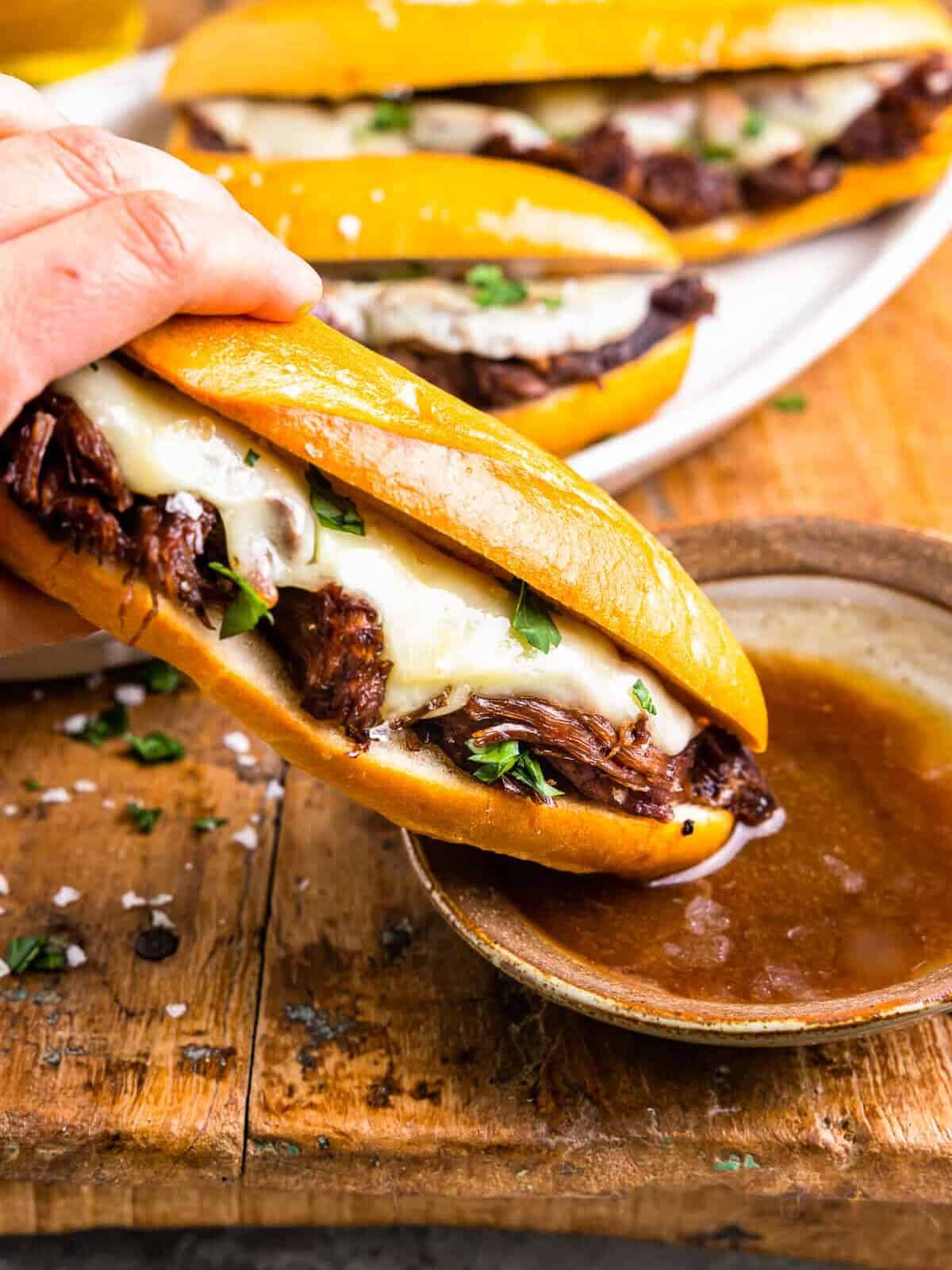 What's in a Crockpot French Dip Sandwich?
French Dip Sandwiches are so good! They definitely hit the spot when I'm craving comfort food. The tender roast beef, the melted cheese, and that amazing au jus. Yum!
Roast Beef: A top or bottom round roast (aka: boneless chuck roast) works best. The long cook time will help to make tougher cuts more tender.
Au Jus Sauce Mix: 2 packets of this flavorful mix enhance the flavor of the beef and the dipping sauce.
Italian Dressing Mix: 2 packets of this flavorful spice blend add a deeper flavor to the meat and broth.
Beef Broth: The braising liquid fo the beef. Helps keep the beef tender and moist, and creates the base for the dipping sauce.
Provolone Cheese: The perfect melting cheese for these sandwiches.
Hoagie Buns: Also know as sub rolls, these are the perfect size for these beefy sandwiches.
Pro Tip: You can use homemade Italian seasoning in place of the dressing mix if you prefer.
Variations on French Dip in the Crockpot
This simple recipe is pretty much perfect as is. For a lighter au jus, you could swap the beef broth for vegetable broth. For a lower sodium option, you can skip the au jus sauce mix and add homemade Italian seasoning instead of Italian dressing mix.
Feel free to swap the Provolone for mozzarella if you prefer. Try adding some caramelized onions or roasted mushrooms to your sandwiches to take them up a notch!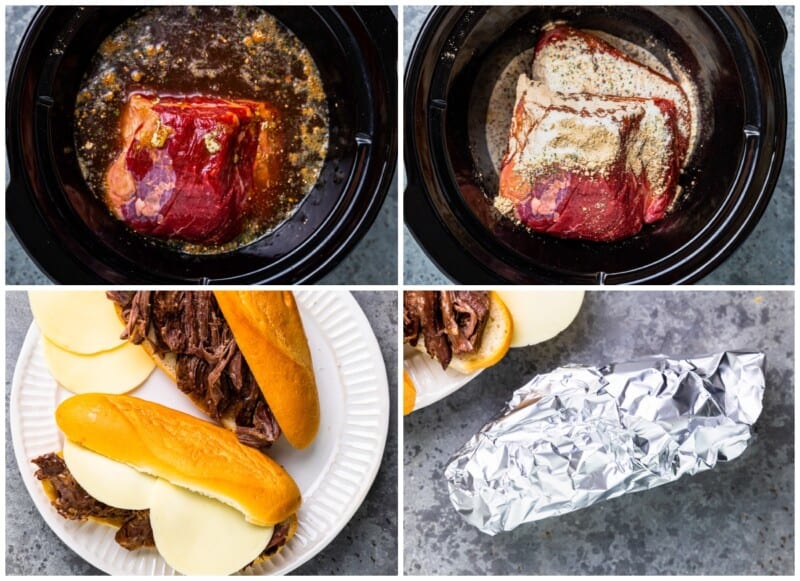 Why do they call it French Dip?
Because it's traditionally served on a French roll. That was easy…huh? We like it on a hoagie because you can really hold on while you dip in that amazing sauce.
What kind of cheese is on a French Dip Sandwich?
For this French Dip recipe, you want a creamy white cheese such as mozzarella, Provolone, or if you live in St. Louis like me, Provel is an awesome option!
How do you make Au Jus for French Dip Sandwiches?
The au jus sauce will automatically be made in the slow cooker as the beef cooks. If you need more sauce you can always prepare extra according to package instructions on an au jus packet. But you should have plenty of sauce made in your crockpot as your beef cooks.
What kind of beef is best for roast beef au jus?
We use a top or bottom round roast (boneless chuck roast) for this French Dip Au Jus Recipe. It's okay to use a tougher cut for this recipe because it will get super tender in the crockpot.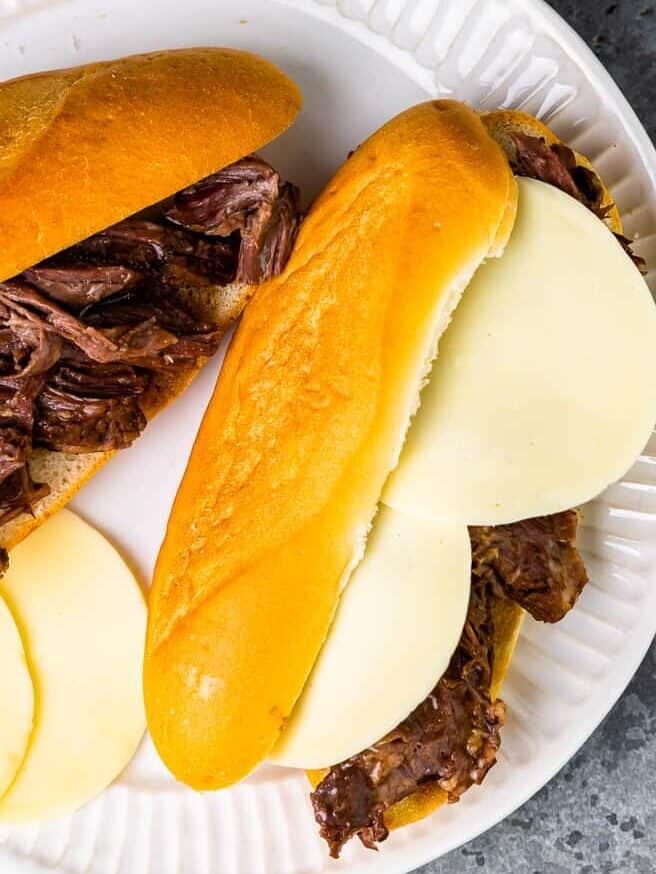 How to Store and Reheat Crockpot French Dip Sandwiches
I recommend storing the meat, cheese, au jus, and buns separately until ready to reheat. Store the French dip beef and au jus sauce in separate airtight containers in the refrigerator for up to 4 days. Follow step 8 in the recipe to reheat.
How to Freeze Slow Cooked French Dip
You can freeze the French dip meat and au jus separately in airtight containers for up to 3 months. Let thaw overnight before reheating.
What to Serve with Slow Cooker French Dip Sandwiches (Beef Au Jus)
Serve these delicious French dip sandwiches with homemade french fries or air fryer potato wedges to sop up all of that delicious au jus. Sandwich shop sides like coleslaw and potato chips would be just the perfect complement.
Why not serve yours with a side of veggies, like crispy zucchini fries, air fryer broccoli, or honey glazed carrots? Or how about some pickle chips? There are so many great sides!