INSTANT POT OATMEAL is so easy to make, so it's perfect for busy mornings. This Instant Pot Apple Pie Oatmeal is made in under 10 minutes, making mornings easy and delicious! Top this tasty apple oatmeal with some fresh whipped cream for an extra special treat. It tastes just like Apple Pie in breakfast form!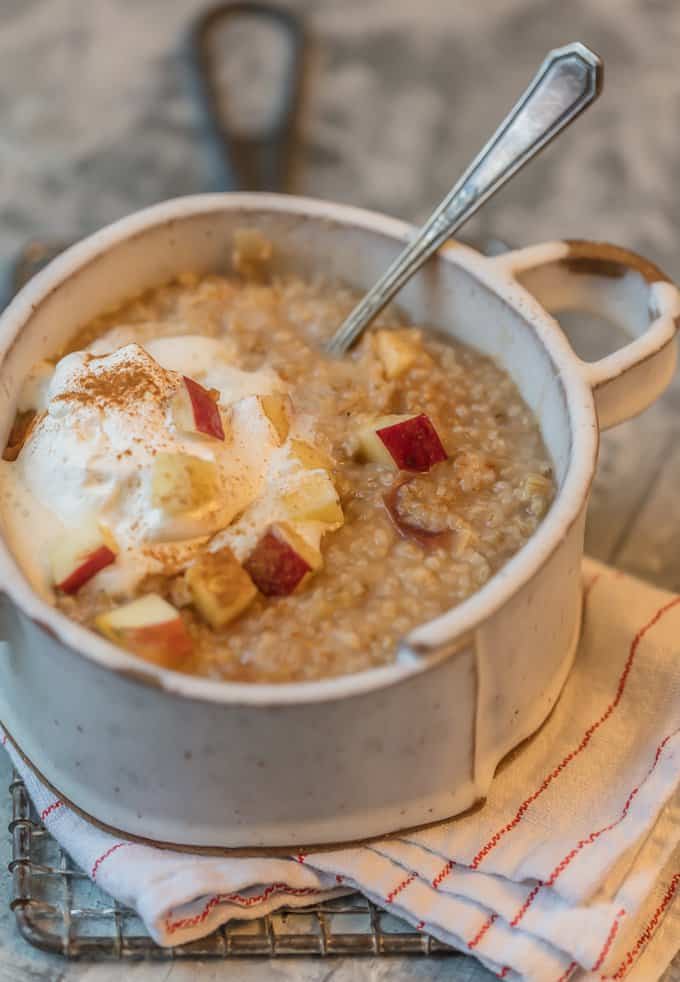 Instant Pot Oatmeal – Apple Pie Oatmeal Recipe
This Instant Pot Oatmeal is so easy to make. Apple Pie Oatmeal makes for an extra special morning treat!
Instant Pot Oatmeal is an easy and quick breakfast option. I love Apple Oatmeal, so I wanted to put a spin on it for an extra flavorful breakfast recipe. Who says you can't eat something that's healthy AND dessert-like first thing in the morning? Apple Pie Oatmeal is the perfect treat that lets you have it all.
Some people think there are only 4 seasons in a year, but there are actually 5. The 5th and most important season (by far) is APPLE PIE SEASON! Talk about a delicious and beautiful time of year. When the weather gets crisp and the leaves start to fall, I start to crave anything and everything apple pie: Apple Pie Sangria, Apple Pie Baked Brie, Apple Pie French Toast Casserole, and the list goes on and on!
Now my favorite season has a new favorite breakfast: Instant Pot Apple Pie Oatmeal! It's creamy, toasty, loaded with apples and spices, and it can be made in under 10 minutes. That's just the kind of breakfast my morning hatin' self is completely in love with.
Instant Pot Oatmeal is a quick and easy breakfast recipe. And this Apple Pie Oatmeal will make your mornings so much better!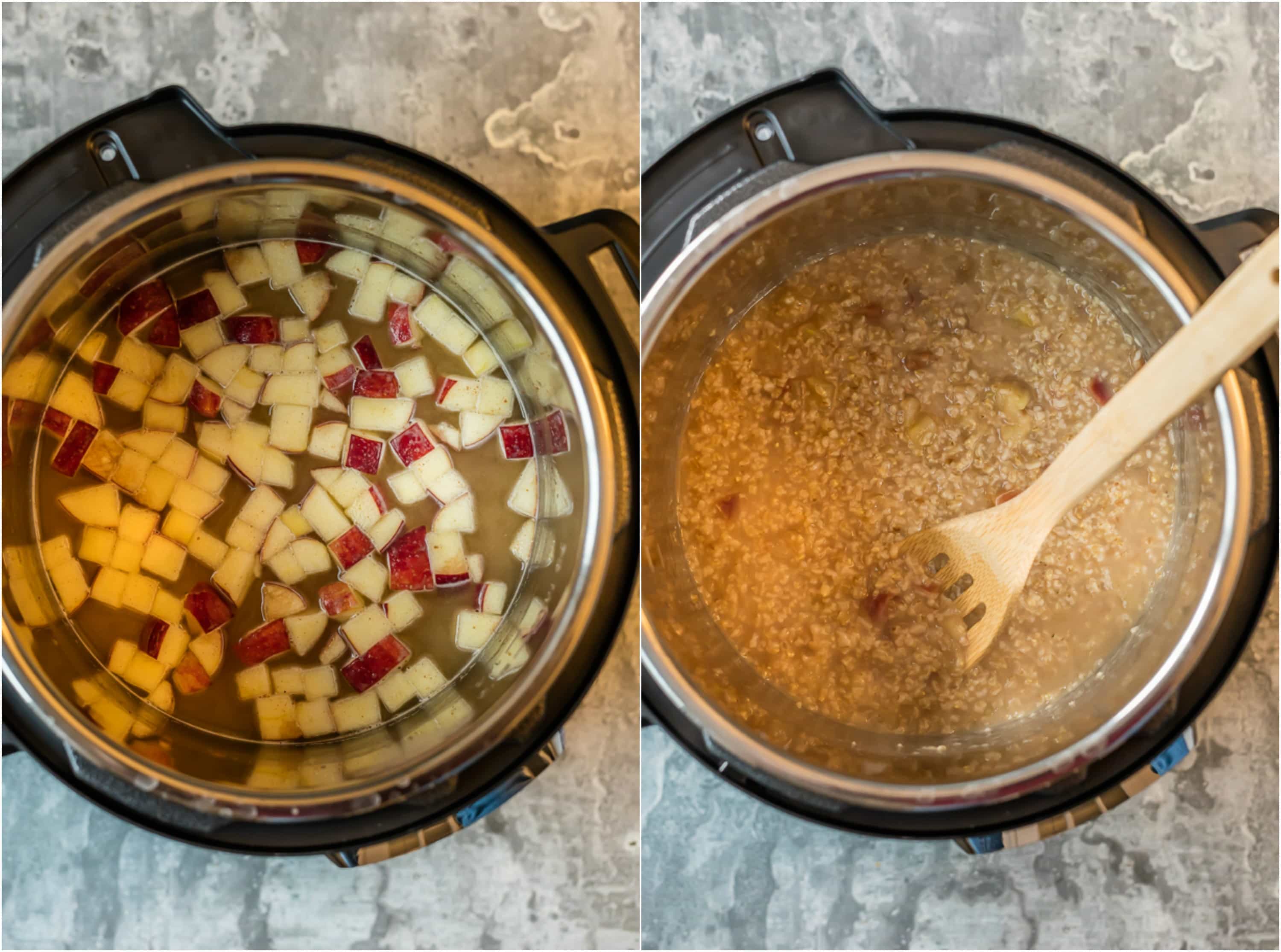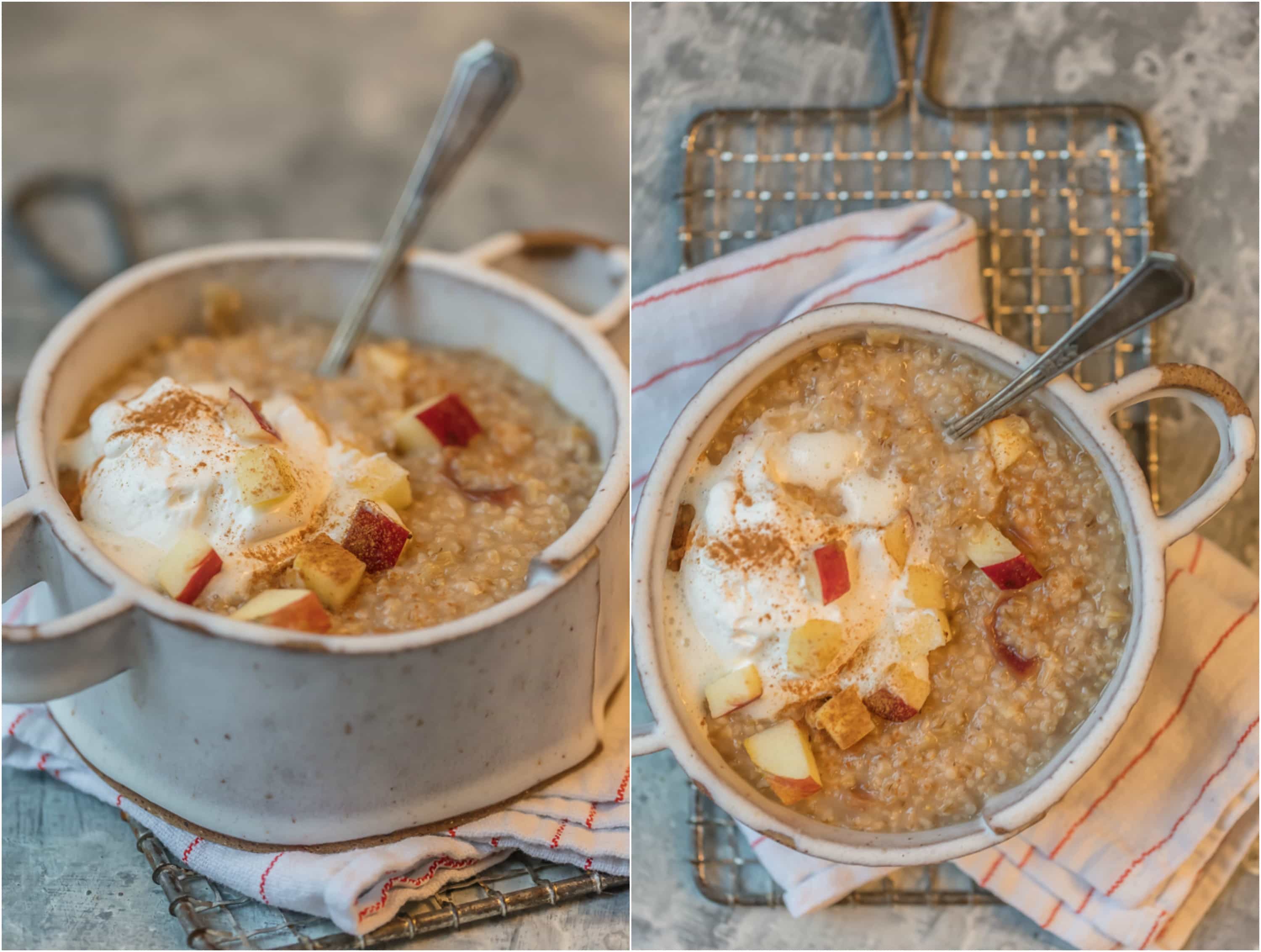 Apple Oatmeal Made in an Instant Pot
Have you guys cooked with an Instant Pot yet?? Oh my GOSH, they're life-changing. I plan to use mine a lot in the future, but this Instant Pot Apple Pie Oatmeal was my first time trying it out.
I really wanted to try out Instant Pot Oatmeal first because it seemed like an easy thing to make (and it is). And since I really love Apple Oatmeal, I knew I was headed in that direction. But Apple Pie season inspired me to take it one step further. And thus, Instant Pot Apple Pie Oatmeal was born!
As you can see in the picture above it took some oats, water, and apples and turned them into this creamy dreamy breakfast recipe in just 8 minutes. 8 MINUTES. That's about 30 minutes longer you can sleep in and still have an amazing morning meal. If you don't have one, you should get on that.
How to Make Instant Pot Oatmeal
You guys are going to be so impressed when you see how easy it is to make Instant Pot Oatmeal. Whether you're making Apple Oatmeal, Brown Sugar Oatmeal, Pumpkin Pie Oatmeal, or this incredible Apple Pie Oatmeal, making it in an Instant Pot will be super simple.
How to Make Instant Pot Oatmeal:
Melt the butter in your Instant Pot
Add in the oats and stir for a couple of minutes
Pour in the rest of the ingredients and keep stirring
Set your Instant Pot to Pressure Cook & cook for 8 minutes
Release steam and open the pot carefully
Stir your apple oatmeal and top with fresh apples & whip cream
This easy Instant Pot recipe only takes 10 minutes! It's simple enough to make every morning, and you can keep trying new flavors too. It's just about as quick as instant oatmeal, but it tastes so much better!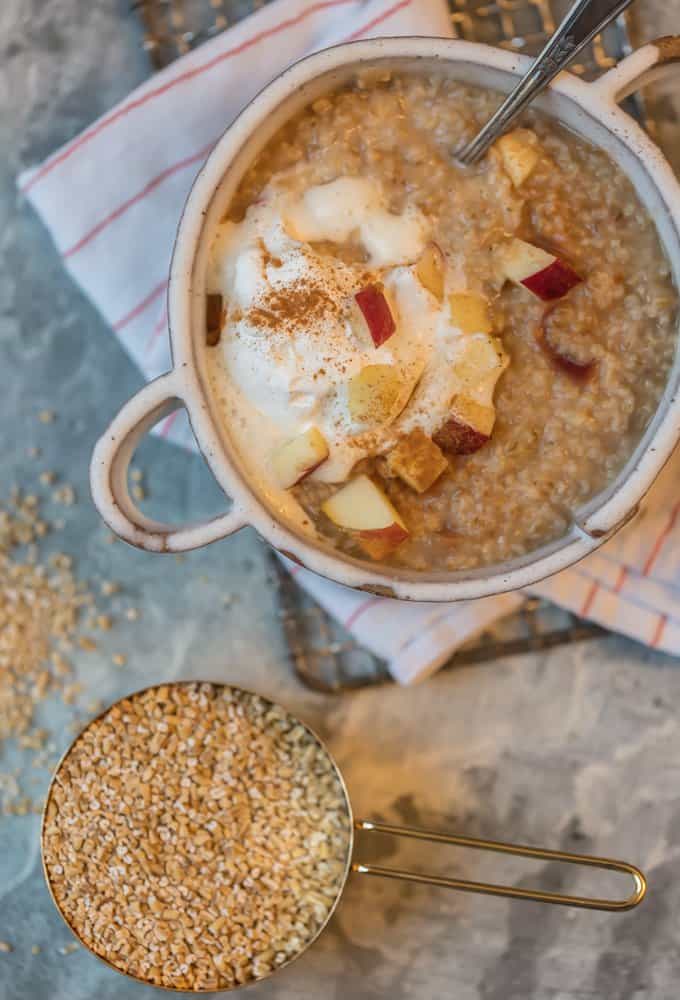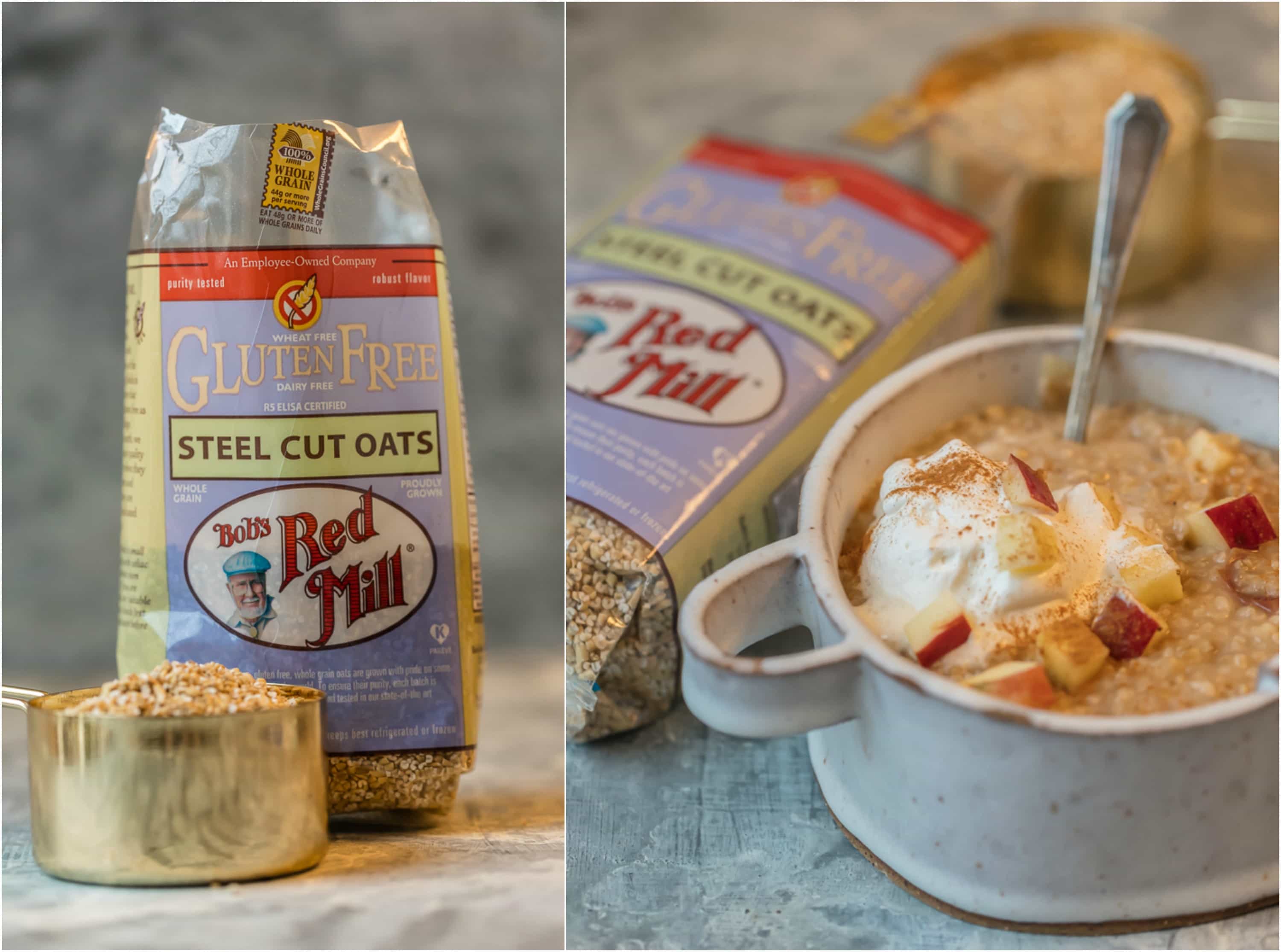 Apple Pie Oatmeal Special Ingredient
This delicious Apple Pie Oatmeal wouldn't be possible without my favvvvvvvorite oats, Bob's Red Mill Gluten-Free Steel Cut Oats. Bob's Red Mill is all about quality, and it shows in their products. I'm so beyond proud to be working with them this year, and I want to shout my love from the rooftops. Their products are second to none, and they have something for everyone. They're all about making eating healthy accessible to everyone, and I love that. Be sure to check out these oats and see everything else they have to offer.
These gluten-free oats are perfect for this Instant Pot Oatmeal recipe. I've made some other great recipes featuring these oats too: like these Carrot Cake Bars, this Gluten-Free Lemon Bar Recipe, and these Chocolate Spritz Cookies.
How do you make healthy oatmeal?
Oatmeal is a really great healthy breakfast recipe. You can add in whatever you want, make it taste however you want, and even change the nutrition level based on what you put in. Using gluten-free oats definitely helps to keep it healthy, especially for those with gluten intolerance.
If you really want to make your apple oatmeal healthy, skip the butter. Most of the ingredients are just for flavor and won't ruin the nutritional content. Top your apple pie instant pot oatmeal with extra apples and even a handful of walnuts to make it even healthier (and tastier!).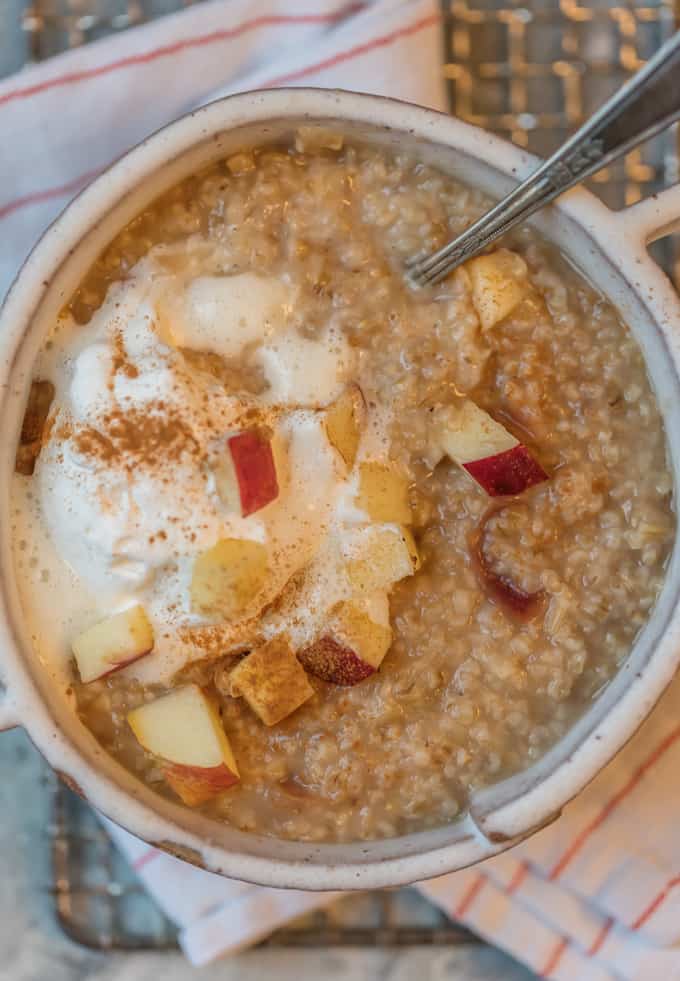 Start your mornings with Instant Pot Oatmeal and try out all the flavors you can think of. First up should be this apple oatmeal recipe, of course, but you can get creative with it after that. This Apple Pie Oatmeal is going to brighten up your mornings!
See the recipe card below for details on How to Make Instant Pot Oatmeal. Enjoy!
If you like this Instant Pot Oatmeal recipe, try these other great breakfast recipes: