This Easy Slow Cooker Pot Roast makes the most tender, fall apart beef. This chuck roast is so simple to make in the crockpot, nestled with all the tender potatoes, carrots and onions that soak up all that flavor. It's all top with the most flavorful gravy!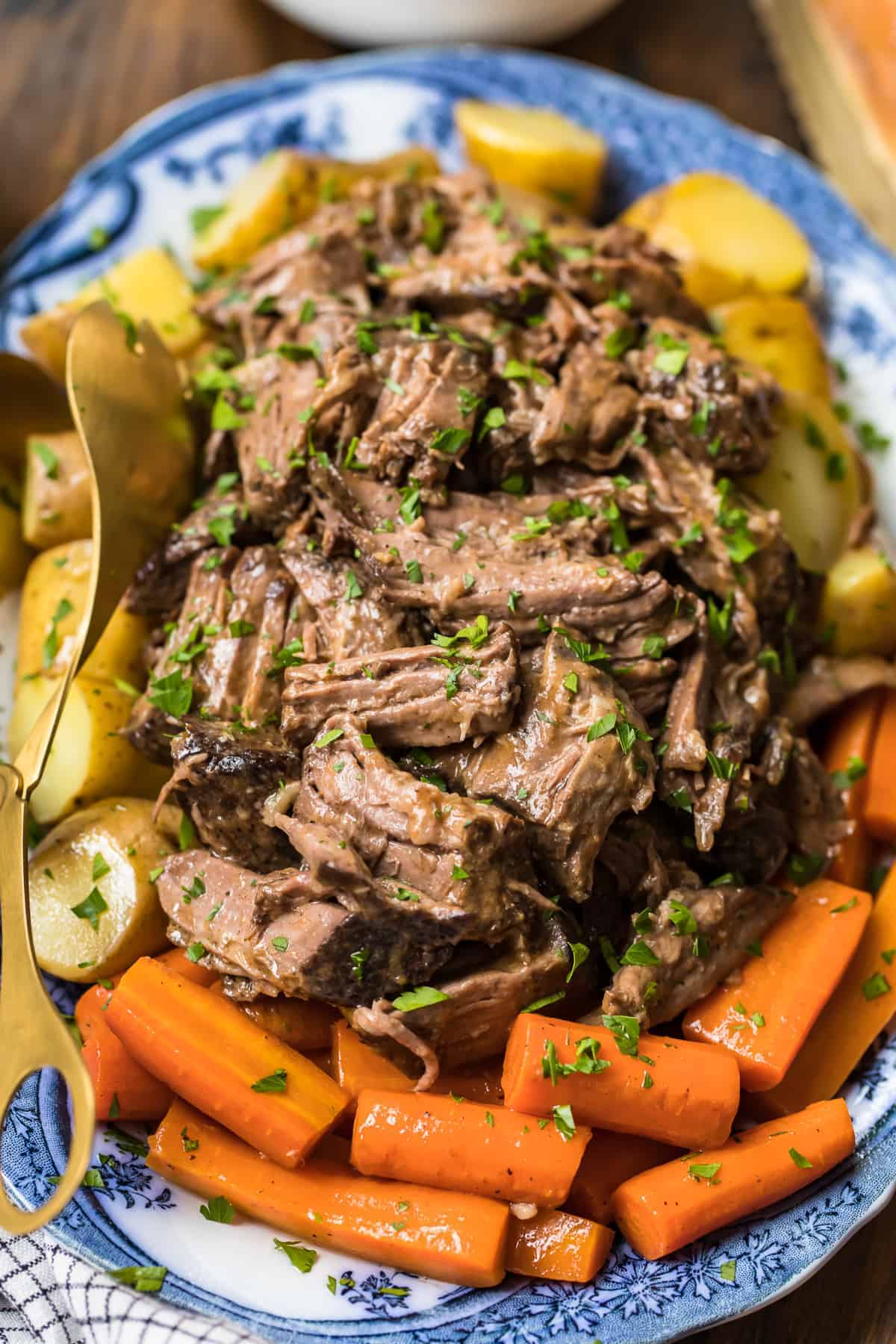 Crock Pot Pot Roast Recipe
Juicy, tender Easy Slow Cooker Beef Roast with seasoned vegetables is the perfect Sunday night meal for. Whether it's a last minute family gathering or a big group of friends round, this is the original crowd pleaser!
If you're looking for easy comfort food, this Crockpot Pot Roast is just the thing. It's a meal that makes me think of home, and I hope you love it as much as we do!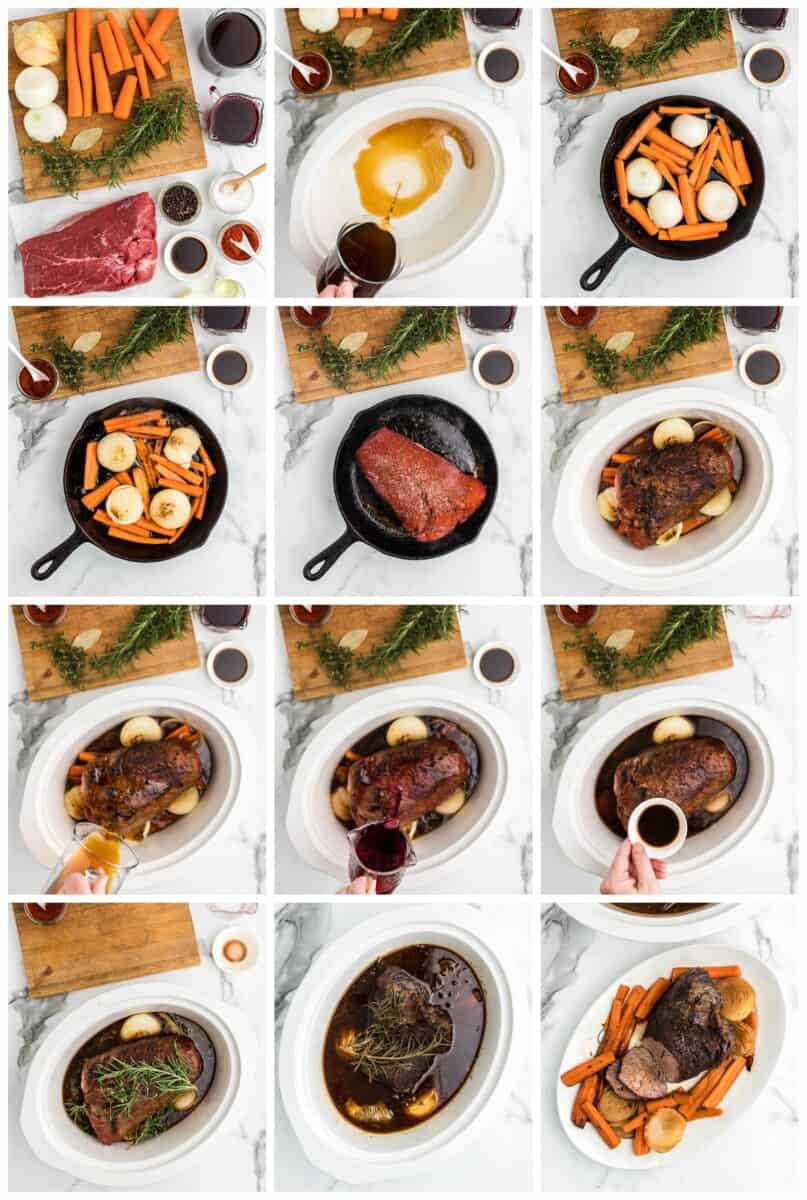 How To Make This Easy Slow Cooker Pot Roast – Step by Step
Spray the inside of the crock with nonstick spray and add 1-cup beef broth. Set the slow-cooker to HIGH heat. Cover and allow to heat while prepping the vegetables and beef.
Add the onion and carrot halves to a skillet with hot oil and butter, cook until the vegetables are seared (browned). Then transfer the vegetables to the slow-cooker. Generously sprinkle the entire roast with salt, pepper and smoky paprika.
Set the roast in the skillet, press down and brown the meat. When the roast has browned, set it on top of the vegetables in the slow-cooker. Reduce the slow-cooker temperature to LOW, then add 1-cup beef broth, wine, Worcestershire Sauce, bay leaf, rosemary, and thyme.
Cover and cook 4 hours. Add the additional root vegetables over the roast, if using. Cover and cook an additional 3-4 hours or until roast and vegetables are fork-tender. Remove the vegetables from the top of the roast and, then, remove the roast.
Keep the food warm in a covered dish set in a warm oven. To make the gravy, use a hand-blender (immersion blender) to puree the remaining vegetables and beef juices. Garnish with chopped fresh parsley and serve with remaining gravy.Enjoy!
You can jump to the recipe card for full ingredients & instructions!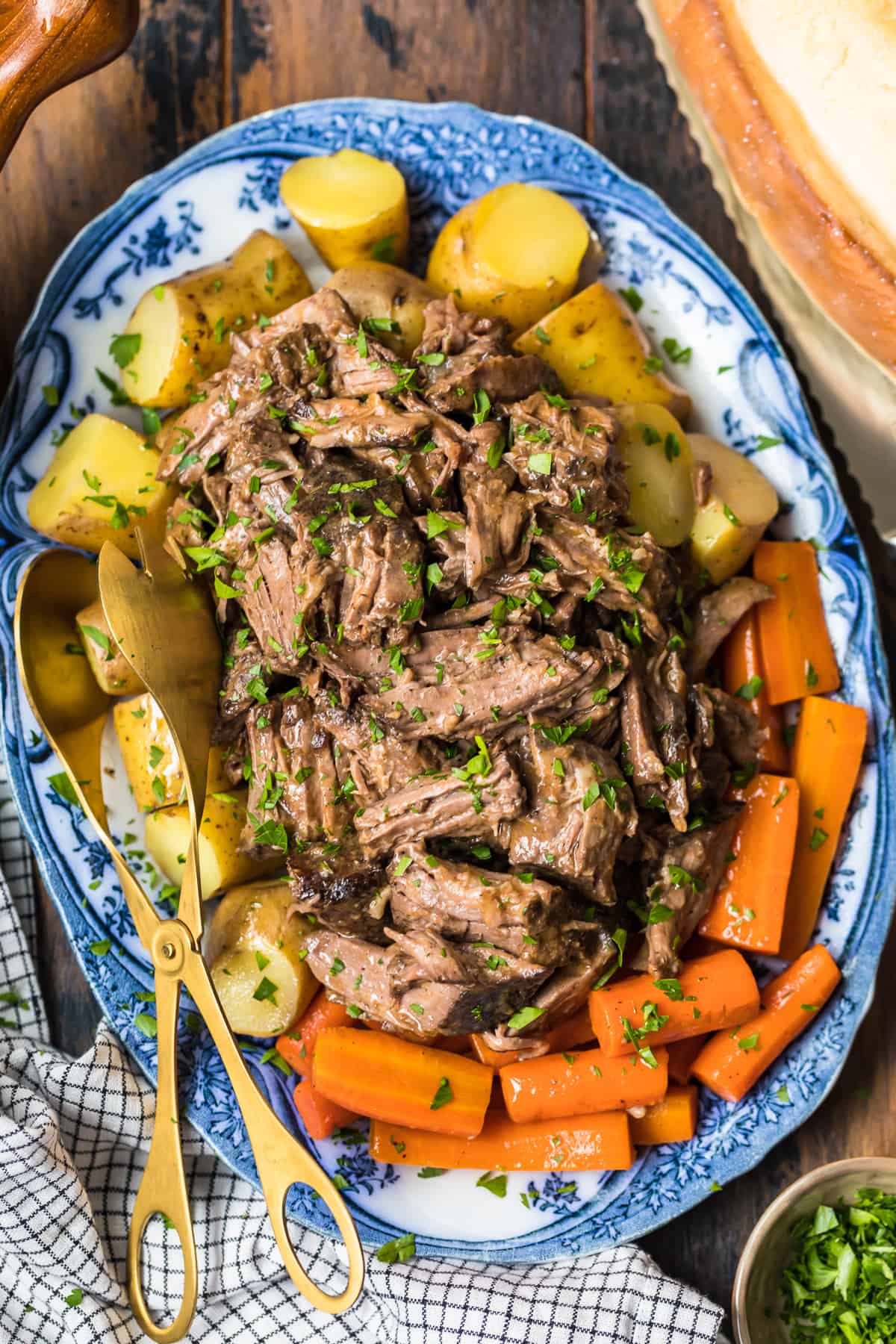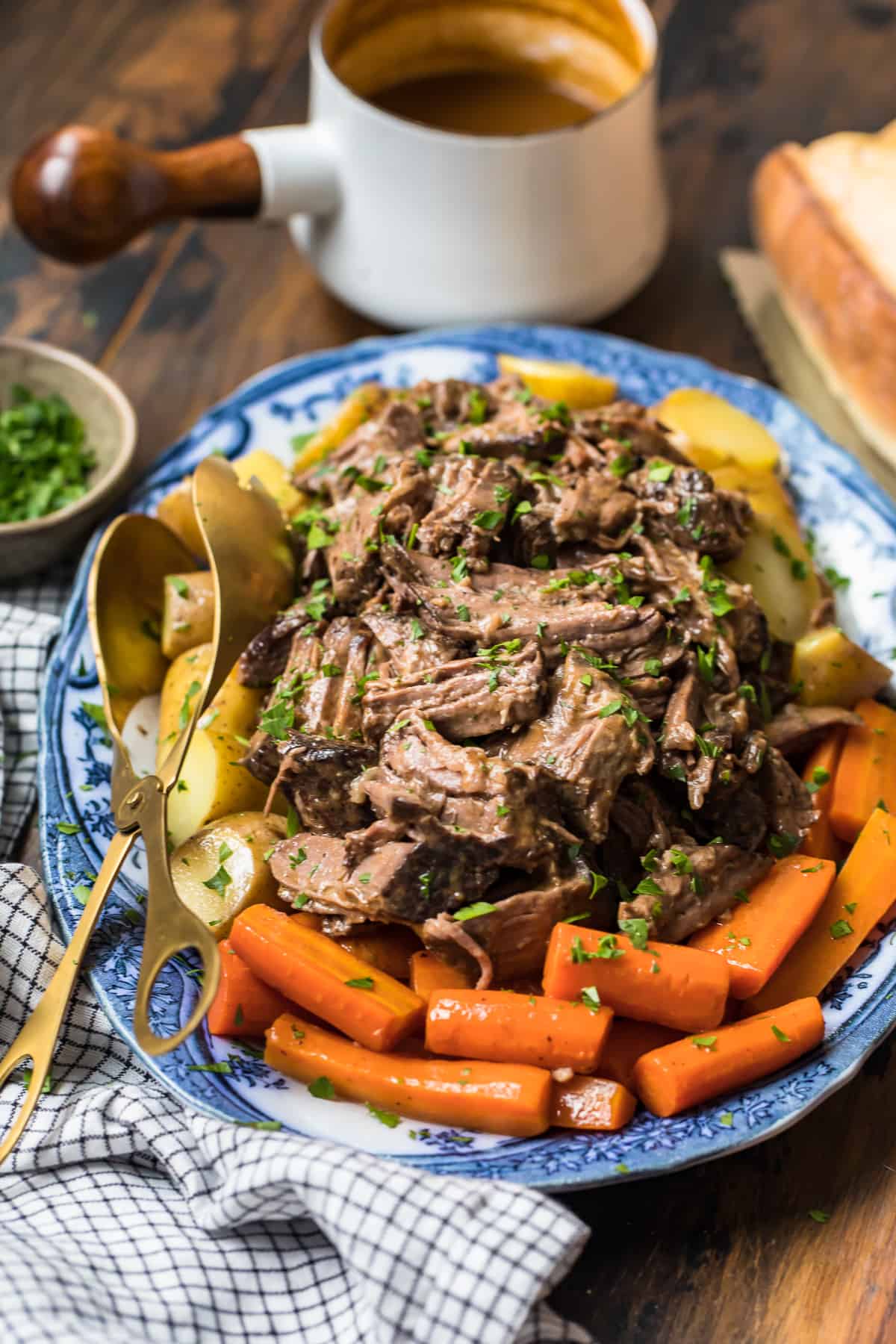 What To Serve With This Easy Slow Cooker Pot Roast
This really is a meal in a pot, but who can so no to sides? Especially when you've got a big crowd (or hungry family) to please! Here are some ideas:
What Vegetables Should I Use In A Pot Roast?
I want for carrots, potatoes and onions, a classic trifecta of veggies. But you can add in other herbs and vegetables as you would like.
Play around with different root vegetables like turnips and parsnips, or sweet potatoes.
In the fall squash would be awesome too. This dish can be adjusted to your favorite veggies with no problems!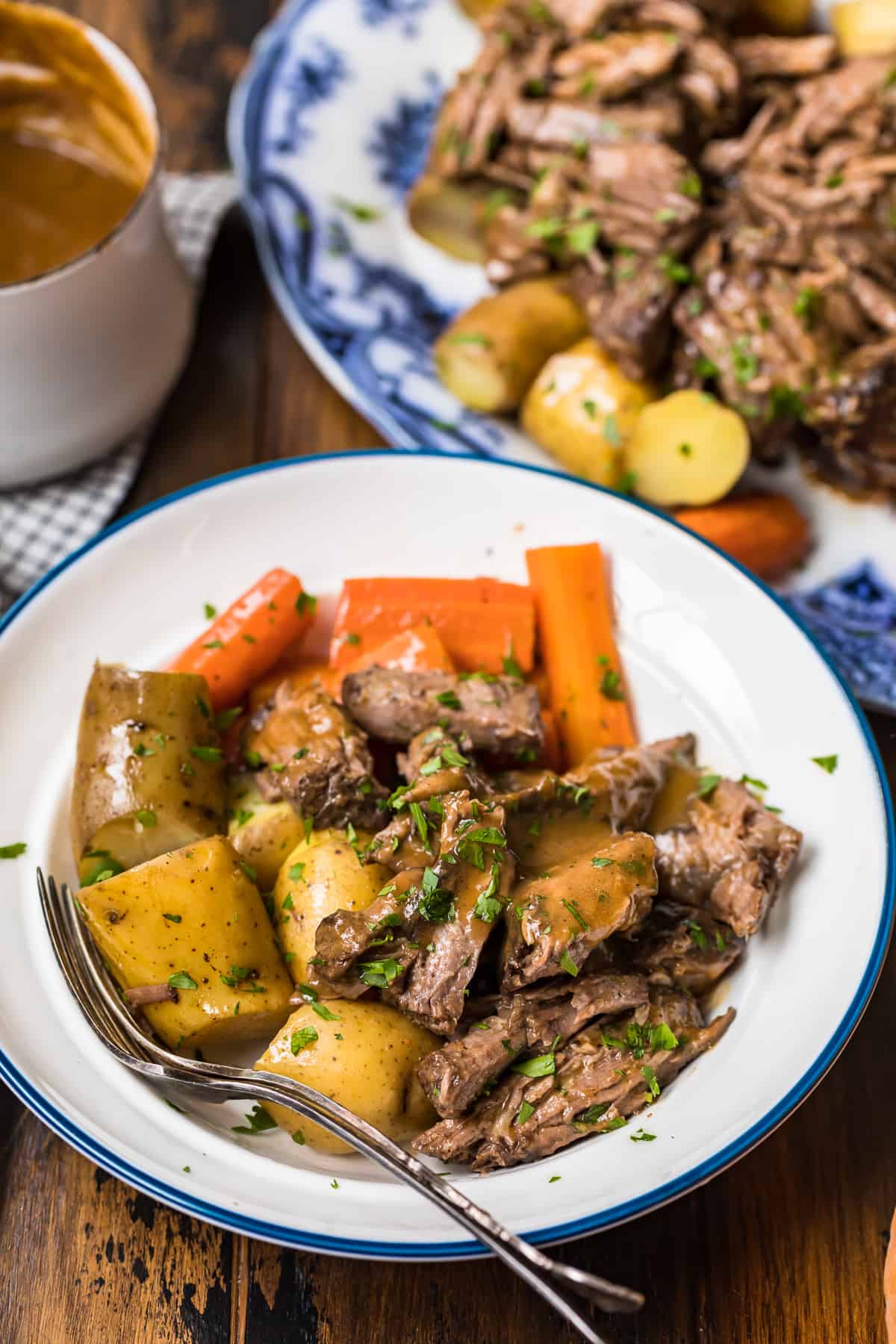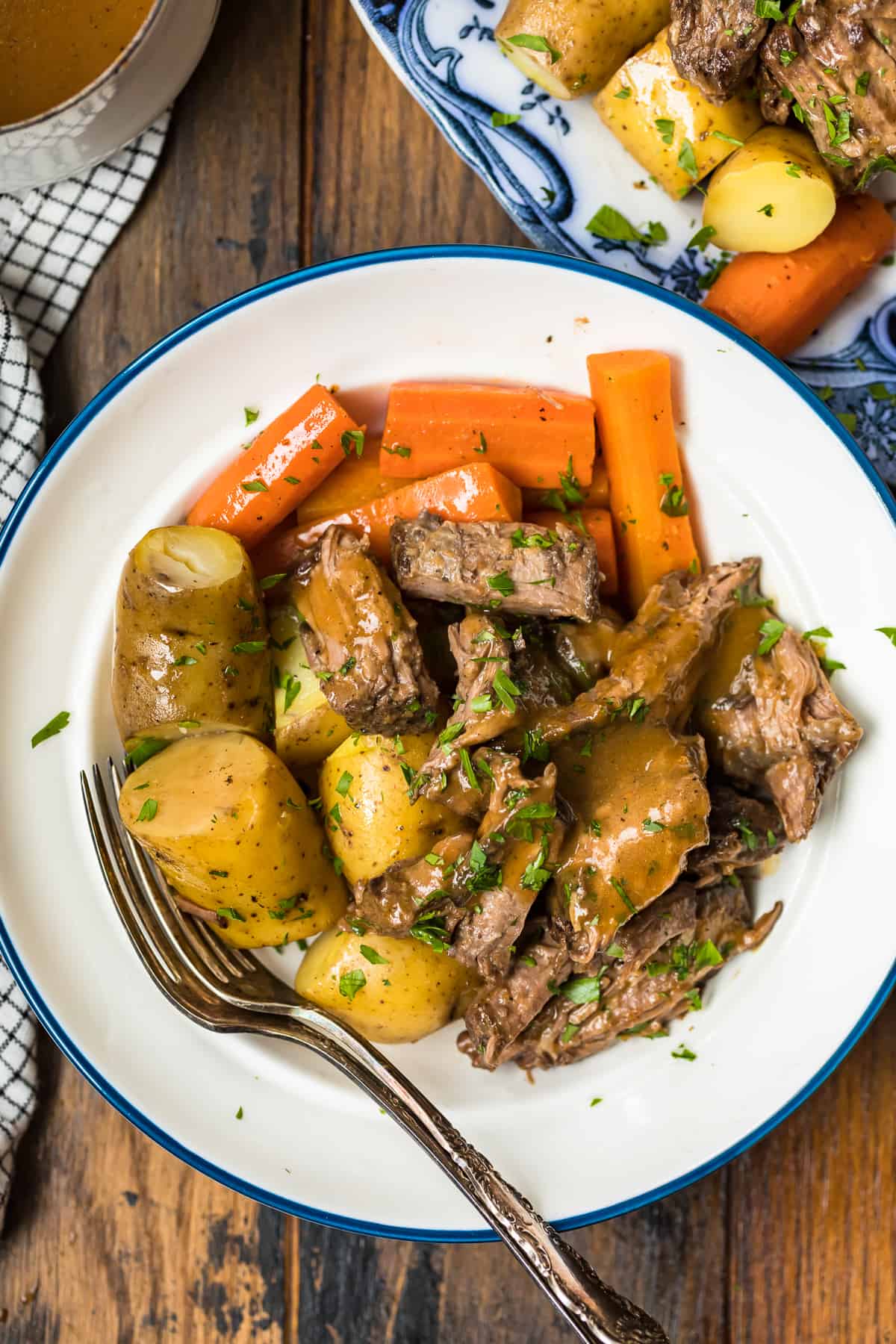 Do I Have To Brown The Roast?
Generally slow cooker recipes don't always instruct you to brown meat before adding it to the pot, but there are some advantages to doing so.
If you sear meat to a crusty brown with a little oil in a hot skillet, the meat develops more complex flavors and improves the dish. It also locks in the moisture and keeps things juicy.
It's worth the little bit of extra time and effort in my opinion (but its optional).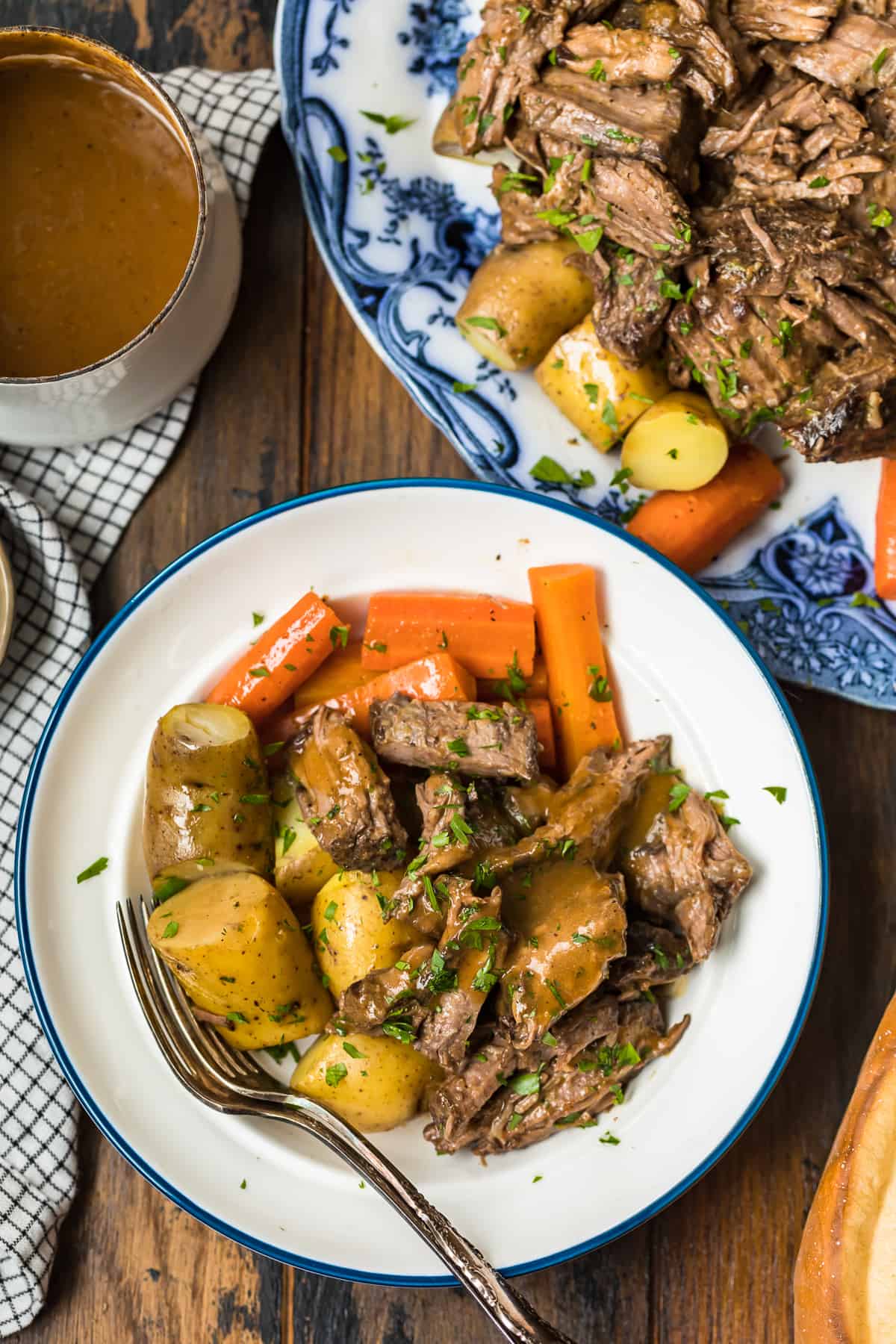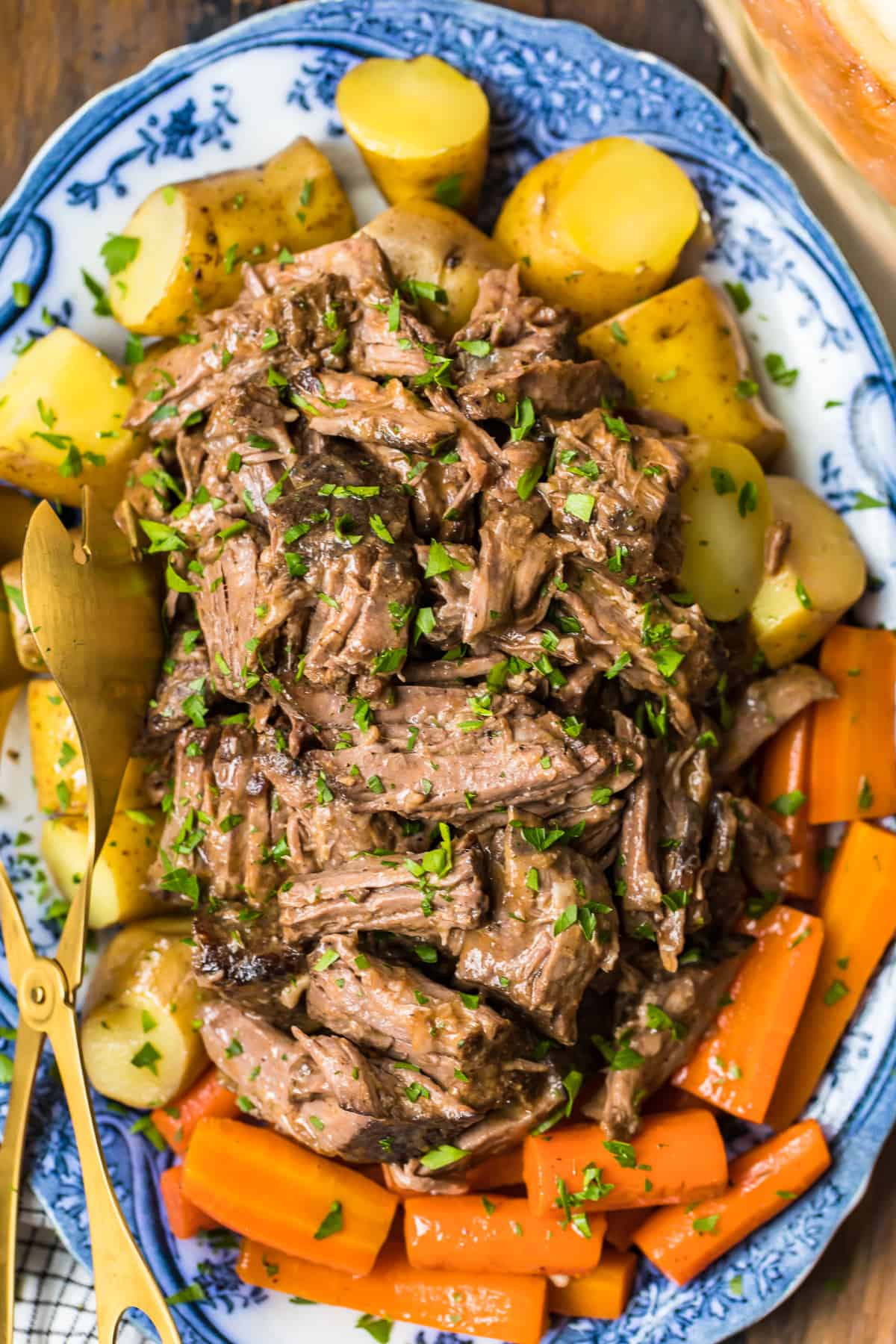 Tips!
Browning the beef in a pan before adding it to the slow cooker is a step I would not skip if even remotely possible. That crust is delicious and you don't want to miss it.
Don't under season. It looks like a lot of salt, but you also have to remember you have 3 pounds of vegetables under the meat you are seasoning too.
Yukon Potatoes – the buttery texture of a yukon gold are divine, you can alternately use russet potatoes here without any problems too.
If you have fresh thyme by all means use it, I just like how easy this recipe is and pantry friendly so I normally use dried thyme unless I already have fresh on hand.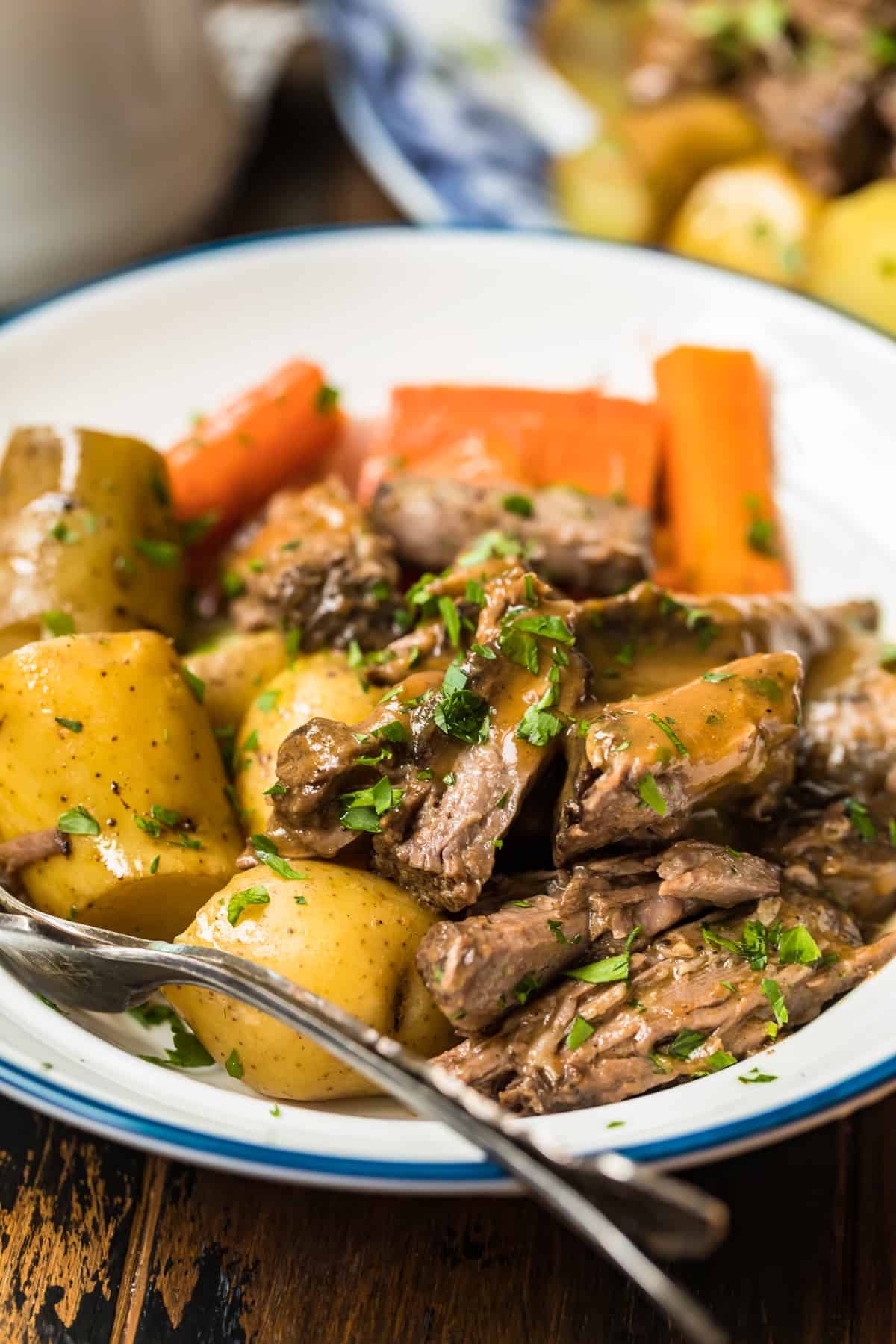 If you make this recipe be sure to upload a photo in the comment section below or leave a rating. Enjoy! You can also jump to recipe.