Mushroom Soup features tender sautéed mushrooms mixed with garlic and onions in a creamy broth. This rustic recipe is an excellent way to sneak some more veggies into your diet in the most delicious way! If you love easy to make recipes that feature inexpensive, simple ingredients, this soup is right up your alley.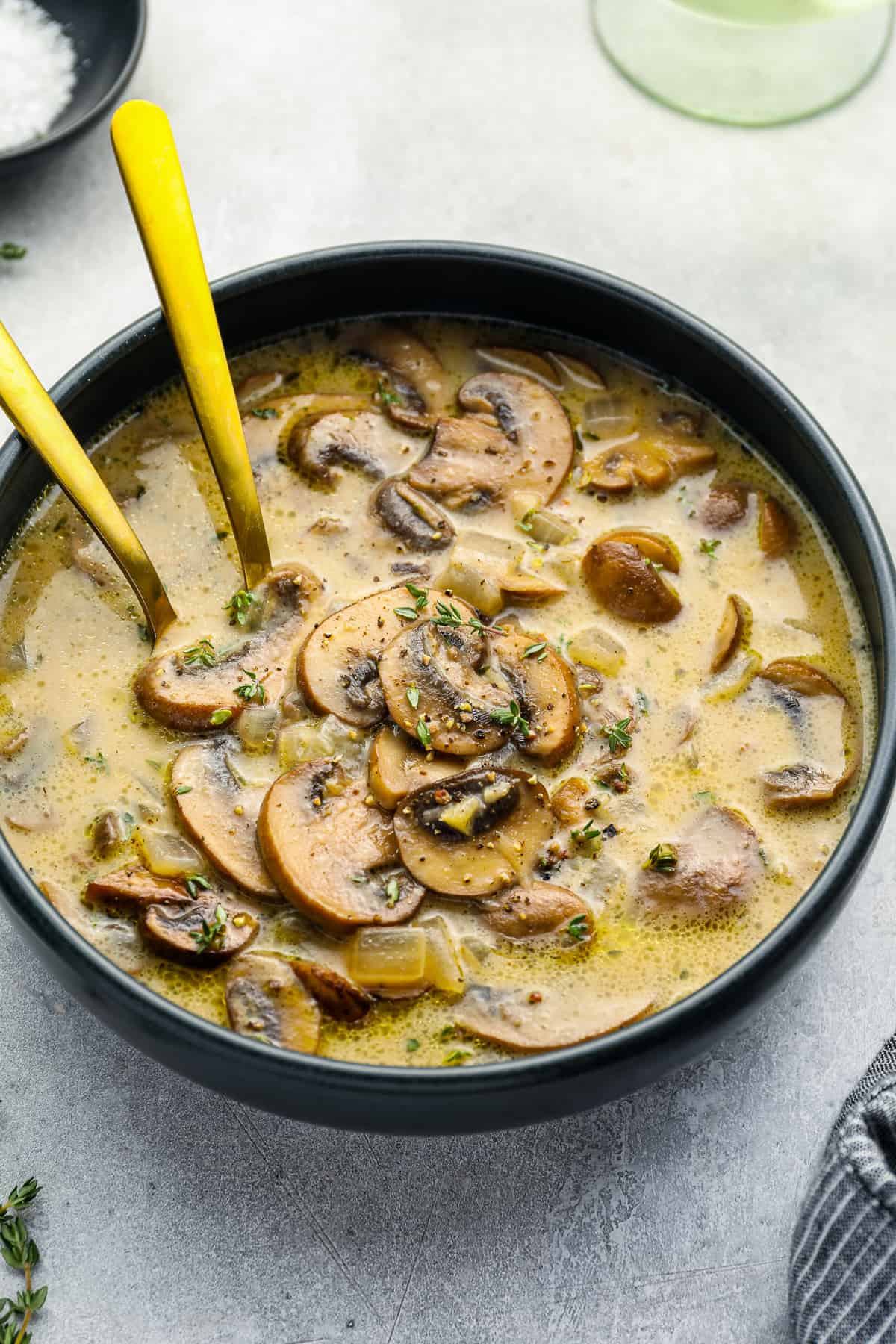 What's in Creamy Mushroom Soup?
You likely have most of, if not ALL of these staple ingredients already in your kitchen!
Mushrooms: I used baby Bella mushrooms. Cremini mushrooms are the best substitute.
Butter: Unsalted butter helps to keep the soup from tasting salty.
Oil: While I prefer to use olive oil, avocado oil is a suitable substitute.
Salt: Be careful! If you're too heavy handed with the salt, it'll easily overpower the other ingredients.
Onion: A yellow onion is preferred for its natural sweetness, but a white onion will also work well in a pinch.
Garlic: Fresh garlic yields better flavor and aroma than pre-minced.
Flour: This is what helps to thicken the consistency of the soup.
Chicken Broth: For the best flavor, consider making your very own Homemade Chicken Broth!
Thyme: Fresh thyme creates the most incredible aroma.
Black Pepper: Freshly cracked black pepper will yield the best flavor.
Crème Fraîche: This is what gives the broth that wonderful creamy element.
To really send this soup over the top, consider garnishing it with some fresh parsley, cracked black pepper, and a drizzle of heavy cream.
Hungarian Mushroom Soup
If you'd like to turn this recipe into a traditional Hungarian mushroom soup, you definitely can. It's made much the same way, but it includes paprika, dill, and sour cream.
Add 2 teaspoons of paprika and 2 teaspoons of dried dill with the thyme and pepper in step 4. In place of the crème fraîche, use sour cream. Make sure to stir in the sour cream off the heat to avoid curdling.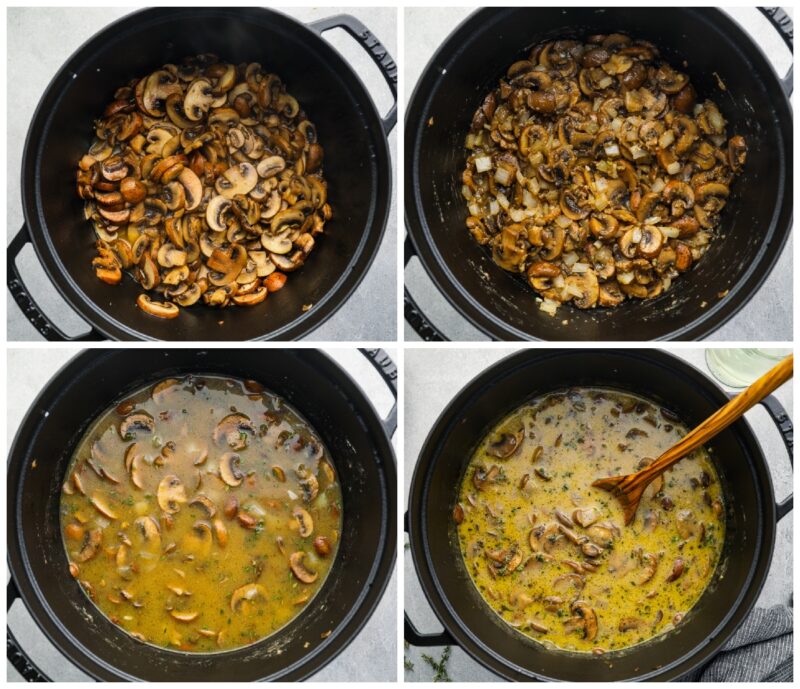 What are the best mushrooms for mushroom soup?
I love baby bella mushrooms (also known as cremini mushrooms)! You could also use portobello, white button, or shiitake mushrooms if you prefer. A mix of different mushrooms would be delicious!
Is mushroom soup healthy?
Mushrooms are a great source of vitamin B12. They also contain minerals such as selenium, copper, potassium, phosphorus, zinc, and manganese. However, this soup is still high in fat, so be sure to enjoy it in moderation!
Where can I find crème fraîche?
Crème fraîche is often found in the dairy aisle or mixed in with specialty cheeses. However, if you're unable to find it, you can simply use heavy cream instead.
How can I make mushroom soup vegan?
To make this mushroom soup vegan, swap the butter for vegan butter (or more olive oil), swap the chicken broth for vegetable broth, and swap the crème fraîche for vegan sour cream or coconut cream.
Is mushroom soup keto-friendly?
No! Unfortunately, this soup is not keto-friendly due to the addition of flour. To make it keto-friendly, simply remove the flour and add a bit more crème fraîche to make the soup creamier.
Can I freeze mushroom soup?
Yes, you can freeze this soup! The crème fraîche may separate a bit as it thaws, but it should come back together once reheated.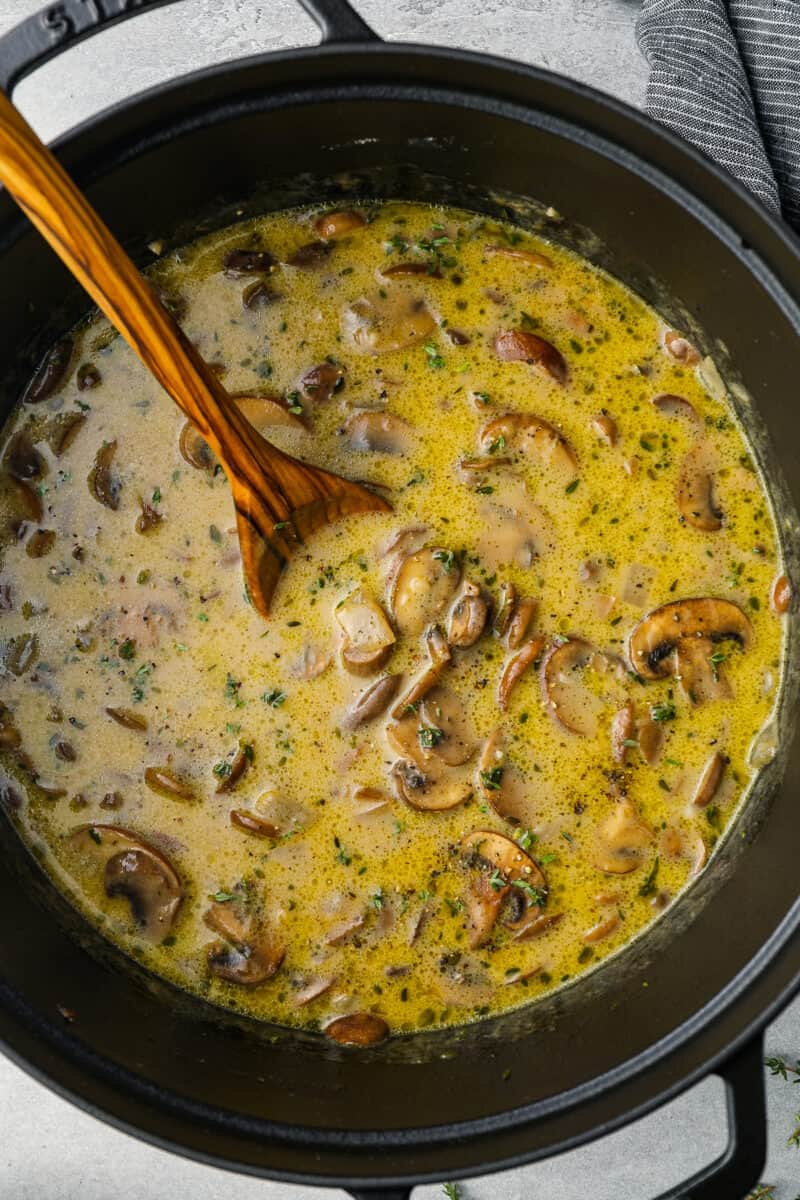 How to Store and Reheat Homemade Mushroom Soup
Store leftover mushroom soup in an airtight container in the refrigerator for up to 3 days. Reheat in the microwave or in a saucepan set over medium-low heat until warmed through.
How to Freeze Mushroom Cream Soup
Freeze mushroom soup whole or in individual portions in airtight containers for up to 3 months. Let thaw overnight in the refrigerator before reheating.
What to Serve with Easy Mushroom Soup
One of my favorite pairings for this soup is bread. After all, you won't want a single drop of that savory, creamy broth going to waste. I usually serve mushroom soup with something like Dinner Rolls, Beer Bread, or just a simple slice of my favorite bakery bread with butter. Or serve it as an appetizer before Salisbury Steak or Beef Wellington!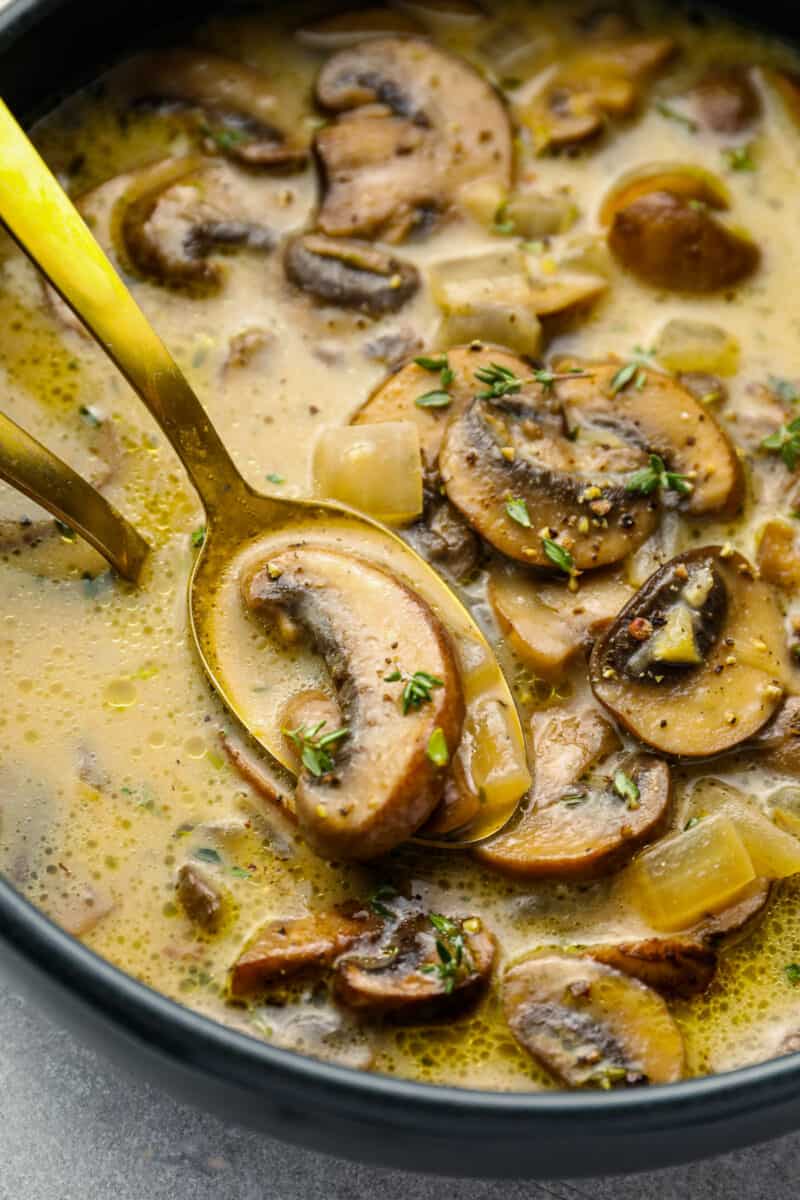 If you make this recipe be sure to upload a photo in the comment section below or leave a rating. Enjoy! You can also jump to recipe.