Mississippi Pot Roast is the absolute best slow cooker roast beef you will ever make! This recipe has been made famous throughout the years and is a must-make. Mississippi Roast in a crock pot is perfect on its own, for tacos, nachos, sliders, and more! You won't believe the flavor in this slow cooker goodness.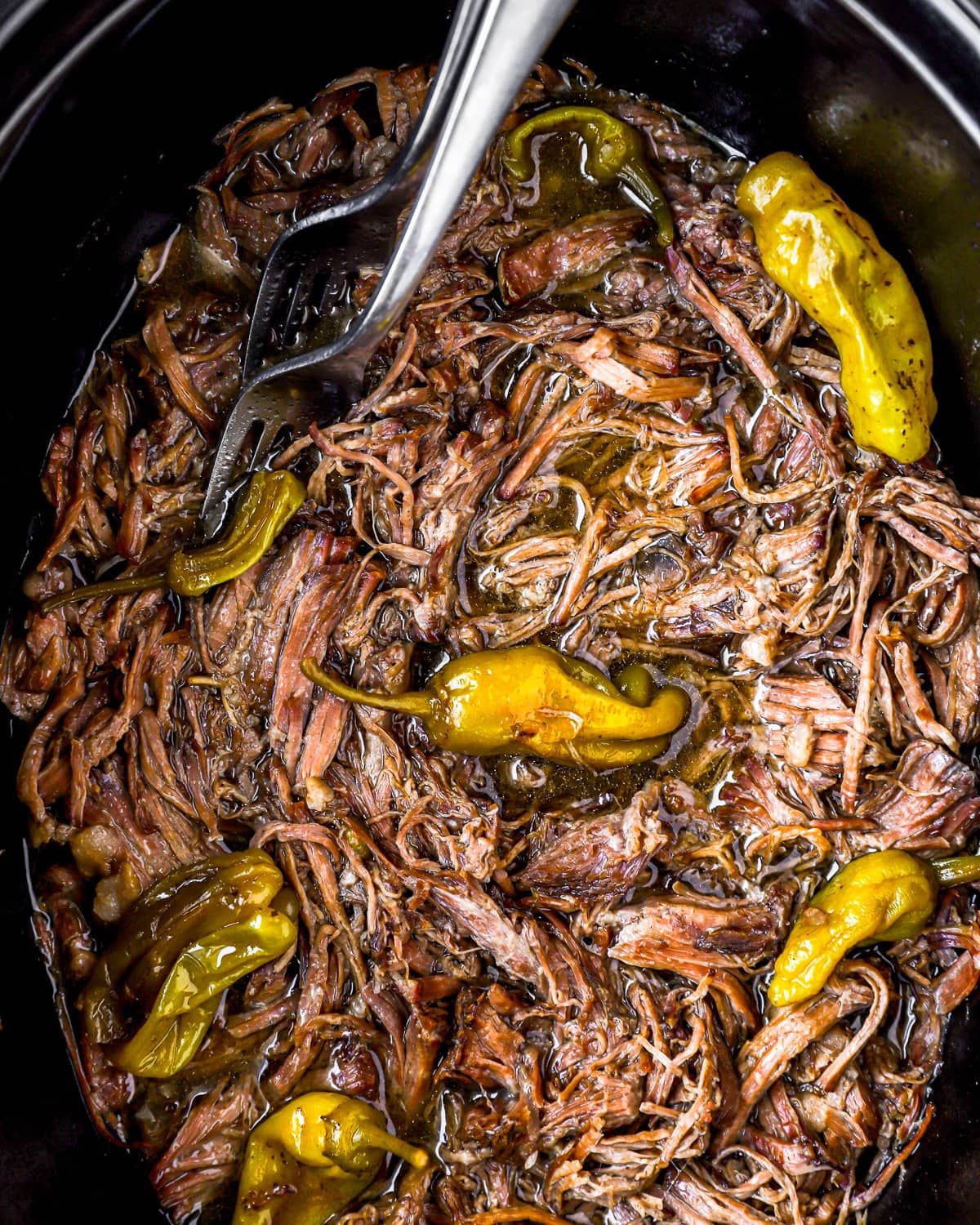 What's in this Mississippi Pot Roast Recipe?
A chuck roast cooked in a slow cooker with butter, ranch seasoning, au jus, and pepperoncini peppers… I'll be making this Mississippi Roast again and again and again. I love the peppers, the sauce, everything! It's so delicious.
Boneless Chuck Roast: Look for chuck roast, shoulder steak, boneless chuck roast, chuck shoulder pot roast, chuck seven-bone pot roast, or beef chuck arm.
Salt + Pepper: Enhance the natural flavor of the beef.
All-Purpose Flour: Helps the roast brown in the pan.
Canola Oil: Helps the roast brown without burning.
Unsalted Butter: Helps tenderize the meat and infuses it with delicious flavor.
Pepperoncini: Add a mouthwatering tangy, zesty flavor.
Mayonnaise: Forms the base of our quick ranch dressing, making it creamy and rich.
Apple Cider Vinegar: Adds tang to the dressing.
Dill + Paprika: Add a herbaceous and spicy flavor to the dressing.
Buttermilk: Adds extra tanginess and moisture.
Pro Tip: There's no need to add any water or broth to this recipe. It will make plenty of liquid as it cooks!
Variations on a Mississippi Roast
This roast is super versatile. You can use a different cut of beef, such as a rump roast, brisket, or pork roast. For a spicier version, try adding some pickled jalapeños.
For a complete one-pot meal, add some vegetables like carrots, potatoes, sweet potatoes, or bell peppers, in the last 1-2 hours of cooking. Quarter the larger veggies (like potatoes) so they cook evenly.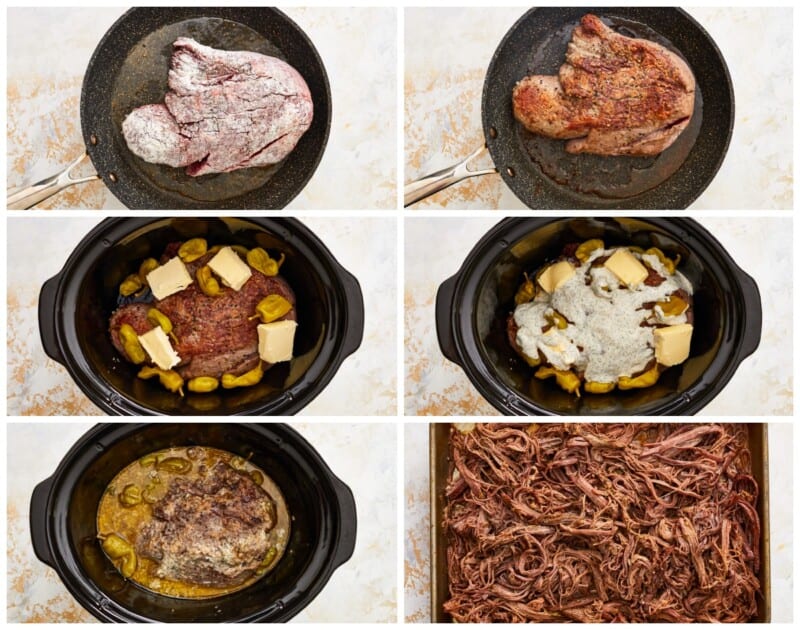 What's the difference between a Mississippi Pot Roast and a regular pot roast?
This roast has a tangier, zestier flavor than a traditional pot roast. The addition of pepperoncini gives it such a unique flavor!
Why is it called Mississippi Pot Roast?
The recipe is thought to have originated from a home cook who lives in Mississippi.
What is a substitute for pepperoncini in Mississippi roast?
If you can't find pepperoncini, the nest best thing is banana peppers.
Will pot roast get more tender the longer it cooks?
Yes! The secret is to cook it low and slow over a long period of time. Trying to speed up the process could cause it to become tough.
Why is my Mississippi Pot Roast not tender?
If your roast is not tender, it likely needs to be cooked for longer. This cut needs a low and slow cook to become meltingly tender.
Can I make this recipe in the oven?
You can! If you prefer to make it in the oven, sear the roast and place it in a baking dish. Sprinkle with the seasonings, slice up butter and place over roast, and toss in some pepperoncini. Bake in a 300°F oven for about 2½ hours. Check for doneness, and continue to roast until the meat reaches the desired level of doneness.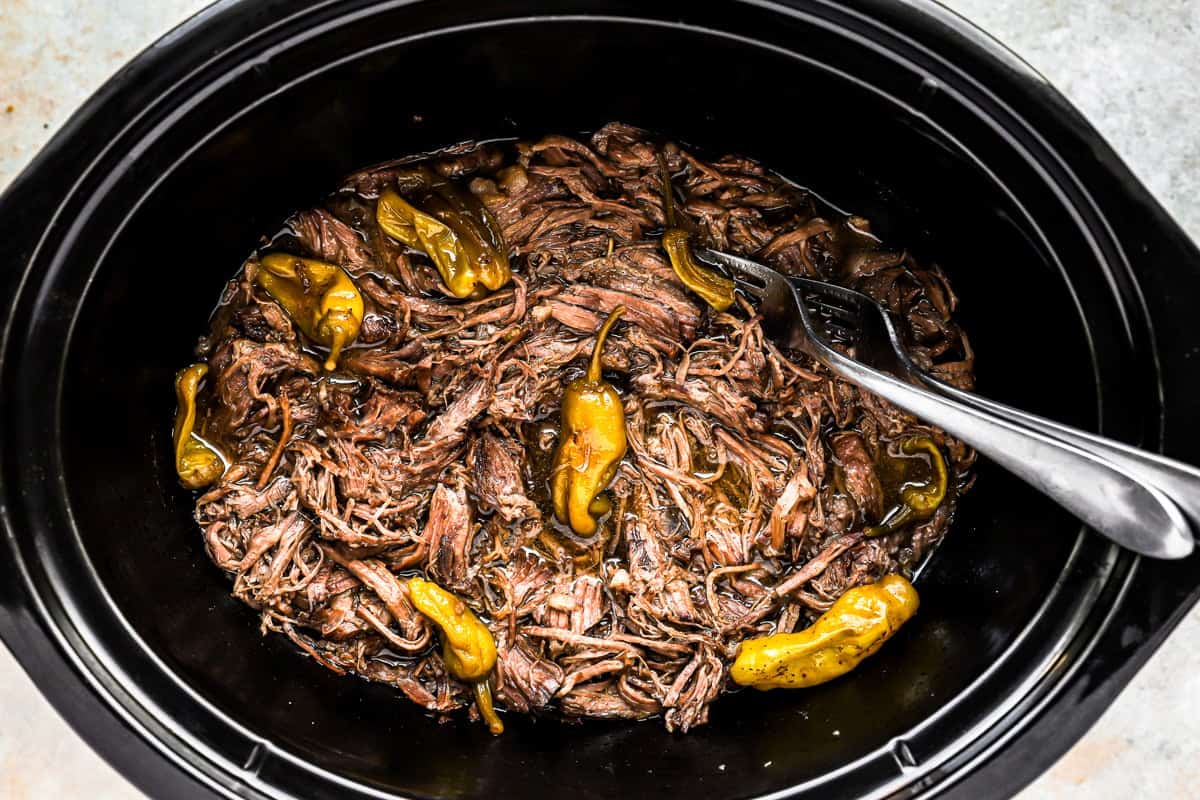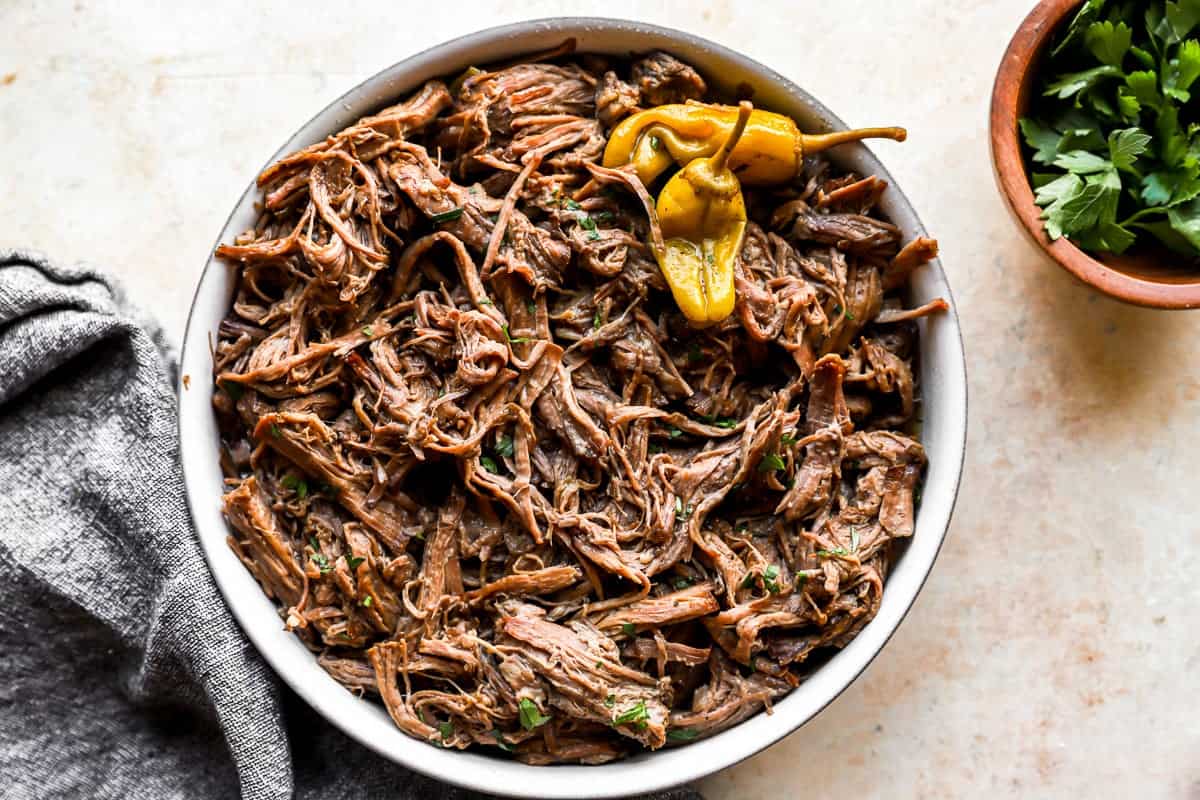 How to Store and Reheat
Store leftover Mississippi pot roast in an airtight container in the refrigerator for up to 4 days. Reheat in a baking pan set in a 325°F oven coated in a bit of beef broth until warmed through.
How to Freeze
Freeze this pot roast in an airtight container or Ziplock bag (along with the juices) for up to 3 months. Let thaw overnight in the refrigerator before reheating.
Serving Suggestions
Serve this tasty roast with creamy mashed potatoes, tater tots, basmati rice, egg noodles, or on sandwich buns (I love Hawaiian rolls). Some roasted veggies, dill pickle pasta salad, or a light cucumber salad would make great sides!
Use leftovers to make my favorite slow cooker Italian beef sandwiches!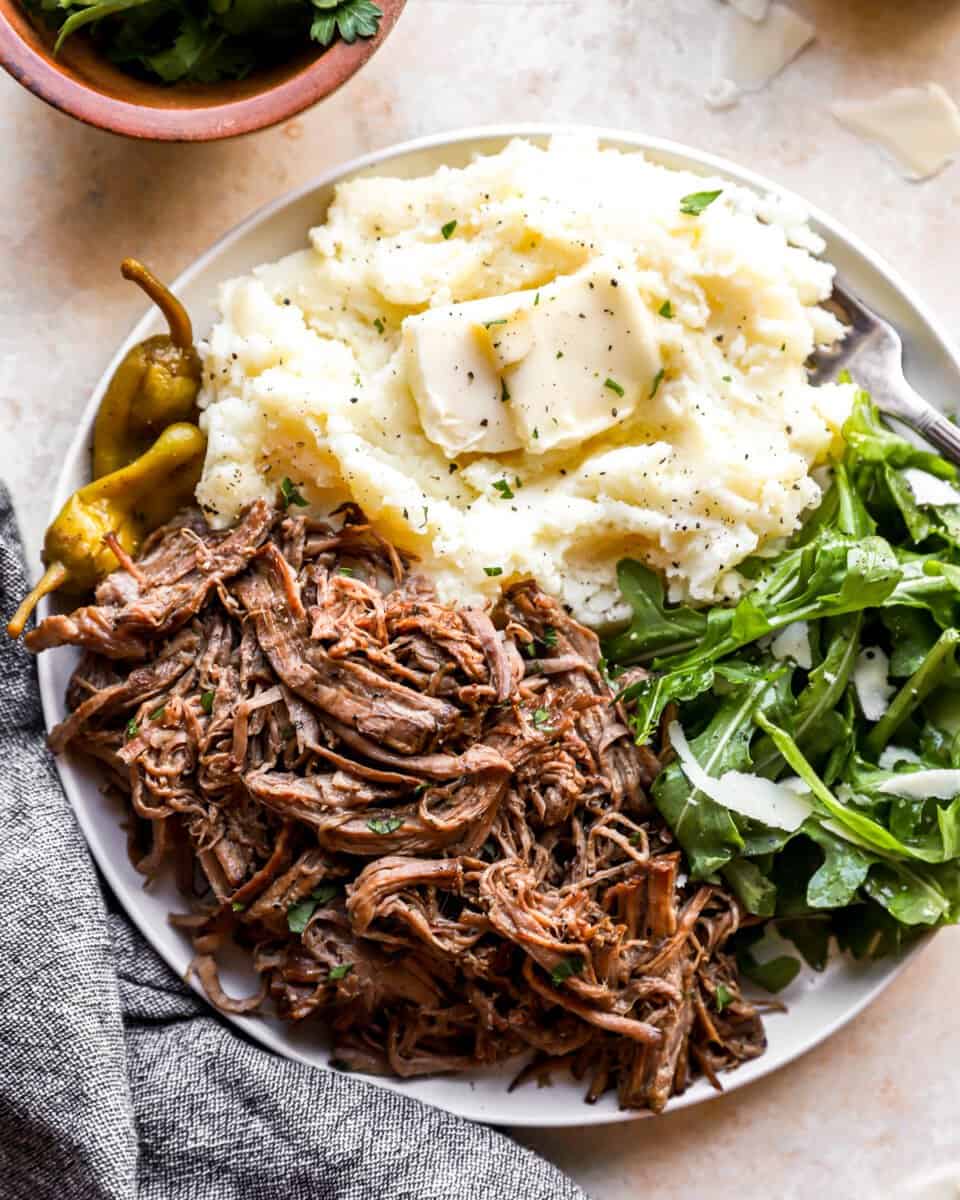 5-Star Review
"I've been making beef roast for more than sixty years. This is the BEST of the best. My new go-to for my many "resort-type" guests. Just subscribed to your emails, and I'm making your crock pot chicken with marmalade and pineapple today. Thanks!" – Kristine Zuleger
More Pot Roast Recipes We Love