Crockpot Mississippi Roast is the absolute best slow cooker roast beef you will EVER make! This Mississippi Roast Recipe has been made famous throughout the years and is a must make. Mississippi Roast in a crock pot is perfect on its own, for tacos, nachos, sliders, and more! You won't believe the flavor in this slow cooker goodness.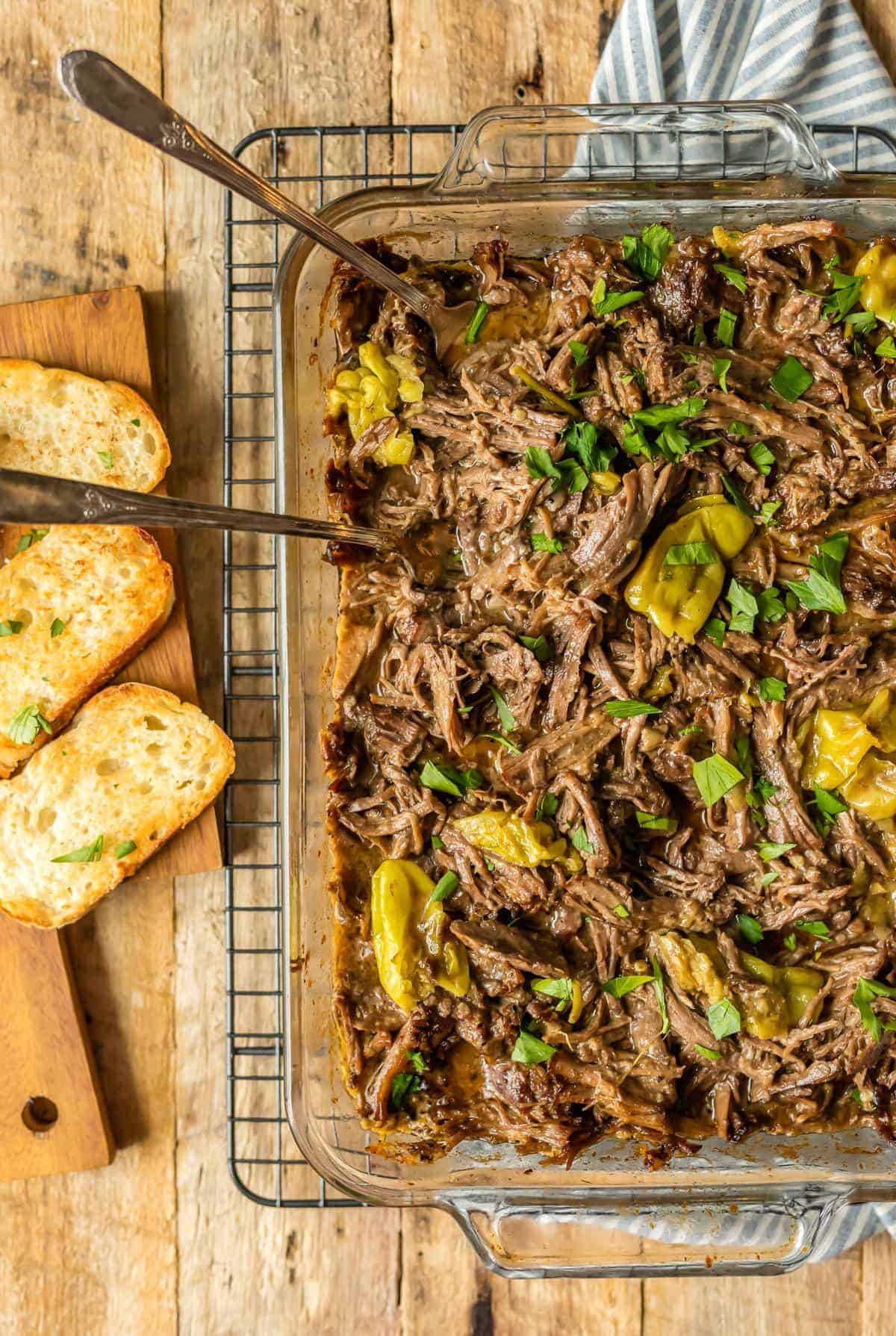 Crockpot Mississippi Roast
Mississippi Roast has been quietly getting super famous for years…because it's amazing!
Mississippi Roast. How I love thee. To say that I'm excited about today's recipe would be a huge understatement. This Mississippi Roast in a slow cooker has ALL the flavor, and none of the fuss.
It's so super simple and is awesome on nachos, as a sandwich, or even just on its own. It's beyond juicy, beyond unique, and just so easy.
I can see why this MISSISSIPPI ROAST was on the New York Times's Most Popular Recipes of 2016 list!! It's a total winner and I can't wait for you to try it! Don't you just want to take a nose dive into all that yum?!
This slow cooker Mississippi Roast recipe is so juicy, tender, and delicious!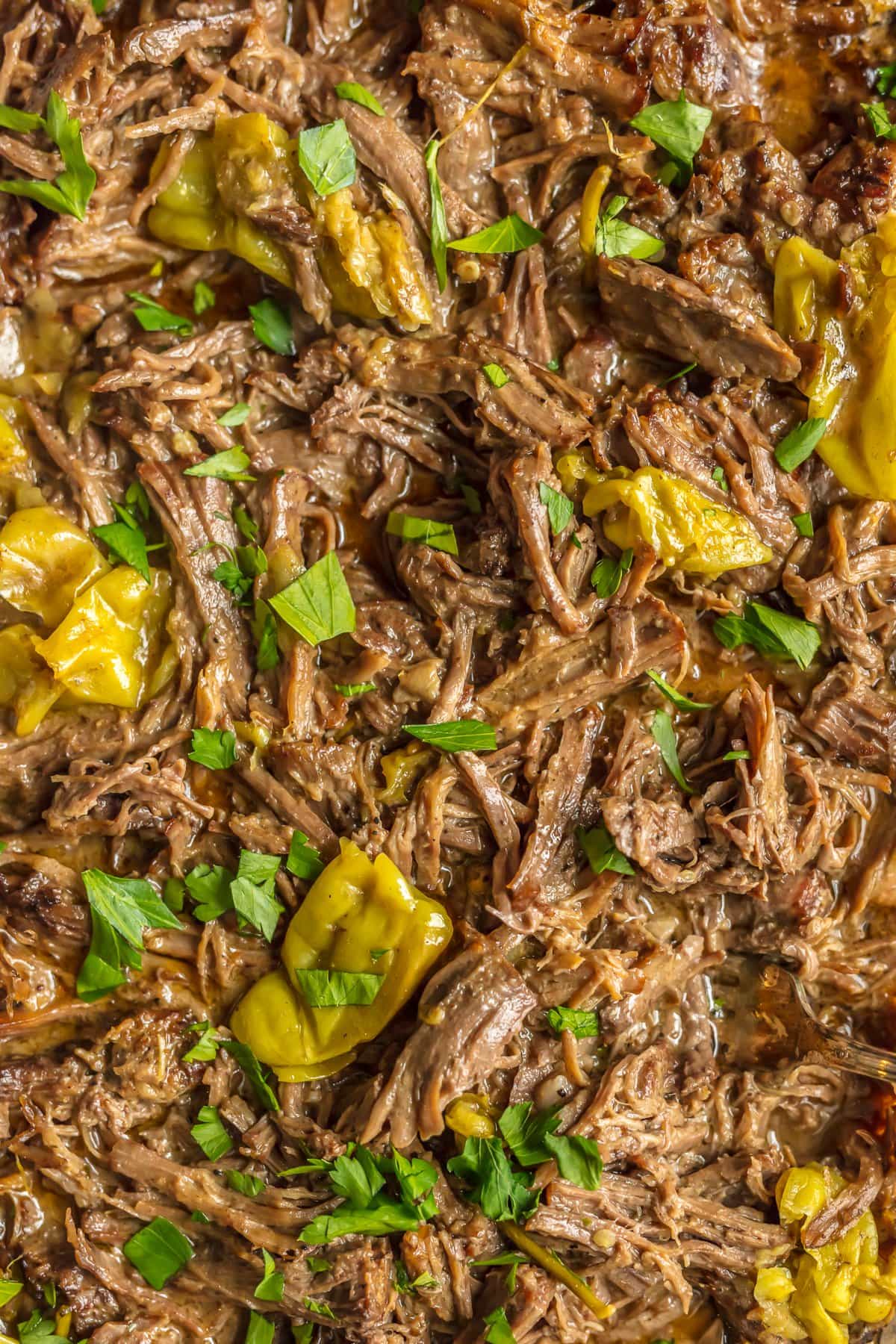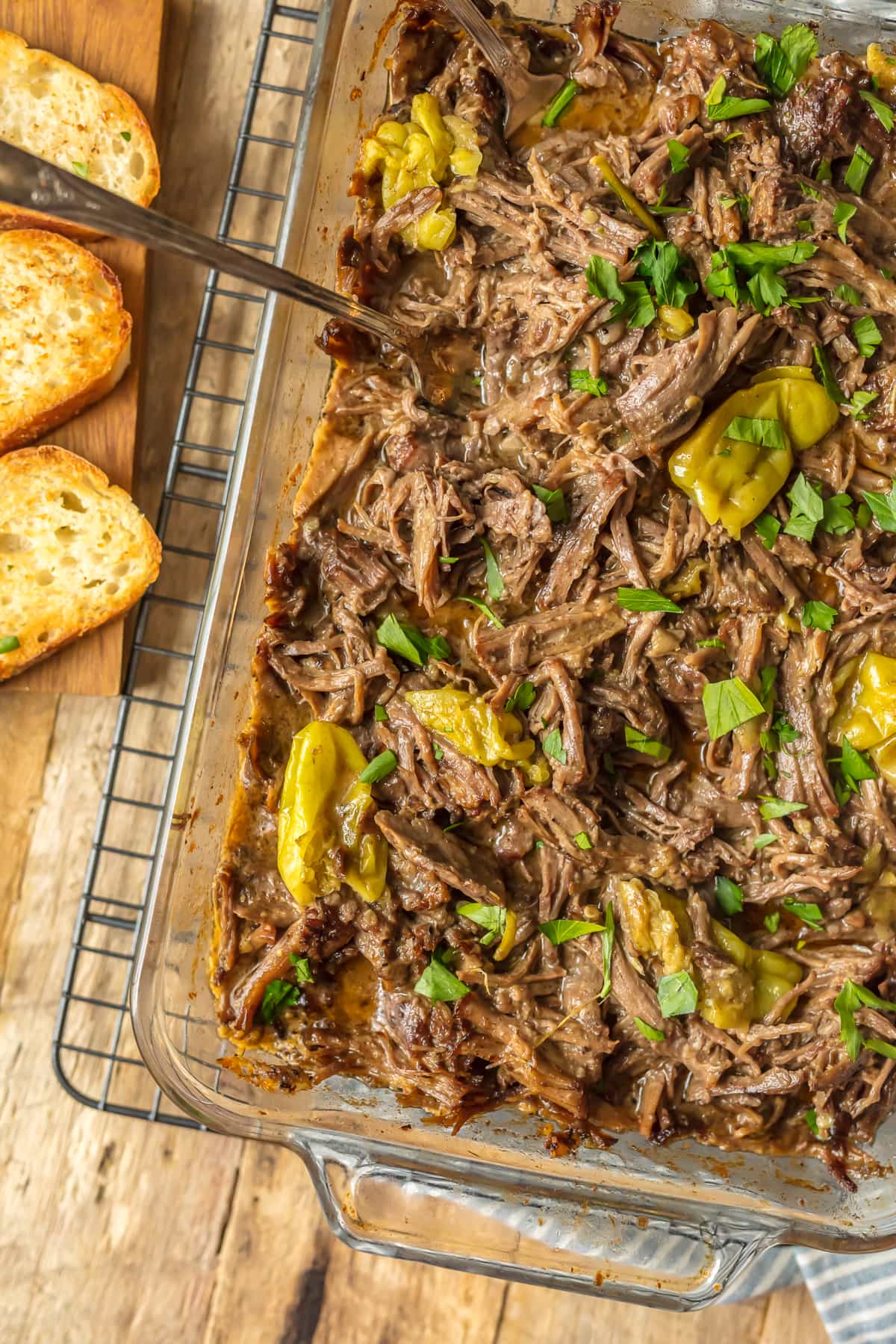 How to Make Mississippi Roast in a Slow Cooker
Mississippi Roast is so juicy and delicious you won't believe your tastebuds.
Mom and I are embarking on a journey to do as many of the New York Times Most Popular Recipes of 2016 as we can! We chose to try this Mississippi Roast as our first endeavor because it immediately stuck out as one that we would just love.
We were right. I'll be making Mississippi Roast again and again and again. I love the peppers, the sauce, EVERYTHING! It's so delicious.
You can jump to the recipe card for full ingredients & instructions!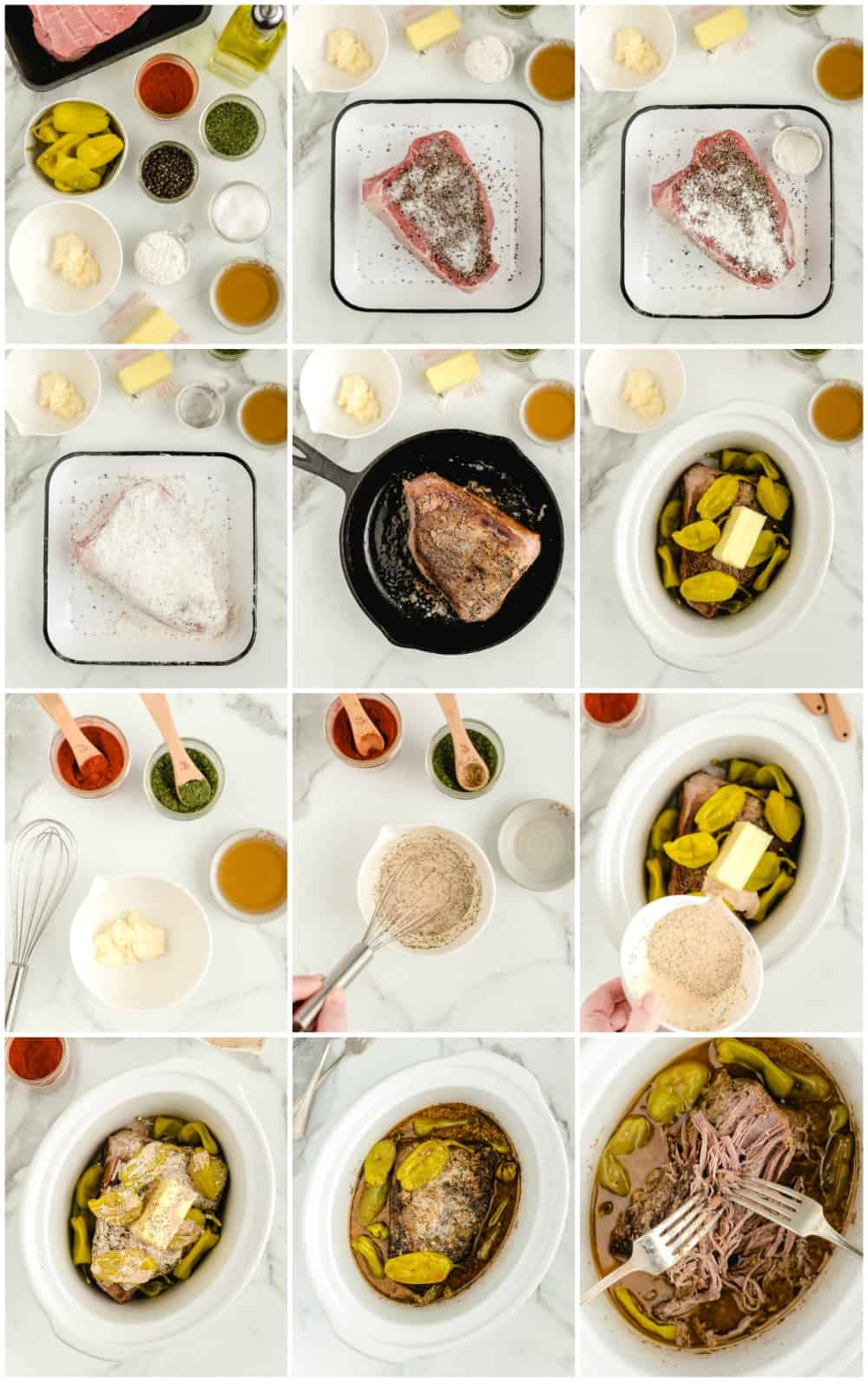 Where did Mississippi Roast Originate
There are tons of recipes for this Roast floating around the internet…stories of its origin vary (click HERE to see the rise of this awesome recipe!)…but it's definitely one of the most famous recipes that the internet has brought us. The rave reviews are justified, trust me.
I love the addition of the pepperoncinis. It's just the right amount of subtle heat to the roast. We weren't sure when we started the recipe, but we were SO happy with the outcome.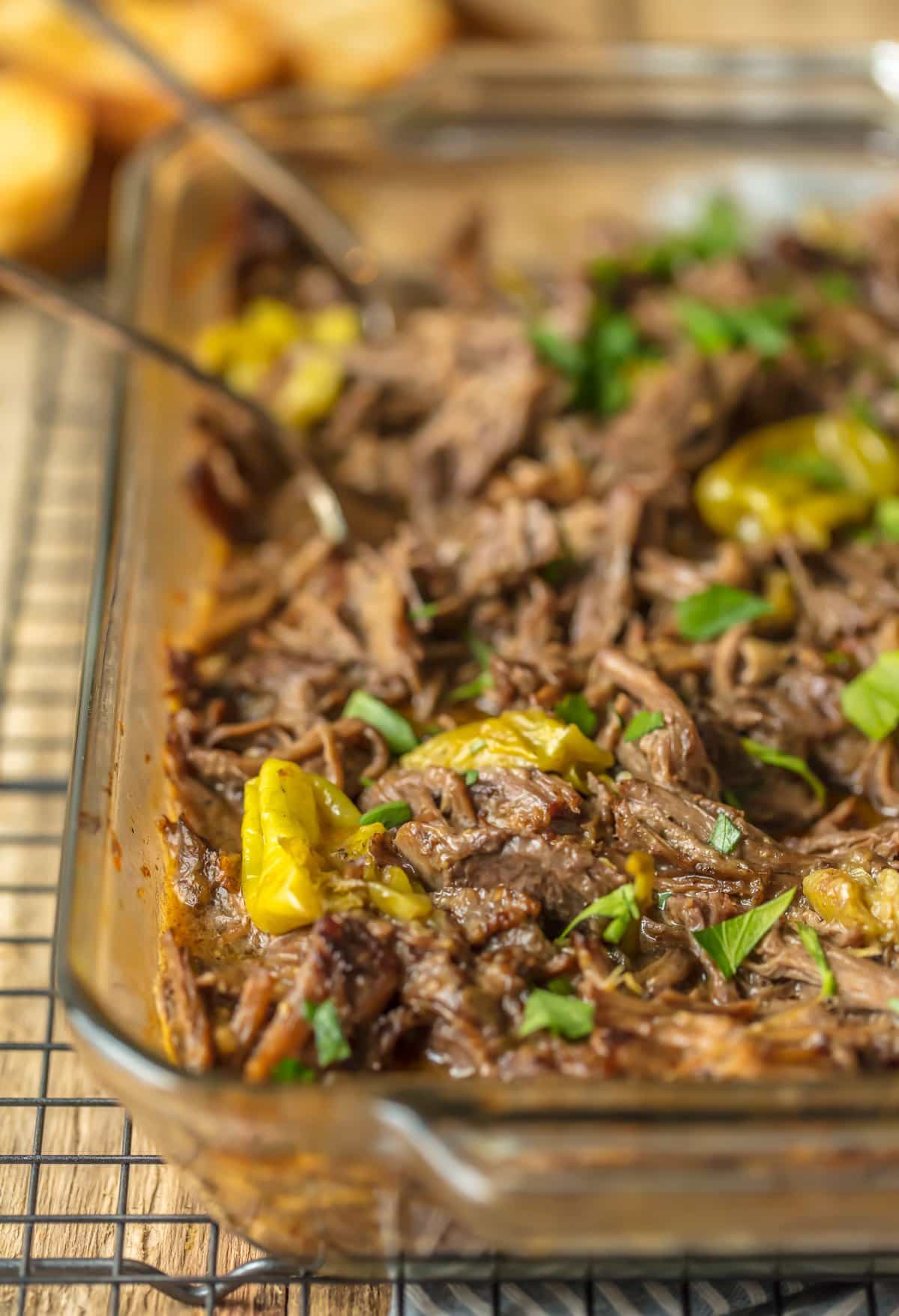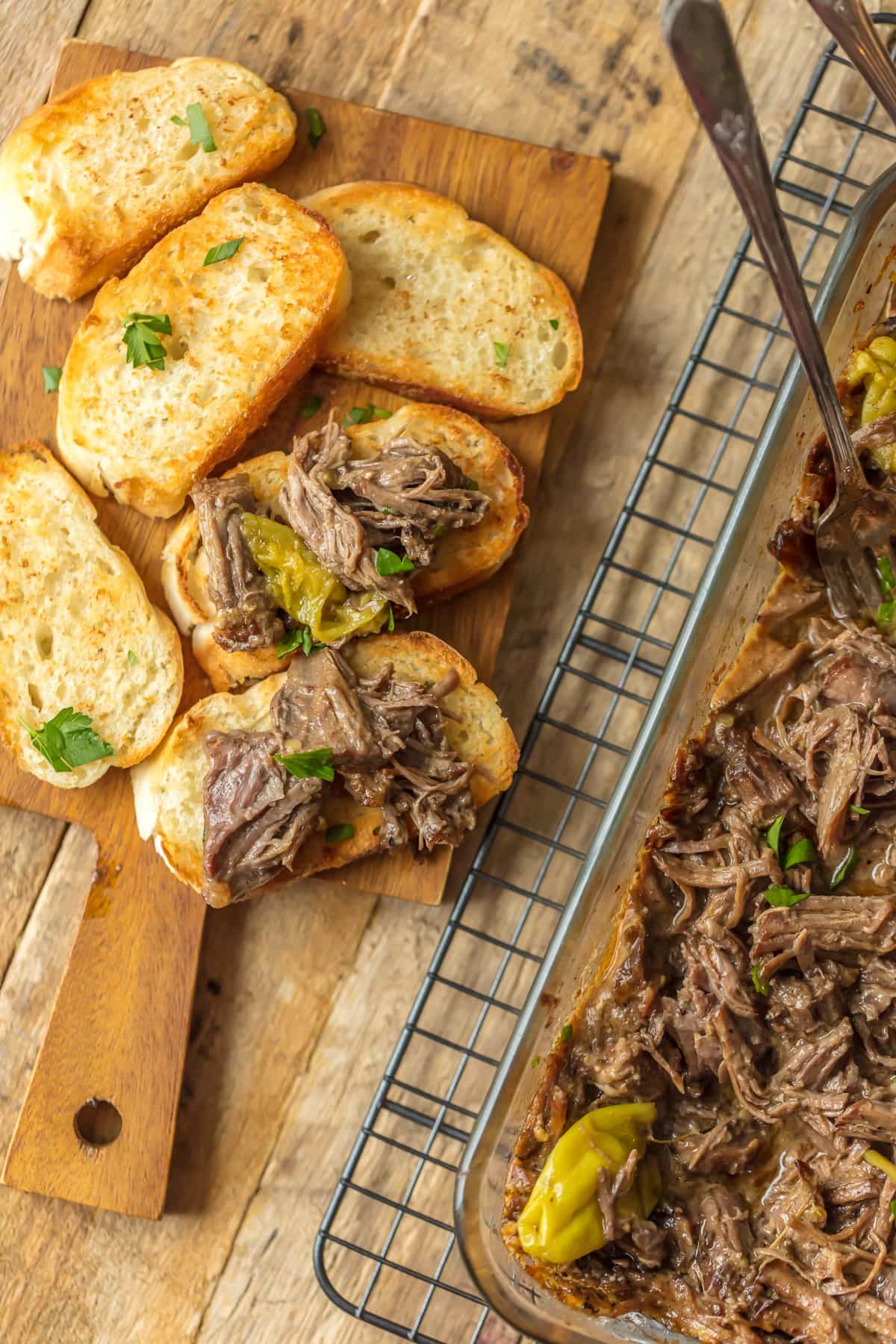 What is a Mississippi Roast?
The recipe for Mississippi Roast in a crockpot originated somewhere on the internet years ago. There are myths left and right of how it started.
It is typically a chuck roast cooked in a slow cooker with butter, ranch seasoning, au jus, and pepperoncini peppers. It's SO DARN GOOD!
Can I make the Mississippi Roast Recipe in the oven?
You can! If you prefer to make it in the oven,
sear the roast and place in a baking dish.
Sprinkle with ranch and au jus seasoning.
Slice up butter and place over roast and toss in some pepperonicinis.
I prefer making this Mississippi Roast in a crockpot (hello being able to forget about it all day!) but you can do it both ways.
Are pepperoncinis hot/spicy?
No, they are very mild. They have similar heat to a pimiento pepper. If you don't like spicy, you'll still love this recipe.
I can't wait for you guys to try this amazing Mississippi Roast recipe. It's so juicy, tender, and delicious! If you want to try out an Instant Pot recipe instead, I recommend our Instant Pot Pot Roast Recipe!
If you like this Mississippi roast recipe, try these other slow cooker recipes too:
If you make this recipe be sure to upload a photo in the comment section below or leave a rating. Enjoy! You can also jump to recipe.