BAKED CHICKEN CORDON BLEU DIP is so tasty and fun! This delicious chicken dip recipe is the perfect tailgating dip, tailor made for the Super Bowl, holiday parties, and beyond. This easy dip recipe is loaded with chicken, ham, swiss, and a white wine sauce. Yum!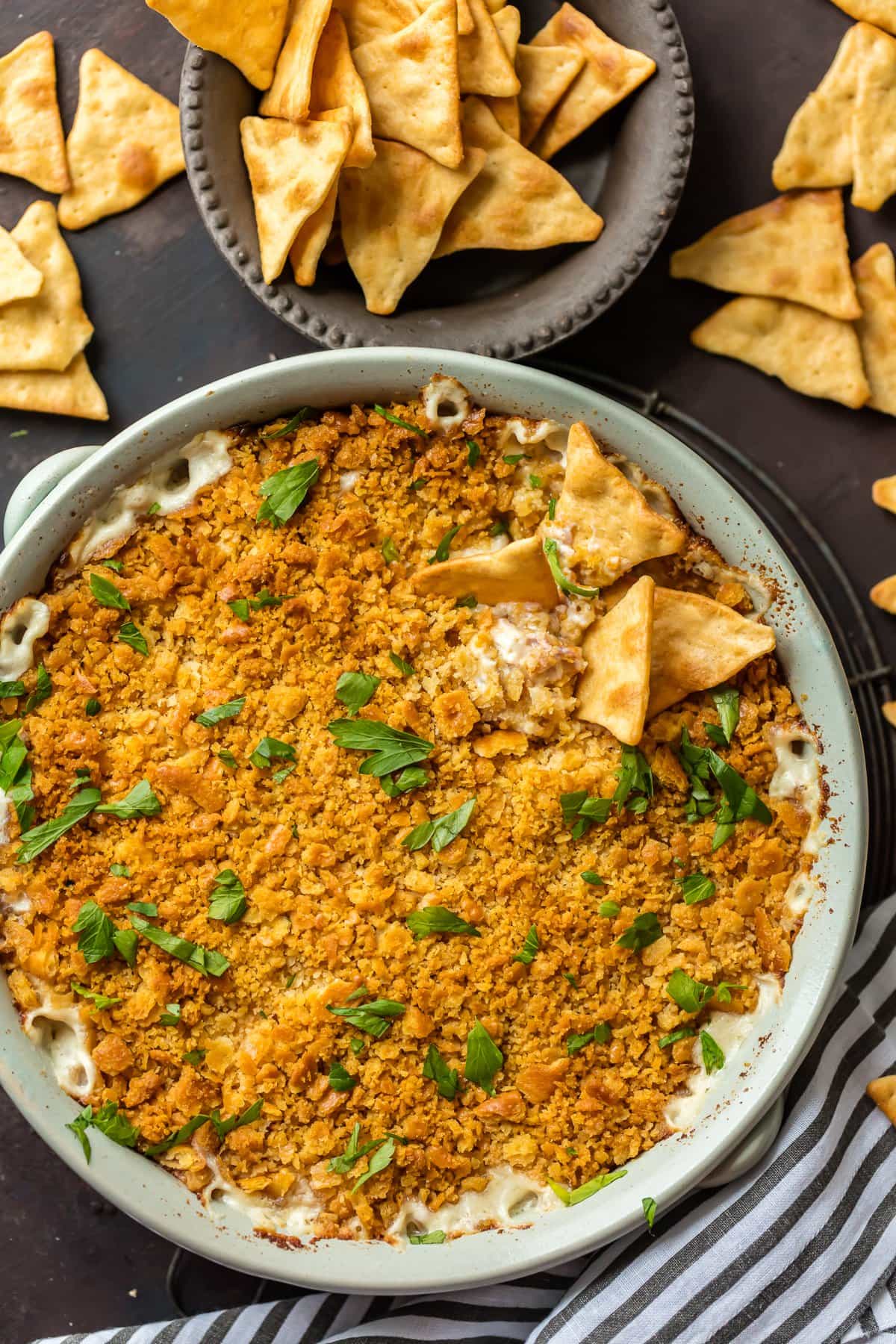 Hot Chicken Cordon Bleu Dip Recipe
Baked Chicken Cordon Bleu Dip is THE game day dip recipe you need to be making. This easy chicken dip recipe is so cheesy and so delicious!
This Baked Chicken Cordon Bleu Dip has it all. Chicken, swiss cheese, ham, WHITE WINE, all the best flavors of your favorite classic chicken dip. I really love the way the flavors blend together.
When you take this easy dip recipe out of the oven and in all of its bubbly cheesy glory, you'll know what I'm talking about. Do I feel bad that I ate loads and loads of it for dinner the other night? No I do not. Not in the least.
I've made a classic Chicken Cordon Bleu recipe and a Chicken Cordon Bleu Sandwich, because I just love the mix og chicken, ham, and swiss cheese. So of course I had to make a dip using all of those tasty ingredients too! You can never have too many dip recipes in your life, and this one is a REALLY good one!
This easy chicken dip recipe is the perfect thing to serve on game day or for any party. Serve it with crackers, tortilla chips, and the rest of your favorite game day appetizers!
Make this Baked Chicken Cordon Bleu Dip for your next game day get together. This cheesy, delicious dip recipe is perfect for any party!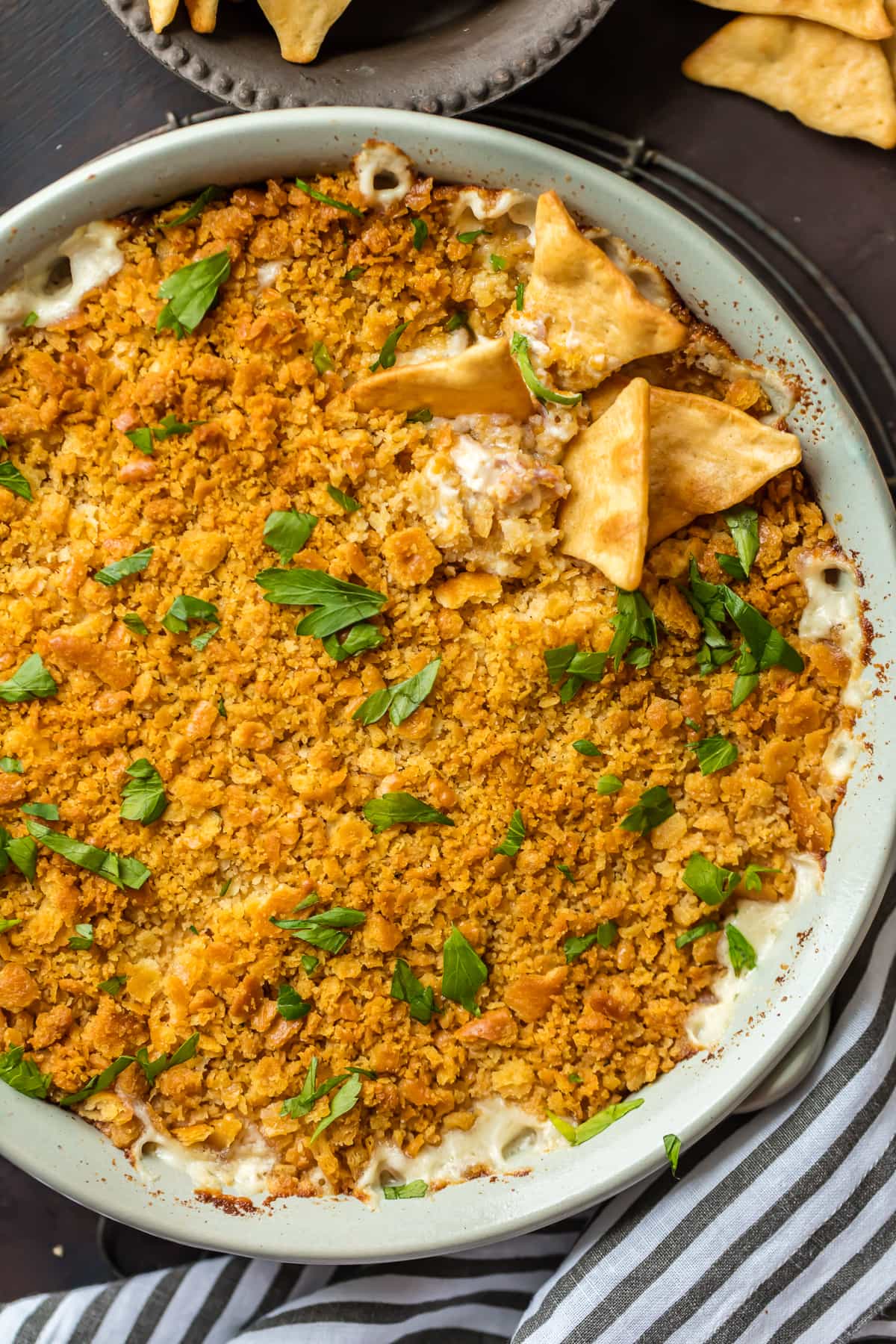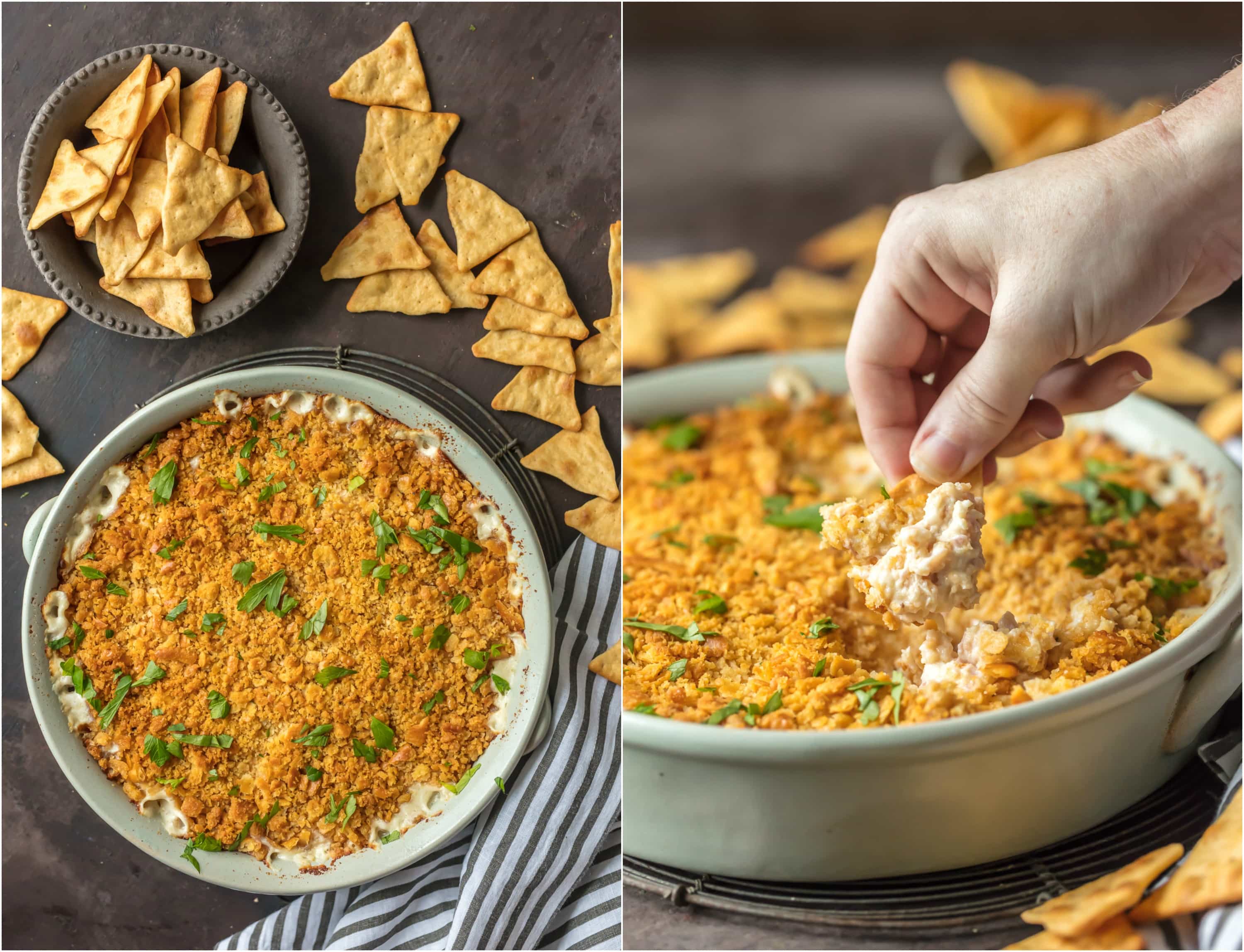 Easy Chicken Dip Recipes
You guys are well aware that I love a good hot dip recipe. It was hard to even put all my favorites together for my recent hot dips roundup. I love everything from Simple White Queso to Chicken Enchilada Dip. I can't get enough and if I could eat appetizers for every meal, I surely would!
All that love aside, one of my NEW all-time favorites is this CHICKEN CORDON BLEU DIP! Omg. I cannot get enough. Remember those Chicken Cordon Bleu Meatballs? I thought those were my favorite version of these classic flavors…but this dip might have just taken the cake. So yummy!
Try these other easy chicken dip recipes too: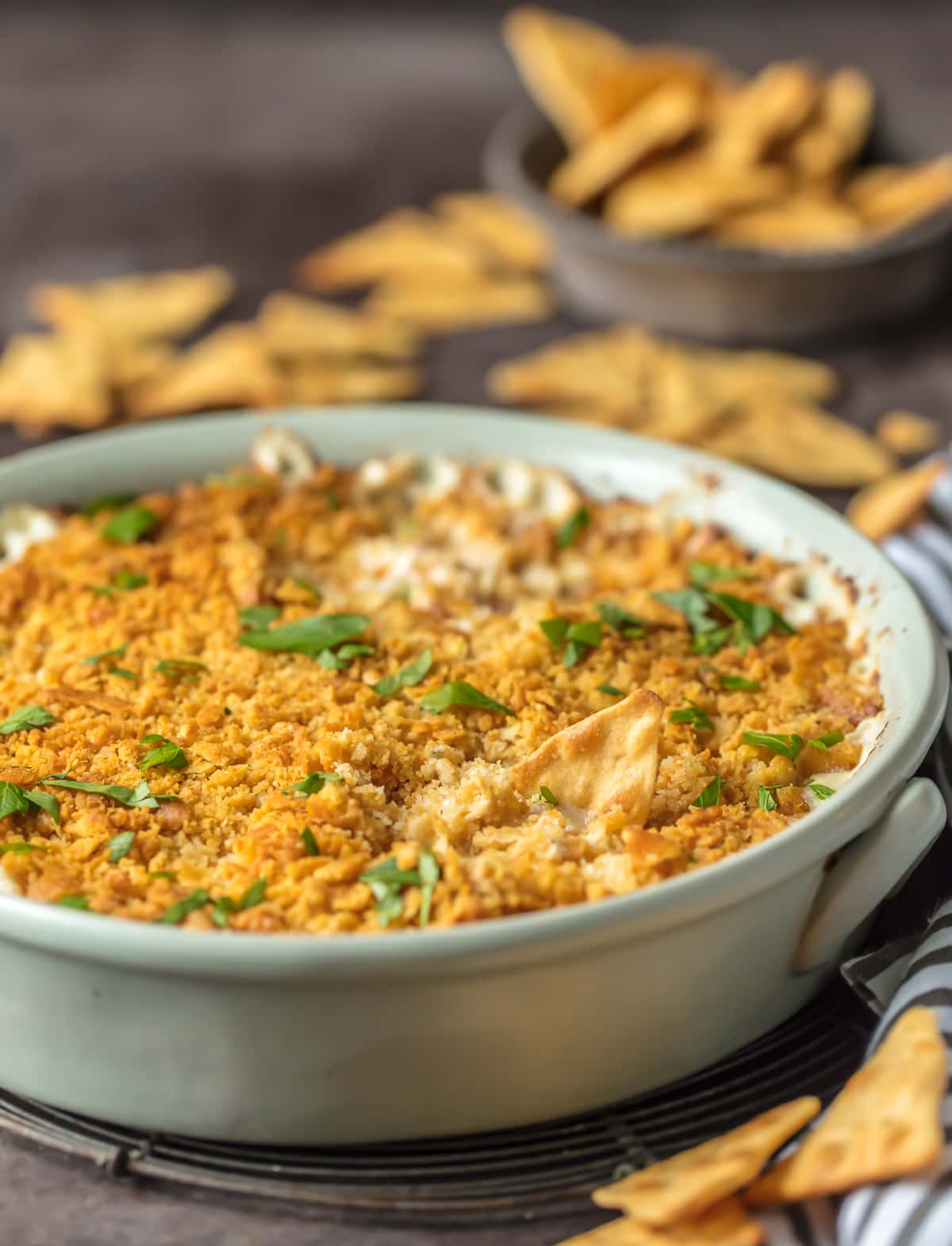 How to Make Baked Chicken Cordon Bleu Dip
This baked chicken cordon bleu dip is super easy to make, which is good news if you've got multiple appetizers to prepare for that tailgating party!
What's in this delicious dip recipe?
Cream cheese
Chicken broth
White wine
Rotisserie Chicken
Ham
Swiss Cheese
Crushed Ritz crackers
To make this baked chicken cordon bleu dip, just combine the ingredients, pour the mixture into a baking dish, layer the crushed crackers on top, and bake at 350°F for 20-30 minutes. Serve with chips or crackers and you've got an easy chicken dip recipe that everyone will devour!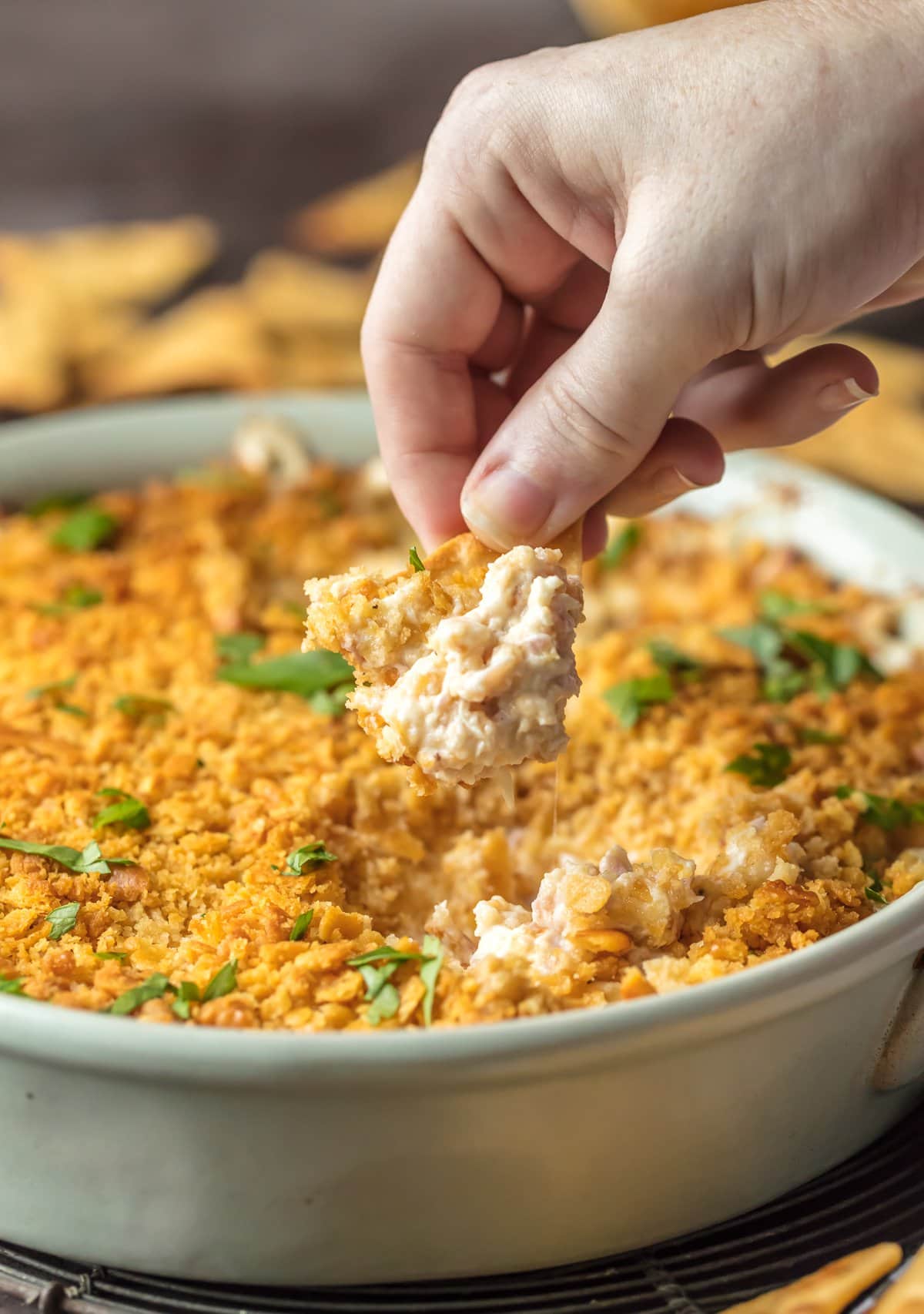 There's not much I can say about this Baked Chicken Cordon Bleu Dip except for YOU HAVE TO TRY IT! Take it to work parties, make it for your favorite basketball game, have an appetizer for dinner night.
So many options of how you can enjoy this dip to the fullest. I know we will! This earned a one way ticket into our favorite dips roundup…one that we will be making again and again for years to come.
See the recipe card below for details on How to Make Chicken Cordon Bleu Dip. Enjoy!
If you like this chicken dip recipe, try these other great dip recipes too: