This turkey rice casserole is the perfect way to use up your leftover Thanksgiving and Christmas turkey. This dish only takes 15 minutes to put together and is creamy, hearty and filling. This dish is a real crowd pleaser and easy to make.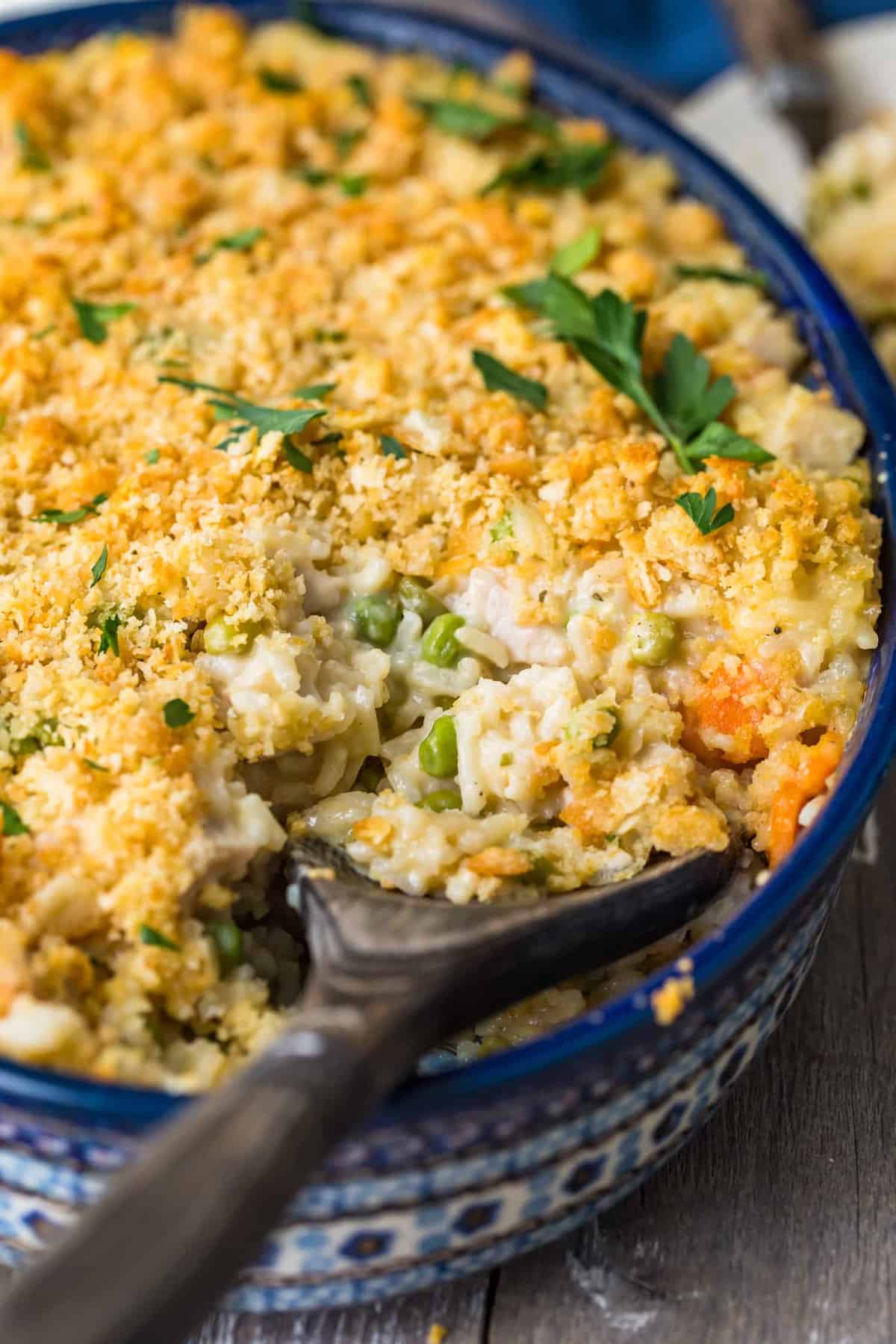 If you are wondering what to do with that left over turkey from Thanksgiving or Christmas, then I have the perfect post holiday recipe for you! This turkey rice casserole is deliciously comforting and so easy to whip up – perfect after spending days in the kitchen!
How to Make This Turkey Rice Casserole Recipe
Heat oven to 375°F and adjust oven rack to middle position. Spray an 8×8-inch casserole dish with nonstick cooking spray.
FOR THE TOPPING:
Place the crackers and bread in a food processor fitted with the metal blade. Pulse until fine crumbs. Place the crumbs in a small bowl and add the melted butter. Mix well and set aside.
FOR THE TURKEY RICE CASSEROLE:
Heat a large nonstick skillet, over medium heat and add the oil and butter. Add the onion and carrots and cook about 6 minutes or until the carrots have softened and are lightly browned.

Add garlic and cook another 30 seconds, until bloomed and fragrant.

Add rice and cook, stir until coated.

Add water, chicken stock, cream, ¼ teaspoon salt, ¼ teaspoon ground black pepper. Bring the rice mixture to a simmer and turn heat to low.

Cover and cook, stirring often, for 20-25 minutes or until most of the liquid is absorbed. The rice should be just tender.

Add the turkey, water chestnuts, Parmesan cheese, lemon juice, Worcestershire Sauce, tarragon and peas. Cook uncovered, stirring often, for 2 minutes.

Pour the turkey/rice mixture into the prepared casserole dish, sprinkle with the cracker topping and bake at 375°F until bubbly and the top is golden brown, about 20-25 minutes.

Transfer to a cooling rack and cool 5-10 minutes before serving.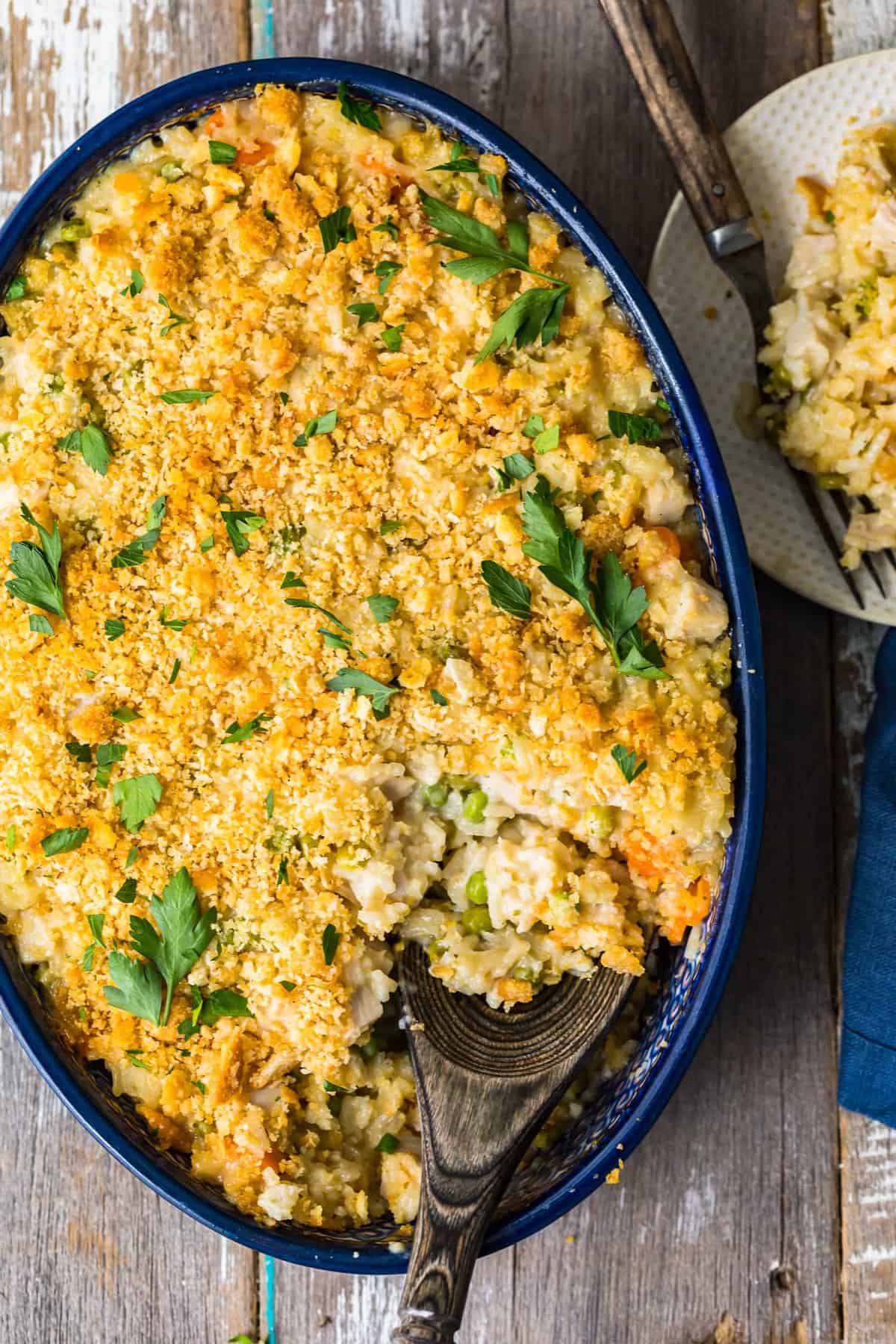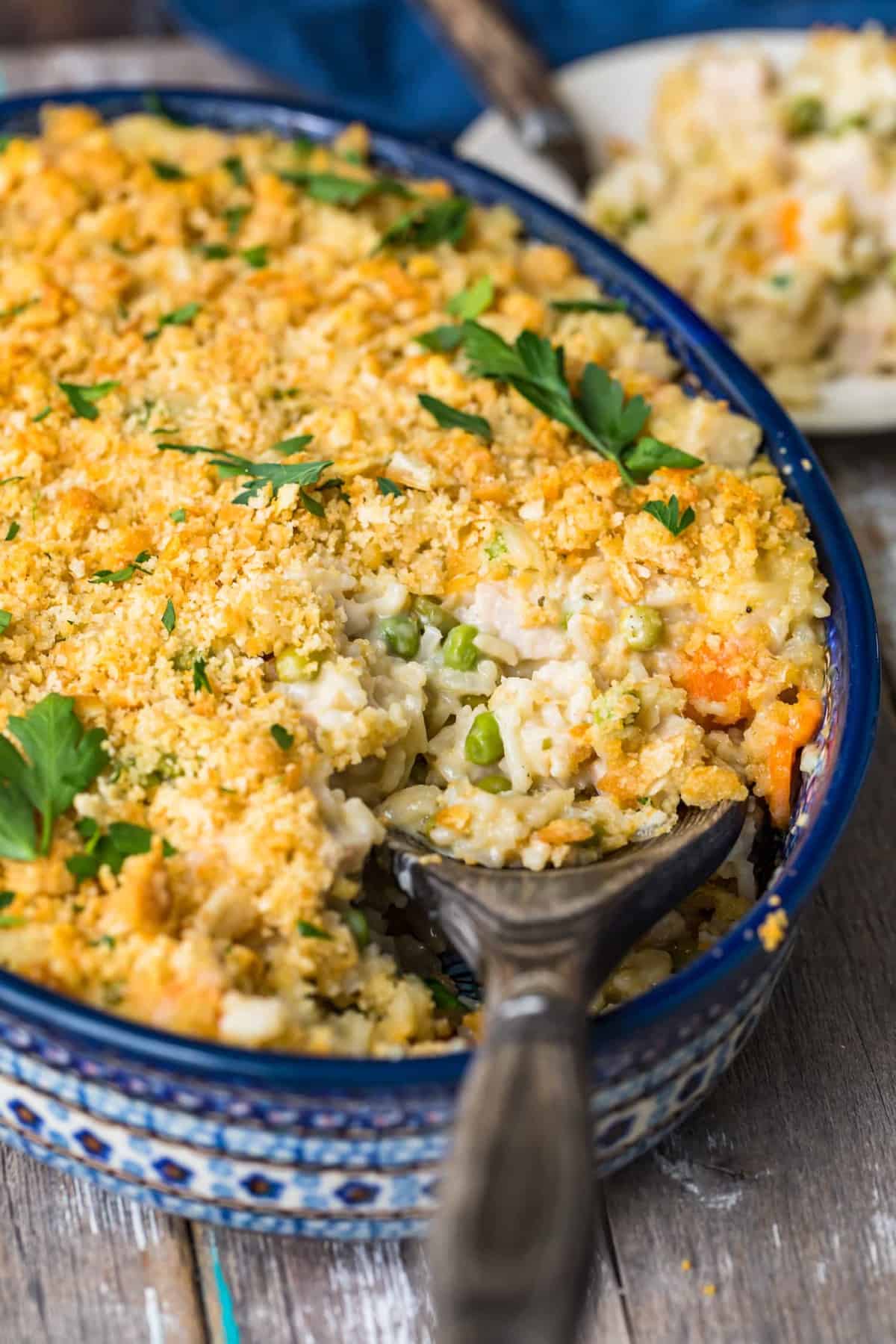 What does turkey rice casserole taste like?
There are a few key ingredients in this comforting dish that make it vibrant and full of flavor:
Heavy cream
Lemon
Parmesan
Tarragon
Ritz crackers
These ingredients create a rich and decadent dish, but at the same time it has a fresh and light flavor to it.
Can you make this ahead of time?
You can make this dish a day ahead, just keep it covered in the fridge and reheat in the oven before serving. The leftovers, if I do say so myself, taste amazing the next day for a lunch.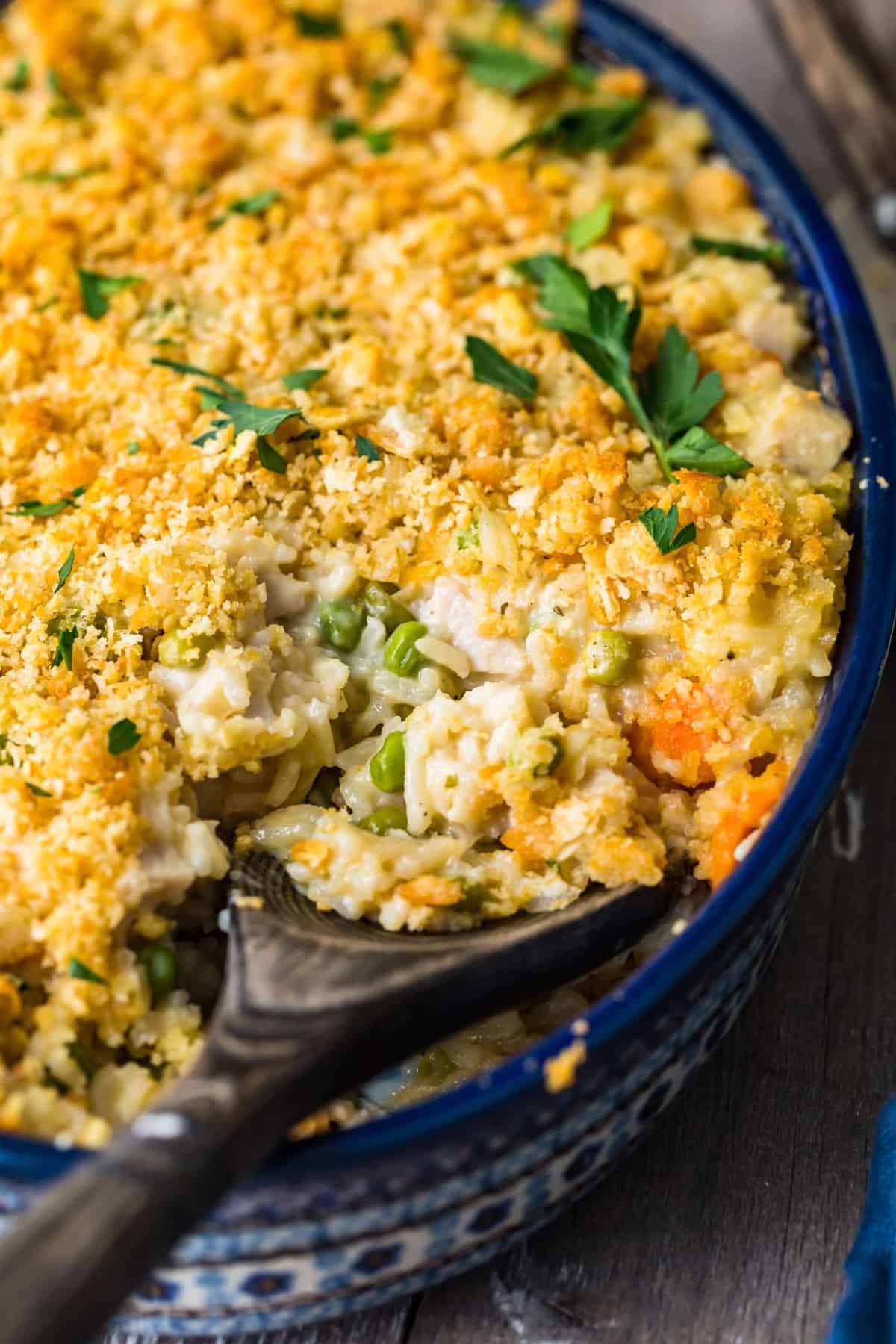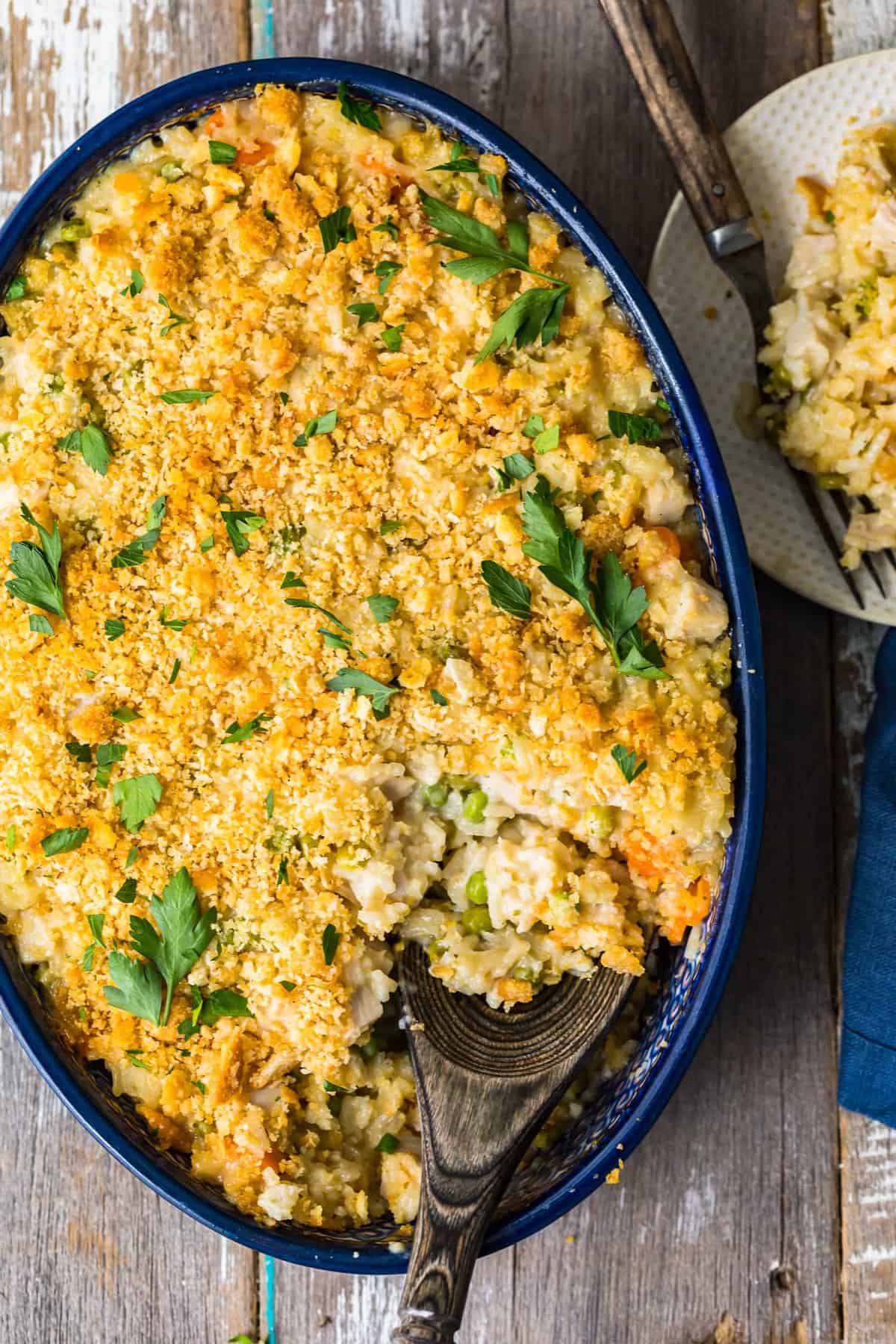 What do you serve with this dish?
You really can't go wrong with serving this casserole by itself, it has a good amount of veggies in it so it's a well balanced meal. You can easily serve it up with a veggie side though if you like – here some recipes for inspiration: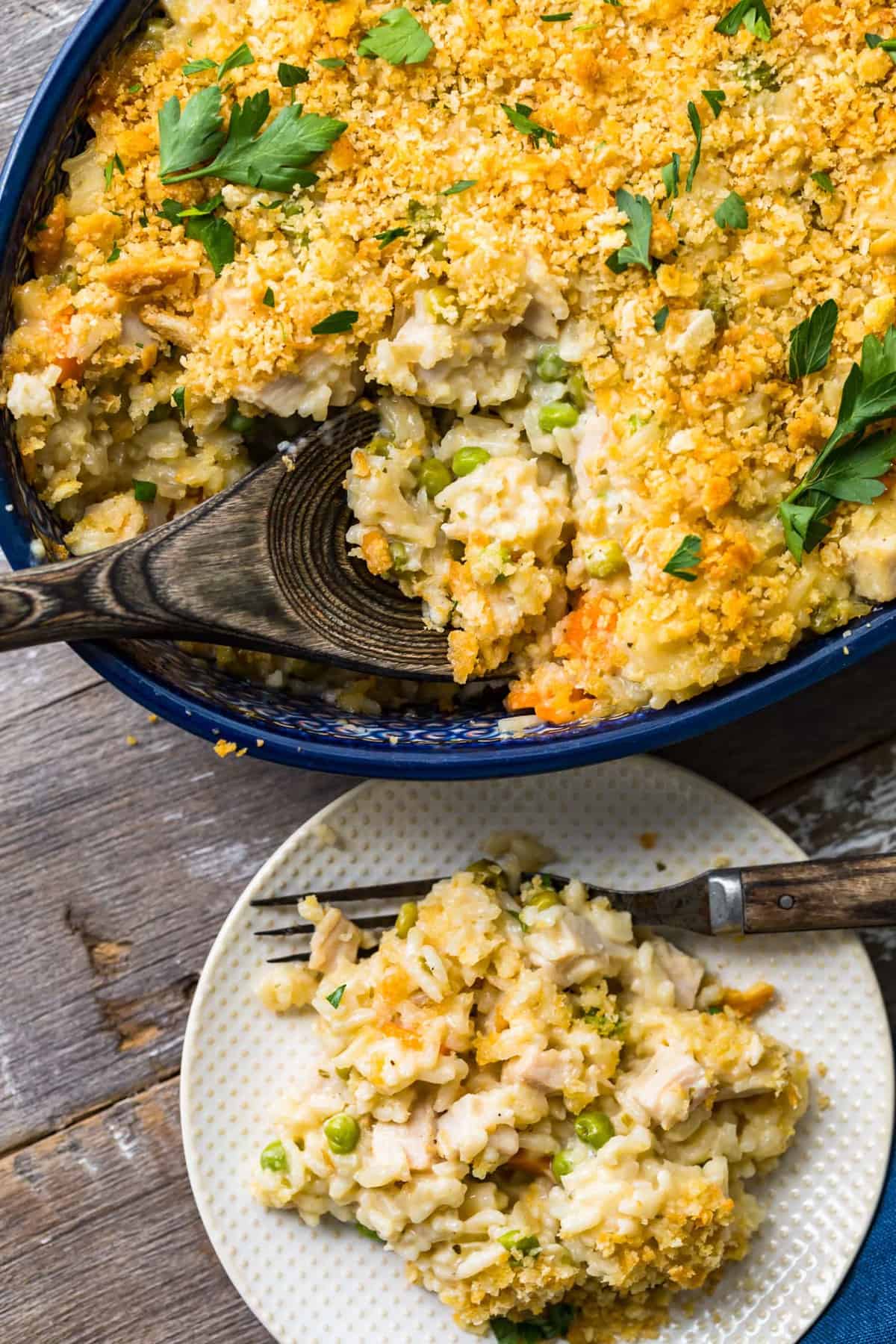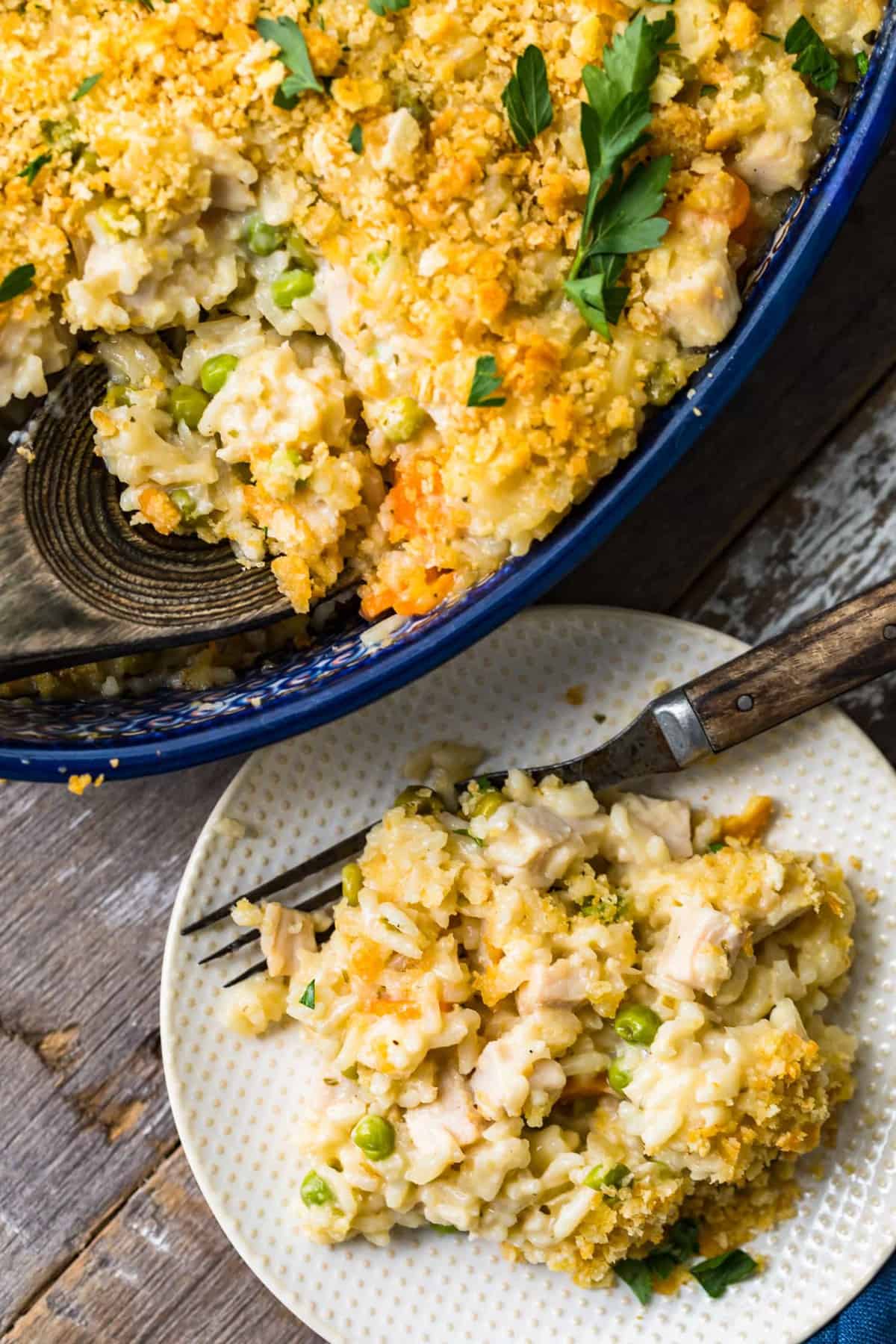 Top tips for making this turkey rice casserole recipe
Be sure to grease your casserole dish for easy removal.
Use an unsalted or low sodium stock.
Bake in a pre-heated oven for the best results.
Let it sit for a few minutes before serving.
Store any leftovers covered in the fridge and gently reheat the next day.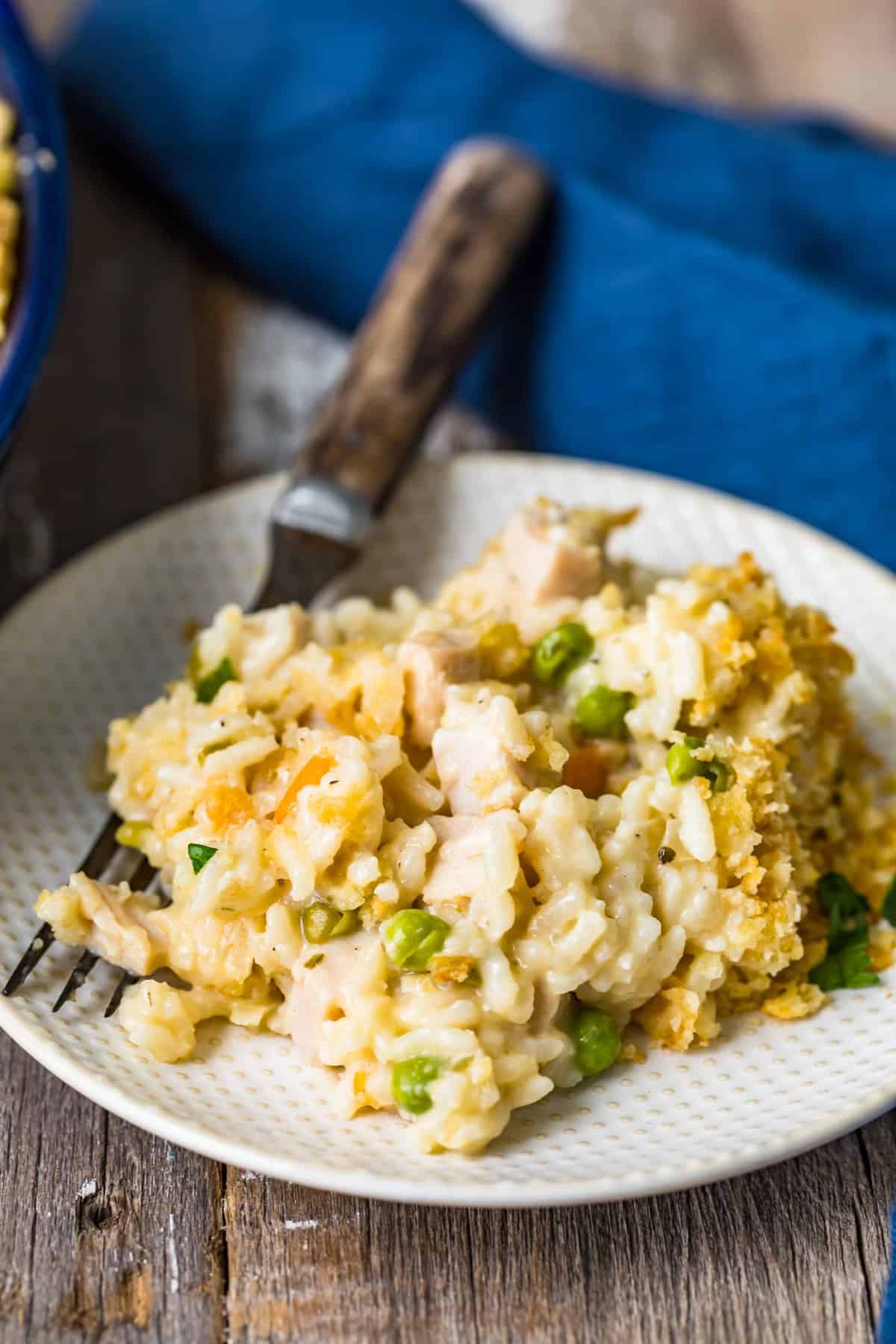 Be sure to check out these other easy casserole recipes