This turkey rice casserole recipe is the perfect way to use up your leftover turkey after Thanksgiving or Christmas. This dish only takes 15 minutes to put together and it's creamy, hearty, and filling. This leftover Thanksgiving casserole is a real crowd pleaser!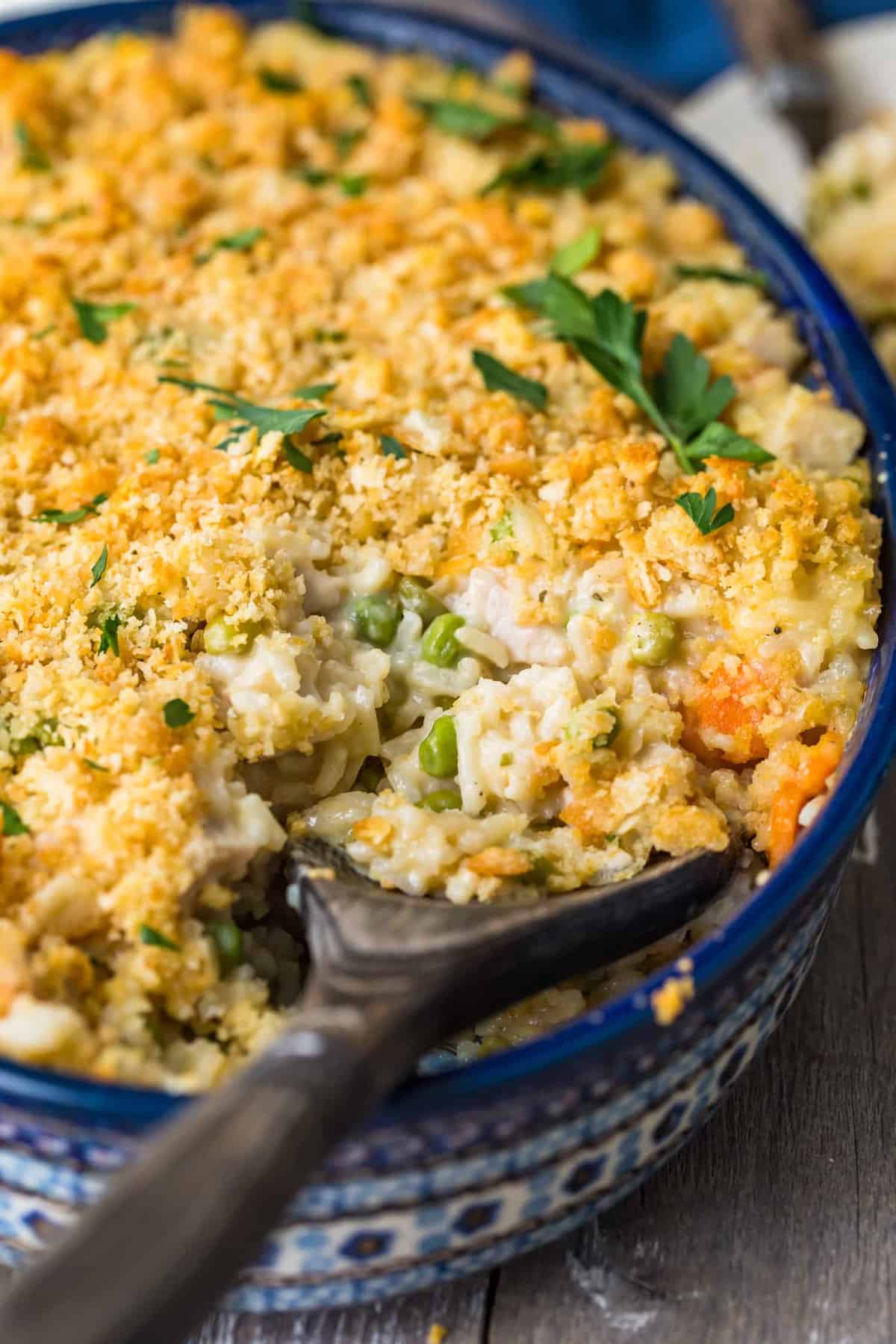 Turkey Casserole Recipe
If you are wondering what to do with that leftover turkey from Thanksgiving or Christmas, then I have the perfect post holiday recipe for you! This turkey rice casserole is deliciously comforting and so easy to whip up. It's the perfect dinner to make after spending days in the kitchen.
This creamy casserole is one of my favorite leftover turkey ideas, because it's just so easy. It tastes like another Thanksgiving dinner, without the hassle.
Why You'll Love this Leftover Turkey Rice Casserole Recipe:
USE UP LEFTOVERS: This recipe gives you a chance to use up any leftover turkey you might have, along with some other ingredients you probably already have.
EASY CASSEROLE: Casseroles are so easy to put together and bake, and this one is extra creamy and delicious.
POST-HOLIDAY DINNER: The last thing you want to do after cooking for the holidays is cook another dinner the next day. This casserole makes it easy to keep feeding everyone!
The whole family will love this Thanksgiving casserole, filled with leftover turkey, peas, rice, veggies, and topped off with a bread crumb mixture!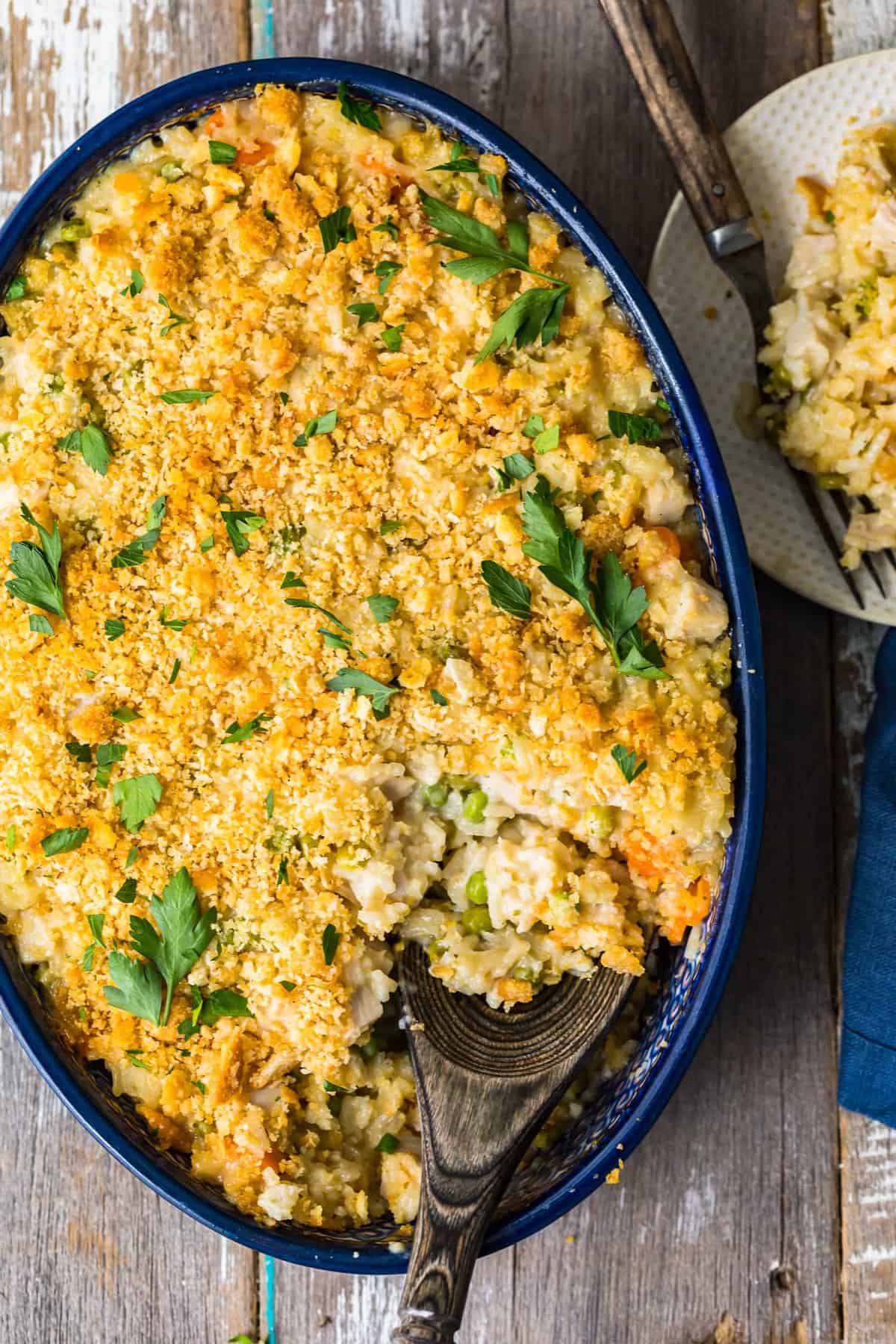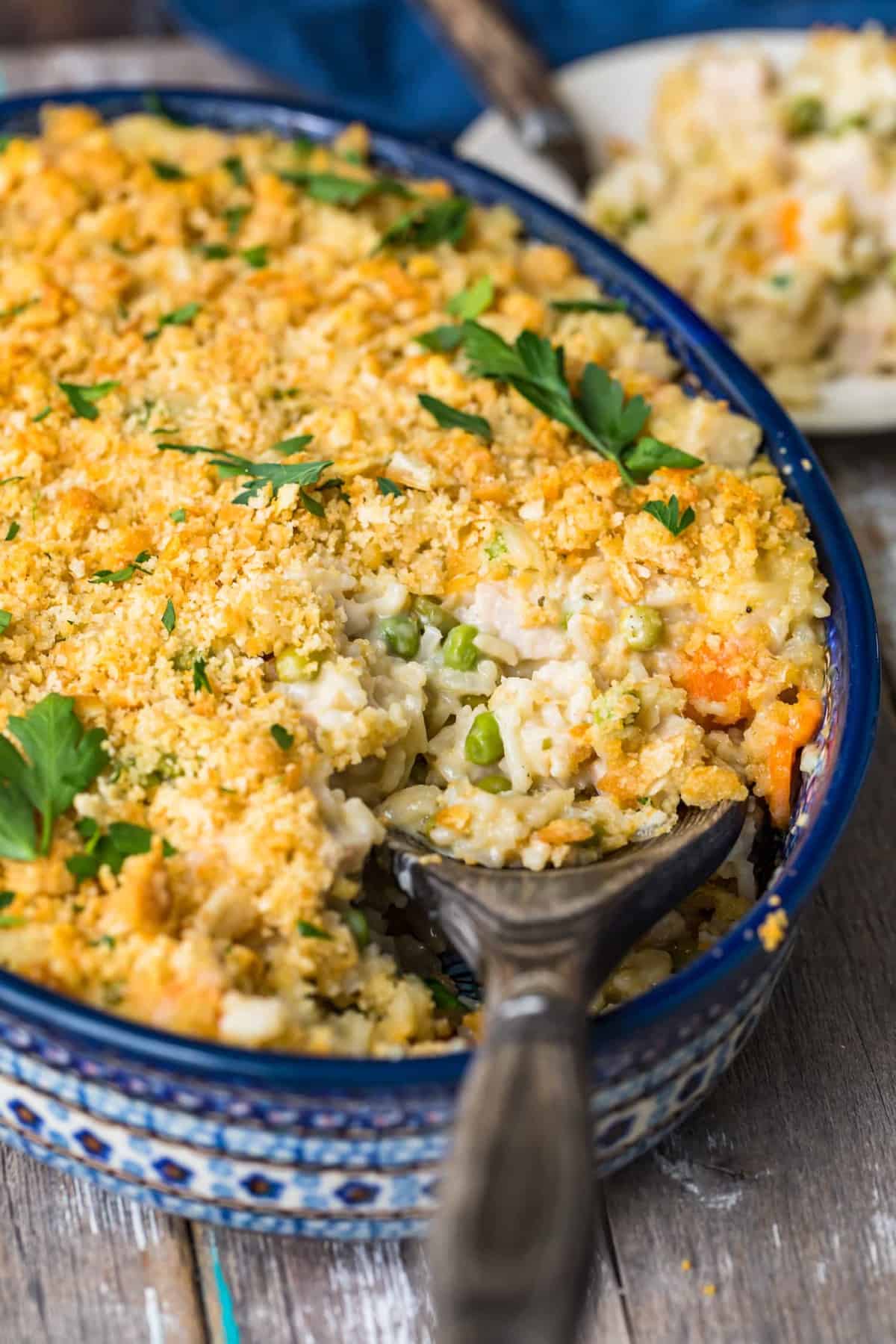 What can I do with leftover turkey?
When you cook a whole turkey for Thanksgiving, you're likely to end up with lots of extra food. Luckily, there are plenty of great recipes that will help you use up that leftover turkey in the following days.
This turkey rice casserole is one of my favorites to make! Just add any extra turkey in with the other ingredients, and you're good to go.
Ingredients and Substitutions
This leftover turkey casserole is filled with turkey (of course!), rice, and tons of other delicious flavors. It's a great opportunity to use up extra ingredients that you didn't end up needing for the holiday feast. And you can always make substitutions based on what you have.
Main ingredients:
Turkey: You can use whatever leftover turkey you have here. Turkey breast works great in this recipe, but you can also remove meat from any bone-in pieces and add it in.
Rice: I used long-grain white rice, but you can use a different type of rice if you want. Keep in mind that it could slightly affect the cooking time, so just cook until the rice absorbs the liquid and becomes tender. Long-grain brown rice or wild rice would work well.
Vegetables: This recipe calls for carrots and yellow onion, as well as some frozen peas. Feel free to substitute different veggies, but again, keep cooking time in mind and check to make sure everything is cooked through. Celery, broccoli, or corn would taste great in this dish.
Stock: Use unsalted chicken or turkey stock. You could use veggie stock instead if that's what you have.
Check the recipe card for the full ingredients list.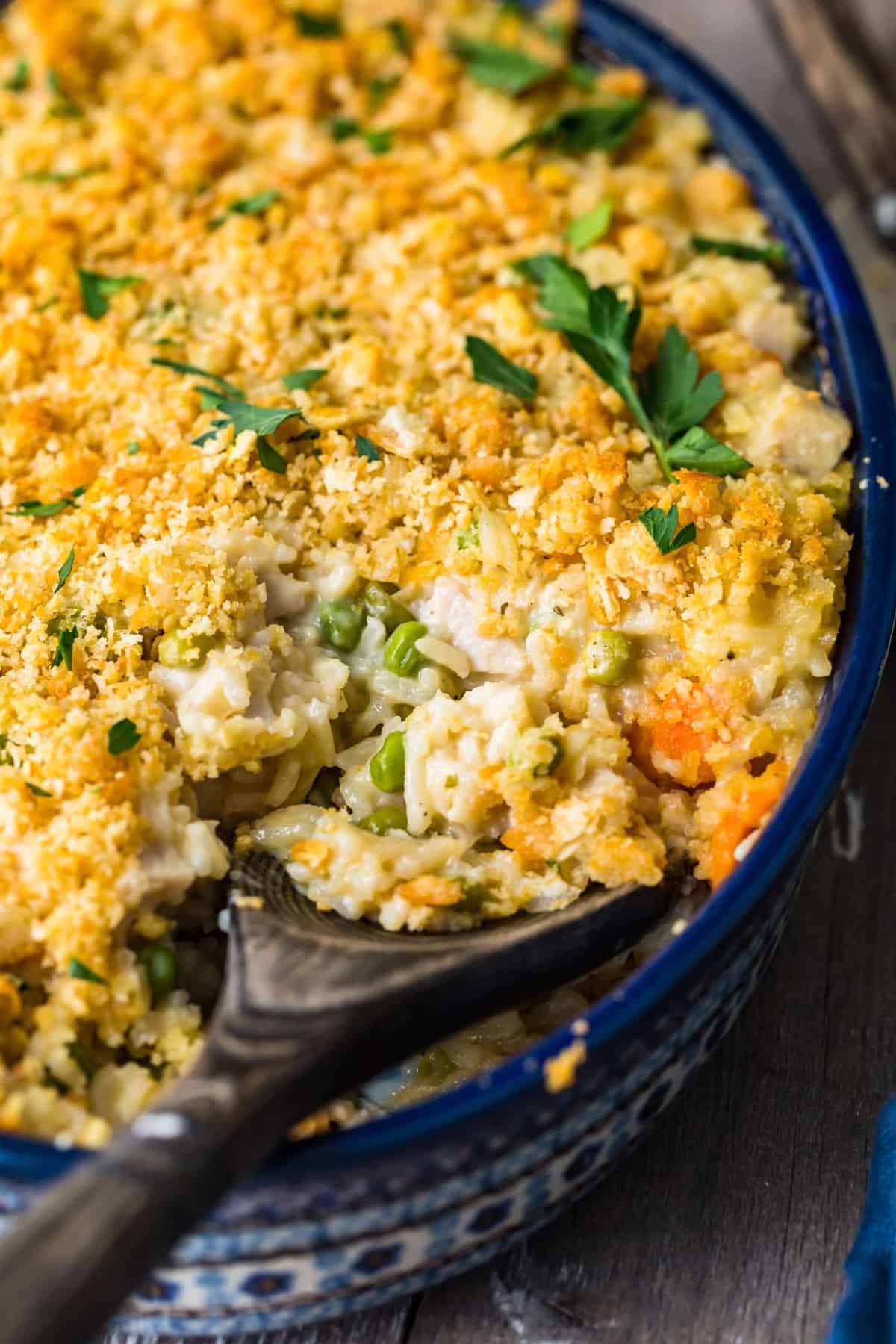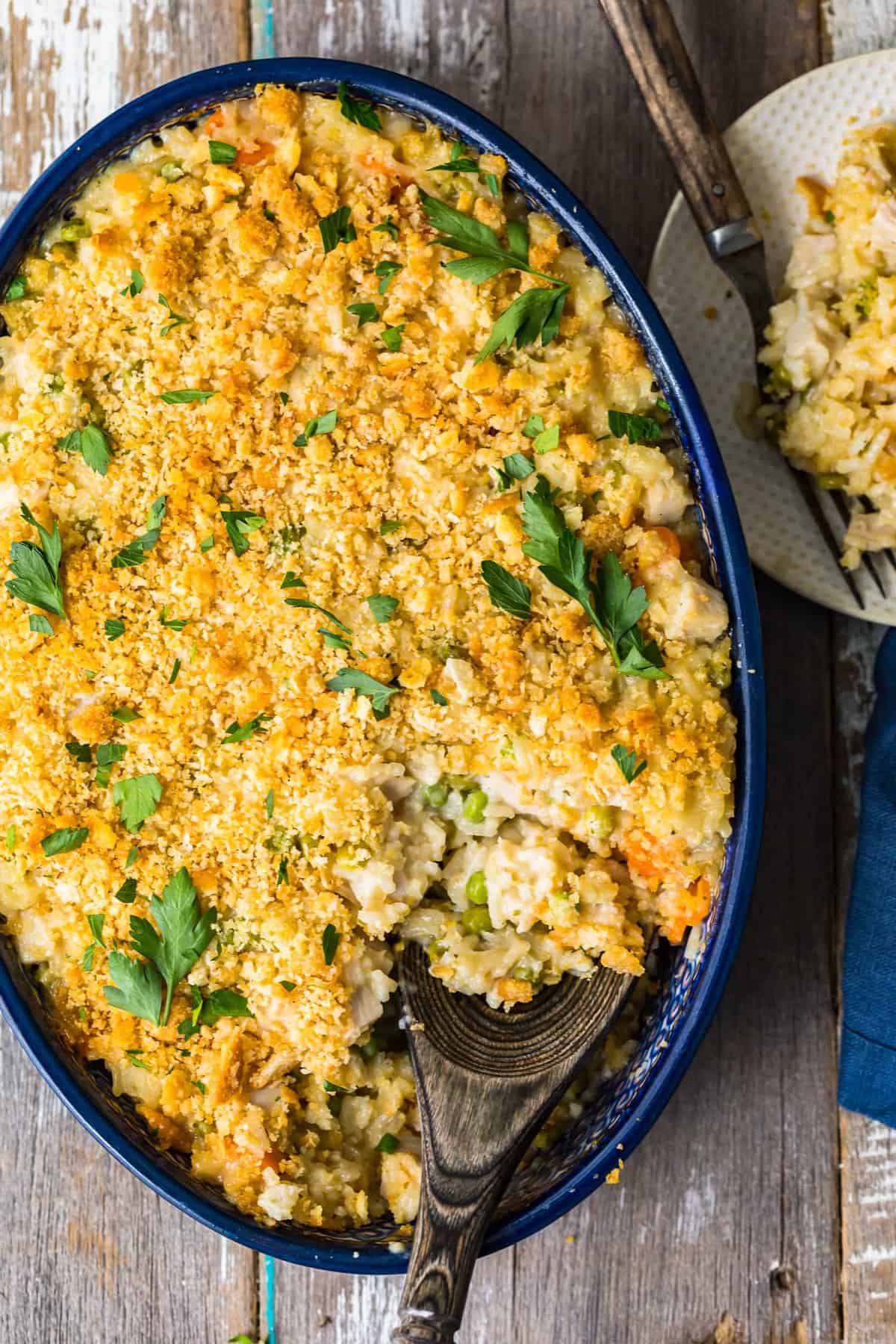 How to Make Turkey Rice Casserole
You can jump to the recipe card for full ingredients & instructions!
Start by preheating the oven to 375F and covering a casserole dish with non-stick spray.
Use a food processor to make the cracker and bread crumb topping.
Cook carrots and onion in a skillet, add garlic, and then add dry rice.
Add water, stock, creamy, salt and pepper to the skillet, and let it simmer.
Cover and cook 20-25 minutes.
Add leftover turkey and other ingredients, then cook briefly to mix.
Add the turkey and rice mixture into a casserole dish, then bake 20-25 minutes.
Let it cool, then serve.
Tips!
Be sure to coat your casserole dish with non-stick spray for easy removal.
Use an unsalted or low sodium stock.
Bake in a pre-heated oven for the best results.
It will come out of the oven piping hot, so let it sit for a few minutes before serving.
Store any leftovers covered in the fridge and reheat the next day.
Cook the rice until all/most of the liquid has been absorbed. The rice should be just tender before adding it into the casserole to bake.
Substitutions are totally okay in this recipe. Check the ingredients section above for some ideas.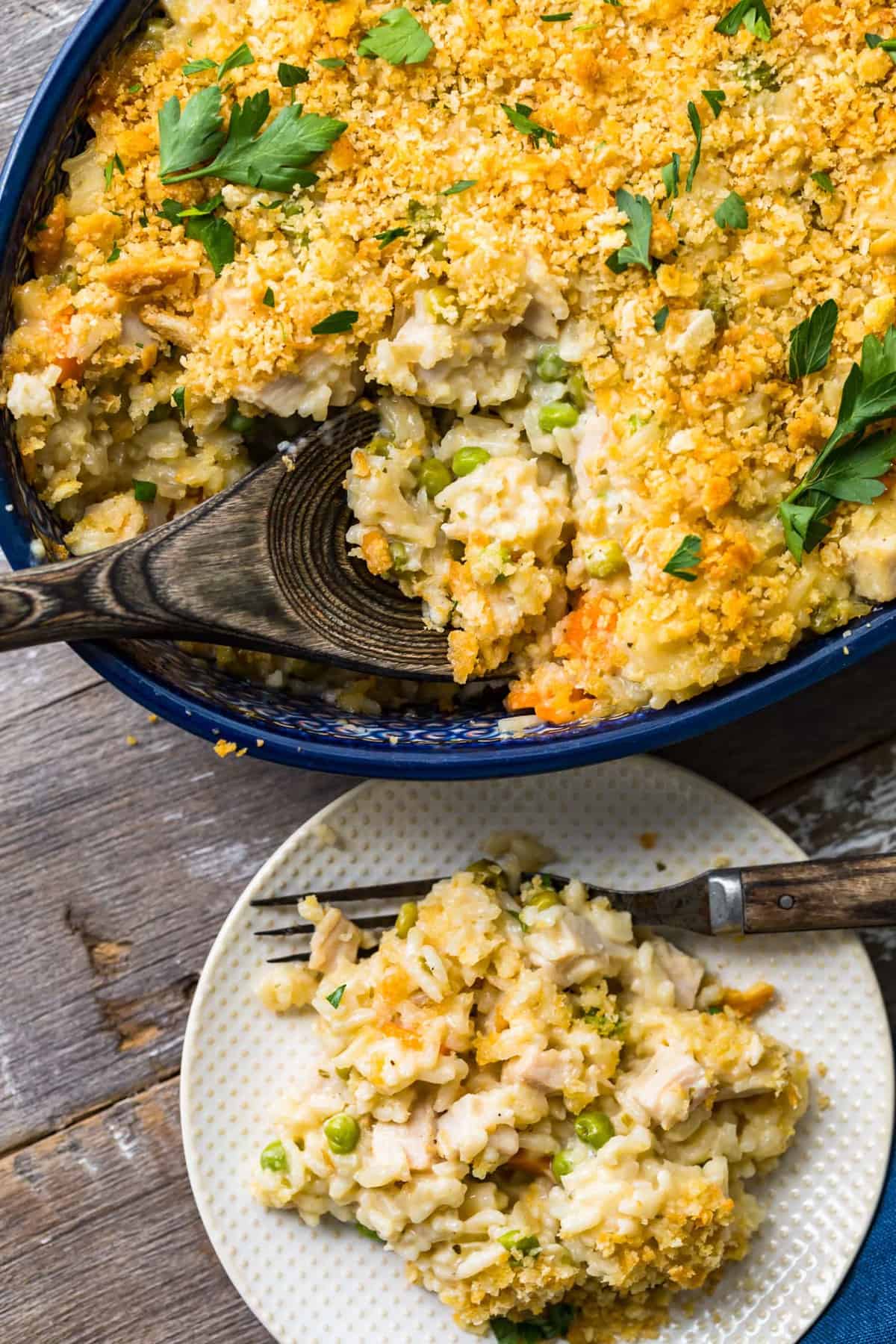 Leftover Turkey Rice Casserole
This cozy, creamy casserole has become a family favorite after Thanksgiving. Turkey, rice, and veggies make the most perfect dinner!
Plus, this dish is easy to make ahead of time, and refrigerate, or freeze. That way your leftover meal is totally ready to heat and eat after the holidays.
How long is leftover turkey good for?
According to USDA, cooked turkey is good for 3-4 days in the fridge, and up to 4 months in the freezer. So it's a great idea to use up those leftovers with a recipe like this, either to eat or freeze for later.
Do I cook rice before adding it into the casserole?
Yes, you will need to cook the rice BEFORE mixing it into the casserole to bake. You'll cook it in a skillet with veggies as part of this recipe.
What kind of rice should I use for this turkey rice casserole?
I recommend using long grain white rice here. However, you can use a different kind if you like. Try wild rice or brown rice, just be sure it's cooked until tender.
Can I make this dish ahead of time?
Yes, you can make this a day ahead. Just keep it covered in the fridge and reheat in the oven before serving.
Should I cover this turkey casserole while baking?
No, you don't need to cover it while it's in the oven. However, if you find the topping is browning too quickly, you can lightly drape a sheet of foil on top for part of the cook time.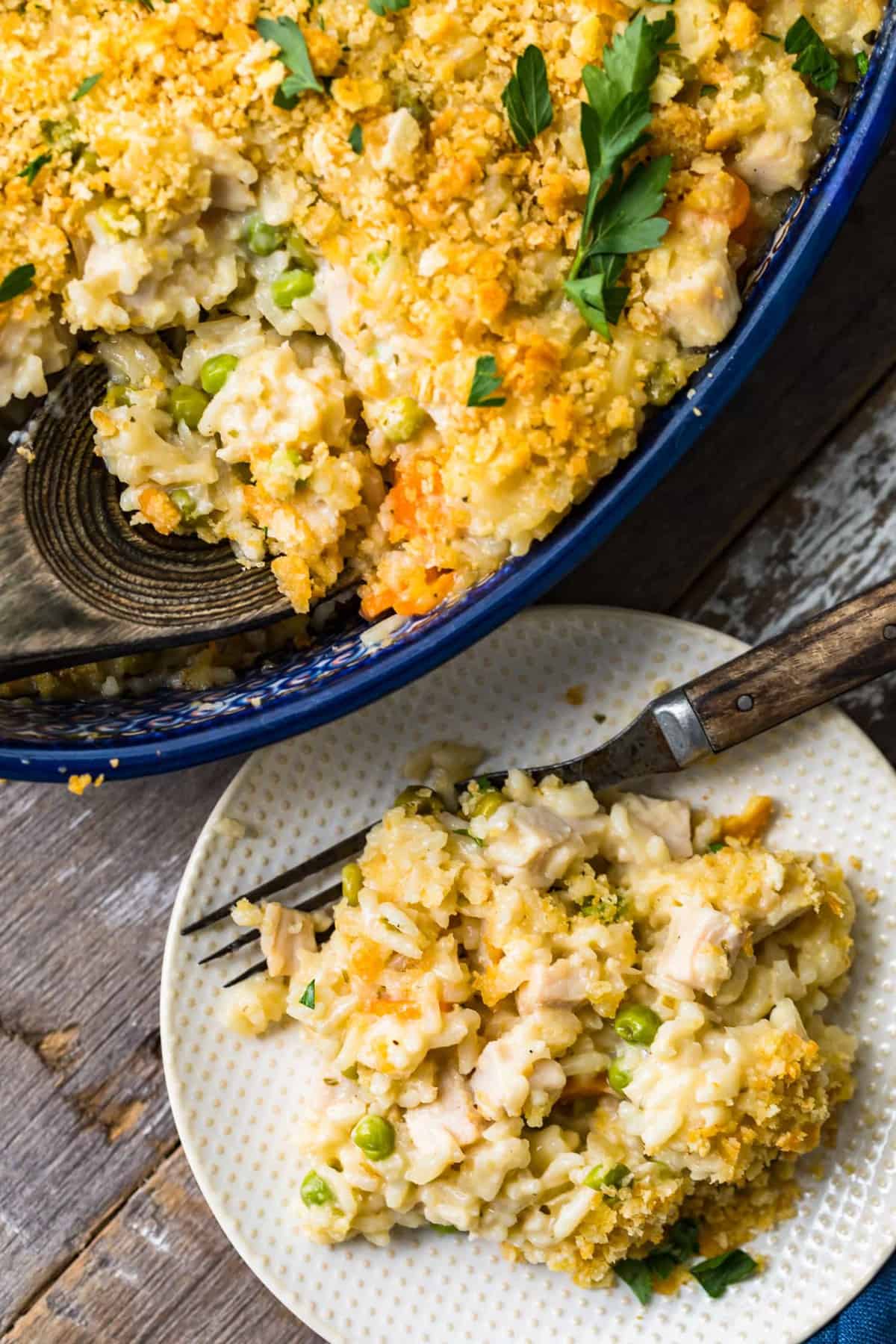 What kind of turkey should I use for this casserole?
You can use any leftover turkey you have for this recipe. Just make sure it's fully cooked before adding it into the casserole. I recommend using turkey breast, but other pieces will work too.
If you want to make this recipe some other time throughout the year, and you don't have leftovers waiting in your fridge, that's okay too. I recommend making this Instant Pot turkey breast to add into this dish, since it's super easy.
Or try one of these other turkey recipes, if you prefer another cooking method:
Serving Suggestions
This turkey casserole is a meal in itself, but if you have some other Thanksgiving leftovers, they make a great addition to the plate. Grab a dinner roll, add a scoop of mashed potatoes, and drizzle the casserole with some of that extra gravy.
Here are some other Thanksgiving side dishes you could try: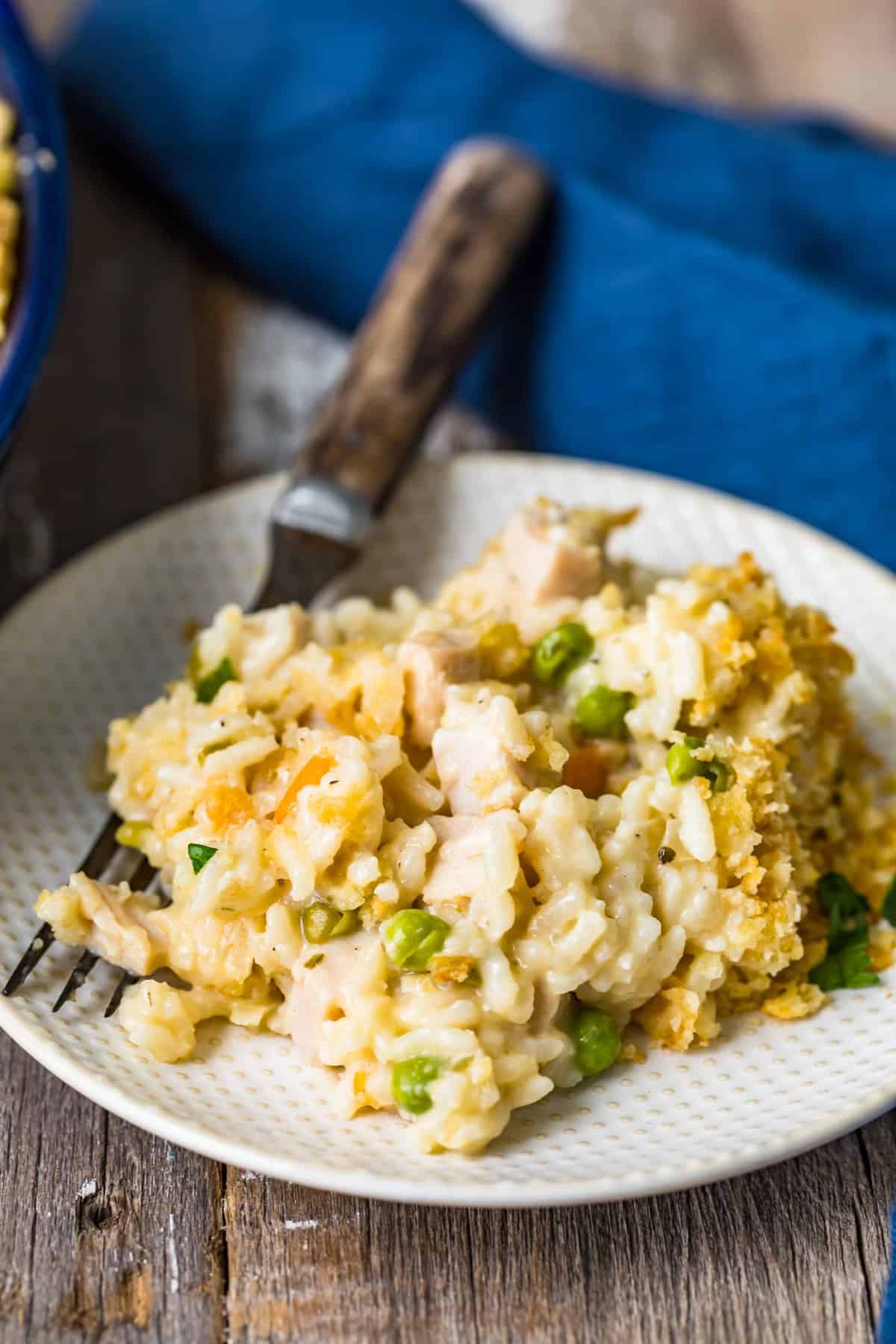 Enjoy this deliciously creamy leftover turkey rice casserole recipe after Thanksgiving, Christmas, or any time you have some turkey you need to use!
Be sure to check out these other easy casserole recipes
Leftover Turkey Recipes
If you need more ideas to use up those holiday leftovers, try these easy recipes!
If you make this turkey casserole recipe be sure to upload a photo in the comment section below or leave a rating. Enjoy!