This Turkey Rice Casserole is the perfect way to use up your leftover turkey after Thanksgiving or Christmas. This dish only takes 15 minutes to put together and it's creamy, hearty, and filling. This leftover Thanksgiving casserole is a real crowd-pleaser!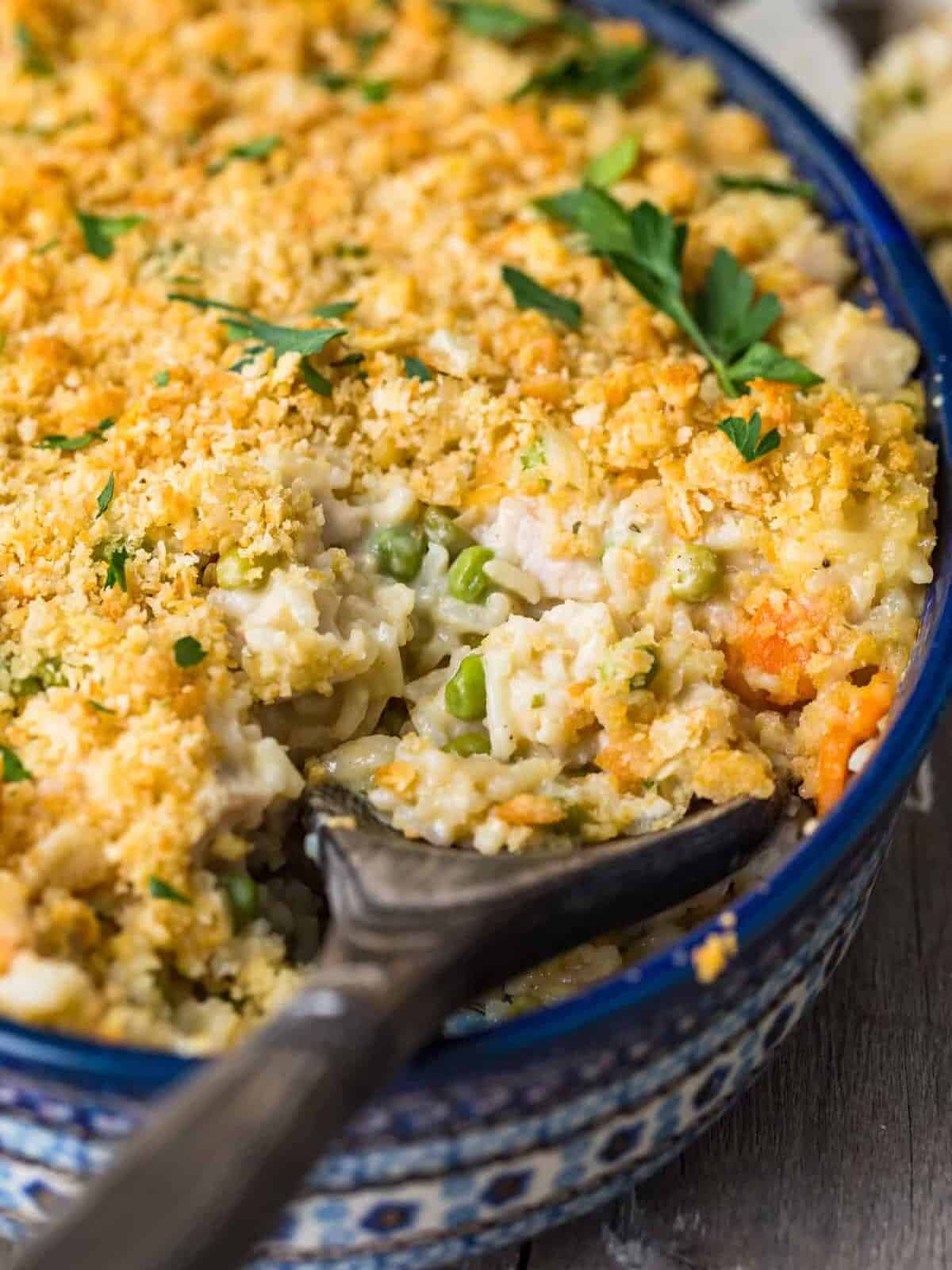 What's in Turkey and Rice Casserole?
This casserole is filled with turkey leftovers (of course!), rice, and tons of other delicious flavors. It's a great opportunity to use up extra ingredients that you didn't end up needing for the holiday feast. And you can always make substitutions based on what you have.
Ritz Crackers: Create a crispy, buttery topping for the casserole.
Sandwich Bread: Helps form a more cohesive topping. I love this no knead bread recipe!
Unsalted Butter: Holds the topping together and adds flavor to the casserole.
Olive Oil: Helps the veggies cook without burning.
Vegetables: This recipe calls for carrots and yellow onion, as well as some frozen peas. Feel free to substitute different veggies, but again, keep cooking time in mind and check to make sure everything is cooked through.
Garlic: Adds an earthy flavor and a pungent aroma.
Rice: I used long-grain white rice, but you can use a different type of rice if you want. Keep in mind that it could slightly affect the cooking time, so just cook until the rice absorbs the liquid and becomes tender.
Water: Helps to hydrate and cook the rice.
Broth: Use unsalted chicken broth or turkey stock. You could use veggie stock instead if that's what you have.
Heavy Cream: Makes this casserole creamy.
Salt + Pepper: Enhance the overall flavor of the casserole.
Turkey: You can use whatever leftover turkey you have here. Turkey breast works great in this recipe, but you can also remove meat from any bone-in pieces and add it in.
Water Chestnuts: Add a bit of crunch for textural contrast.
Parmesan Cheese: Adds a salty, umami element.
Lemon Juice: Adds a touch of balancing acidity.
Worcestershire Sauce: Enhances the salty, umami flavors in this casserole.
Tarragon: Adds a fresh and herbaceous note.
Pro Tip: Be sure to grease your casserole dish for easy removal.
Variations on Turkey Casserole with Rice
This casserole is so easy to adapt to use up whatever leftovers you have. Celery, broccoli, or corn would taste great in this dish, but you could also use up leftover green bean casserole or roasted Brussels sprouts. For rice, long-grain brown or wild would work well. It's also easy to use roasted chicken in this recipe if that's what you had for dinner!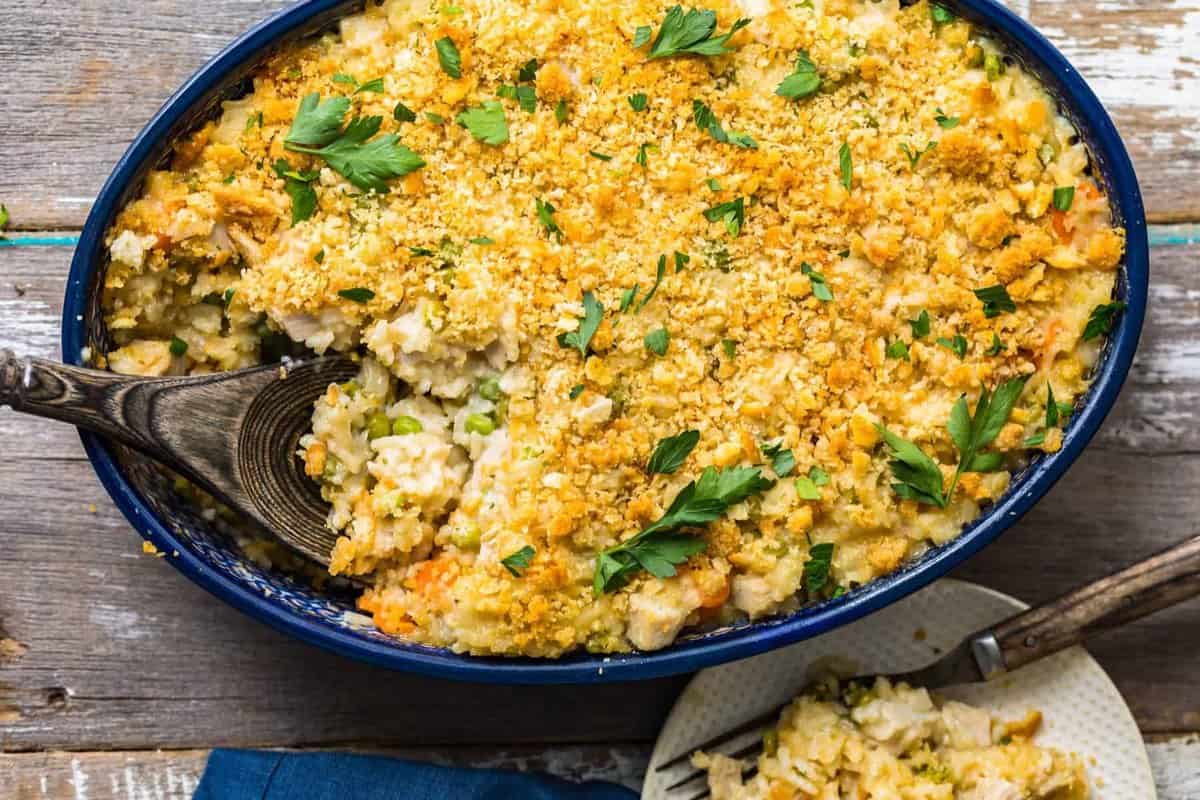 How long is leftover turkey good for?
According to the USDA, cooked turkey is good for 3-4 days in the fridge, and up to 4 months in the freezer. So it's a great idea to use up those leftovers with a recipe like this, either to eat or freeze for later.
Does rice need to be cooked before adding to casserole?
Yes, you will need to cook the rice before mixing it into the casserole to bake. You'll cook it in a skillet with veggies as part of this recipe.
What kind of rice should I use for this turkey rice casserole?
I recommend using long-grain white rice here. However, you can use a different kind if you like. Try wild rice or brown rice, just be sure it's cooked until tender.
How do you keep rice from getting mushy in a casserole?
Make sure not to overcook the rice beforehand, and do not add too much moisture to the casserole. You also want to be sure to cook this casserole uncovered so excess moisture can evaporate out.
Can I make this dish ahead of time?
Yes, you can make this a day ahead. Just keep it covered in the fridge and reheat in the oven before serving.
Should I cover this turkey casserole while baking?
No, you don't need to cover it while it's in the oven. However, if you find the topping is browning too quickly, you can lightly drape a sheet of foil on top for part of the cook time.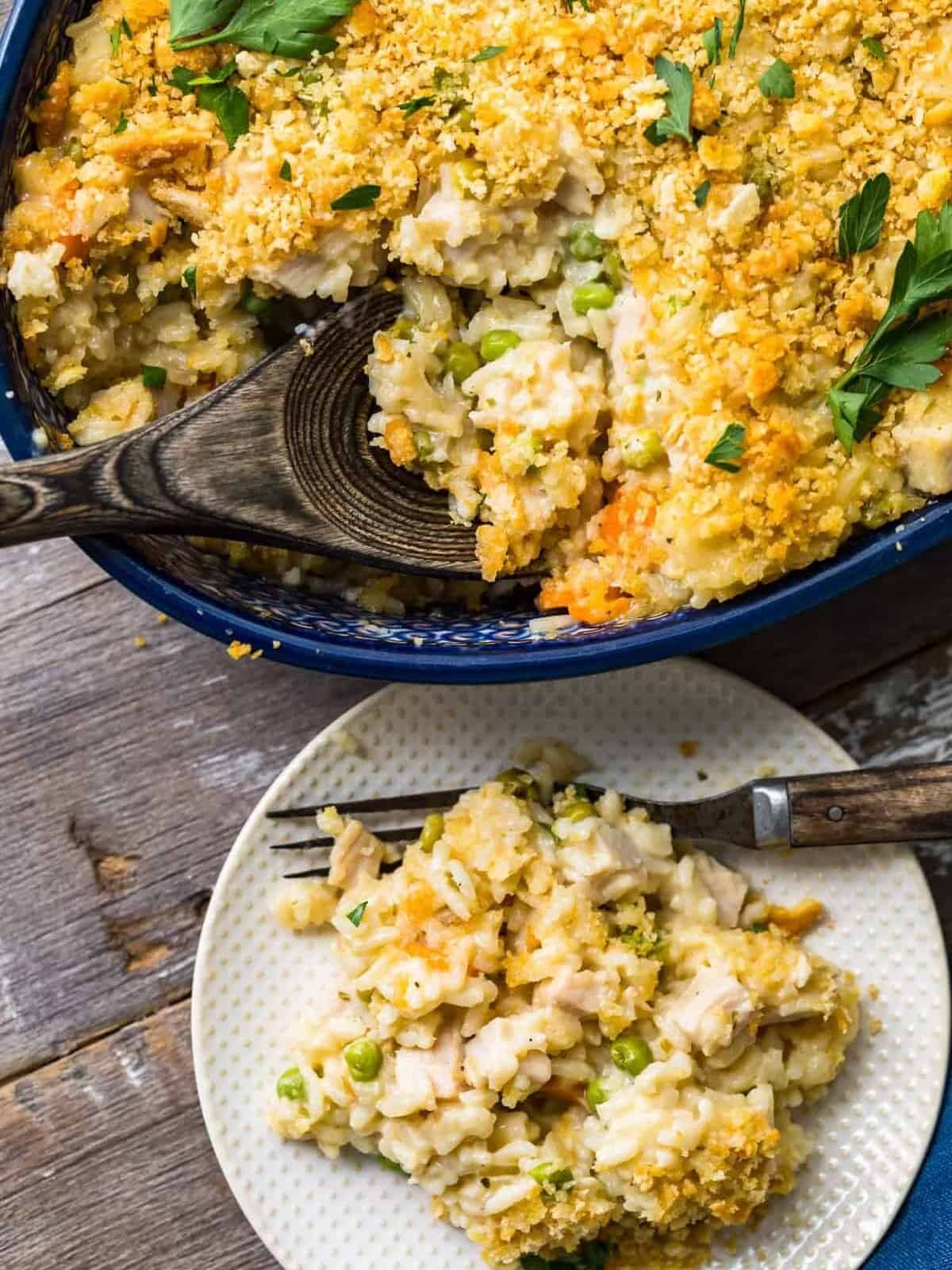 How to Store and Reheat
Store leftover turkey rice casserole covered with aluminum foil in the refrigerator for up to 2 days. Reheat in a 350°F oven for about 20 minutes or in the microwave in 30-second increments until warmed through.
How to Freeze
Freeze turkey rice casserole tightly covered with 2 layers of plastic wrap and 1 layer of aluminum foil for up to 3 months. Let thaw overnight in the refrigerator before reheating.
Serving Suggestions
This turkey casserole is a meal in itself, but if you have some other Thanksgiving leftovers, they make a great addition to the plate. Grab a dinner roll, add a scoop of mashed potatoes, and drizzle the casserole with some of that extra gravy.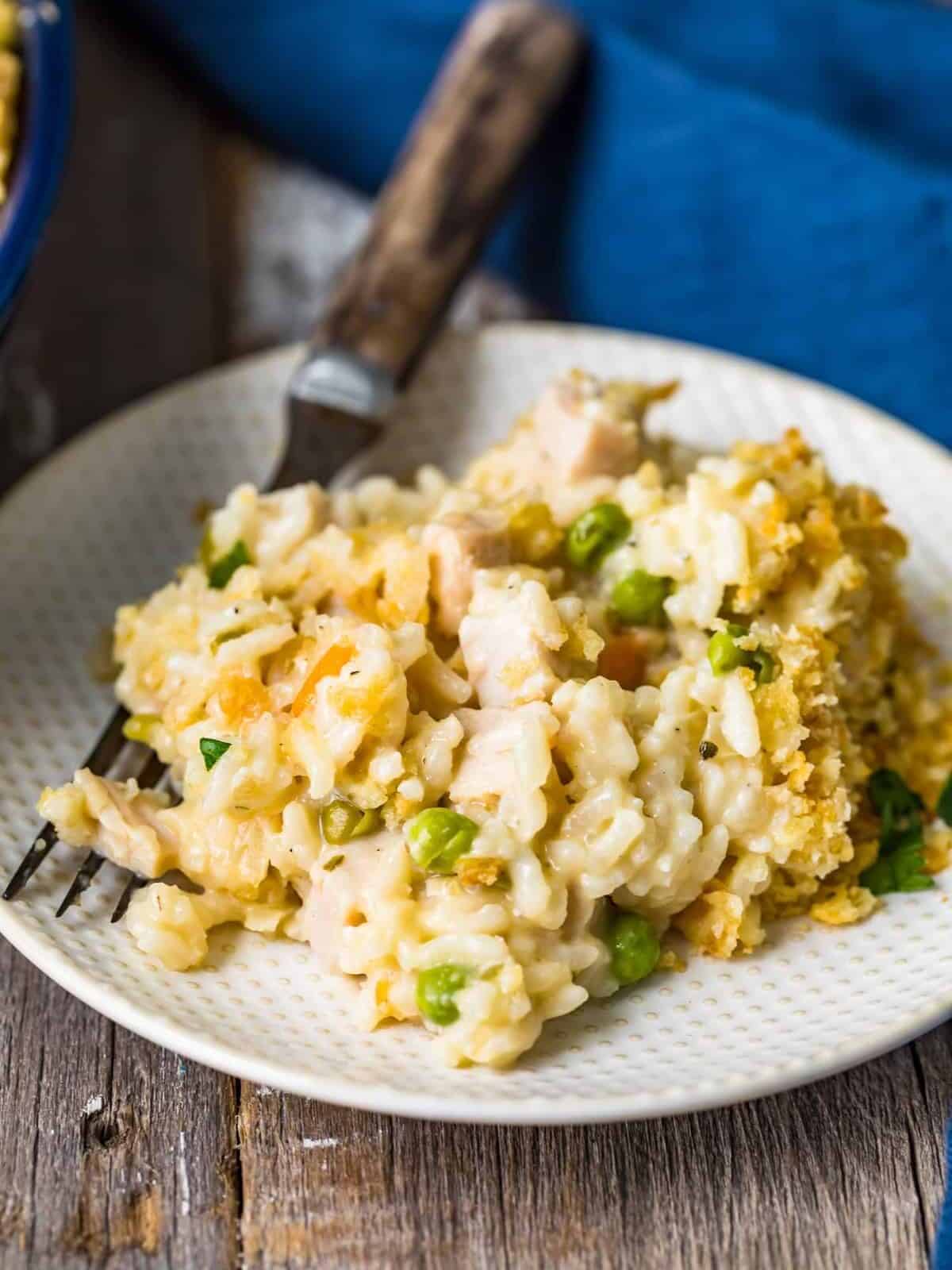 5-Star Review
"The best turkey casserole I've ever made! Every year I try a new one. Next year I'll return to this one!" – Bonnie Kidd
More Leftover Turkey Recipes We Love