If you are looking for a holiday potato side dish that stands out from the crowd, this cacio e pepe roasted potatoes recipe is for you. Easy to make with just a handful of ingredients, these potatoes are perfect for Thanksgiving, Christmas or any celebratory meal.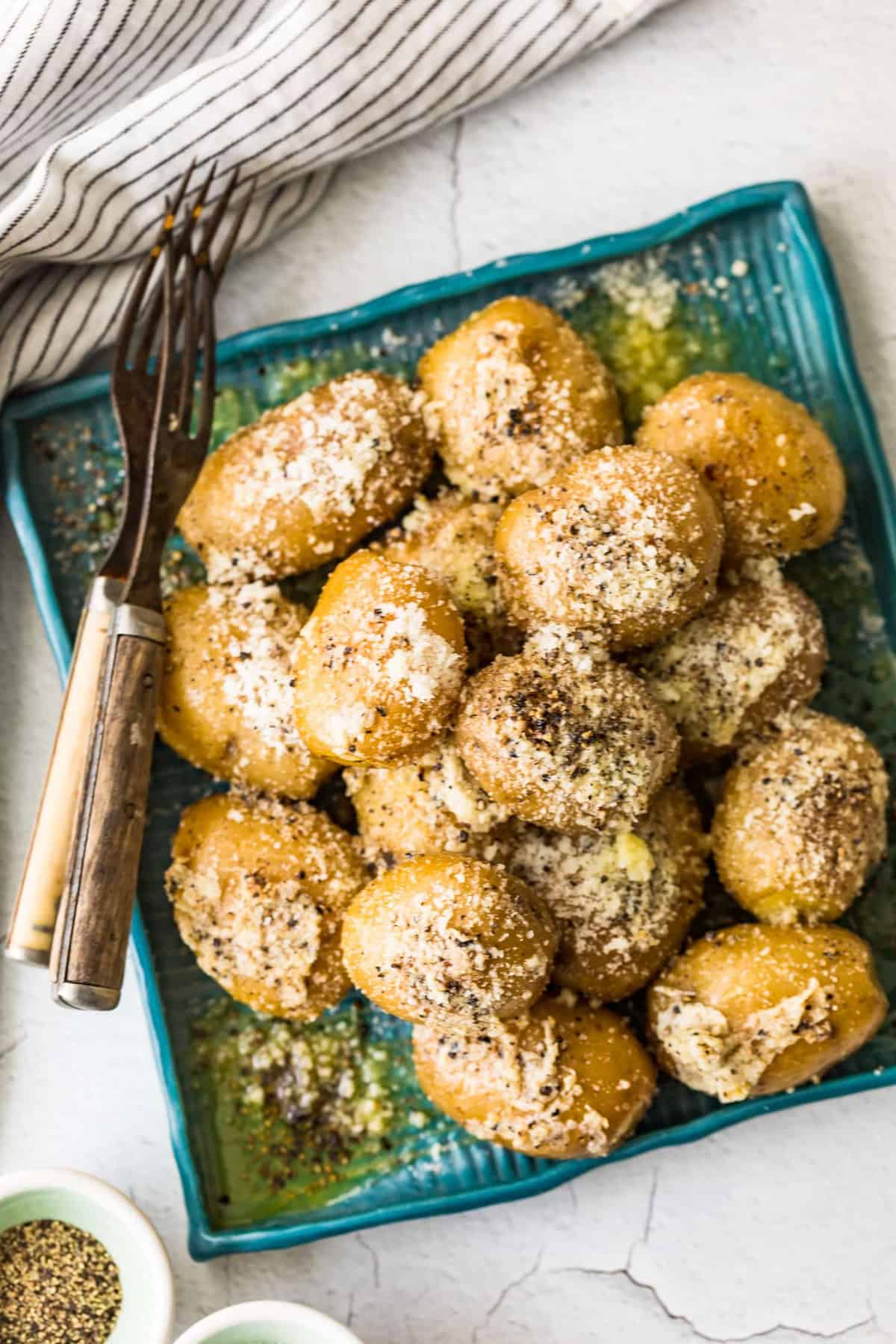 I'm always looking for new ways to serve potatoes, they are a staple side dish for any large family meal and they are always looked forward to! Inspired by the classic Cacio e Pepe dish, these potatoes are coated with pecorino-romano and freshly cracked black pepper for a side dish packed full of flavor.
How to Make This Cacio E Pepe Roasted Potatoes Recipe
Bring a large pot of water to boil. Add 2 teaspoons salt and 1 teaspoon black pepper.

Add potatoes, return to boil and cook 15-25 minutes or until fork-tender.

Drain potatoes and return back to the pot. Set the heat to medium and cook excess moisture from the potatoes, about 1 minute.

Add 3 tablespoons oil, 1-teaspoon black pepper, ½ teaspoon salt and ½ cup grated cheese; toss until potatoes are coated.

Transfer potatoes to a large serving platter.

Sprinkle with 1 teaspoon pepper and toss lightly to coat.

Top with remaining ¼ cup grated cheese and 1 tablespoon olive oil.

Taste for seasoning, and if needed, season with additional salt.

Serve and enjoy!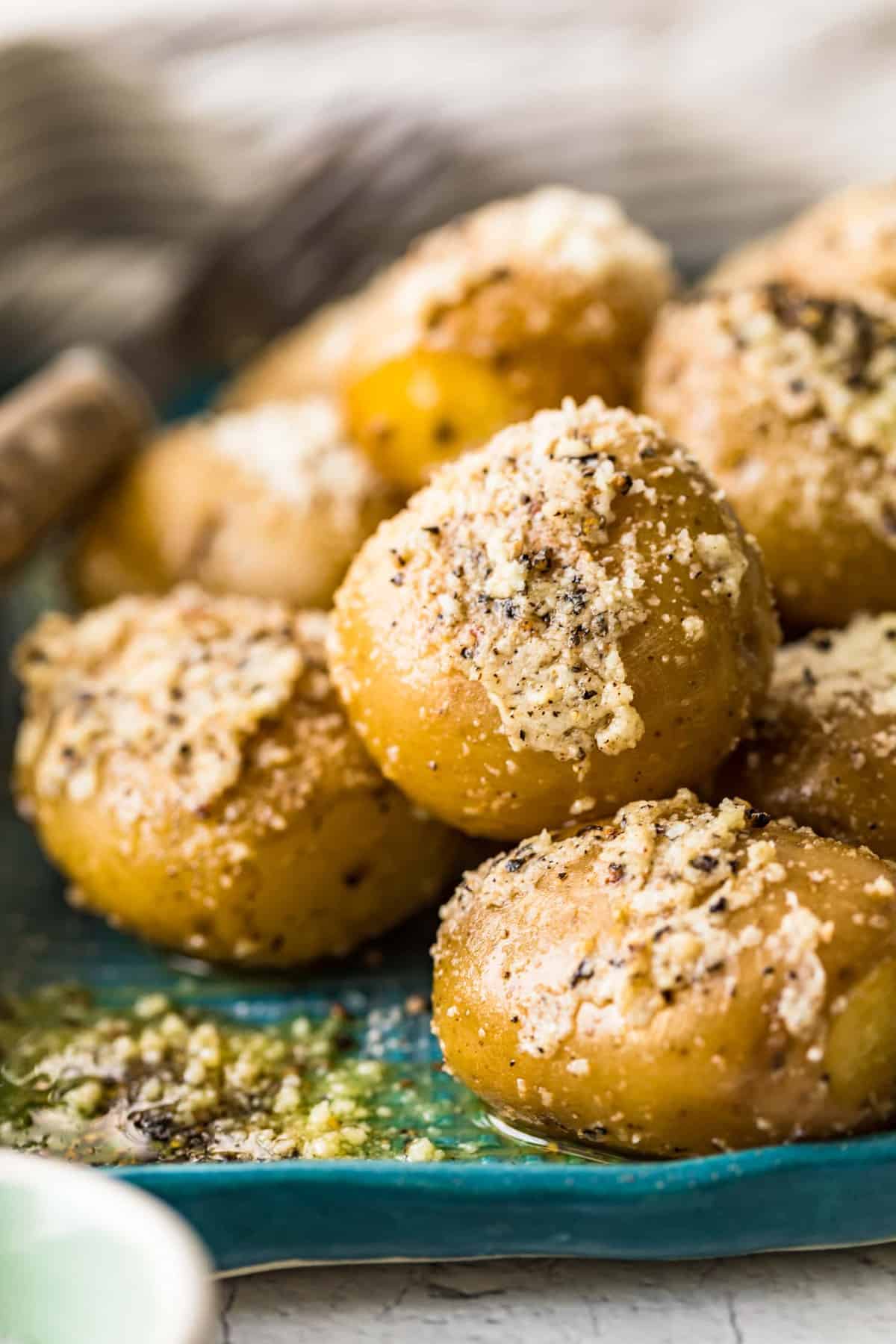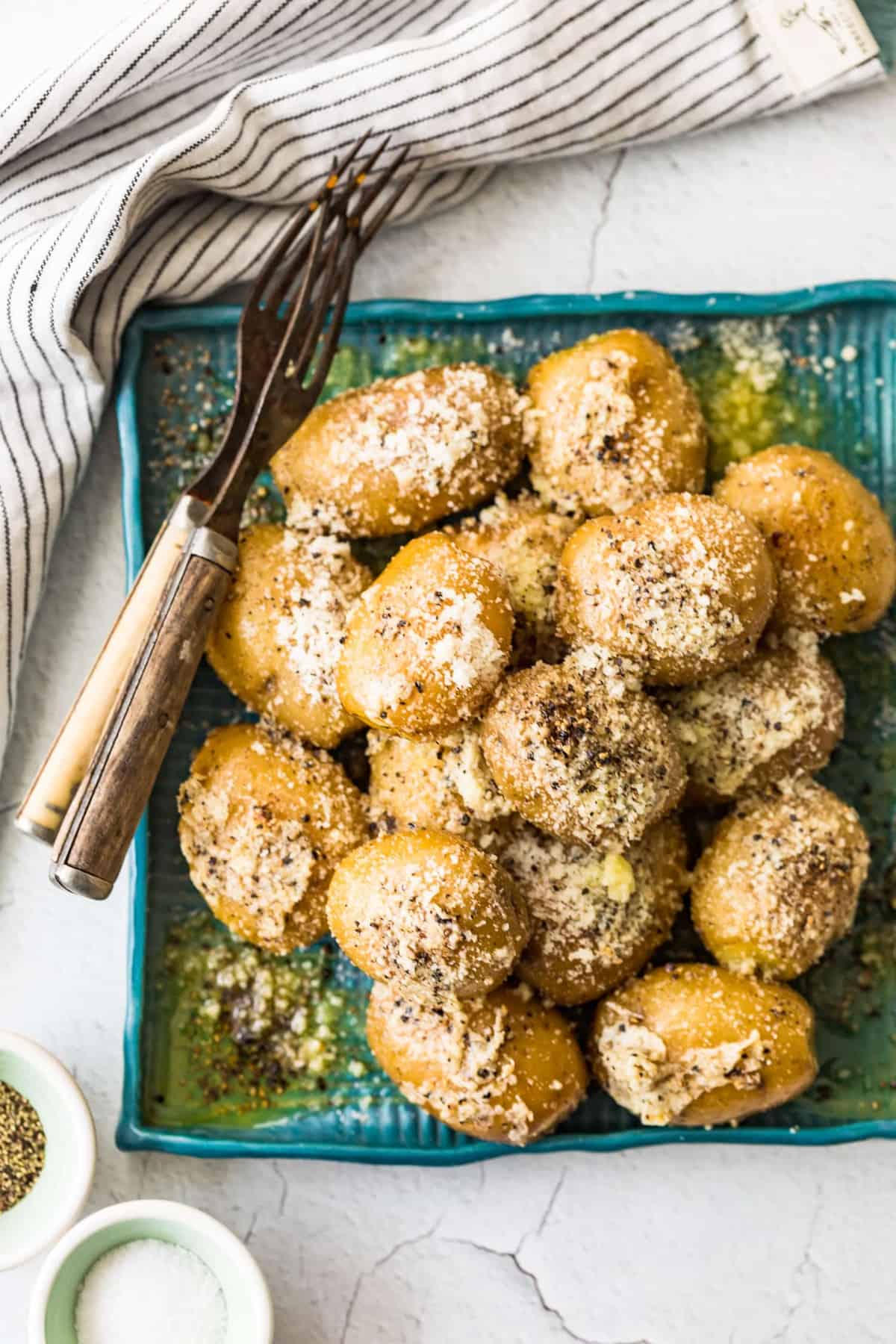 What you will need to make Cacio E Pepe Roasted Potatoes Recipe
It's so easy to make these potatoes, and you just need a handful of ingredients. Be sure to buy the best quality you can for the best flavor.
Baby potatoes
Kosher salt
Ground black pepper
Olive oil
Pecorino-Romano
What do you serve with this side dish?
This flavorsome roasted potatoes recipe will easily sit on your Thanksgiving, Christmas or Easter table, but they are also easy enough to make, you can also serve them as part of a weeknight meal. They will work well with any of these recipes:
They are so easy to make, I'm sure these will become a go to potato recipe for you!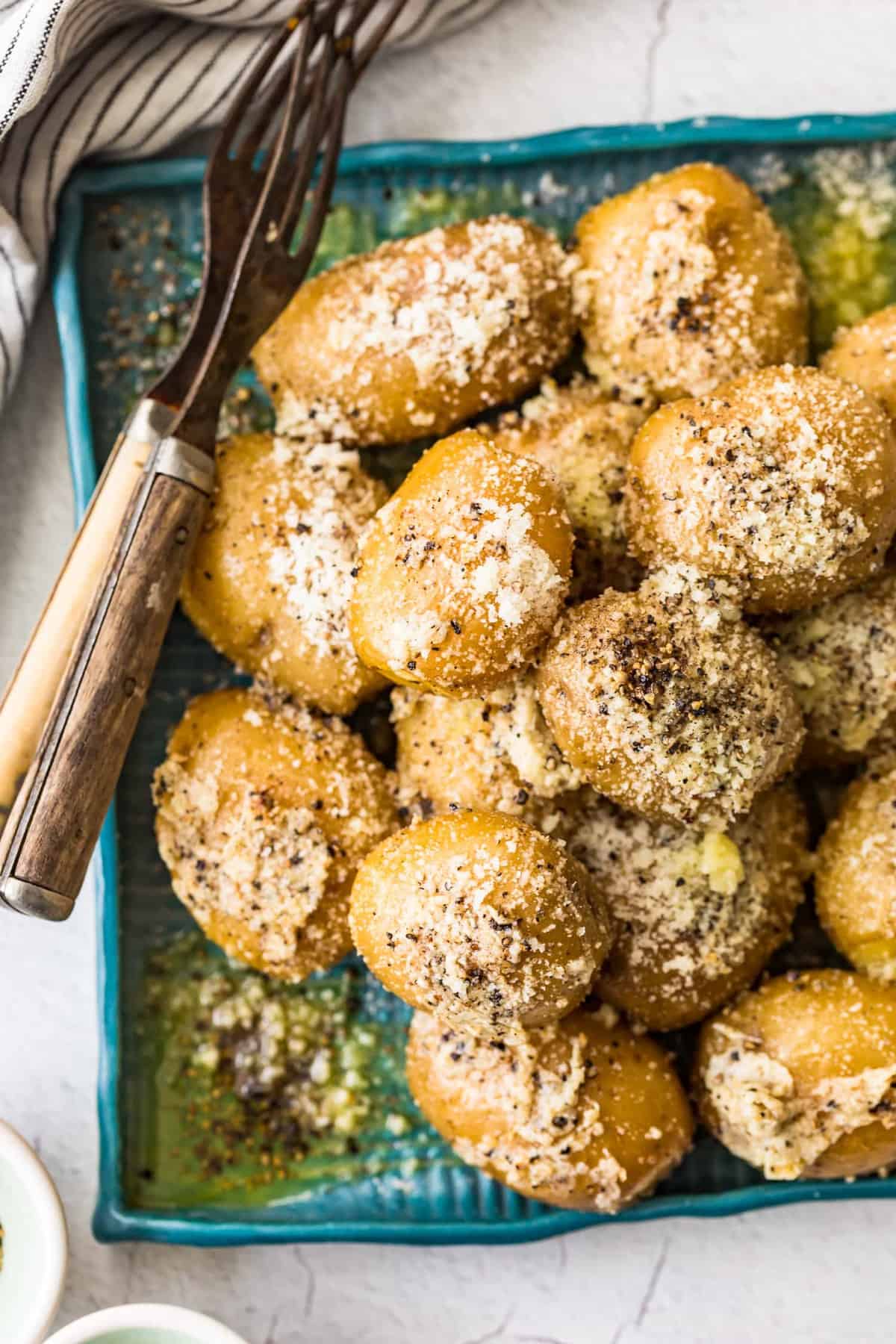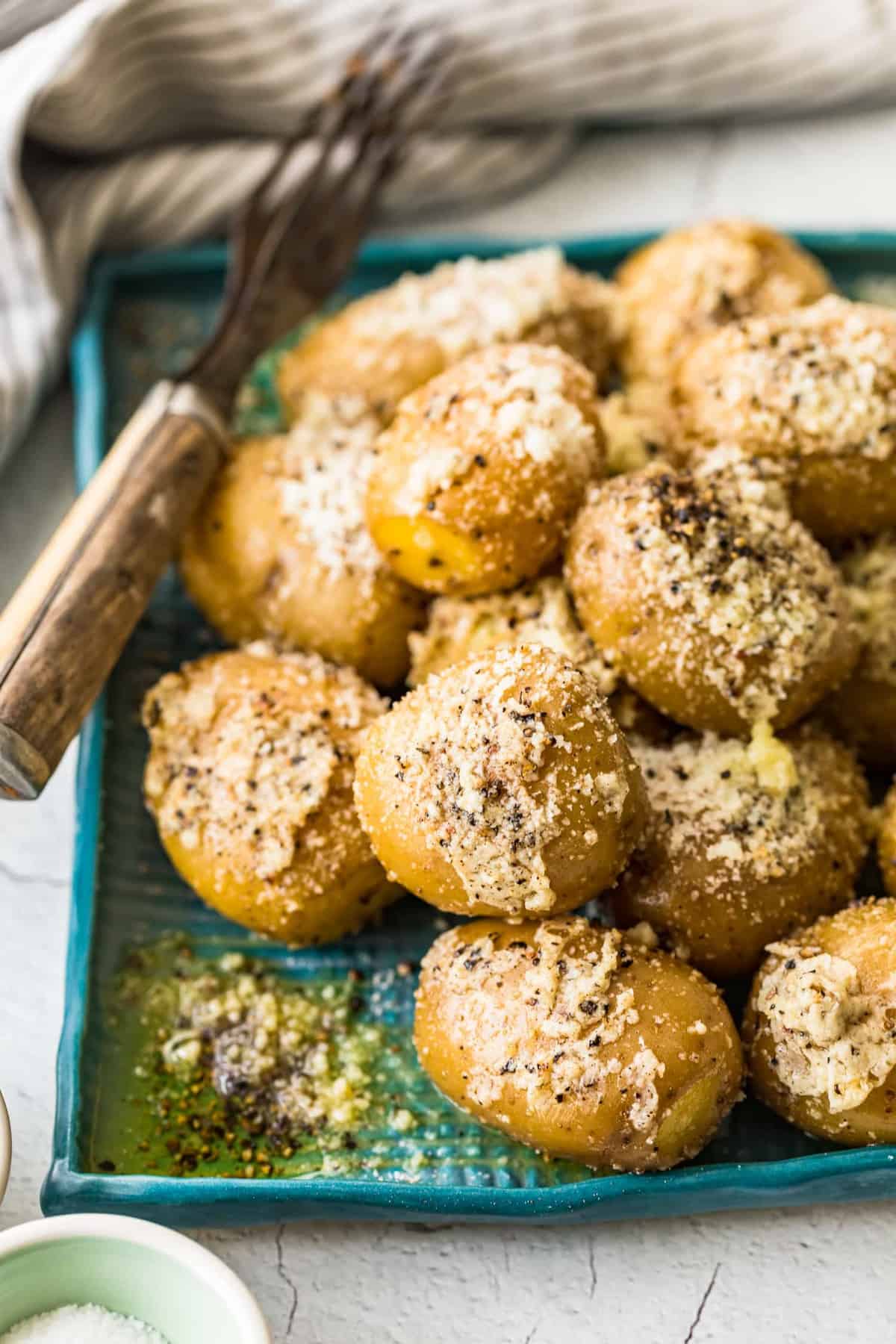 What are the best potatoes to use for this roasted potatoes recipe?
It's best to use baby potatoes for this recipe and you can keep the skins on. I prefer to use yukon, but you could also use Dutch. Yukon are great because they have a richer flavor to them and they stay firm whist being fluffy.
What is Pecorino-Romano cheese?
Imported Pecorino-Romano is an aged sheep's milk cheese and should be used in this recipe. It is beautifully pungent and salty with nuanced flavors. The American version, usually called "Romano," is made with cow's milk and is much milder and almost bland. If imported Pecorino-Romano isn't available, use a high quality Parmigiano-Reggiano or Parmesan cheese.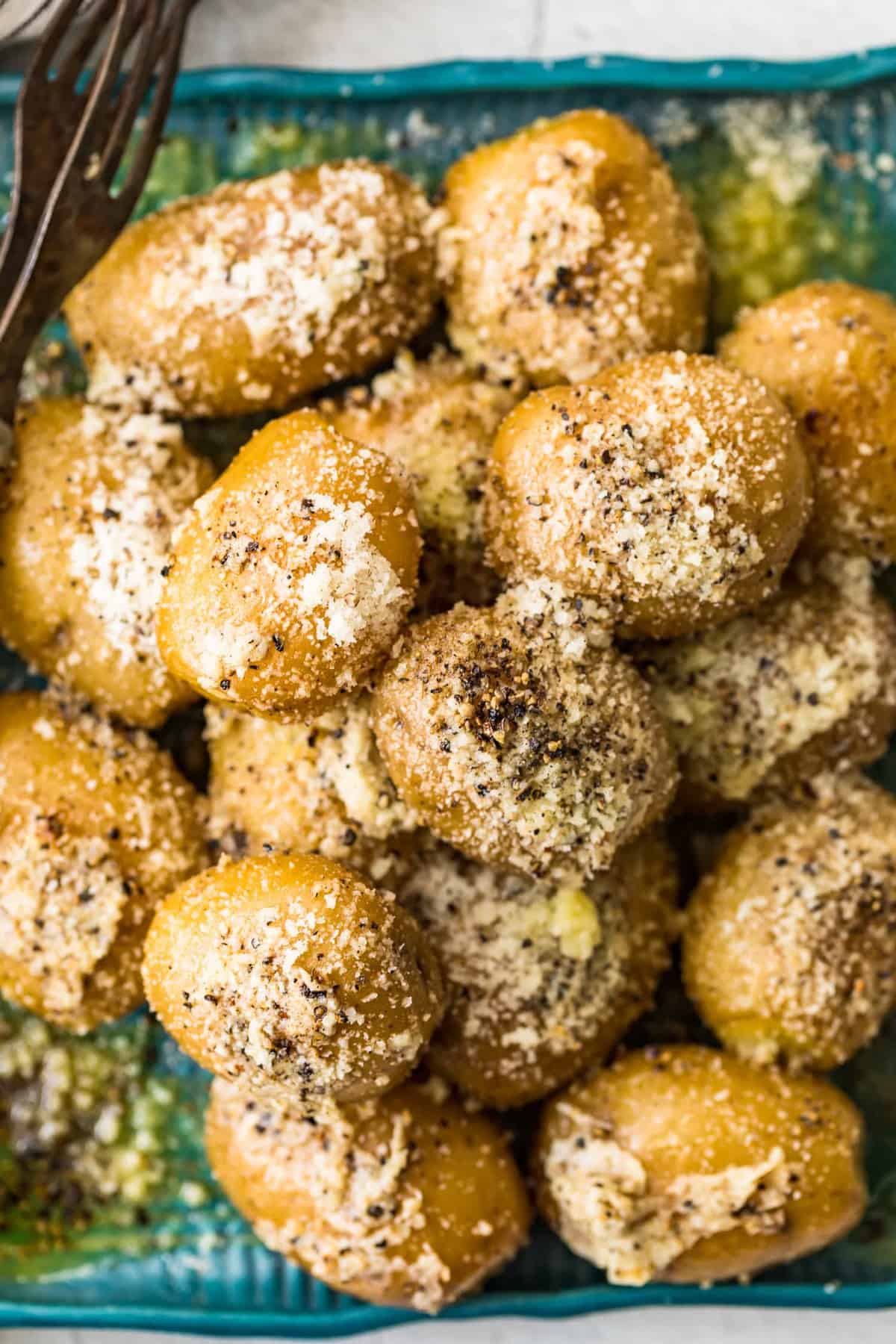 Top Tips to Make This Cacio E Pepe Roasted Potatoes Recipe
Boil the potatoes until they are fork tender, but not falling apart.
Use high quality ingredients wherever possible for the best flavor.
You can boil the potatoes a few hours ahead of time and then finish them just before serving.
Be sure to check out these other side dish recipes