Corn Pudding is a classic holiday side dish recipe. Your holiday table isn't complete without this easy corn souffle recipe! This delicious side dish is the perfect complement for Thanksgiving foods such as turkey and greens or Christmas favorites, especially ham. Yum!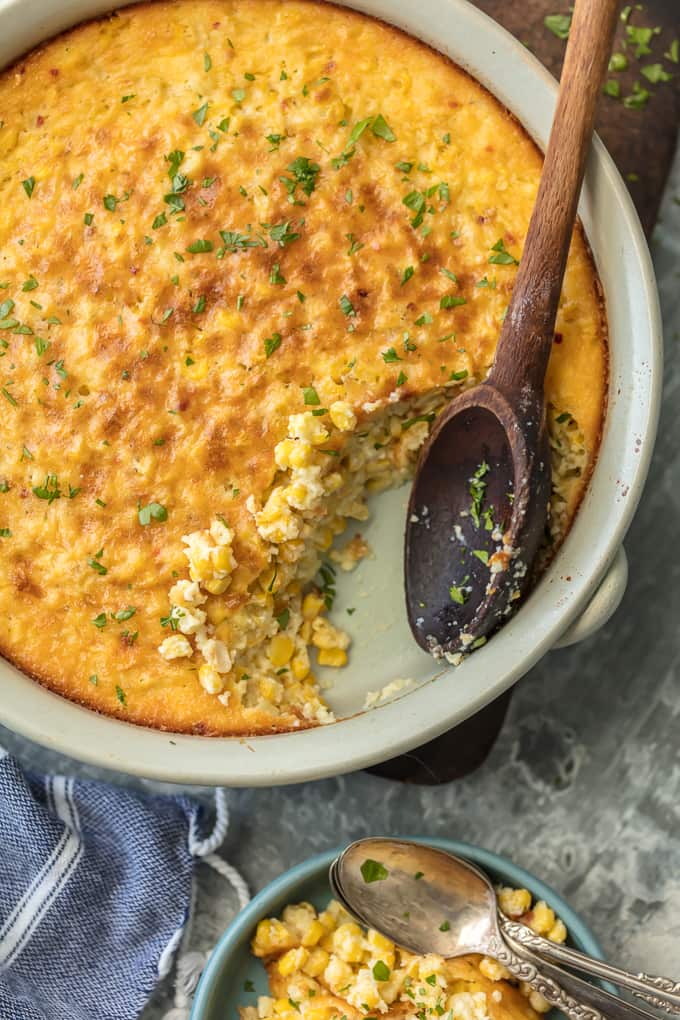 What's in this Corn Pudding Recipe?
Whether you call this corn pudding or corn souffle, it's delicious either way. This easy recipe has a creamy component but also the full corn kernels, which I really like. Sometimes simple recipes are the best for the holidays. I have a tendency to try to dress up and change all the traditional recipes, but this one is great just how it is.
Granulated Sugar: Adds a touch of sweetness.
All-Purpose Flour: Helps bind the pudding together.
Baking Powder: Prevents the pudding from becoming dense and gummy.
Kosher Salt: Enhances the natural flavor of the corn.
Red Pepper Flakes: Adds just a hint of spice.
Eggs: Help bind the pudding together and add richness.
Heavy Cream: Makes the pudding creamy and moist.
Unsalted Butter: Adds richness to the pudding.
Corn Kernels: You can use fresh, frozen, or canned. If using canned, make sure to fully drain before using to avoid a watery pudding.
Fresh Herbs: Use any combination of parsley, cilantro, basil, thyme, and/or rosemary.
Pro Tip: For a hit of salty, umami flavor, add some crumbled cooked bacon!
Variations on Corn Souffle
Corn pudding is such a versatile dish! You can add freshly shredded cheddar, Monterey jack, or pepper jack cheese to create a creamy, cheesy pudding. For a spicier pudding, fold in some diced jalapeño peppers.
Fold in some crumbled bacon, sausage (breakfast or chorizo work great), or lump crabmeat for a meatier take. Or fold in some diced green chilies, black beans, mushrooms, spinach, or caramelized onions for a veggie-forward pudding.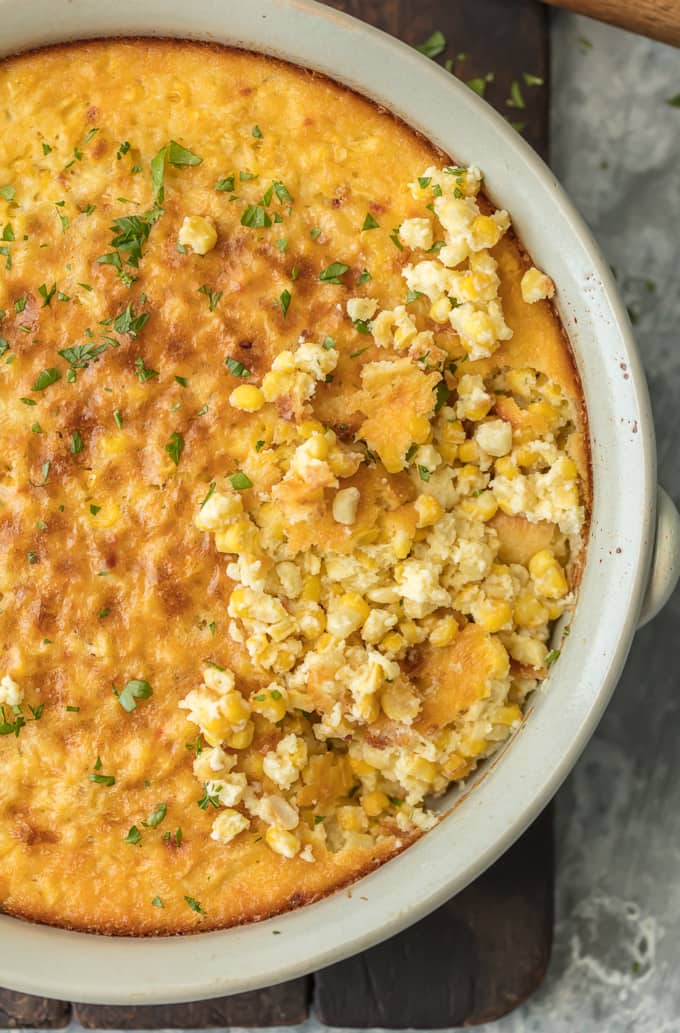 What is corn pudding?
Corn pudding, also known as corn souffle, is a soft, creamy cornbread-like casserole with whole-kernel corn suspended in it.
Why is it called corn pudding?
This dish gets its name from the way that the starches in the corn thicken the mixture into a custard-like pudding.
What is the difference between cornbread and corn pudding?
Corn pudding is a lot like cornbread, but it incorporates whole corn kernels for a fresher flavor and looser, creamier texture!
Is corn pudding supposed to be jiggly?
This pudding should have a soft, soufflé-like texture, with golden brown edges and a slightly jiggly center. If the center is still very jiggly, it likely needs to bake a bit longer.
Why is my corn pudding watery?
If your pudding is watery, it is likely that the corn used was very wet. Make sure to drain off any excess water before using the corn. To further combat moisture, you can also toss the corn in a skillet over medium heat briefly to cook off some liquid.
Does corn pudding reheat well?
Yes, it sure does! You can reheat it in the microwave in single portions or as one whole dish in the oven.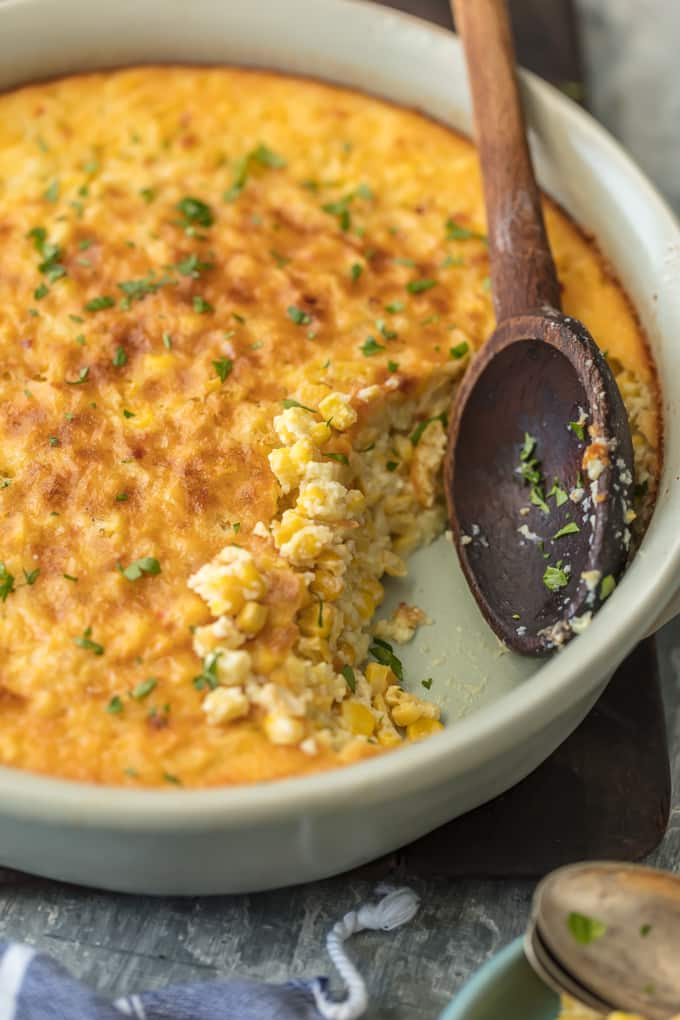 How to Store and Reheat
If you have leftovers, keep them! Store it in the refrigerator (cover the baking dish with aluminum foil or plastic wrap) for up to 5 days. To reheat it, put it back in the oven at 300°F until it's warm. I recommend covering the dish while it heats up to retain moisture.
How to Freeze
Freeze corn pudding tightly wrapped in 2 layers of plastic wrap and 1 layer of aluminum foil for up to 3 months. Let thaw overnight in the refrigerator before reheating.
Serving Suggestions
Serve this classic corn souffle at your Thanksgiving table alongside turkey, turkey gravy, stuffing, green bean casserole, mashed potatoes, roasted sweet potatoes, and cranberry sauce.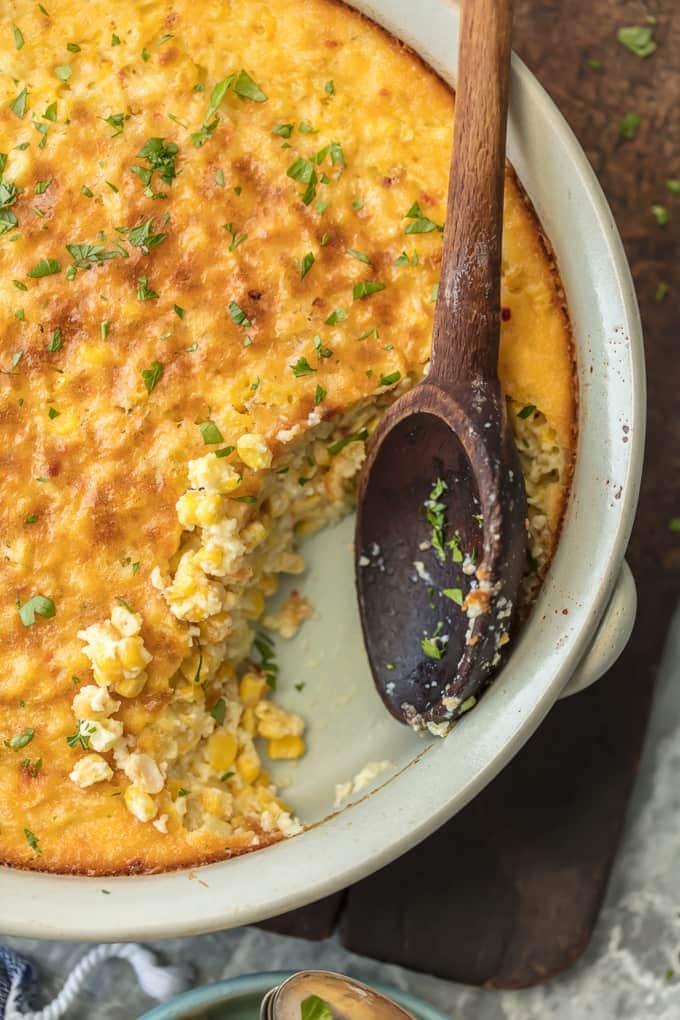 More Corn Side Dishes We Love