CORN PUDDING is a classic holiday side dish recipe. Your holiday table isn't complete without this easy corn pudding recipe! This delicious side dish is the perfect complement for Thanksgiving foods such as turkey and greens or Christmas favorites, especially ham. YUM! Find out how to make corn pudding with this recipe.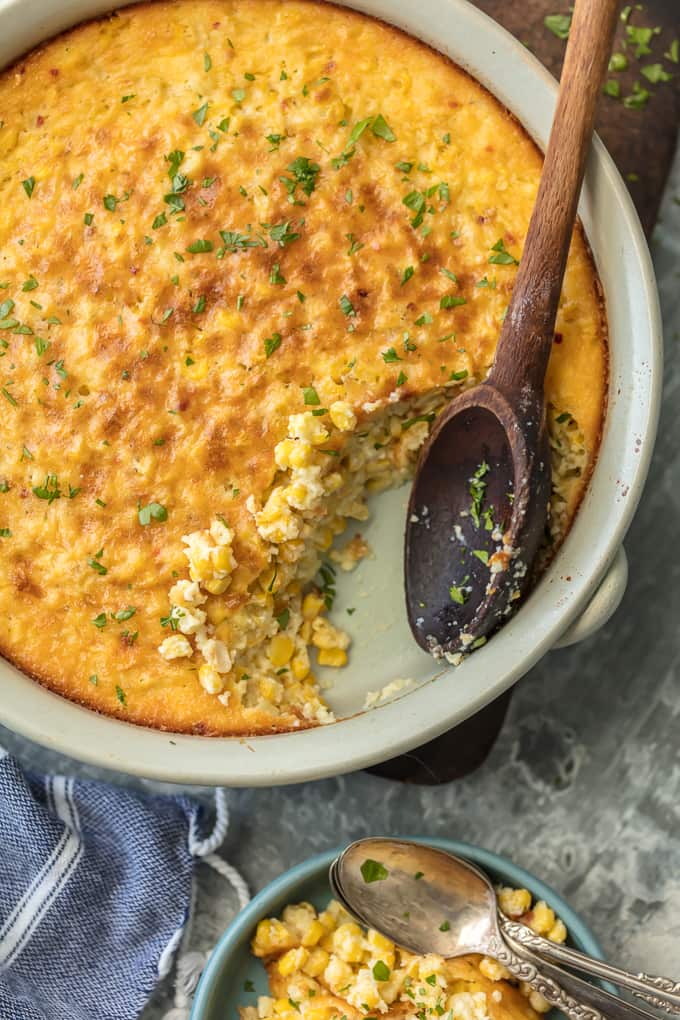 Easy Corn Pudding
Corn Pudding is the perfect mix of creamy and savory. This easy corn pudding recipe is the best holiday side dish.
Corn Pudding is a game changer for the holidays. Can I admit something? I've never had it before now…I KNOW! Can you believe that? I didn't know what I was missing. Something about the words corn and pudding just don't go together in my mind, but now I know how wrong I was. It's nothing like what I expected.
Regardless of my initial hesitation to try it, this easy corn pudding recipe is now a holiday favorite for me. It pairs beautifully with Turkey and Stuffing at Thanksgiving, or Ham and all the fixins at Christmas. This side dish is a simple and delicious recipe that is sure to be a crowd pleaser on any holiday table. It's comforting, EASY, pretty, and so delicious! Classic Corn Pudding for the WIN!
I'm so glad I learned how to make corn pudding so that I can make it for every single holiday meal from now on!
Learn how to make corn pudding with this easy corn pudding recipe. You'll want to make it for every single holiday from now on!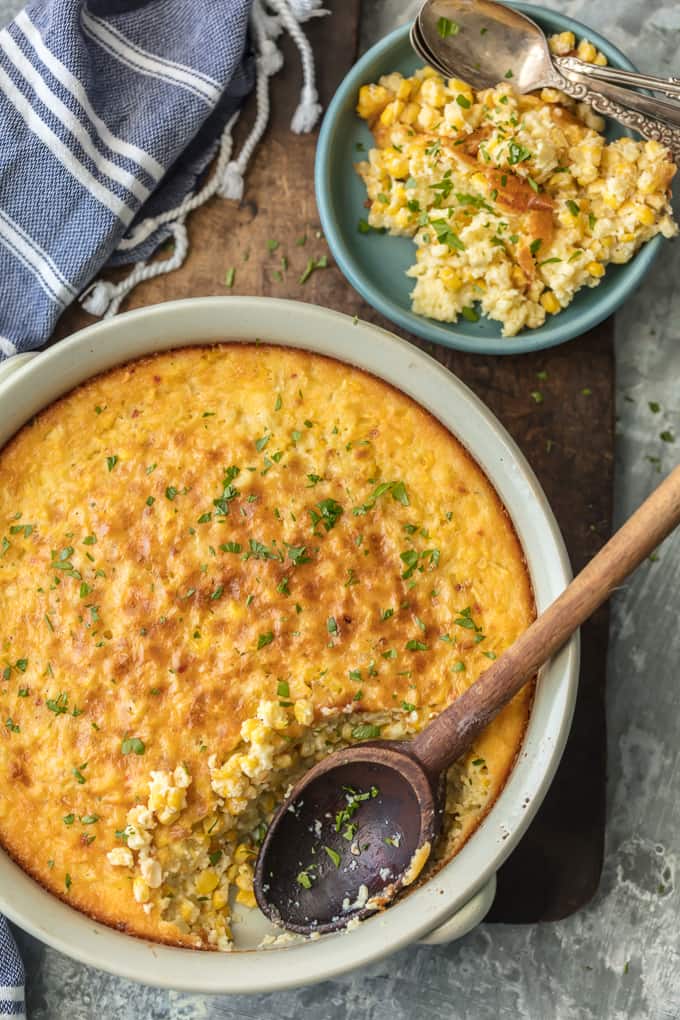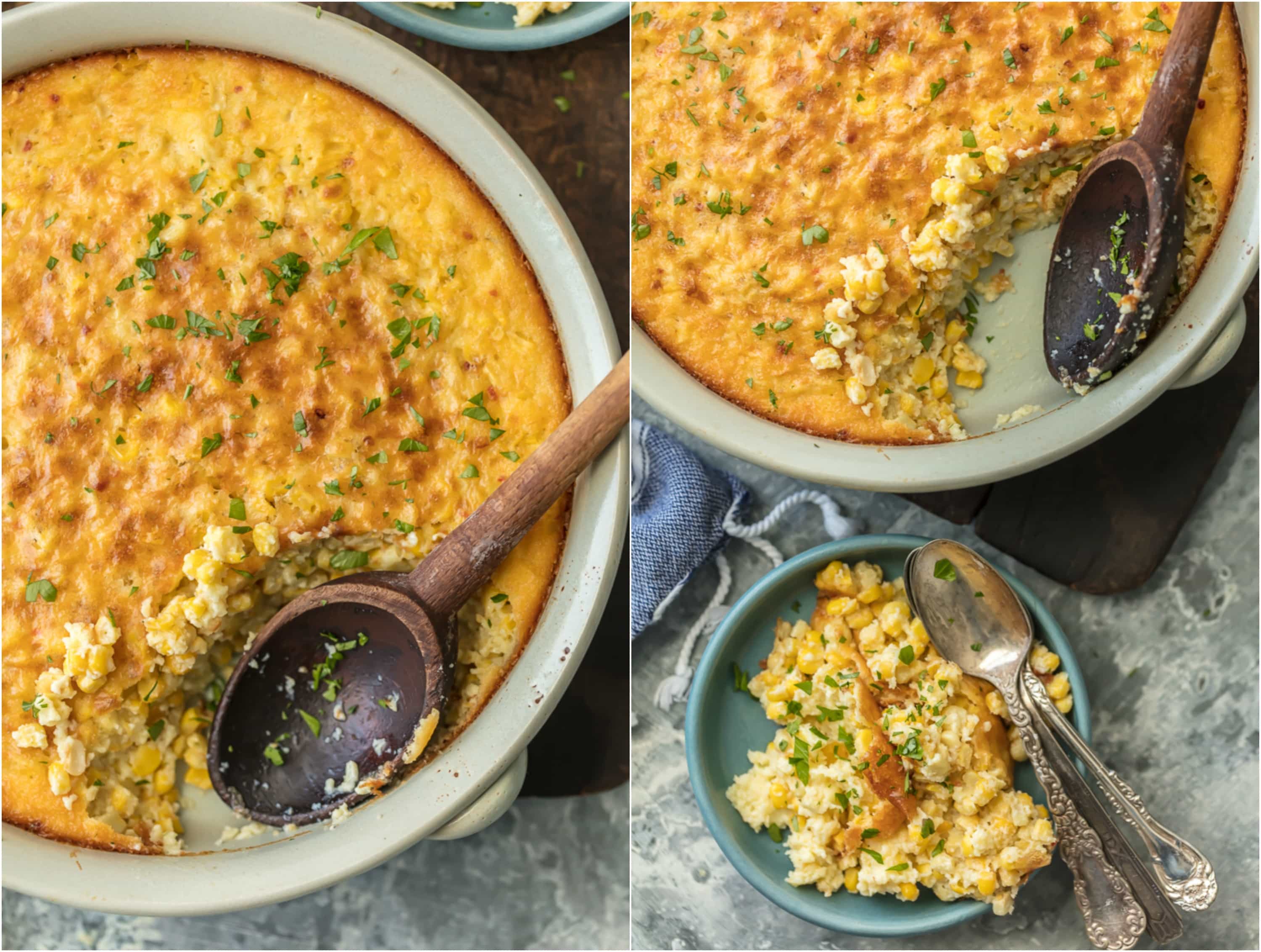 Best Corn Pudding Side Dish
Whether you call this Corn Pudding or Corn Souffle, it's delicious either way. This easy corn pudding recipe has a creamy component but also the full corn kernels, which I really like. Sometimes the simple recipes are the best for the holidays. I have a tendency to try to dress up and change all the traditional recipes, but this one is great just how it is.
We thought about adding some bacon, and although that'd be delicious, I don't think it really needs it. These flavors just go so well together on their own. They're all you need for the perfect side dish!
Add these EASY Thanksgiving Recipes to your holiday menu!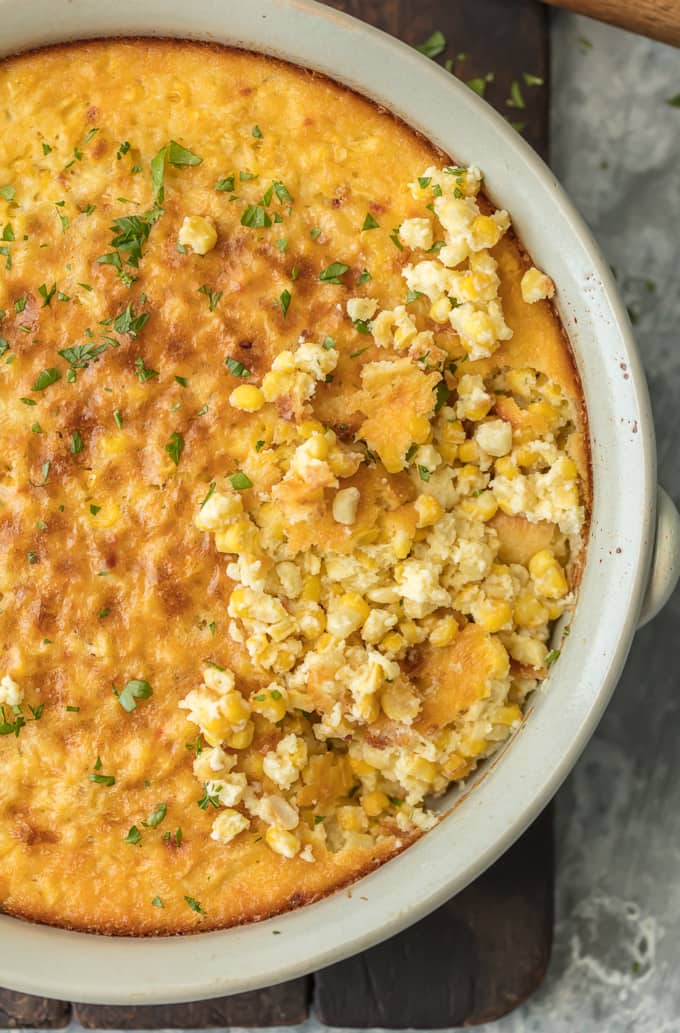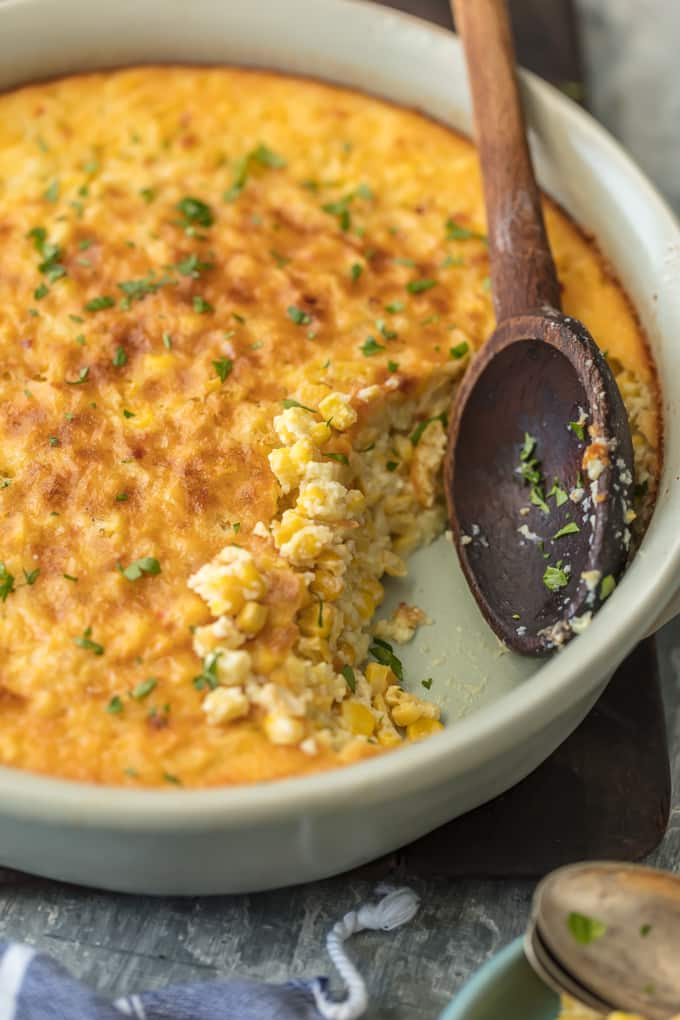 How to Make Corn Pudding
I love this easy corn pudding recipe because it's a simple thing to make for the holidays. There are so many things to cook and prepare at the same time, and this recipe won't take up too much of your focus during the chaos. It does take up to an hour to cook in the oven, but you don't even need to think about it during that time. And prep is only 10 minutes, so you can get it cooking in no time.
How to Make Corn Pudding:
Stir sugar, flour, baking powder, salt, & red pepper flakes together
In another bowl, whisk together eggs, cream, & melted butter
Add sugar mixture to egg mixture as you whisk
Stir in the corn (if you're using bacon, add it in here)
Pour the pudding into baking dish
Cook the it for 45-60 minutes at 350°F
Easy prep and it comes out as a hot and delicious side dish ready to eat.
Can you reheat corn pudding?
If you have leftovers, keep them! Store it in the refrigerator (cover the baking dish with aluminum foil or plastic wrap). To reheat it, put it back in the oven at 300°F until it's warm. I recommend covering the dish while it heats up to retain moisture.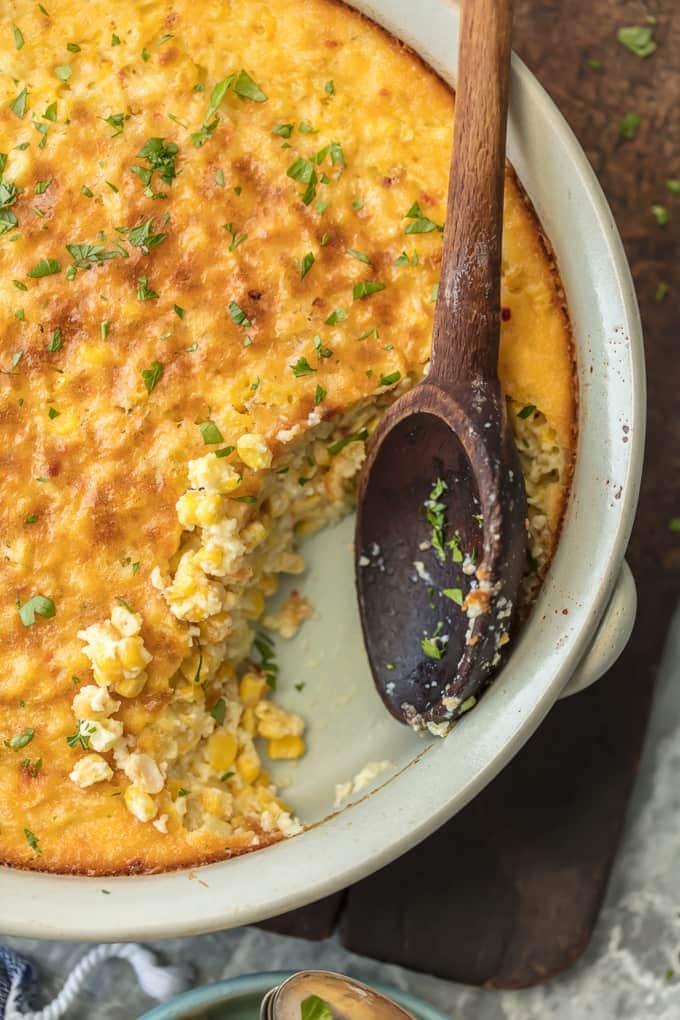 Make your Mama proud with this easy Corn Pudding recipe. You can't go wrong with this side dish. It compliments so many flavors and it is just right for any holiday spread. Now that you know how to make corn pudding, you'll be making it for years to come.
See the recipe card below for full details on How to make Corn Pudding. Enjoy!
If you like this recipe, try these other holiday side dishes: