making susie's famous chex party mix this week made me think of my other favorite snack mix…PUPPY CHOW.  okay everyone has heard of puppy chow.  everyone has had puppy chow.  this puppy chow is the best.  below you'll find the recipe for regular puppy chow along with my new favorite…MINT KISSED puppy chow.  um…awesome.
i have always found my mom's recipe for puppy chow to be different (and better…let's be honest) than others i've tried.  i think its in the Ghiradelli milk chocolate chips.  and extra powdered sugar.  ugh….this wedding diet is clearly out the door for the holiday.  wow this stuff is so good.  if you're not making this for your family this weekend…you are doing them a disservice!!
what makes this recipe "mint kissed" is the Andes Creme de Menthe baking chips.  i love love love andes mints.  i think i like to go to olive garden more for the andes mints than the italian food! these baking chips have such a nice creamy mint flavor.  it compliments the milk chocolate so well.  this puppy chow is awesome!
start by placing the cereal in a bowl and setting aside.  in a saucepan, melt the butter, chocolate, mint chips, and peanut butter over low heat until completely melted and smooth.  like so: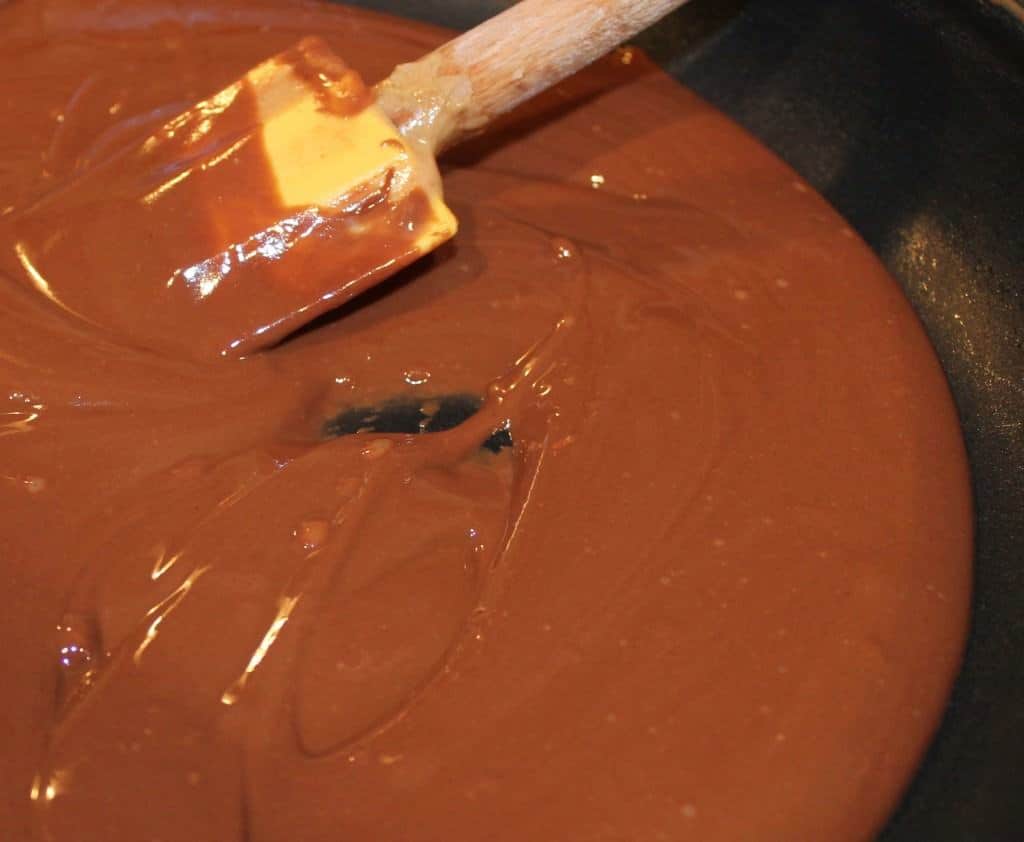 pour the chocolate mixture over the cereal and lightly stir until the cereal is evenly and completely coated.  as detailed in the recipe card below, place half the powdered sugar in a seal-able container.  add all of the chocolate covered cereal into the container.  cover with the rest of the powdered sugar.  shake gently until all of the cereal is evenly coated with sugar.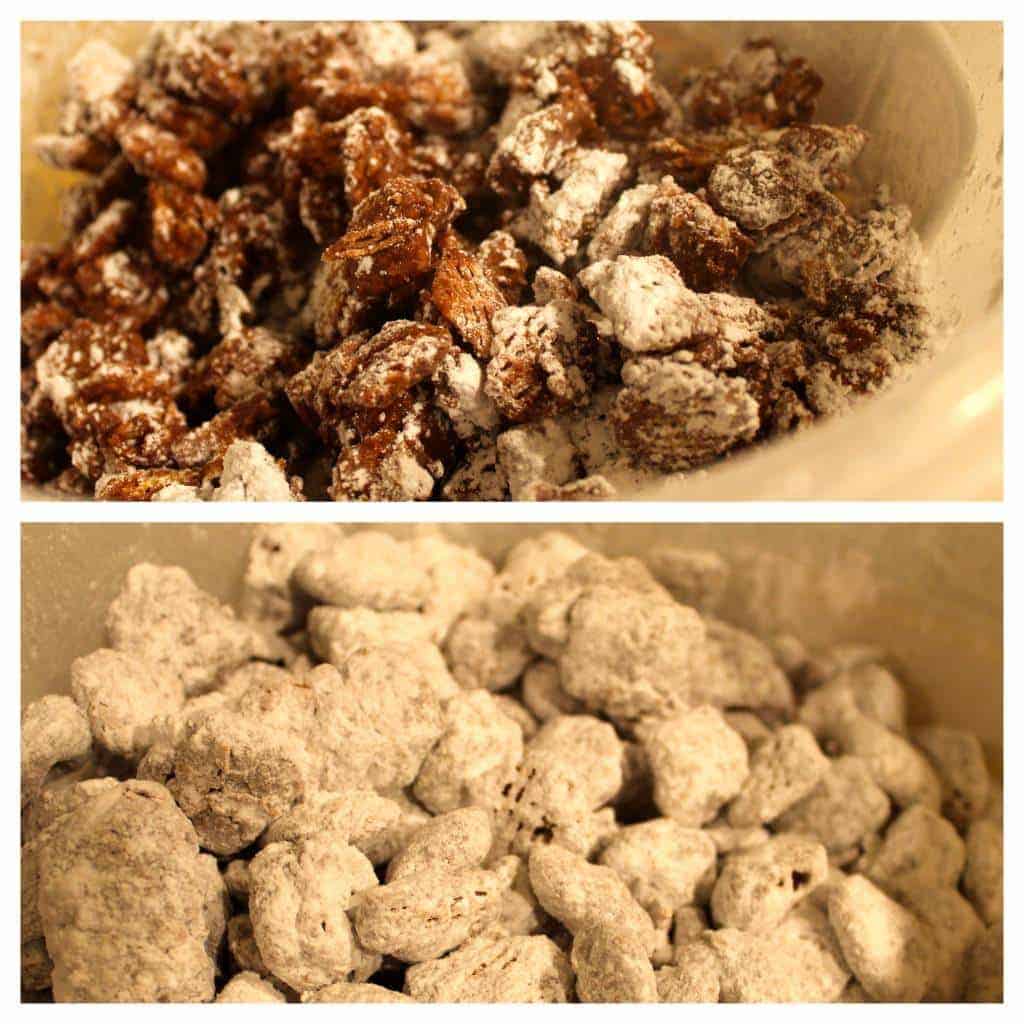 i like a lot of powdered sugar…but you can adjust the amount to fit your taste.  after coating in sugar, place on wax paper to allow to cool and dry completely.  (this is the point where i have to watch both of my animals like a hawk to make sure dill doesn't pass some down to scout.  scout thinks she is entitled since it's called puppy chow)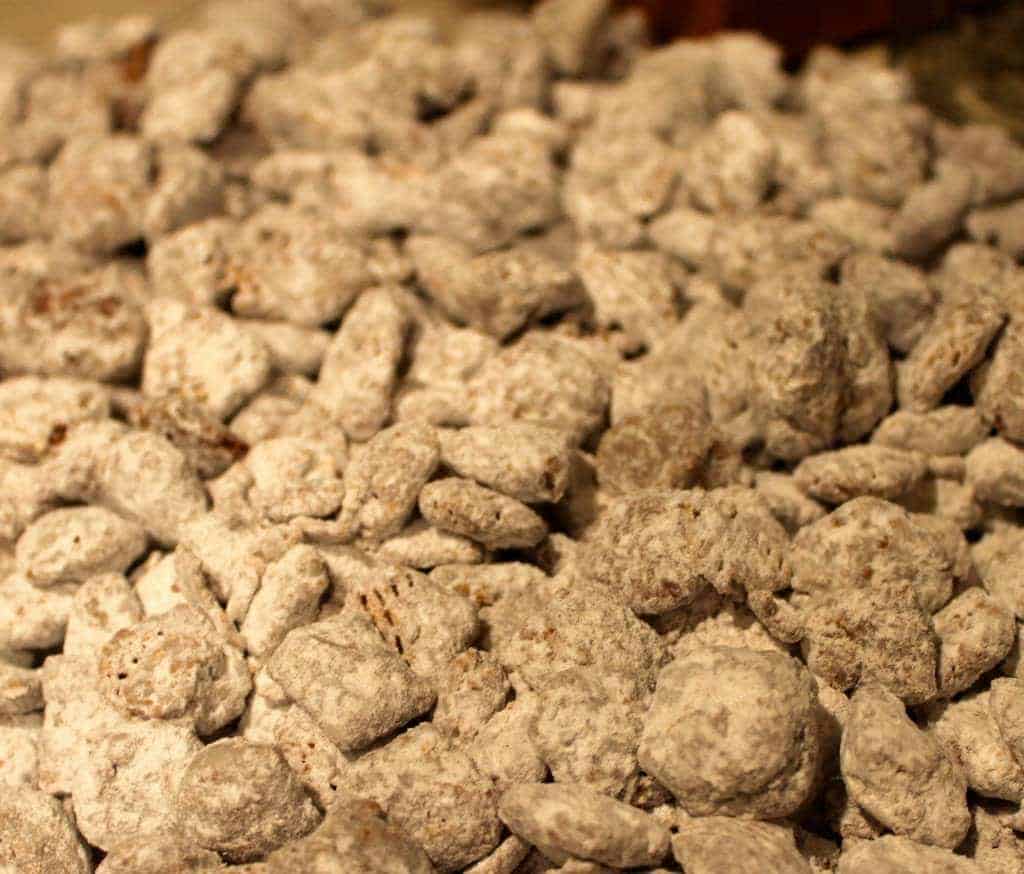 and there you have it!!  when making these…i noticed my mom added a note to her 2001 recipe card.  and i quote "For those of you who find yourselves addicted, there are PCA meetings (Puppy Chow Anonymous)"  hahahaha.  she didn't want me to blog that part.  sorry mom!  enjoy and eat responsibly! :)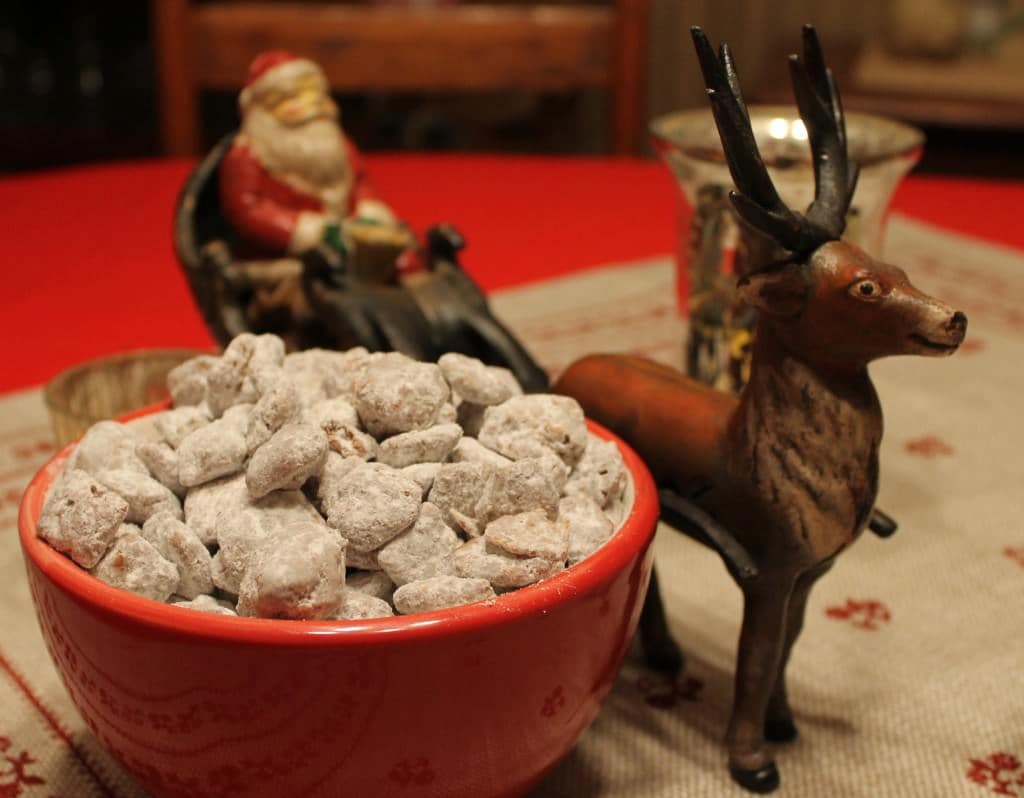 Ingredients
10 c. Crispix Cereal
1 c. Milk Chocolate Chips - Ghiradelli
1 c. Andes Creme de Menthe Baking Chips
1/2 c. Peanut Butter - Jif creamy
8 T. Butter
1/2 t. Vanilla Extract
3-4 c. Pwdr. Sugar*
FOR NORMAL PUPPY CHOW INGREDIENTS ARE AS FOLLOWS:
8 c. Crispix Cereal
1 c. Ghiradelli Milk Chocolate Chips
1/2 c. Creamy Peanut Butter - Jif
6 T. Butter
1/4 t. vanilla
3-4 c. Powder Sugar
Instructions
Place cereal in a large bowl and set aside.
Melt chocolate, Andes Mint Chips, Peanut Butter and Butter over low heat.
Add vanilla and stir.
Pour the chocolate mixture over the cereal and stir gently until well coated.
Place 1/2 of the powder sugar in a large plastic container which has a lid.
Place all of the chocolate-coated cereal in the container.
Cover with the other 1/2 half of the powdered sugar and seal tightly.
Shake gently (upside up and down) until the cereal has been evenly coated with powdered sugar.
Spread onto waxed paper to cool and dry completely.
Store in an airtight container.
ENJOY!!
*Adjust the amount of powdered sugar to suit your own taste.
7.6.4
1994
https://www.thecookierookie.com/mint-kissed-puppy-chow/

JOIN OUR MAILING LIST
TO GET COOKING!
Subscibe to recieve all the latest, greatest, and EASIEST recipes sent straight to your email inbox. If we post something yummy, you'll be the first to know.