Glazed Miso Salmon is a delicious and nutritious dish that is quick and easy to prepare, making it the perfect choice for weeknight dinners over a bed of fluffy rice. The combination of tender, juicy salmon and savory, salty miso is the perfect marriage of flavors — and it's one of those simple but satisfying dishes that is always super popular in my house!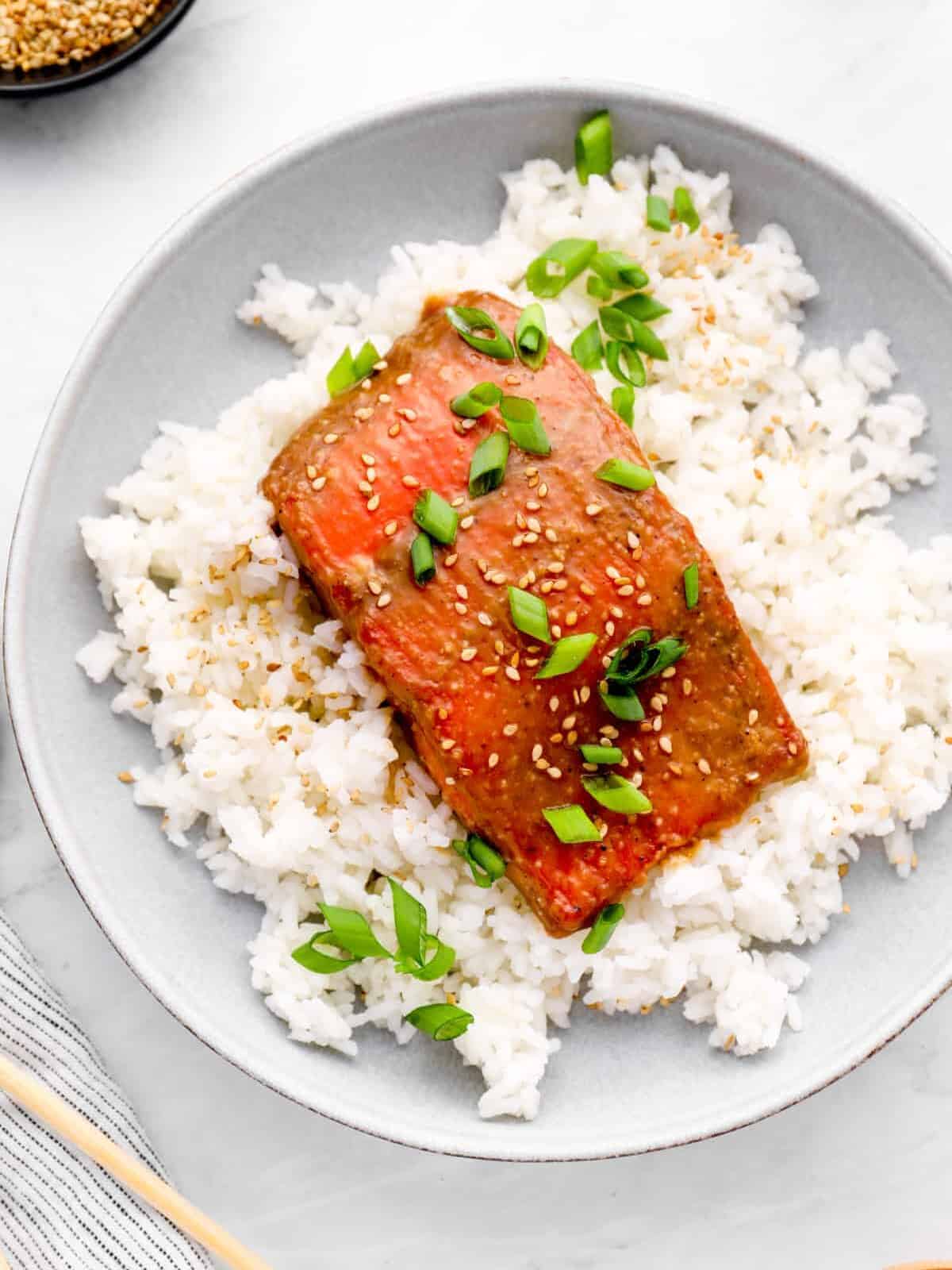 What's in Miso Glazed Salmon?
Made from fermented soybeans, Miso paste is a traditional Japanese ingredient that adds savory, umami flavor to a variety of dishes. Baked and broiled salmon fillets glazed with the sweetened miso and mirin sauce are easy to make in about 25 minutes.
Salmon: Packed with Omega-3 fatty acids, salmon is healthy, delicious, and versatile — always pairing well with a wide range of spices.
Miso: White miso is lighter in color and milder in flavor than other types of miso, such as red or brown miso. It has a slightly sweet, salty taste and a smooth, creamy texture.
Mirin: Mirin is a type of sweet, low-alcohol Japanese cooking wine, which you will often find near the cooking wines and vinegars in the supermarket.
Brown Sugar: Brown sugar gets its soft and extra-carmelized depth from molasses.
Soy Sauce: Soy sauce, made from fermented soybeans, wheat, salt, and water, adds depth of flavor and a distinct savory taste to any Asian-inspired food recipe.
Sesame Oil: Sesame oil has a rich, nutty flavor and aroma that adds a distinct dimension to any Asian-inspired recipe.
Sesame Seeds: Small, nutty, and crunchy sesame seeds add a rich, distinctive flavor to any recipe.
Green Onions: Green onions, also known as scallions, are a type of onion that is mild and slightly sweet, making them a versatile ingredient in cooking.
You will often find small glass jars of sesame seeds in the spices and cooking aisle of the grocery store, but if you are like me and like to sprinkle them on everything, larger bulk options are also available online though Amazon.com and Walmart.com.
Honey Miso Salmon
To make honey miso salmon, swap the brown sugar for an equal amount (1 tablespoon) of honey. You can also use maple syrup for maple miso salmon!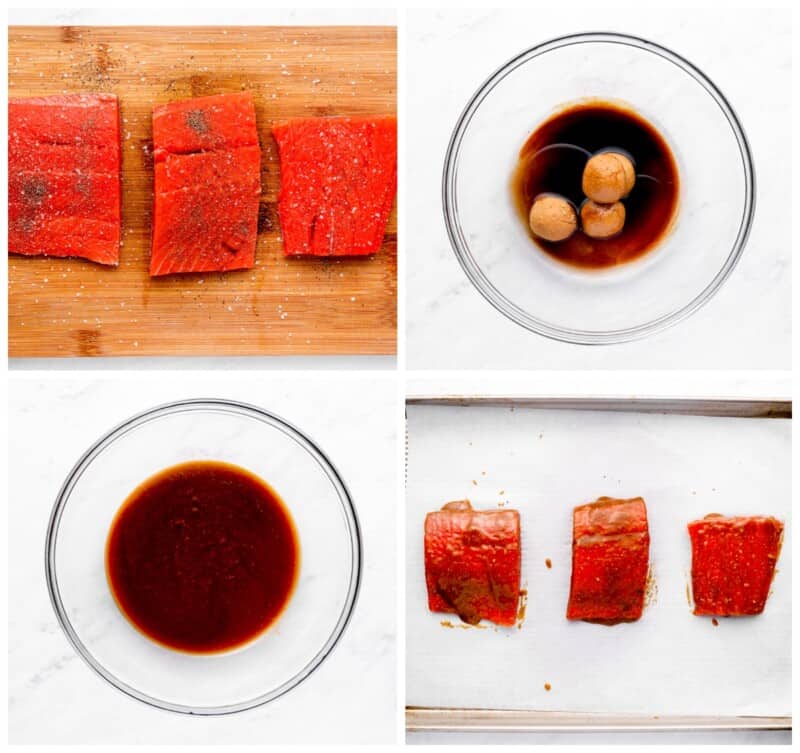 What is the best salmon for miso salmon?
I love wild-caught salmon! Fresh or frozen is fine, just be sure to defrost frozen salmon filets overnight in the refrigerator before cooking. Atlantic salmon also works well, just be sure to look for deep pink-colored salmon that springs back when poked.
What is white miso?
White miso (aka: shiro miso) is a paste made from fermented soybeans. It has a mild umami flavor and subtle sweetness. In a pinch, you can also use red or brown miso.
What is mirin?
Mirin is seasoned rice wine (sake). It adds a subtle sweetness and mild acidity to Asian dishes. In a pinch, you can use rice vinegar or regular sake.
Where can I find miso paste and mirin?
Both miso paste and mirin are often found in the International aisle of the grocery store. Miso can be in either a jar or a tube/pouch, and it can also sometimes be found in the refrigerated section near the tofu. Mirin can sometimes be found in the oil and vinegar aisle.
Can I make miso salmon with a different kind of fish?
You sure can! This marinade pairs well with almost any fish. Some great options are swordfish, cod, or Mahi Mahi.
How can I tell when salmon is fully cooked?
The easiest way to see if your salmon has finished cooking is to gently press down on the top of the fillet with a fork or your finger. If the flesh of the salmon flakes, it's finished cooking. The proper internal temperature of cooked salmon is 145°F.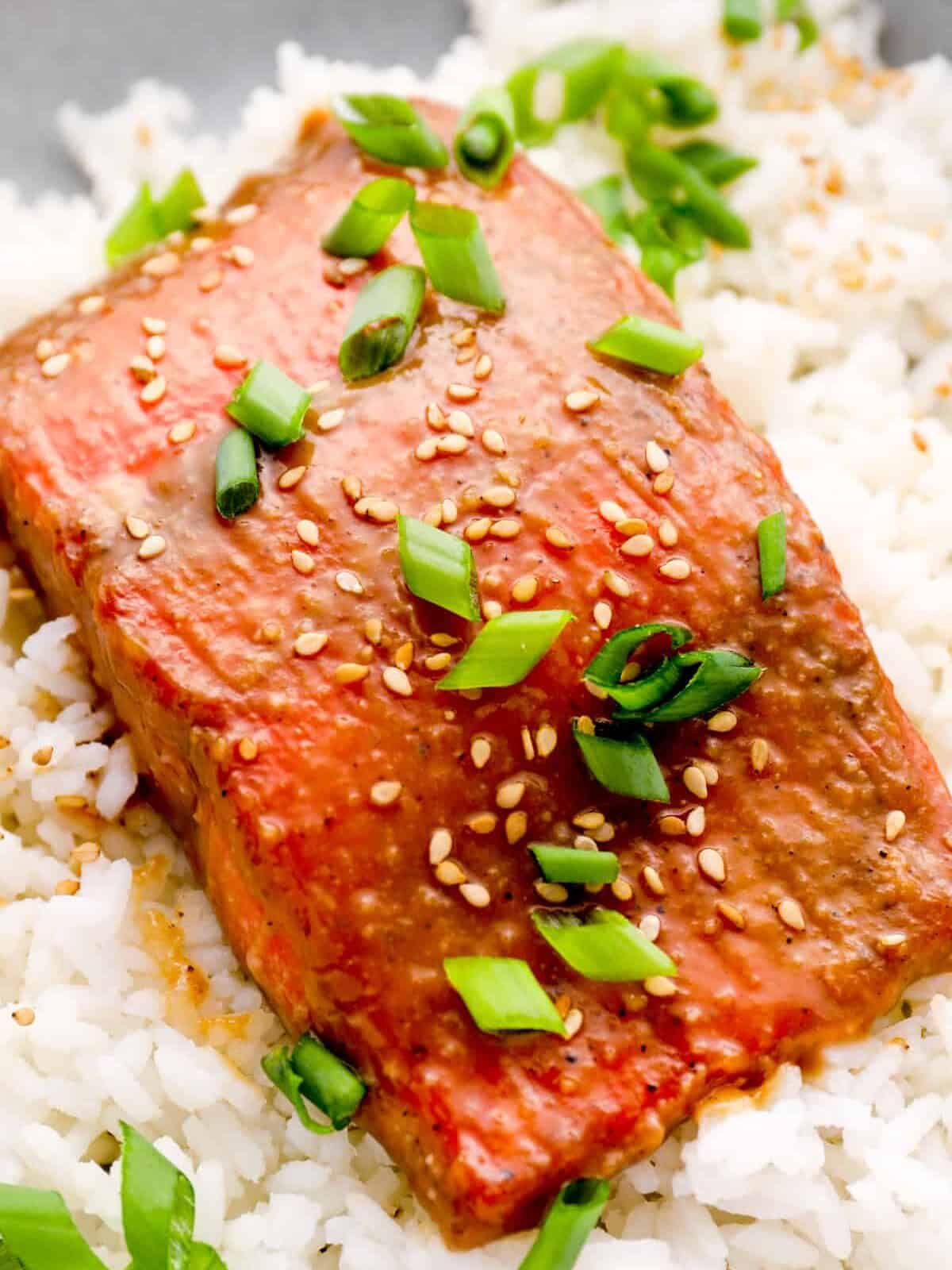 How to Store and Reheat Baked Miso Salmon
Store leftover miso salmon in an airtight container in the refrigerator for up to 3 days. Reheat in a 275°F oven for about 15 minutes.
How to Freeze Soy Miso Salmon
Freeze miso salmon in an airtight container for up to 4 months. Let thaw overnight in the refrigerator before reheating.
What to Serve with Glazed Miso Salmon
Glazed Miso Salmon goes perfectly with a simple plate of basmati rice or jasmine rice. For an added flavor dimension pair it with my Cilantro Lime Rice Recipe. If you want to serve with a green vegetable, Air Fryer Broccoli is an easy and delicious option.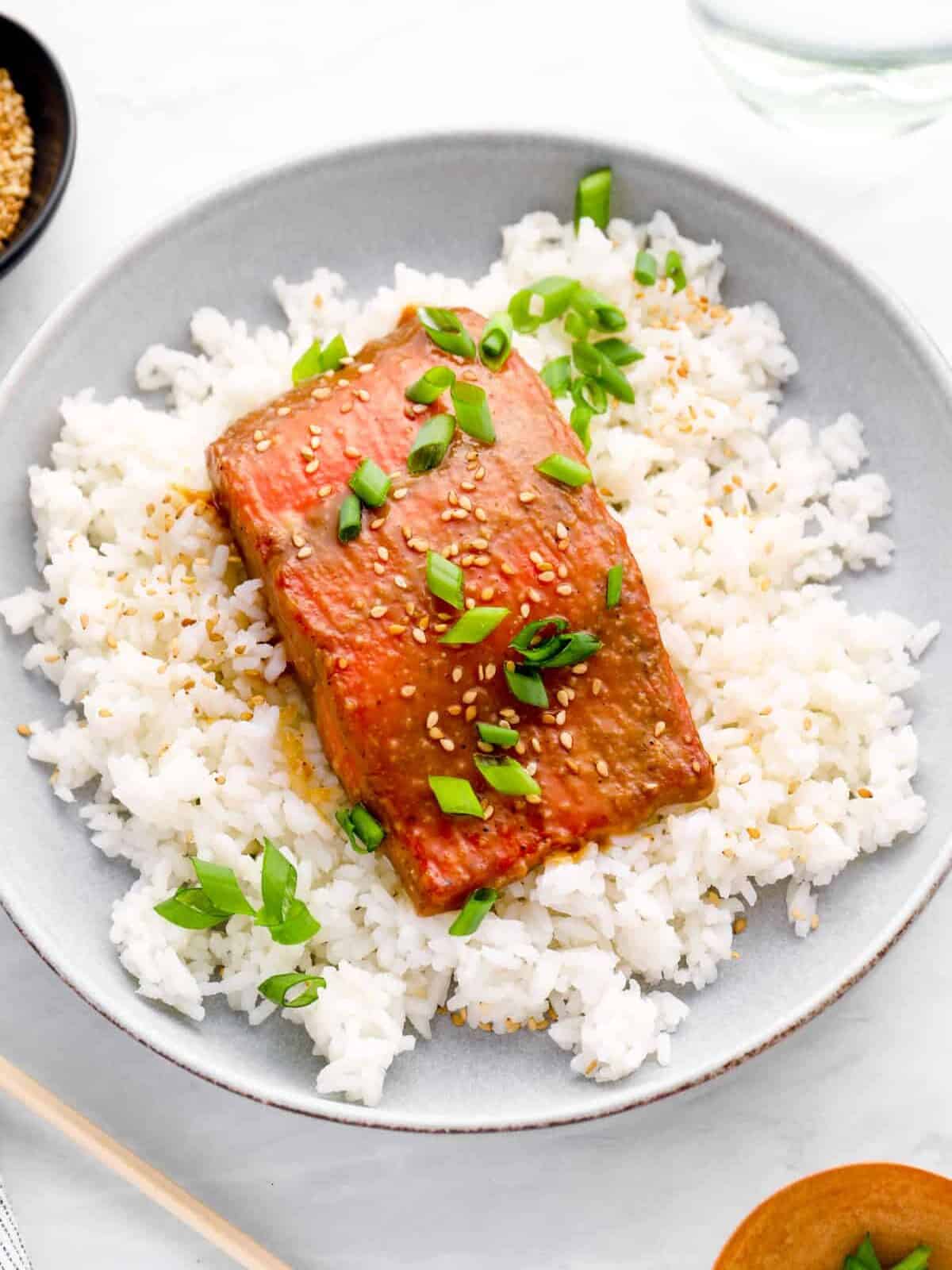 More Baked Salmon Recipes We Love