Salmon salad recipes are the perfect hearty, healthy, and delicious salads for any occasion, and this Tequila Lime Salmon Salad is a favorite. Salmon topped with a spicy tequila lime marinade and laid atop a bed of lettuce, corn, beans, avocado, pico, and more. So much flavor in this salmon salad recipe!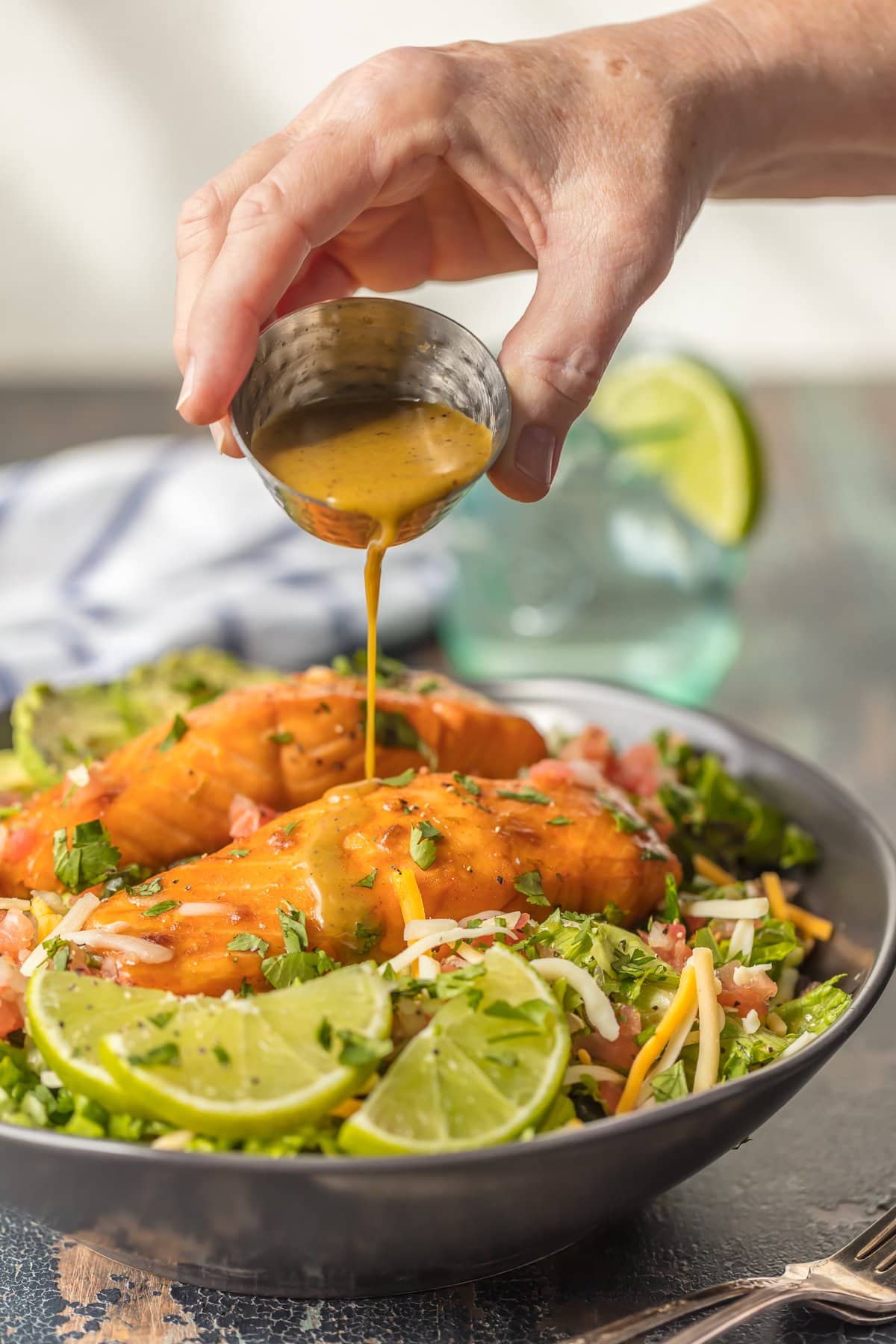 Salmon Salad Recipe
This salmon salad recipe is filled with flavor, it's healthy, and it's so easy to make. This Tequila Lime Salmon Salad is about to be your new favorite!
I'm so excited about this delicious Tequila Lime Salmon Salad recipe! A good hearty salad is always popular, which I found out when I did a roundup of OUR VERY FAVORITE SALADS and it went CRRRRAZY! I realized I need to do less cheesy dips and more amazing salads! (Don't hold your breath)
Apparently you guys love eating salads as meals with bright flavors, filling ingredients, and ALL THE FLAVOR! Maybe its because they're so easy, or maybe it's because they're oh so delicious (and healthy)! Either way, this Tequila Lime Salmon Salad is one of our new favorites. It's chock full of beans, corn, pico, cheese, assorted lettuce, and the best lime vinaigrette.
But the real kicker is the SALMON! The Tequila Lime Marinade is just the perfect amount of spice, making such a juicy and flavorful baked salmon, awesome on its own or straight up fabulous in a salad!
This Tequila Lime Salmon Salad is about to be your new favorite flavorful salad recipe!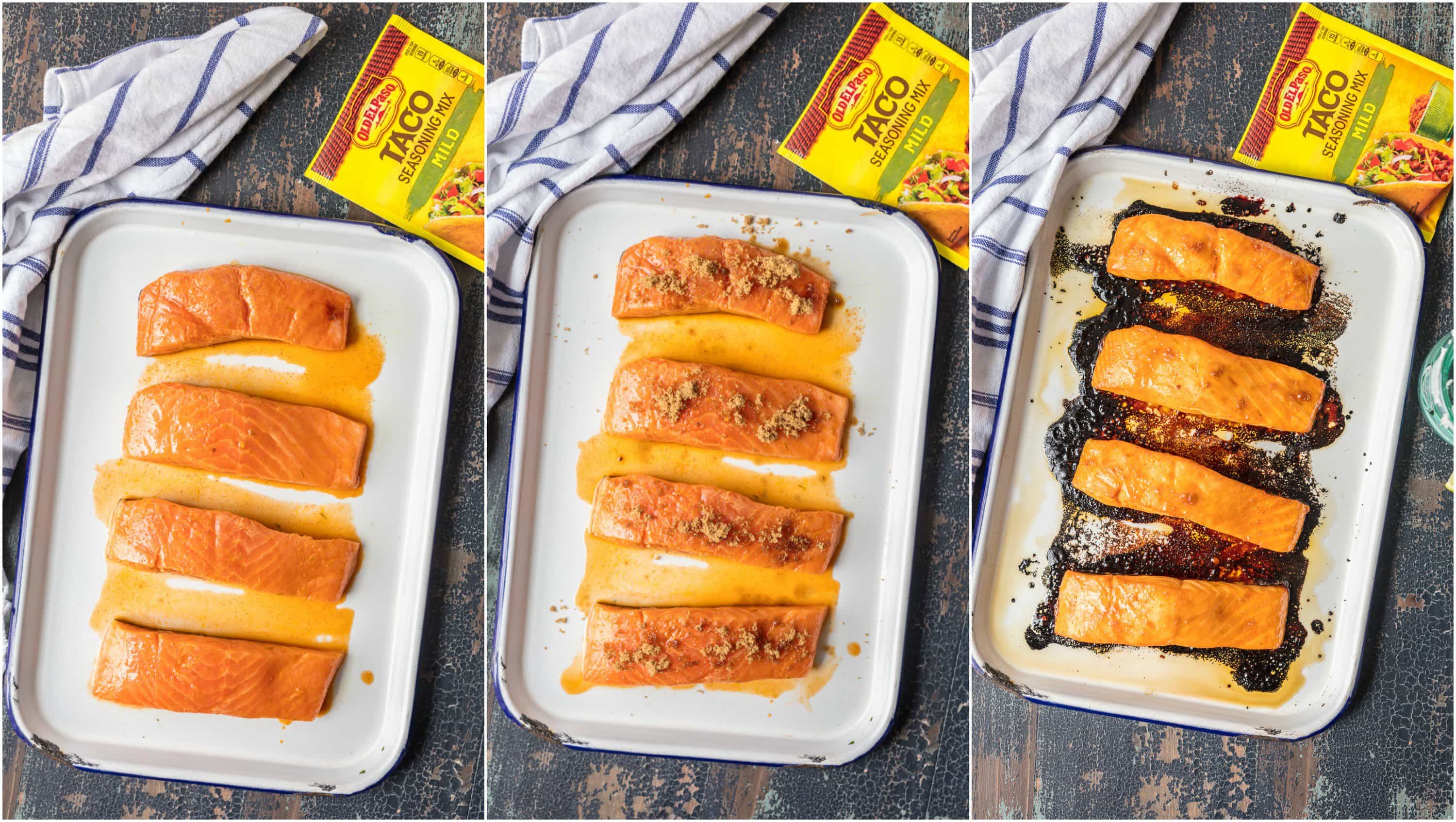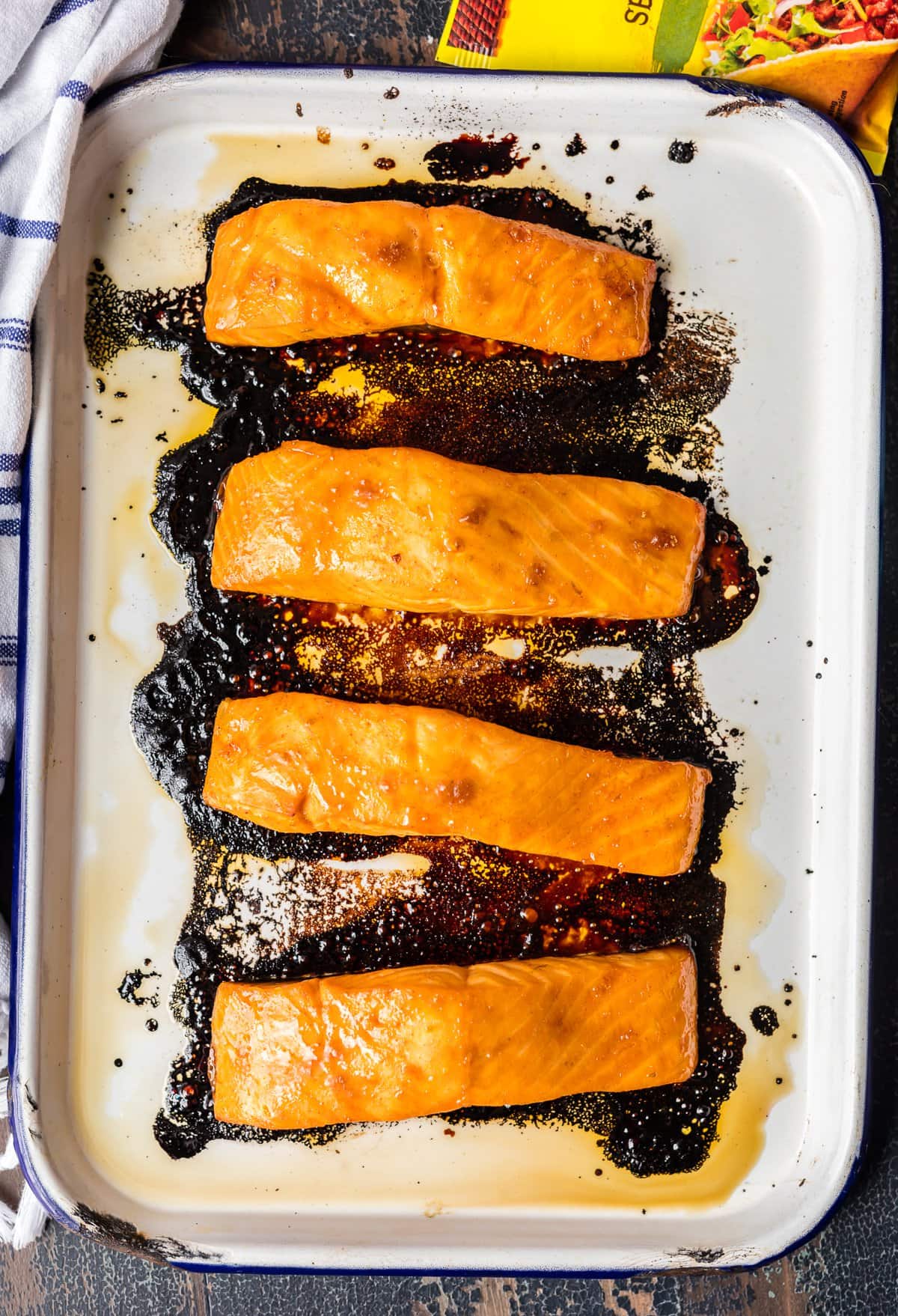 Tequila Lime Salmon Salad
To make a great salmon salad, we started by making REALLY great salmon. We topped the salmon with some brown sugar to help it caramelize and make it that much more YUM. Look at all that flavor! Taco Seasoning was the perfect compliment for the marinade. It's an easy way to throw in quick spices, and it's perfect every time. I'll be using it FOREVER.
What else is in this tasty salmon salad?
Lots of lettuce
Fresh tomatoes
Tequila Lime Salmon
Shredded cheese
Black beans
Corn
Avocado
Cilantro
Tortilla strips
Tequila lime vinaigrette salad dressing
So much flavor packed into one simple and healthy salad! You could also add some of this tomatillo avocado salsa on top.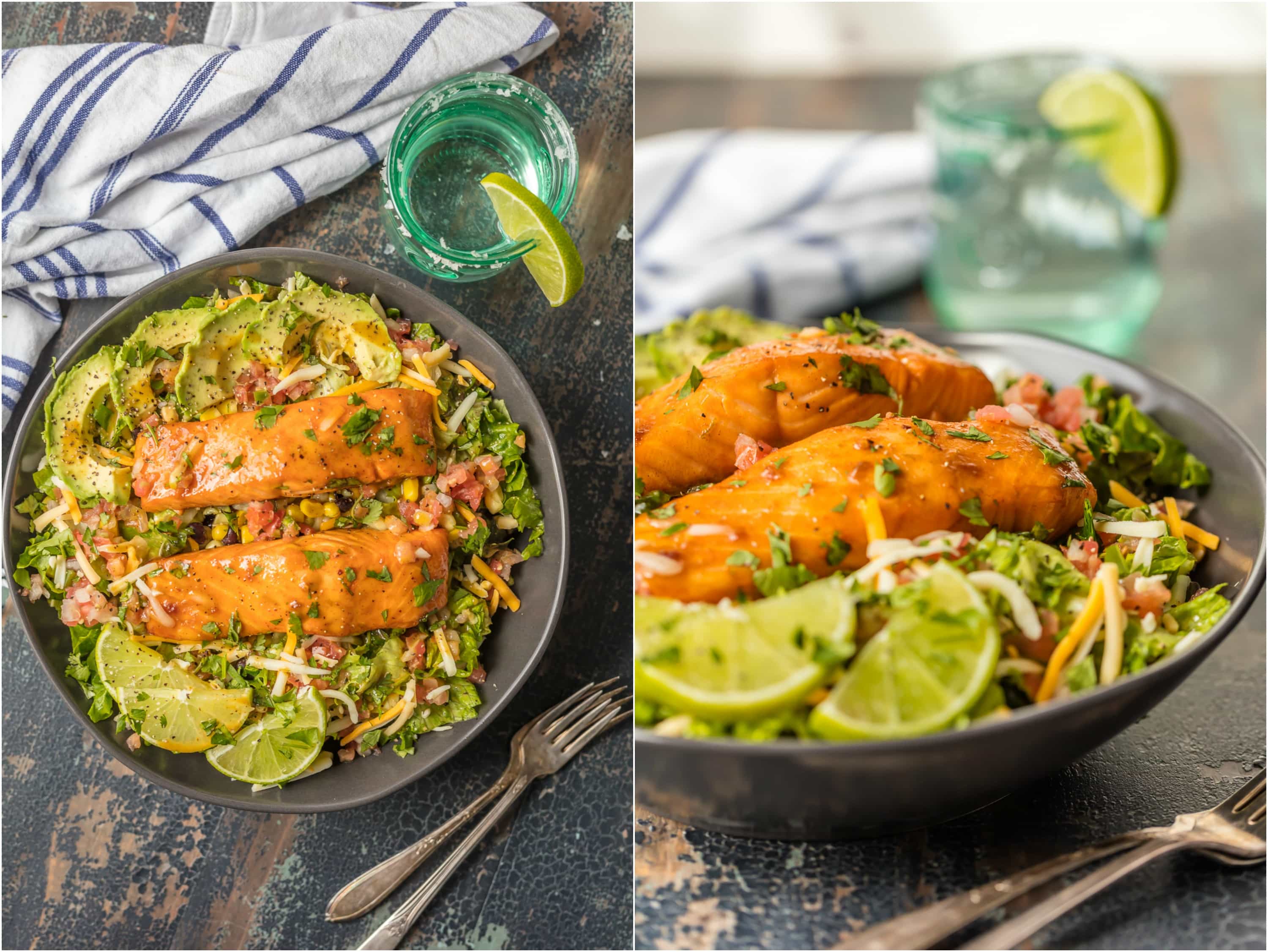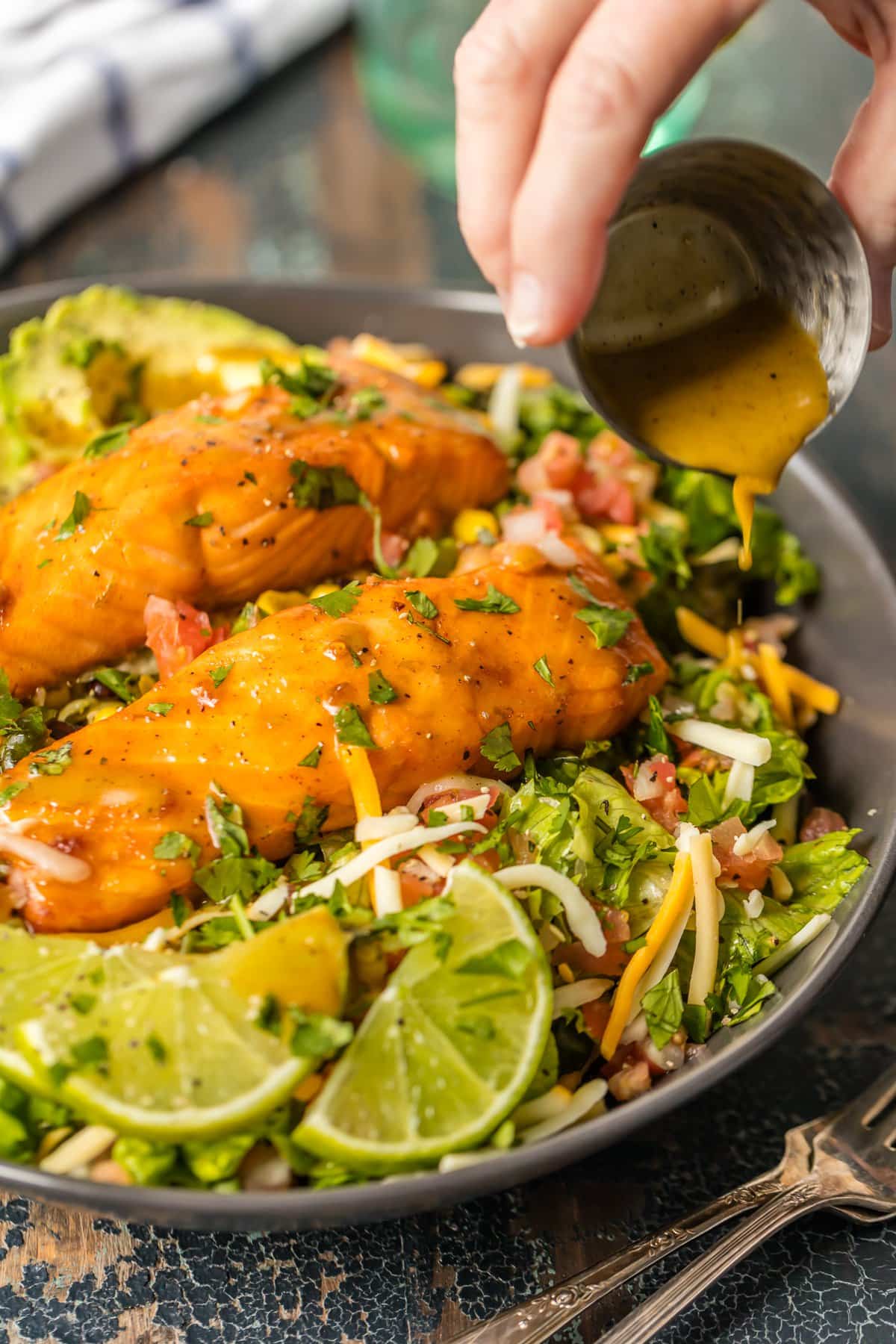 Healthy Salmon Salad Recipe
If it's a hearty and healthy salad that you're craving, than this Tequila Lime Salmon Salad recipe is the recipe for you! Tex Mex flavors have always been one of my favorites, and this easy and healthy way to have all the taste and none of the fuss. This salad is just perfect for the busy lunches and dinners I know we all fly through from time to time.
The best part is that this healthy salad recipe is full of things that are good for you. There is a well-rounded list of nutrients here. Win!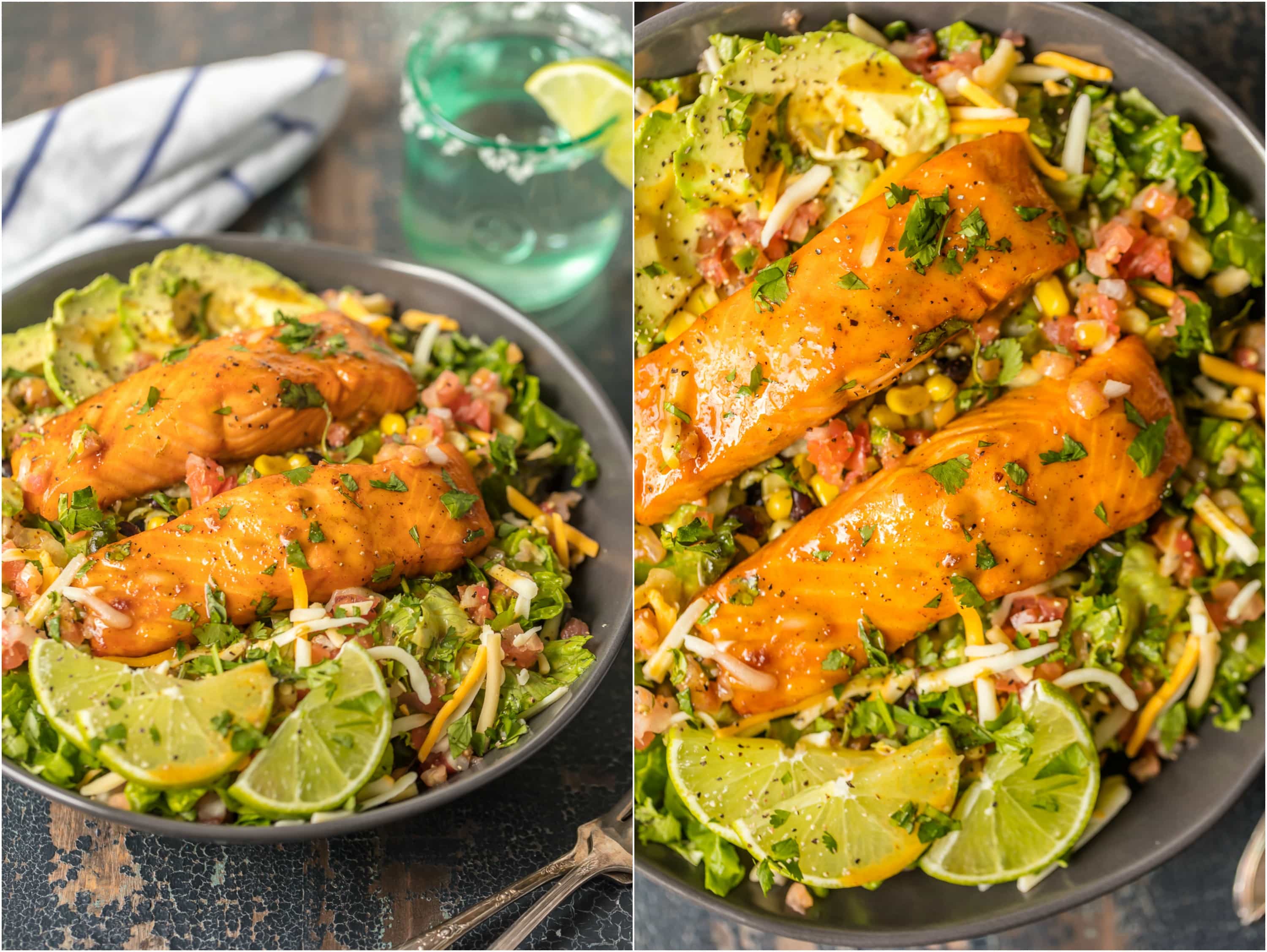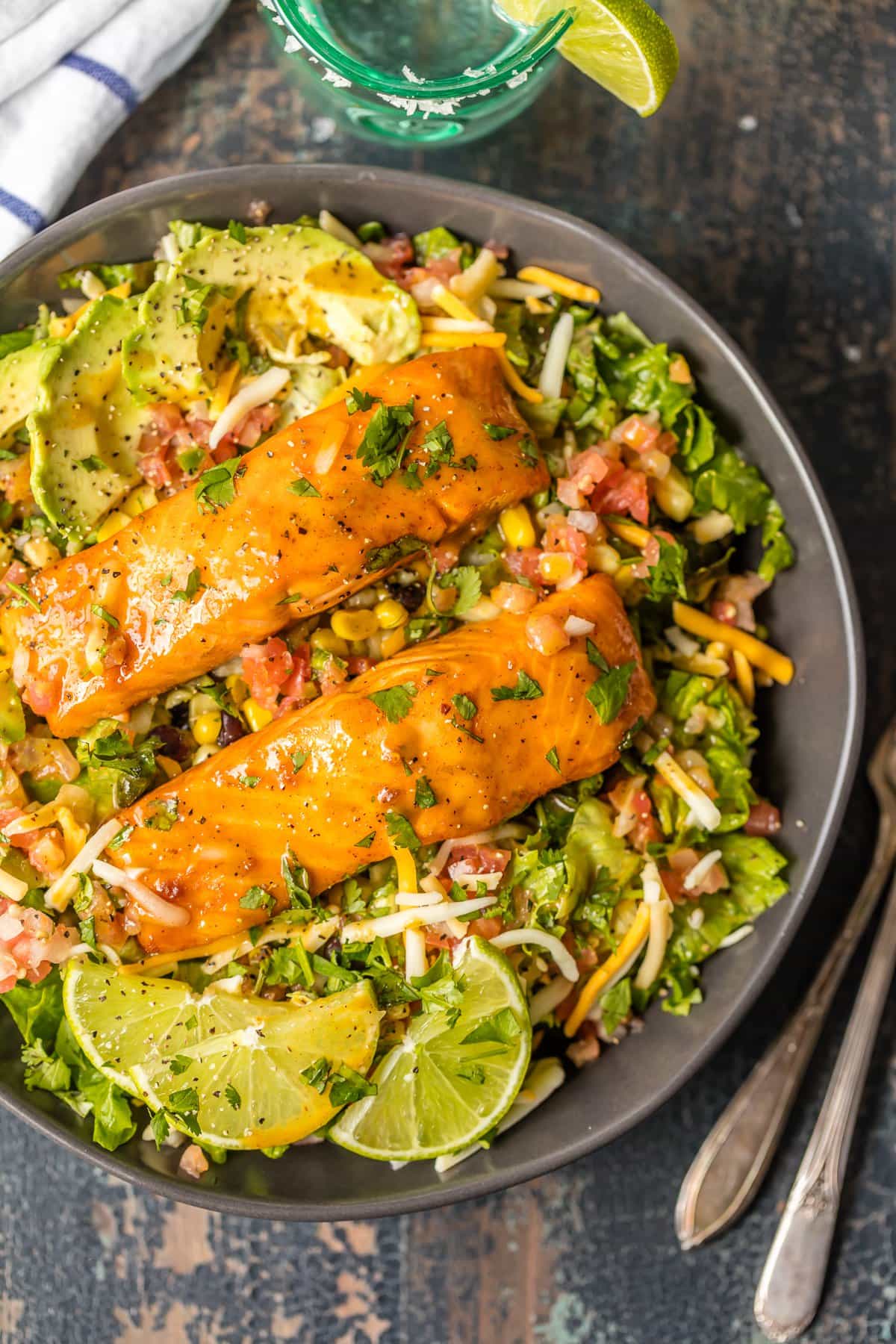 I just love this Tequila Lime Salmon Salad recipe. It's SO delicious, so easy to make, and so filled with flavor. Make this your new go-to lunch at the office or at home!
See the recipe card below for details on how to make this salmon salad recipe. Enjoy!
If you like this salmon salad recipe, try these other easy salmon recipes too:
A few more tasty salmon recipes from around the web: Rainbow Salmon Skewers, Sriracha Glazed Salmon Bites, and Sweet and Spicy Orange Salmon!