Herb Crusted Salmon with Goat Cheese Polenta is our favorite easy healthy recipe! So much flavor and oh, so simple.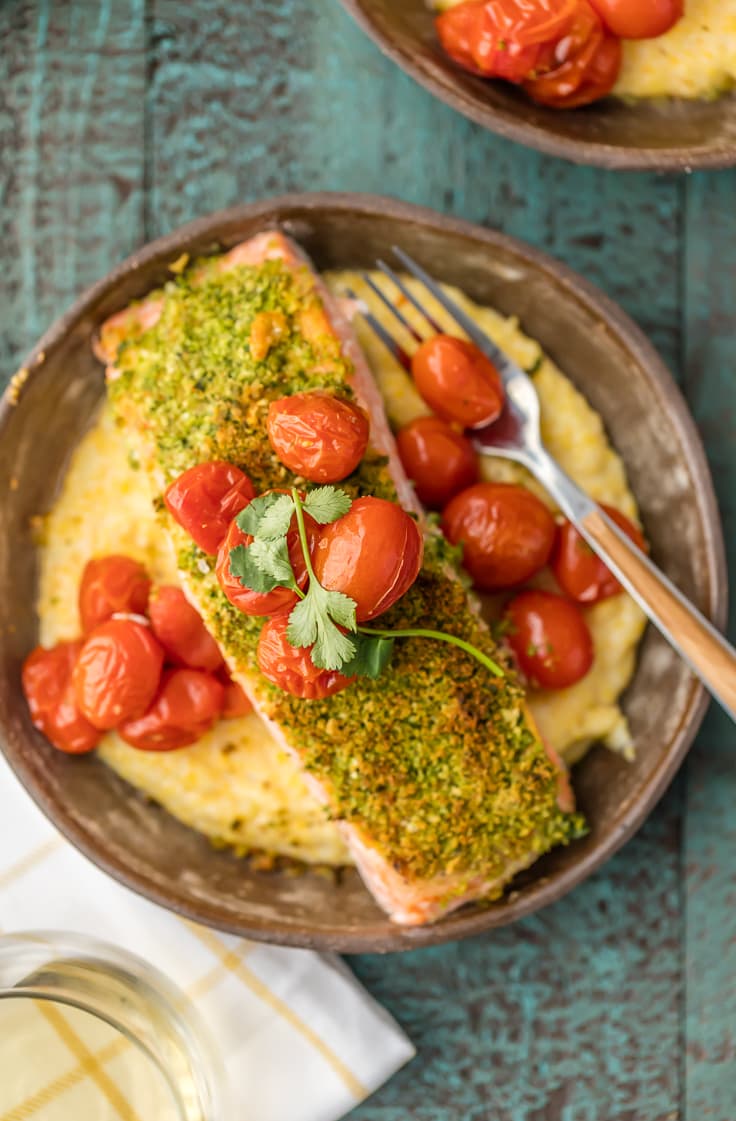 When I lived in Florida, I was a waitress for a little while at a martini bar known for it's awesome chef (hi SWEET PETE!). Every night, we would get to dine on the best the city had to offer, and my favorite was a simple salmon over goat cheese polenta. Something about the flavors of the herb crusted salmon, the creamy cheesy polenta, and the oven burst tomatoes was straight up heaven when eaten all together. My weakness! This isn't the exact recipe, but I've worked pretty hard to get the taste as close as possible.
This Herb Crusted Salmon with Goat Cheese Polenta is SO FLAVORFUL…it's always a favorite at our house!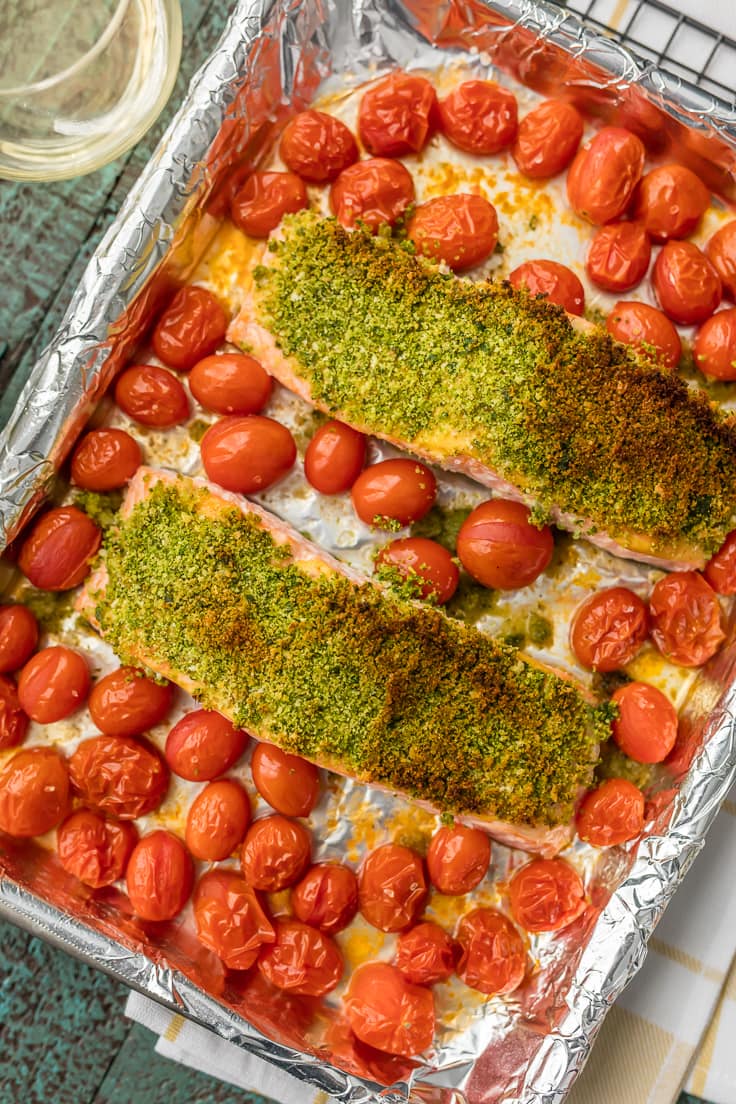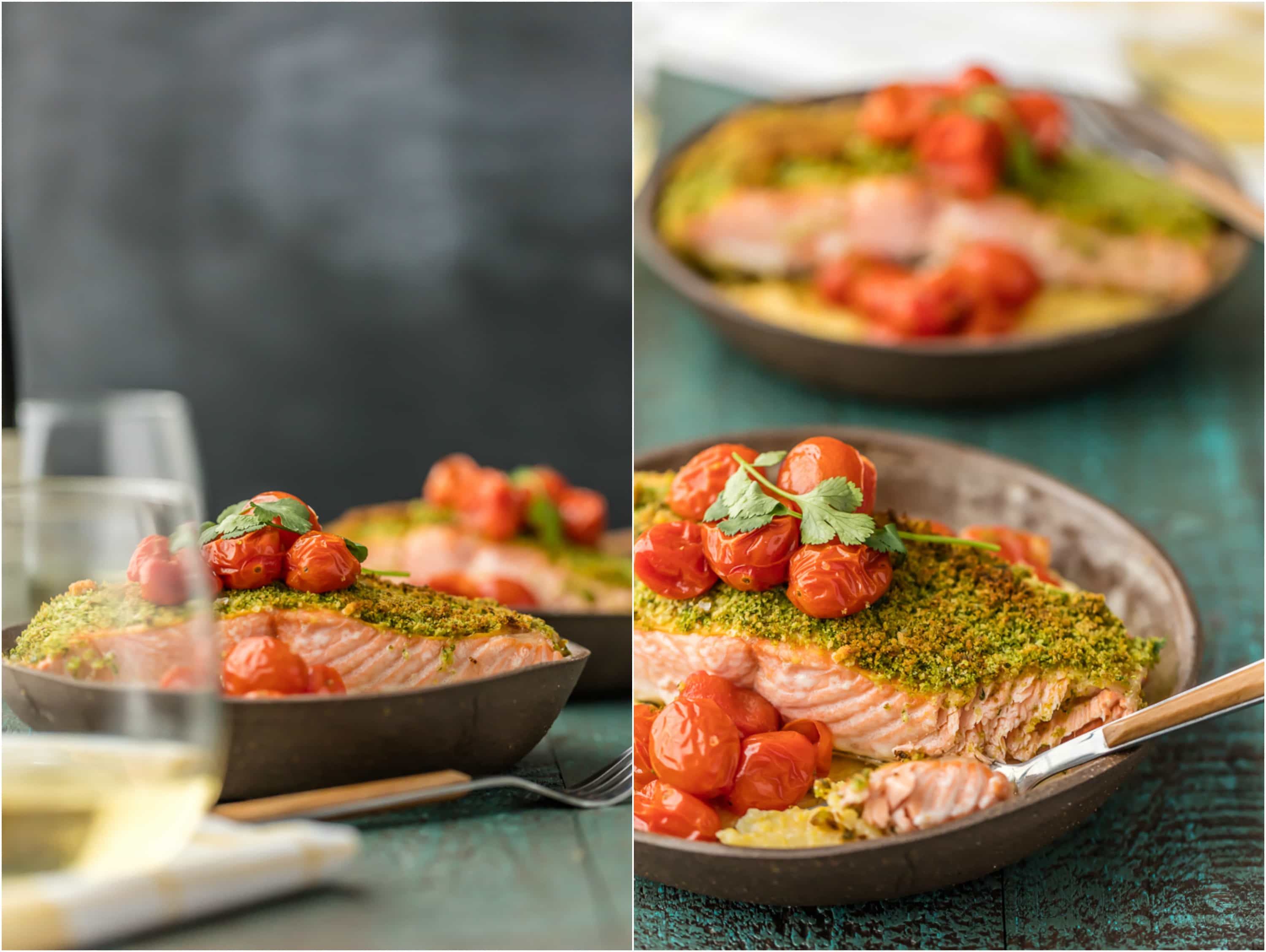 YOU GUYS. Just so much flavor in this easy salmon recipe. Pat just kept taking more bites and saying "yeah. this is GOOD. Yeah! Really good.". I'm not married to the most demonstrative fella, so when he gets excited, I get extra excited. Wife win on Valentine's Day!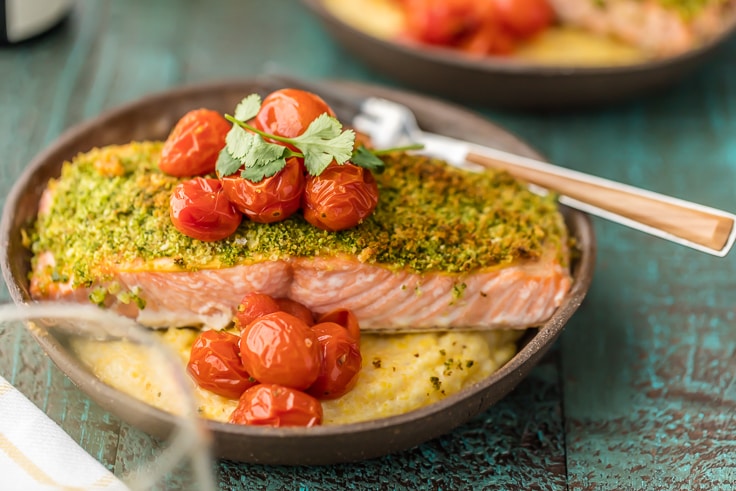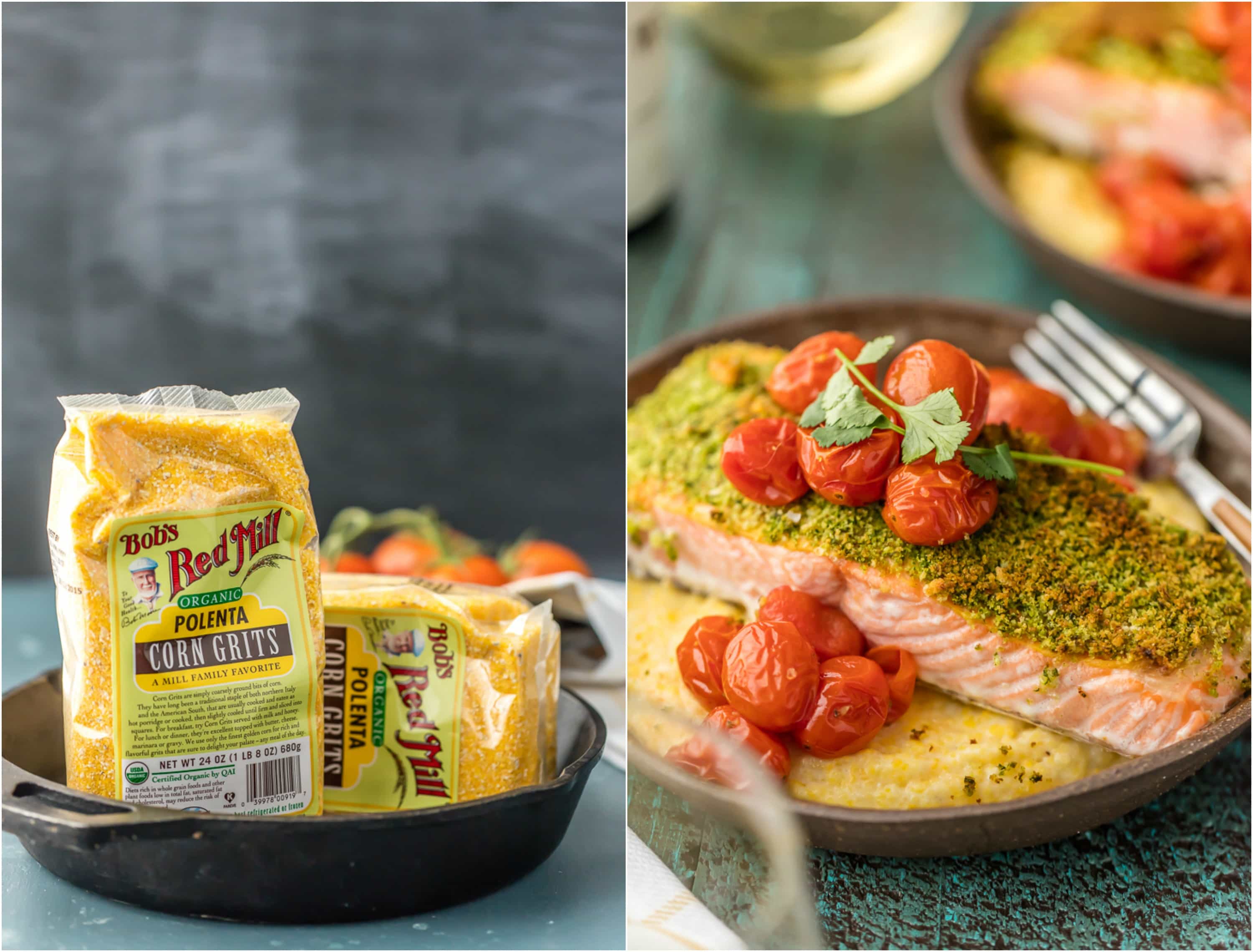 I'm beyond excited to be working with Bob's Red Mill this year. I have loved their products for so long. They have such variety and such quality, I want to shout it from the rooftops. You might remember me using their oats for Scout's Apple and Oat Pretzel Dog Treats. Only the best for my main girl. Bob's Red Mill is second to none, and their Organic Corn Grits Polenta are so creamy, flavorful, and also EASY. So much to love.
Polenta is so versatile. You can add a bit of sweetness, fruits and honey, to make the perfect breakfast; or you can add some savory spice or cheese (GOAT CHEESE) to make the perfect dinner complement. I'm literally obsessed with this goat cheese polenta recipe!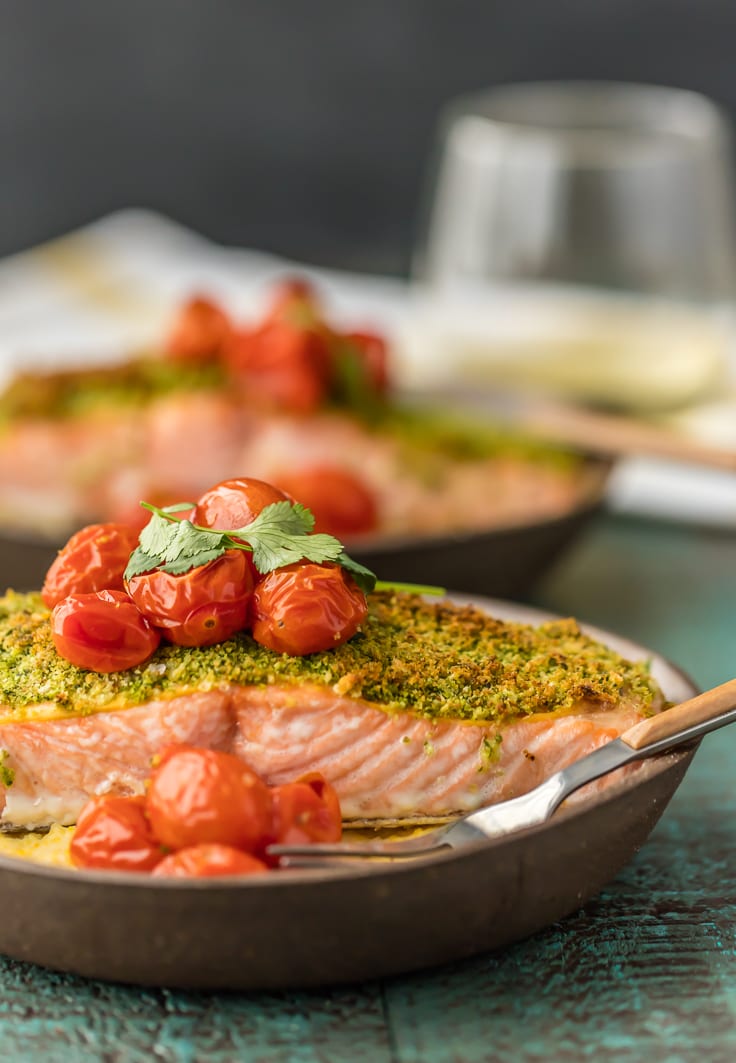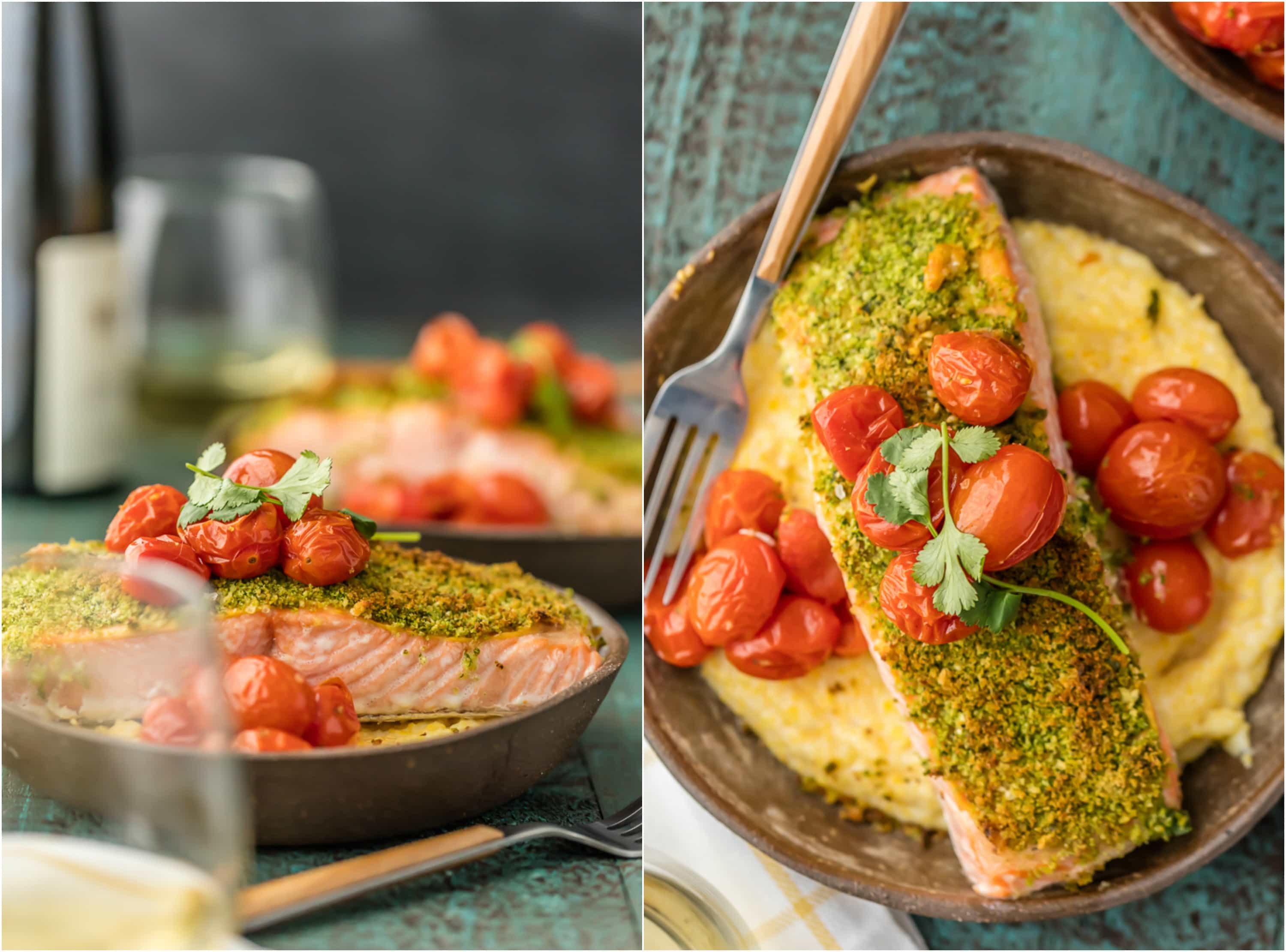 We have found a new favorite in this Herb Crusted Salmon with Goat Cheese Polenta. I hope you love it as well!
Made start to finish in under 30 minutes…what's not to love?! Enjoy.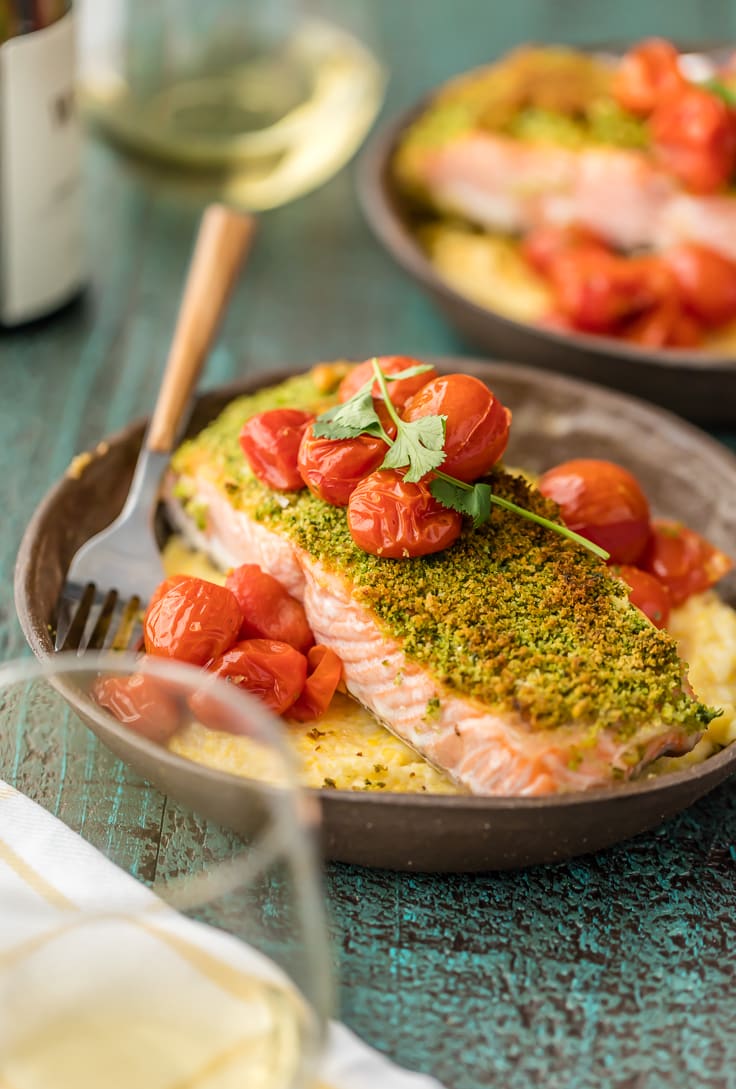 Herb Crusted Salmon with Goat Cheese Polenta
Herb Crusted Salmon with Goat Cheese Polenta
10 minPrep Time
20 minCook Time
30 minTotal Time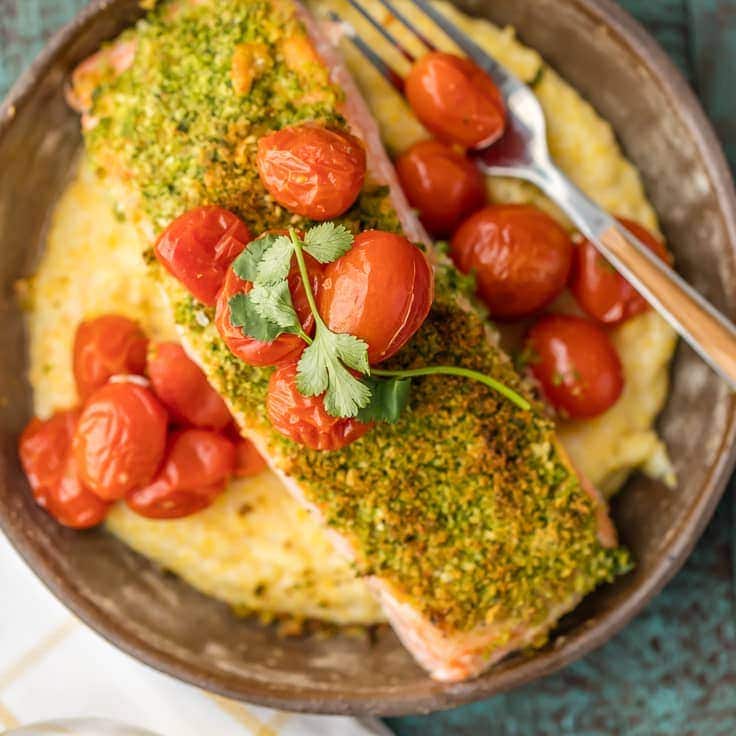 Ingredients
4 (6 ounce) salmon fillets
2 tablespoon dijon mustard
2 cups cherry tomatoes
1 cup fresh parsley, chopped
1/2 cup fresh basil, chopped
1 clove garlic, minced
1 1/2 cup bread crumbs or panko
2 tablespoons olive oil
1 teaspoon salt
1 1/2 cups corn grits polenta (I use Bob's Red Mill)
4 cups water
5 ounces goat cheese
salt and pepper to taste
Instructions
Preheat oven to 450F
Line a baking sheet with foil and spray with nonstick spray.
In a high powered blender or food processor, combine the parsley, basil, garlic, bread crumbs (or panko), olive oil, and salt. Blend until fully combined and minced. Set aside.
Place the salmon fillets on the baking sheet and lay the tomatoes around the tomatoes.
Spread 1/2 tablespoon of dijon mustard onto each salmon fillet in a thin layer.
Top each piece of salmon with a heaping spoonful of the herb mixture. Press down to make sure it attaches and forms a crust on each piece.
Bake for 15-20 minutes or until the salmon is cooked and flaky throughout.
While salmon is cooking, prepare the polenta. In a large heavy pan, bring the water and salt and pepper to taste to a boil.
Stir in the polenta and reduce to a simmer. Simmer for 15-20 minutes or until its thickened to your liking. Turn off the heat and stir in the goat cheese.
Spoon some polenta into each bowl and top with salmon and tomatoes. Eat it all together, the flavors are incredible! Enjoy!
7.8.1.2
2168
https://www.thecookierookie.com/herb-crusted-salmon-goat-cheese-polenta/
This recipe was written in a partnership with Bob's Red Mill. As always, all opinions are 100% my own. Thank you SO much for supporting the brands that help support The Cookie Rookie!