Herb Crusted Salmon with Goat Cheese Polenta is our favorite easy salmon recipe! This crusted salmon has so much flavor, and when mixed with roasted tomatoes and cheesy polenta, it makes the perfect healthy salmon and polenta meal.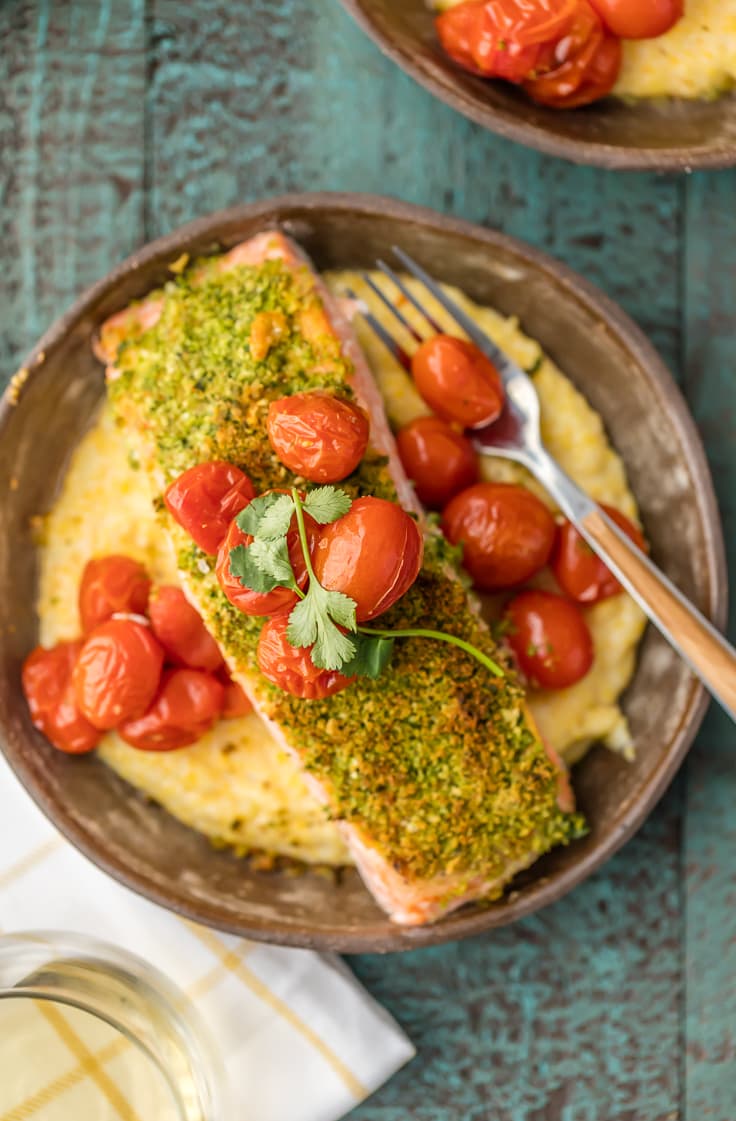 Herb Crusted Salmon
This herb crusted salmon recipe is perfectly complemented by the amazing goat cheese polenta for an easy and healthy meal!
When I lived in Florida, I was a waitress for a little while at a martini bar known for it's awesome chef (hi SWEET PETE!). Every night, we would get to dine on the best the city had to offer, and my favorite was a simple salmon over goat cheese polenta. Something about the flavors of the herb crusted salmon, the creamy cheesy polenta, and the oven burst tomatoes was straight up heaven when eaten all together. My weakness! This isn't the exact recipe, but I've worked pretty hard to get the taste as close as possible.
Salmon is the perfect thing to cook for a healthy dinner. Served with easy-to-make goat cheese polenta, you just can't go wrong! This baked salmon recipe is definitely a favorite, something I'll never get tired of eating. Yum!
This Herb Crusted Salmon with Goat Cheese Polenta is SO FLAVORFUL…it's always a favorite at our house!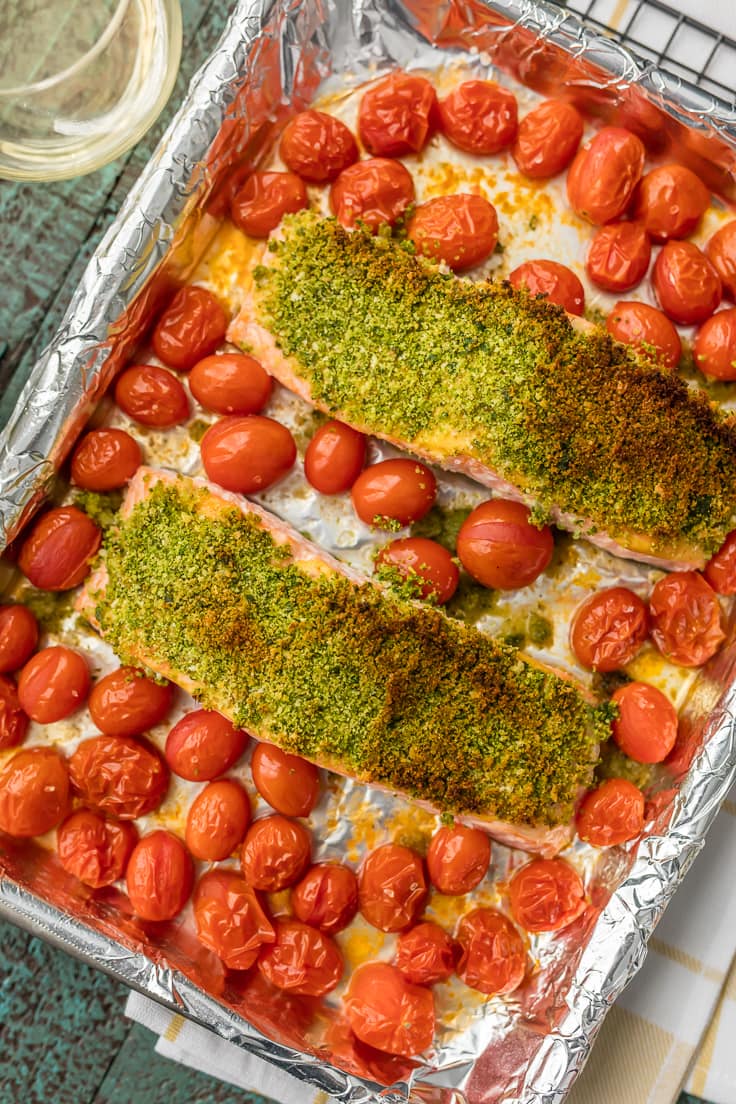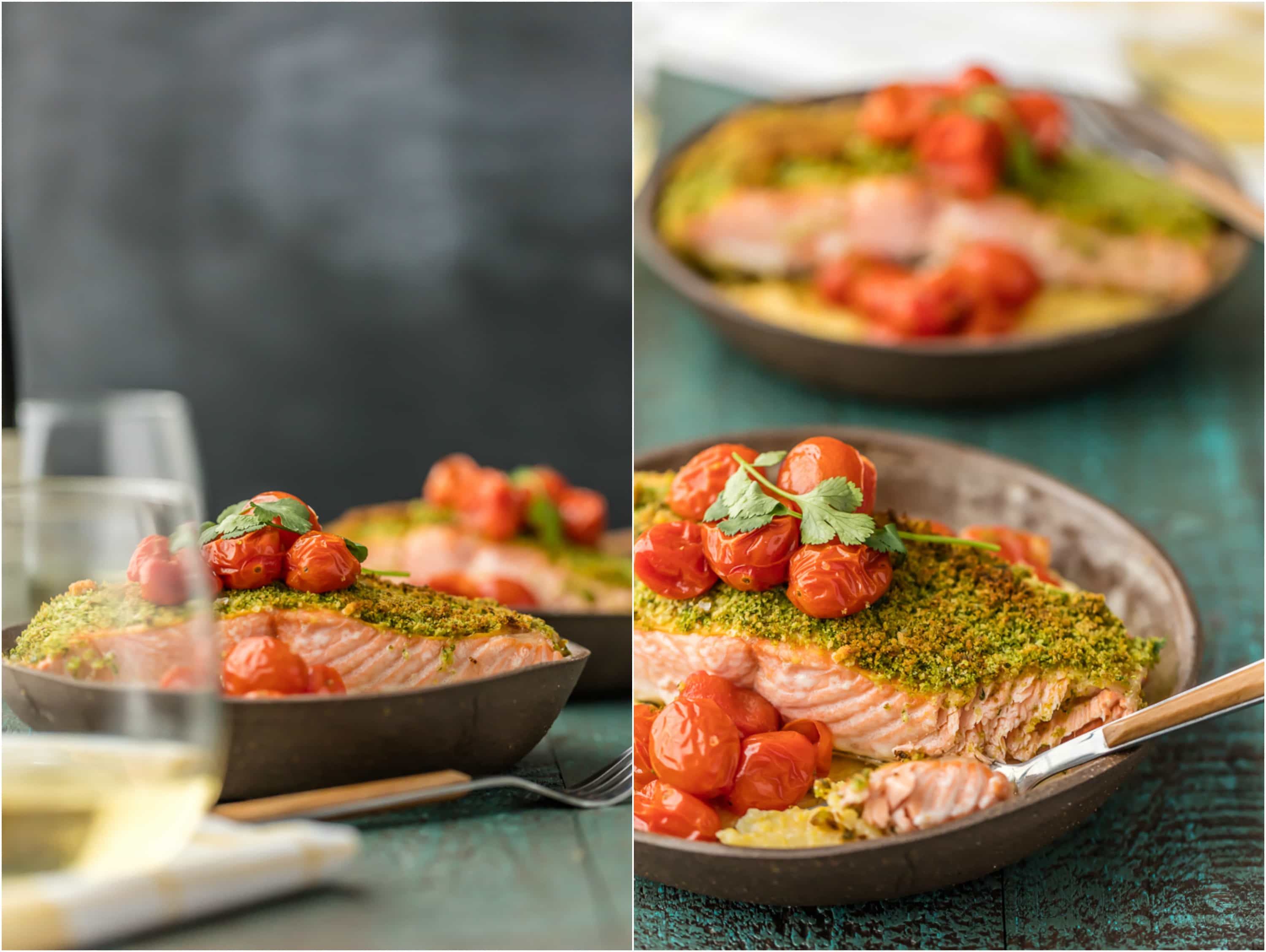 Easy Baked Salmon and Polenta Recipe
There is just so much flavor in this easy baked salmon and polenta recipe. Pat just kept taking more bites and saying "yeah, this is GOOD. Yeah! Really good!". I'm not married to the most demonstrative fella, so when he gets excited about something I cooked, I know I did something right!
I mean, what's not to love about flavorful herb crusted salmon baked to perfection in the oven? The herb mix is amazing (parsley, basil, garlic, bread crumbs, olive oil, salt), and combined with the dijon mustard we spread onto the salmon fillets, the flavor is just out of this world! And of course I can't forget the delicious goat cheese polenta (just stir goat cheese into the polenta when it's finished cooking) to finish off the dish.
This is a great recipe for special occasions and romantic dinners, but it's also just as easy to make for an every night meal! Healthy salmon plus cheesy polenta? The best of both worlds!
Find more EASY Salmon recipes right here!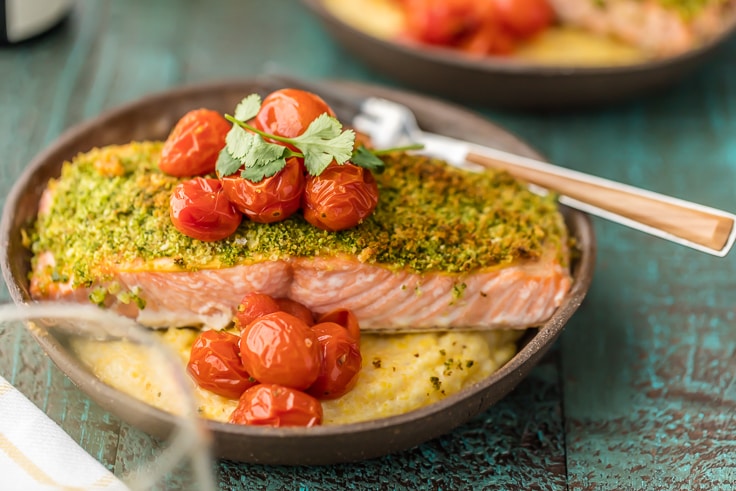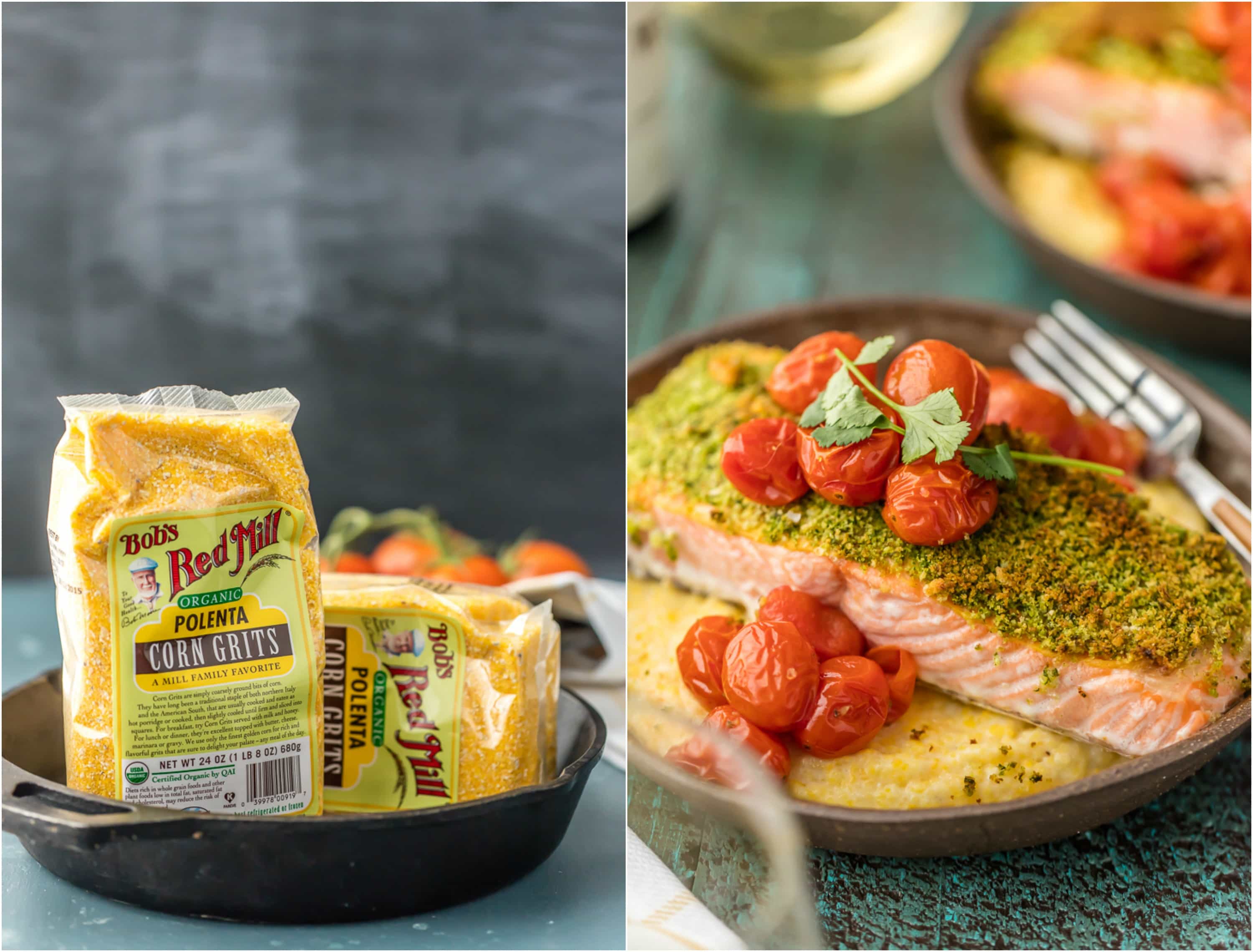 Goat Cheese Polenta
I'm beyond excited to be working with Bob's Red Mill this year. I have loved their products for so long. They have such variety and such quality, I want to shout it from the rooftops. You might remember me using their oats for Scout's Apple and Oat Pretzel Dog Treats (only the best for my main girl). Bob's Red Mill is second to none, and their Organic Corn Grits Polenta are so creamy, flavorful, and also EASY. So much to love.
Polenta is so versatile. You can add a bit of sweetness with fruits and honey to make the perfect breakfast. Or you can add some savory spice or cheese (GOAT CHEESE) to make the perfect complement to a delicious dinner. I'm literally obsessed with this goat cheese polenta recipe and I think you will be too once you try it. It's the best thing to pair with this herb crusted salmon!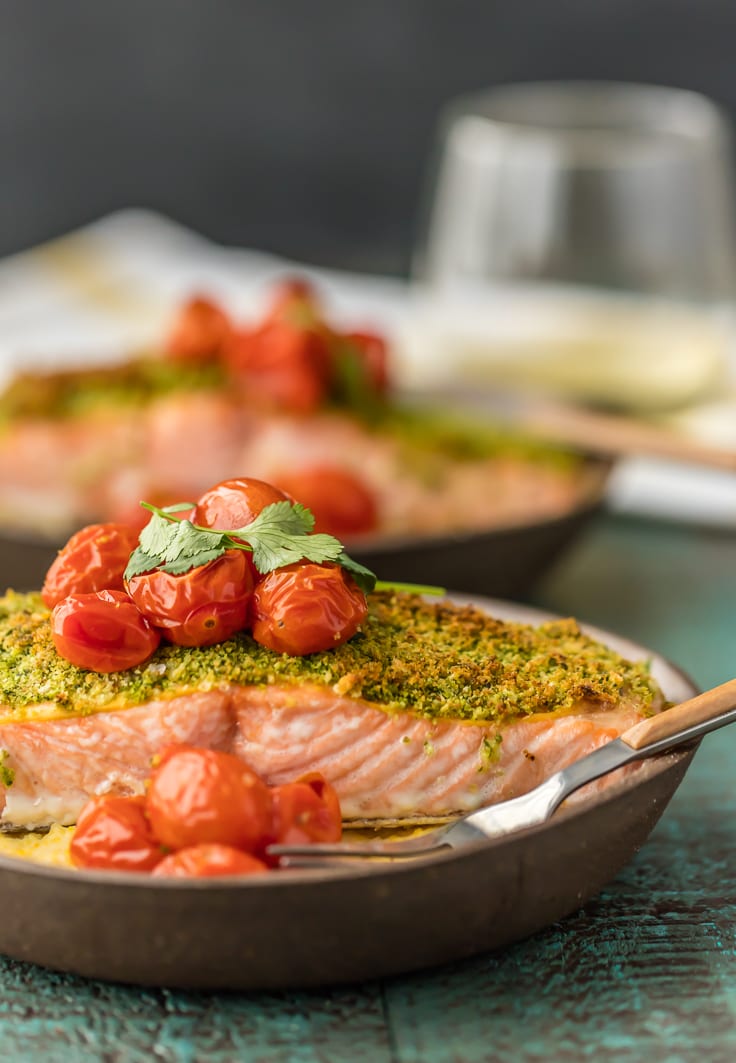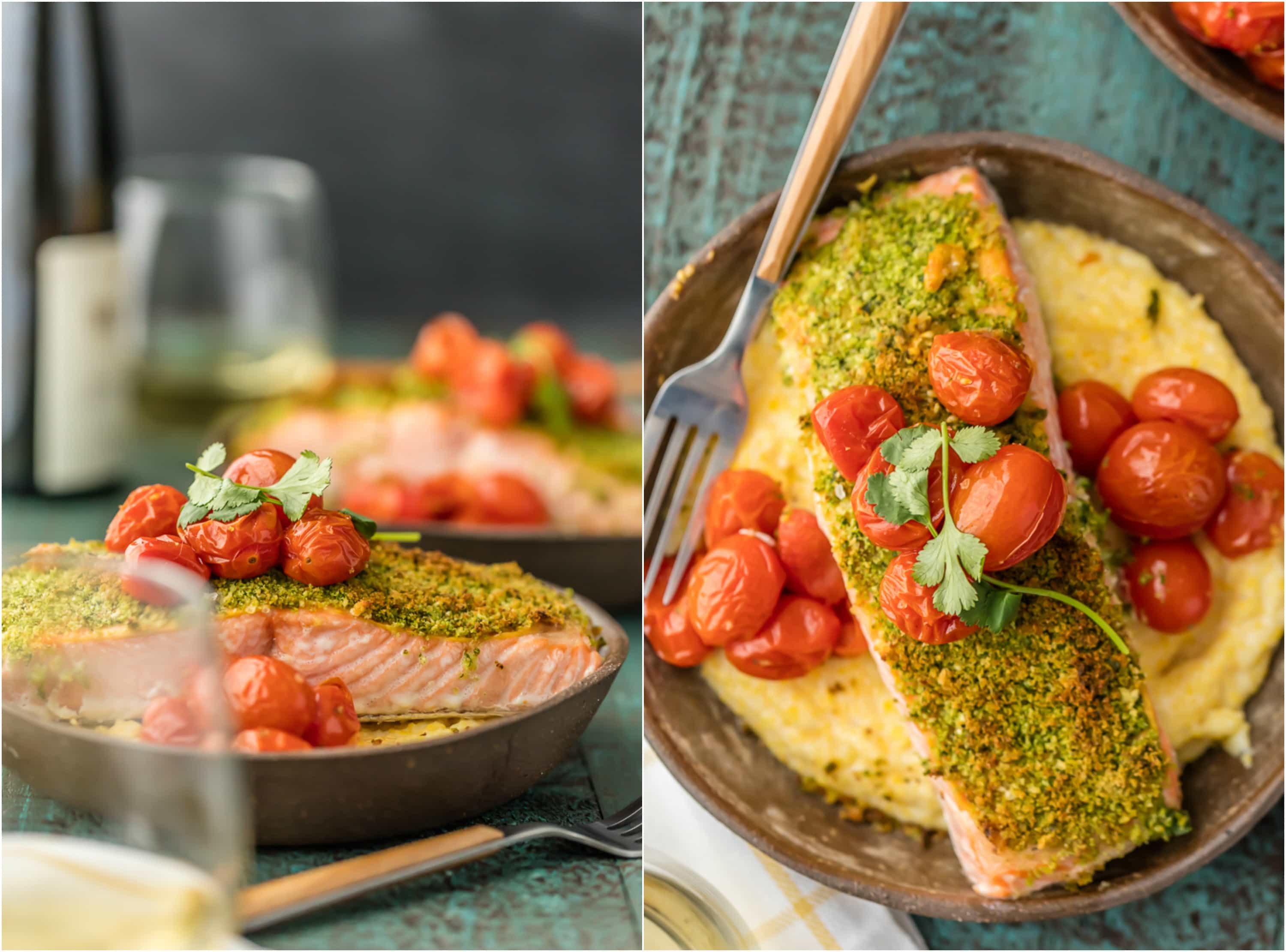 How to Make Herb Crusted Salmon – Step by Step
This entire dinner is SO easy to make, which is of course part of why I love it so much. When something is totally delicious but ALSO healthy and easy? That's the real weeknight dinner trifecta!
The herb mix and dijon mustard add so much flavor to the baked salmon fillets, and the cheesy polenta and roasted tomatoes add an extra savory touch. That's an entire meal made in about 30 minutes!
How to make herb crusted salmon:
Combine parsley, basil, garlic, bread crumbs, olive oil, and sea salt in a food processor (or high powered blender) until it becomes a fine, minced mixture.
Place the salmon fillets on a prepared baking sheet, the lay the tomatoes around the salmon.
Spread 1/2 tablespoon of dijon mustard onto each salmon fillet, then top each fillet with a large spoonful of the herb mixture. Press the herbs into the dijon to form the crust.
Bake salmon for 15-20 minutes at 450°.
While the salmon is baking, prepare the polenta.
How to make goat cheese polenta:
Bring a pot of water (with salt & pepper) to a boil.
Stir in the polenta, then reduce heat and let it simmer for 15-20 minutes, until the polenta becomes thick.
When it's done cooking, turn off the heat and stir in the goat cheese.
To serve the salmon and polenta meal: fill each bowl with a good helping of goat cheese polenta, place the herb crusted salmon fillet, then top with some of the roasted tomatoes. All done and ready to eat! Check the recipe card for more detailed instructions.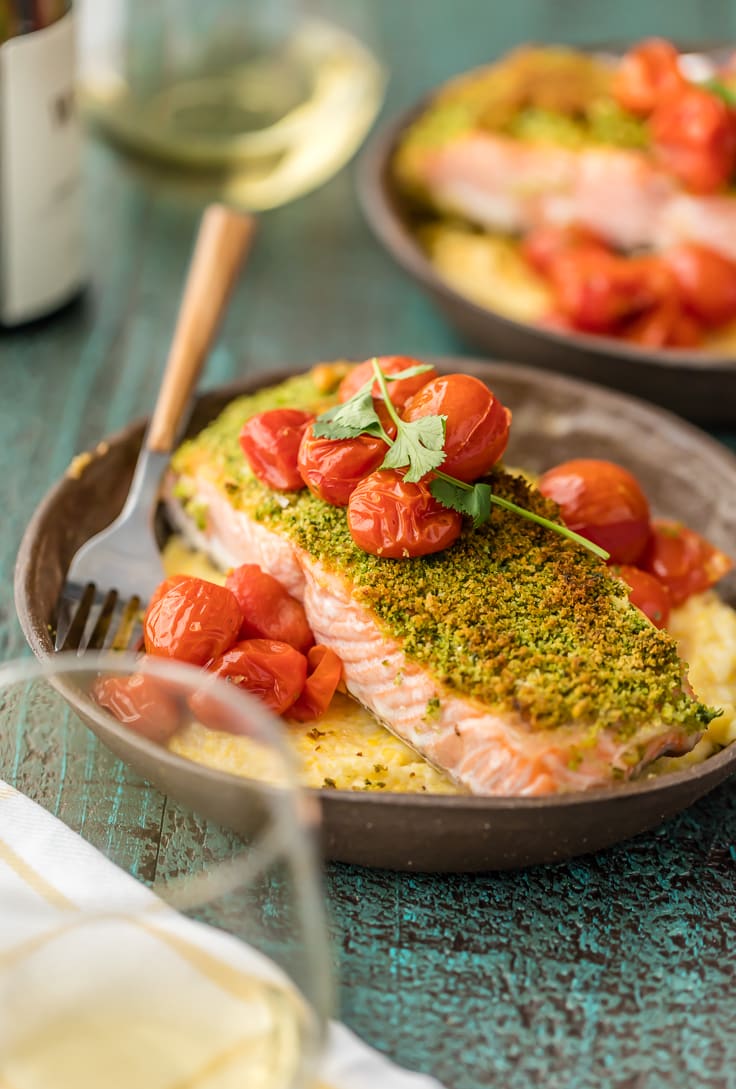 We have found a new favorite in this Herb Crusted Salmon with Goat Cheese Polenta. I hope you love it as well! Made start to finish in under 30 minutes…what's not to love?!
See the recipe card below for details on how to make Herb Crusted Salmon with Goat Cheese Polenta. Enjoy!
If you like this recipe, you'll love these other healthy salmon recipes too: