This HOISIN SALMON AND ASPARAGUS RECIPE has it all! It's a simple and healthy seafood recipe made entirely on ONE SHEET PAN. So much flavor and so little prep/cleanup. So much to love about this sheet pan glazed salmon.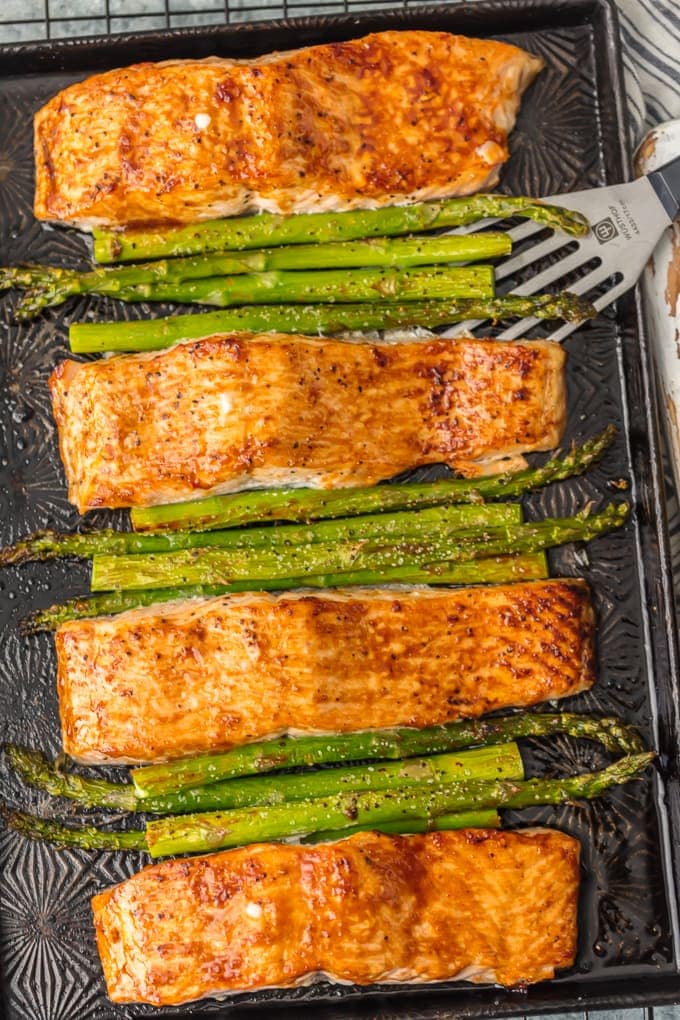 Salmon and Asparagus Recipe with Hoisin Glaze (One Pan Recipe!)
You guys. I'm an absolute SUCKER for sheet pan suppers. I'm obsessed. There's just something so wonderful about only having ONE pot or pan to clean up after dinner is done. I also love with the side dish and main course cook together. Isn't that totally magical?
This Hoisin Glazed Salmon and Asparagus is one of our new favorite healthy sheet pan suppers and we have already found ourselves making it again and again. You are in for a treat!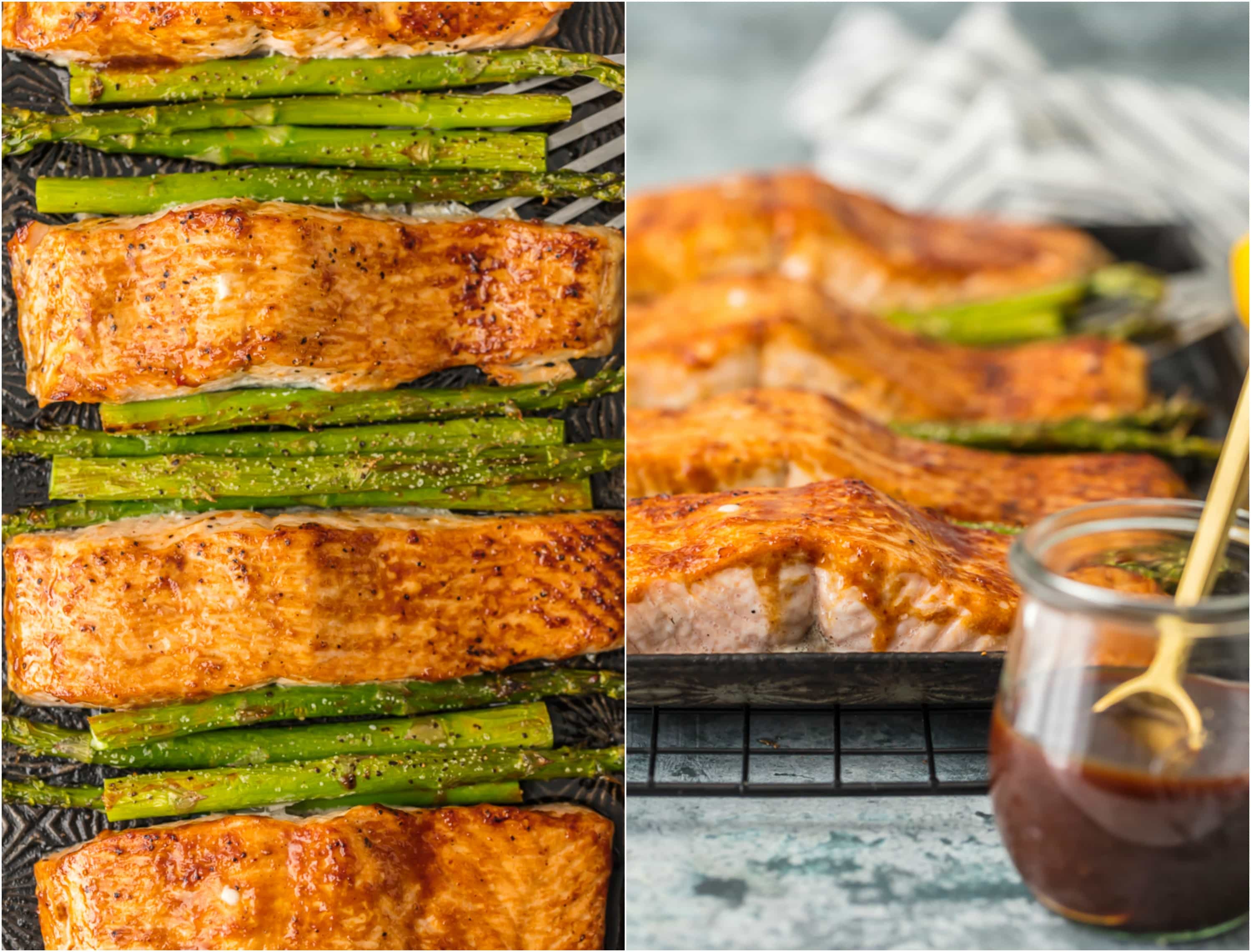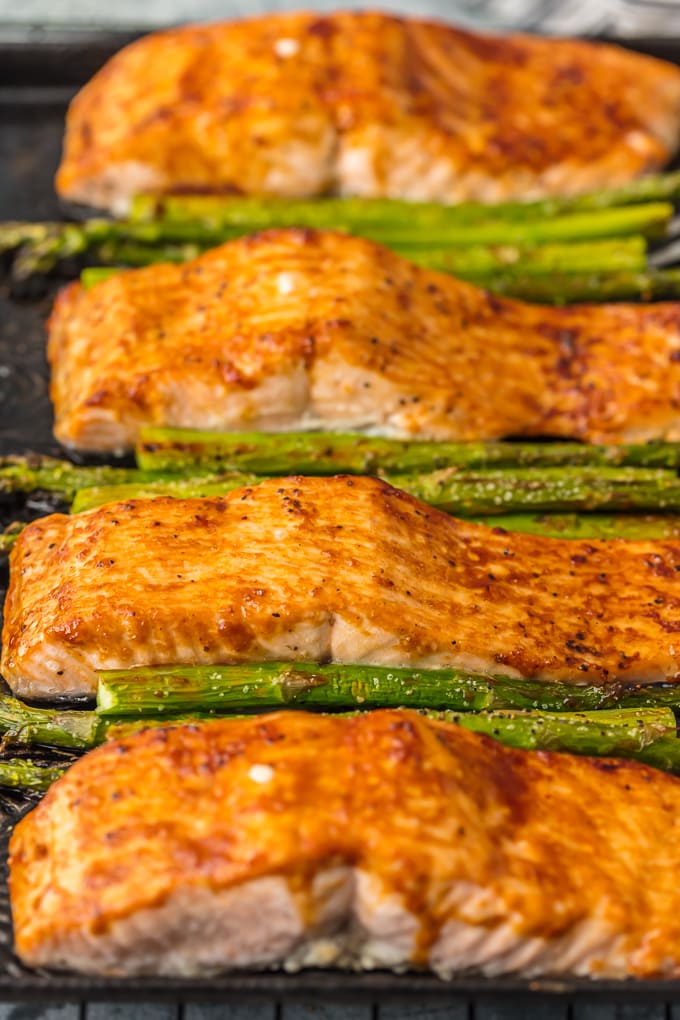 What is hoisin sauce and what does it taste like? And where can I find it??
Girrrrrl (or guy), I'm right there with you. I'm called the Cookie ROOKIE for a reason. I don't always know about all the cool sauces and flavors and terms. Hoisin Sauce is an Asian flavors sauce made from a mixture of soy, garlic, vinegar, chili, and sweetener. It's usually dark in color and slightly thick, making it the perfect sauce to pour over this salmon.
It can be found in the sauce or Asian aisle of your local grocery store or you can make your own! I'm choosing the easy route here by using store bought, and I don't have any guilt at all about that. Sheet pan suppers are supposed to be EASY and SIMPLE and there's no need to over complicate things!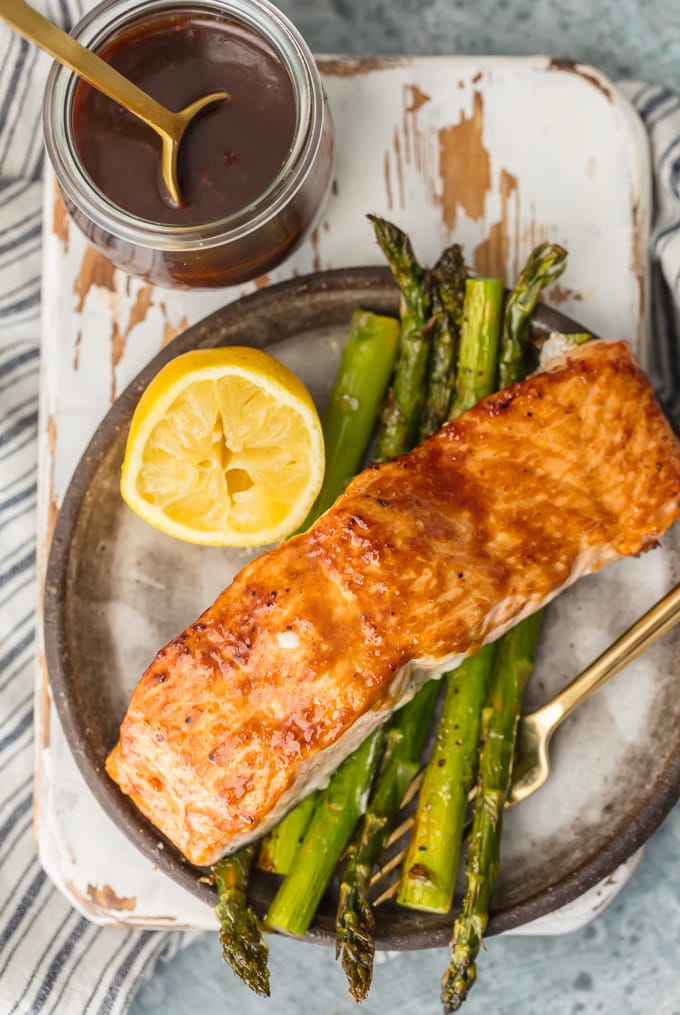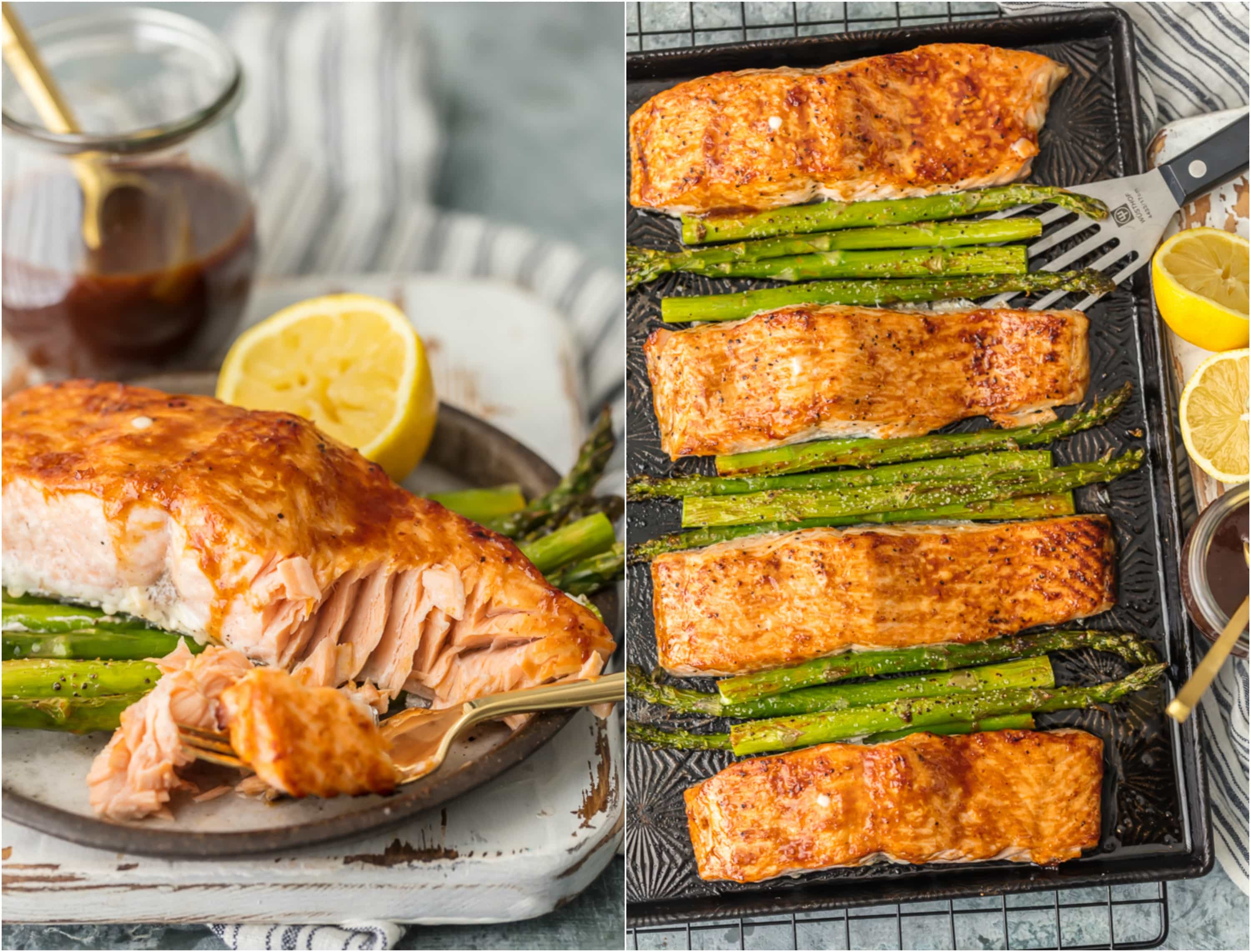 Can you bake salmon and asparagus together on the same pan. Is Salmon and Asparagus healthy?
This may seem like a silly question since this recipe shows baking them all together, but I'm here to tell you you can use the same temperature and same cooking times for both the salmon and asparagus. The salmon will come out flakey and tender, and the asparagus will still have just the right amount of crunch but be fully cooked through. I love the way the flavors blend to create the perfect flavorful seafood dish.
This meal is definitely on the healthier side, although the hoisin sauce does add some calories. The salmon and asparagus without the sauce is under 300 calories! If you prefer a much healthier version, simply drizzle the salmon and veggies with some lemon juice and veggies but keep the cook times the same. Delish! (I mean I'm all about the sauce but you get the idea)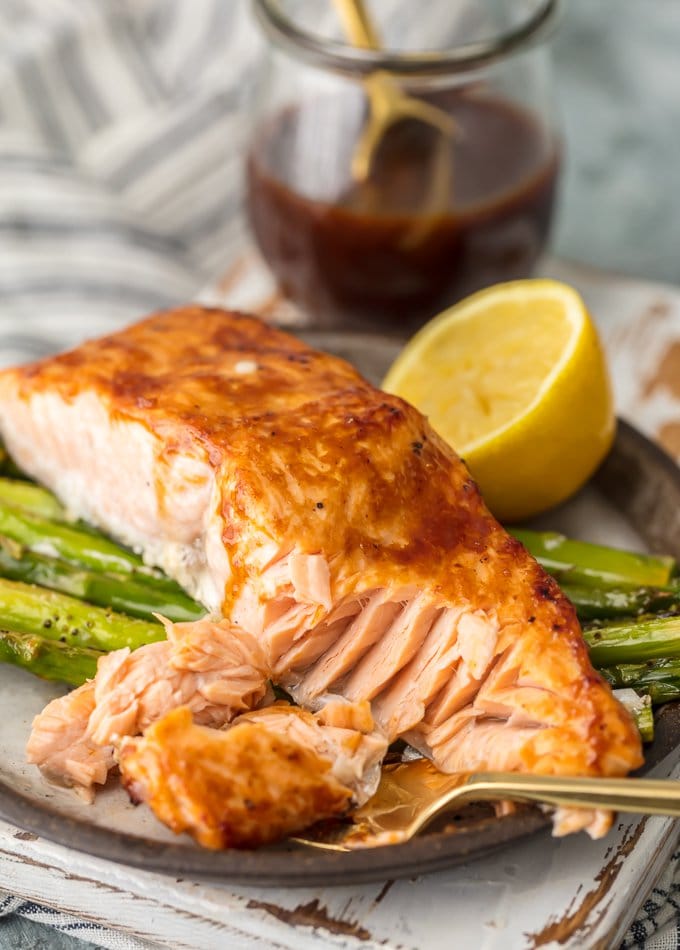 Can you freeze and recook salmon? How long would this Salmon and Asparagus recipe last in the fridge?
You can store the cooked salmon in the freezer for 4-6 months or in the fridge for 2-3 days as long as it is cooked through fully (proper internal temp should be 145F for Salmon). This makes a great reheated dinner the next night if it's just the two of you like us. I don't always recommend taking fish to work for a reheated lunch because…you don't want your coworkers to hate you HA! But it's delish the next day…I actually ate it for two days last time we made it!
I hope you give this Sheet Pan Salmon and Asparagus with Hoisin Sauce a try. Let me know how you like it! If you're in the mood for other healthy sheet pan suppers be sure to check out our Sheet Pan Chicken Fajitas or Sheet Pan Chicken Parmesan! You can also see all of our Seafood Recipes and pick your dinner!
See the recipe card below for How to Make Salmon and Asparagus. Enjoy!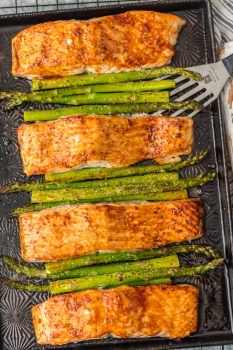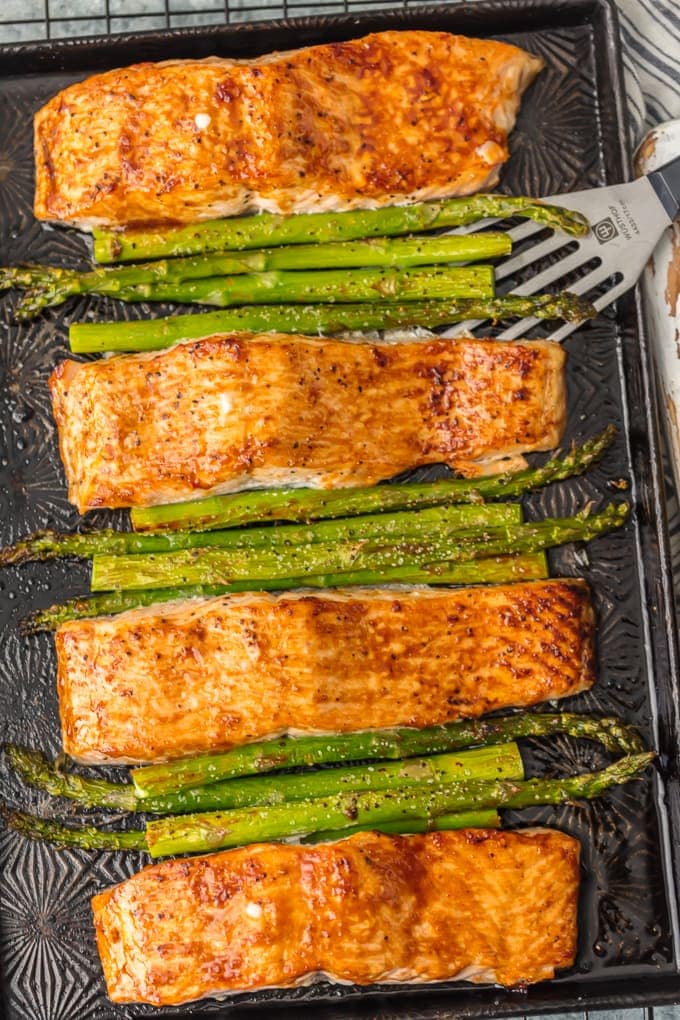 Hoisin Salmon and Asparagus Recipe
This HOISIN SALMON AND ASPARAGUS RECIPE has it all! It's a simple and healthy seafood recipe made entirely on ONE SHEET PAN. So much flavor and so little prep/cleanup. So much to love about this sheet pan glazed salmon.
Print
Ingredients
4

6-ounce center-cut, skin-on salmon fillets

Kosher salt

Freshly ground black pepper

1

pound

thin or medium-size fresh asparagus
For the Hoisin Marinade/Glaze:
½

cup

hoisin sauce

1

tablespoon

grated fresh ginger or 1½ tablespoons ginger paste

2

tablespoons

low-sodium soy sauce

1

tablespoon

vegetable oil

6

scallions or green onions

sliced diagonally, divided

¼

teaspoon

crushed red pepper

red pepper flakes
For Cooking:
Olive oil for drizzling

1

fresh lemon

halved
Garnishes:
Sliced scallions

Chopped fresh cilantro

Fresh lemon slices
Instructions
For the Salmon:
Pat the salmon dry with paper towels and lightly salt and pepper both sides. Place the salmon in a zipper-lock plastic bag.

In a small bowl, whisk together the hoisin sauce, ginger, soy sauce, vegetable oil, half of the scallions and the crushed red pepper. **Reserve 2 tablespoons of the marinade to use as the glaze when cooking the salmon. Pour the remaining hoisin glaze/marinade over the salmon in the bag, seal the bag, pressing out as much air as possible. Refrigerate at least 30 minutes but no longer than 10 hours. While the salmon marinates, flip the bag over 3-4 times to ensure it marinates evenly.

Refrigerate the reserved glaze in a small airtight container until ready to use.
For the Asparagus:
Wash and dry the asparagus. Cut off the woody ends and peel any thick spears from about halfway up toward the root end. Do NOT peel the tips and be careful not to peel too much of the core, which is sweet.

Wrap in a paper towel and refrigerate until ready to use. This asparagus doesn't need to be peeled.
When ready to cook:
Remove the salmon and asparagus from the fridge 15 minutes before cooking. Set the oven rack to the middle position, and heat the oven to broil. Cover a rimmed baking sheet with foil and spray the foil with nonstick cooking spray.

Transfer the salmon to the middle of the prepared baking sheet and lay it skin-side down about 1-inch apart. Place half of the asparagus on each side of the salmon and lightly salt and pepper the asparagus. Drizzle the salmon and asparagus with a little olive oil, and spoon 1-tablespoon marinade over each salmon fillet. Drizzle the salmon and asparagus with the juice from ½ lemon. Discard the extra marinade from the bag.

Broil the salmon & asparagus 7 minutes, remove from the oven and drizzle the salmon with the 2-tablespoons reserved glaze/marinade.

Flip the asparagus over.

Broil the salmon and asparagus another 2-3 minutes or until the center of the salmon is still translucent and the internal temperature reads 125°F on a meat thermometer. The asparagus should be al dente.

Drizzle the salmon and asparagus with the juice from the remaining half lemon, sprinkle with chopped green onions and/or cilantro.

Serve & enjoy!
Nutrition Facts
Hoisin Salmon and Asparagus Recipe
Amount Per Serving
Calories 141
Calories from Fat 36
% Daily Value*
Total Fat 4g 6%
Cholesterol 1mg 0%
Sodium 829mg 35%
Potassium 334mg 10%
Total Carbohydrates 21g 7%
Protein 4g 8%
* Percent Daily Values are based on a 2000 calorie diet.