Salmon and Asparagus with Hoisin Sauce is a simple and healthy (yet totally delicious) dinner option. This Baked Salmon and Asparagus recipe has it all! It's an easy seafood recipe made entirely on ONE SHEET PAN, along with a simple hoisin glaze recipe. So much flavor and so little prep/cleanup. So much to love about this sheet pan glazed hoisin salmon!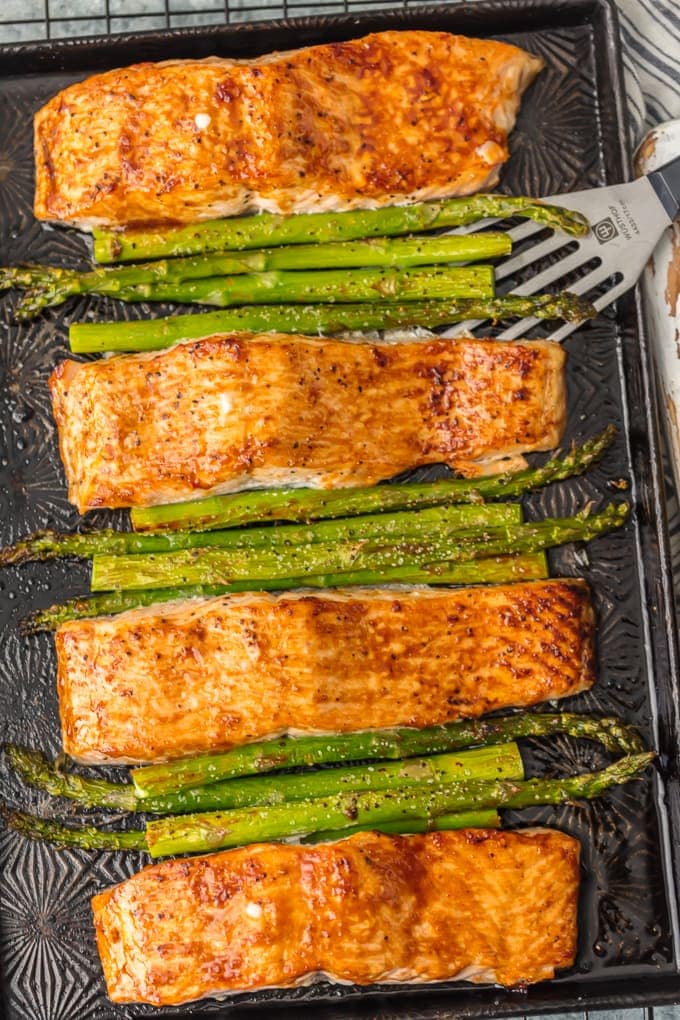 Salmon and Asparagus Recipe
This simple baked salmon and asparagus recipe is made with a delicious Hoisin sauce marinade, and all in one pan!
You guys. I'm an absolute SUCKER for sheet pan suppers. I mean, I'm obsessed. There's just something so wonderful about only having ONE pot or pan to clean up after dinner is done. I also love how the side dish and main course cook together. Isn't that totally magical?
This Baked Salmon and Asparagus recipe with Hoisin Sauce is one of our new favorite healthy sheet pan dinners, and we have already found ourselves making it again and again. You are in for a treat with this one!
Find out how to make hoisin sauce marinade for the tastiest salmon asparagus recipe out there!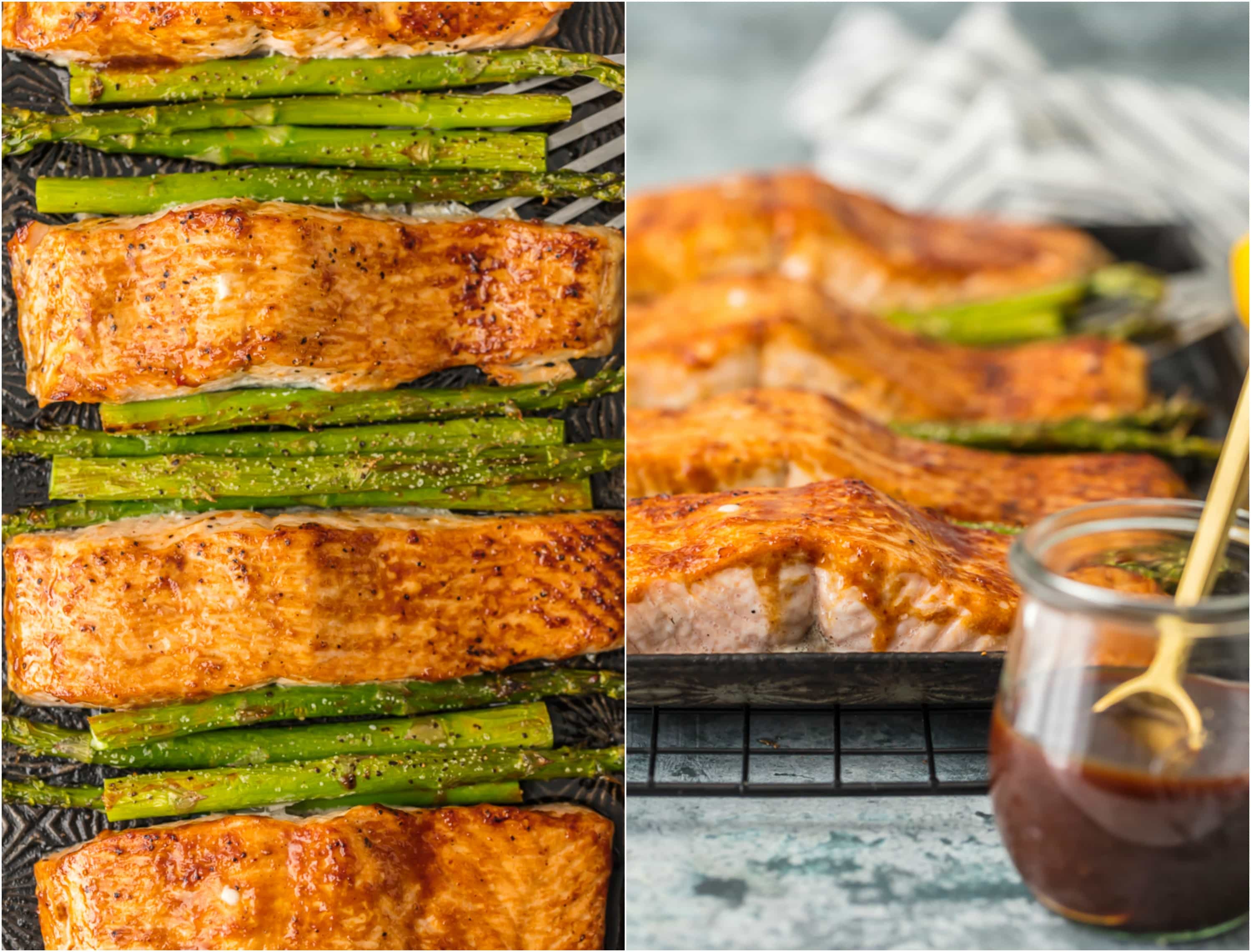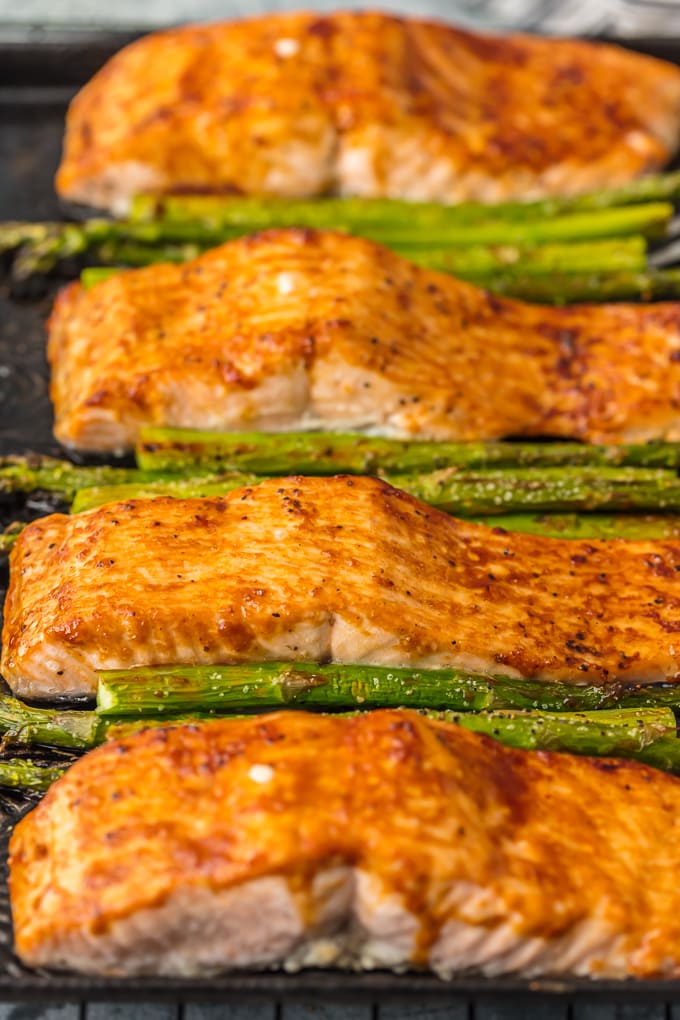 What is Hoisin sauce?
So what is Hoisin sauce and what does it taste like? And where can I find it?
Before making this salmon and asparagus recipe, I was right there with you. I'm called the Cookie ROOKIE for a reason. I don't always know about all the cool sauces and flavors and terms, but I learned all about this one and it is TASTY.
Hoisin Sauce is an Asian sauce made from a mixture of soy, garlic, vinegar, chili, and a sweetener. It's usually dark in color and slightly thick, making it the perfect sauce to pour over this baked salmon.
It can be found in the sauce or Asian aisle of your local grocery store or you can make your own! I'm choosing the easy route here by using store bought, and I don't have any guilt at all about that. Sheet pan suppers are supposed to be EASY and SIMPLE and there's no need to over complicate things!
I'm starting off with a hoisin sauce, and adding it with a few other ingredients to make the amazing glaze for this baked salmon and asparagus.
Salmon Glaze Ingredients:
Hoisin Sauce
Fresh Ginger or Ginger Paste
Soy Sauce (low-sodium)
Vegetable Oil
Green Scallions
Crushed Red Pepper
Just combine the ingredients, and let the salmon marinade in it in the refrigerator. And save some for glazing while you bake!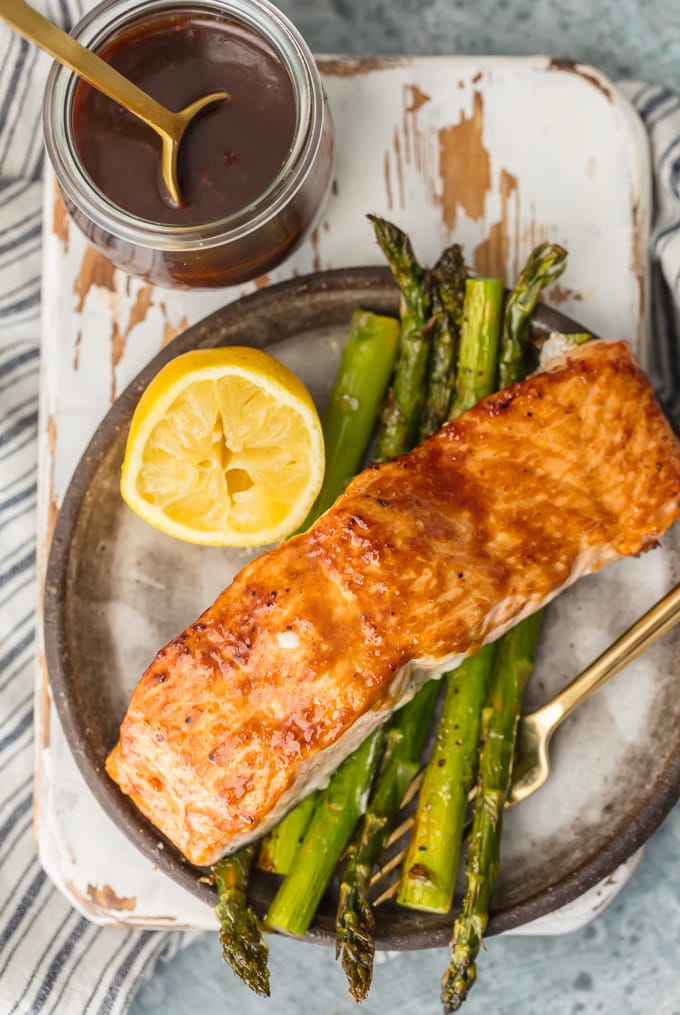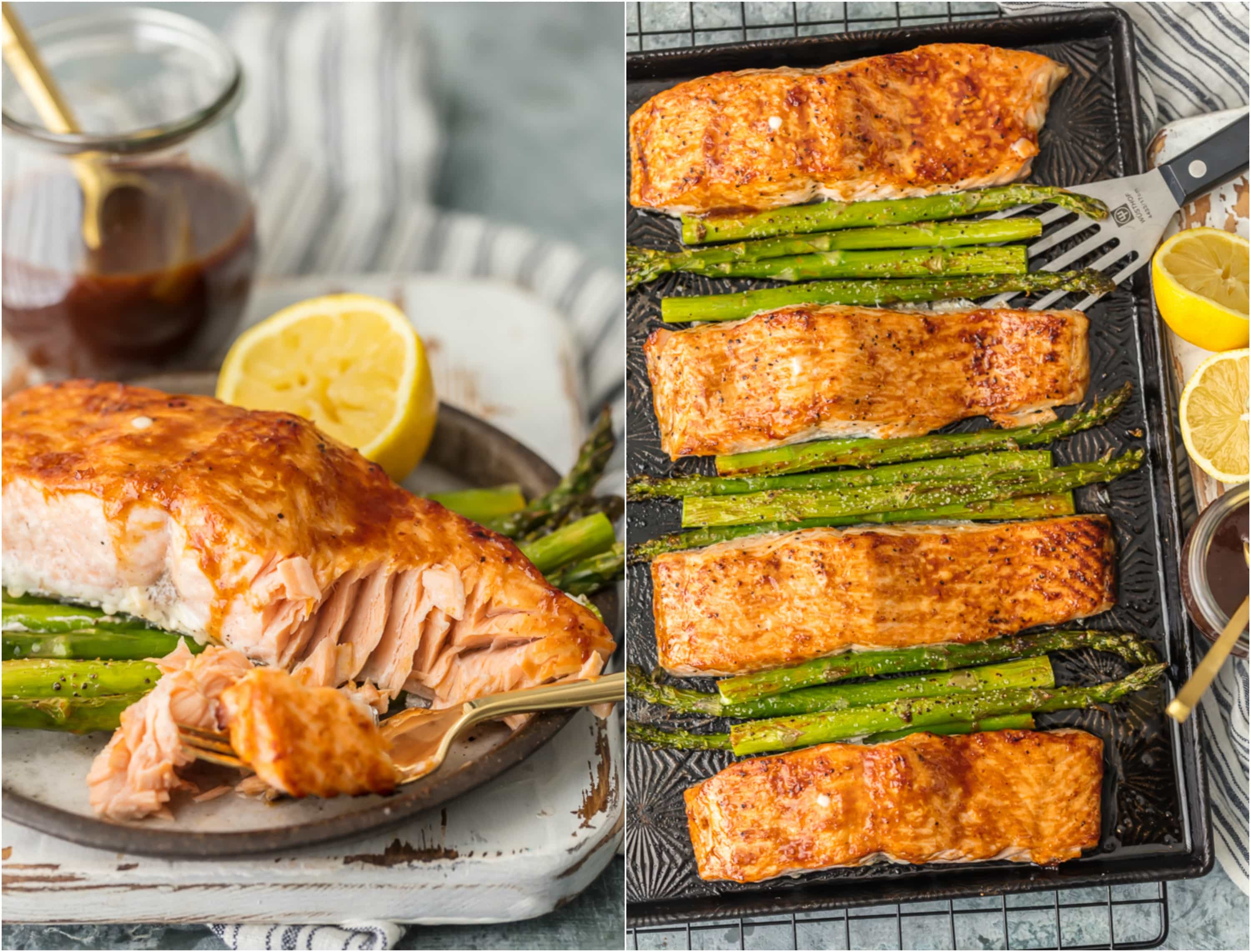 One Pan Salmon Asparagus
Can you bake salmon and asparagus together on the same pan. Is Salmon and Asparagus healthy?
This may seem like a silly question since this recipe shows baking them all together, but I'm here to tell you you can use the same temperature and same cooking times for both the salmon and asparagus. The salmon will come out flakey and tender, and the asparagus will still have just the right amount of crunch but be fully cooked through. I love the way the flavors blend to create the perfect flavorful seafood dish.
This meal is definitely on the healthier side, although the hoisin sauce does add some calories. The salmon and asparagus without the sauce is under 300 calories! If you prefer a much healthier version, simply drizzle the salmon and veggies with some lemon juice and veggies but keep the cook times the same. Delish! (I mean I'm all about the sauce but you get the idea)
Find more Easy Salmon Recipes right here!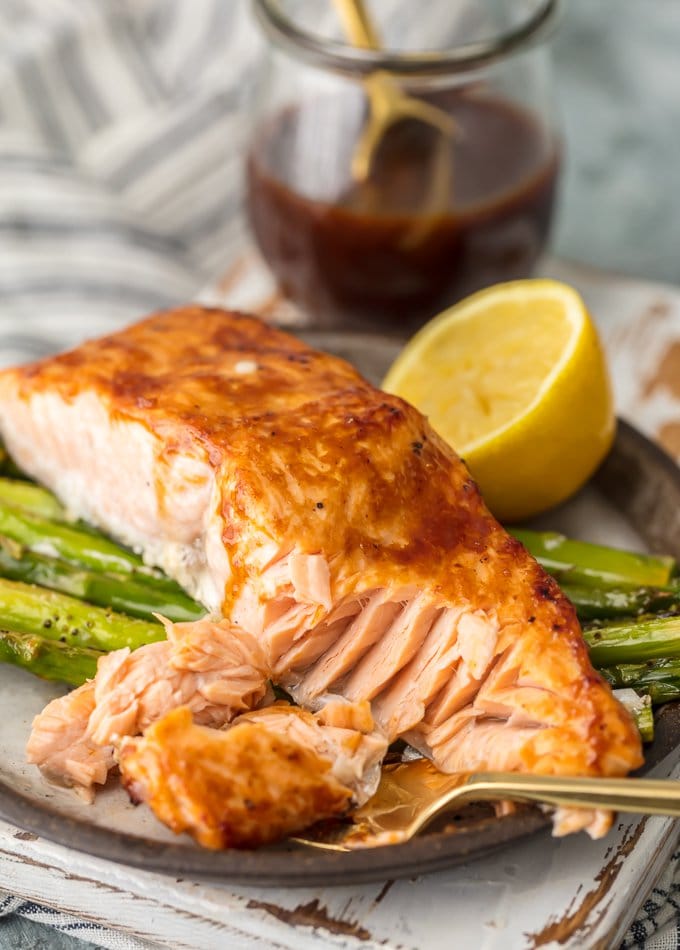 Can you freeze and recook salmon?
You can store the cooked salmon in the freezer for 4-6 months or in the fridge for 2-3 days as long as it is cooked through fully (proper internal temp should be 145°F for Salmon). This makes a great reheated dinner the next night if it's just the two of you like us.
How long would this recipe last in the fridge?
I don't always recommend taking fish to work for a reheated lunch because…you don't want your coworkers to hate you HA! But it's delish the next day…I actually ate it for two days last time we made it! It should last 1-2 days in the fridge.
I hope you give this Sheet Pan Salmon and Asparagus with Hoisin Sauce a try. Let me know how you like it!
If you're in the mood for other healthy sheet pan suppers be sure to check out our Sheet Pan Chicken Fajitas or Sheet Pan Chicken Parmesan!
See the recipe card below for How to Make Salmon and Asparagus with Hoisin Sauce. Enjoy!
Be sure to try these other easy salmon recipes: