Salisbury Steak is a classic weeknight dinner recipe that's equal parts easy to make and downright delicious! Seasoned ground beef patties are pan fried to perfection and served with a richly flavored mushroom sauce.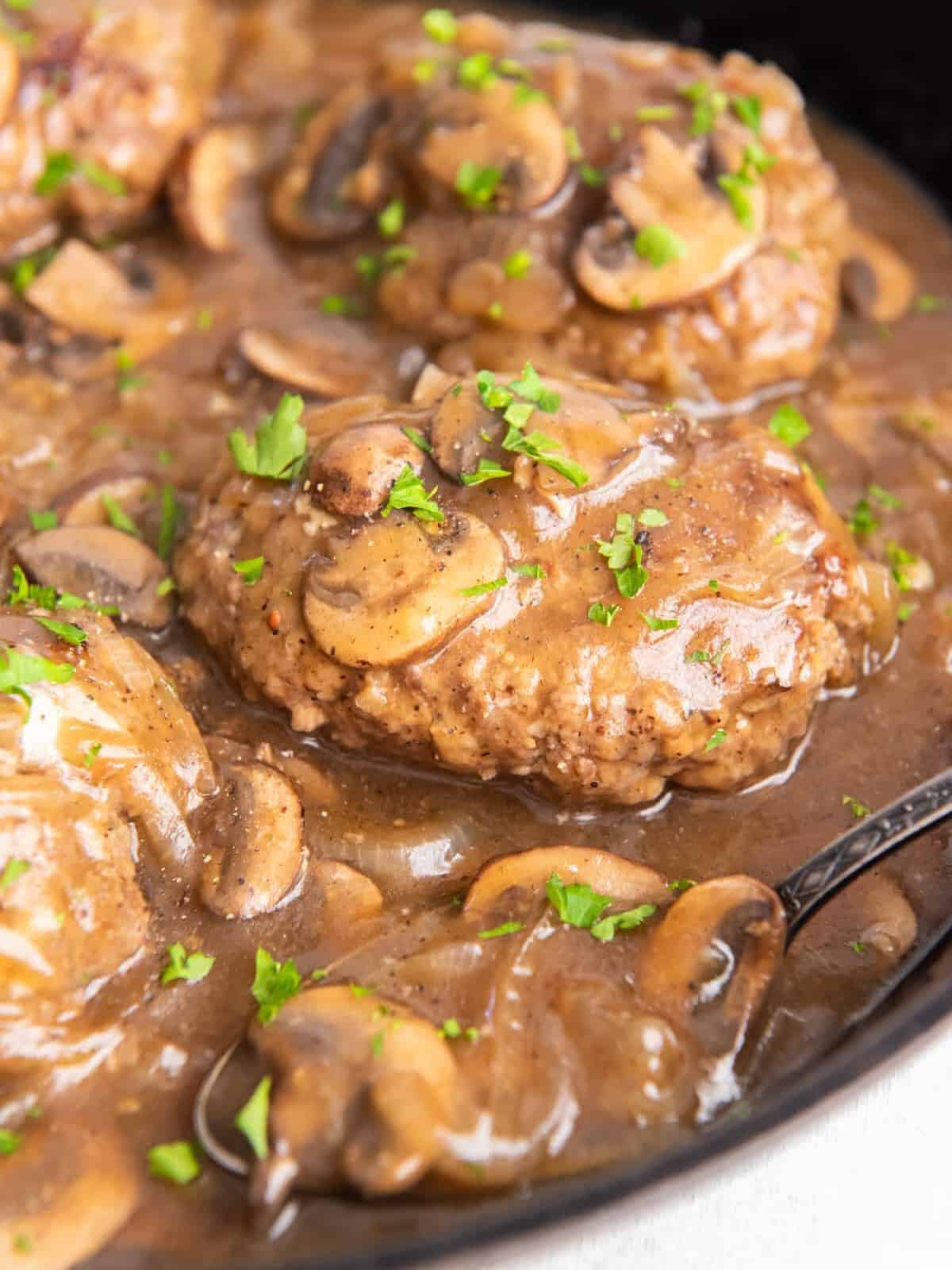 What's in this Easy Salisbury Steak Recipe
This homemade Salisbury steak recipe is so flavorful, comforting, and easy to make with some simple pantry ingredients. It's one of the best ground beef recipes, and the mushroom sauce just makes it extra tasty!
Ground Beef: Salisbury steaks are made with ground beef patties.
Breadcrumbs: Holds the beef together and bulks up the patties.
Minced Onion: Adds some extra flavor and texture.
Large Egg: Binds ingredients to form the patties.
Dijon Mustard: Adds umami flavor to the dish.
Salt and Pepper: Simple seasoning.
Dried Oregano: This herb adds great savory flavor.
Olive Oil: This is used for the pan-searing.
Low-sodium Beef Broth: Forms the base of the salisbury steak sauce.
Worcestershire Sauce: A bold, vinegary source of tastiness.
Yellow Onion: Thinly sliced to meld with the sauce.
Cremini Mushrooms: Lightens up the dish and soaks up the beefy flavor.
Cornstarch: Thickens the mushroom sauce.
Substitutions and Variations
If you'd like to steer clear of red meat, feel free to use ground turkey or chicken in place of the ground beef! If you decide to make this swap, be sure to exchange the beef broth for low-sodium chicken broth.
I like Dijon mustard in these patties, but if you don't have it on hand, you can use whatever mustard you have on hand!
The vegetables are also exchangeable. You can use a white or sweet onion in place of the yellow onion, or use your favorite mushrooms instead of cremini musrooms.
For a bit more crunch, you can use Panko breadcrumbs. Or, you can turn the meat into meatballs for a fun variation on the dish!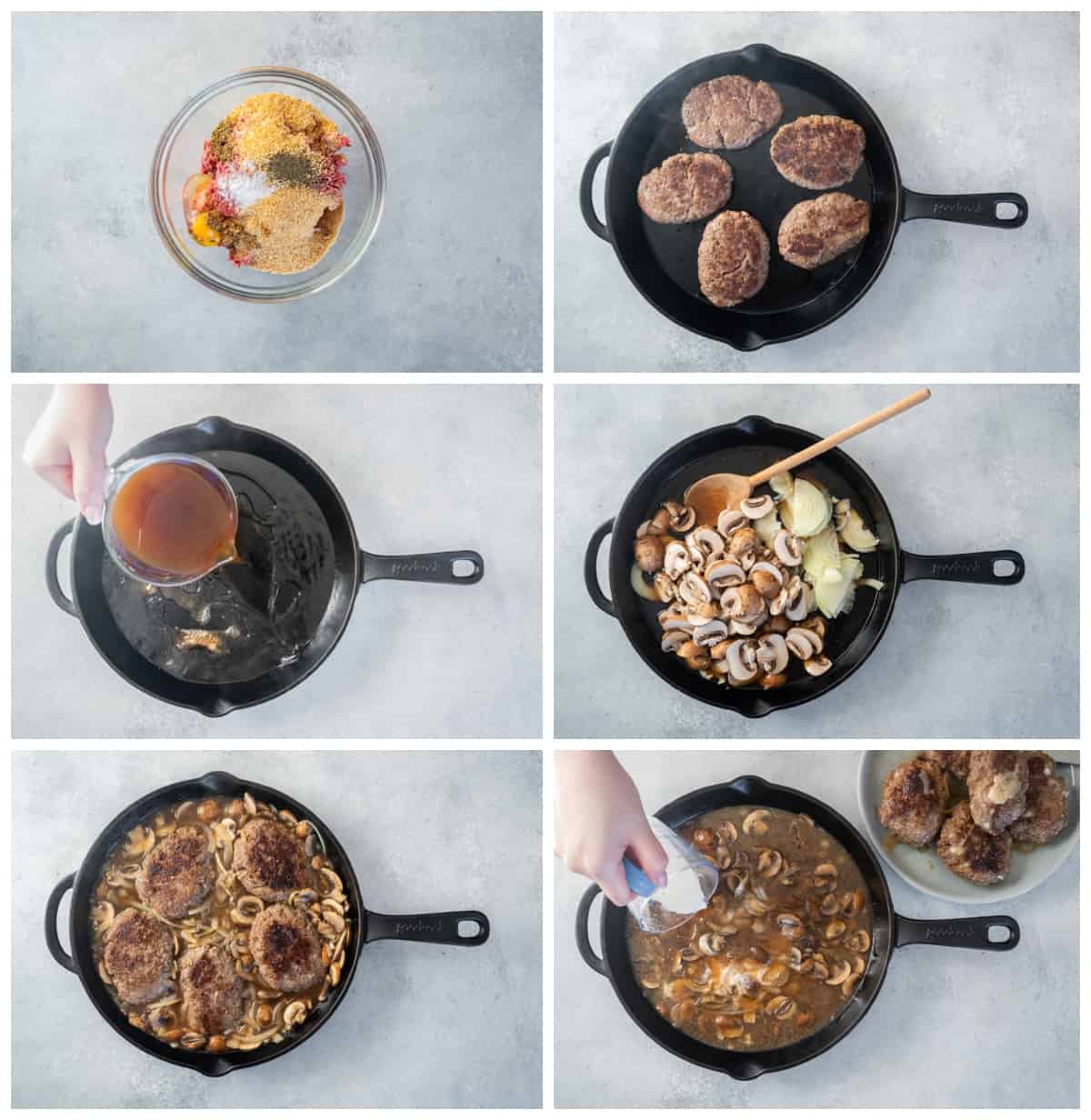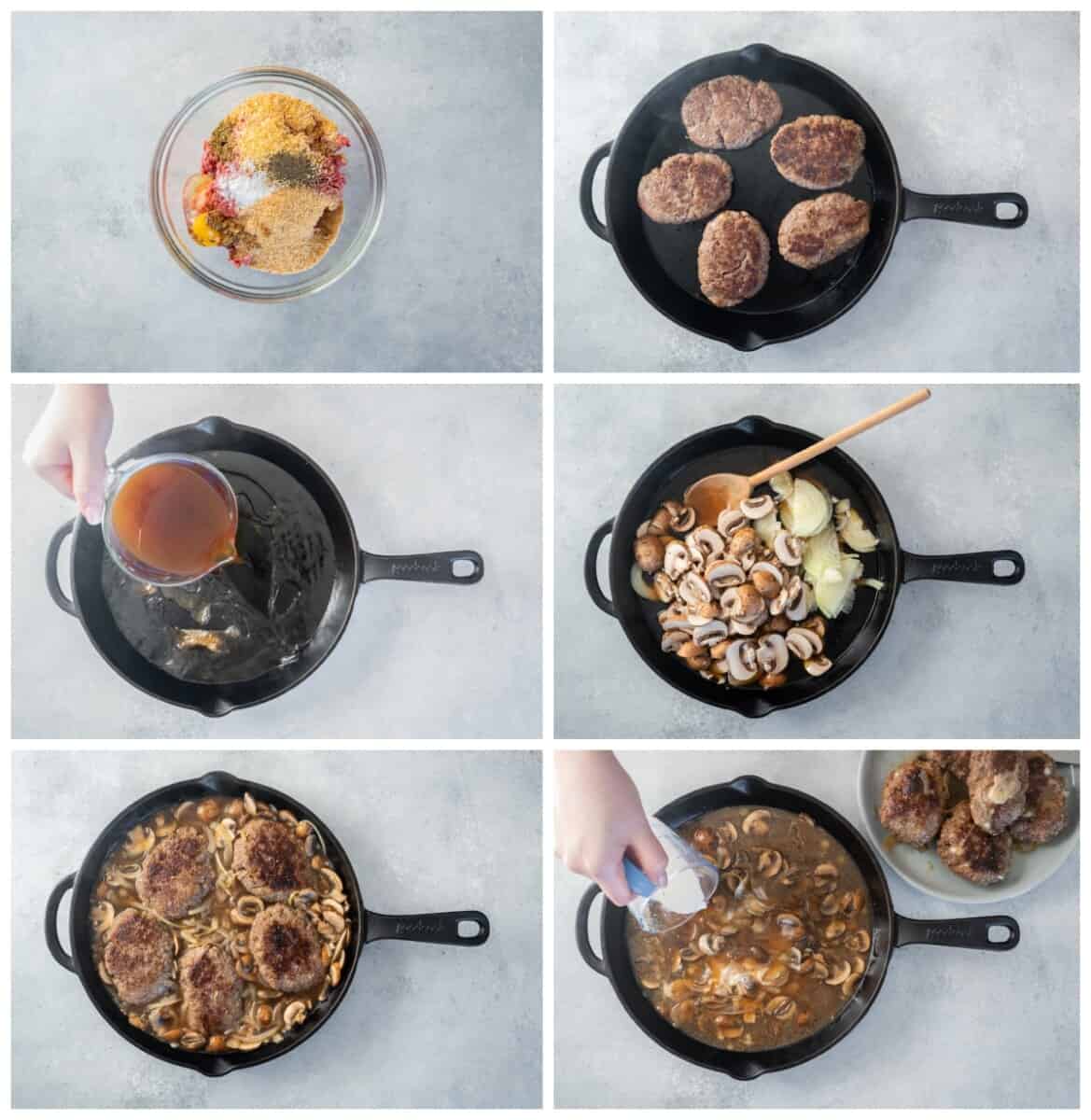 What is Salisbury steak?
Salisbury steak is an American dish made from ground beef, breadcrumbs, and seasonings formed into patties and served with gravy or brown sauce.
What's the difference between Salisbury steak and hamburger steak?
Salisbury steak is a type of hamburger steak. A hamburger steak is typically just seasoned with salt and pepper; whereas, Salisbury steaks often include the addition of breadcrumbs, onion, mustard, and spices.
How do I keep Salisbury steak from falling apart?
To keep Salisbury steaks from falling apart while being cooked, make sure that you have added the correct amount of egg and breadcrumbs. The egg and breadcrumbs act as binders to hold the meat together. If you use a small or medium egg, it may not be enough to bind the meat. Make sure to use a large egg.
Why is my Salisbury steak tough?
Tough Salisbury steaks are usually the result of overmixing the patties. Believe it or not, mixing the meat too well can cause the patties to become tough and dry. Be sure to mix just until combined.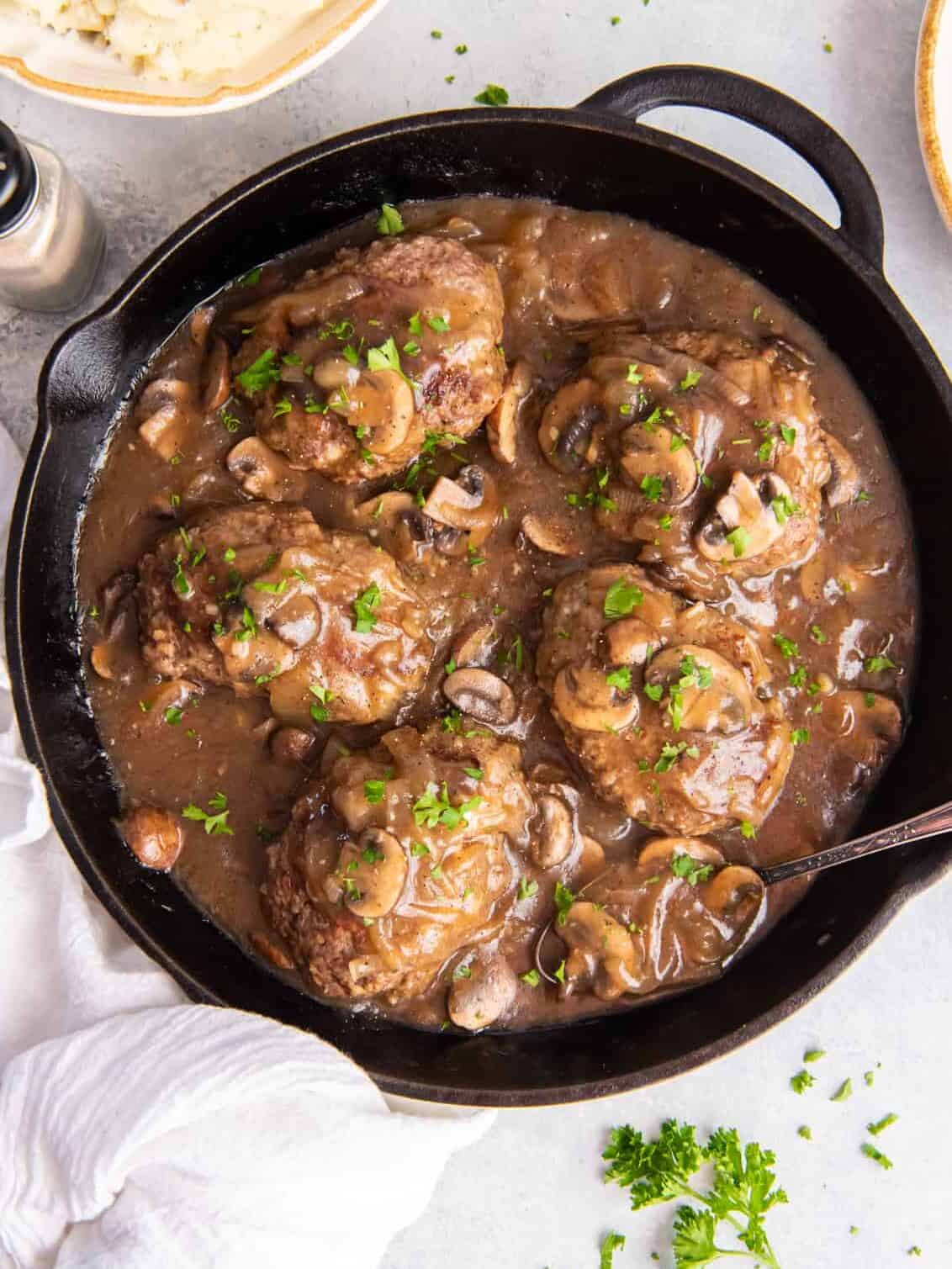 How to Store Salisbury Steak
Store leftover Salisbury steaks in an airtight container in the refrigerator for up to 3 days. Reheat gently in the microwave or on the stovetop, adding a bit of water to the sauce as needed to thin it out.
How to Freeze Homemade Salisbury Steak
Salisbury steaks can be frozen, both cooked and uncooked.
Cooked: Freeze cooked in an airtight container for up to 2 months. Let thaw overnight in the refrigerator before reheating.
Uncooked: Freeze uncooked patties in a single layer on a lined baking sheet until frozen, about 1-2 hours. Transfer to an airtight container or resealable bag to store for up to 2 months. Let thaw overnight in the refrigerator before cooking.
What to Serve with Old Fashioned Salisbury Steak
Usually, I love my Salisbury Steak with egg noodles! They do a great job of helping me make sure I don't miss a drop of that gravy.
I've also found that mashed potatoes, sweet potato rolls, brown butter glazed carrots, and creamy garlic mushrooms are amazing sides that bring out the flavor of the savory steak.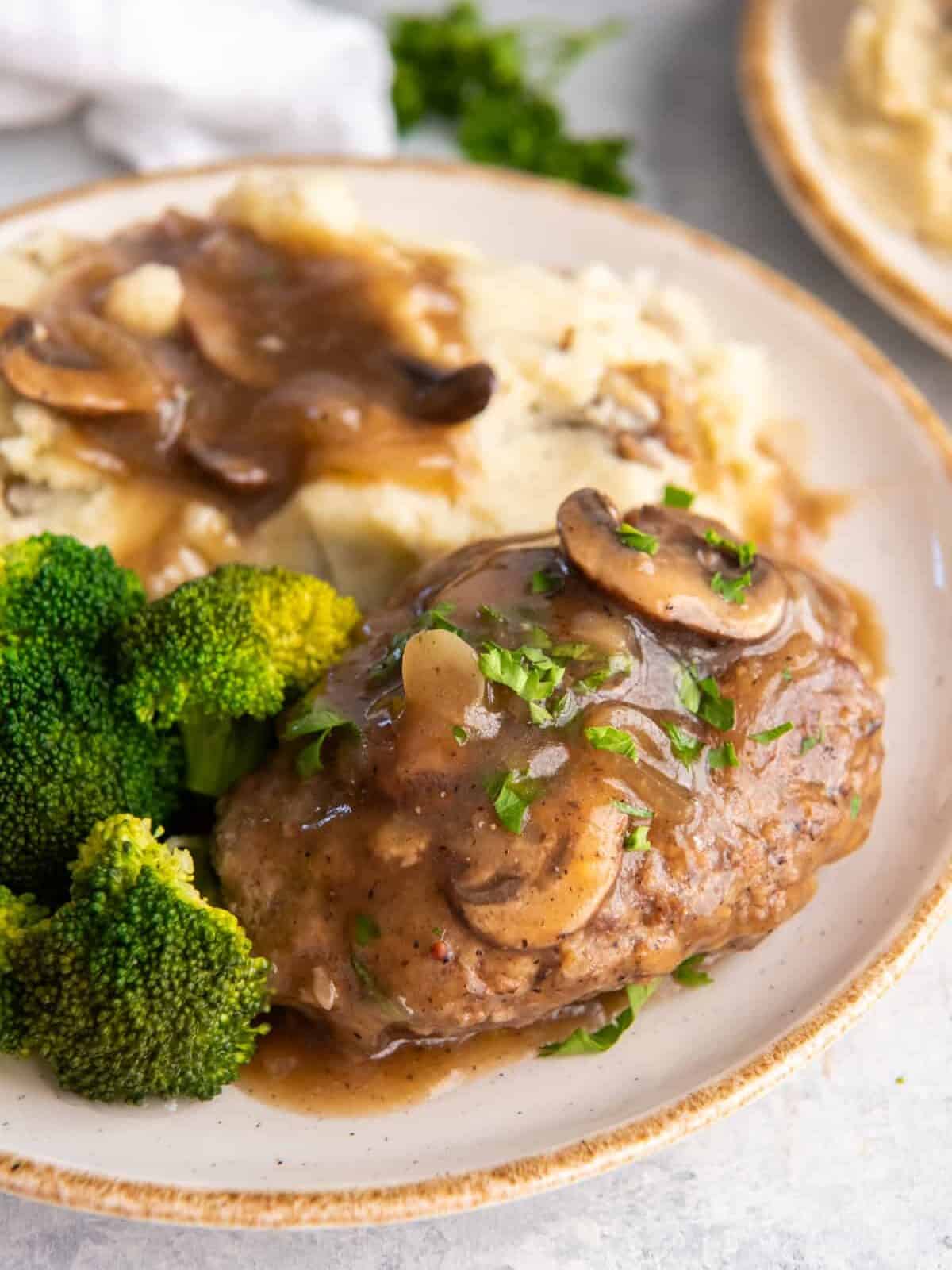 More Kid-Friendly Dinner Recipes to Try: