This easy New England Clam Chowder recipe is loaded with bacon, clams, veggies and a host of other delectable goodies. It has the best, thick, creamy consistency, and the flavor is outstanding! This chowder is so easy to make, and works as a comforting dinner, or a good starter for your favorite seafood dinner.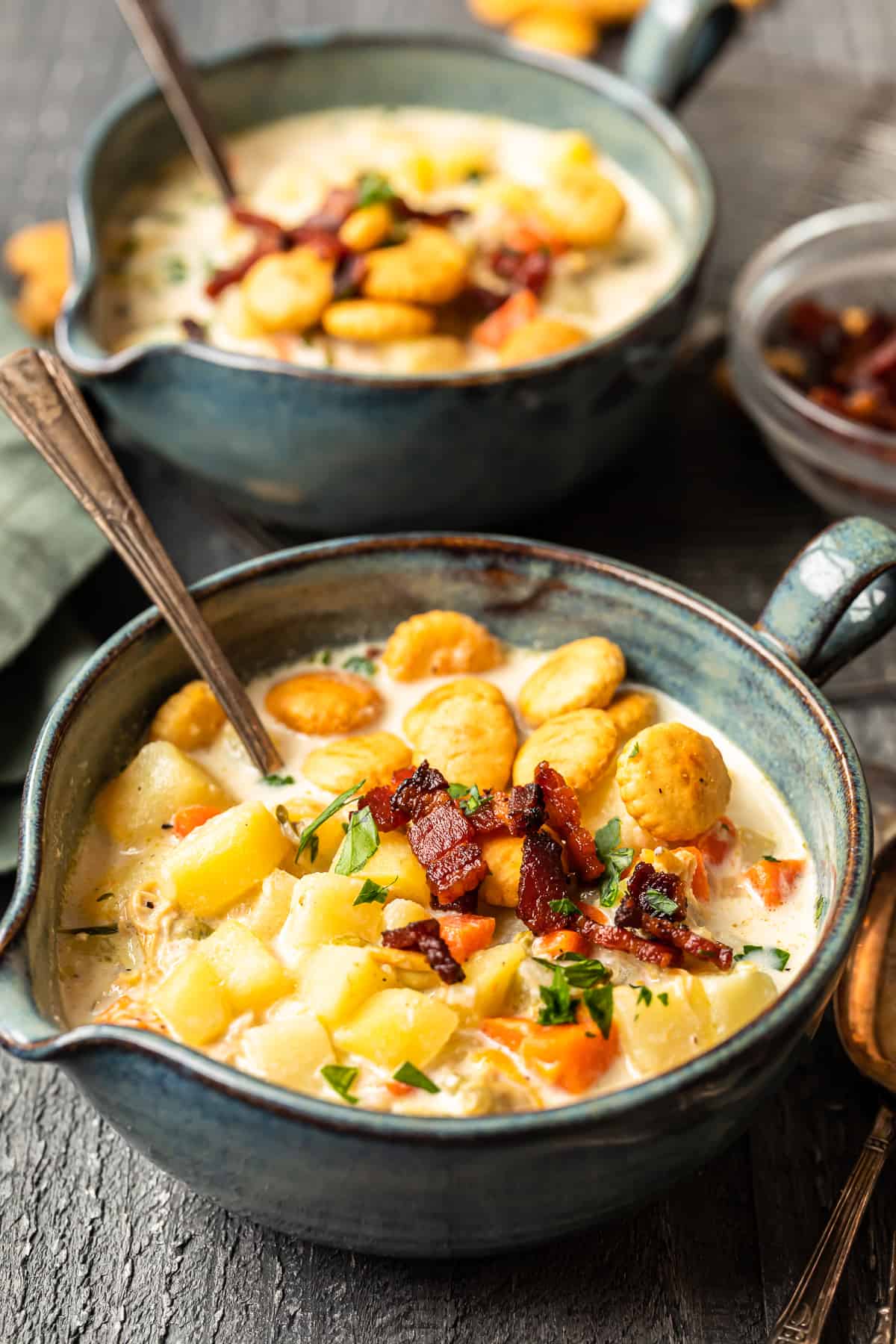 What's in this Clam Chowder recipe?
This old-fashioned, New England style clam chowder recipe is filled with lots of delicious ingredients. And it's extra tasty with the seasoned oyster crackers on top!
Clams: I used a mix of whole baby clams and chopped clams. Canned clams with liquid are the most convenient.
Clam Juice: This adds more liquid into the chowder.
Potatoes: I recommend using russet potatoes for this recipe since they hold up well as they boil and soften. You can also use Yukon Gold potatoes.
Chicken Bouillon Cubes: Instant bouillon cubes provide a rich and savory flavor into the base of this soup.
Bacon: Bits of crispy bacon adds more savoriness and texture into the soup.
Vegetables: This clam chowder recipe uses a mix of carrots, celery, and onion.
Flour: Adding flour while you cook the vegetables coats them in a way that ultimately creates a thicker texture and consistency in the chowder.
Half and Half: This adds a creamier texture. You could substitute heavy cream for a slightly richer liquid.
Tips!
If you'd like to use fresh clams, I recommend using cherrystone, quahogs, or little necks. Scrub the shells, boil the clams until they pop open (discard any clams that do not open), clean the bellies, then chop the clams into bite-sized pieces. Save the clam cooking liquid to reduce into a clam stock for the chowder.
Can I make gluten-free New England Clam Chowder?
You can make this chowder gluten-free by using 1 tablespoon of cornstarch mixed with 1 tablespoon of water in place of the all-purpose flour. To make the seasoned crackers gluten-free, use gluten-free oyster crackers.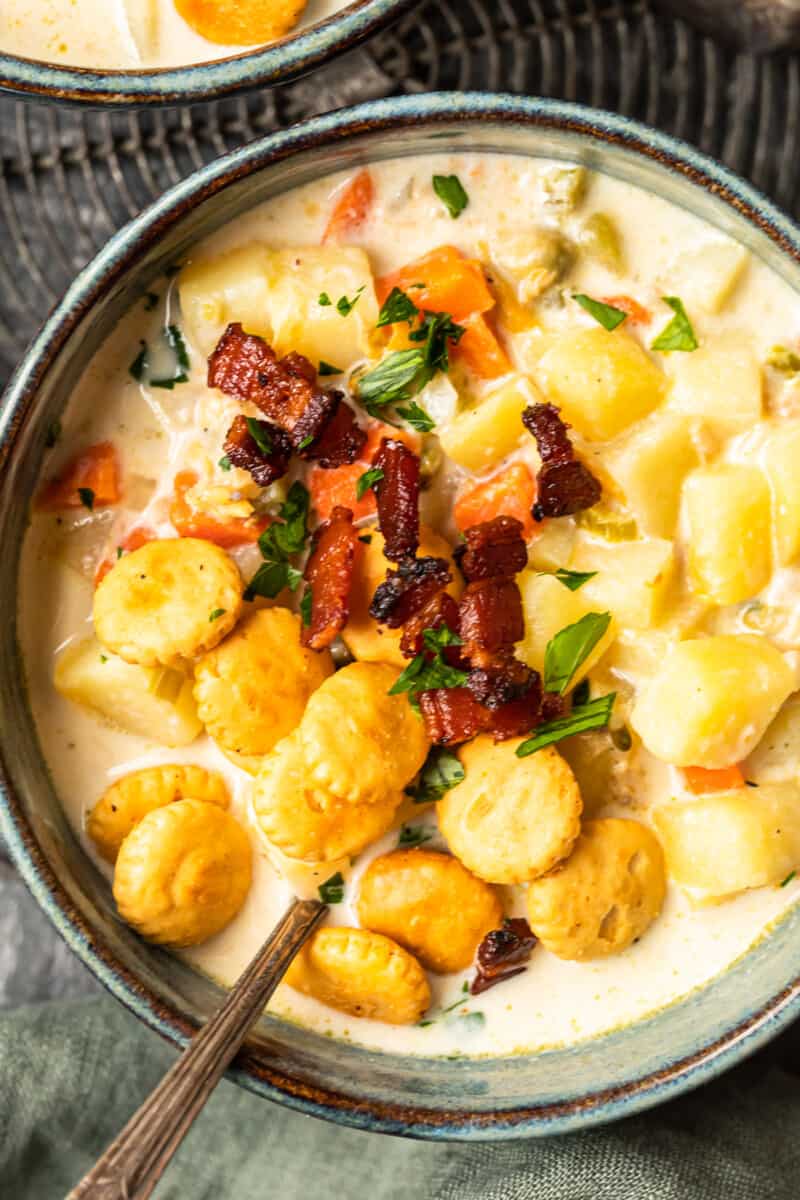 What is chowder?
Chowder is a type of soup characterized by its creamy and rich broth, often made thick through the addition of heavy cream or milk. New England clam chowder includes clams, bacon, potatoes, and vegetables.
What's the difference between New England clam chowder and Manhattan clam chowder?
New England clam chowder is thick and creamy thanks to lots of heavy cream and potatoes, while Manhattan clam chowder is thin and brothy due to its tomato base. Manhattan clam chowder does not contain any dairy at all and instead contains a larger quantity of vegetables, making it more similar to a minestrone soup than a traditional chowder.
Can I make New England clam chowder in a crockpot?
I do not recommend making this chowder in a crockpot, as the clams will likely overcook and become rubbery and tough.
How do you get the perfect clam chowder consistency?
If you prefer a thicker consistency, you can increase the amount of flour in the recipe by 1-2 tablespoons. If the soup thickens too much while simmering, add a little more half-and-half, milk, or cream. If it is too thin, cook longer to reduce to desired thickness.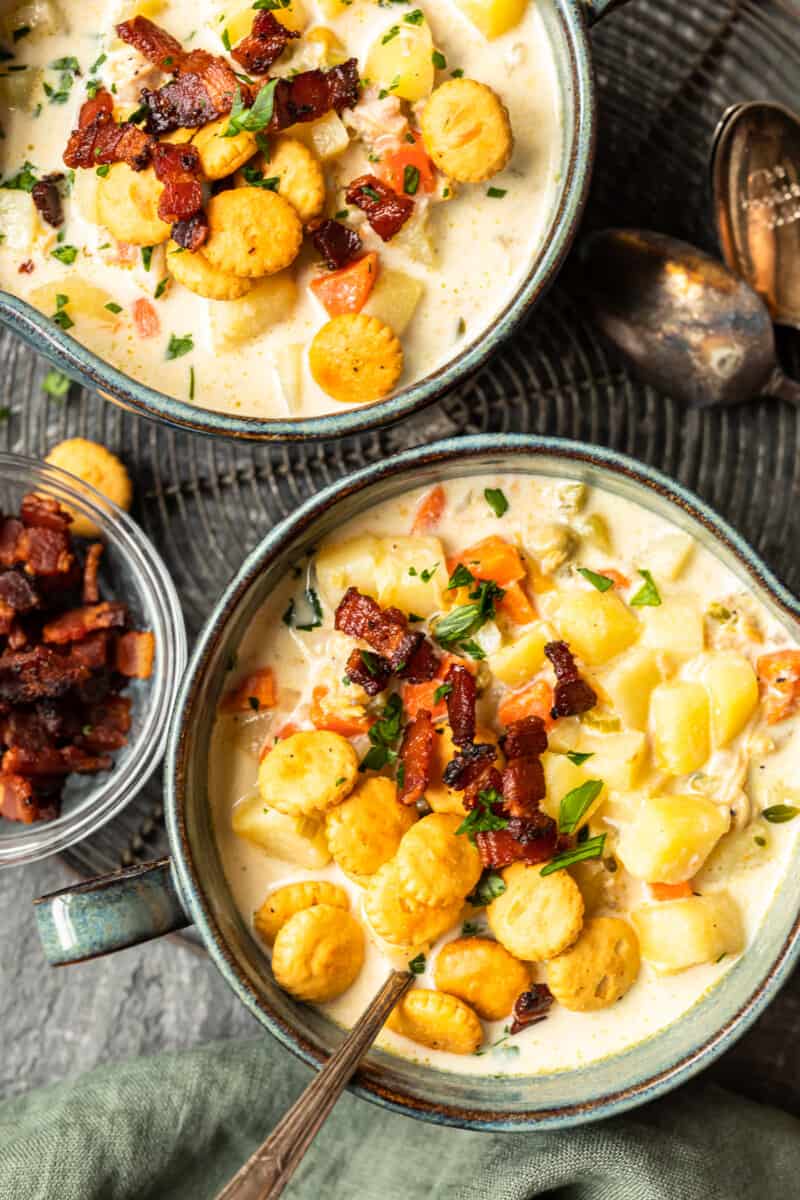 How to Make Ahead and Store Clam Chowder
Store leftover clam chowder in an airtight container in the refrigerator for up to 3 days. Gently reheat on the stovetop, stirring constantly to prevent scorching, until just warmed through.
I do not recommend freezing this dish, as the cream is likely to separate and the potatoes may become mushy.
You can make the seasoned oyster crackers up to 2 weeks in advance, and keep them in an airtight container or resealable bag.
What to Serve with New England Clam Chowder
This classic New England clam chowder recipe can be served as a main dish, a side, or as a starter before dinner. I always serve it with my favorite seafood recipes, like lobster tails, Baltimore crab cakes, seared scallops, or pan-fried tilapia.
If you make this recipe be sure to upload a photo in the comment section below or leave a rating. Enjoy! You can also jump to recipe.