Seared scallops are a simple delicacy that's easier to make than you think. They're perfectly pan-seared in butter and lightly seasoned for the best flavor.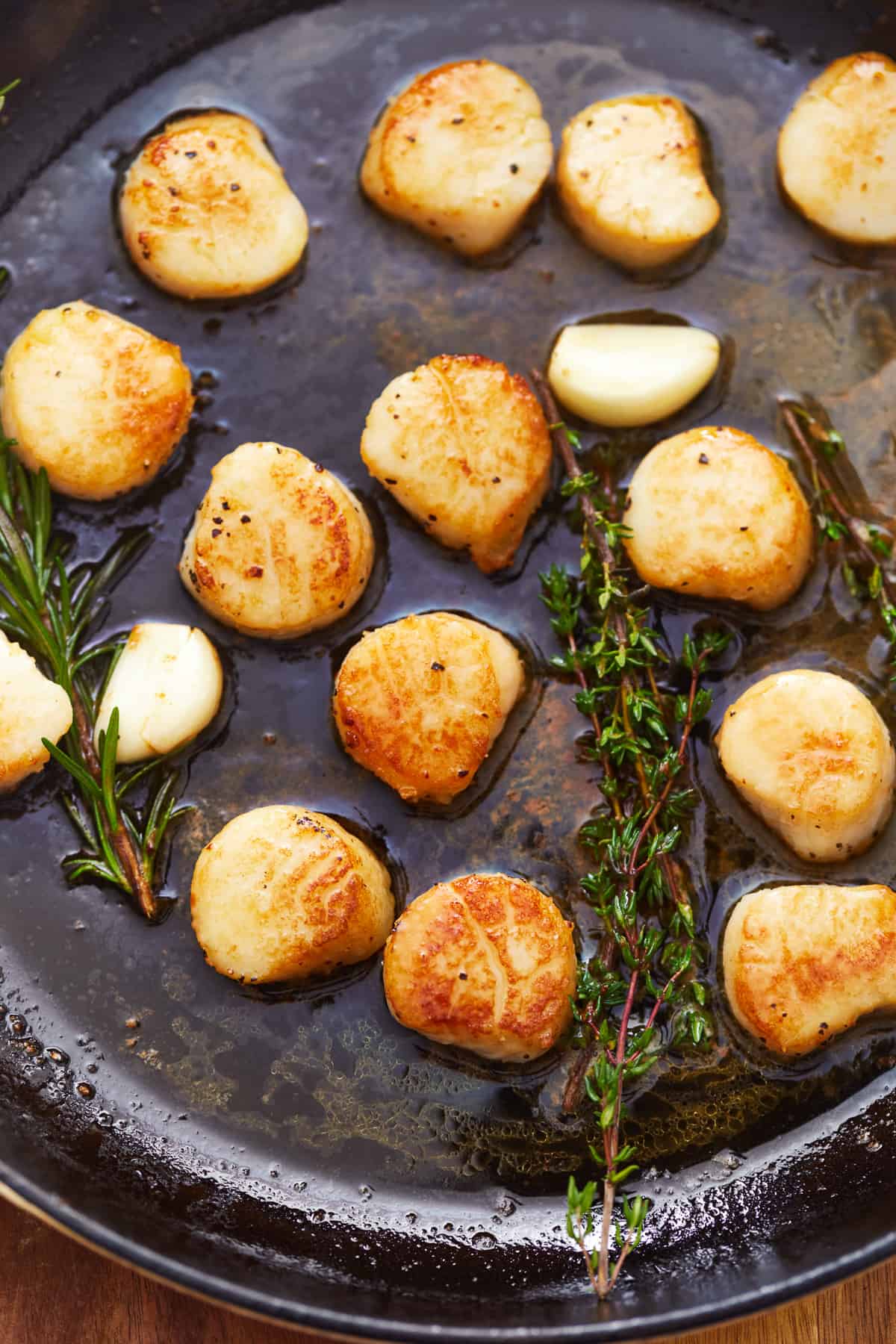 Pan Seared Scallops Recipe
Scallops may seem intimidating to cook, but this recipe will walk you step-by-step through how to cook scallops with a perfect sear.
You only need a few ingredients and about 15 minutes. Season them as you like, with salt and pepper, fresh herbs of your choice, or serve with a homemade sauce.
If you want more scallops recipes, be sure to try these Creamy Garlic Scallops and these Bacon Wrapped Scallops!
What are scallops?
Scallops are a type of bivalve (two-shelled mollusk), similar to clams, oysters, or mussels. The part of the scallop that we eat is the muscle inside of the two shells.
Are scallops shellfish?
Yes, scallops are considered shellfish, so if you have a shellfish allergy, avoid them!
What do scallops taste like?
Fresh scallops taste slightly sweet, slightly briny, and are more tender than clams, oysters, or mussels.
Are scallops healthy?
Scallops are protein-packed and a good source of both potassium and magnesium. They are great as part of a healthy diet.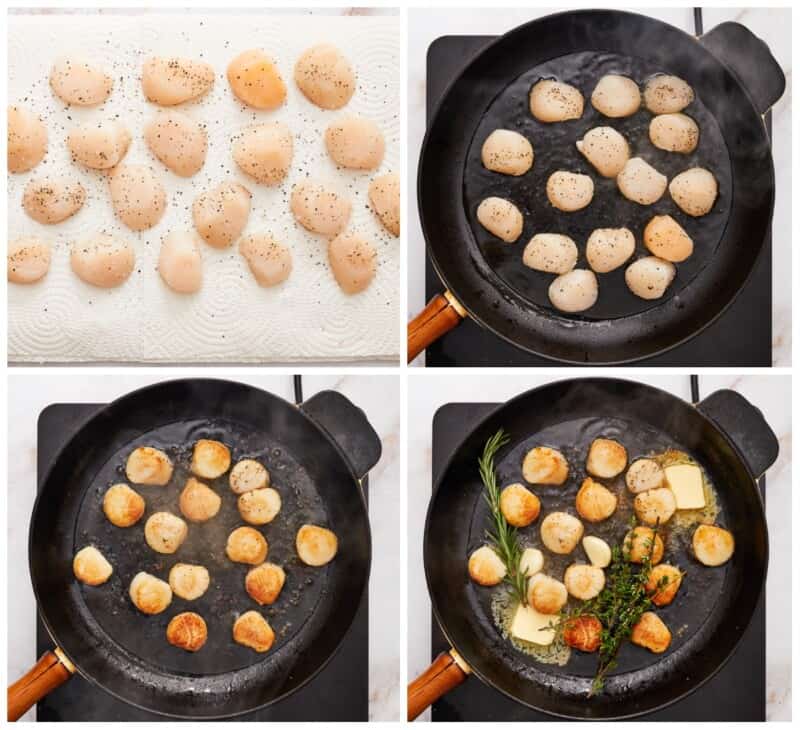 The best part about seared scallops is the simple yet rich flavor. This dish will impress guests as part of a nice dinner or as an appetizer.
Ingredients
Scallops: Good quality sea scallops are the key to this recipe. I highly recommend going to a good fishmonger where you can get fresh, wild-caught sea scallops.
Salt and Pepper: Simple seasonings will make these taste the best they can! You could swap the kosher salt for sea salt but table salt is not recommended.
Olive Oil: Use a good quality olive oil for a crisp sear on the scallops. Do not use EVOO, as the smoke point is too low and won't hold up when cooking.
Butter: This infuses a rich, melt-in-your-mouth flavor.
Seasoning: I'm seasoning these scallops with garlic, rosemary, thyme, and lemon, but feel free to make them your own. Sage, fennel, or dill would also be delicious.
How to Choose the Right Scallops
There are two kinds of scallops: bay scallops and sea scallops. Bay scallops are dime-sized, while sea scallops can have a diameter of up to about 2 inches. Bay scallops are much more rare and expensive, so I recommend using wild-caught sea scallops in this recipe.
There are two preparations for scallops: wet scallops and dry scallops. A wet scallop has been soaked in a solution that preserves and plumps up the scallop, while a dry scallop has not been treated with any additives. Dry scallops tend to be a bit darker in color and have a better flavor, while wet scallops are lighter in color and tend to shrivel while being cooked. I recommend using dry scallops.
Dry scallops will be labeled as either "dry" or "dry-packed".
Be sure to buy your scallops just 1-2 days before you plan to cook them, as they are very perishable.
When fresh, scallops will smell briny; when they start to spoil, they will smell fishy.
You can also use frozen scallops in this recipe; let the scallops thaw overnight in the refrigerator before using.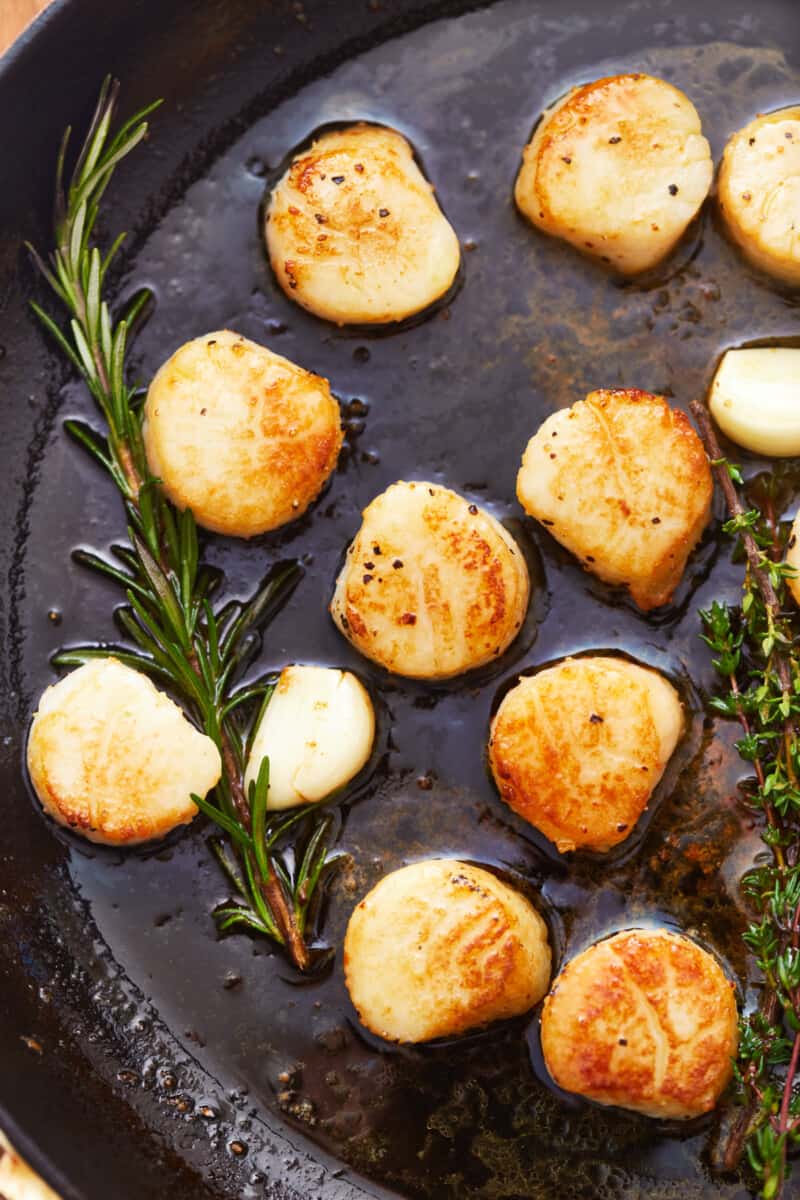 How to Make Seared Scallops
You can jump to the recipe card for full ingredients & instructions!
Remove any abductor muscle from the side of the scallop, pat dry of any excess moisture, and sprinkle with kosher salt and black pepper.
Add olive oil to a hot pan or cast iron skillet.
When the pan is properly heated (and the first scallop sizzles), add the remaining scallops in a single layer.
Cook the scallops for 3 minutes on one side. It should have a good sear. Then reduce the heat and flip.
Add the butter, garlic, fresh herbs, and lemon juice, and cook for another 2 minutes.
Continuously spoon a little bit of butter onto the scallops while cooking.
Remove the scallops from the heat and serve immediately.
If you're making these buttery, pan seared scallops for dinner, served them with creamy mashed potatoes, cheesy polenta, steamed or sauteed asparagus, or on a bed of rice.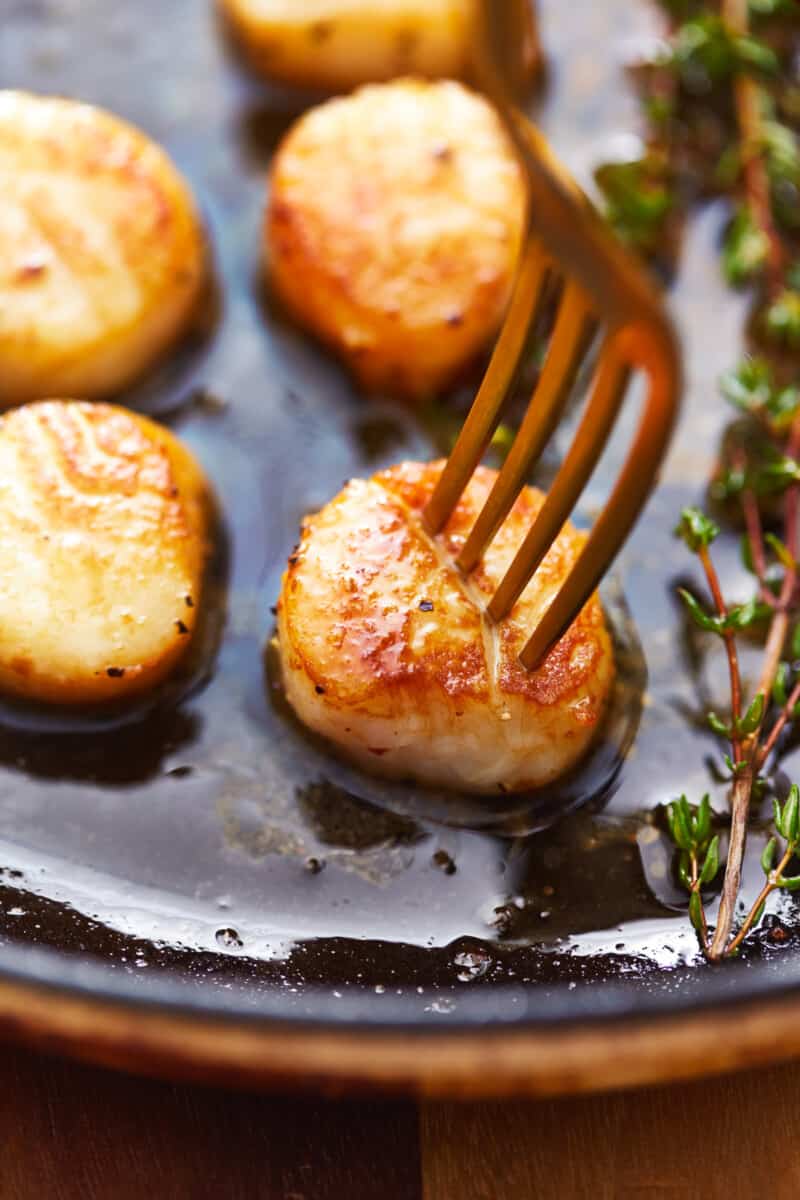 Storage Instructions
While seared scallops are best enjoyed on the day they are made, they can be stored in an airtight container in the refrigerator for up to 2 days. Reheat coated in residual sauce in the microwave at 90% power in 20-second intervals until 115°F internally.
Freezing Instructions
Freeze seared scallops in an airtight container or Ziplock bag for up to 3 months. Let thaw overnight in the refrigerator before reheating.
Tips for the Best Seared Scallops
Dry your scallops on paper towels before cooking. You don't want too much liquid in the pan, as this will cause the scallops to steam rather than sear.
When cleaning fresh scallops, be sure to remove the side muscles from the sides of the scallops. The side muscles will feel a bit tougher than the rest of the scallop. Simply pull the tissue away from the scallop with your fingers to remove it.
Use a heavy-bottomed stainless steel or cast iron pan, not a nonstick pan.
If there's excess liquid in the pan while you are searing the scallops, use the corner of a paper towel to soak up the excess liquid from the pan.
Let the scallops cook about 90% of the way on the first side, about 3-4 minutes. Once all but the top of the scallop has become opaque, flip it and allow it to finish cooking for about 1-2 minutes.
Once you've learned how to sear scallops, you can easily customize this recipe with different seasonings.
If you make this recipe be sure to upload a photo in the comment section below or leave a rating. Enjoy! You can also jump to recipe.