Whenever deciding what to make for a rich, decadent holiday dinner, I almost always think of butterflied lobster tails smothered in garlic butter. If you are wondering how to cook lobster tails, you will not believe how easy it is. No need to make reservations at your local steakhouse – lobster is a delicious seafood you can enjoy at home once you know how. Trust me, it's so simple!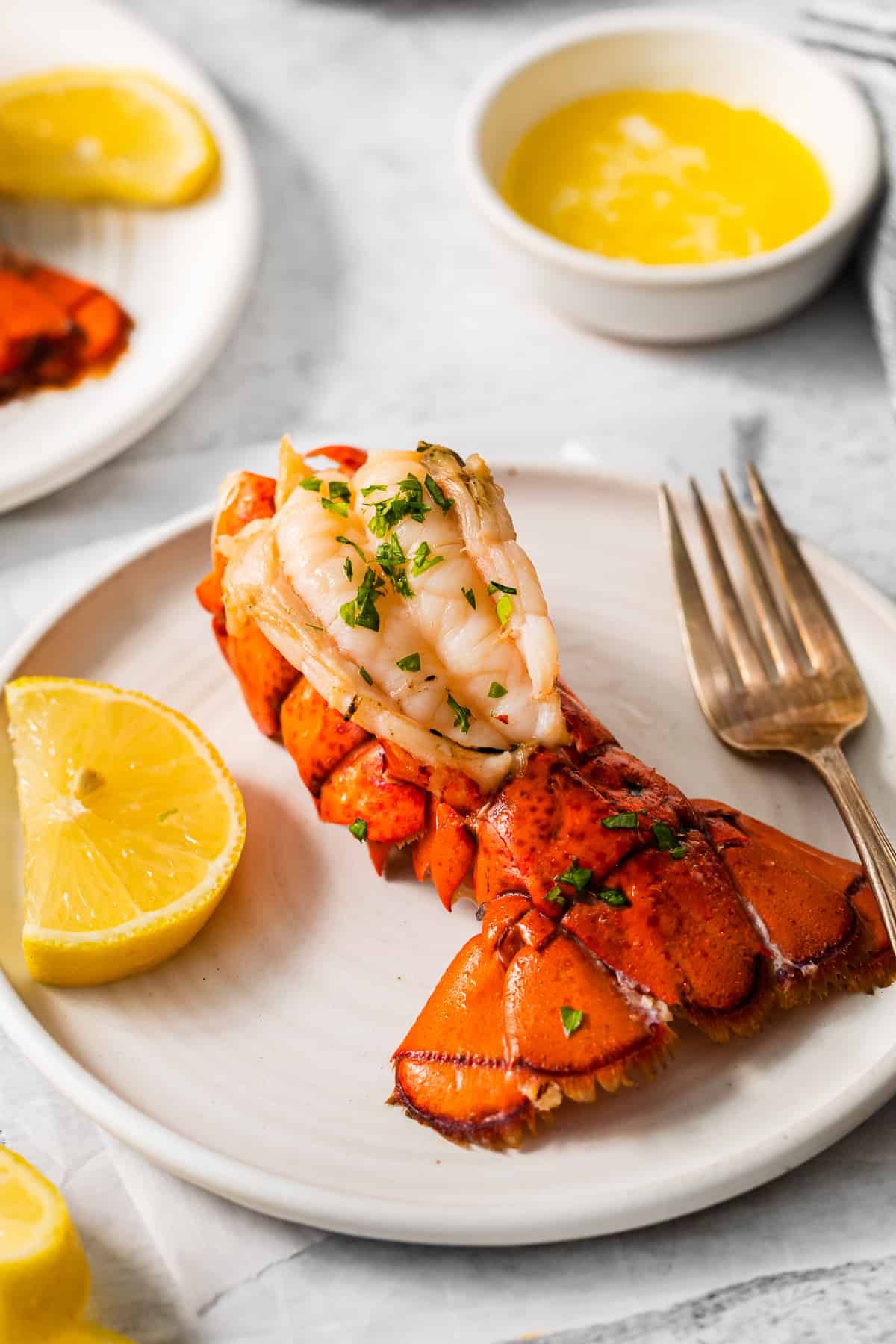 Lobster Tails
This tutorial will show you how to make lobster tails in three deliciously satisfying ways. You can find lobster tails at your local supermarket — the best ones come from Maine, where the waters are the perfect temperature for the tastiest meat. After you follow the simple steps, you'll quickly get over the intimidation of cooking lobster at home.
Why You'll Love this Lobster Tail Recipe:
Perfect for any Special Occasion: As easy as lobster tails are to make, they always look gorgeous when presented to your friends and family!
3 Different Ways: With three options for cooking the best lobster tails, you can choose a method in your comfort zone.
Quick Cook Time: In about 20 minutes, you will have the most gorgeous and delicious lobster tails ready to serve and enjoy!
Be sure to try 3 ways to cook crab legs too!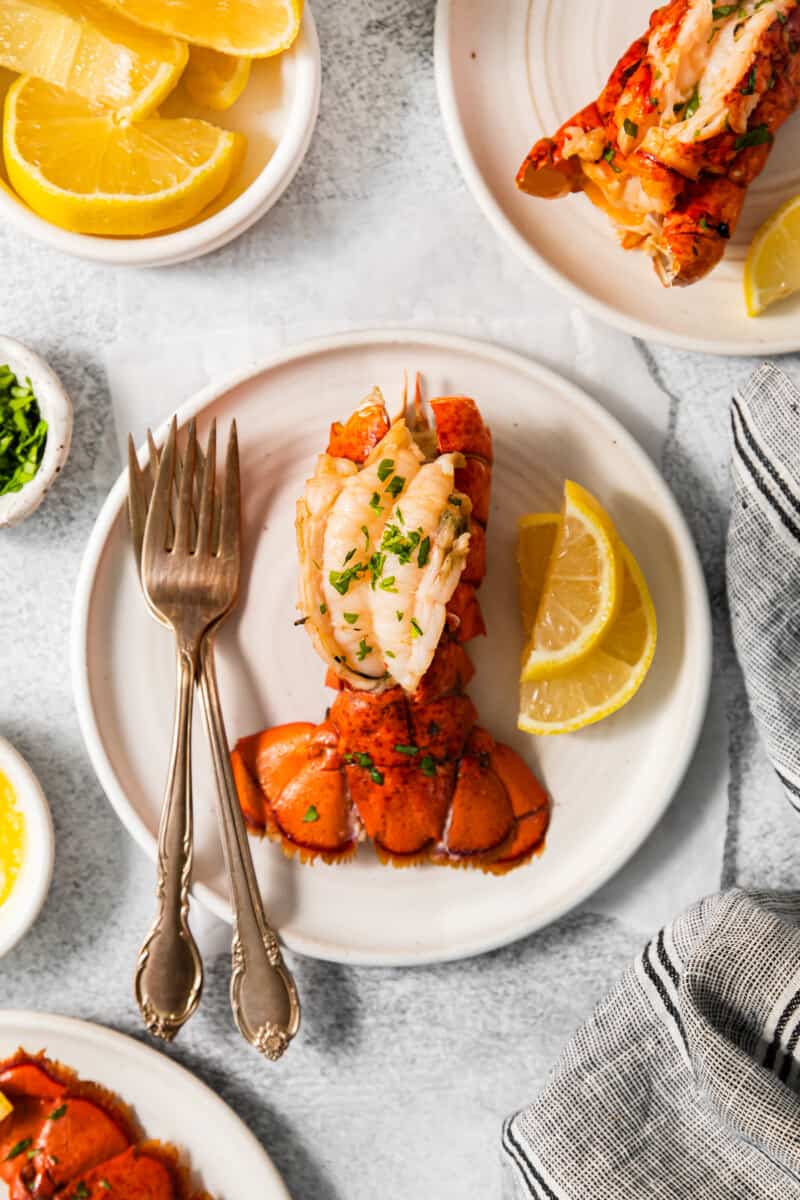 How to Cook Lobster Tail
You can jump to the recipe card for full ingredients & instructions!
Carefully cut and crack open the lobster shells to lift out the meat.
Make the garlic butter to brush over the lobster.
Season the lobster with salt and pepper.
Cook the lobster according to your preferred method: oven, air fryer, or instant pot.
Serve the lobster tails immediately with melted butter, after garnishing with parsley.
Recipe Notes
Lobster Tails: Pretty easy to find! Just check the seafood counter at your grocery store. This recipe is written for 4-ounce lobster tails, so make sure to adjust the cooking time if your lobster is bigger/smaller.
Olive oil and Butter: Add delicious flavor and helps the meat brown slightly. If you don't have both, either one will work!
Lemon Juice: Adds a bit of acidity and freshness to the lobster. Freshly squeezed lemon juice makes a difference!
Garlic: I love the flavor of garlic with lobster! We're grating it, so it incorporates easily in the garlic butter. If we were to mince the garlic, it would brown too much and may burn.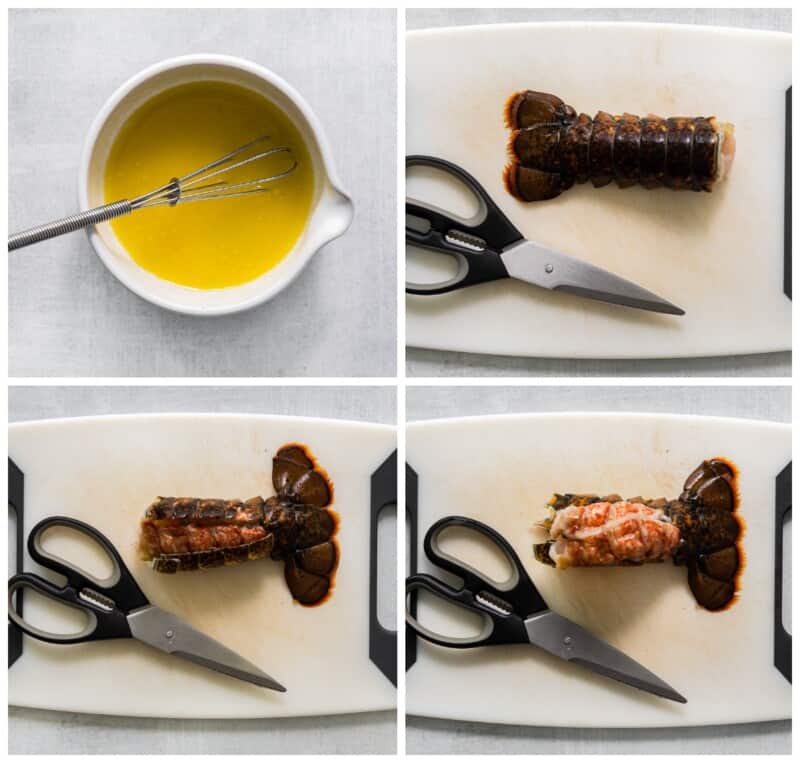 What kind of lobster tails should I buy?
When selecting lobster, you want to find the best bang for your buck. Look for cold water lobster tails that have not been soaked in sodium tripolyphosphate. This will ensure that they don't taste like ammonia. Check the meat and make sure it isn't discolored, as that could mean that it is old.
Can I cook lobster tails from frozen?
No! For all three of these methods, if you have frozen lobster tails, you will need to thaw them overnight in the refrigerator first. If you're tight on time, you can place them in a bowl of cold water, changing the water every 30 minutes until they have thawed.
How do I prepare lobster tails for cooking?
To prepare lobster tails for cooking, be sure to start with clean, dry lobster tails. Once you have opened the shells, you may notice a dark line running down the center. That is the digestive tract, and it should be removed. Wash and dry the lobster tails, then season them as desired.
How can I tell when lobster tails are done cooking?
Lobster tails are done cooking when meat is firm and opaque (and the shells are bright red). They should read 135-140ºF internally with an instant-read thermometer.
Serving Suggestions
It doesn't take much to turn your lobster tail dinner into a fantastic holiday, anniversary, or Valentine's dinner. With such a main attraction on the plate, you may want to keep it simple with a creamy cole slaw or my favorite skillet green beans.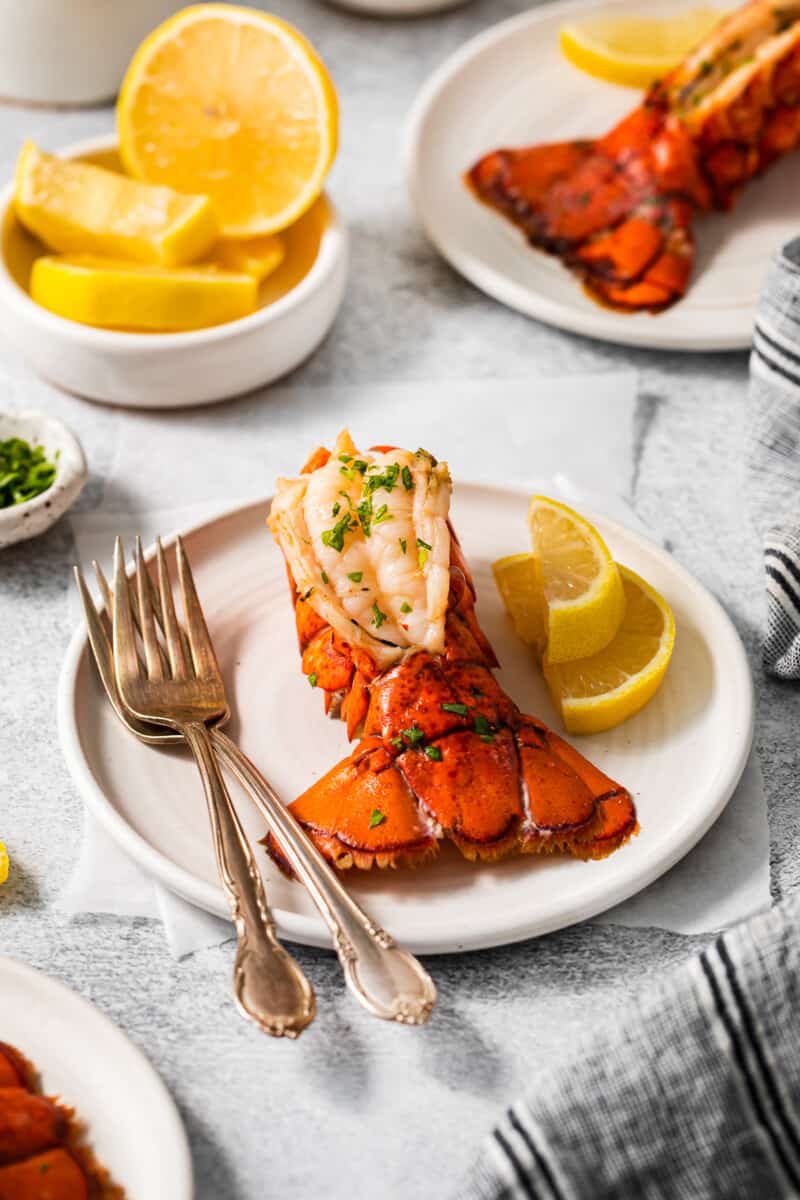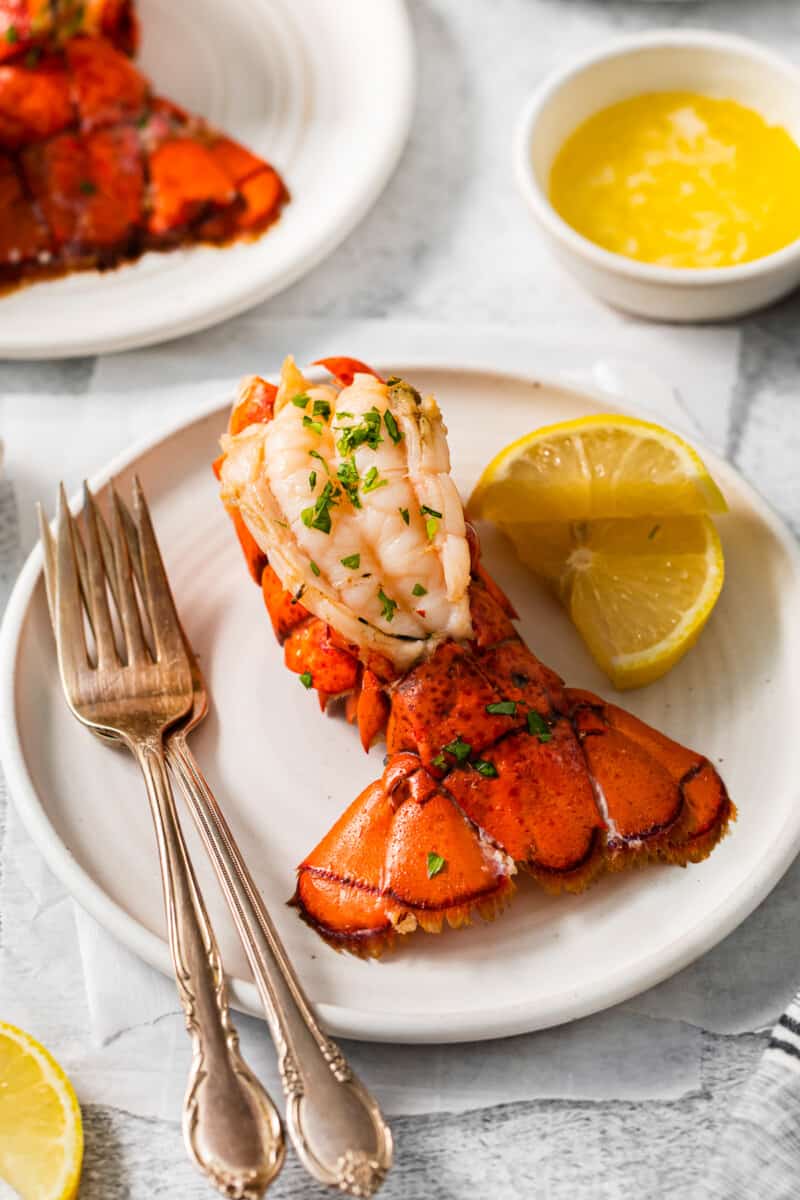 Storage Instructions
Lobster tails are best enjoyed on the day they are made. They will keep in an airtight container in the refrigerator for up to 2 days and can be reheated in a 325°F oven covered with foil for 8-10 minutes. I do not recommend freezing lobster tails.
Tips for the Best Lobster Tails
If using frozen lobster tails, let them thaw overnight in the refrigerator before preparing.
I recommend using an instant-read meat thermometer to monitor the temperature of your lobster tails. Overcooked lobster tails will become tough and chewy. Cook them to 135-140°F for best results.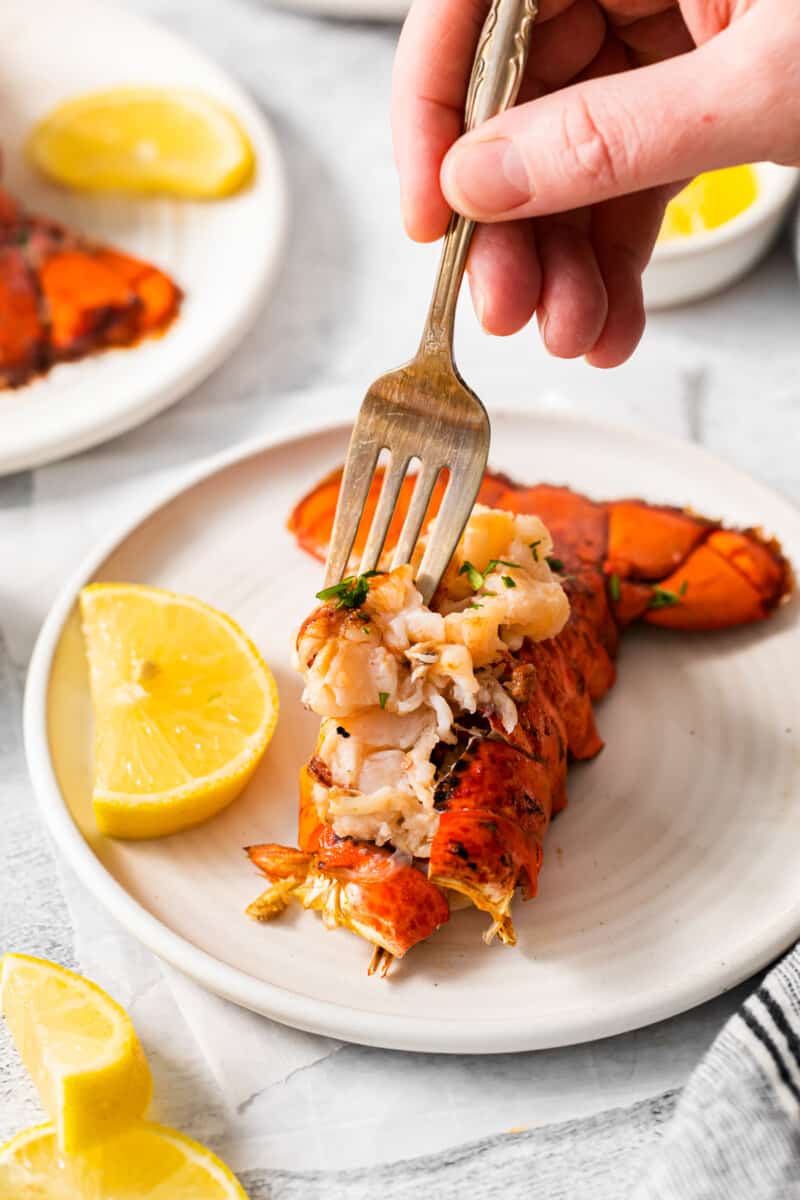 Whichever way you decide to prepare this recipe, get ready for the tastiest, most memorable meal ever! Once you know how to cook lobster tails, they may quickly become an annual holiday tradition in your house.
If you make this recipe be sure to upload a photo in the comment section below or leave a rating. Enjoy! You can also jump to recipe.