Pan Seared Salmon checks all of the right boxes – it's got a crispy exterior, flaky interior, and the flavors created by ingredients like lemon juice and capers compliment the fish beautifully! Made with easy to follow steps in just 15 minutes, this entree is ideal for busy weeknights when you need something flavorful and filling on the table. It's a tried and true recipe that never disappoints!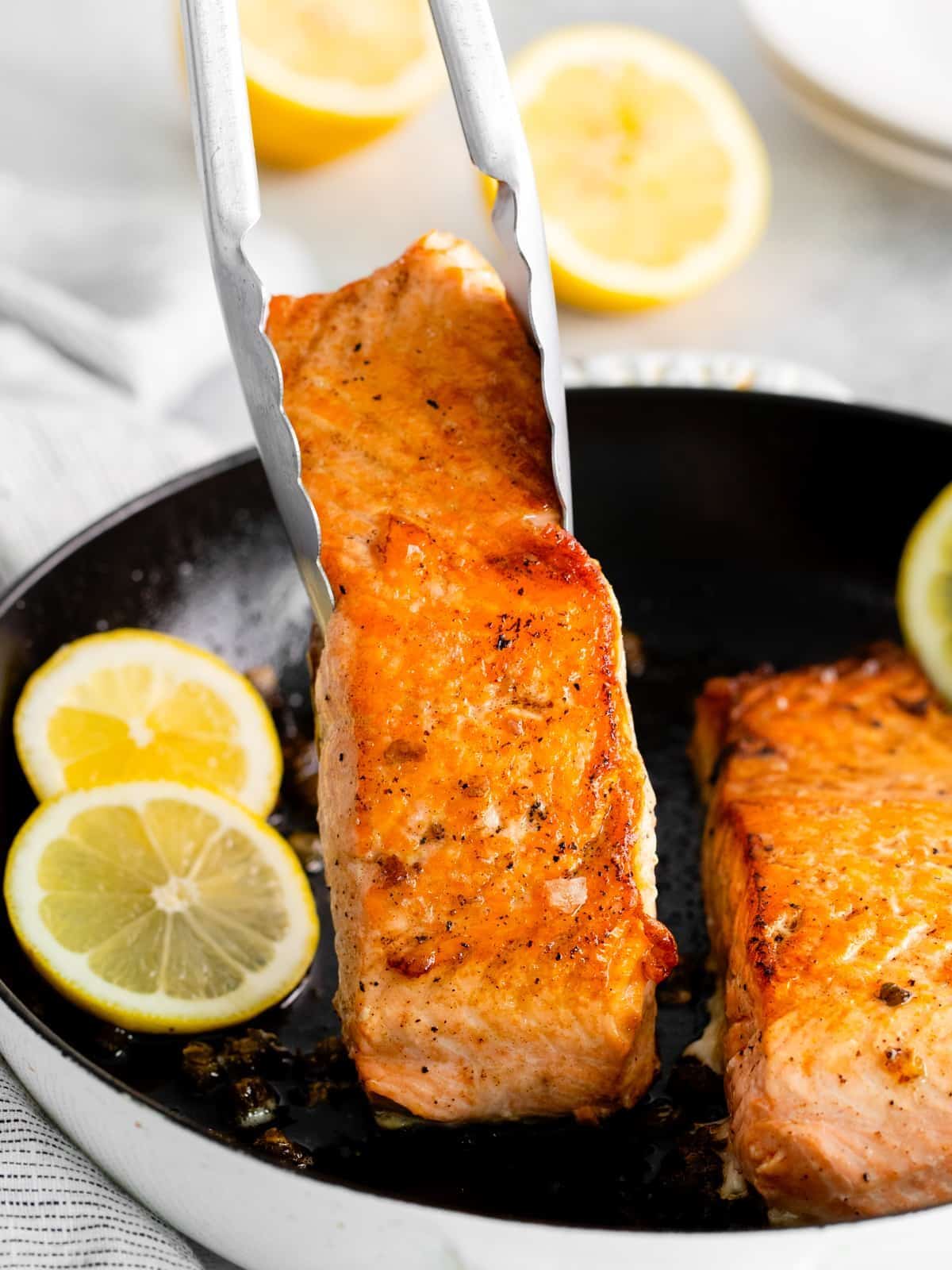 What's in Seared Salmon?
Salmon filets already have a naturally delicious flavor, so we'll be enhancing that here with simple, yet flavorful additions!
Salmon: I'm using center-cut salmon filets because they're an even thickness and therefore cook more evenly.
Oil: Olive oil helps sear the salmon. You can substitute the olive oil for your favorite neutral cooking oil.
Butter: Adds delicious flavor and helps create the pan sauce.
Thyme: Adds a subtle herbaceousness to the sauce. Rosemary or sage would also be delicious!
Garlic: Garlic is a classic flavor used with salmon— it adds an earthy bite to the sauce.
Capers: Add a briny saltiness to the sauce. Just make sure to drain them well— we only want the capers, not the brine!
Lemon: Brightens up the sauce by adding freshness and acidity. Freshly squeezed lemon juice is always preferred!
I prefer using salmon with the skin still on for two big reasons. One, the skin actually lends a ton of flavor to the filet! Two, there's a fatty layer between the skin and meat that does wonders for the consistency when kept in place while cooking.
Variations on Crispy Pan Seared Salmon
If you're not a fan of salmon, this recipe can be made with 2-inch thick filets of Mahi Mahi or Monkfish!
Can I use frozen salmon?
Yes, you can use frozen salmon. Just make sure to let it thaw overnight in the refrigerator before cooking it.
What side of salmon do you sear first?
There's a bit of debate about which side is best to sear first. I like to start skin side down to protect the delicate fish from the heat. It also makes the fish easier to flip when the time comes. However, if you're feeling extra confident, you can try flesh side down for an extra crispy crust.
How long should salmon be cooked in a pan?
Salmon should take about 3-4 minutes per side to cook in a pan.
Do you flip salmon when pan searing?
Yes! It is important to flip the salmon halfway through cooking to ensure that it cooks evenly all the way through.
Why is my salmon sticking to the pan?
Salmon can stick to the pan for a number of reasons. To combat this, it's important to let the pan fully heat up with oil before adding the filets. It's also important to allow the filets to naturally release before flipping. If it seems stuck, wait an extra minute before trying again. Use a long, thin fish spatula to get underneath the filet without breaking it.
How do you tell when salmon is done?
The easiest way to see if your salmon has finished cooking is to gently press down on the top of the fillet with a fork or your finger. If the flesh of the salmon flakes, it's finished cooking. The proper internal temperature of cooked salmon is 145°F.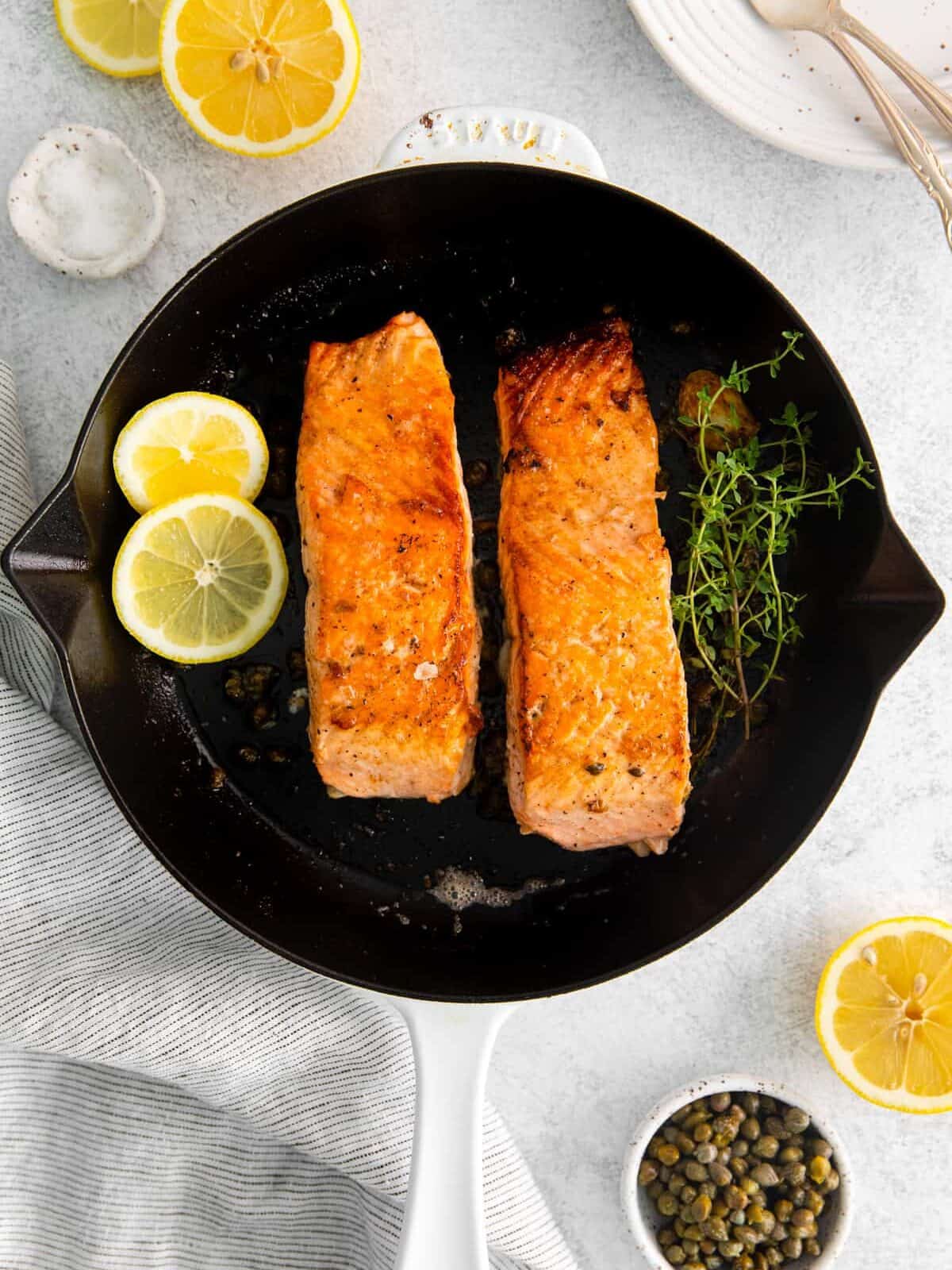 How to Store and Reheat Pan Seared Salmon with Skin
Store leftover pan seared salmon in an airtight container in the refrigerator for up to 2 days. Gently rewarm leftovers in a skillet set over medium-low heat or enjoy chilled.
How to Freeze Lemon Butter Salmon
Freeze pan seared salmon in an airtight container for up to 3 months. Let thaw overnight in the refrigerator before reheating.
What to Serve with Skin On Pan Seared Salmon
This simple pan seared salmon pairs well with a wide variety of side dishes. Bulk up your plate with heartier sides like Mashed Potatoes or a simple serving of buttered noodles. On the other hand, you can always keep things on the lighter side with Garlic Mashed Cauliflower, Lemon Parmesan Roasted Broccoli, or Classic Caesar Salad!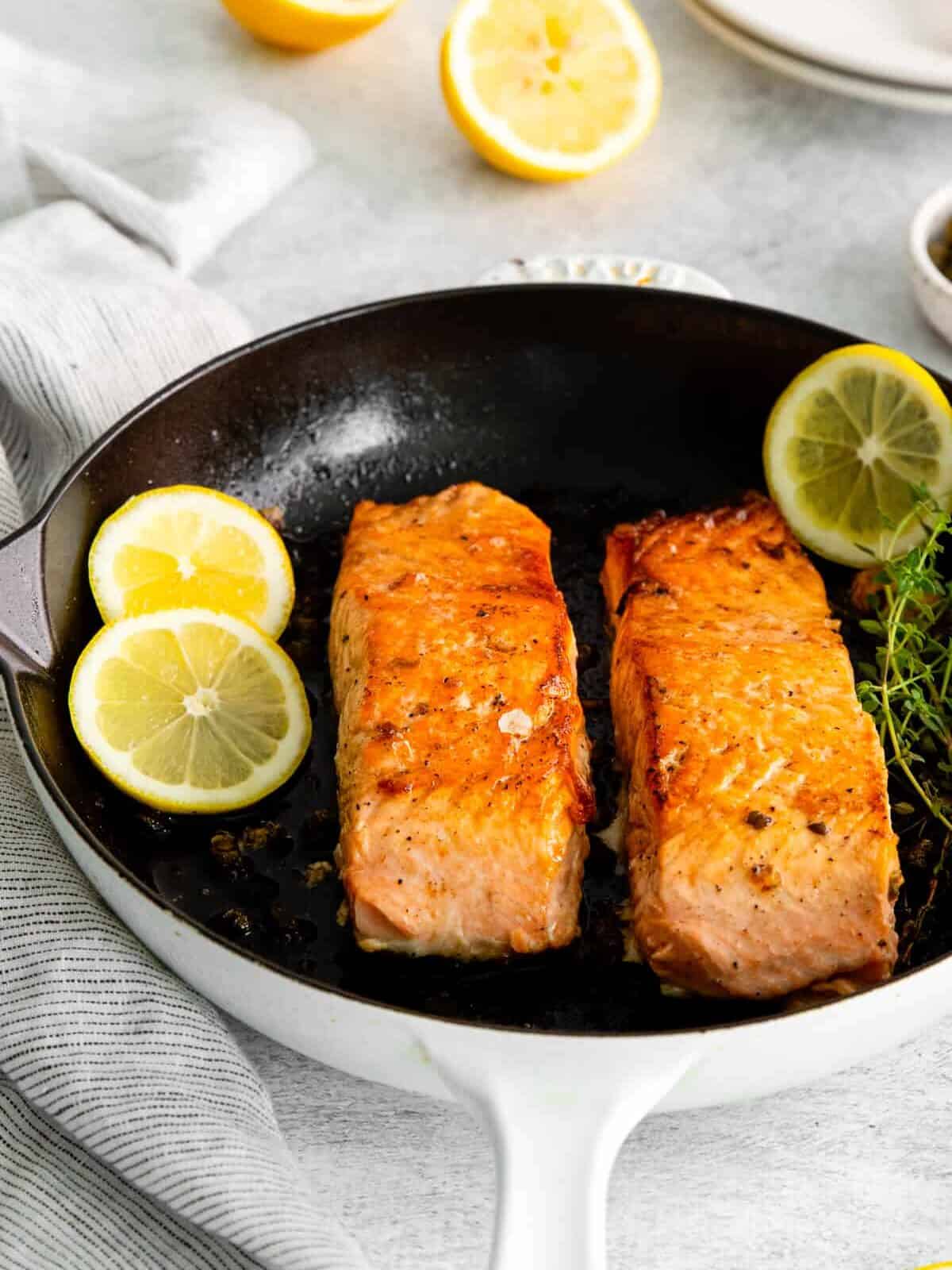 More Pan Seared Recipes We Love