This seared ahi tuna recipe is so simple and quick to make. Sushi-grade yellowfin steaks are coated in Dijon mustard and sesame seeds, then briefly pan-seared. Eat these tuna steaks plated with your favorite sides, or slice it up to serve atop an asparagus and arugula salad, sushi bowl, or poke bowl.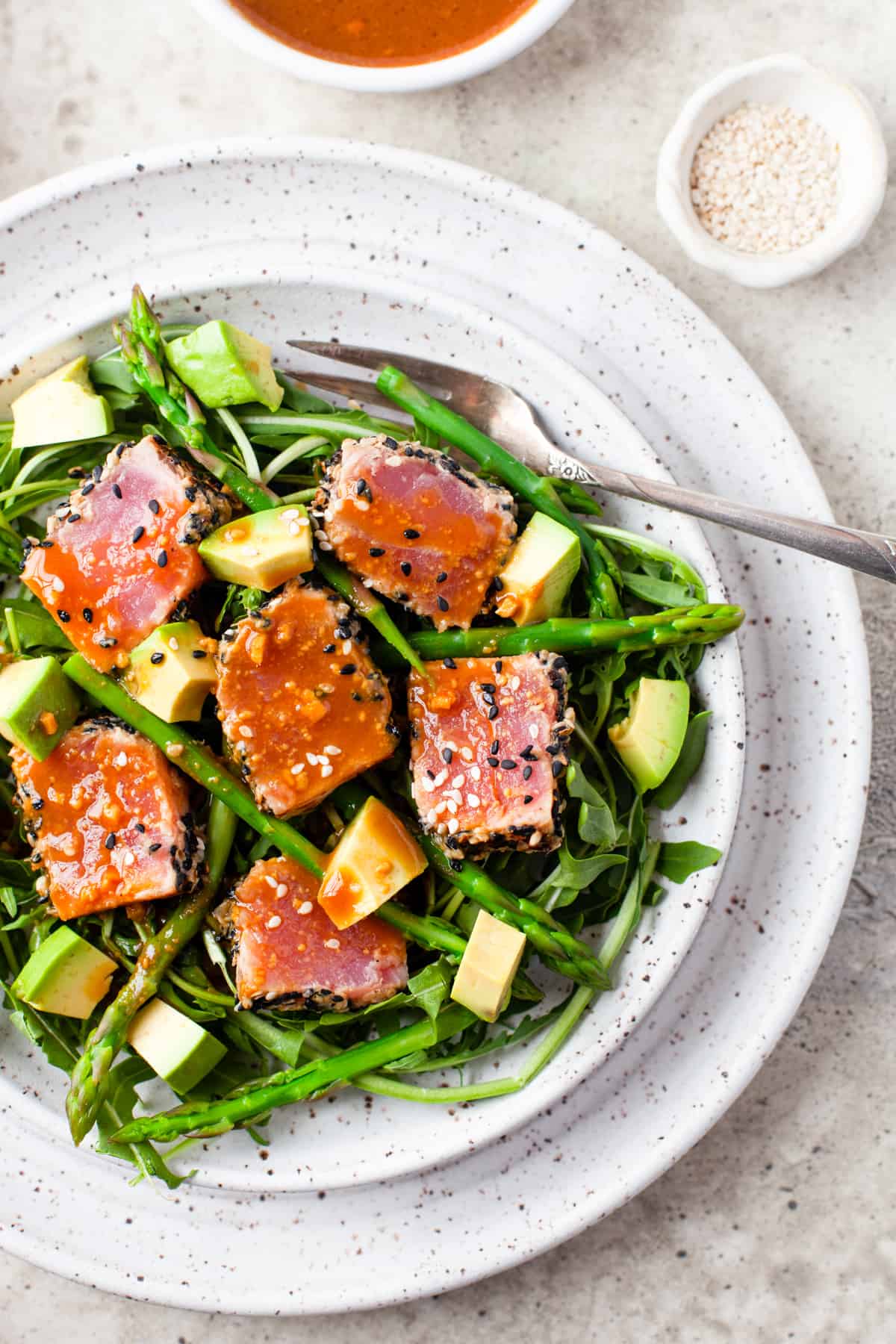 What's in this Ahi Tuna recipe?
You only need 3 ingredients to sear ahi tuna steaks! This is such a simple and straightforward how-to, but it makes such a beautiful, restaurant-level seafood dish.
Ahi Tuna: Use 8 oz yellow-fin steaks. Get the best quality (sushi-grade) tuna you can for this dish, because it's only briefly cooked. Fresh or frozen both work, but thaw first if frozen.
Dijon Mustard: This is spread all over the steaks to flavor the tuna, as well as to adhere the sesame seeds.
Sesame Seeds: I used a mix of white and black sesame seeds.
You can serve these as steaks plated with sides, or slice and serve it on top of a fresh asparagus and arugula salad (as detailed in the recipe card). It also works in poke bowls, deconstructed sushi bowls, and sushi rolls.
Should I marinate ahi tuna before searing?
Marinating is not necessary, and I usually don't when I make seared ahi tuna. But if you'd like to, you can mix up a marinade with soy sauce, oil, and any seasonings or ingredients you like to infuse it with more flavor.
Some things you could include in the marinade: ginger, sambal oelek, cayenne pepper, wasabi, or garlic.
Then just let it marinate anywhere from 15 minutes (right before cooking) to 8 hours (overnight). You can also use it as a glaze or dipping sauce for serving.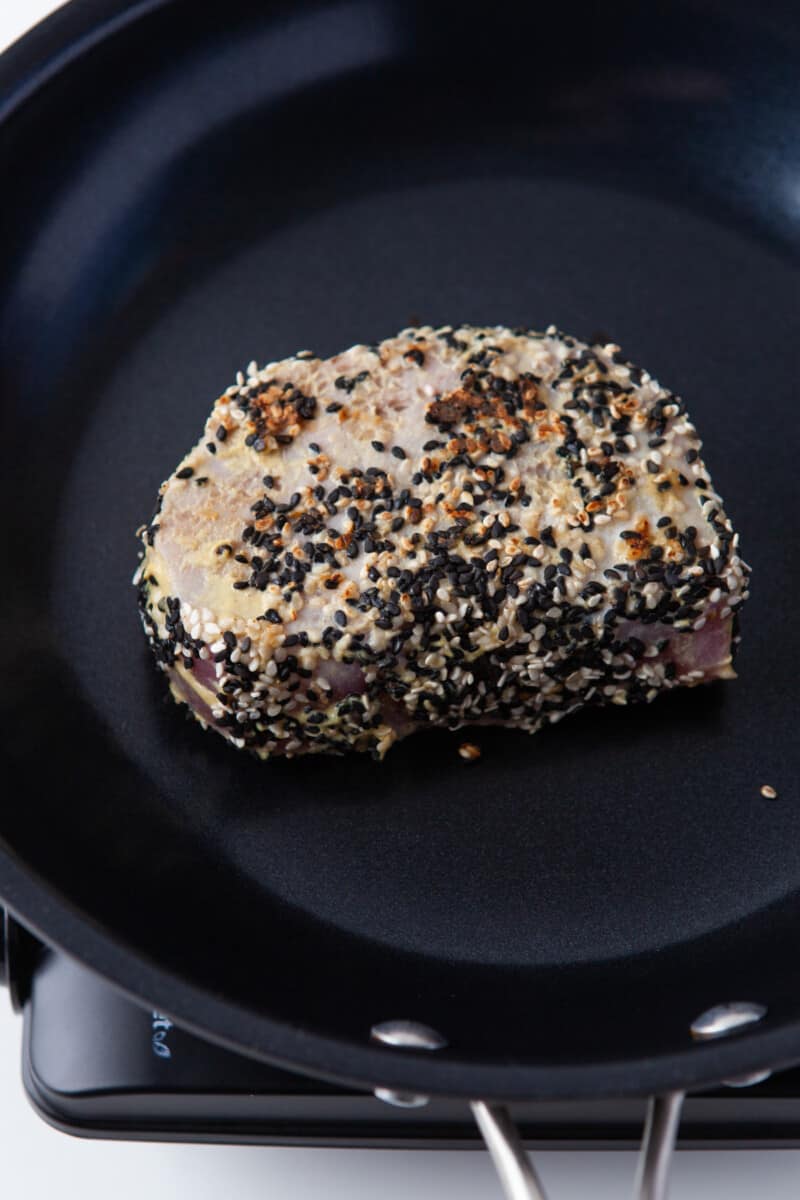 What is the best tuna for seared ahi tuna?
You should always use fresh or flash-frozen, sushi-grade ahi (yellowfin) tuna.
Is it safe to eat raw tuna?
Yes! So long as the tuna smells sweet and not fishy, is fresh or flash-frozen, and is sushi-grade, it is perfectly safe to eat raw. If your local grocery store sells sushi, they will likely carry sushi-grade yellowfin.
What does seared ahi tuna taste like?
Seared ahi tuna tastes mild and slightly sweet. It should not taste fishy. It will have a firm, buttery texture.
Is seared ahi tuna healthy?
Ahi tuna contains large amounts of omega-3 fatty acids that help reduce cholesterol and improve heart health. It does, however, also contain small amounts of mercury, so it should be consumed in moderation as part of a healthy diet.
How long does it take to sear ahi tuna steaks?
Searing is a very quick process. You only need to cook each side about 1 1/2 minutes (for 1-2 inch thick steaks). Since yellowfin is safe to eat raw, you don't have to worry about undercooking, but you don't want to overcook.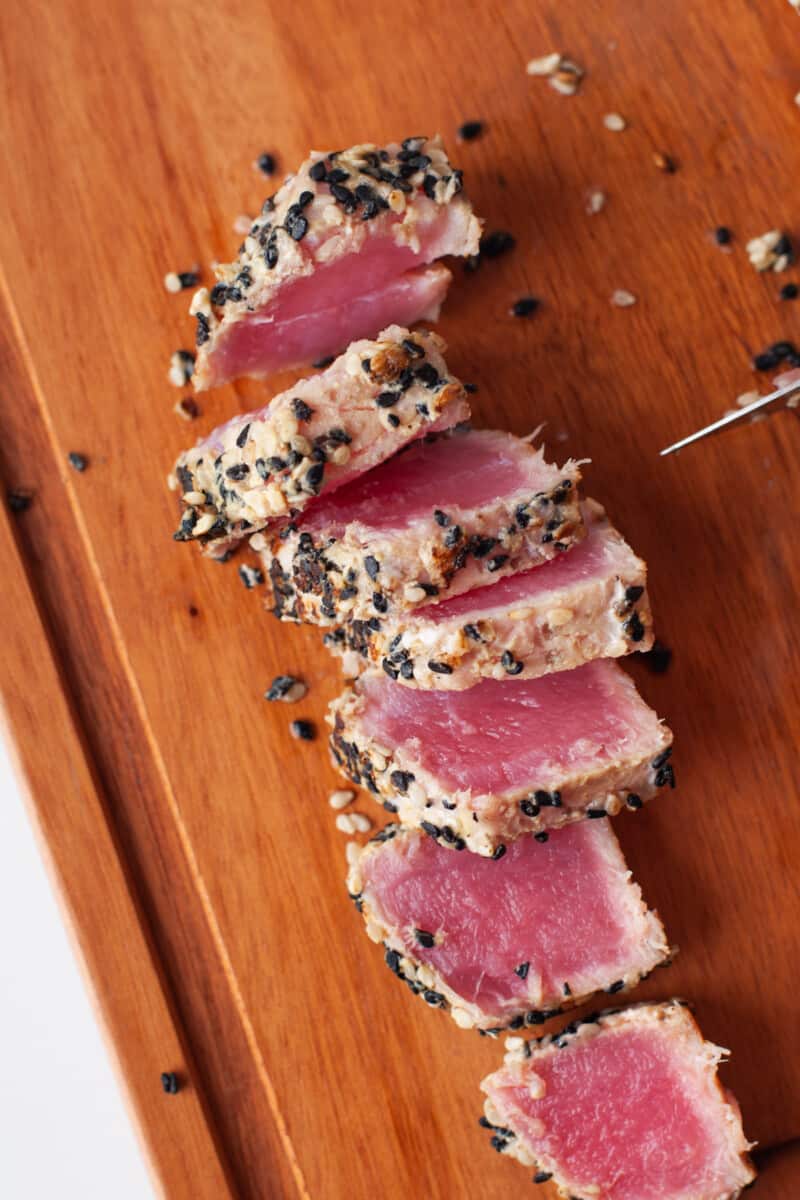 How to Store and Reheat
Seared ahi tuna, as with all raw fish, is best consumed on the day it is prepared. Store leftovers in an airtight container in the refrigerator for up to 1 day. I do not recommend freezing it.
How to Grill Ahi Tuna Steaks
If you prefer to grill instead or pan-sear, just follow these instructions instead.
Preheat your grill on high to at least 500°F.
Season the tuna all over with the Dijon mustard and sesame seeds.
Grill for 30-60 seconds per side, or until 115°F internally.
What to Serve with Seared Ahi Tuna
These sesame ahi tuna steaks make a great dish plated with rice, quinoa, or another grain, along with greens and veggies. It goes well with asparagus, sautéed vegetables, pickled beets, or cauliflower fried rice. Or start with a bowl of egg drop soup, or an Asian cucumber salad.
You can also slice up the steaks and serve everything together in bowls instead. Drizzle with soy sauce or hot chili oil, add sliced green onions and more sesame seeds, or anything you like.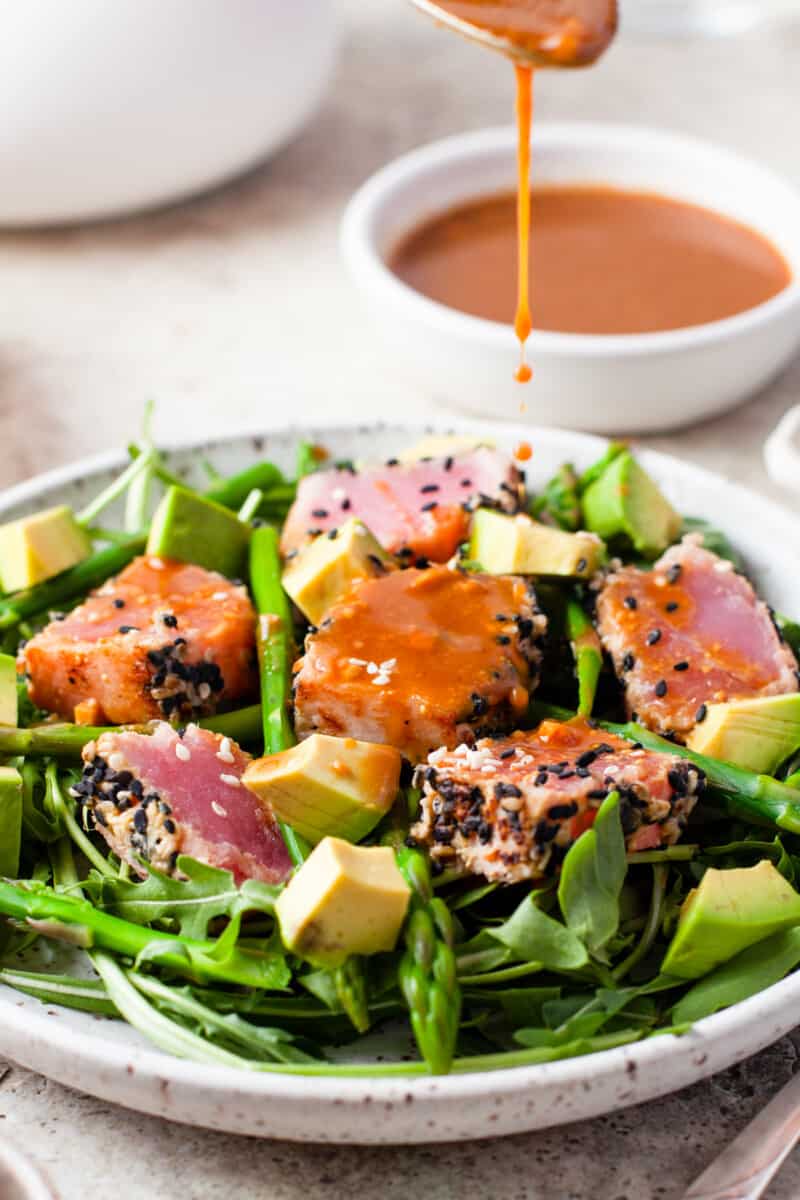 If you make this recipe be sure to upload a photo in the comment section below or leave a rating. Enjoy! You can also jump to recipe.
More Seafood Recipes We Love