SEARED NEW YORK STRIP STEAK is up there with the most romantic meals you can make at home. My absolute favorite meal on earth is a delicious steak. This Seared New York Strip Steak with Red Wine Balsamic Reduction is favorite for any time of year!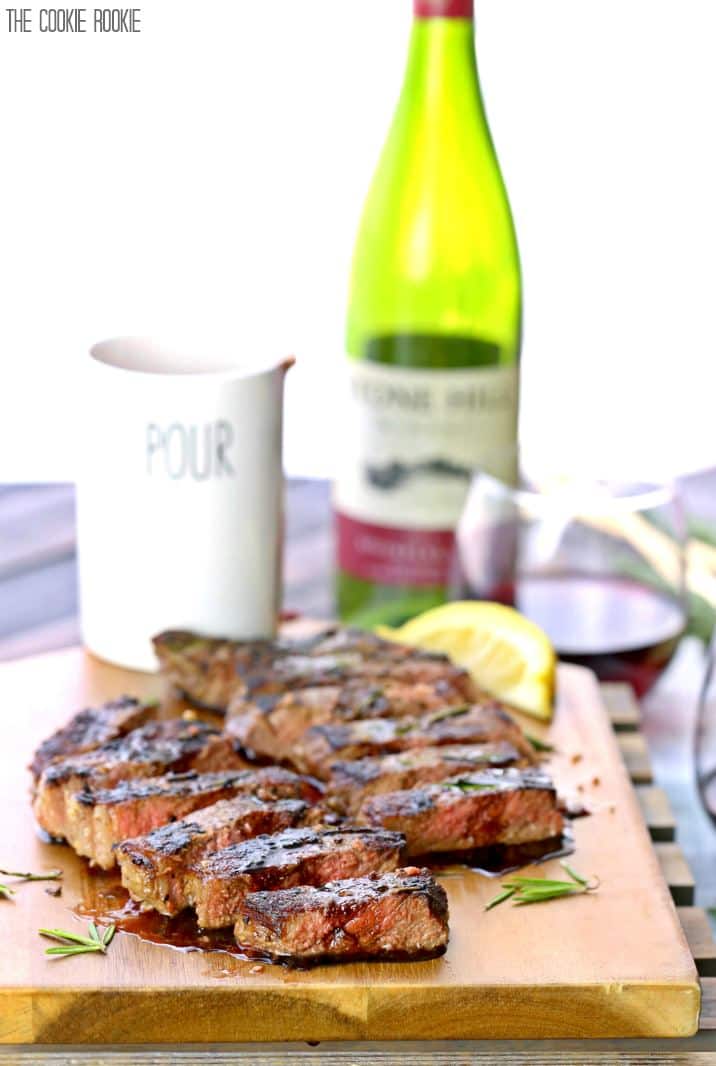 There is NOTHING better than a good steak. It's the perfect meal for a celebration, for the end of a long long week, or even just a regular ol' day. If there's a great steak on a menu, I find it hard to order anything else. And when I do order anything else, I usually regret it. It's my favorite meal for any occasion. 'Bout time I learned how to make the perfect steak at home!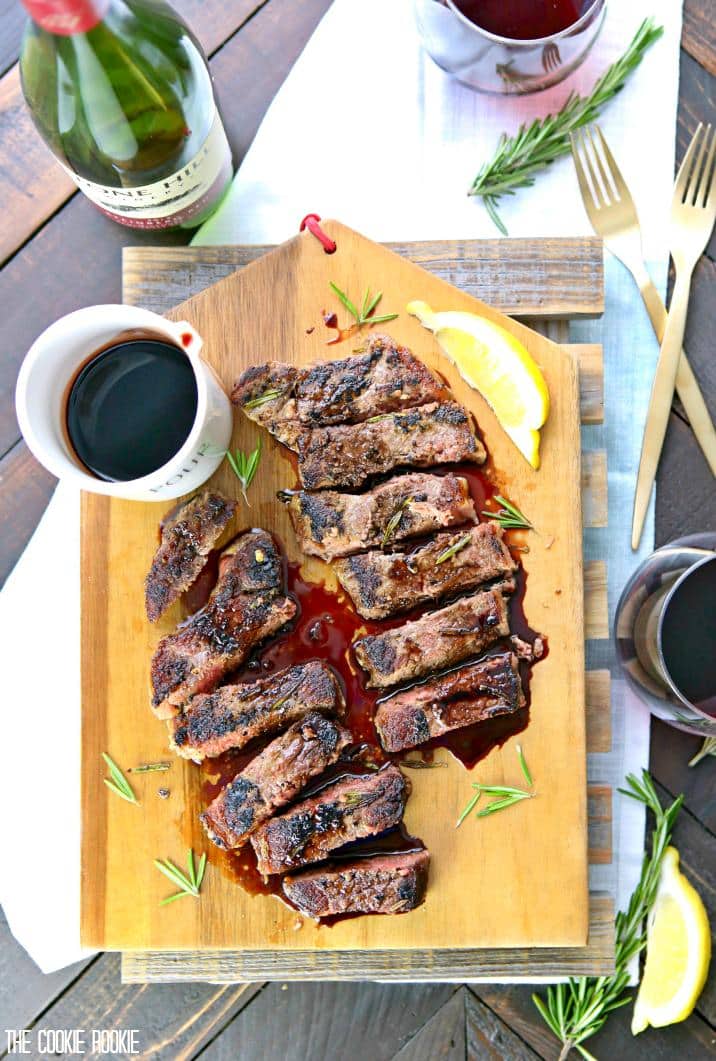 I have to admit that typically, my favorite cut of meat is always a filet; but this meal might just change my mind. I did a bit of research on steaks that are easy and delicious to cook at home, and strips kept coming up. According to Serious Eats: "They're tight texture with a definite grain means strip steaks are moderately tender, but still have a bit of chew. Good marbling and a strong beefy flavor. Not as robust as ribeye, but much easier to trim with no large pockets of fat, making it an easy-to-cook, easy-to-eat cut. A favorite of steakhouses." Sounds totally delish and perfect to me!!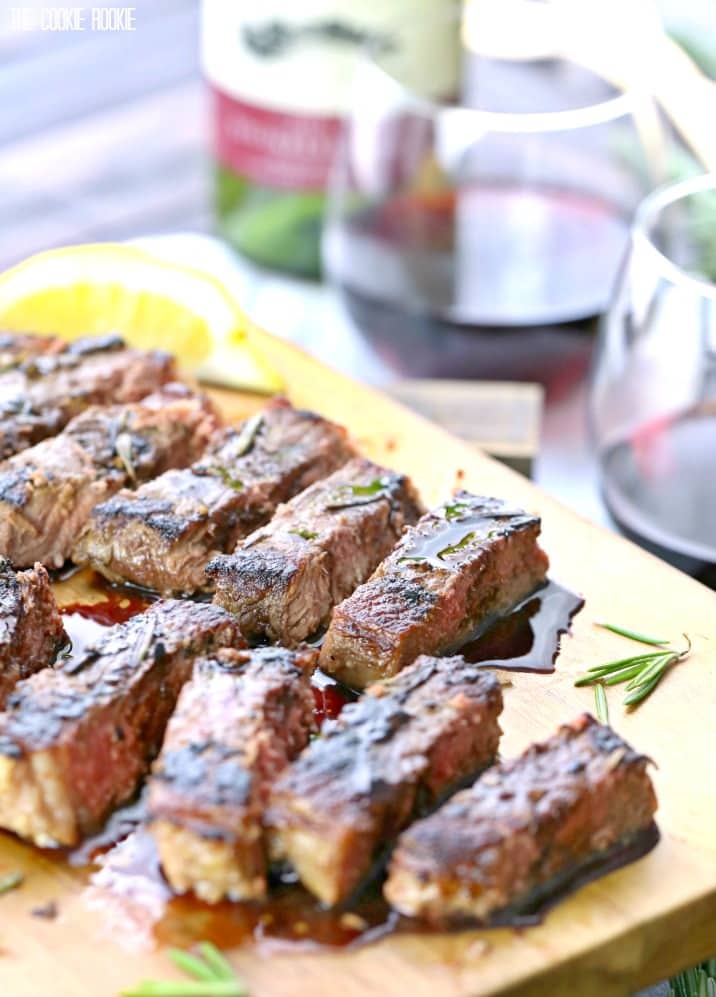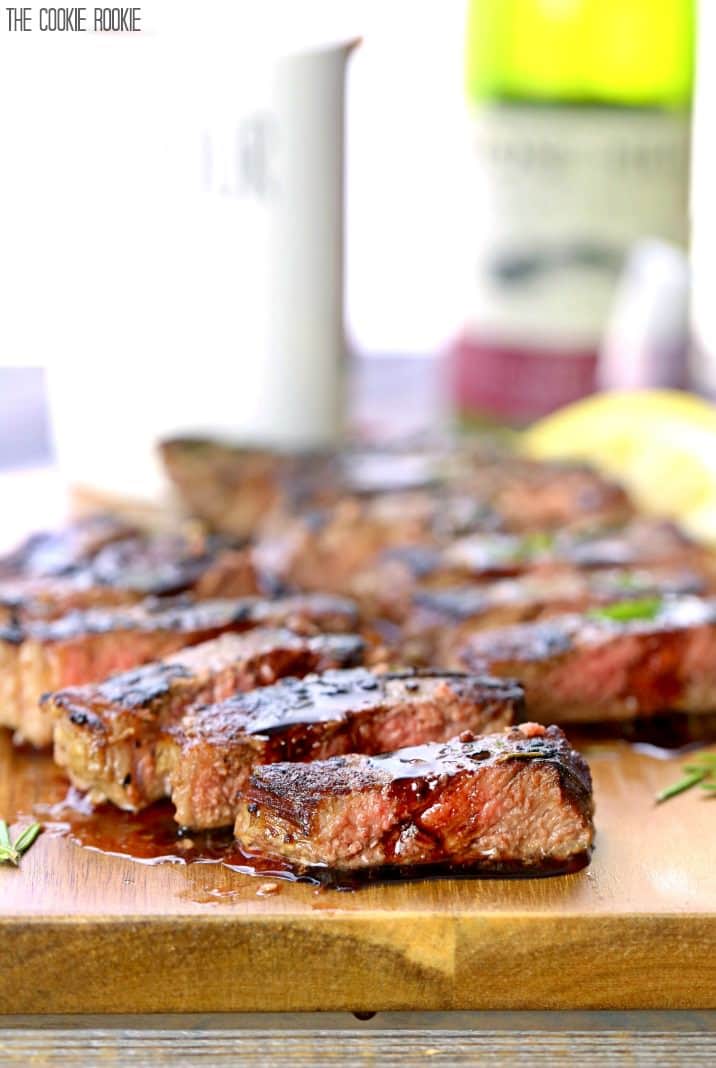 To top this beautiful cut of meat, I made a super simple and TOTALLY DELICIOUS Red Wine Balsamic Reduction. I tell you what, I could eat this every night. Which is hard when you're a food blogger and have to make new things all day every day.
All I really want is this Seared New York Strip Steak with Red Wine Balsamic Reduction.
Sorry not sorry.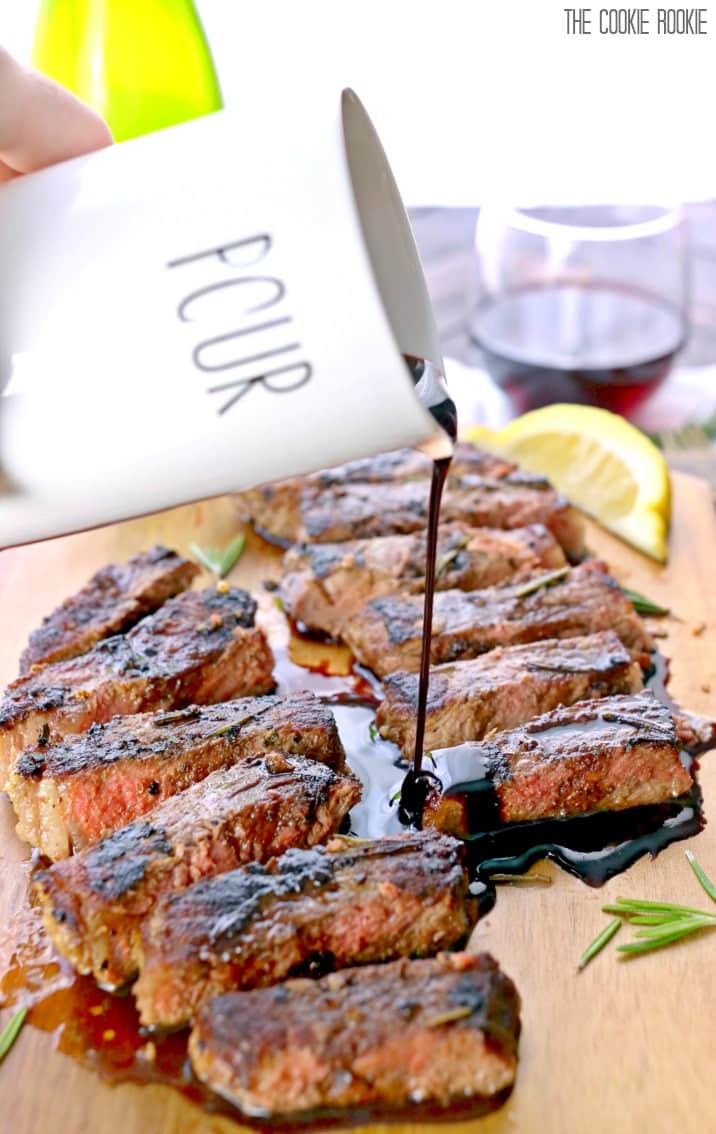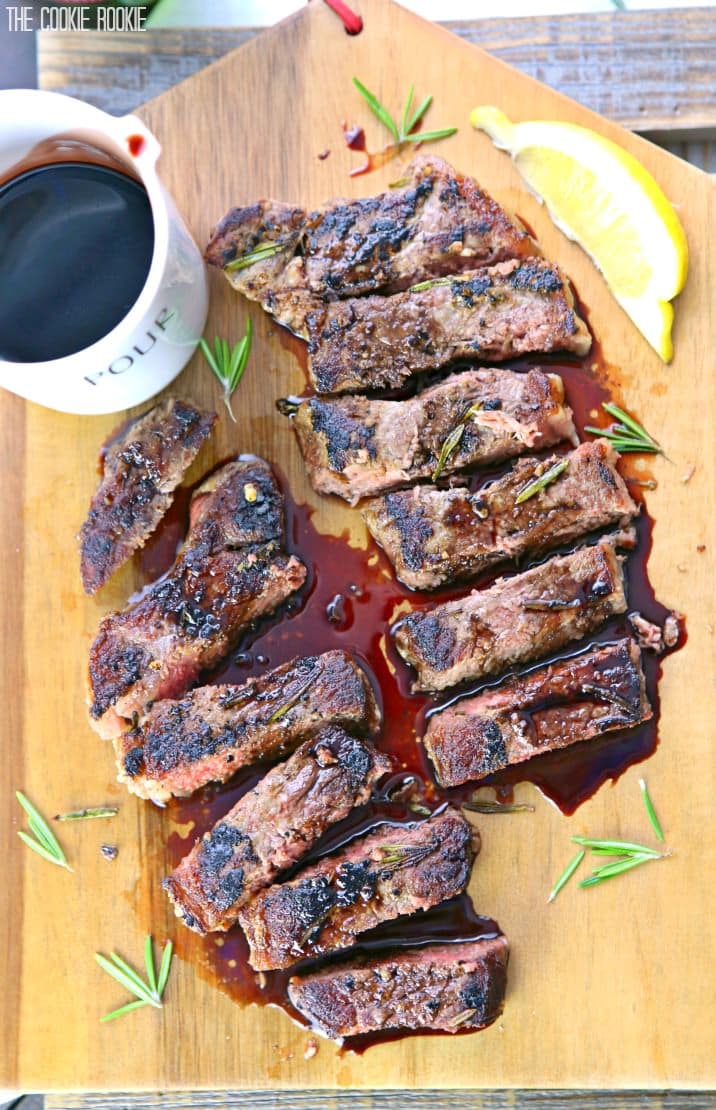 Enjoy guys!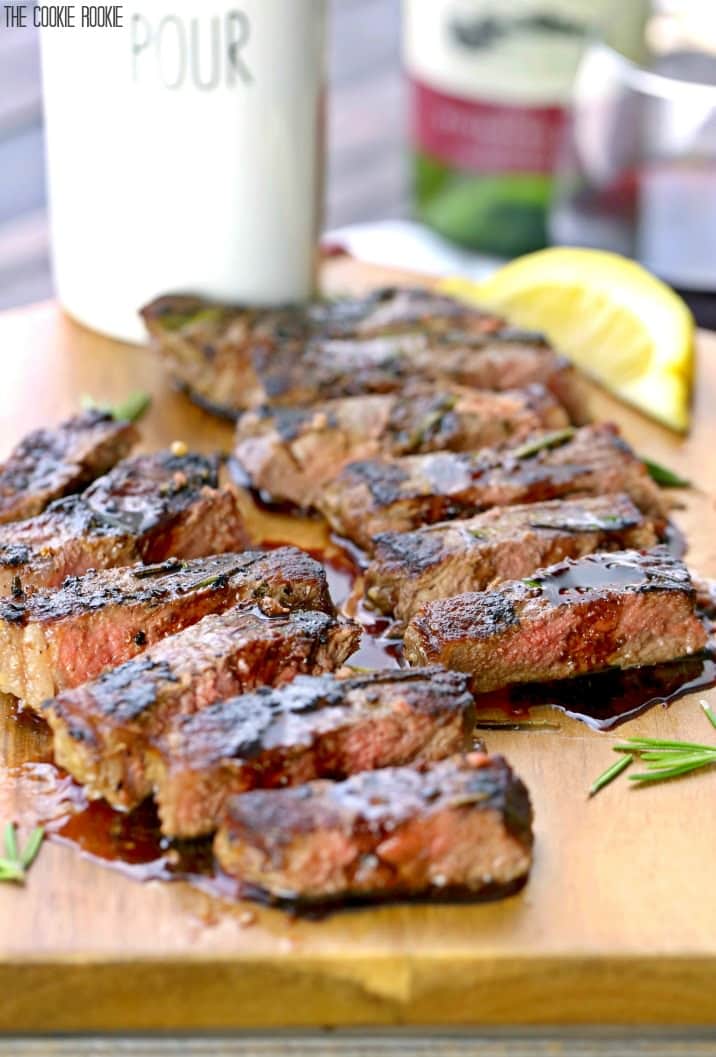 Seared New York Strip Steak with Red Wine Balsamic Reduction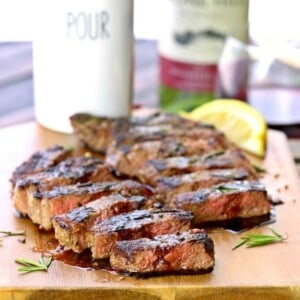 Ingredients
4 New York Strip Steaks, about 1 to 11/2 inch thick
1 cup red wine
1/2 cup balsamic vinegar
2 tablespoons dark brown sugar
2 tablespoons olive oil, divided
2 cloves garlic, minced
1 tablespoon rosemary, chopped
2 teaspoons course sea salt
Instructions
Preheat oven to 450 degrees fahrenheit.

FOR BALSAMIC REDUCTION:

In a small saucepan, combine wine, balsamic vinegar, and brown sugar. Stir to combine. Heat over medium high heat until boiling, then reduce to a simmer. Continue cooking until sauce is reduced by about half. It will become thicker and more like a syrup.

TO PREPARE STEAKS:

Drizzle olive oil (2 tablespoons between all four steaks) on and massage into each steak. Top with garlic, sea salt, and rosemary. Place steaks in a ziplock bag and allow to marinate for at least 30 minutes.
When you're ready to cook the steaks, heat a large skillet over high heat for about 4 -5 minutes. Add the remaining 2 tablespoons olive oil to the pan and add the steaks immediately.
Sear each side for 1 1/2 minutes. When each side has been seared, place pan in the oven for approximately 4-5 minutes. If you prefer your steak more rare, about 4 minutes is perfect. Remove from the oven and allow to rest for 5 minutes before slicing. Slice steak and top with Red Wine Balsamic Reduction.
7.8.1.2
2092
https://www.thecookierookie.com/seared-new-york-strip-steak/