This Seared New York Strip Steak with Red Wine Balsamic Reduction is favorite for any time of year! Steak is up there with the most romantic meals you can make at home and you can't go wrong with this recipe it's super easy and can be paired with any side dish.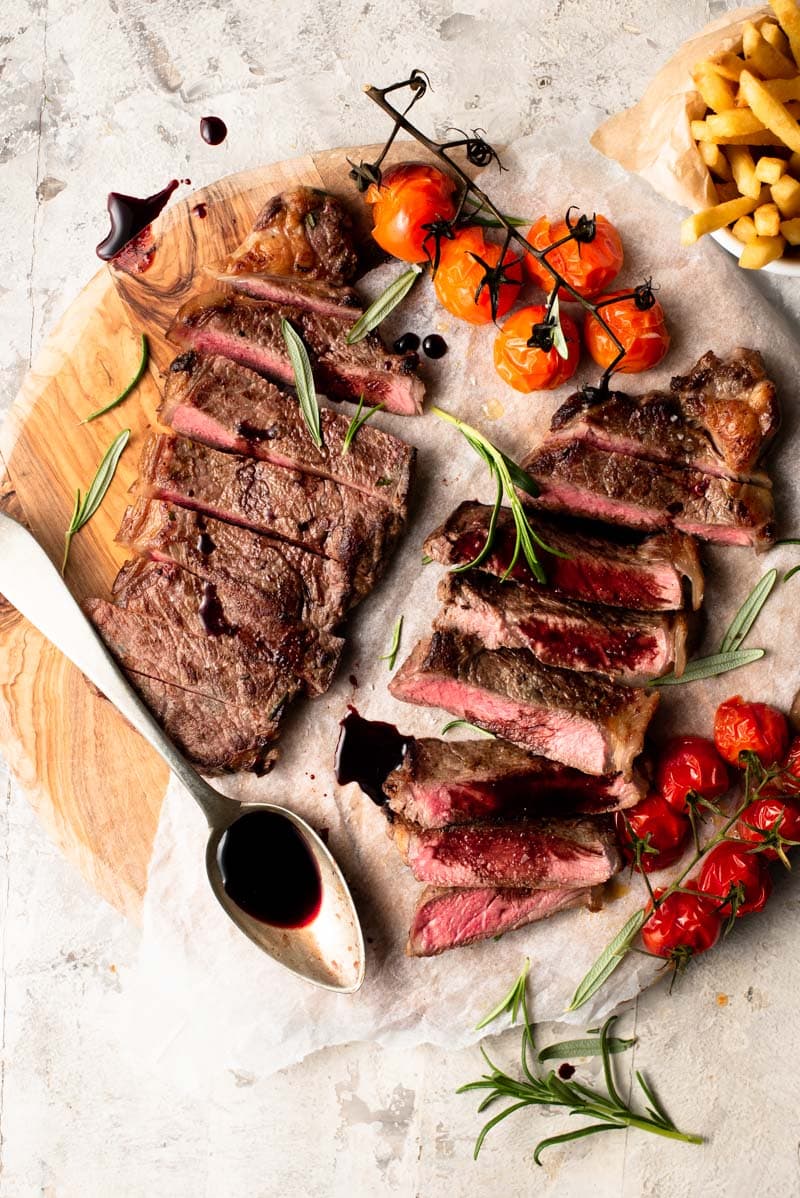 There is NOTHING better than a good steak. It's the perfect meal for a celebration, for the end of a long long week, or even just a regular ol' day. If there's a great steak on a menu, I find it hard to order anything else. And when I do order anything else, I usually regret it. It's my favorite meal for any occasion. 'Bout time I learned how to make the perfect steak at home!
I have to admit that typically, my favorite cut of meat is always a filet; but this meal might just change my mind. I did a bit of research on steaks that are easy and delicious to cook at home, and strips kept coming up.
According to Serious Eats: "They're tight texture with a definite grain means strip steaks are moderately tender, but still have a bit of chew. Good marbling and a strong beefy flavor. Not as robust as ribeye, but much easier to trim with no large pockets of fat, making it an easy-to-cook, easy-to-eat cut. A favorite of steakhouses." Sounds totally delish and perfect to me!!
What Cut of Meat is New York Strip Steak?
This particular cut of steak is particularly tender because it doesn't do a lot of work. When the bone is still attached to the strip steak it becomes the strip part of a T-bone or porterhouse steak so you know this is a premium, high-quality cut of meat.
How to Marinade New York Strip Steak
I used a super simple marinade to make this steak; fresh garlic, rosemary, sea salt and olive oil. That's all you need to give your steak the most delicious flavor without it being overpowering.
I like to marinate my steaks in ziplock bags, they don't need long and it's a great way to prep in advance!
Other Ingredients You Could Use
You can use any kind of herbs and spices to marinade steak depending on your preference why not try bold spices such as cumin, paprika or red pepper flakes?
You could also stick for Mediterranean flavors and use lemon zest (don't use juice or it'll start cooking the steak), thyme, oregano or tarragon.
How to Make Seared New York Strip Steak with Balsamic Reduction
To Make the Balsamic Reduction: In a small saucepan, combine wine, balsamic vinegar, and brown sugar.
Stir to combine. Heat over medium high heat until boiling, then reduce to a simmer. Continue cooking until sauce is reduced by about half. It will become thicker and more like a syrup.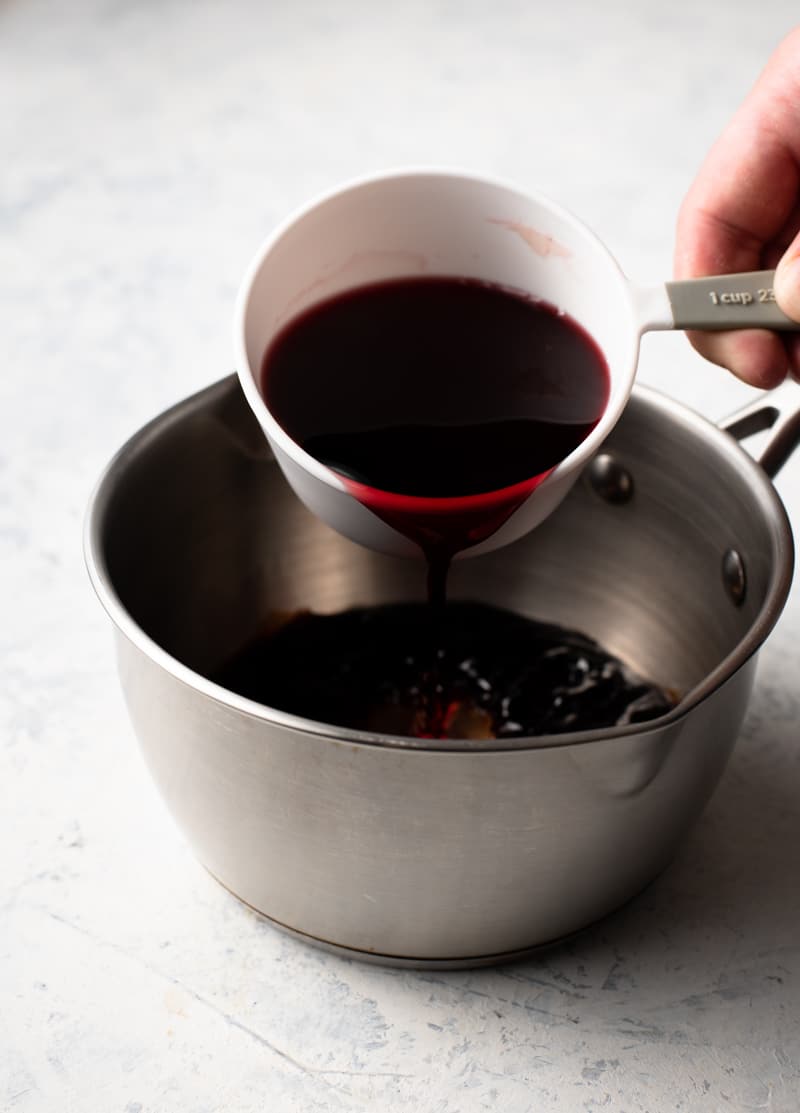 To Prepare the Steaks: Drizzle olive oil on and massage into each steak. Top with garlic, sea salt, and rosemary. Place steaks in a ziplock bag and allow to marinate for at least 30 minutes.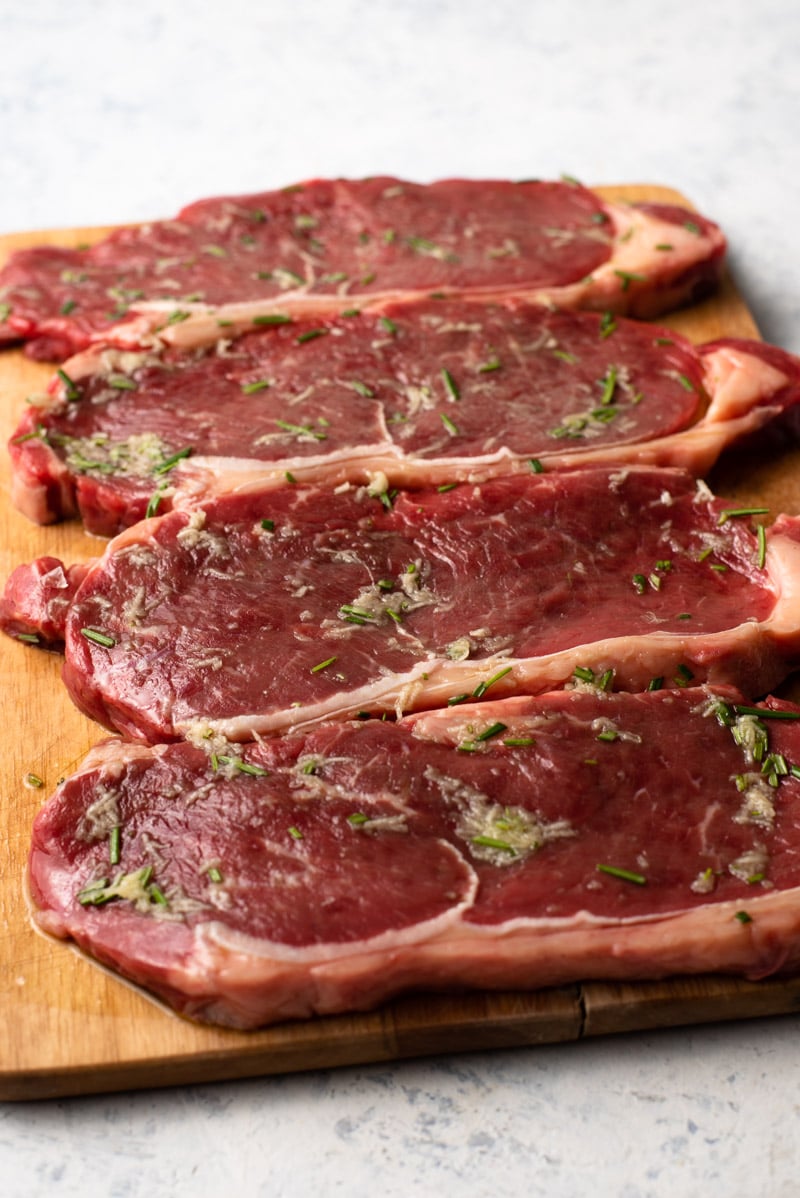 When you're ready to cook the steaks, heat a large skillet over high heat for about 4 -5 minutes. Add the remaining 2 tablespoons olive oil to the pan and add the steaks immediately.
Sear each side for 1 1/2 minutes. When each side has been seared, place pan in the oven for approximately 4-5 minutes. If you prefer your steak more rare, about 4 minutes is perfect. Remove from the oven and allow to rest for around 5-10 minutes before slicing.
Slice steak and top with Red Wine Balsamic Reduction.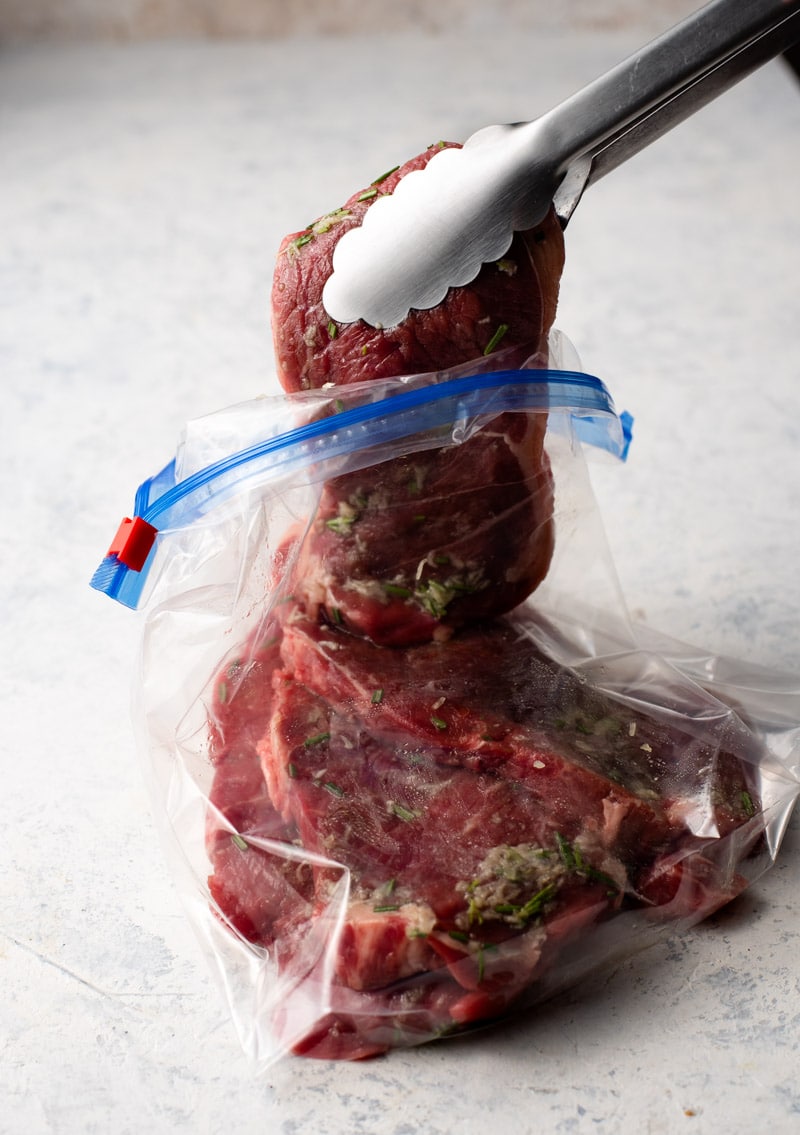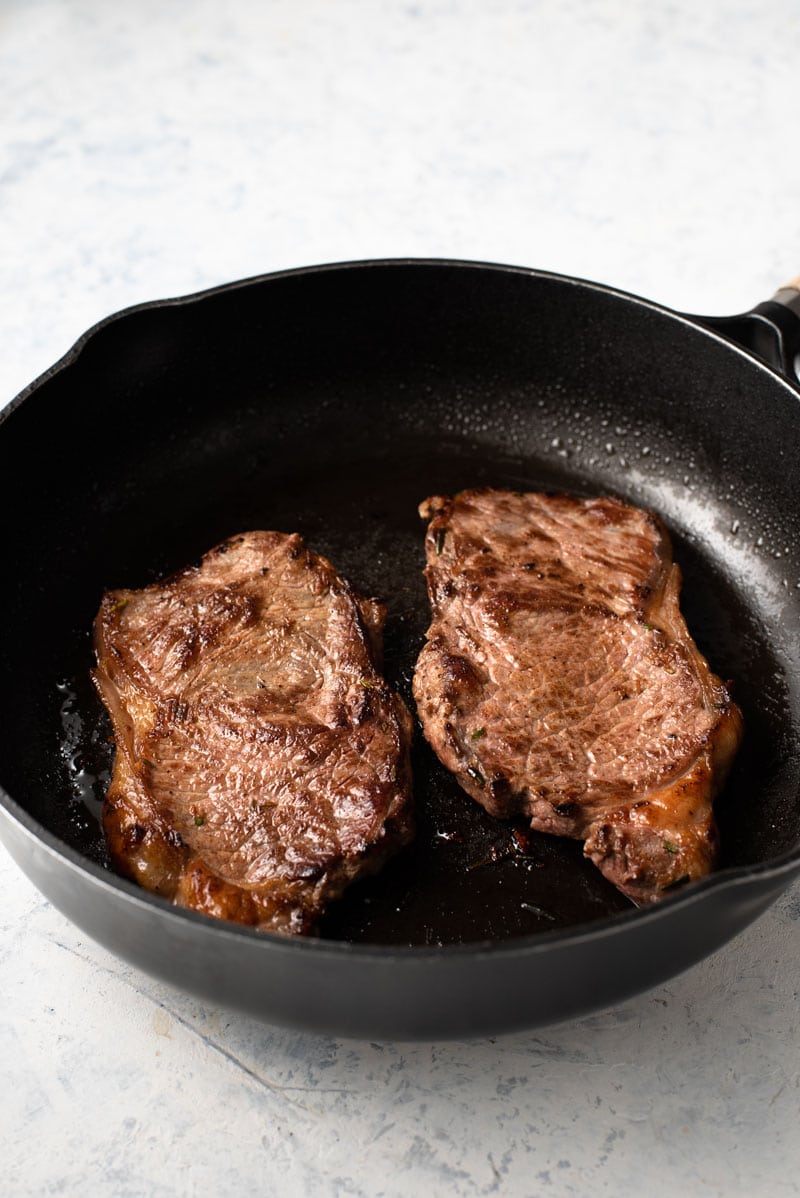 How to Tell Your Steak is Done
The best way to tell that your steak is cooked to your liking is by using a meat thermometer. For rare is cook your steak to 130-135° F, medium-rare to 140° F, Medium 145° F.
Top Tip: This is the temperature you should take your steak off of the heat and rest! It's so important to rest your steaks so they're extra juicy, tender and do not overcook.
Sides to Serve with New York Strip Steak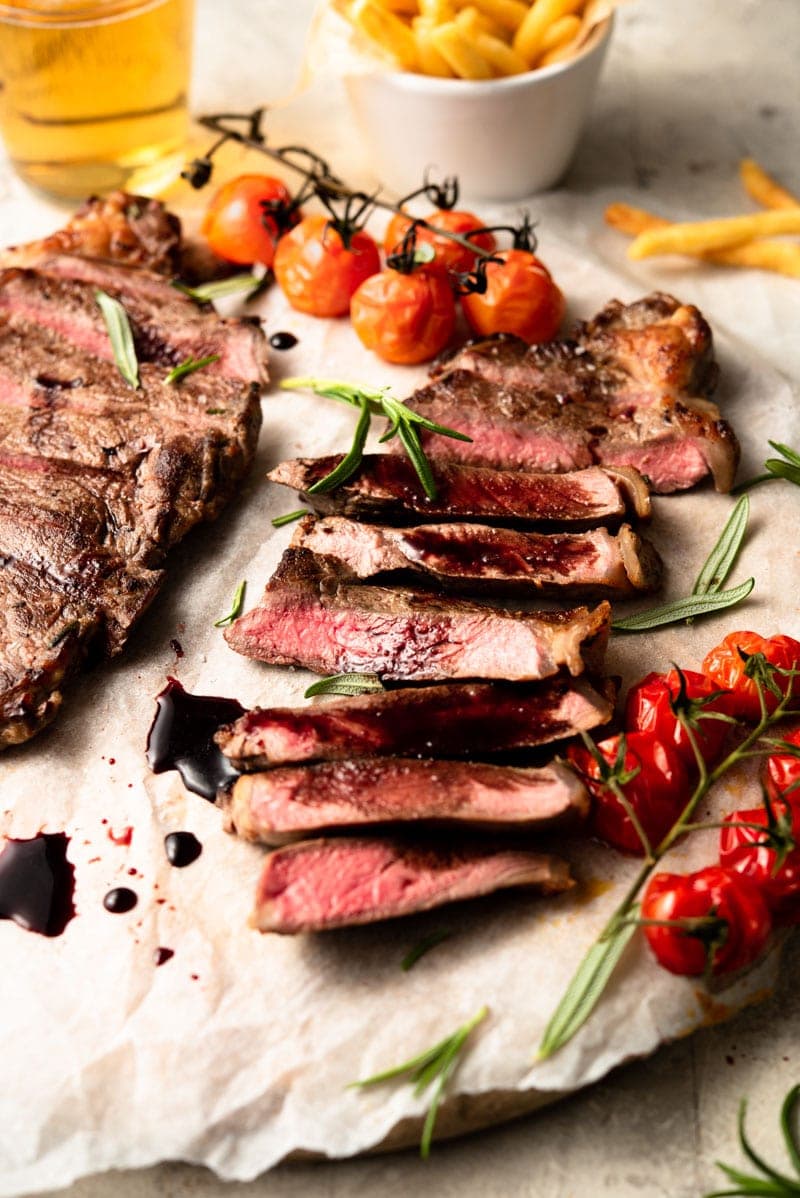 Top Tips for Making the Best New York Strip Steak:
Marinate your steaks for at least 30 minutes so the flavors infuse the steak. You can also do this overnight or a few hours in advance if you need to.
Bring your steaks out of the fridge 10-15 minutes before cooking to avoid the meat turning tough (cold steaks on a high heat will shrink and tighten up).
Make sure to let your steaks rest after cooking so they're juicy and tender.
You can easily switch up the flavors by using different herbs and spices in the marinade.
Serve with your favorite sides.
More Delicious Steak Recipes You Might Like:
Steak and Vegetable Skewers with Cilantro Pesto