This Seared New York Strip Steak with Red Wine Balsamic Reduction is a favorite for any time of year! Steak is up there with the most romantic meals you can make at home, and you can't go wrong with this recipe. It's super easy and can be paired with any side dish. This steak is so tender, and the balsamic is just delicious!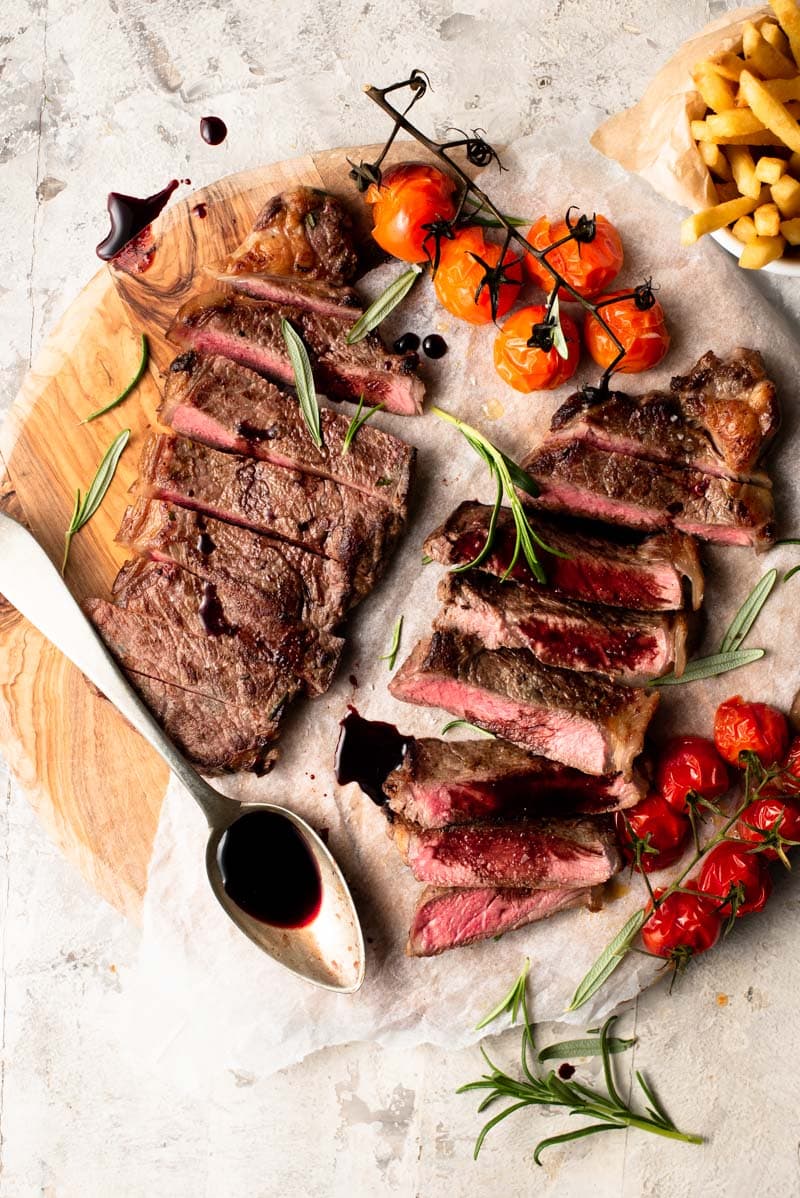 New York Strip Steak
This New York strip steak recipe is so easy, and it's one of my favorites! This method is the best way to cook it, because it comes out perfectly tender.
We start by marinating the steak to infuse it with flavor. Then pan-sear it to add a nice brown crust, and briefly cook it in the oven. Finish it off by drizzling it with a delicious, sweet and tangy, red wine balsamic reduction!
Why You'll Love this Strip Steak Recipe:
EASY: Despite its fancy appearance, this is such an easy recipe. It's just a few ingredients and a few quick steps!
SPECIAL OCCASIONS: If you're looking to impress, this is the recipe to do it with! Whether you're planning for date night or just want to serve up something a little special, this steak dinner is the way to go.
TENDER: New York strip steak is so tender and juicy. As long as you don't overcook, you can't go wrong!
There is NOTHING better than a good steak dinner. It's the perfect meal for a celebration, the end of a long week, a romantic dinner at home, or any regular ol' day that calls for good food.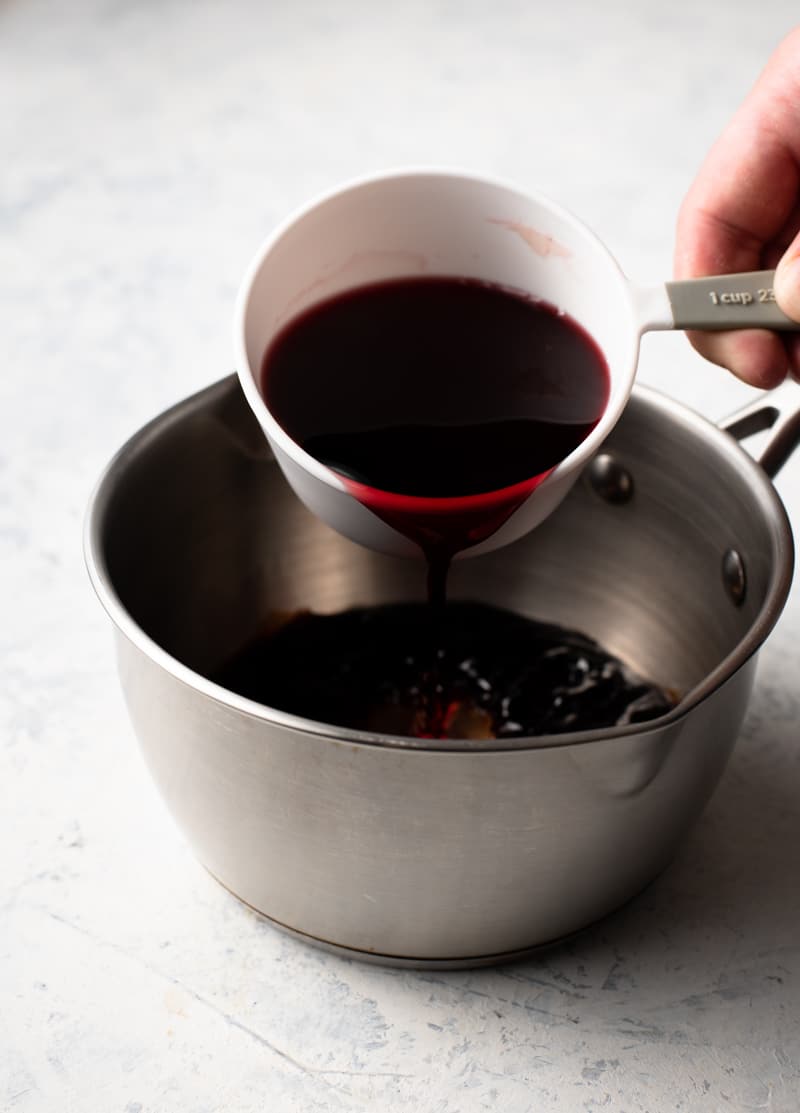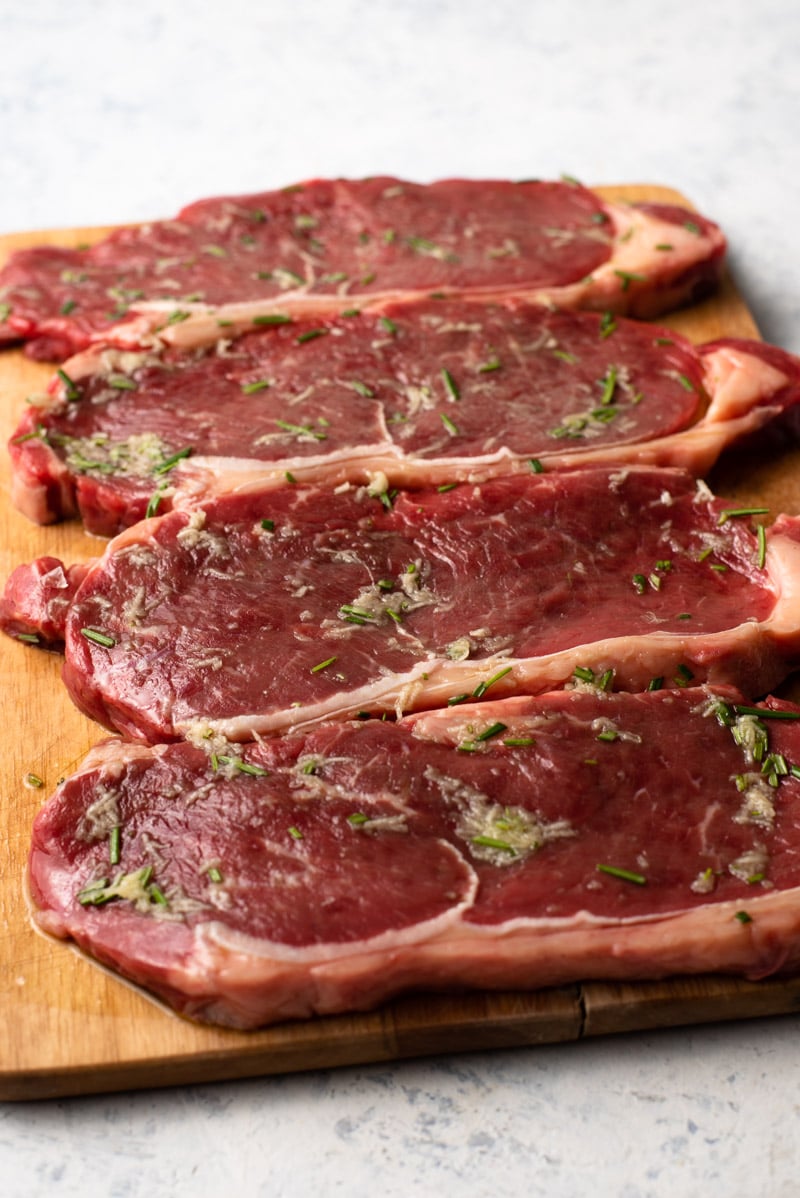 How to Cook Seared New York Strip Steak
Be sure to see the recipe card below for full ingredients & instructions!
Combine wine, balsamic, and sugar, then simmer to reduce.
Marinate the steaks in the refrigerator, then let them rest on the counter for a few minutes before cooking. Preheat the oven.
Pan-sear strip steaks on both sides in a hot skillet with oil.
Then finish cooking them in the oven, for just a few minutes.
Let them rest, then slice and serve with the balsamic reduction.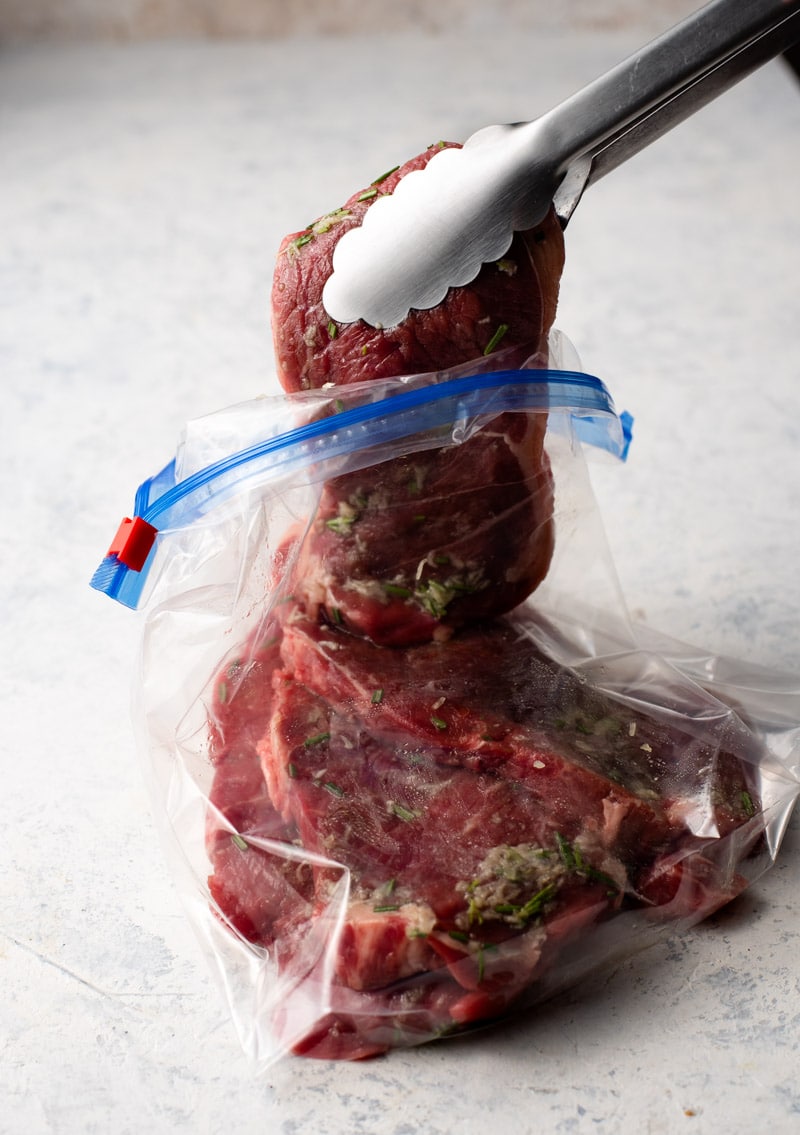 How do you marinate steak?
Marinating steak before cooking infuses it with so much flavor, so this step is important. And it's really easy!
I made a super simple marinade for this seared New York strip steak recipe. It's a mix of fresh garlic, rosemary, sea salt, and olive oil. It's savory, herby, but not overwhelming. Remember, we've got that red wine balsamic reduction to finish it off, so we don't need to overdo the seasoning.
Just massage the oil into the steaks, add the other ingredients, then place it in a resealable bag and let it marinate in the fridge until ready to cook.
How long do you need to marinate steak?
Marinate steak in the refrigerator for at least 30 minutes before cooking. 30 minutes is plenty, but you can marinate longer if needed. It will be fine in the fridge overnight.
What kind of wine should I use for this recipe?
We're using red wine in the balsamic reduction to add a little more depth and flavor. I recommend using a dry red wine (like a Merlot or Pinot Noir) to best complement the steak.
What does it mean to "sear" steak?
In this recipe, we start by pan-searing the steak before cooking it in the oven. Searing means to briefly cook at a high temperature in order to get a brown crust on the surface of the meat. This adds texture and flavor!
What kind of pan should I use to sear steak?
I love using a cast iron skillet for pan-searing meat. It holds heat evenly, and helps to give steak that perfect crisp brown crust.
What is balsamic reduction?
This requires simmering balsamic vinegar (here mixed with red wine) until it reduces in volume. This concentrates the flavor, so it will be extra delicious when drizzled over the steak.
Serving Suggestions
This seared New York strip steak recipe is perfect to serve with all of your favorite sides. It works great with veggies and roasted potatoes for a nice dinner, or serve with fries and a salad for a more casual meal.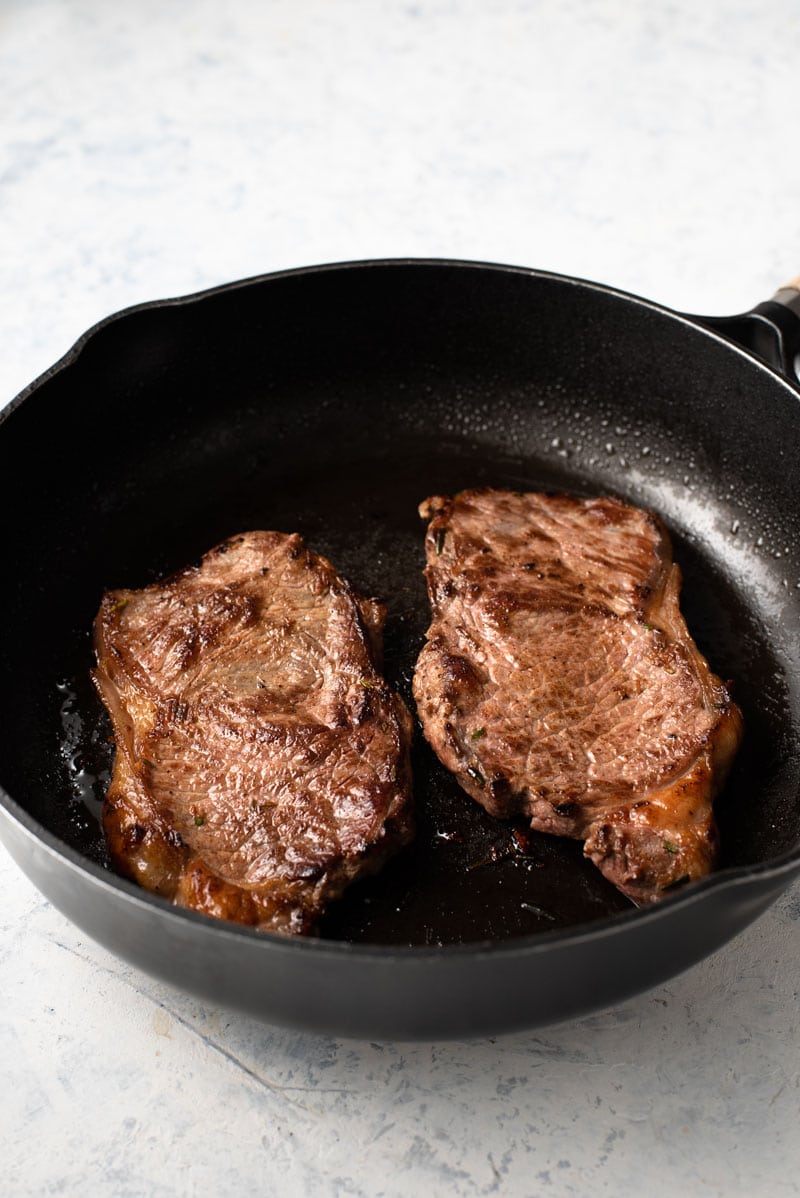 Tips!
Marinate your steaks for at least 30 minutes so the flavors infuse the steak. You can also do this overnight or a few hours in advance if you need to.
Bring your steaks out of the fridge 10-15 minutes before cooking to keep the meat from getting tough (cold steaks on high heat will shrink and tighten up).
Make sure to let your steaks rest after cooking so they're juicy and tender.
You can easily switch up the flavors by using different herbs and spices in the marinade.
Cut steaks against the grain, into tender little strips. This is the best way to eat this type of steak!
What cut of beef is New York strip steak?
Strip steak comes from the short loin, which is a part of the cow that doesn't do much work. That means it doesn't have a lot of muscle fiber, so it stays very tender when cooked.
How can you tell when your steak is done?
The best way to tell that your steak is properly cooked is by using a meat thermometer. Follow these internal temperature guidelines to cook it to your preferred doneness.
Rare: 130-135° F
Medium-rare: 140° F
Medium: 145° F
Once it reaches the above temperature, take it out of the oven and let it rest. The temp will rise slightly after removing it from heat. With this cut, the less cooking, the better!
How do you make strip steak tender?
Strip steak is already a very tender cut of beef, so you're starting on a good note! But the trick to keepings steaks really juicy and tender is to cook as briefly as possible, otherwise they'll start to toughen up. So pan-sear, and then just a few minutes in the oven, and let it rest. It will be just perfect as long as you don't overcook.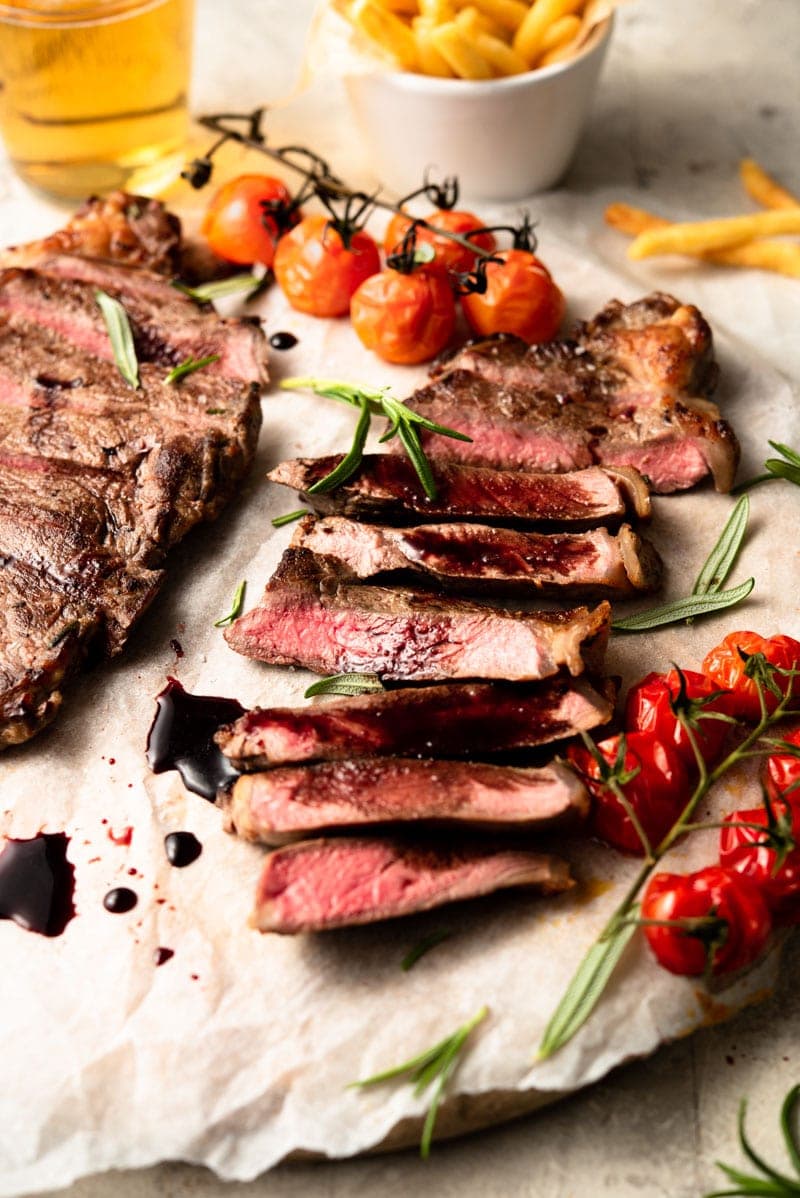 This New York strip steak recipe will be your new favorite for steak night at home! It's so quick and easy, the marinade adds so much flavor, and searing really creates the perfect texture. So cook up your steak and enjoy!
If you make this recipe be sure to upload a photo in the comment section below or leave a rating. Enjoy!