Cocktail Meatballs are the best holiday appetizer! These sweet and spicy cranberry meatballs are cooked in a cranberry pepper jelly sauce, which gives them the perfect kick of flavor. These cranberry sauce meatballs are just so delicious! The best Thanksgiving, Christmas, or New Year's Eve appetizer without a doubt.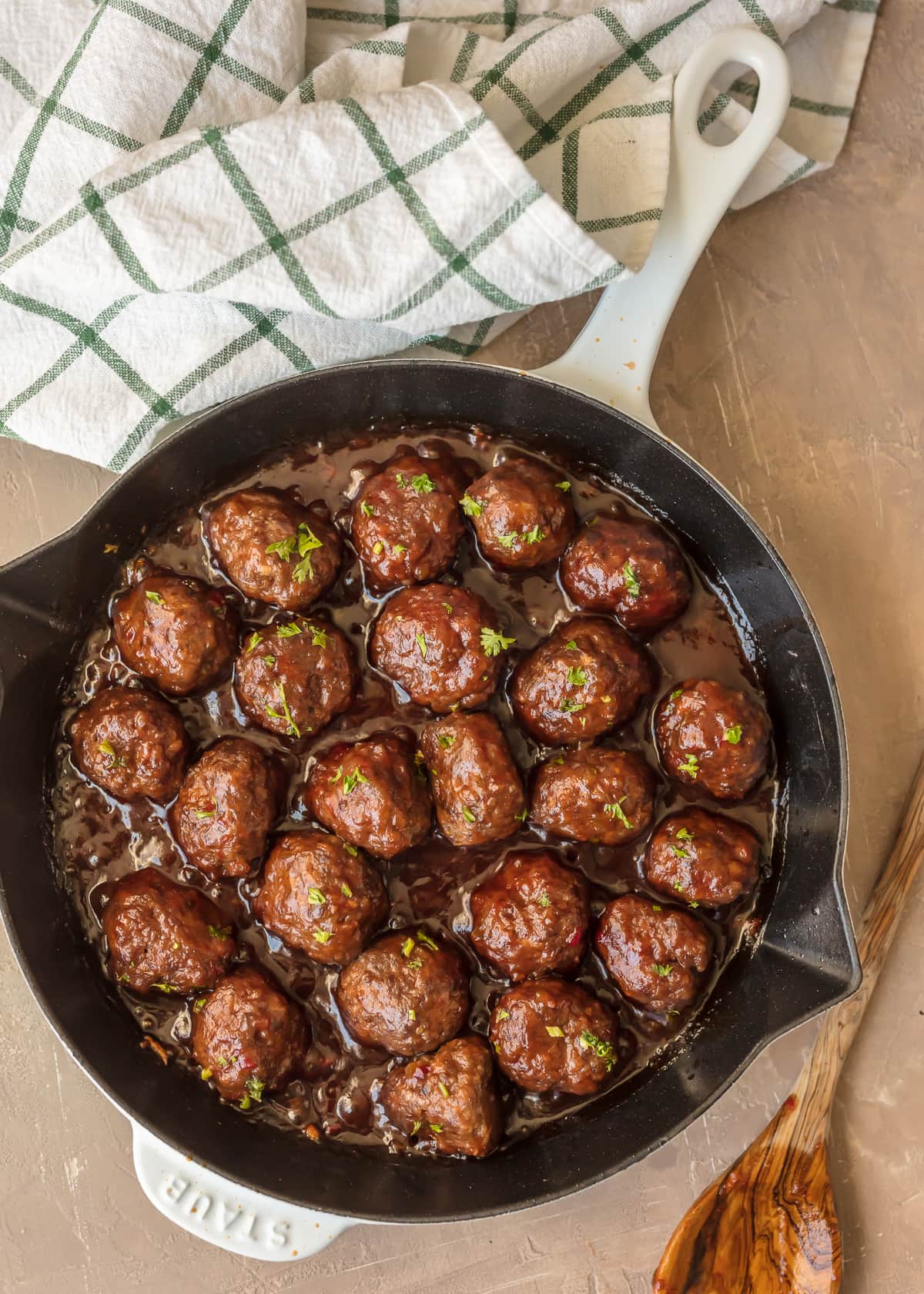 What's in this Cocktail Meatball Recipe?
I've always loved pepper jelly, and it adds just enough zip to these cranberry meatballs. They don't have a strong cranberry taste, but it's just the right amount. Just enough spice and just enough sweetness.
Ground Chuck: The primary protein source for the meatballs. It provides a rich, beefy flavor and the necessary texture for meatballs.
Breadcrumbs: Act as a binder and filler in these meatballs. They help absorb excess moisture, prevent the meatballs from becoming too dense, and contribute to their structure.
Eggs: Help bind the meatballs together so that they don't fall apart while cooking.
Sweet Chili Sauce: Adds sweetness, tanginess, and a mild heat to the meatballs. I used Franks RedHot brand, but any kind will do.
Worcestershire Sauce: Enhances the savory and umami flavors of the meatballs.
Onion: Adds an earthy flavor to the meatballs.
Kosher Salt: Helps to season the meatballs and balance the sweetness of the sauces.
Hot Pepper Jelly: Adds a sweet and spicy kick to the sauce.
Chili Sauce: Adds a tangy, sweet, and spicy flavor to the sauce. Both Heinz and Huy Fong work equally well, although they have slightly different flavor profiles.
Cranberry Sauce: Adds fruity sweetness and a hint of tartness. It pairs wonderfully with the other sweet and savory flavors in the dish. I prefer jellied (canned) cranberry sauce for this particular application, but you can also use homemade whole cranberry sauce for more texture!
Dark Brown Sugar: Adds depth and richness to the sauce. It complements the sweetness of other ingredients and helps create a caramelized glaze.
Lemon Juice: Provides a touch of acidity and brightness to balance the sweetness in the sauce.
Pro Tip: The meatballs and sauce can simmer on high in a crockpot for the last hour.
Variations on Cranberry Meatballs
You can mix up the flavor of these meatballs by using different flavors of jelly. I like the spicy element hot pepper jelly adds to the sauce, but classic grape jelly also works well, and so does apricot! The chili sauce will still provide some heat, making these meatballs a great balance of sweet and spicy.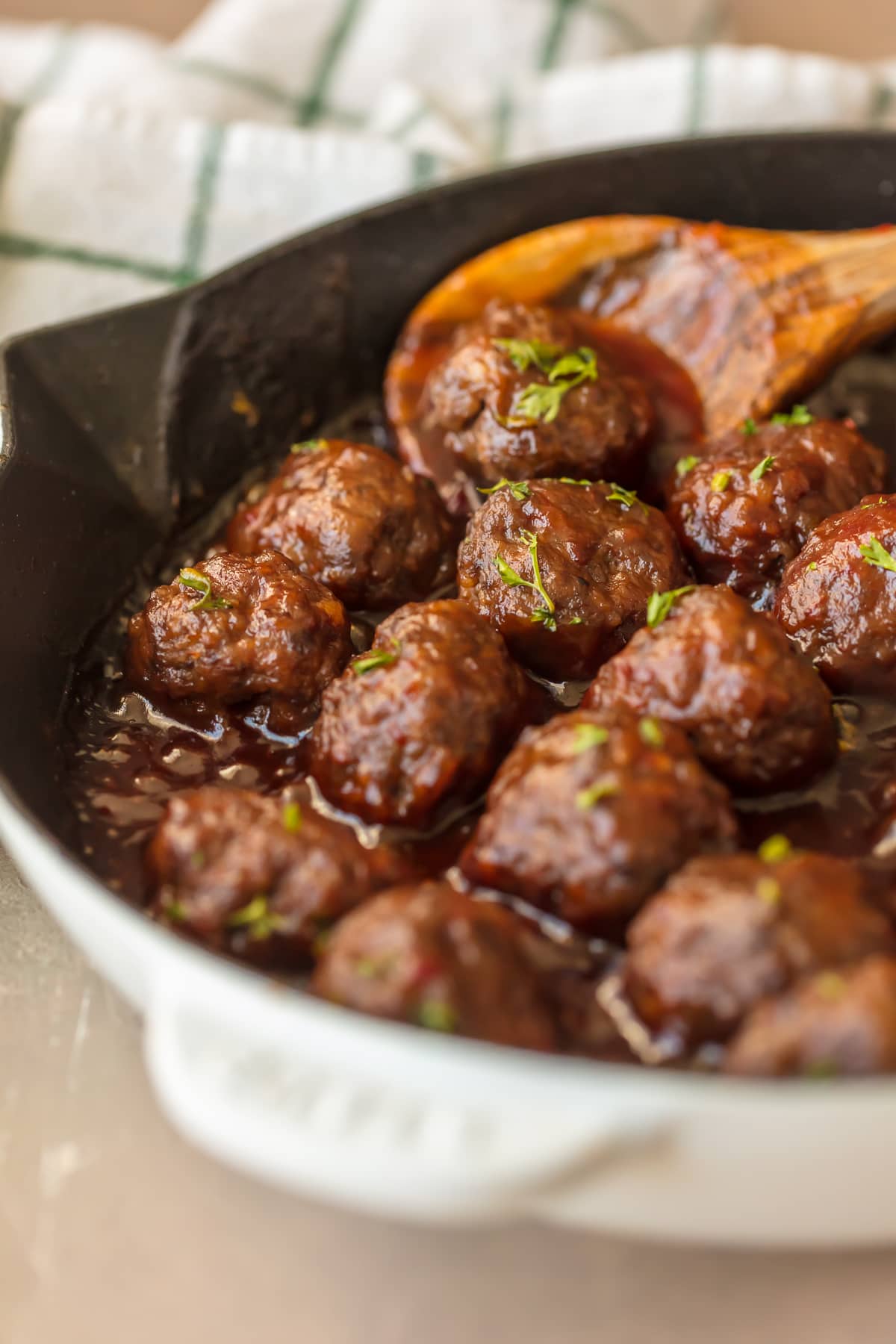 What are cocktail meatballs made of?
These bite-sized meatballs are made from beef, breadcrumbs, eggs, sweet chili sauce, Worcestershire sauce, minced onion, and kosher salt.
How many eggs should you put in meatballs?
I recommend using 1 egg per pound of meat.
Can you over-mix meatballs?
Yes! Use your fingers and a light touch to mix and shape the meatballs so that they do not turn out tough.
How many cocktail meatballs per person?
I usually plan for 4 meatballs per person. This recipe makes about 40 (1½-inch) meatballs, so it will serve 10.
Can I make these meatballs smaller?
You sure can! I like the 2-3 bite size of these meatballs, but you can make them 1-inch for a one-bite treat. This recipe will make about 140 (1-inch) meatballs, which is enough for about 24 people!
Can you eat cocktail meatballs cold?
You sure can! These meatballs are tasty both hot and cold.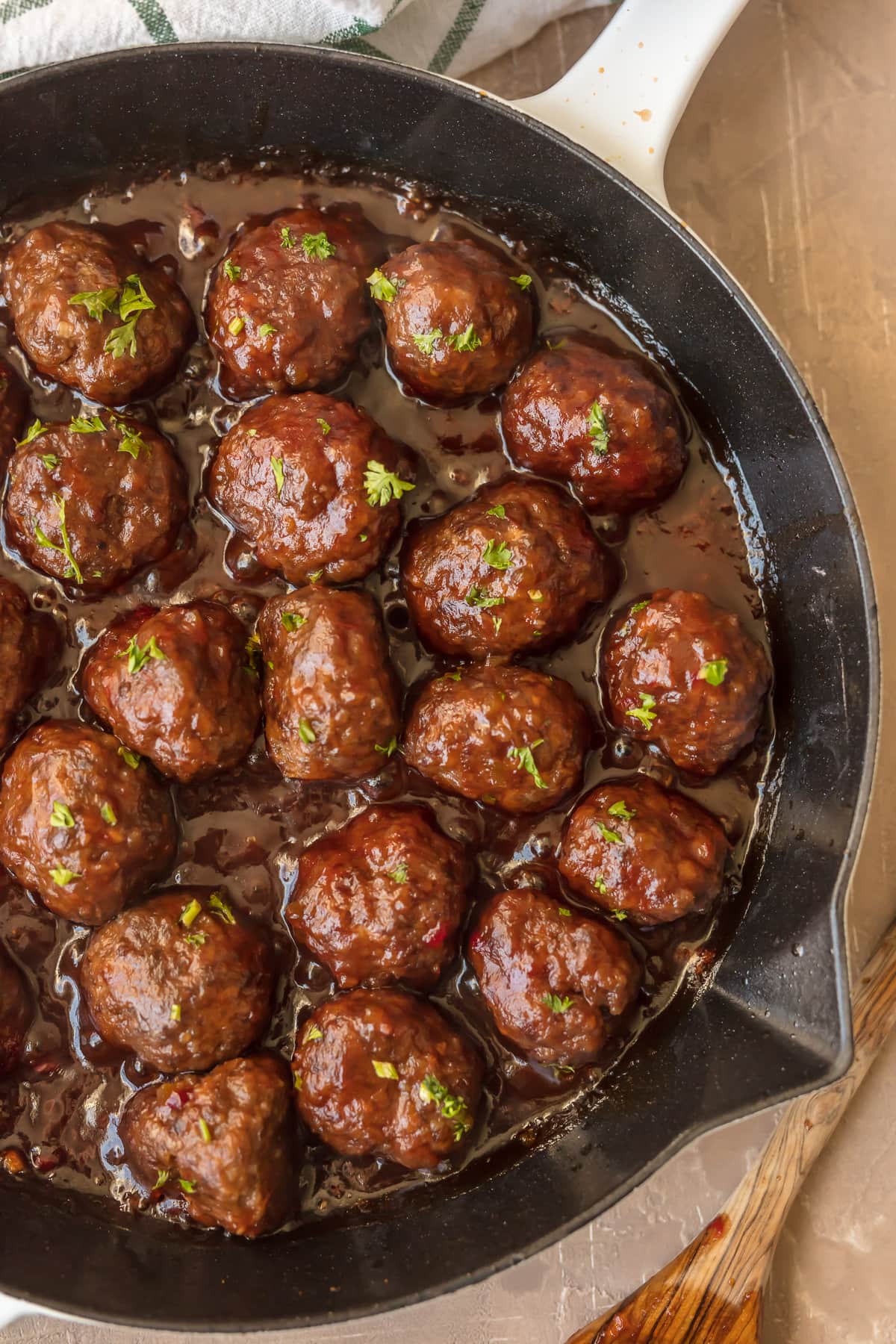 How to Store and Reheat
Store leftover cocktail meatballs in an airtight container in the refrigerator for up to 4 days. Reheat in a saucepan set over medium-low heat until warmed through.
How to Freeze
Freeze cocktail meatballs in an airtight container or Ziplock bag for up to 3 months. Let thaw overnight in the refrigerator before reheating.
Serving Suggestions
Serve these cranberry meatballs simply as an appetizer with toothpicks for easy grabbing and extra sauce for dipping. Or serve them as a meal over a bed of basmati rice or mashed potatoes.
Pair them with holiday punch, Christmas sangria, or cranberry margaritas to play up their tart and sweet flavor.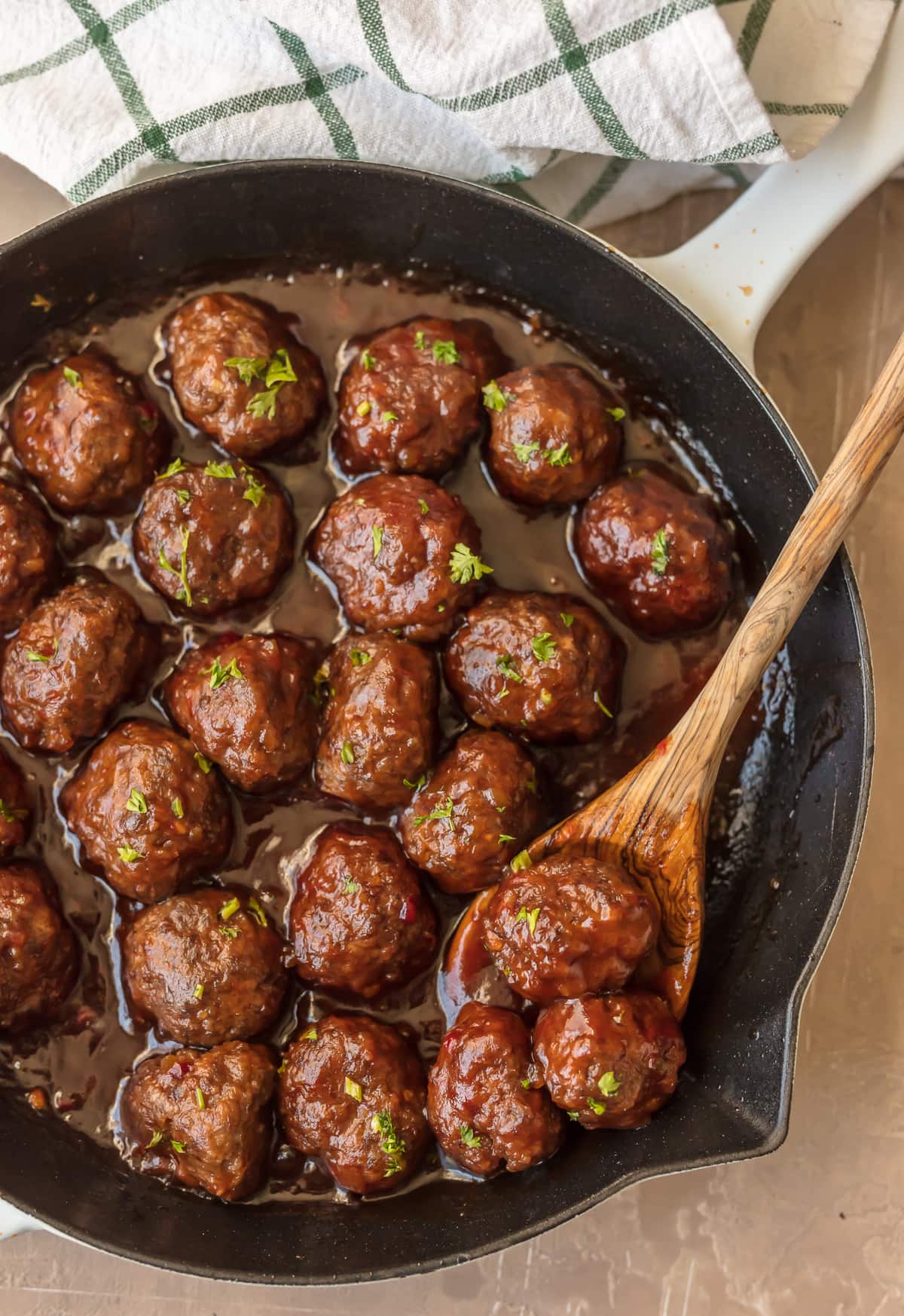 5-Star Review
"I have tried many different meatball recipes over the years. I made these last night and they are now my family's favorite." – Sherry
More Appetizer Meatballs We Love