SWEET & SPICY CRANBERRY COCKTAIL MEATBALLS are the perfect holiday appetizer! Cooked in a cranberry pepper jelly sauce; SO delicious! The best Thanksgiving, Christmas, or New Years Eve appetizer!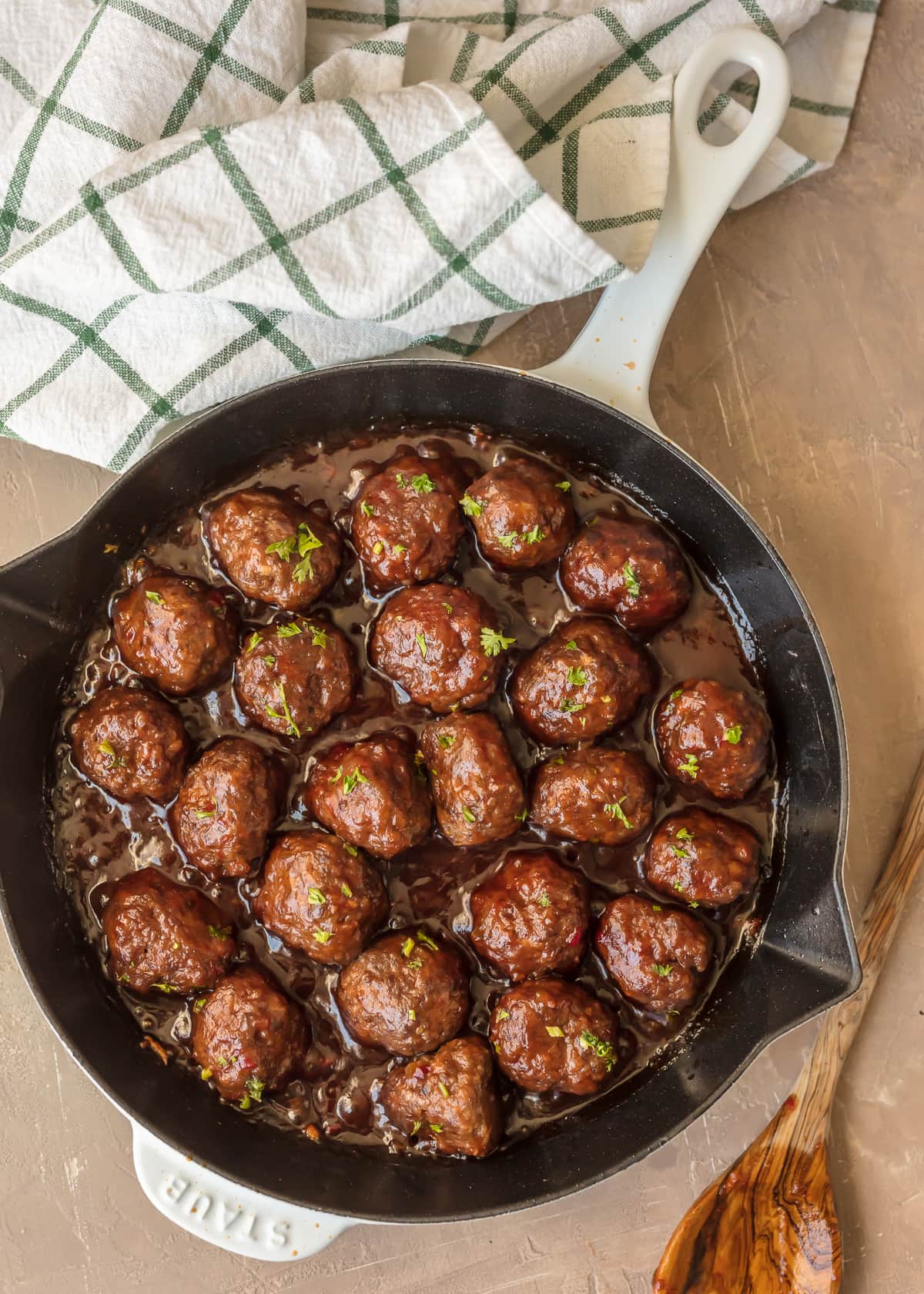 Holiday appetizers, MY ABSOLUTE FAVORITE TYPE OF FOOD ON THIS EARTH. You guys know I just love my dips, apps, and any type of finger food. Thanksgiving, Christmas, and New Years are the absolute best time to try new appetizers. There are so many parties with family and friends, and delicious sharable foods are a must! These Sweet and Spicy Cranberry Cocktail Meatballs are my new favorite. SO much flavor, way too easy, and ultra delicious. YUM! Mom came over and made me some of these and I just could not get enough. I knew I had to share the recipe with all of you! So buckle up, prepare your holiday grocery list, and get excited for MEATBALLS!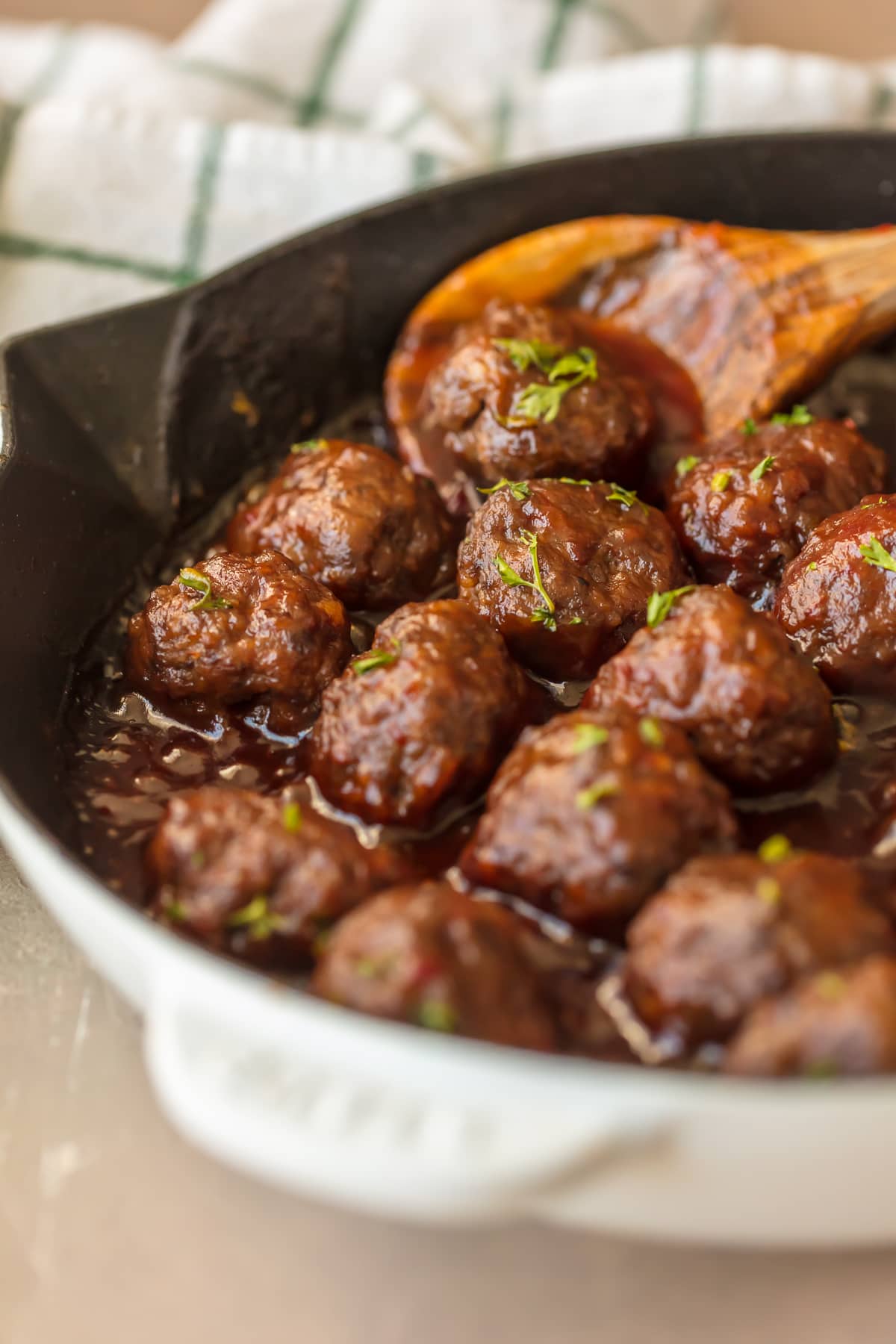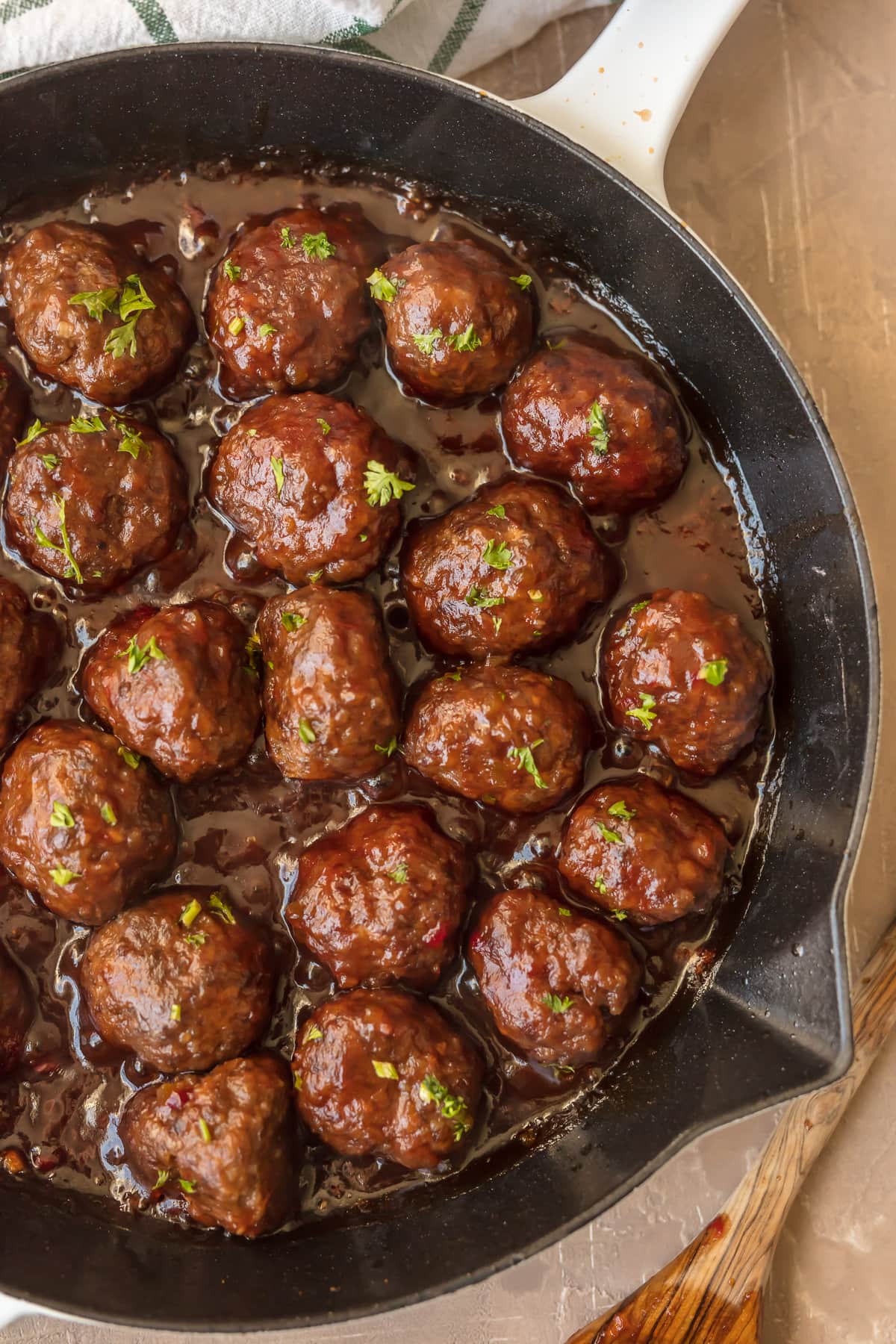 I've always loved pepper jelly, and it adds just enough zip to these Cranberry Cocktail Meatballs. They don't have a strong cranberry taste, but its just enough. Just enough spice and just enough sweet. Sure to please anyone and everyone at your holiday party! I'm already getting excited just thinking about all the food!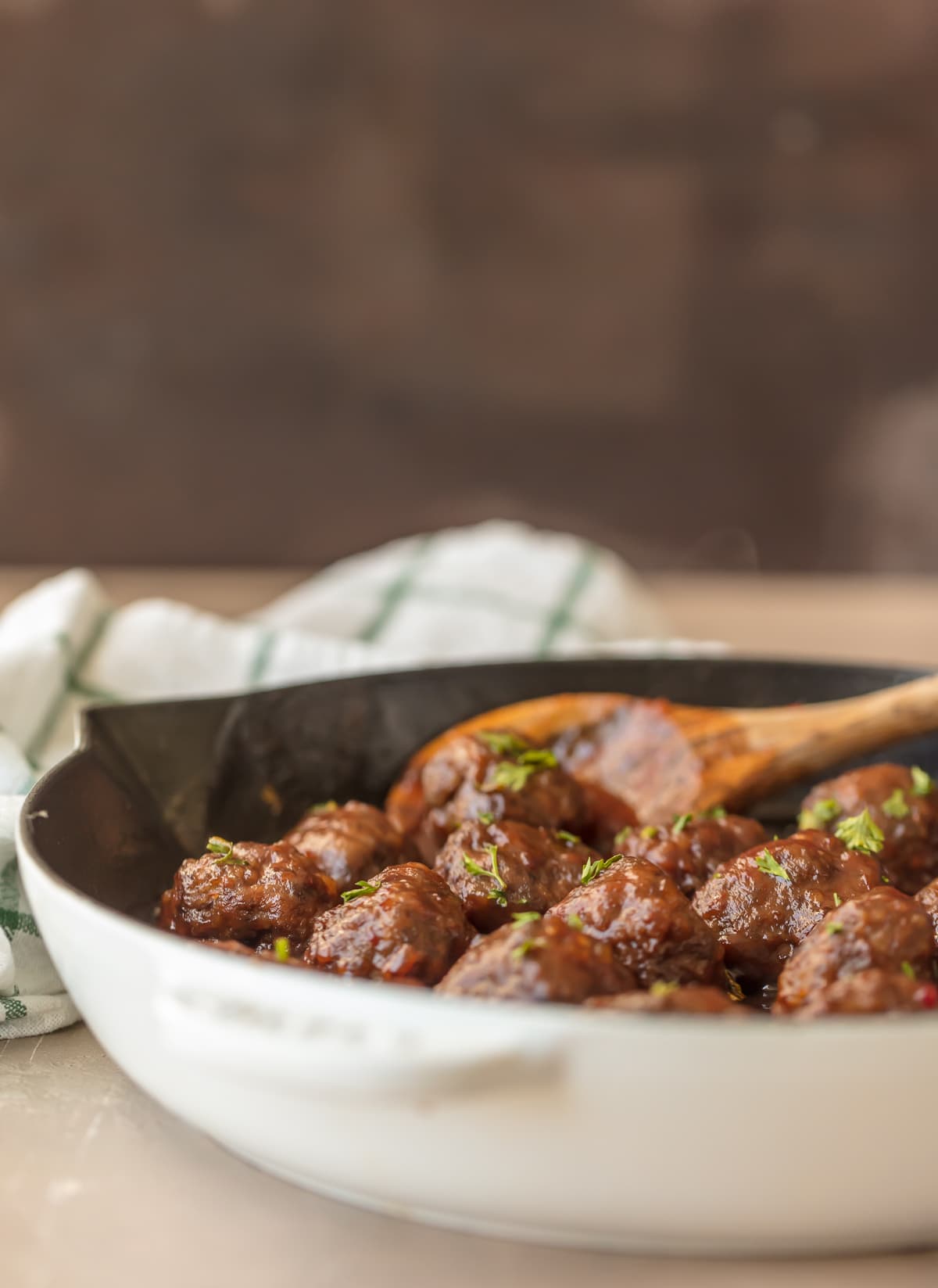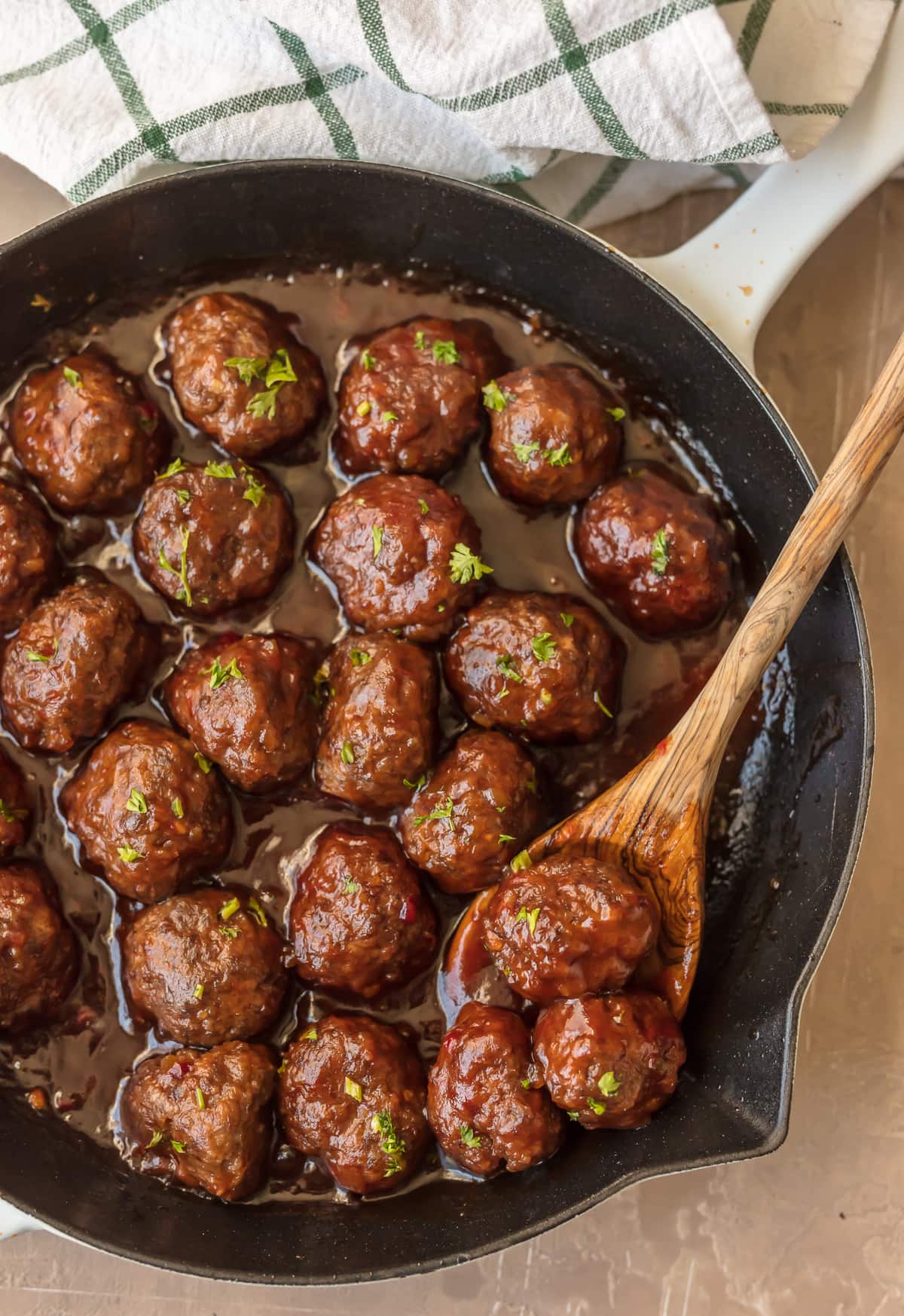 If your'e having a Thanksgiving, Christmas, or NYE party this year, Cranberry Cocktail Meatballs are simply an absolute must. You can't have a holiday get together without meatballs! It's the American way! :) This version is just a great flavor combo for Fall/Winter, and I hope you love them as much as we do. I know they'll be on our holiday table…for a few minutes at least. These don't last very long around Pat!
Enjoy!
Sweet and Spicy Cranberry Cocktail Meatballs
20 minPrep Time
1 hr, 30 Cook Time
1 hr, 50 Total Time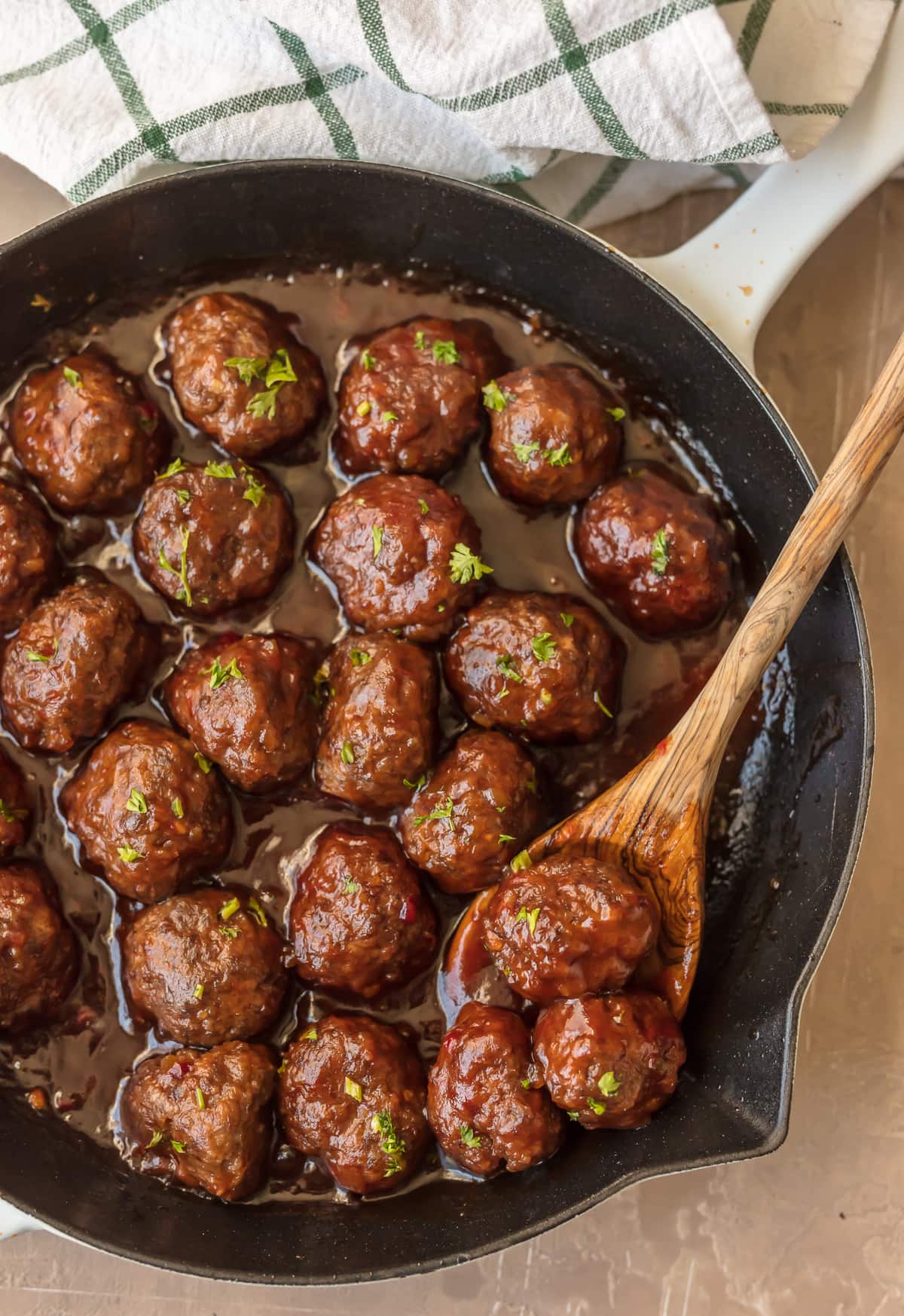 3.7 based on 3 review(s)
Ingredients
For the Meatballs:

2 lbs. ground chuck
1 cup bread crumbs
2 large eggs, slightly beaten
2 tablespoons Sweet Chili Sauce
2 tablespoons Worcestershire Sauce
2 tablespoons minced onion, opt.
½ teaspoon salt

For the Cranberry Pepper Jelly Sauce:

10 oz. jar Hot Pepper Jelly
12 oz. jar Chili Sauce
8 oz. can Jellied Cranberry Sauce
2 tablespoons dark brown sugar
juice from ½ lemon
Instructions
For the Meatballs:

Preheat oven to 350F and line a baking sheet with parchment paper.
In a large bowl, combine ground chuck, breadcrumbs, eggs, chili sauce, Worcestershire Sauce, onion and salt. Mix until all ingredients are incorporated but do not overwork the mixture or the meatballs will be tough.
Form into 1½ inch meatballs and place on the prepared baking sheet. Leave at least 1-inch space between meatballs.
Cook at 350F for 10 minutes then turn each meatball over. Cook another 10-15 minutes or until meatballs are cooked through. Remove from oven.
*While meatballs are cooking, prepare the sauce.

For the Sauce:

In a large skillet over LOW heat, combine all sauce ingredients. Stir until well blended then remove from heat until the meatballs are ready.
When meatballs are cooked, place them in the sauce in the skillet and simmer for 1-hour or until sauce has thickened.
ENJOY!
*The meatballs and sauce can simmer on HIGH in a slow-cooker for the last hour.
7.6.7
2324
https://www.thecookierookie.com/cranberry-cocktail-meatballs/