Pineapple Pretzel Salad is our go-to Pretzel Salad Recipe for Easter and Christmas! It is the perfect holiday side dish recipe! Wow your guests with this twist on classic Strawberry Pretzel Salad. This Pineapple Pretzel Salad Recipe is an absolutely delicious flavor combination (pineapples and cream!) and couldn't be easier. Such a simple favorite recipe featuring salty and sweet.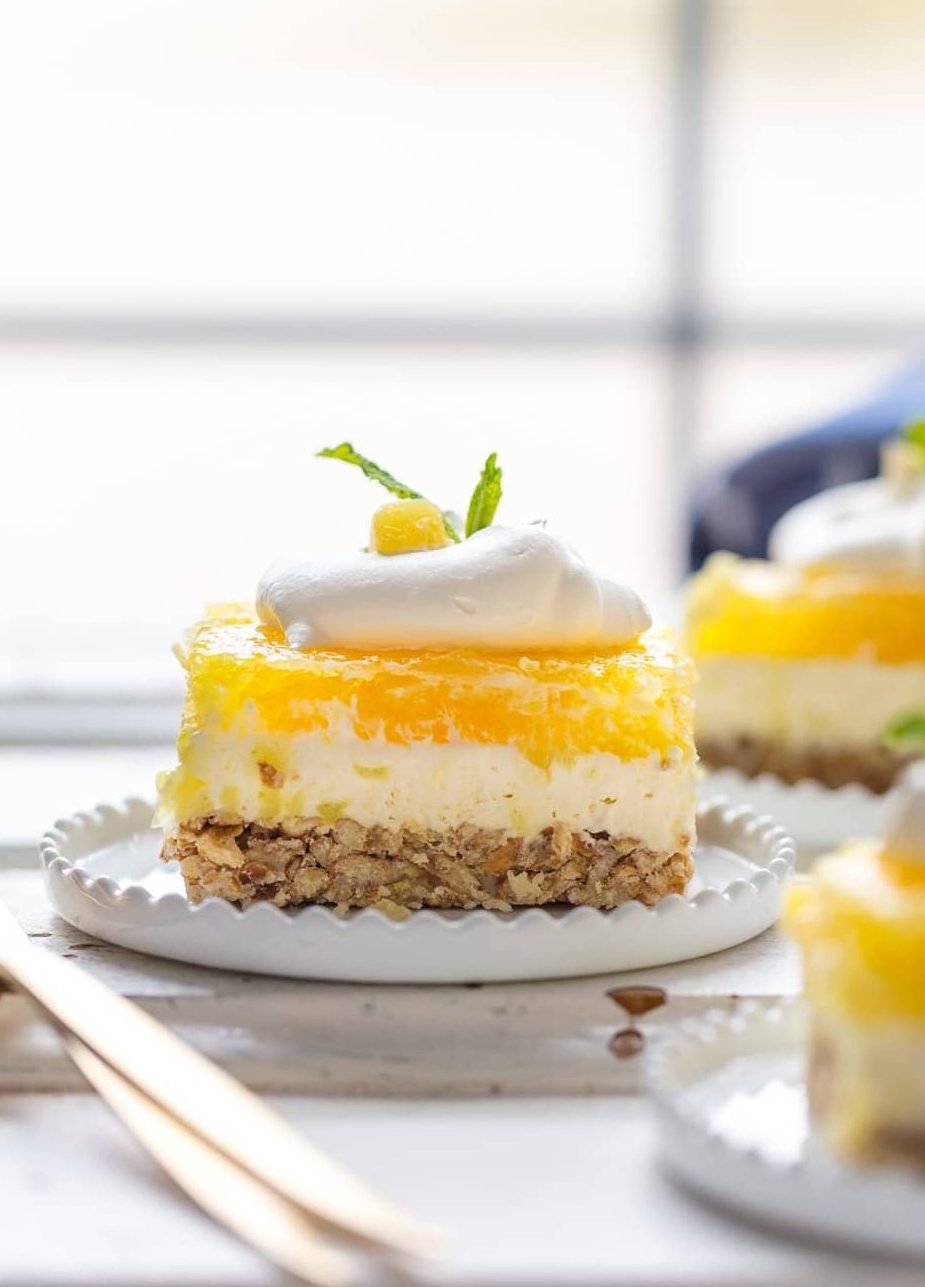 Pineapple Pretzel Salad Recipe
This Pineapple Pretzel Salad Recipe was tailor made for the holidays. With Easter just around the corner, it's about time we figured out our best holiday menu to wow the masses! Everyone loves a good Strawberry Pretzel Salad around the holidays, but that's been done and done and done. It's time to put a fun spin on a classic and break out the PINEAPPLE PRETZEL SALAD!
Pineapple Pretzel Salad features a layer of pretzel crust, topped with whipped cream/cream cheese goodness, and a tangy pineapple top. This is the kind of recipe that could be your signature dish. It's the stuff fruity tropical holiday dreams are made of.
I always love a good salty sweet combination; like our Butter Toffee Pretzels or Strawberry Bacon Salad. There's just something so crave worthy about the pretzels, cream, and fruit.
Keep scrolling to find out how to make this Pineapple Pretzel Salad!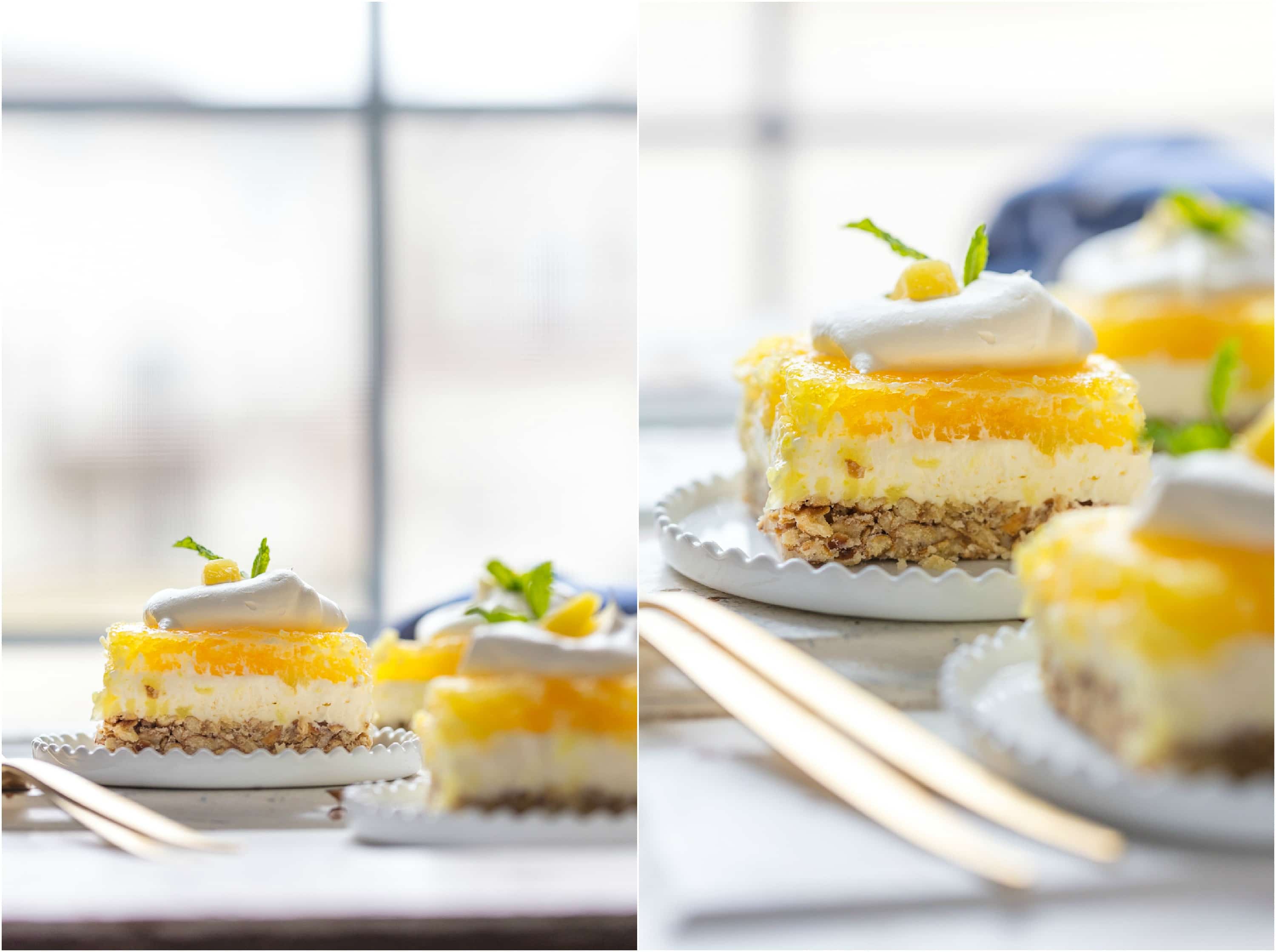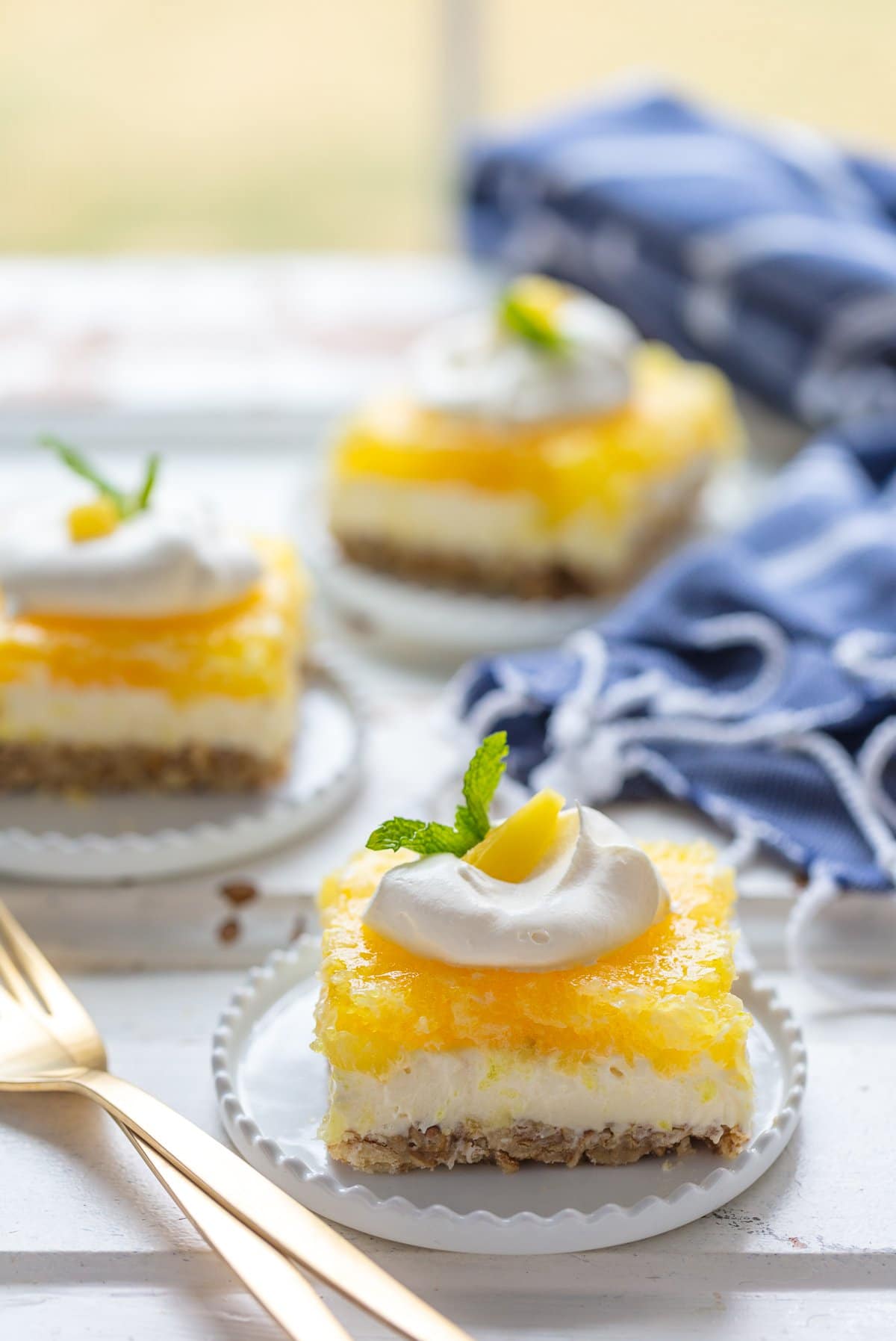 Pretzel Salad – perfect for Holidays
Your Easter table needs this tangy and creamy Pineapple Pretzel Salad. It's the perfect pairing for Copycat Honey Baked Ham!
Pineapple is a perfect pair with ham, and ham is a perfect dish for Easter! So logically, this Pineapple Pretzel Salad is the perfect Easter side dish! I'm basically trying to make our holiday gathering one giant Hawaiian Pizza :).
This salad is technically a side dish but also doubles as a dessert. I cannot get enough as leftovers. I had this in my fridge for approximately 10 hours before it was completely gone. It almost tastes like Pineapple Cheesecake. Not a bad thing at all!
I ate some after every meal and snack. It's just the right amount of salty and sweet. I'm loving swapping strawberries for pineapple! I of course love a Classic Strawberry Pretzel Salad, but this new version is so creative and refreshing. An unexpected new favorite Easter recipe!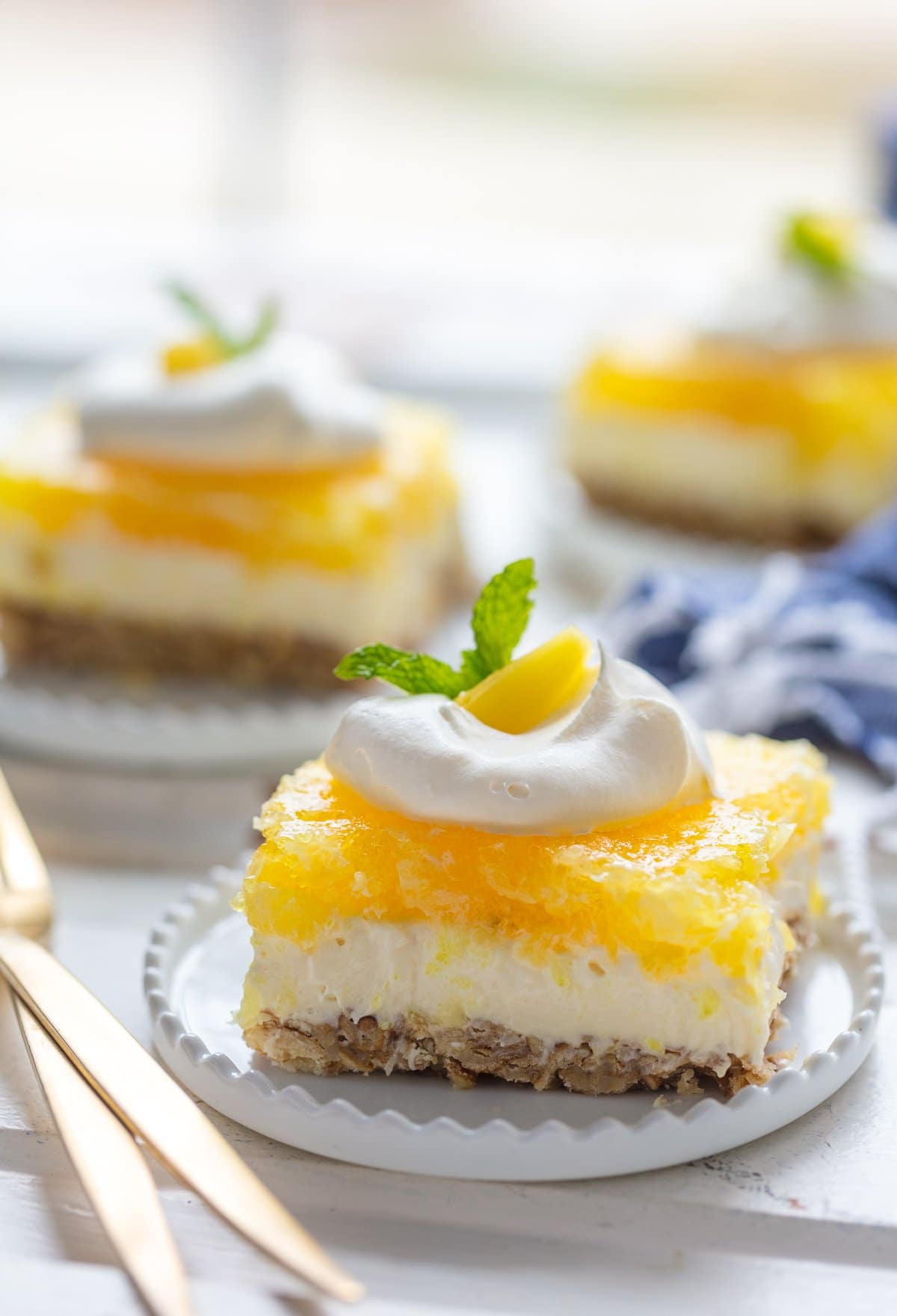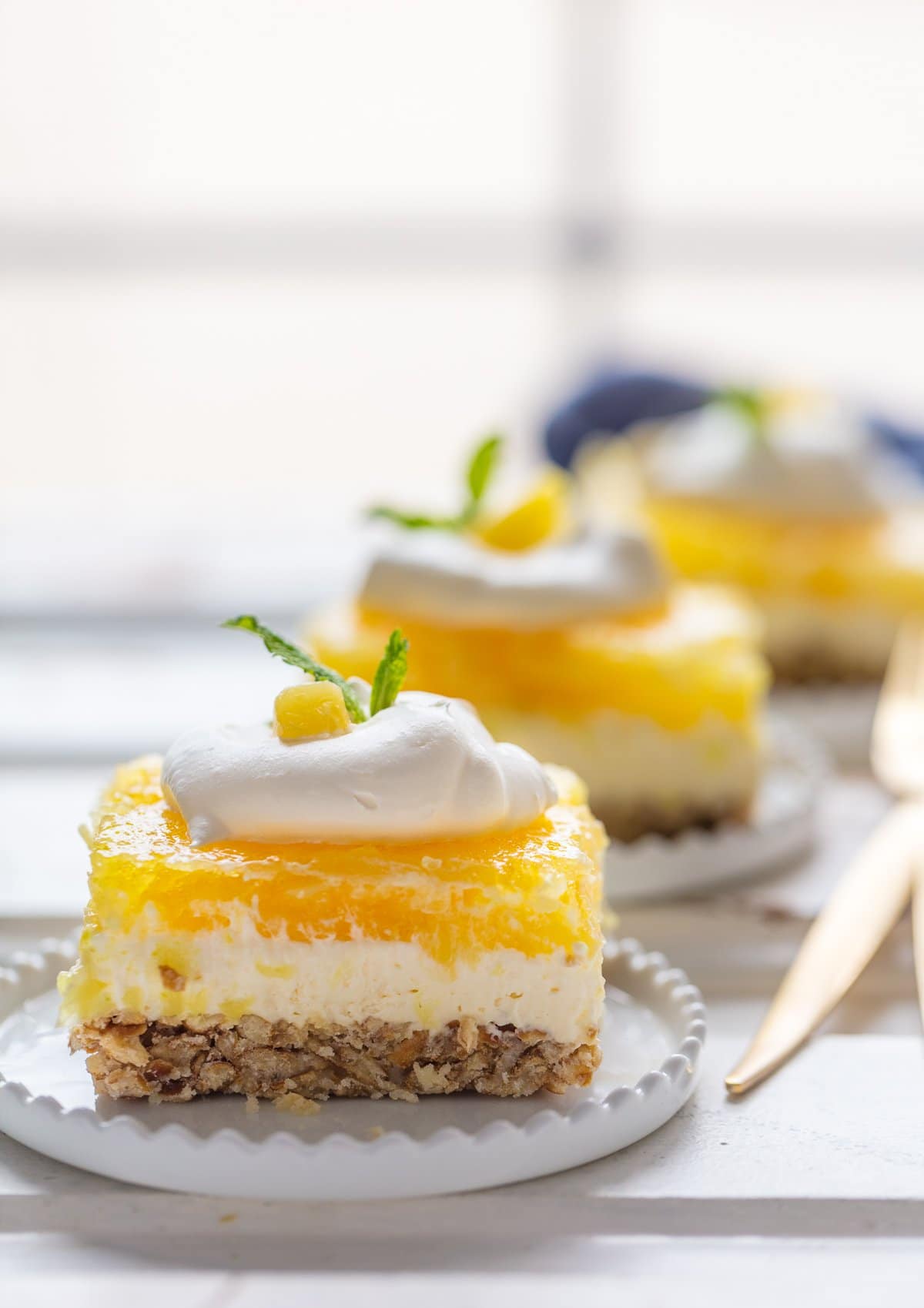 How to make Pineapple Pretzel Salad
For tips on making this Pretzel Salad Recipe, be sure to watch the simple recipe video and read the entire recipe card. This Pretzel Salad Recipe is as simple as baking up a quick pretzel crust (I'm talking crushing some pretzels and that's about it), followed by layering on the cream cheese layer, and then topping with a pineapple gelatin layer. Like I said, EASY!
It's surprising how amazing these simple flavors can be. This is one of those recipes that your family will make again and again. I can hear Henry's someday children now talking about Grandma Becky's famous Pineapple Pretzel Salad. Won't that be the day! Would it be a crime if I forget to tell them that I didn't learn to cook until I was THIRTY. They can think I was just a child prodigy.
This Pineapple Pretzel Salad is the bee's knees and a must make for Easter dinner. Out with the strawberry version and in with the pineapple version! I know you're going to love it!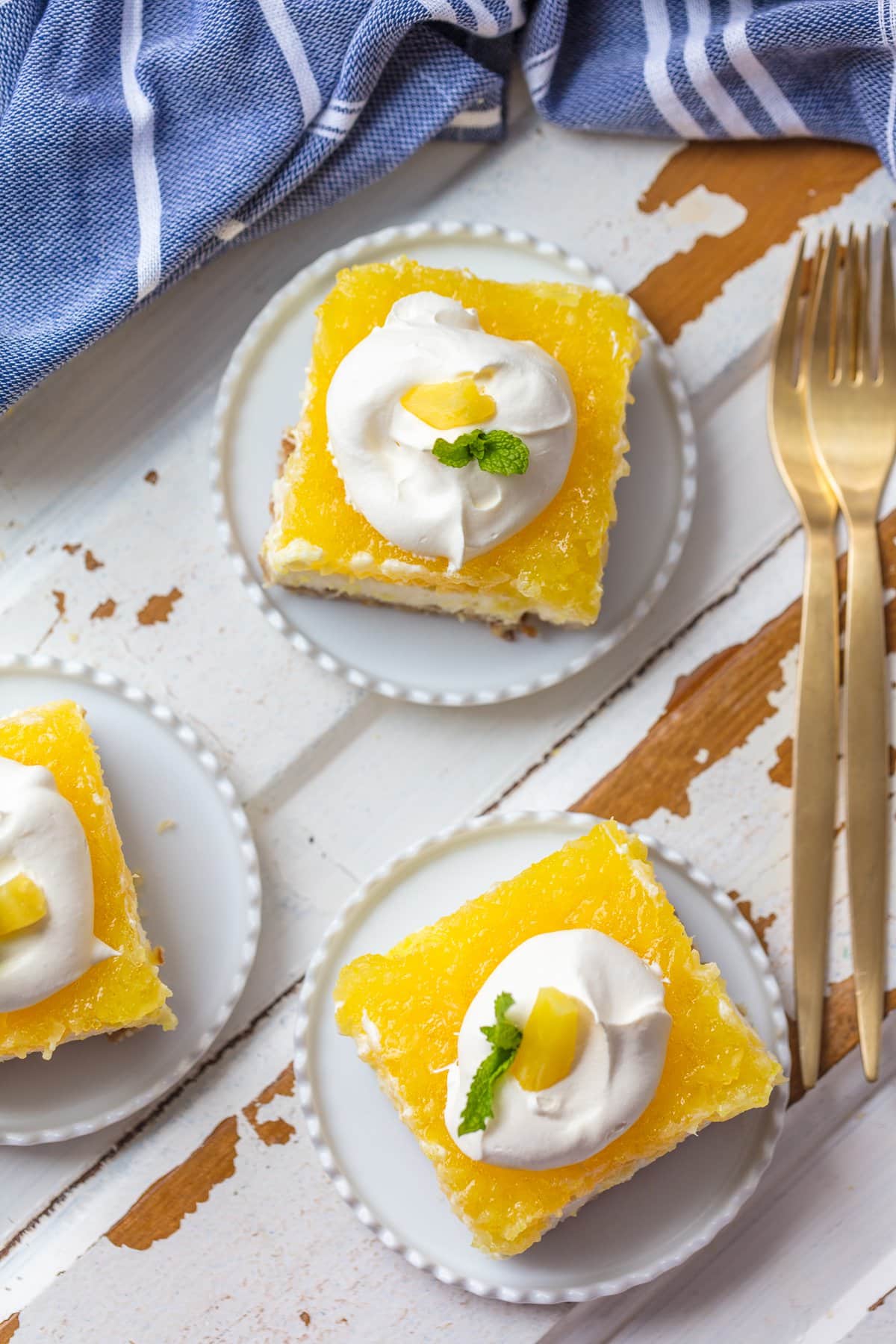 After Easter dinner is over, you're going to need a lot of amazing holiday desserts for your guests to enjoy. We recommend these Carrot Cake Bars, this French Silk Pie, or these BEST EVER Lemon Bars.
Watch the Video and See the recipe card below for full details on how to make Pineapple Pretzel Salad. Enjoy!
If you like this pineapple pretzel salad, try these other awesome recipes too: