Learn how to make Chocolate Covered Pretzels at home with ease! Use this recipe to save money and time while preparing the perfect sweet-dipped treats. These pretzels are perfect for holidays, parties or to have on hand for snacking.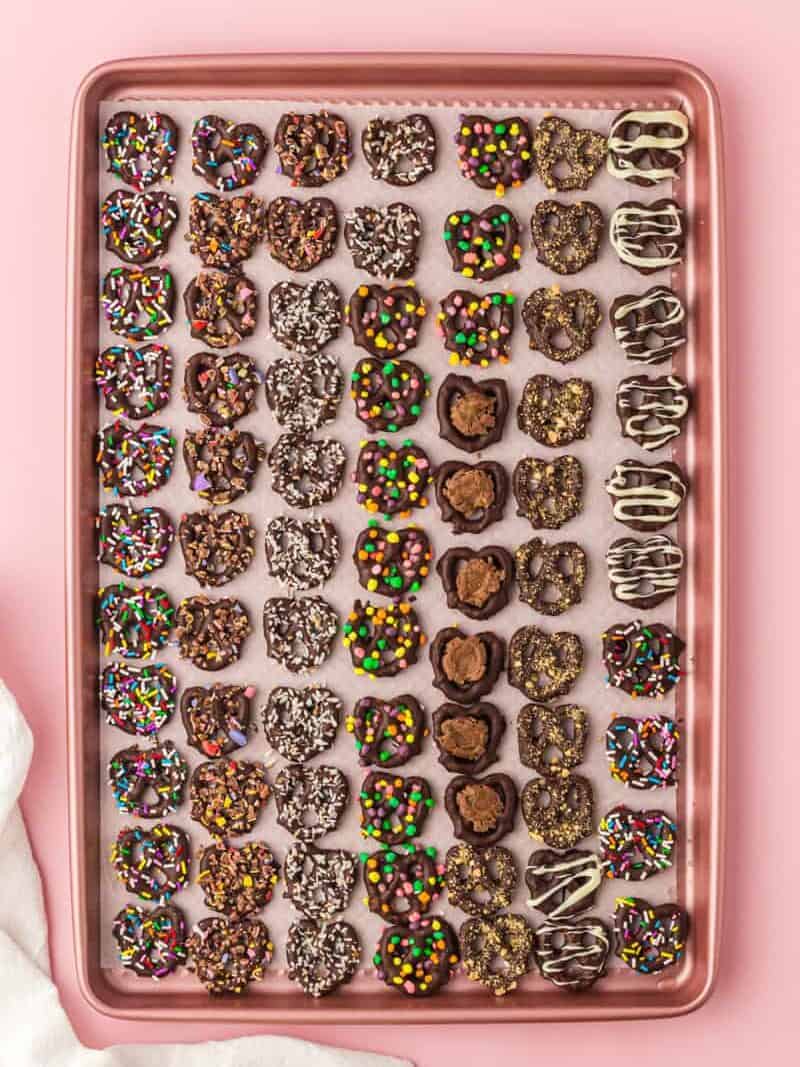 What's in Chocolate Pretzels?
Instead of always having to buy one of your favorite sweet and salty snacks from the store, try making these amazing chocolatey pretzels at home. The sweet taste of chocolate complements the slightly salty taste of pretzels, making them a perfect pair.
Mini Pretzels: The perfect bite-sized snack!
Semisweet Baker's Chocolate: Baker's chocolate is specifically made for baking and doesn't have any added stabilizers, so it melts wonderfully.
Toppings: Sprinkles, toasted coconut, mini chocolate caramels, crushed M&M's, melted white chocolate, graham cracker crumbs… the possibilities are endless!
Pro Tip: Use your favorite kind of chocolate– milk, semisweet, dark, and white all work!
Variations on Chocolate Dipped Pretzels
You can easily change out the toppings to make these chocolate-covered pretzels match your holiday or birthday theme. Use red and green for Christmas or use crushed candy bars for a fun birthday party treat.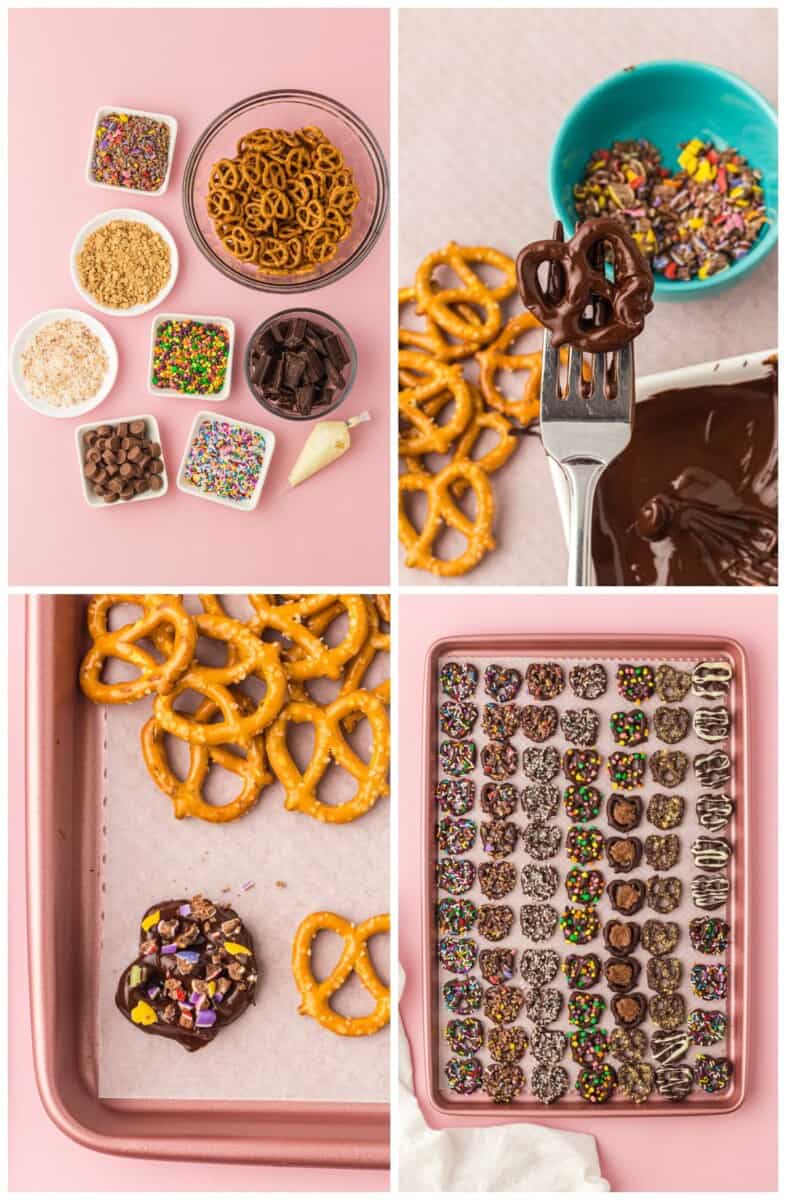 What chocolate is best?
For best results, use semi-sweet Baker's chocolate (sold in bars in the baking aisle). Baker's chocolate is specifically made for baking and doesn't have any added stabilizers, so it melts wonderfully.
How should I melt chocolate for dipping pretzels?
You can melt the chocolate in your microwave. Be sure to heat it in the microwave for 30 seconds at a time to keep it from burning. You can also use a double boiler on the stovetop, but this will take a bit longer.
Can I use white chocolate instead?
Absolutely. If you prefer the taste of white chocolate, you can use your favorite brand of white chocolate. White chocolate also works well when you want to add dark-colored toppings to the pretzels.
How long do chocolate covered pretzels last?
When you put your Chocolate Covered Pretzels in a food storage container and keep them sealed with an airtight lid, they can stay fresh for around two weeks.
Can you freeze chocolate covered pretzels?
For best results, store pretzels at room temperature. Storing them in the refrigerator or freezer might cause the pretzels to go stale.
What toppings should I use?
You can add all kinds of toppings! Sprinkles are always a good option but you can also use chopped nuts, chocolate curls, crushed candy bars or even mini M&Ms.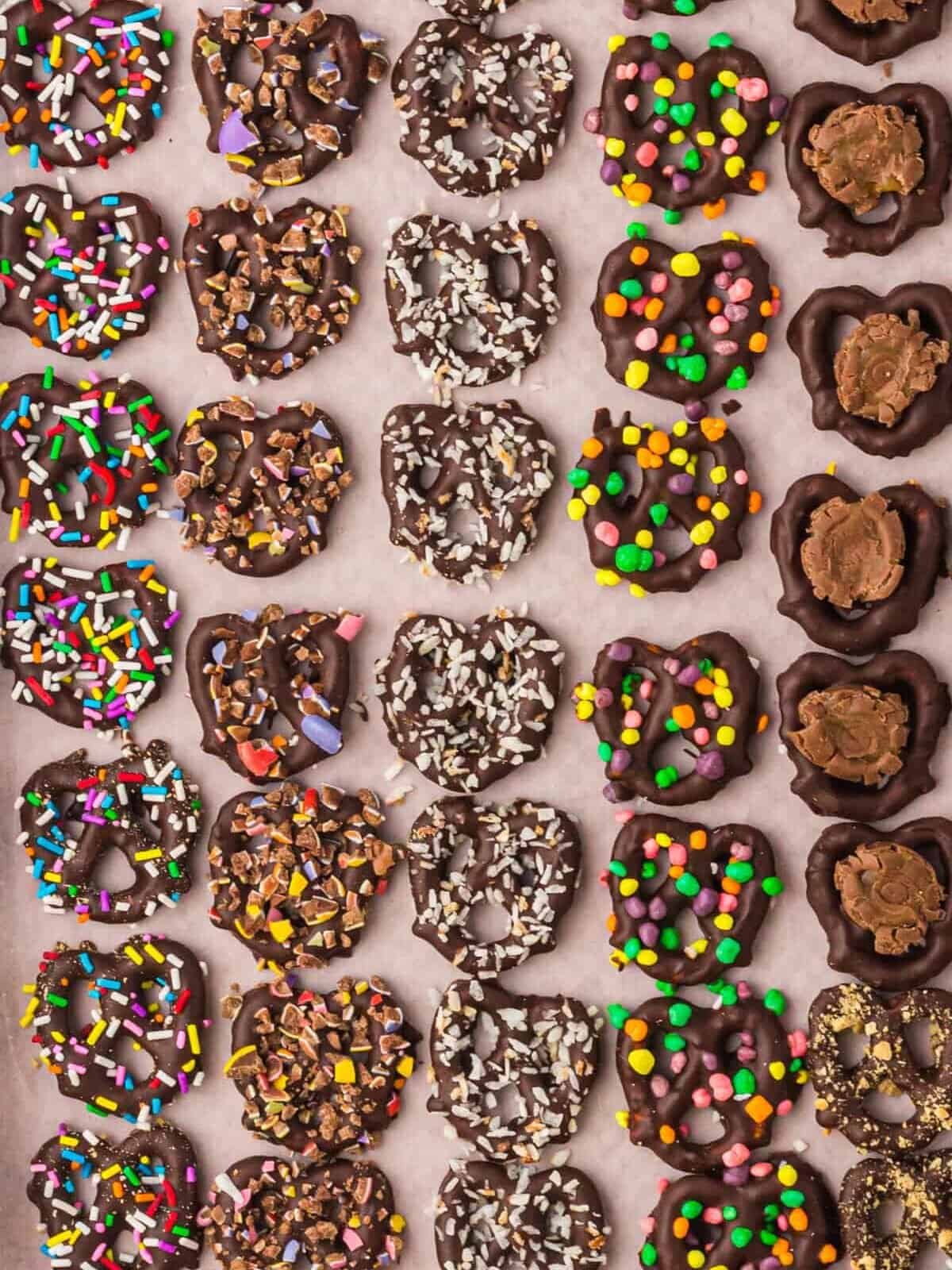 How to Store
Store leftover chocolate covered pretzels in an airtight container at room temperature for up to 2 weeks. I do not recommend freezing these pretzels, as it could cause them to go stale.
Serving Suggestions
These pretzels are the perfect one-bite snack! Serve them at holidays, parties, or movie nights. They make a great addition to any dessert display alongside buckeye candies, saltine toffee, chocolate popcorn, Oreo balls, movie night cookies, loaded rice krispies, puppy chow, or cake pops.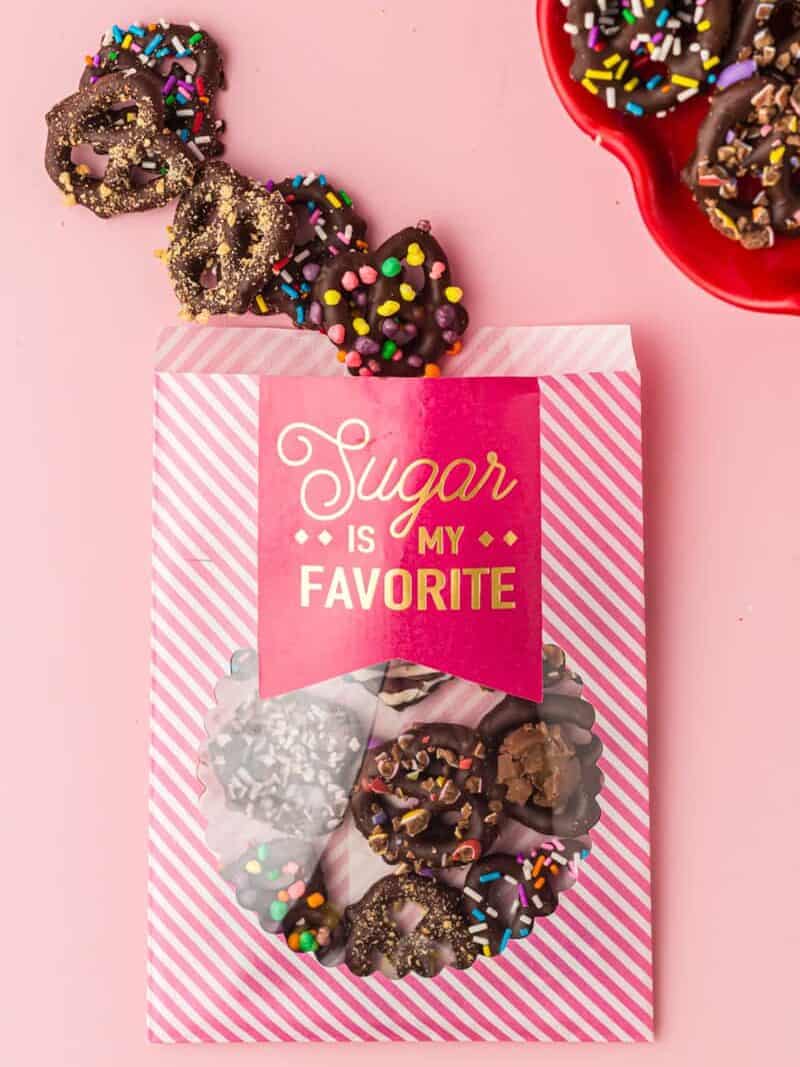 More Pretzel Recipes We Love