Learn how to make Chocolate Covered Pretzels at home with ease! Use this recipe to save money and time while preparing the perfect sweet-dipped treats. These pretzels are perfect for holidays, parties or to have on hand for snacking.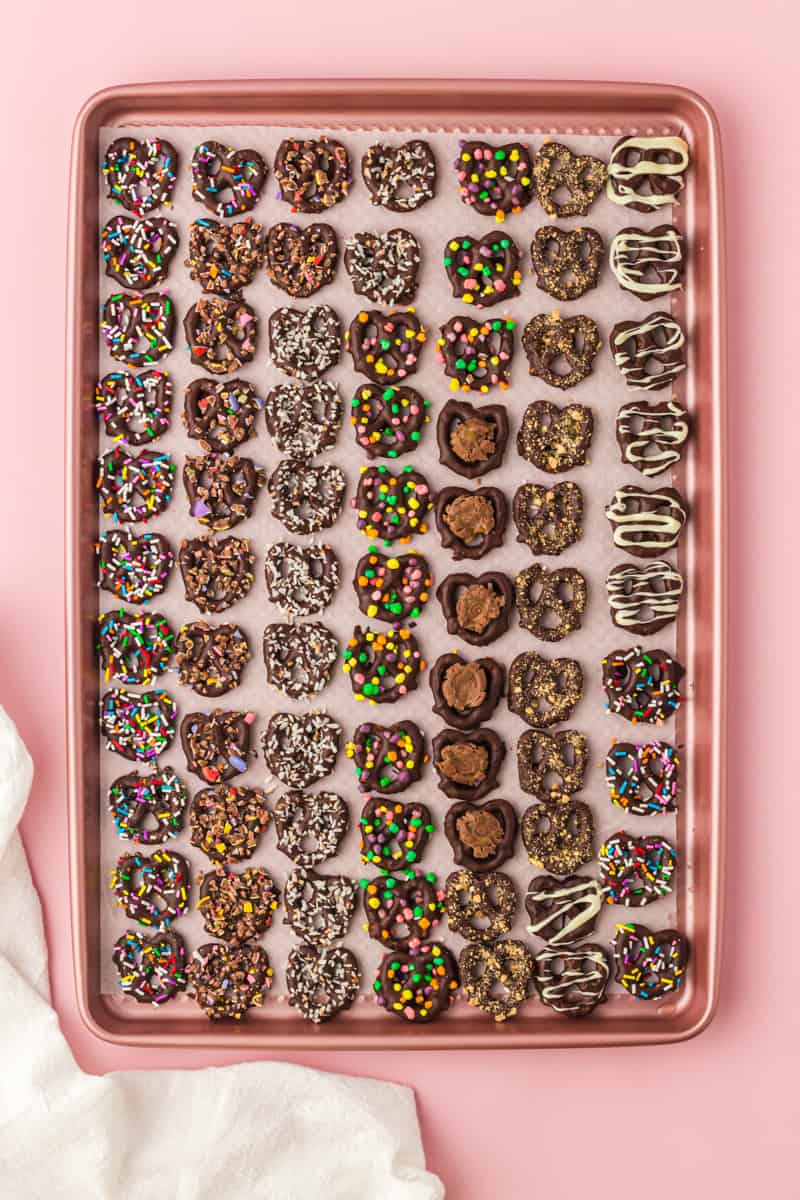 Easy Chocolate Covered Pretzels
Instead of always having to buy one of your favorite sweet and salty snacks from the store, try making these amazing Chocolate Covered Pretzels. The sweet taste of chocolate complements the slightly salty taste of pretzels, making them a perfect pair.
If you enjoy the taste of chocolate-covered pretzels, use this recipe to learn how to make them. Once you know how to prepare Easy Chocolate Covered Pretzels, you won't have to buy them at the store anymore!
Why You'll Love this No-Bake Dessert Recipe:
SIMPLE INGREDIENTS: You won't need a bunch of ingredients to prepare the Chocolate Covered Pretzels from scratch.
EASY RECIPE: These treats are easy to prepare and are a huge hit amongst both children and adults.
CUSTOMIZABLE: You can get creative and customize these chocolate-covered pretzels to your liking to make them even more enjoyable.
The Chocolate Covered Pretzels will look good and taste even better. They are great for birthday parties and holiday events.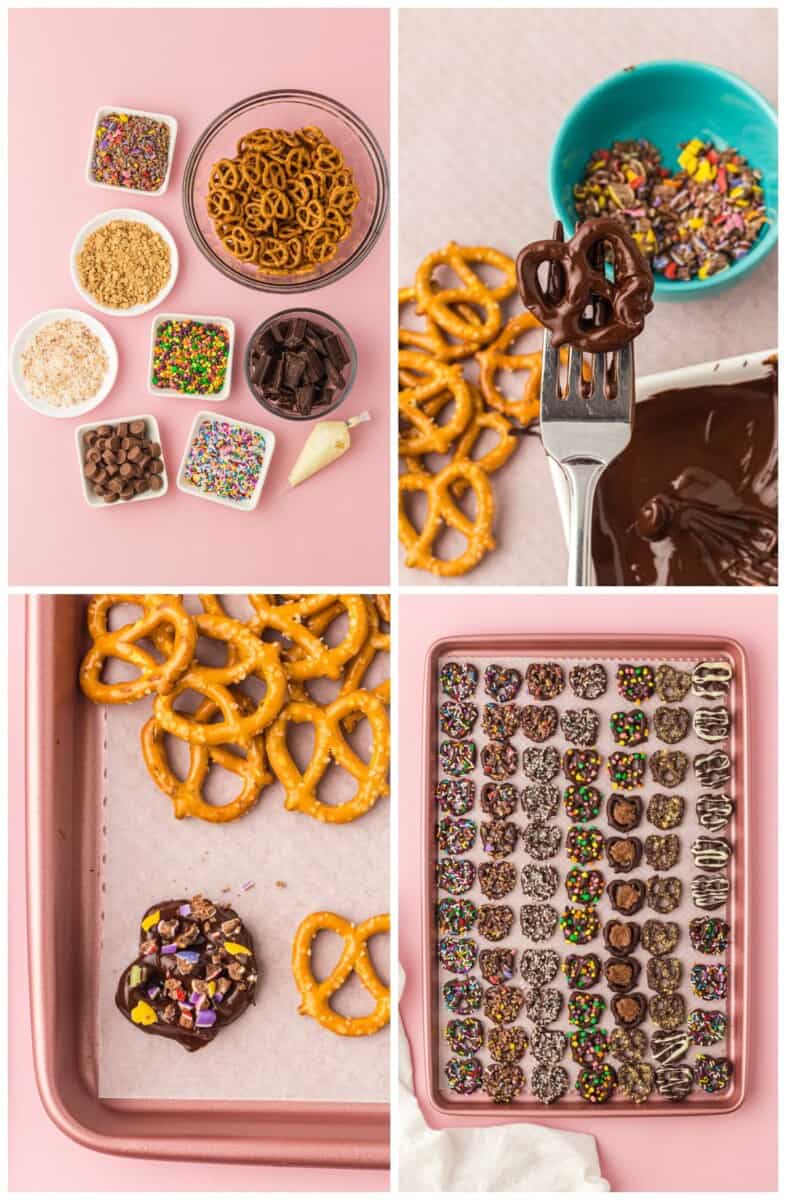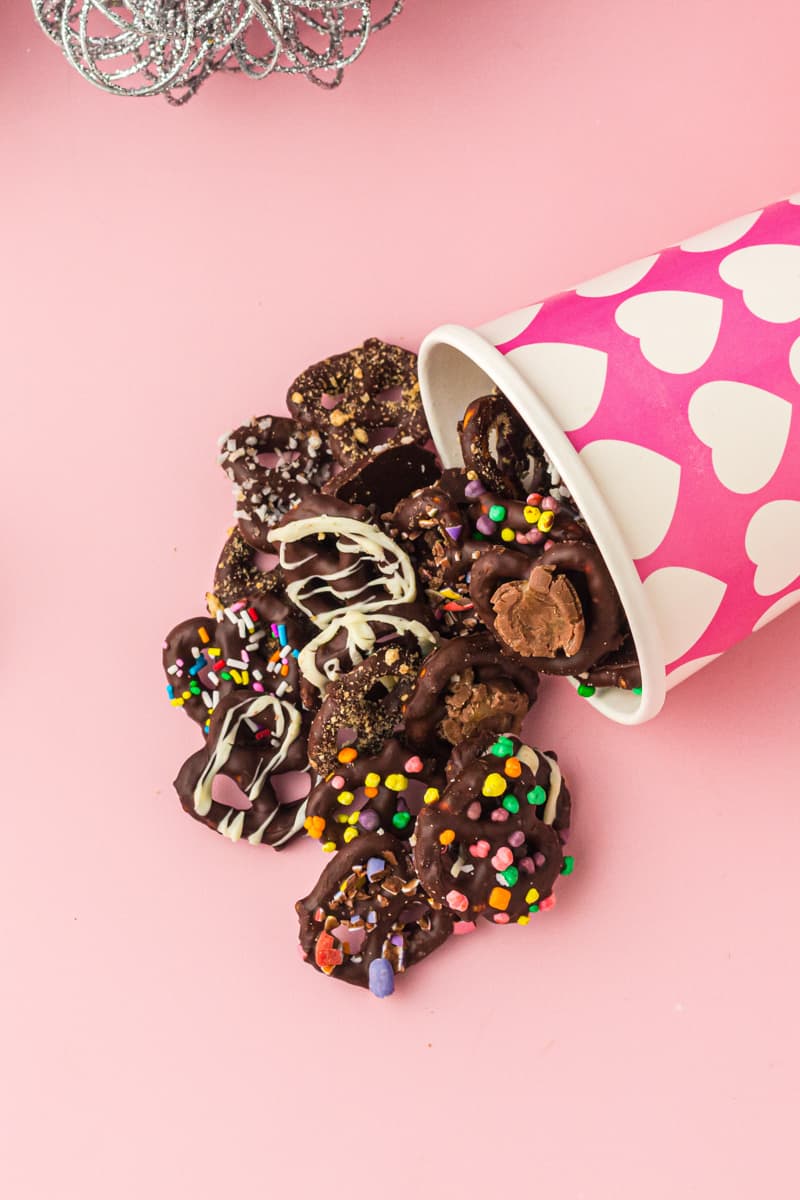 How to Make Chocolate Covered Pretzels
You can jump to the recipe card for full ingredients & instructions!
Place wax paper on your baking sheet.
Grab a medium bowl and add your melting chocolate to it, microwaving on high for a minute.
Dip your pretzels one at a time into the chocolate and place them on your lined baking sheet.
Add toppings if you'd like to after dipping your pretzels in chocolate.
Place your pretzels in the fridge for at least 15 minutes to get the chocolate to harden.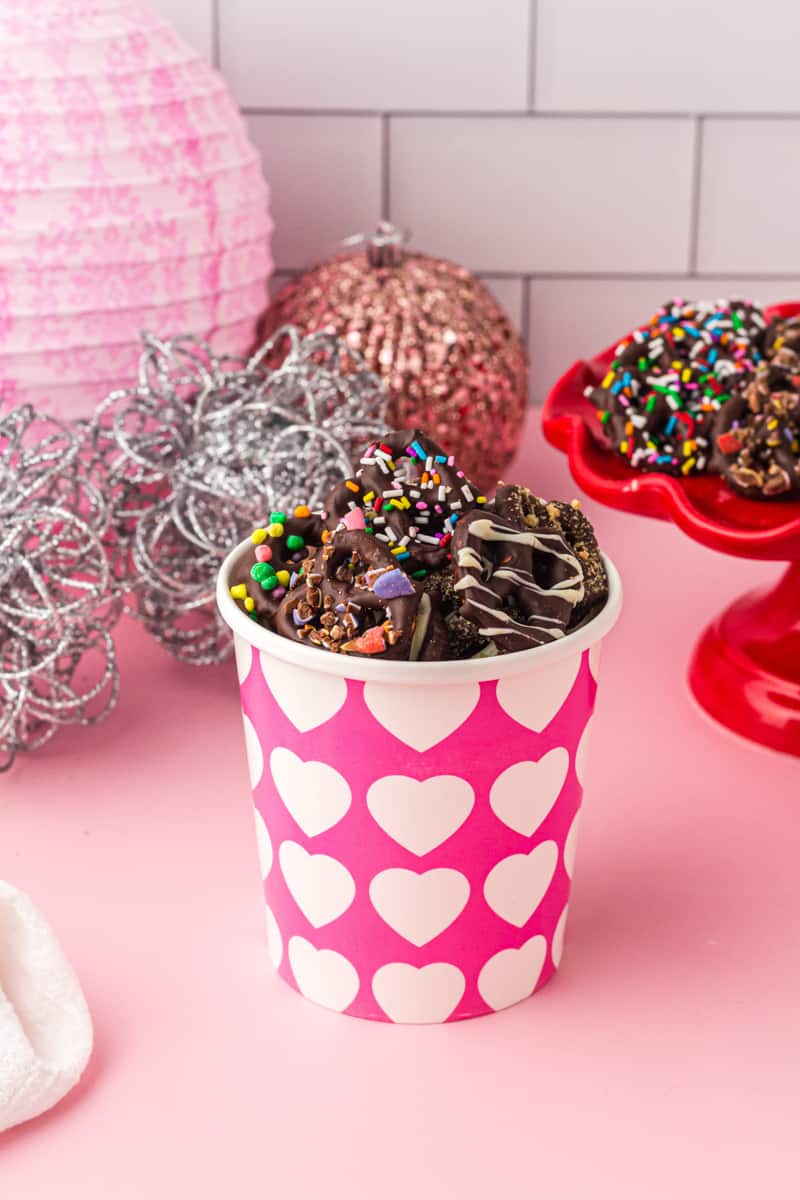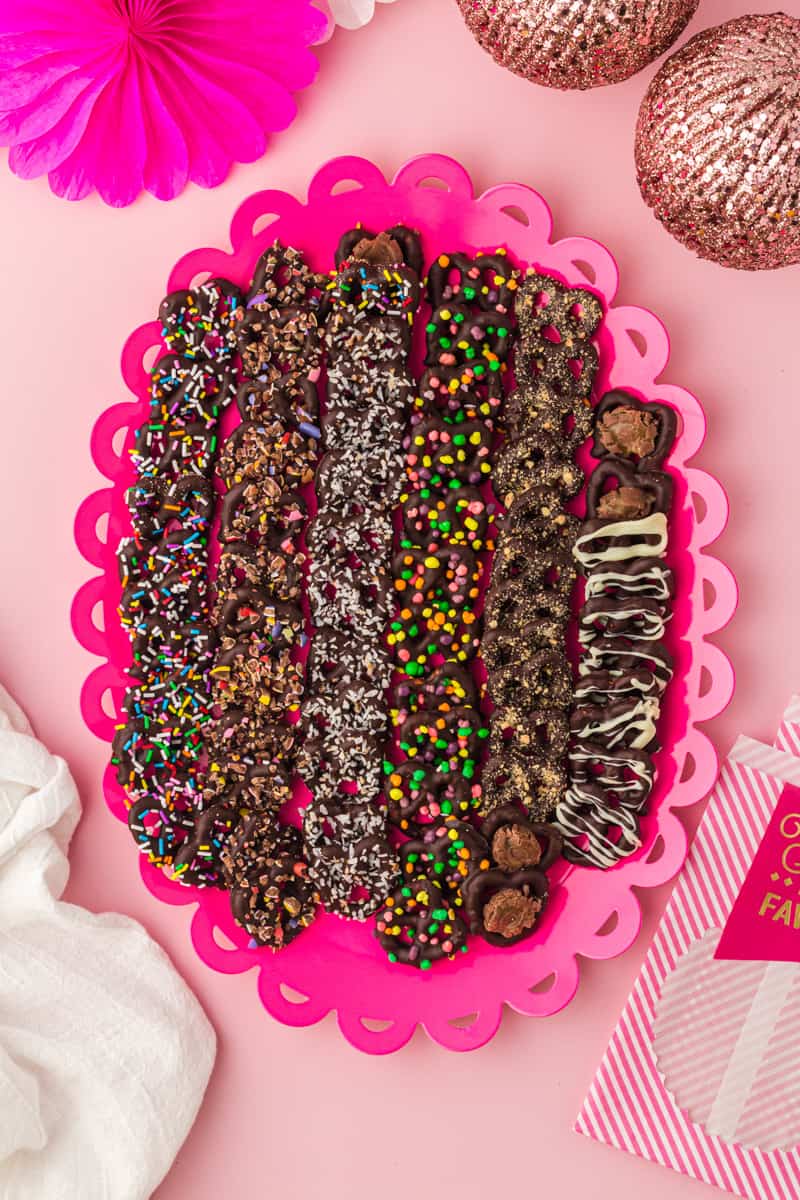 What chocolate is best for chocolate-covered pretzels?
For best results, use semi-sweet Baker's chocolate (sold in bars in the baking aisle). Baker's chocolate is specifically made for baking and doesn't have any added stabilizers, so it melts wonderfully.
How should I melt chocolate for dipping pretzels?
You can melt the chocolate in your microwave. Be sure to heat it in the microwave for 30 seconds at a time to keep it from burning. You can also use a double boiler on the stovetop, but this will take a bit longer.
How long do chocolate-covered pretzels last?
When you put your Chocolate Covered Pretzels in a food storage container and keep them sealed with an airtight lid, they can stay fresh for around two weeks.
Can I freeze chocolate-covered pretzels?
For best results, store pretzels at room temperature. Storing them in the refrigerator or freezer might cause the pretzels to go stale.
What toppings are good for chocolate-covered pretzels?
You can add all kinds of toppings! Sprinkles are always a good option but you can also use chopped nuts, chocolate curls, crushed candy bars or even mini M&Ms.
The toppings may be the best part of these chocolate covered pretzels. You can change up the toppings and get creative with them depending on what even the pretzels are for.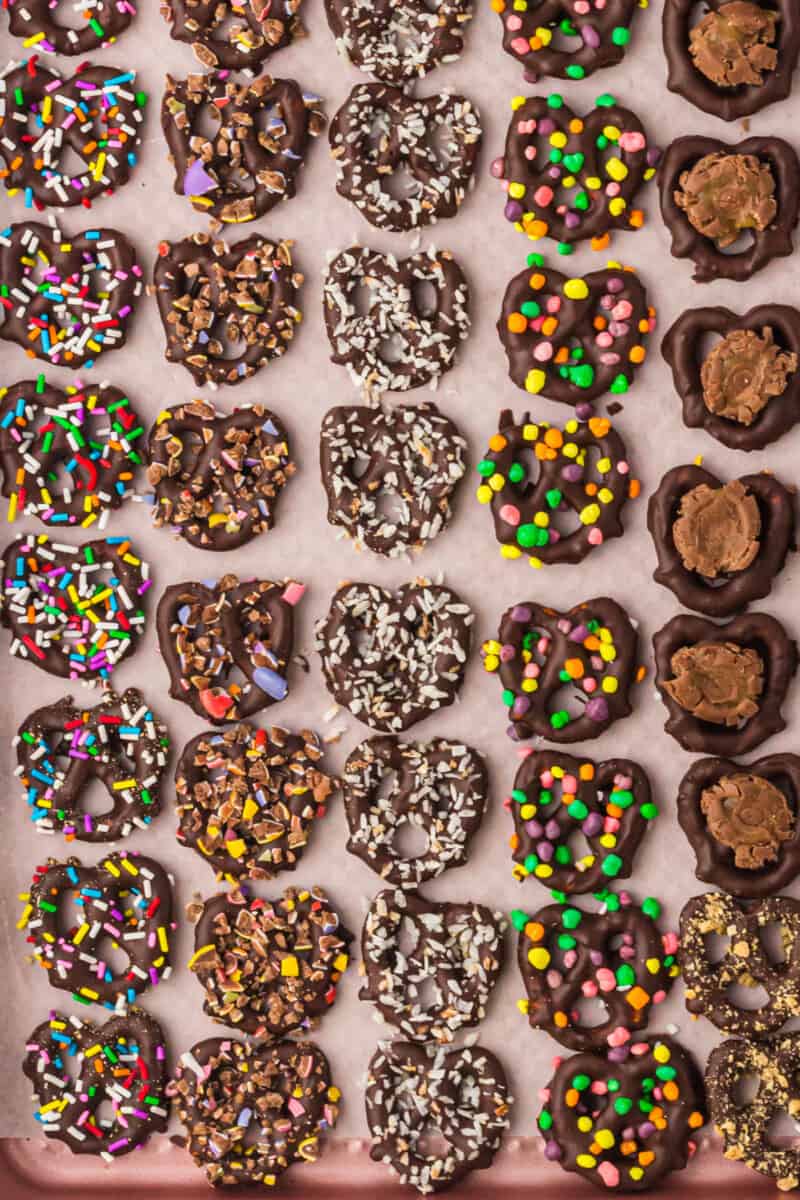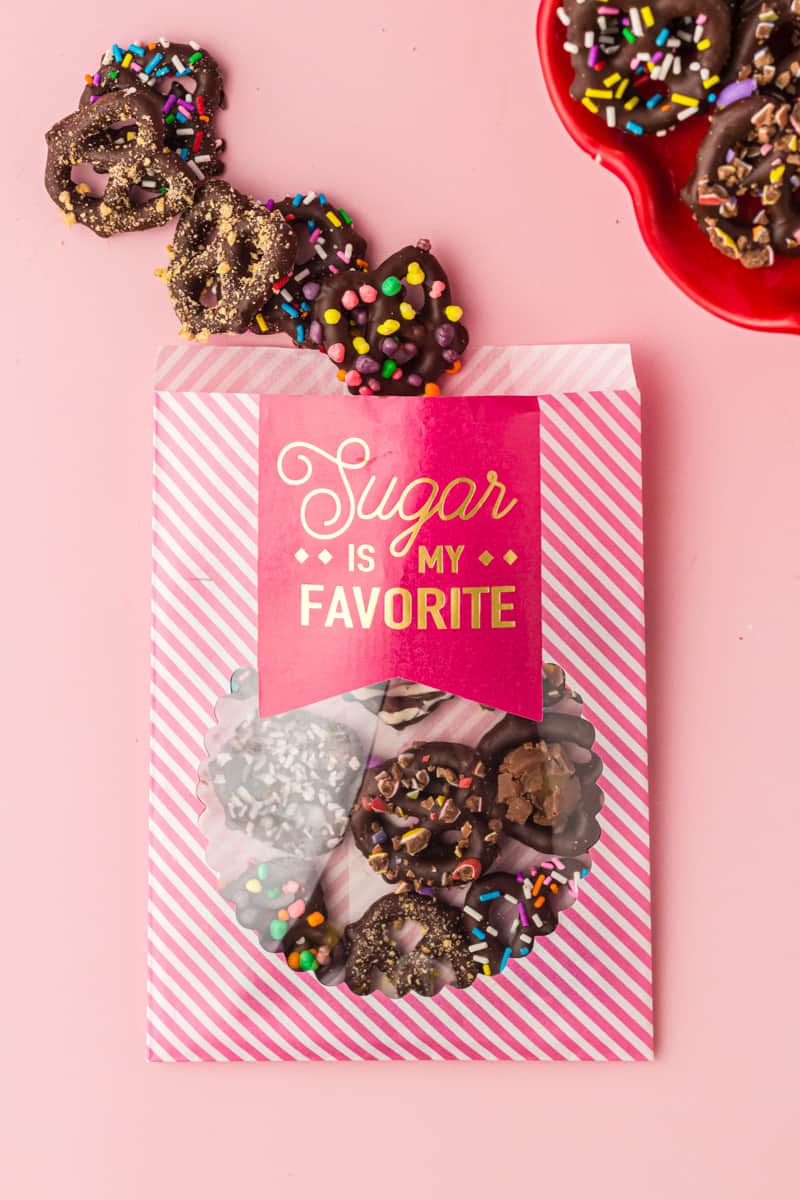 Tips!
Use your favorite melting chocolate for this recipe. You can use any brand that you prefer.
Add your favorite sprinkles to these pretzels to give them a special touch. If you don't have sprinkles, you can always use chopped nuts, crushed candy bars, or mini chocolate chips.
Switch things up by using different types of chocolate, such as dark and milk chocolate.
You can easily change out the toppings to make these chocolate-covered pretzels match your holiday or birthday theme. Use red and green for Christmas or use crushed candy bars for a fun birthday party treat.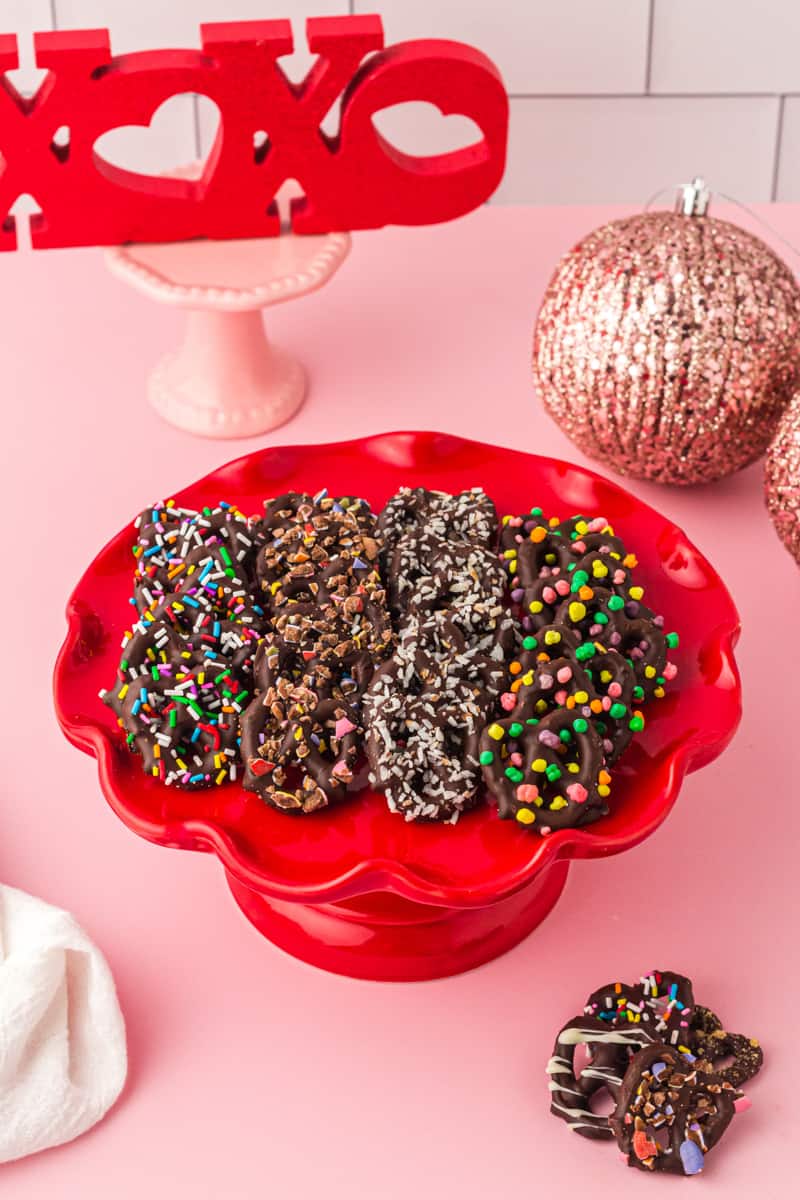 Can I use parchment paper instead of wax paper?
Yes. If you don't have parchment paper, feel free to use wax paper to keep your chocolate pretzels from getting stuck when you place them in the fridge.
Can I use white chocolate instead?
Absolutely. If you prefer the taste of white chocolate, you can use your favorite brand of white chocolate. White chocolate also works well when you want to add dark-colored toppings to the pretzels.
What pretzels are best for chocolate-covered pretzels?
While you can use any pretzels that you prefer, mini pretzels and pretzel rods are an excellent choice!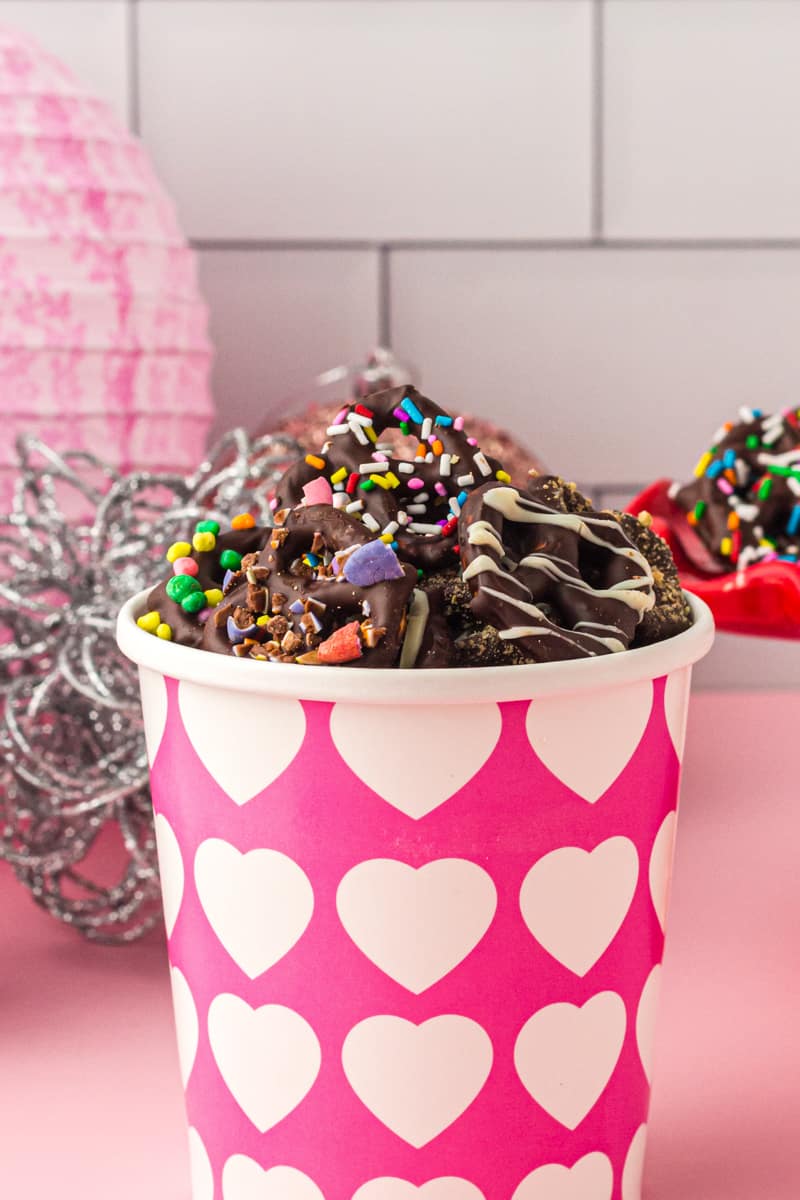 Everyone will love these fun chocolate-covered pretzels! You can have the kids help in the kitchen when you make these sweet treats. Grab your favorite toppings and whip up a batch today!
If you make this recipe be sure to upload a photo in the comment section below or leave a rating. Enjoy! You can also jump to recipe.