This DEVILED EGG RECIPE is filled with the flavors of a Loaded Baked Potato, smothered in a mixture of cheese, bacon, sour cream, chives, and more! This is the BEST Deviled Eggs Recipe, perfect for Easter, Christmas, or any day in between. The ultimate easy Deviled Eggs for the holidays.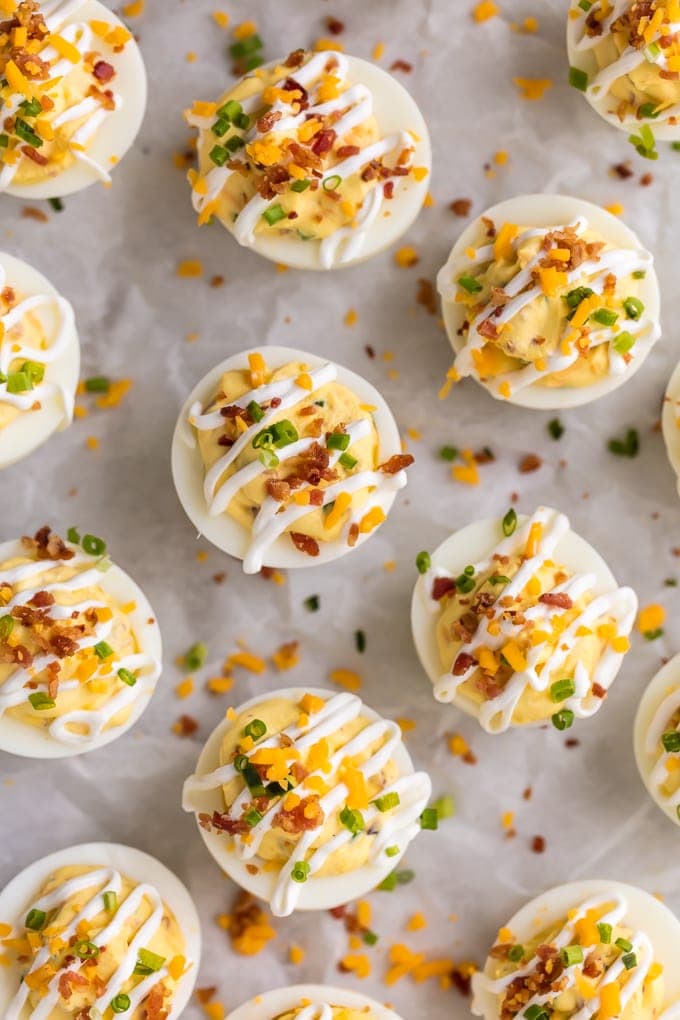 Deviled Eggs Recipe
Deviled Eggs are a must make for the holidays. This easy deviled eggs recipe is something our family enjoys, and I love this unique and tasty version that even kids will gobble up!
I've never been the biggest fan of deviled eggs, but Pat is OBSESSED with them. If I could make them as a side dish for every dinner, he'd be so happy. Since he loves them so much, I tried to figure out how to make deviled eggs we could both enjoy for the Easter table.
Then it came to me: a Loaded Deviled Eggs Recipe, inspired by loaded baked potatoes! Sounds heavenly, right They're topped with sour cream, bacon, cheese, chives, and more.
This is hands down the BEST deviled eggs recipe, and I'm going to be making it for every Easter and Christmas from now on…and maybe for dinner for Pat's sake.
Find out how to make deviled eggs even better by adding extra tasty ingredients!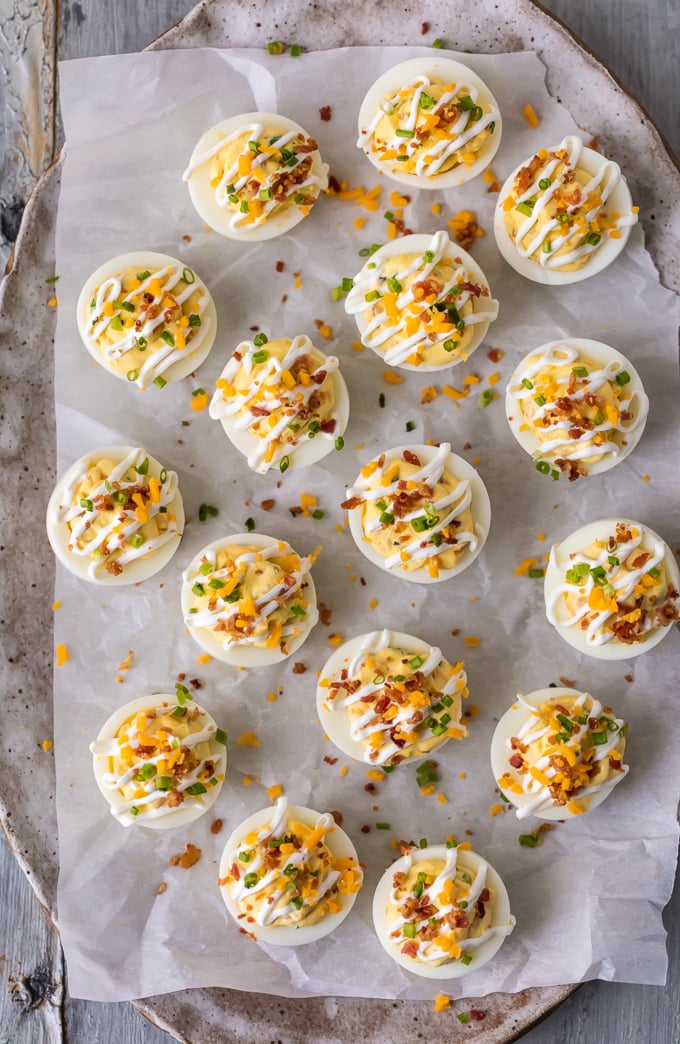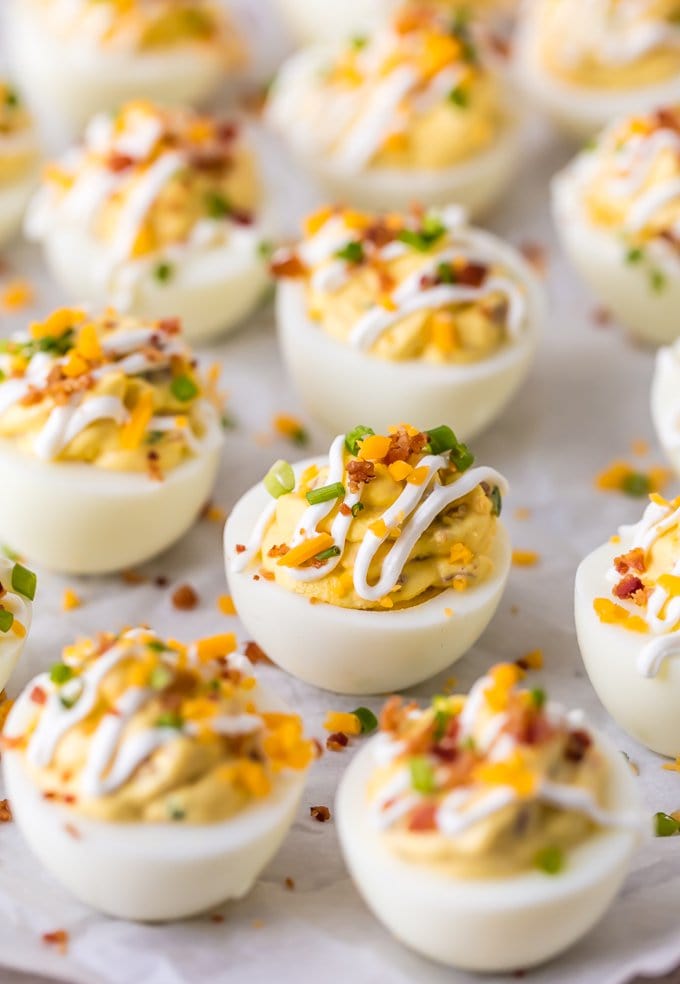 How long do Deviled Eggs keep in the refrigerator?
Since the shell is removed from cooked Deviled Eggs, they're more susceptible to bacteria. They can be safely kept in the fridge and enjoyed up to 3-4 days after preparing.
Why do we call them Deviled Eggs?
The term deviled in regards to food goes back to the 18th Century! It refers to zesty food prepared with mustard, pepper, and other foods mixed with the yellow egg yolk. Well, aren't we fancy!?
Are Deviled Eggs good for you?
Although eggs are super healthy…we are adding a lot of fat and calories by preparing them this way. No shame in your game, these Loaded Deviled Eggs are THE BOMB! (and holiday calories DO NOT COUNT)
How far ahead can I make Deviled Eggs?
I recommend making this Deviled Eggs recipe at most the night before your holiday party. You can eat them for up to 3-4 days if stored properly in the fridge, but they're best within a day.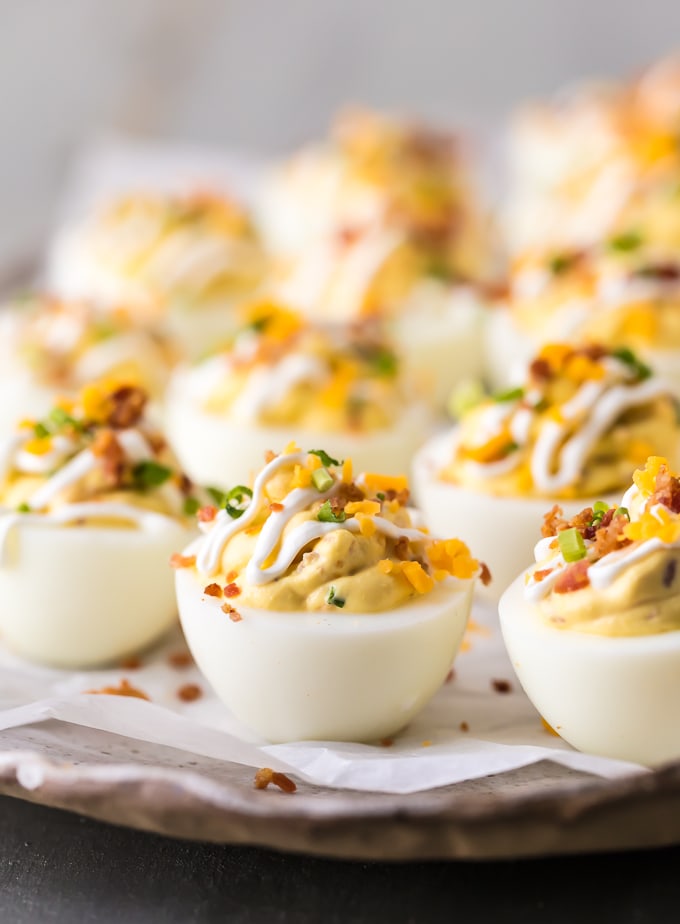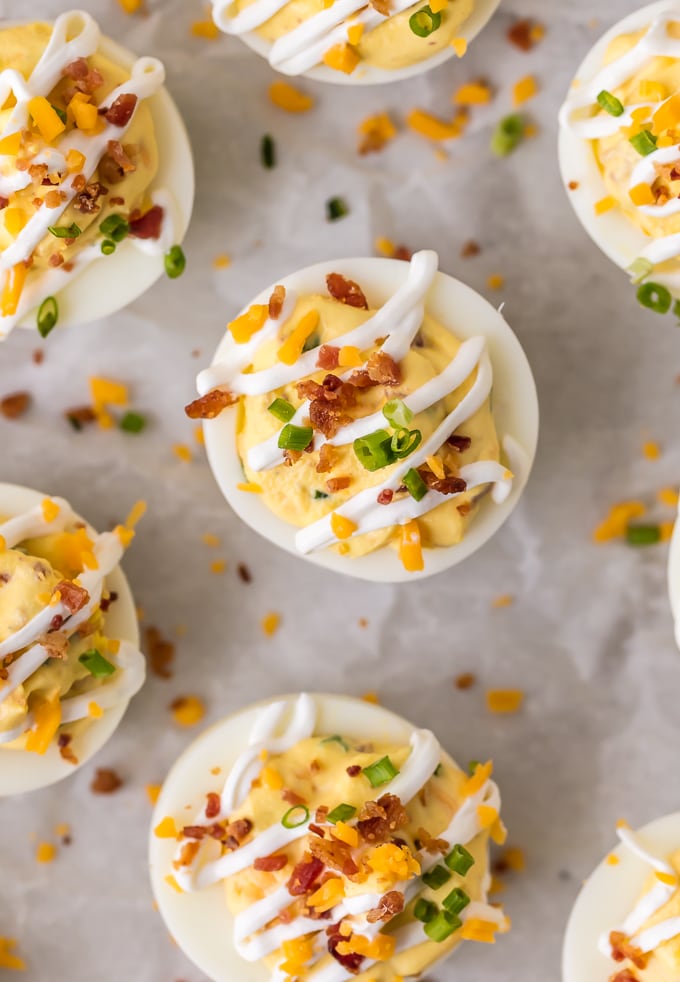 Best Deviled Eggs Recipe
This easy deviled eggs recipe is just so addicting and fun! It puts a creative spin on a classic Easter recipe. I hope you try them and LOVE them as much as we do! All the toppings are mixed into the middle yolk section, but we also sprinkled tiny portions on top for fun.
Aren't they so cute?! We love to pair them with our Copycat Honey Baked Ham and Pineapple Pretzel Salad. Now THAT is an Easter feast! The best deviled eggs will make any meal that much better!
Easy Deviled Eggs the Kids Will Love
I think these Loaded Deviled Eggs are so cute, tasty, and fun. Kids can help decorate them and feel a part of the process…and they might just like them as well!
I know my niece and nephew were big fans of this easy Deviled Eggs Recipe. If Henry is anything like his Dad, this will end up being one of his favorite recipes on The Cookie Rookie. If you've been wondering how to make deviled eggs, this post is for you!
Ingredients or Deviled Eggs
For traditional deviled eggs, you hard-boil them, let them cool, then cut them in half and remove the yolk. The yolk is then mashed up and typically mixed with mayo and/or mustard. We're mostly following the same process, but the ingredients are a little bit different.
Loaded Deviled Eggs Ingredients:
Eggs
Sour Cream
Bacon
Chives
Cheddar Cheese
Salt & Pepper
Just mix these ingredients in with the yolk, then place a bit of the mixture back into each egg half. Top off each one with some extra bacon or cheese for extra cute eggs.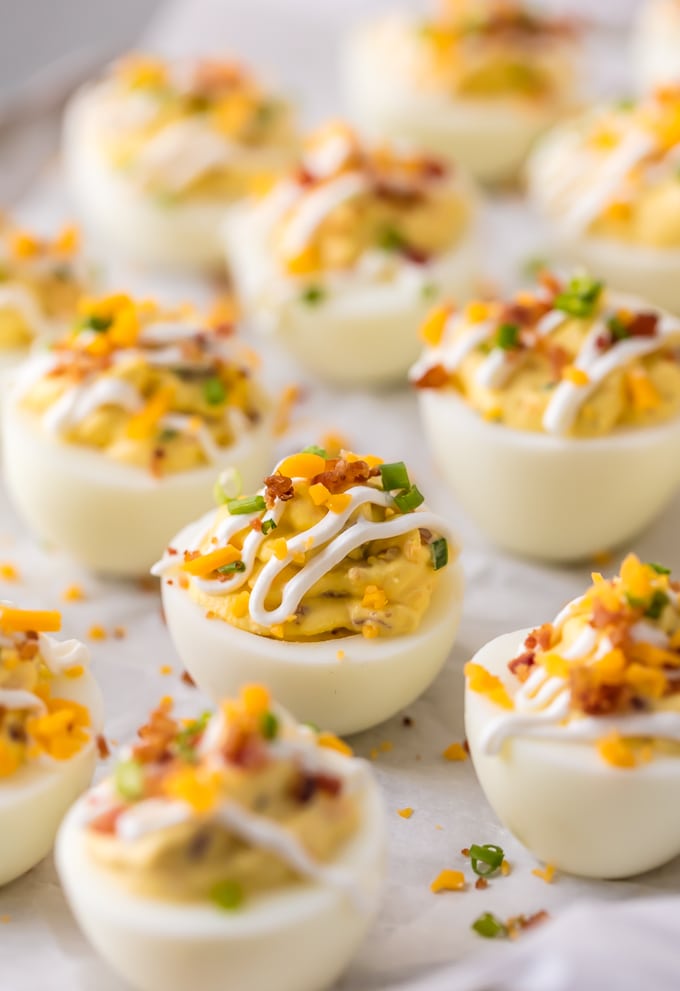 Could there be anything better than Deviled Eggs with Bacon? I think not. These are the ultimate holiday comfort food. The BEST deviled eggs recipe. I have to admit, now I'm obsessed too!
See the recipe card below for details on How to Make Deviled Eggs. Enjoy!
Try these other appetizers and sides for holidays: