These loaded deviled eggs with bacon and sour cream are filled with all the flavors of a loaded baked potato. There's no mayo in this deviled egg recipe, instead it's a mixture of cheese, bacon, sour cream, chives, and more! This is such an easy recipe, perfect for Easter, Christmas, or any day in between. It's a little different than the classic, but SO delicious.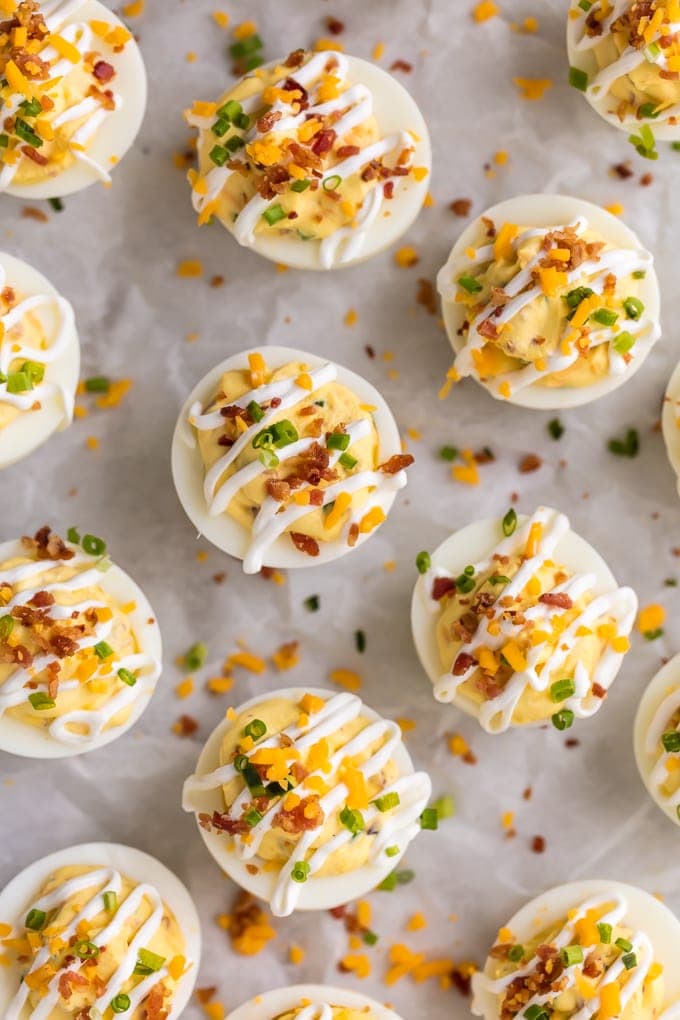 Loaded Deviled Eggs
Loaded Deviled Eggs are a must make for the holidays! This easy recipe is something our whole family enjoys, and I love this unique and tasty version that even kids will gobble up.
These deviled eggs with bacon are inspired by loaded baked potatoes! This mayo-free recipe uses sour cream as a base for the yolk mixture instead. And then they're topped with bacon, cheese, chives, and more.
I love this twist on classic deviled eggs, and I'm going to be making it for every Easter and Christmas from now on.
Why You'll Love this Bacon Deviled Eggs Recipe:
EASY: This recipe is so easy, but looks fancy! Just hard-boil your eggs, mix up some ingredients, and they'll be ready to serve.
LOADED WITH FLAVOR: These are loaded with bacon, cheese, sour cream, and chives for a tasty dish.
HOLIDAY APPETIZER: Deviled eggs make the best holiday appetizer. These are the perfect appetizer for Easter, Christmas, Thanksgiving, or New Year's!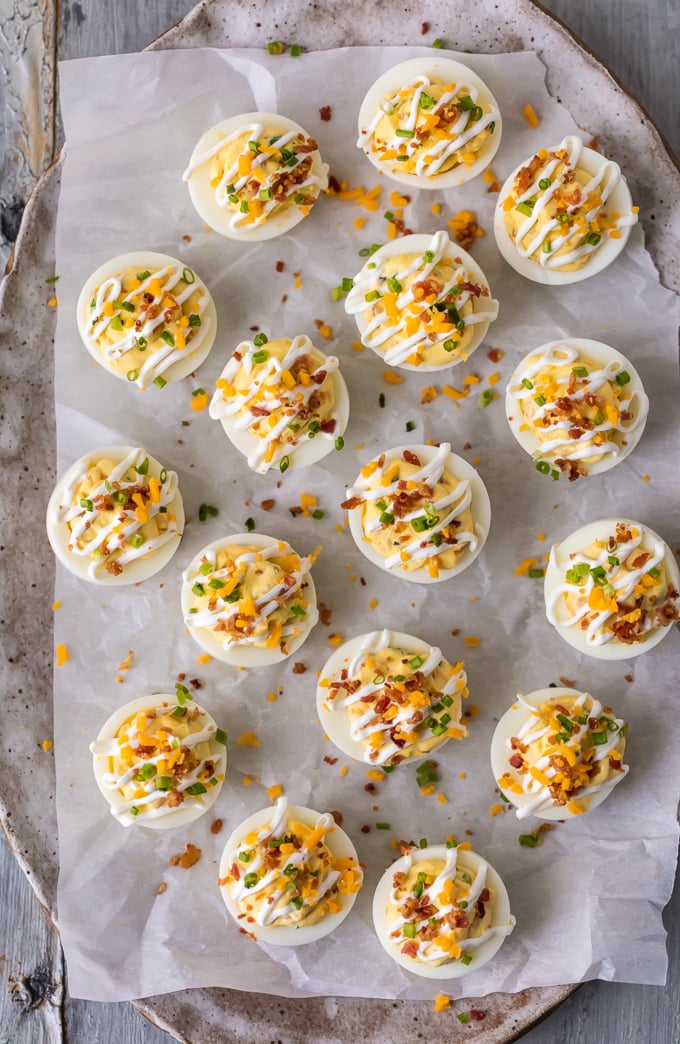 Ingredients
Eggs: You'll need eggs for this recipe, of course! You can make as few or as many as you like.
Sour Cream: Sour cream takes the place of the mayo here, and adds a slightly tangy twist.
Bacon: Deviled eggs with bacon? Absolutely! Use bacon crumbles.
Chives: You can skip these if you don't have any, but they taste great.
Cheddar Cheese: Cheddar is ideal for this recipe.
Salt & Pepper: to taste.
How to Make Loaded Deviled Eggs
Be sure to see the recipe card below for full ingredients & instructions!
First, hard-boil as many eggs as you'd like to make, let them cool, and peel.
When you're ready to prepare the filling, cut them in half, and place all of the yolks in a mixing bowl.
Add the other ingredients into the bowl of yolks, and mix everything together until fully combined.
Top each egg white half with some of the yolk mixture, and topped with extra bacon, sour cream, cheese, and chives.
Serve immediately, or put them back in the fridge until you're ready to eat them.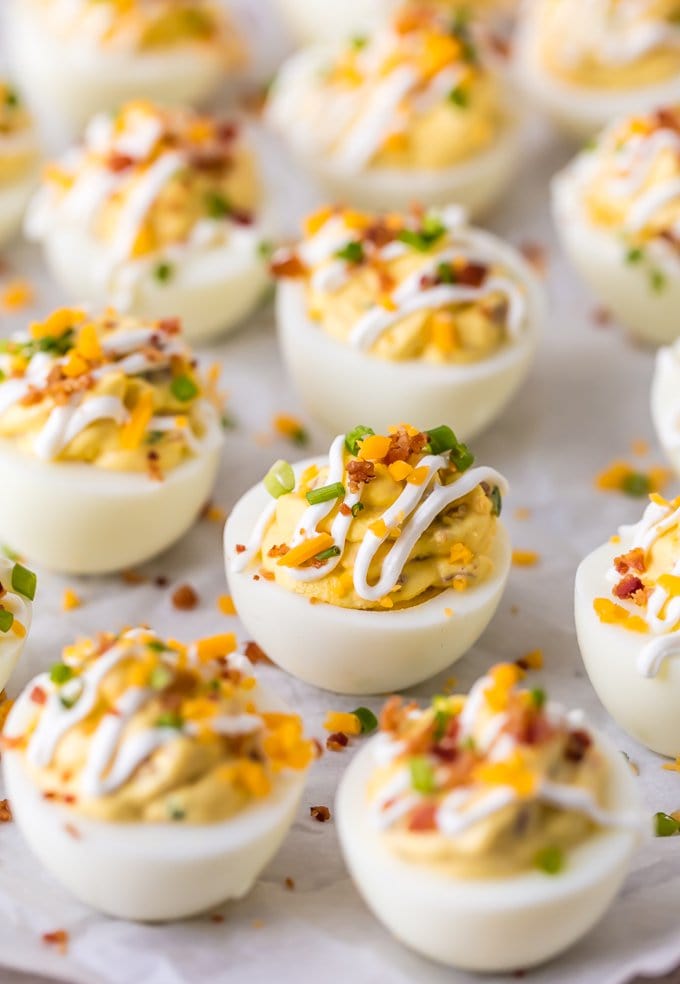 Why are they called deviled eggs?
"Deviled" is a really old term that refers to highly-seasoned or condiment-filled foods. So eventually it was used to describe this egg dish, which mixes seasonings and condiments with the egg yolk!
How long do you boil eggs for deviled eggs?
Depending on which method you use to hard-boil the eggs, it will take somewhere between 11-13 minutes.
Are these healthy?
Eggs are rich in protein, which makes it a good snack. But with all of the other ingredients loaded into this deviled eggs recipe, I wouldn't quite call it healthy.
What else can I add in to these bacon deviled eggs?
These are already filled with sour cream, bacon, cheese, and chives. But you could also add diced jalapenos or some paprika to spice it up.
Serving Suggestions
These flavorful deviled eggs make a great appetizer! Lay them out on the holiday app table, or serve them up as a finger food for your holiday party. Keep an eye on them, and put extras in the fridge ASAP to make sure they last as long as possible.
They also make a good side dish to serve along with holiday ham and your favorite veggie side dishes.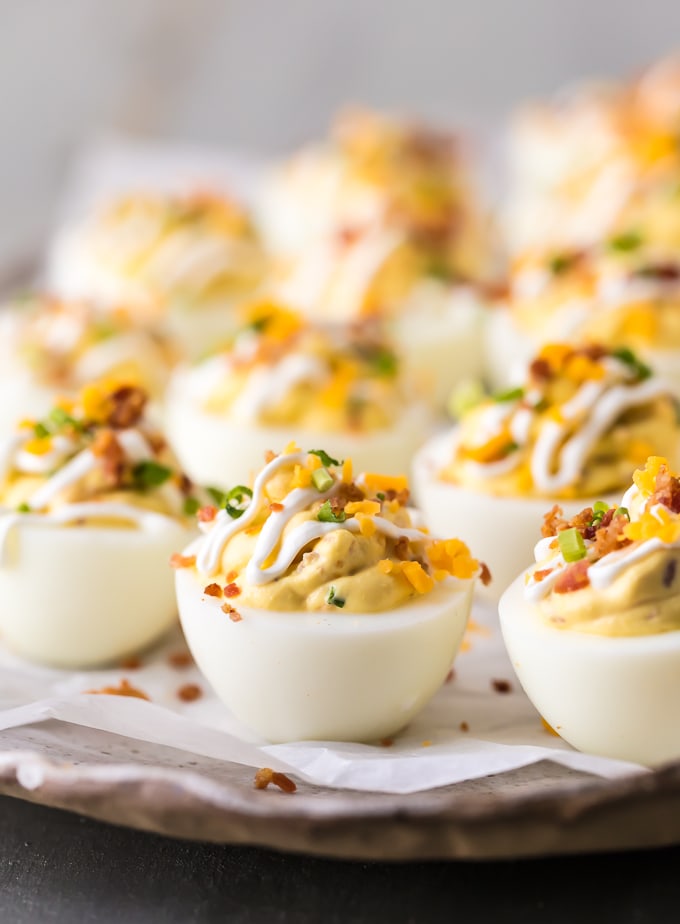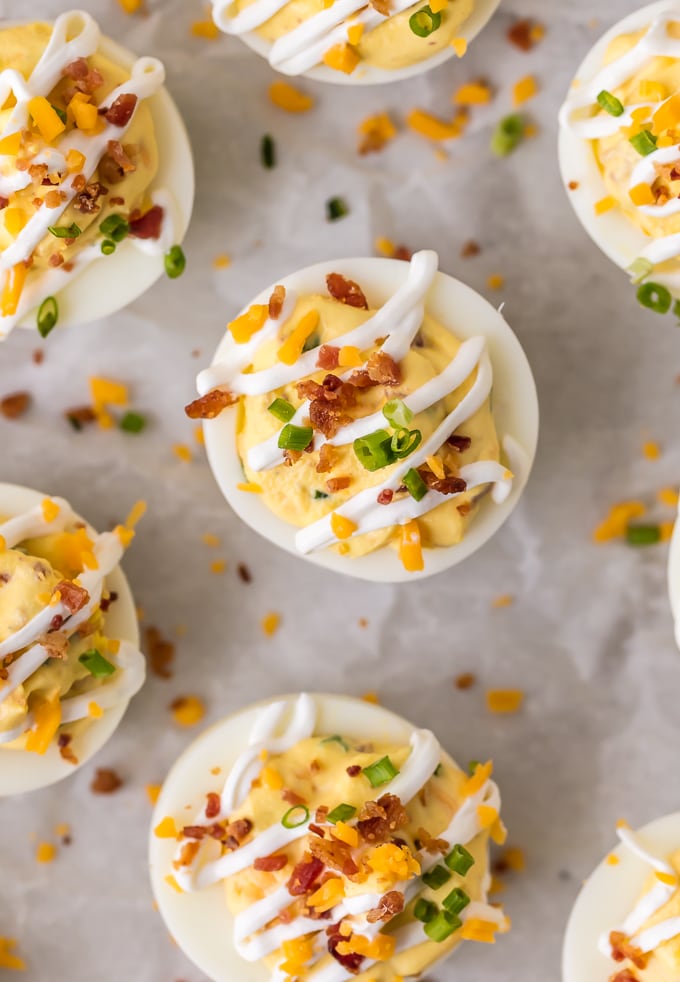 Tips!
You can hard-boil eggs with any method you like for this recipe. I have instructions to boil or steam in the recipe card. You could also use this instant pot hardboiled eggs recipe!
Trim off a very tiny sliver from the bottom of each egg half so that they sit flat.
I love this no mayo deviled eggs recipe, but you can use mayo instead of sour cream if you prefer.
Mix in other ingredients as you please. The sky is the limit for toppings!
How long are deviled eggs with bacon good for?
Once the shell is removed from the hard-boiled eggs, and they're prepared with the filling, the storage time decreases. But they can be safely kept in the fridge and enjoyed up to 3 days after preparing. Just be sure to keep them in an airtight container.
Can you make these the day before?
For the best quality, I recommend making these loaded deviled eggs no more than a day ahead of time. Prep and keep them in the fridge. If you want to prep them further ahead, I'd recommend just hard-boiling the eggs to speed things up. Then you can make the filling, and finish the prep the night before.
Can I make deviled eggs without mayo?
Yes! This deviled eggs recipe requires no mayo. Instead, we mix the egg yolk up with sour cream, which gives the same creamy texture. I think it's a great substitution, and tastes great.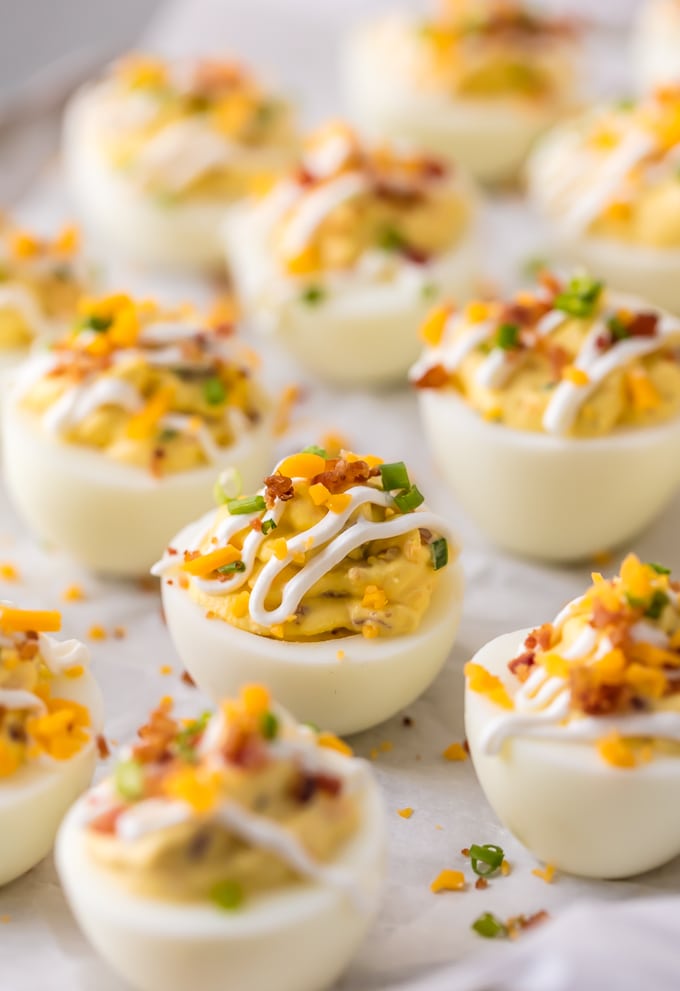 Could there be anything better than loaded deviled eggs with bacon? These are the ultimate holiday comfort food, served either as an appetizer, party finger food, or even a side dish. It's a unique deviled egg recipe that everyone will love!
If you make this recipe be sure to upload a photo in the comment section below or leave a rating. Enjoy!