These salmon dinner ideas are a great way to add this fish into your regular diet. Making a healthy meal has never been better with these easy salmon recipes! Flavorful, quick, and always delicious, this is just such an easy thing to cook. Plus there are plenty of side dishes to serve along with salmon for the perfect dinner!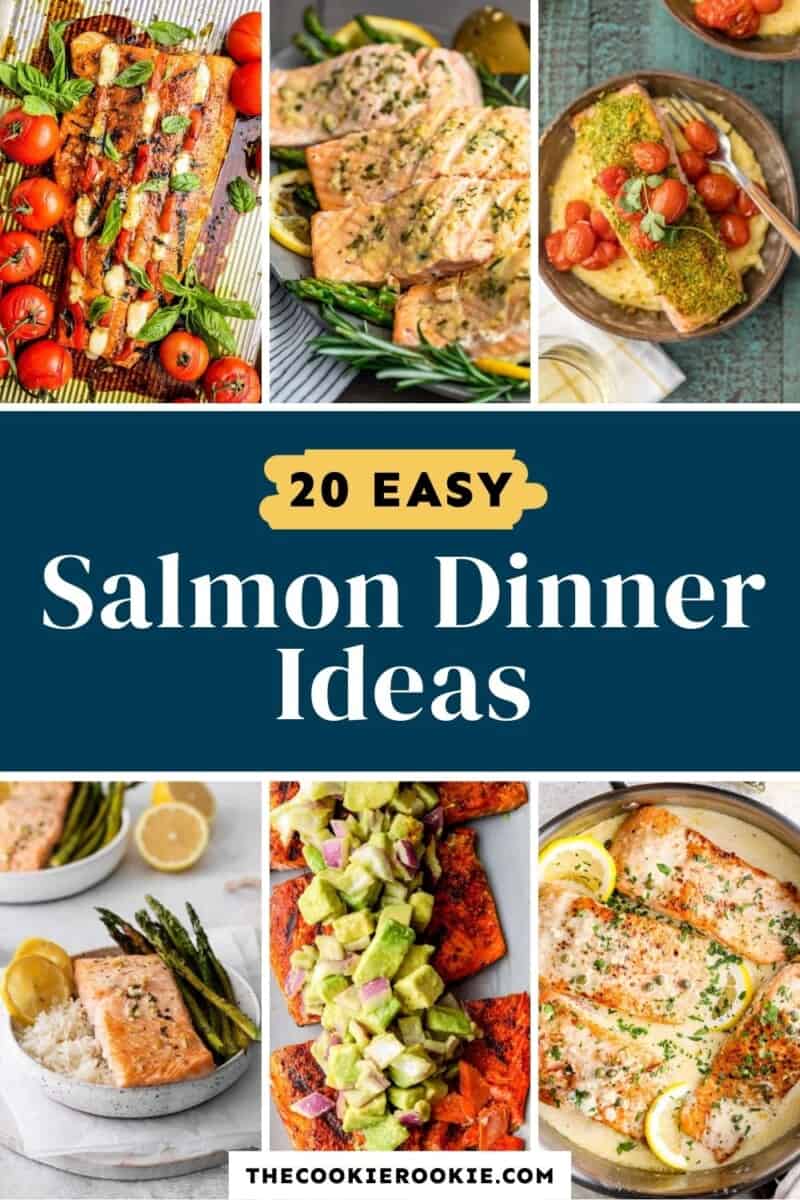 Easy Salmon Recipes
Looking for some easy salmon recipes to make for dinner tonight? Then you've come to the right place! I've gathered the best salmon dinner ideas, all of which are healthy flavorful, and quick to cook. Plus you'll find plenty of side dishes to complete the meal.
Salmon is one of my favorite seafood dishes to make AND to eat, because it's so simple yet so delicious. Plus, salmon is super healthy for you, making it the perfect thing to eat on a regular basis! Whether you prefer your salmon baked, grilled, pan seared, or air fried, there's a recipe here you'll love!
When something healthy tastes this good, AND is this easy to make, there's no reason not to eat it. So make any of these delicious recipes and enjoy!
Salmon Dinner Ideas
Salmon recipes are a great main dish to make for dinner any night of the week because it's delicious, and it's good for you! Pair it with vegetables and your favorite side dishes to make a meal that everyone will love.
Whether you're making a recipe for two, or cooking for the whole family, these recipes are just perfect. There are so many different ways to cook salmon, so one of these methods is sure to work for you.
And if you want the easiest meal ever, there are plenty of sheet pan dinner ideas here too. Salmon and veggies in one pan, what could be easier? And salmon is one of my favorite thing to make for romantic dinners, for Valentine's Day or anniversaries. It pairs perfectly with a glass of wine!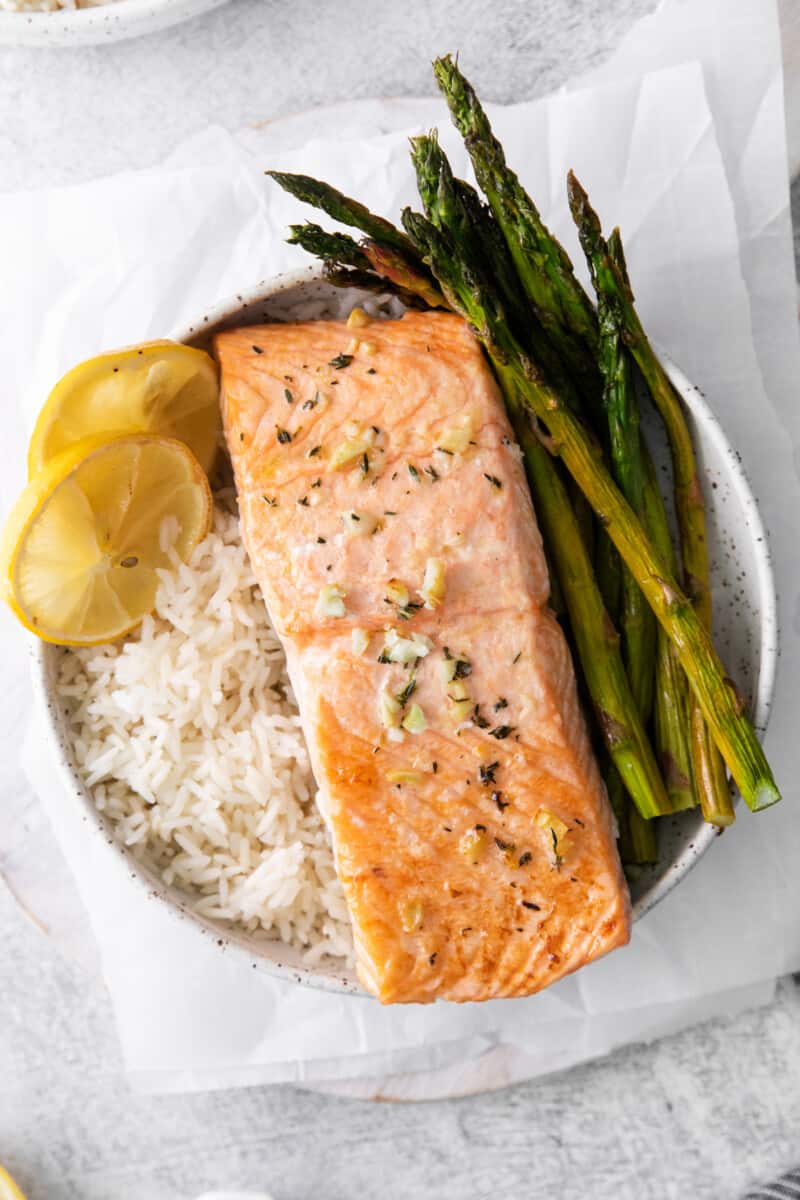 Tip!
The FDA recommends eating salmon or other seafood 2 to 3 times a week for its many health benefits. It is a fatty fish filled with Omega-3, which is good for heart health, plus it's a great source of protein and other nutrients.
Healthy Salmon Recipes
Salmon is always a great dinner idea if you're looking for something healthy. It's lean and filled with nutrients, so it's easy to make a well-balanced dinner with these recipes at the center.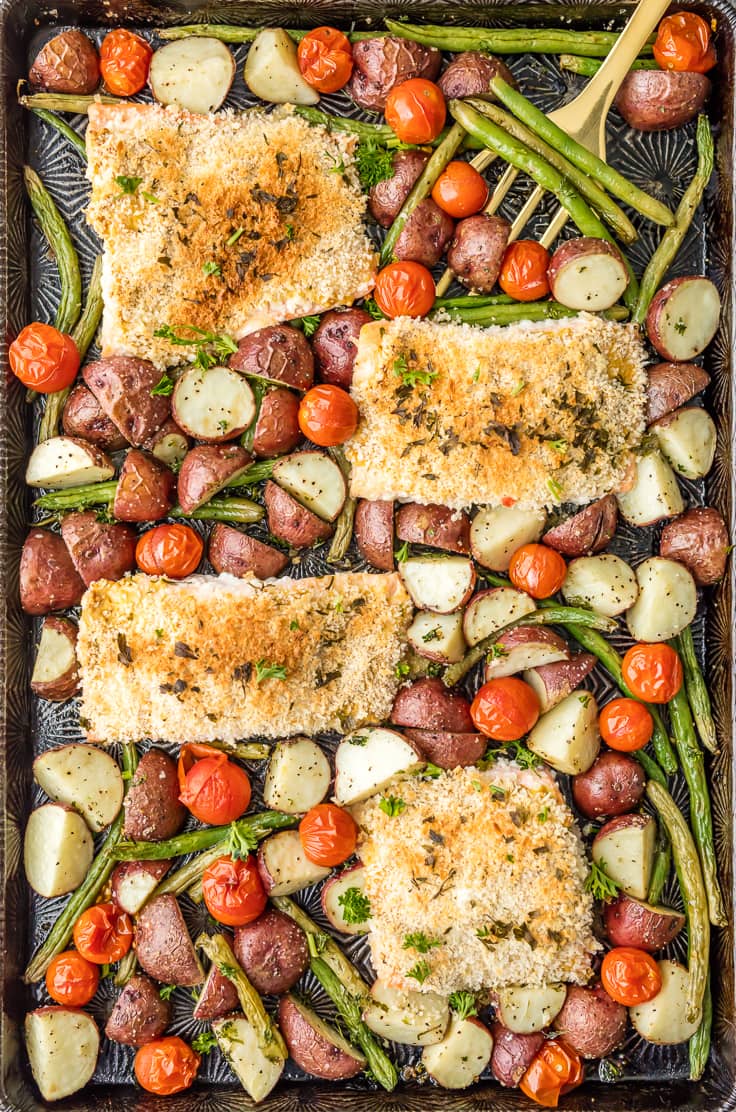 Salmon Dinner Ideas with Sides
These salmon ideas have delicious side dishes to go along with them! So you can make a full meal with just one simple recipe. Sheet pan meals are a favorite for this very reason.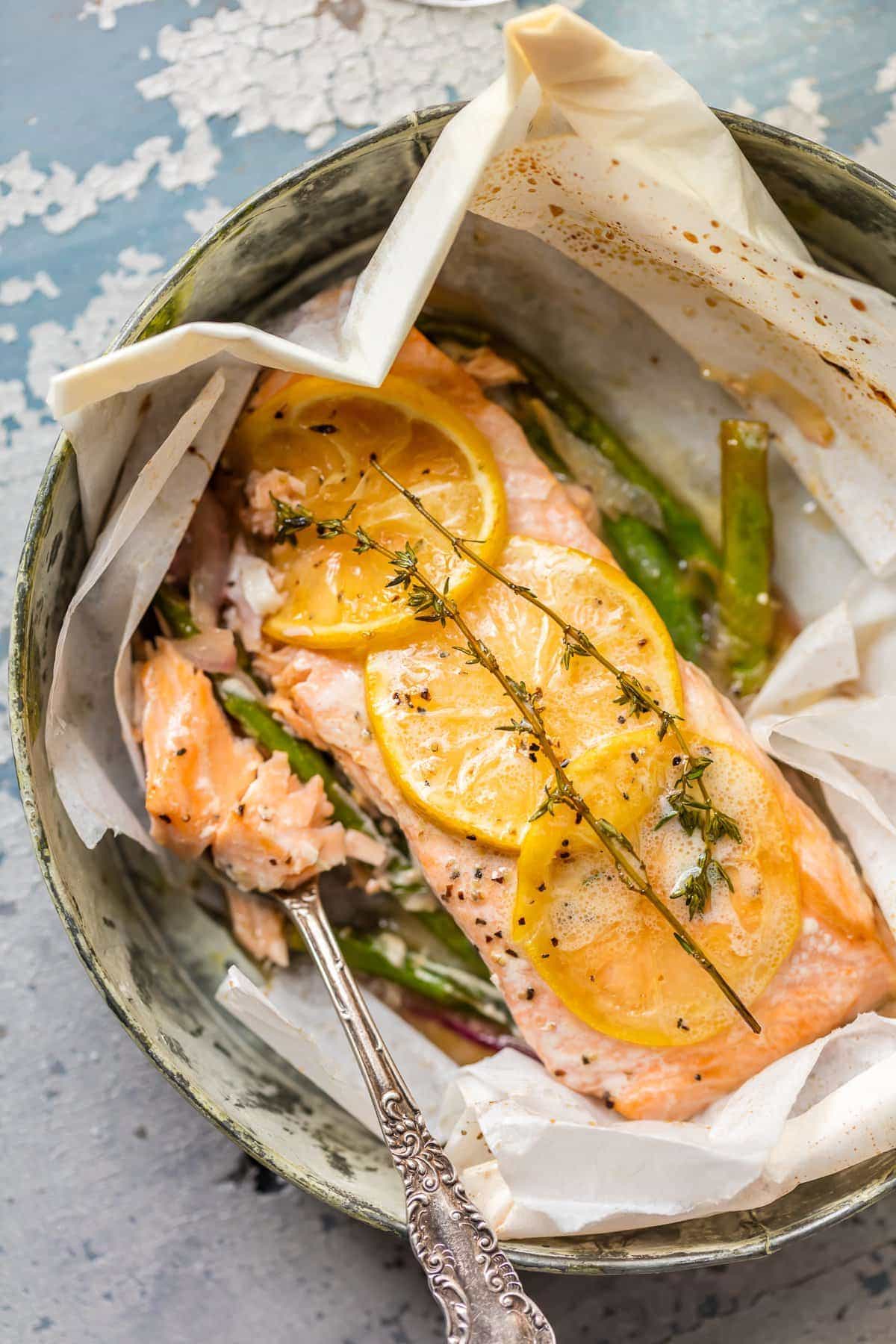 Quick and Easy Salmon Dinners
Since fish cooks fast, you'll never be in the kitchen long when you're serving salmon for dinner. These ideas are all so quick to make!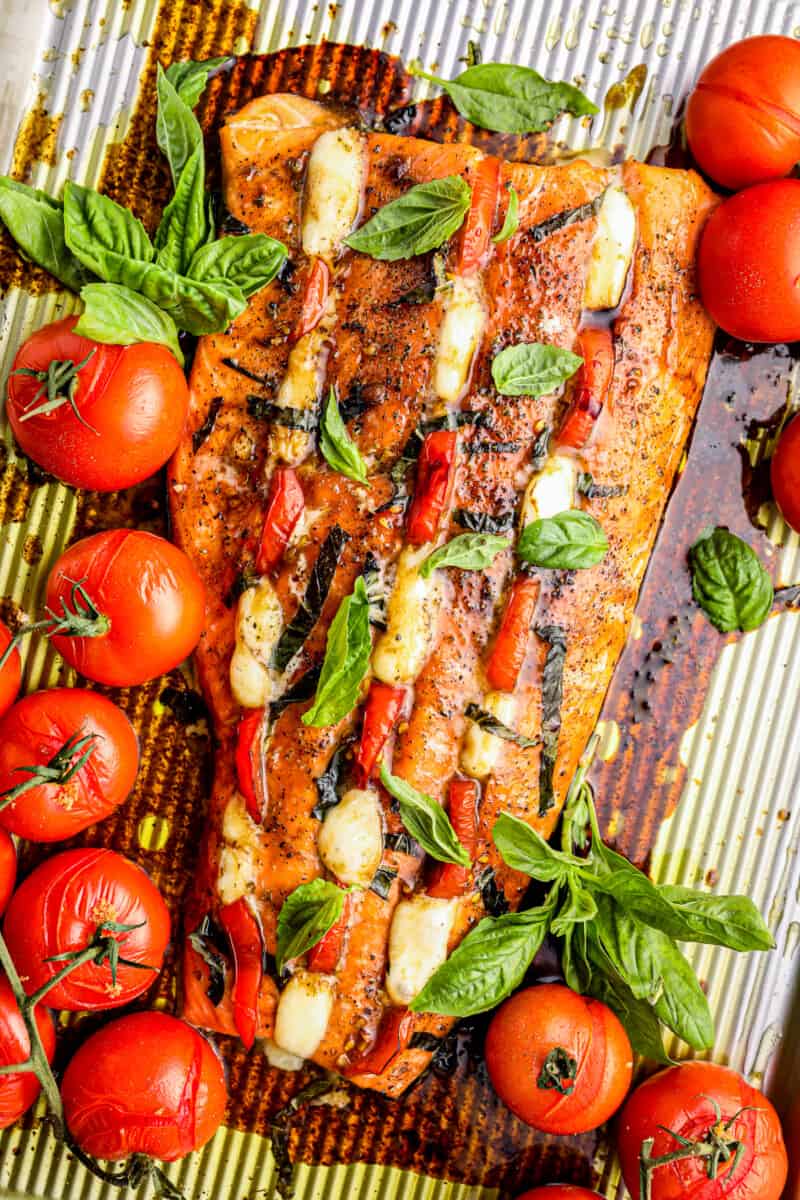 Flavorful Salmon Ideas
These recipes are filled with flavor! Fish isn't boring when it's so well-seasoned, cooked in delicious sauces, and served with your favorite side dishes.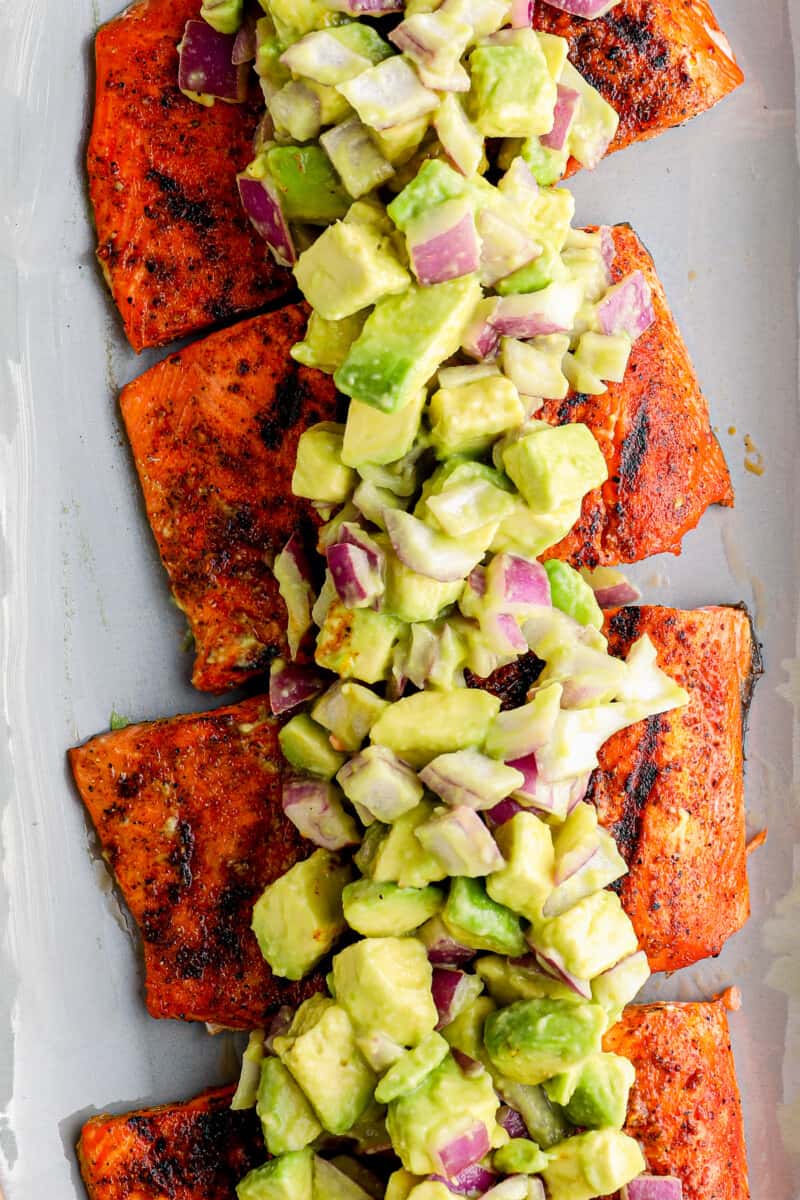 What do you serve with salmon for dinner?
For healthy salmon dinner ideas, I usually serve it with some combination of grains and vegetables. A baked or grilled salmon fillet served over white or brown rice, along with broccoli or asparagus is a delicious and simple meal. That being said, it can easily be served with all kinds of veggies, side dishes, pastas, salads, and more.
Here are some favorite sides:
What is the internal temperature for salmon?
These salmon recipes should be cooked to an internal temperature of at least 125°F. The USDA recommends you cook salmon to 145°F before eating, but it is safe to eat at a slightly lower temp. I prefer to cook my salmon to 130-135°F.
How much salmon should I serve per person?
A typical serving size for salmon is about 2 to 3 ounces. Salmon fillets are usually cut into 4 to 6 ounce portions, so about 2 servings worth of fish.
Can I use frozen salmon for these recipes?
Absolutely! Defrost salmon in the fridge overnight and use it with any of these simple recipes.
How long does cooked salmon last in the fridge?
Once it's been cooked, salmon can be kept in the refrigerator for 2-3 days. I don't recommend eating it after 3 days, so plan ahead.
How long can you marinate salmon?
With most salmon marinades, you don't want to marinate for more than about 30 minutes. Any longer and the fish can start to break down and become soggy. So it's not advised to marinate overnight.
Are salmon recipes good for you?
Yes! Salmon has many health benefits that make it a great food to add into your regular diet. It is a fatty fish filled with Omega-3, which is good for heart health. Plus it's a healthy source of protein and vitamin B.
Should you eat the skin on salmon?
Salmon skin is actually good for you since a lot of the healthy fats are concentrated within the skin. Cooking salmon with the skin on helps keep in oils to provide more flavor, and it also tends to be a bit easier to cook with the skin on. However, you can make salmon recipes with or without the skin.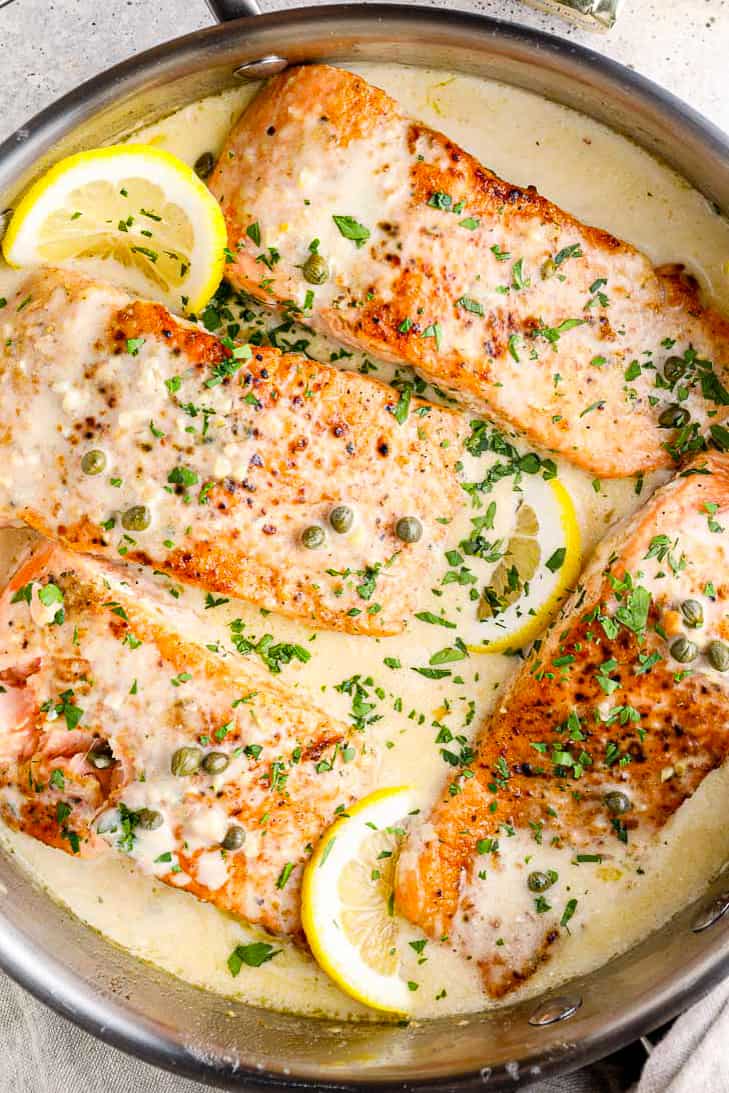 Now that you've got all these delicious salmon dinner ideas to choose from, you have no excuse not to make a healthy dinner tonight. With so many tasty and easy salmon recipes, you'll have meals for weeks!
More Dinner Recipes to Try
If you're looking for more easy, healthy, and delicious dinner ideas for your weekly menus, we've got plenty more recipes for you to try.
Recipe Roundups
This post is all about easy salmon recipes, but this recipe is quite possibly the simplest of them all. It already has a great flavor, and it doesn't take much time to cook, so you can have a nice salmon dinner ready to go in less than 15 minutes. Tasty, healthy, and quick to make! Just add your favorite side dish and it's ready to go.