Easy Salmon Recipes are a great way to add this healthy food into your regular diet. Making a healthy dinner has never been easier with these salmon dishes. Whether you prefer easy grilled salmon recipes, easy baked salmon recipes, or easy salmon salad recipes, there's something here you're sure to love!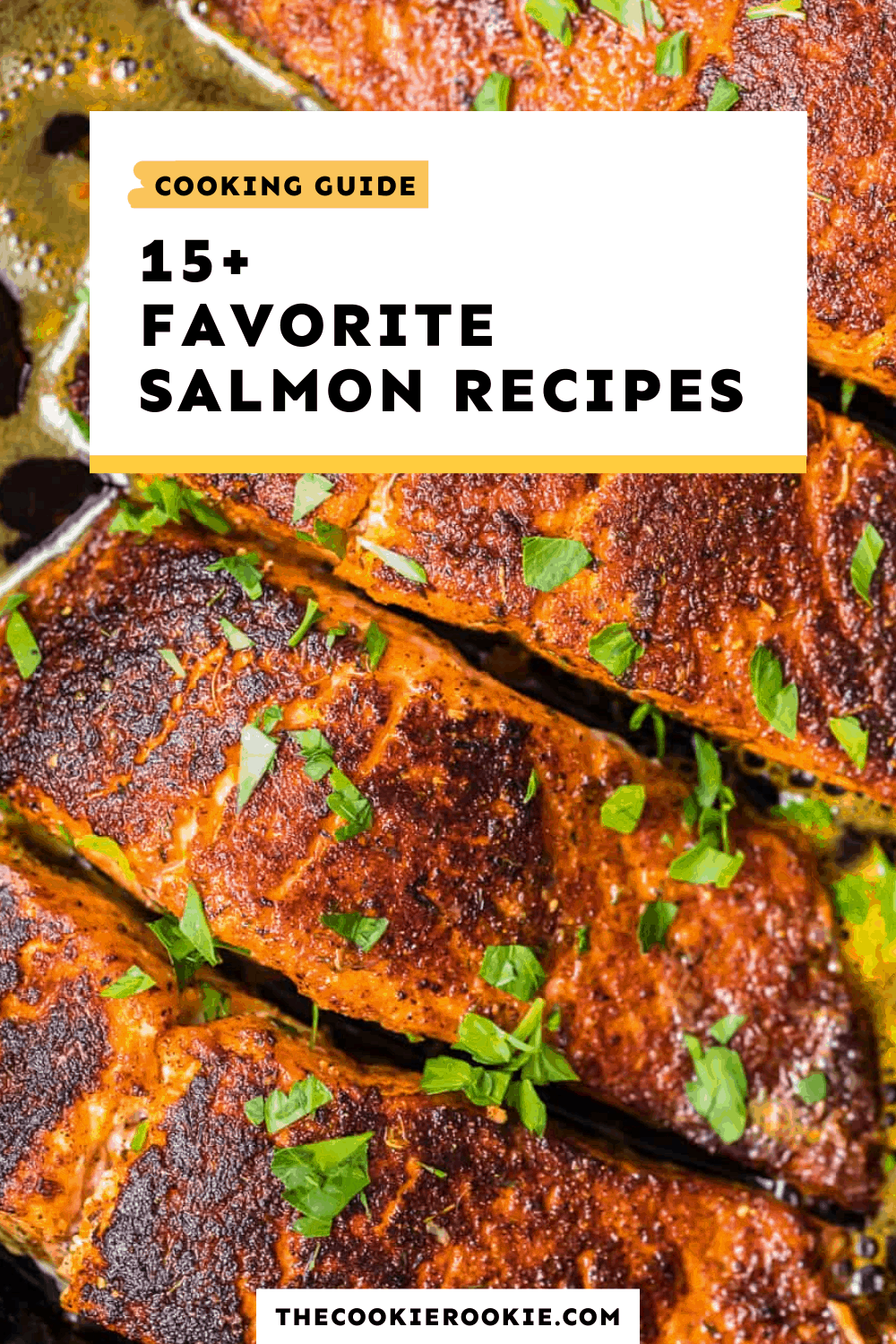 Salmon Recipes
Looking for some easy salmon recipes to make for dinner? Then you've come to the right place!
Salmon is one of my favorite seafood dishes to make AND to eat, because it's so simple yet so delicious. Plus, salmon is super healthy for you, making it the perfect thing to eat on a regular basis!
I'm a big fan of easy salmon recipes for easy dinners, so I've gathered some of the best right here. Easy grilled or baked salmon, plus some delicious salmon salad recipes too!
When something healthy tastes this good, AND is this easy to make, there's no reason not to eat it!
Start eating healthy and make one of these easy salmon recipes for dinner tonight!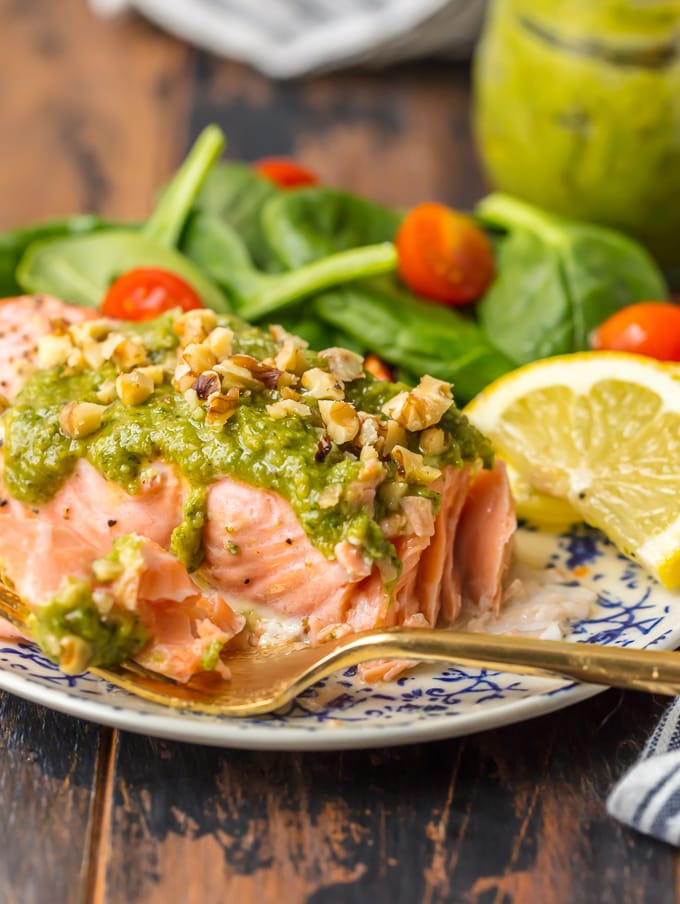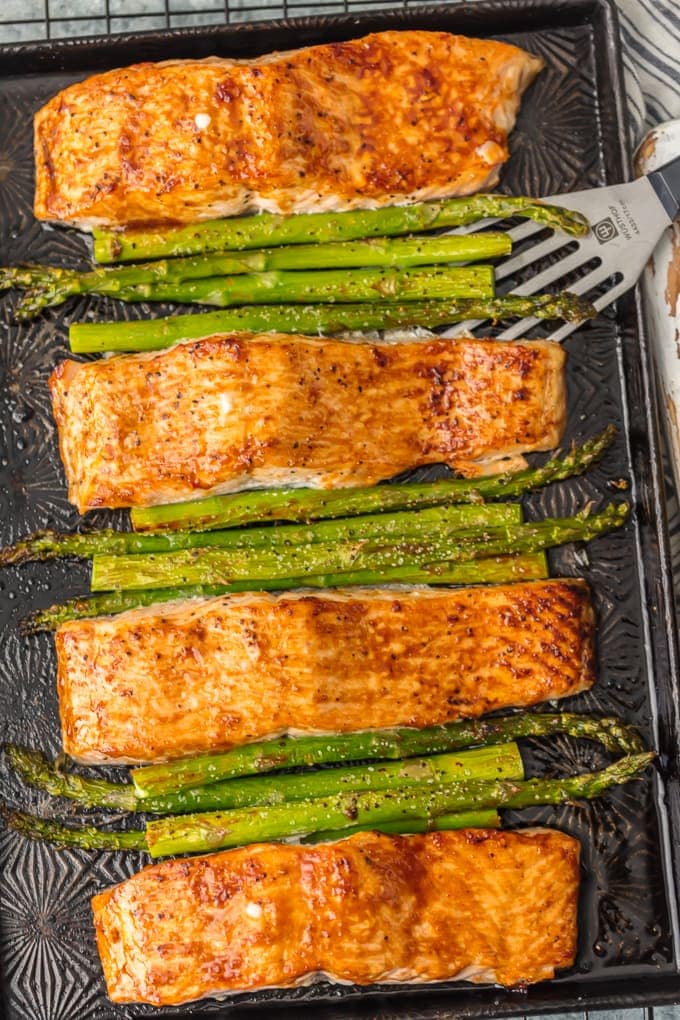 Essential Kitchen Tools to Cook Salmon
Sheet Pan*
Grill Pan*
Kitchen Utensils*
Parchment Paper
How to Cook Salmon in Less Than 15 Minutes
This post is all about easy salmon recipes, but this recipe is quite possibly the simplest of them all. It already has a great flavor, and it doesn't take much time to cook, so you can have a nice salmon fillet ready to go in less than 15 minutes. Tasty, healthy, and quick to make!
Try out this easy recipe and then keep reading for the other 25 salmon dishes!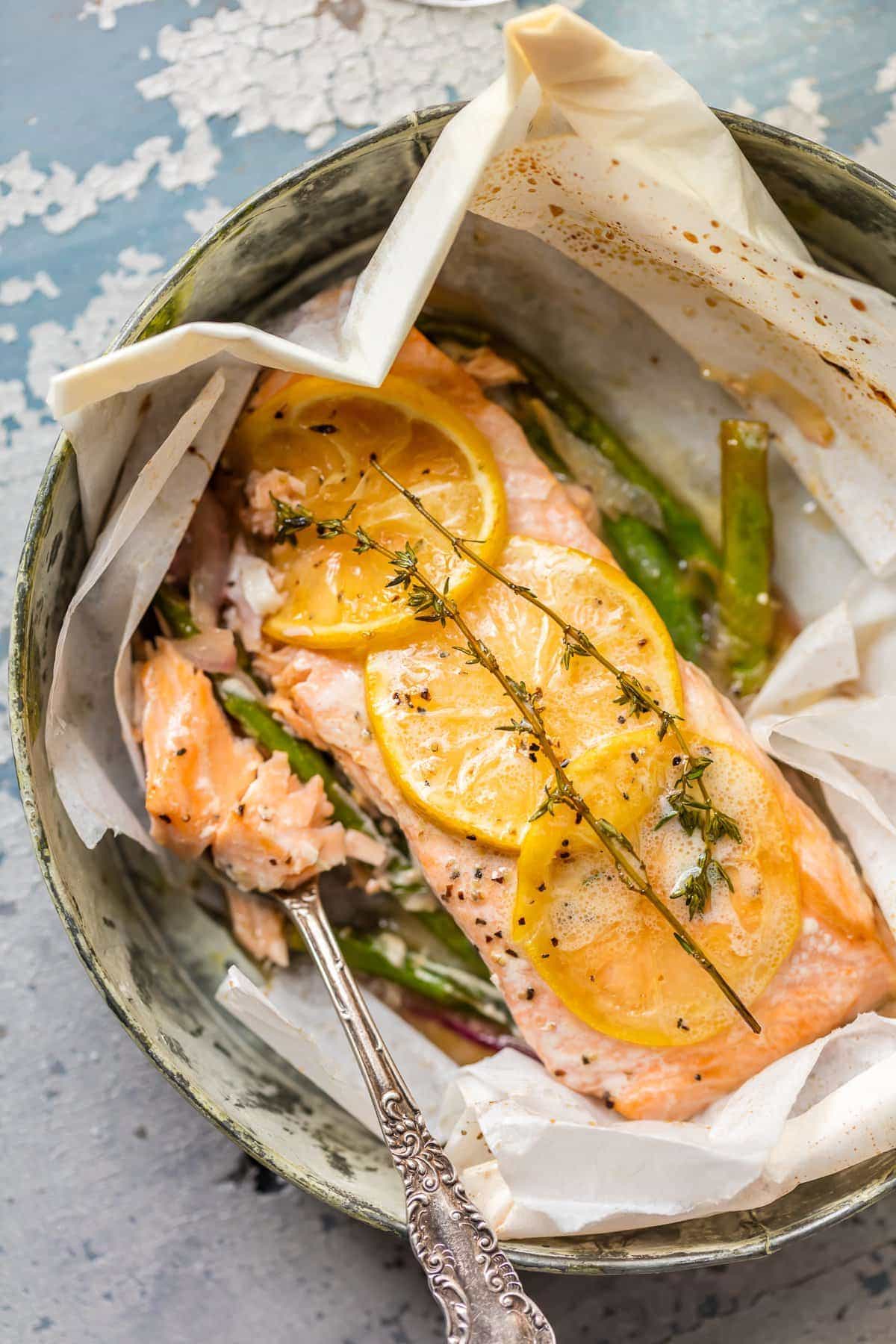 What temperature should you cook salmon?
Salmon should be cooked to an internal temperature of at least 125°F. The USDA recommends you cook salmon to 145°F before eating, but it is safe to eat at a slightly lower temp.

I prefer to cook my salmon to 130-135°F.
What do you serve with salmon?
I usually serve salmon (grilled, baked, or otherwise) with grains and veggies. A salmon fillet served over white or brown rice, along with broccoli or asparagus is a delicious, simple, and healthy meal.

That being said, salmon can easily be served with all kinds of veggies, side dishes, pastas, salads, and more.
Are salmon recipes healthy?
Salmon has many health benefits that make it a great food to add into your regular diet. It is a fatty fish filled with Omega-3, which is good for heart health.
Health Benefits of Salmon:
Rich in Omega-3 Fatty Acids (heart health)
Healthy Source of Protein (about 22 grams of protein per serving)
High in Vitamin B (reduces inflammation & supports heart health)
Overall supports cardiovascular health, and can be quite good for the skin too.
Salmon Recipe Side Dishes
These easy side dishes are perfect to serve with salmon!
See All Sides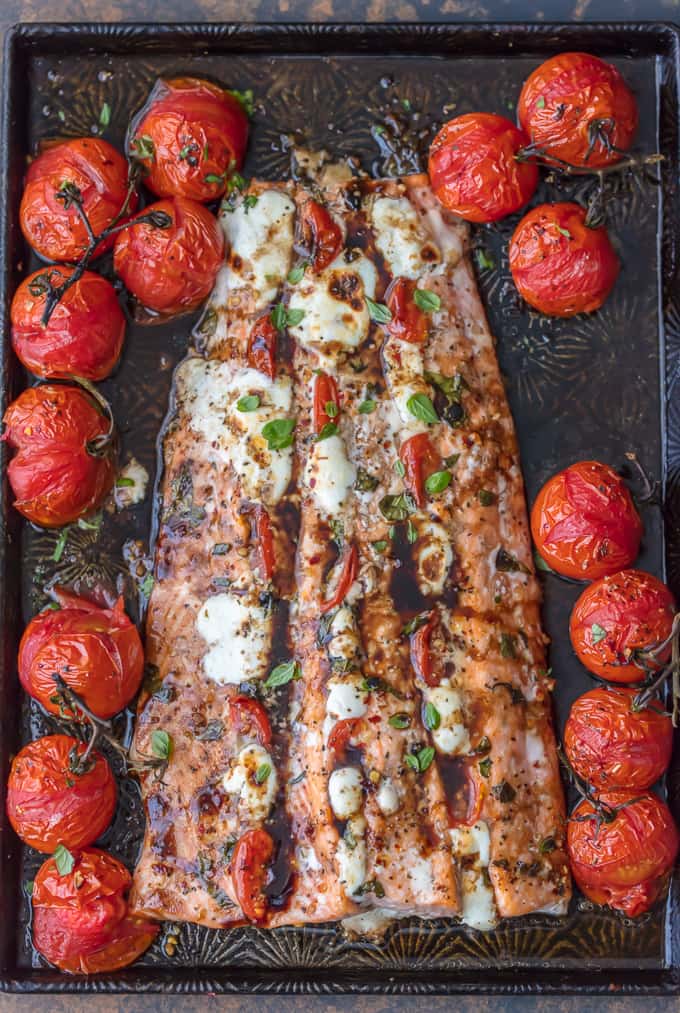 Is it okay to eat salmon every day?
Of all the fish available to eat, salmon has some of the lowest mercury levels. That means it's safe to eat regularly, even multiple times per week.
Tips!
The FDA recommends eating salmon or other seafood 2 to 3 times a week for its many health benefits.
Overall, the threat of mercury poisoning shouldn't be a worry for healthy adults. The exception to this rule is pregnant women. Infants and fetuses are much more prone to mercury poisoning, so it's typically advised that pregnant women avoid seafood.
Although in some cases up to 12 ounces of salmon (or other low-mercury fish) should be okay for consumption.
Salmon Serving Size
A typical serving size for salmon is about 2 to 3 ounces. Salmon fillets are usually cut into 4 to 6 ounce portions, so about 2 servings worth of fish.
How long can you marinate salmon?
With most salmon marinades, you don't want to marinate for more than about 30 minutes.
Any longer and the fish can start to break down and become soggy. So it's not advised to marinate salmon overnight.
How do you know if salmon has gone bad?
There are a few simple ways to check your salmon before cooking to see if it has gone bad:
Is there a strong fishy scent that smells like ammonia? Fresh salmon should have a more mild smell.
Does it have a white, translucent film on the skin? A "milky" coating is a sign that it has gone bad.
Does it feel like it's falling apart when you pick it up? Salmon should hold together quite well, not break apart or feel mushy.
Is your salmon a dull color? It should be quite bright, with a pink or orange color to it.
In general, fresh salmon should be eaten as quickly as possible. A couple of days in the refrigerator is fine, but it can go bad relatively quickly.
Should you eat the skin on salmon?
Salmon skin is actually good for you since a lot of the healthy fats are concentrated within the skin. Cooking salmon with the skin on helps keep in oils to provide more flavor, and it also tends to be a bit easier to cook with the skin on.
However, you can eat salmon with or without the skin. Some people prefer it without simply because of how it looks, or because they don't know how to cook it with skin.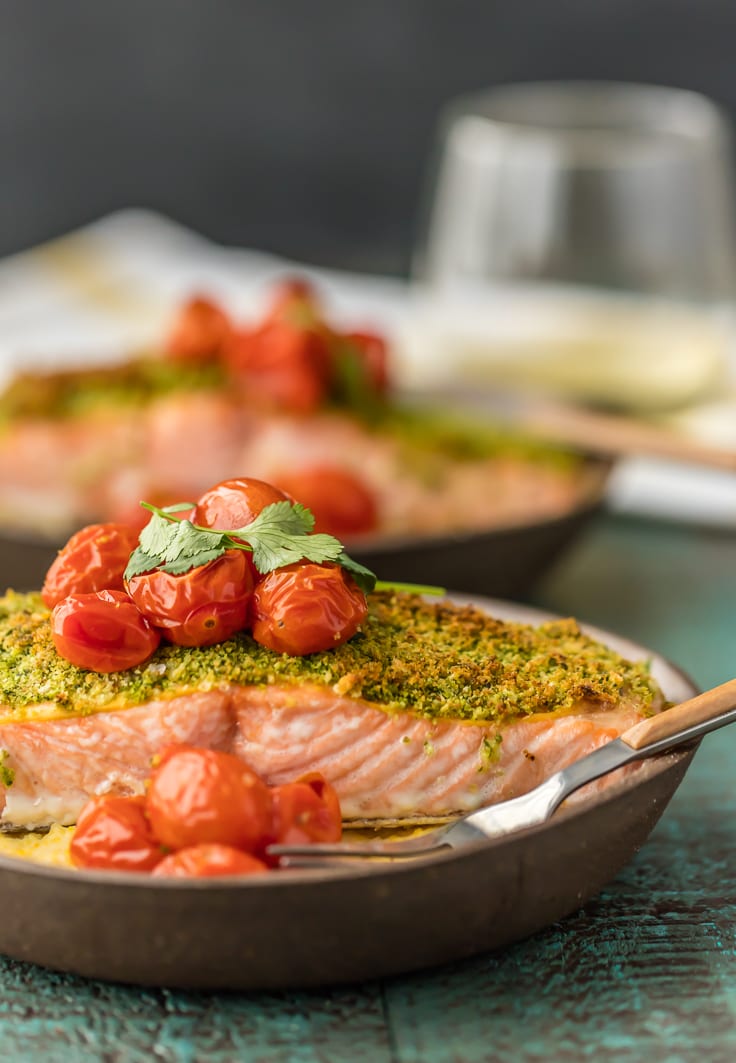 Easy Salmon Recipes
There are so many delicious and easy recipes here, with all kinds of flavors, and salmon cooked in so many different ways.
There are even some one pan salmon dinner ideas here that will make preparing dinner a breeze! Whether you prefer grilled or baked salmon, there's something here you'll love.
Now that you've got all these delicious and EASY salmon recipes to choose from, you have no excuse not to make a healthy dinner tonight. With so many tasty salmon dishes, you'll have dinner ideas for weeks!