Pickled Beets are SO easy to make! This quick pickling recipe requires minimal steps before you pop the jar of beets in the refrigerator and let them pickle to perfection in just an hour. They always turn out perfectly tangy, slightly sweet, and impossible to have just one of!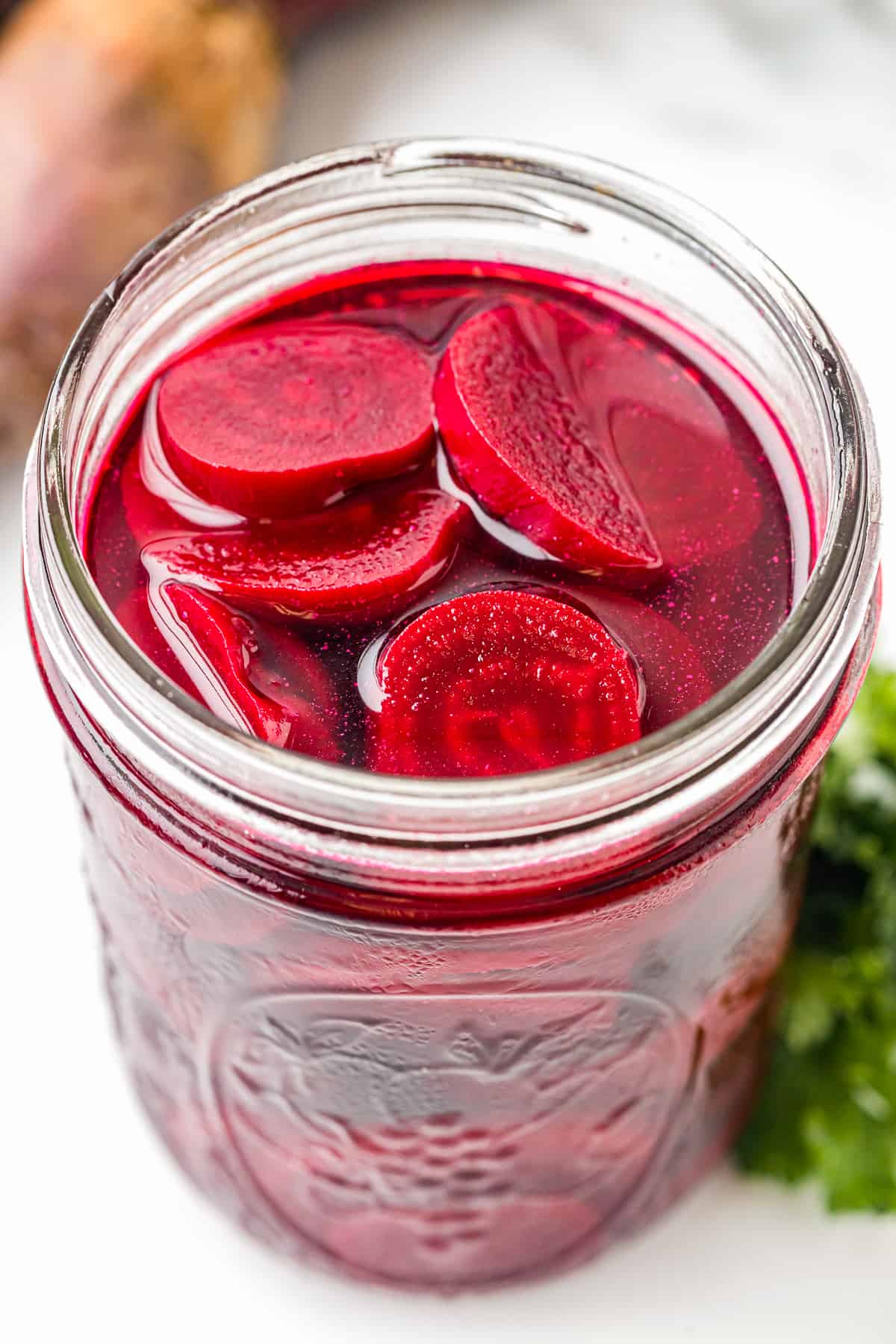 Quick Pickled Beets
Once you run out of your first jar of Pickled Beets, you'll want to make another batch ASAP! I love keeping a jar of these in my refrigeartor at pretty much all times. They're such a healthy and simple snack to reach for when I need a little bite to eat.
Besides snacking on them, you can enjoy these refrigerated Pickled Beets in a variety of ways! Toss them onto a salad, use them in a sandwich, or whatever else your heart desires. They add such a pretty, vibrant touch of red color to everything they're served with.
Why You'll Love this Pickled Beets Recipe:
Quick and Easy: After a few foolproof steps, you just have to pop the beets into a jar with some brine and let them pickle for about an hour. It's SO quick and easy!
Good for You: Keep scrolling to see some of the many health benefits that beets offer you!
Flavorful: When made just right, pickled beets are tangy, sweet, and have the best amount of that signature brine flavor.
Once you learn how to pickle beets, you'll want to serve them any time! I might just plate them next to my turkey for Thanksgiving. You just can't go wrong with this timeless pantry staple!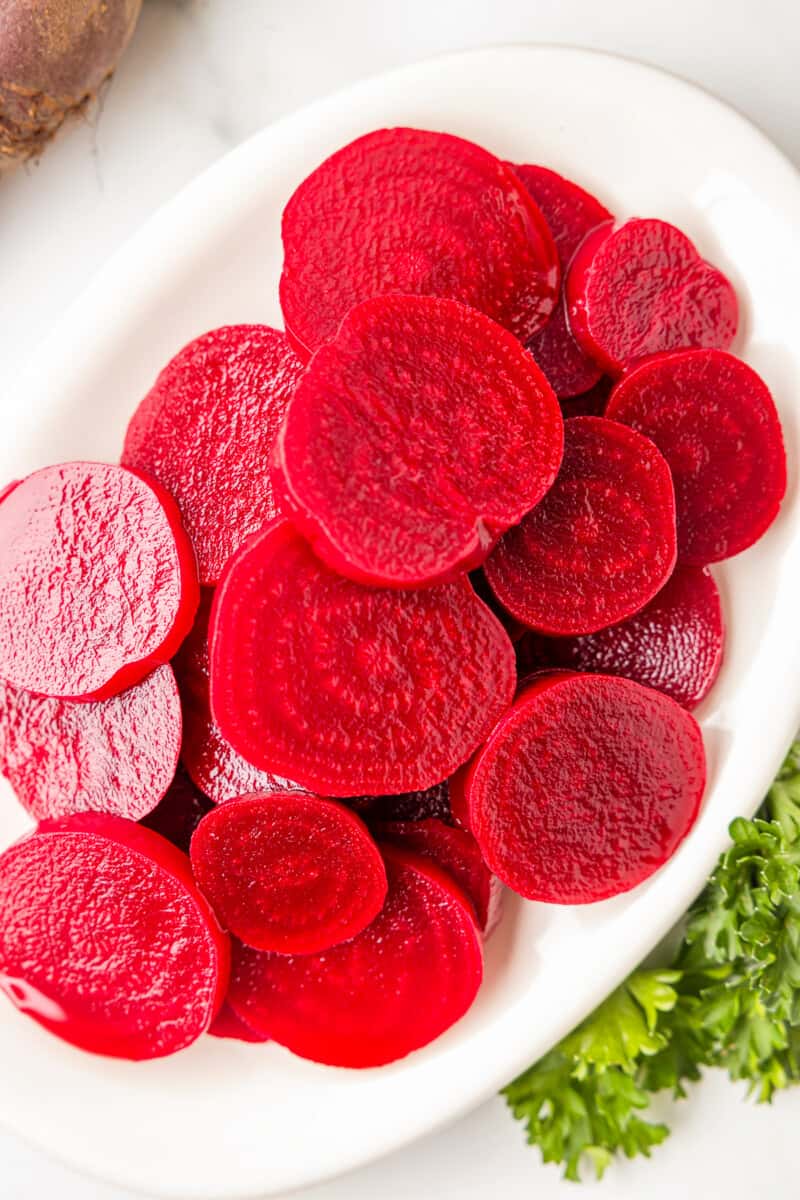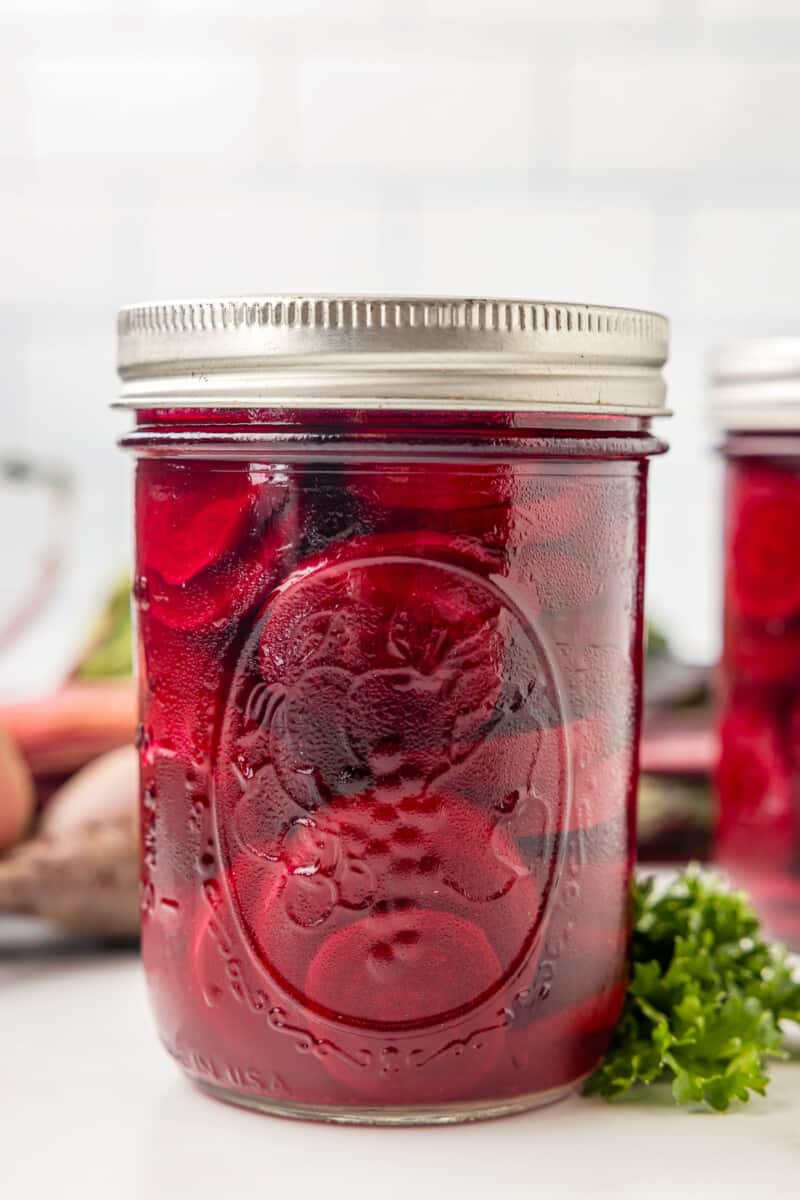 How to Pickle Beets
You can jump to the recipe card for full ingredients & instructions!
Remove the stems from the beets.
Bring the beets to a boil, then reduce to a simmer and cook until they're fork-tender.
Peel the beets and slice them.
Place the prepared beets into two mason jars.
Create the brine in a pot and bring it to a boil, then remove from heat.
Pour the brine over the beets, and place the lid back on the jar.
Refrigerate for at least one hour.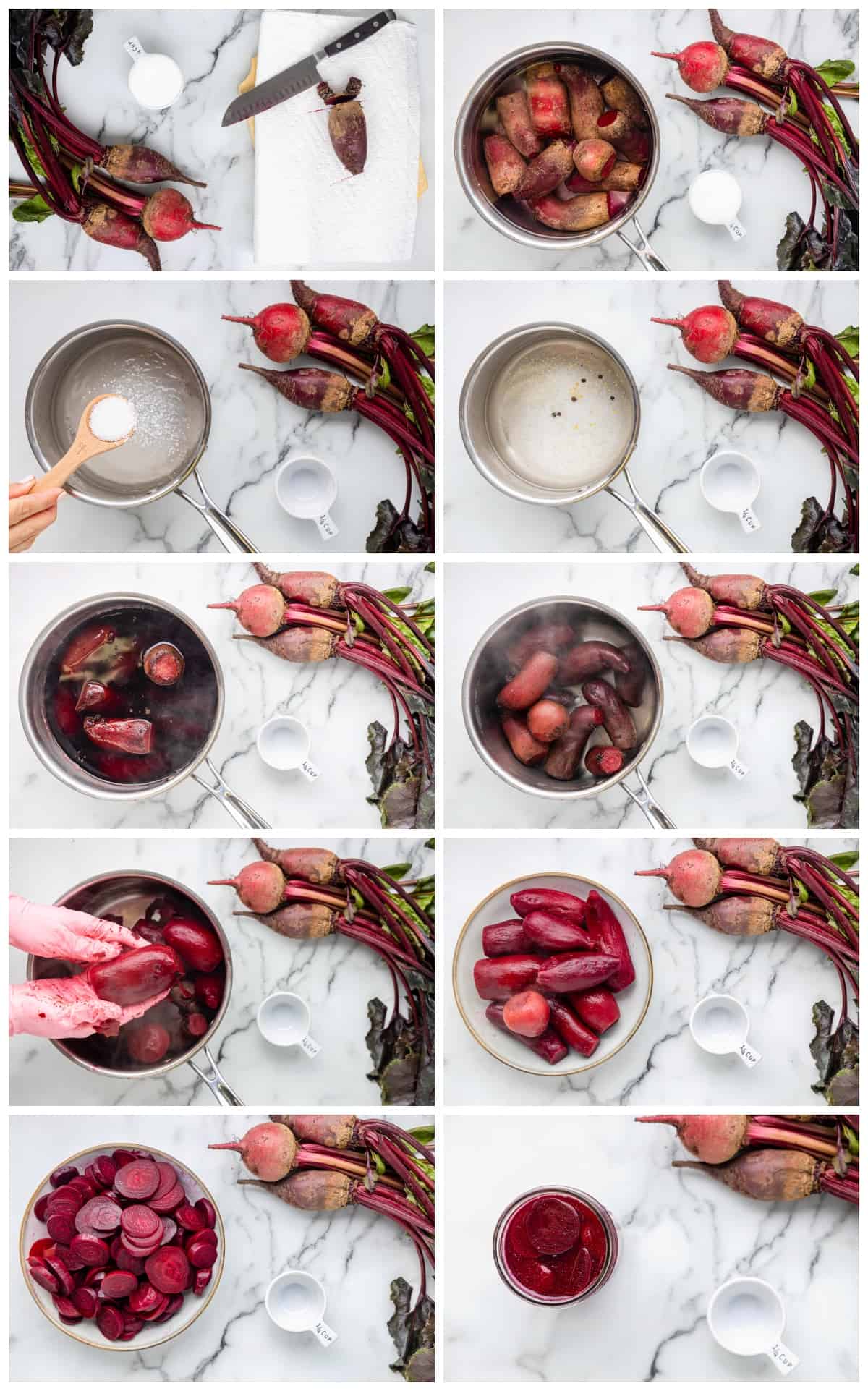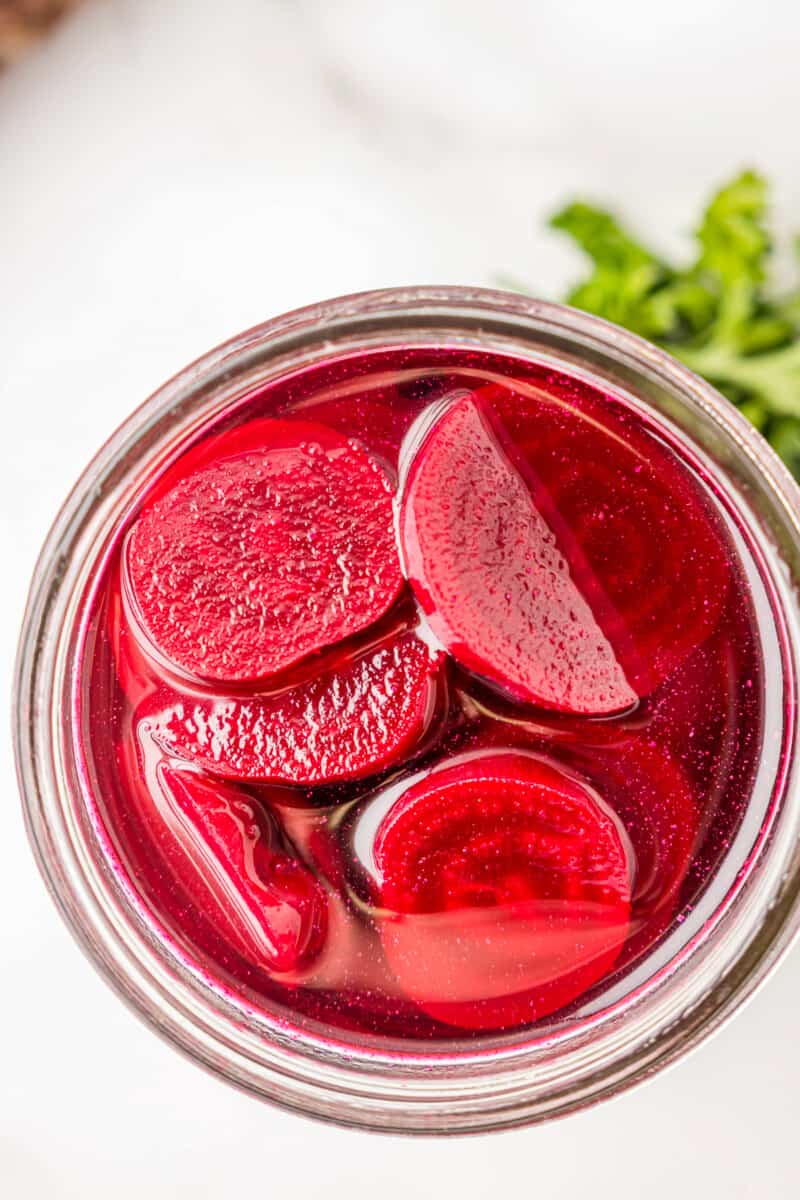 Are pickled beets good for you?
Pickled beets are rich in natural sugars, copper, folate, and manganese. They're also a good source of antioxidants and probiotics, which can help improve immunity and fight disease. Overall, pickled beets make a great addition to a balanced diet!
Can I make pickled beets with canned beets?
Yes, you will want to drain the liquid from your beets before you pour the brine over them.
How do I peel the skin off of beets?
To peel the skin off the beets, you need to rub your fingers along the beets, and it will just come right off after they're done cooking. I recommend wearing gloves to prevent staining your hands!
Can dogs eat pickled beets?
No! While boiled plain beets are safe for dogs, pickled beets contain added sugar, salt, and spices that are not good for dogs.
Are pickled beets good for diabetics?
There is some evidence to suggest that pickled beets can help regulate or even lower blood sugar levels. Vinegar can help reduce blood sugar and insulin levels after a meal, and the nitrates and antioxidants in beets are also suspected to help keep blood sugar levels in check.
How long should pickled beets sit before eating?
Pickled beets can be enjoyed as soon as they are made, but they are best if left to sit for at least 24 hours. The longer they sit, the more the flavor will develop.
Do pickled beets need to be refrigerated?
Yes! These beets are quick pickled, which means that they need to be refrigerated to preserve their freshness.
Can I can pickled beets?
I would imagine so! While I'm not a canning expert, you can find guidance on how to can pickled beets from the Ball Canning Guide.
Homemade Pickled Beets are a total cinch to make! Plus, having a jar on hand is such a fun, rustic feeling.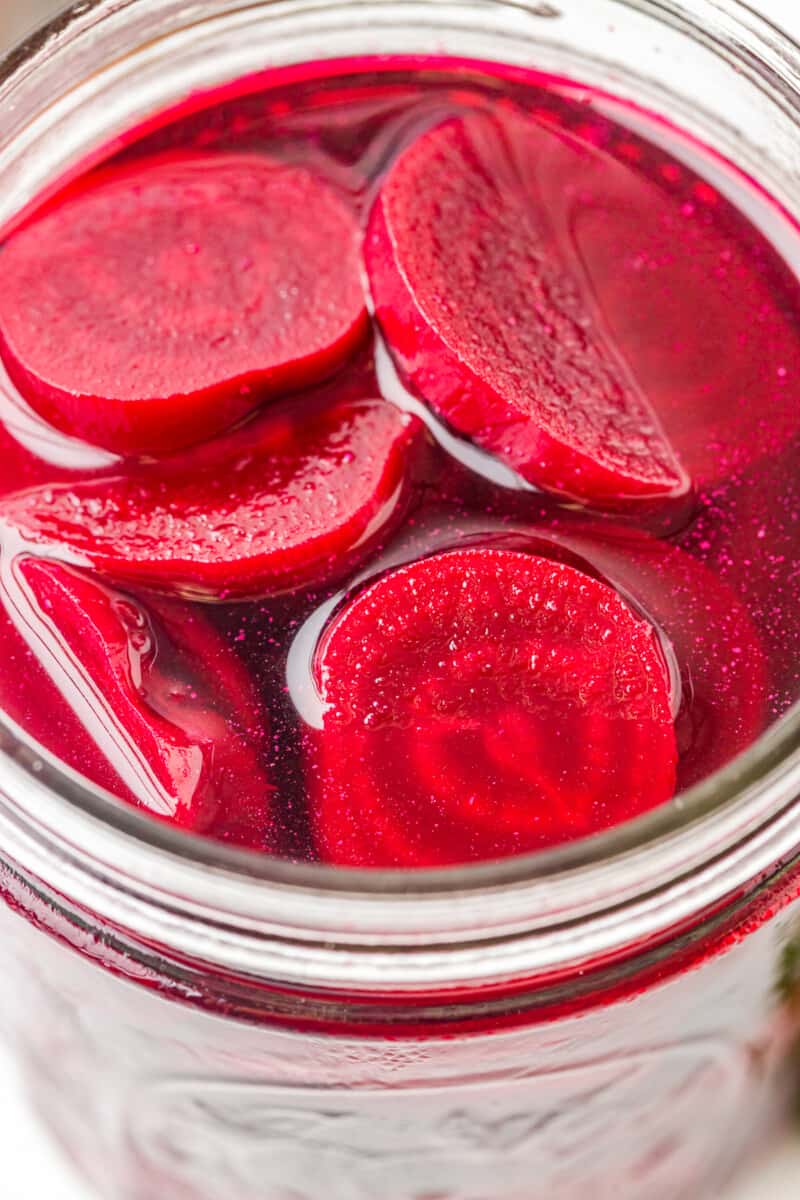 Make Ahead Instructions
These pickled beets are a great make-ahead recipe. Once cooled, they can be stored in the refrigerator for up to 3 weeks!
Storage Instructions
Store leftover pickled beets in an airtight container in the refrigerator for up to 3 weeks. Enjoy cold.
Freezing Instructions
Freeze pickled beets in an airtight container for up to 2 months. Let thaw overnight in the refrigerator before enjoying.
Variations
You can use any variety of beets you like in this recipe, such as golden beets, sugar beets, or Chioggia beets.
You can also use pre-packaged cooked beets or canned beets.
You can use apple cider vinegar or rice wine vinegar instead of white vinegar.
Try adding onion and garlic, red pepper flakes, a cinnamon stick, bay leaves, or dill for a different flavor.
Tips for the Best Pickled Beets
I like to use wide-mouth mason jars for this recipe, but any glass jar with a tight-fitting lid will work.
Make sure the beets are completely submerged in the brine at all times. The brine is what helps to preserve the beets for such a long time.
Remember that these are quick-pickled beets, NOT shelf-stable canned beets. They MUST be refrigerated!
Let the beets chill completely in the refrigerator before enjoying for the best flavor.
The longer the beets sit, the better the flavor will be!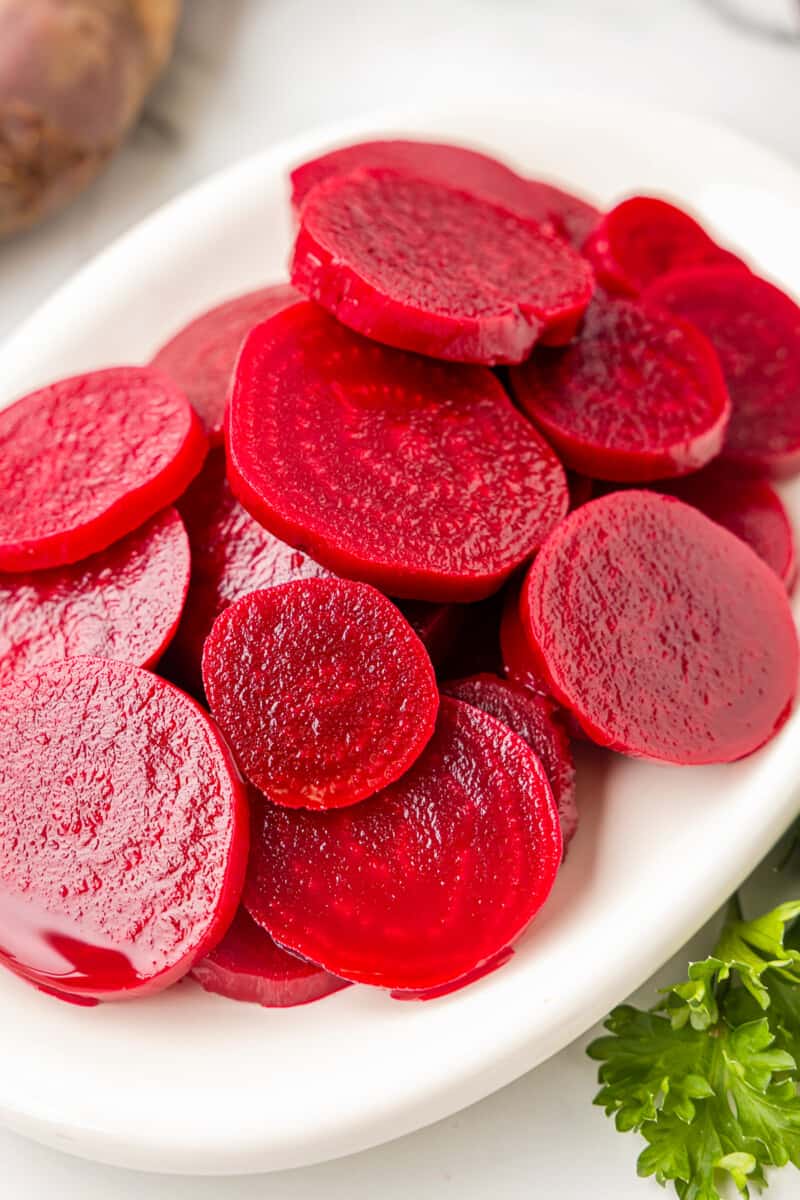 Pickled Beets are one of those little snacks that you can't just have one bite of. They have the crispest consistency, most mouthwatering tangy and sweet flavor, and best brine in every bite.
If you make this recipe be sure to upload a photo in the comment section below or leave a rating. Enjoy! You can also jump to recipe.