Cook up a delicious Thanksgiving meal without the stress with this delicious sheet pan turkey breast recipe complete with all of your favorite sides. Juicy turkey breast, sweet potato casserole, green beans and dressing are cooked together for the perfect meal for 4.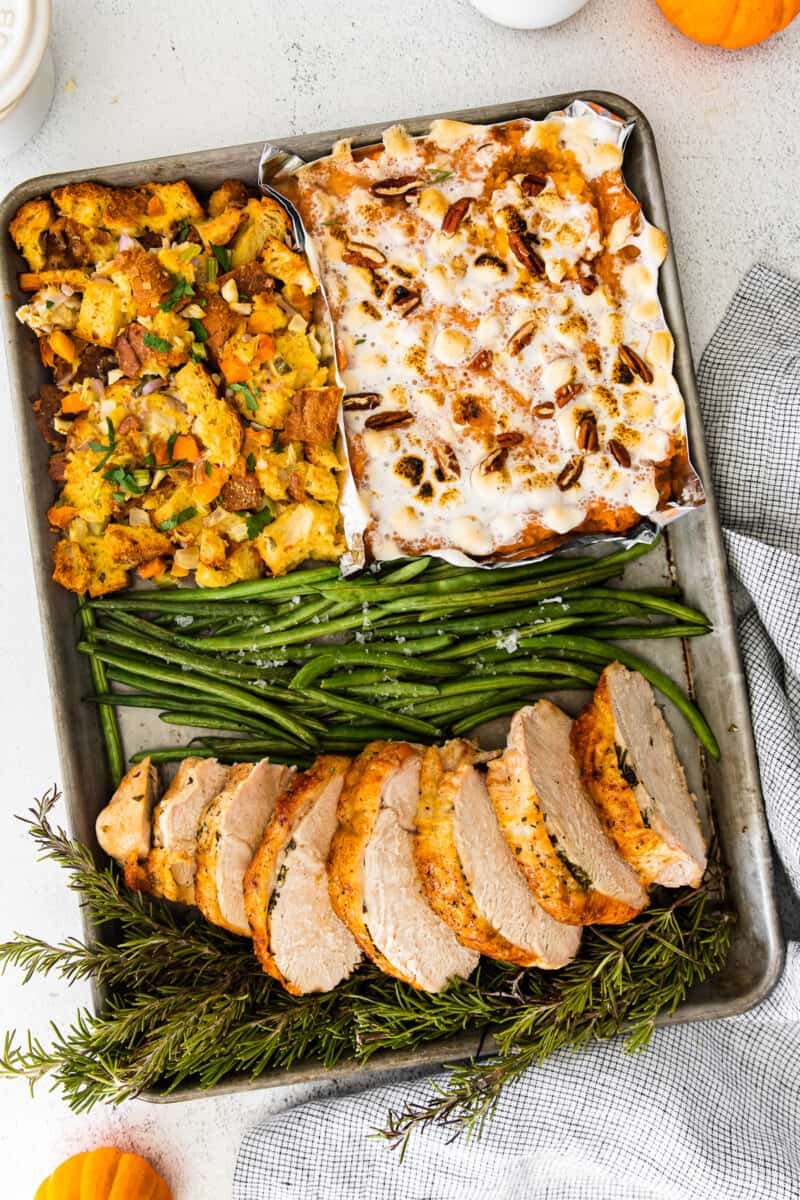 Sheet Pan Turkey Breast Thanksgiving Dinner Recipe
Take the guess work and stress out of your Thanksgiving dinner menu with this sheet pan turkey breast recipe.
It can be a real struggle trying to work out timings to get your perfectly roasted turkey and side dishes ready to serve at the same time. This recipe for a whole Thanksgiving meal makes the process super easy and hasslefree.
Perfect to serve for 4 people, this festive dinner is a real life saver if you aren't relishing spending hours in the kitchen!
Be sure to try my Air Fryer Turkey Breast and Whole Roasted Turkey too!
Why you'll love this Sheet Pan Thanksgiving Dinner recipe:
SIMPLE AND EASY: Serving up a Thanksgiving dinner doesn't need to take hours. This simple recipe includes all the favorites but is cooked on one sheet pan for ease.
PERFECT FOR SMALLER MEALS: If you are planning a smaller Thanksgiving this year, then this is a great option. It serves four and the leftovers are of course delicious!
ONE PAN: Your turkey main and delicious side dishes are all cooked on the same sheet pan, so even the clean up is a breeze!
A Thanksgiving dinner doesn't get much easier than this! Simple to prep, easy to cook and just as delicious! Try this sheet pan turkey roulade dinner for a similar easy option.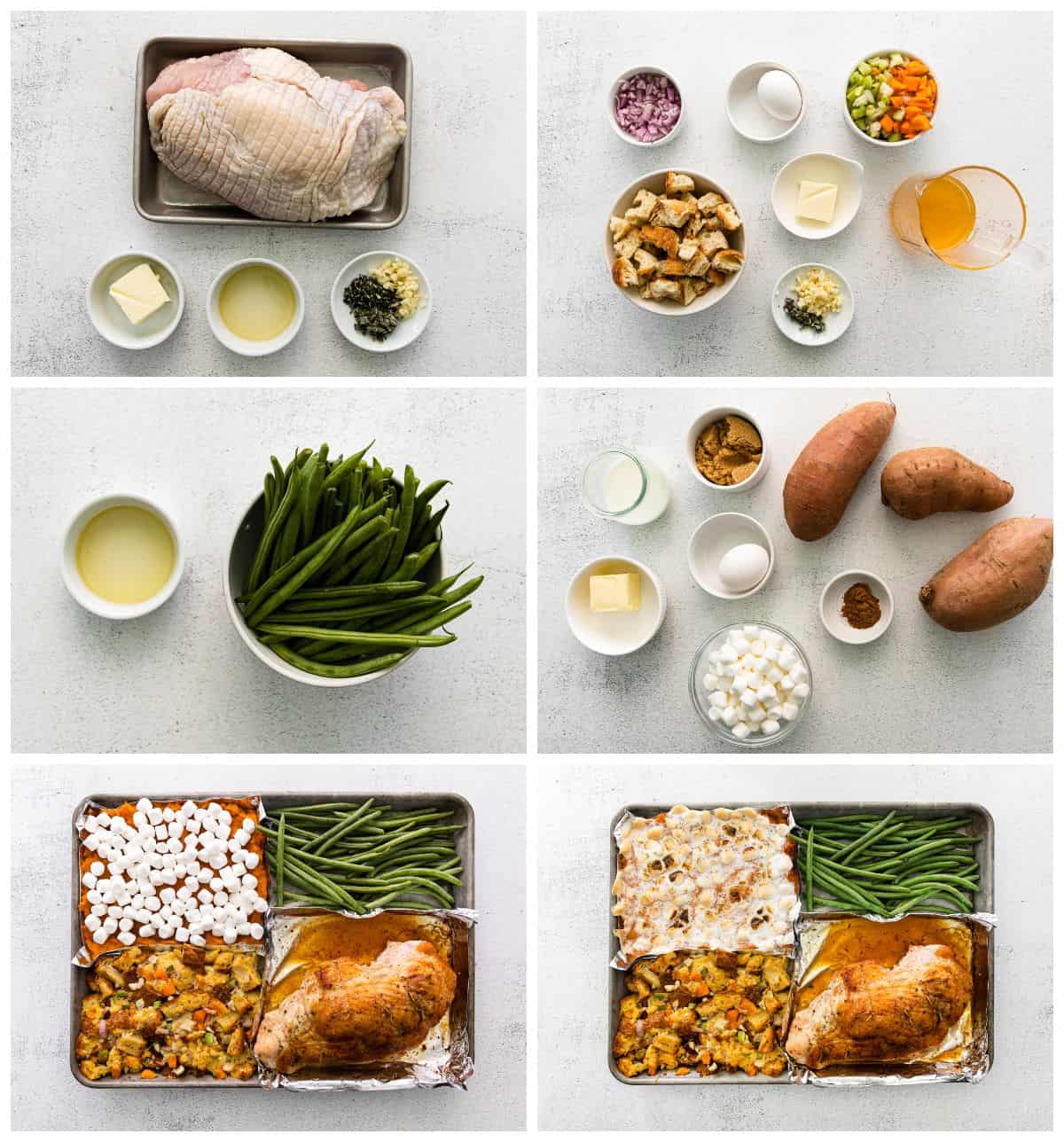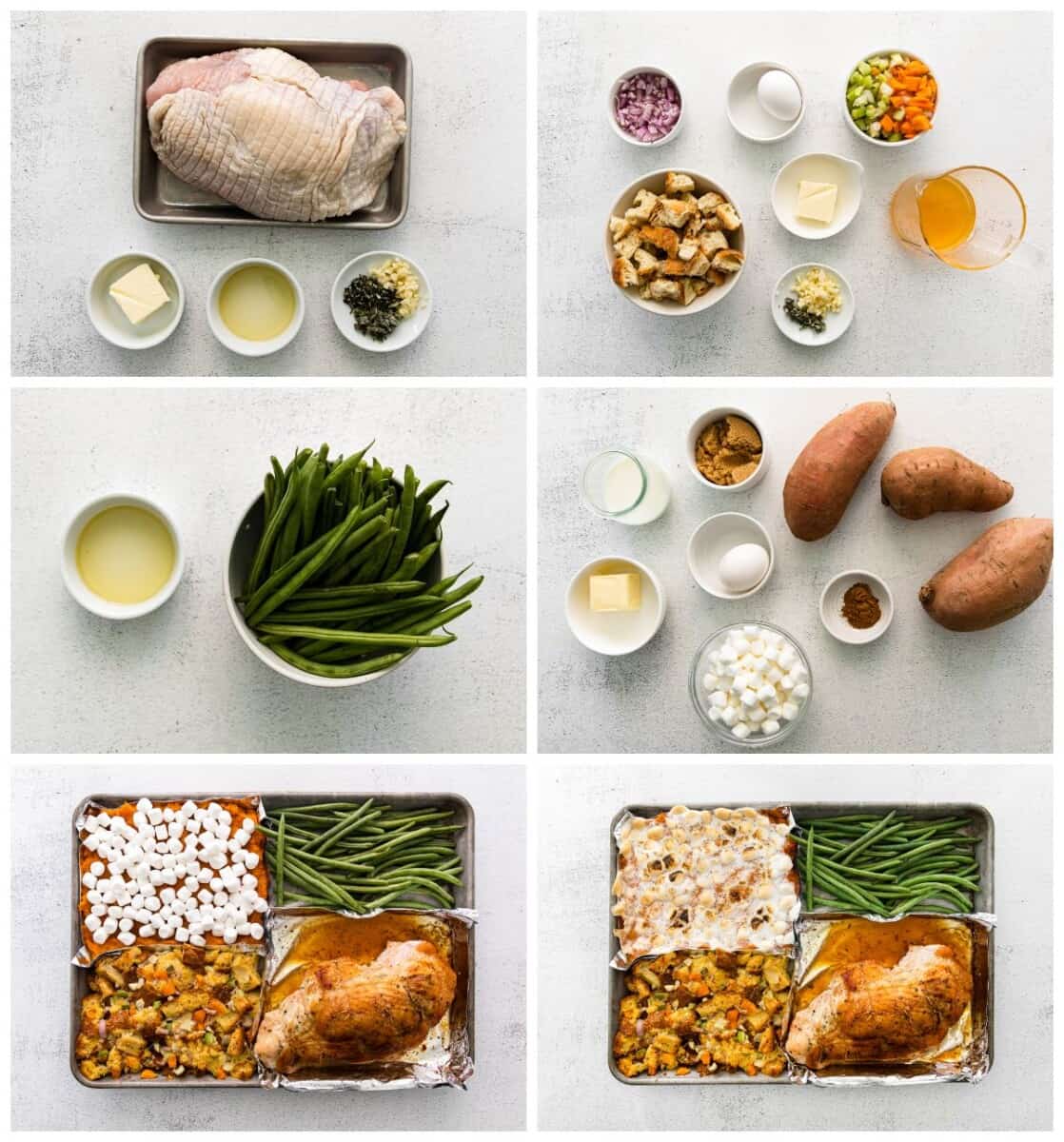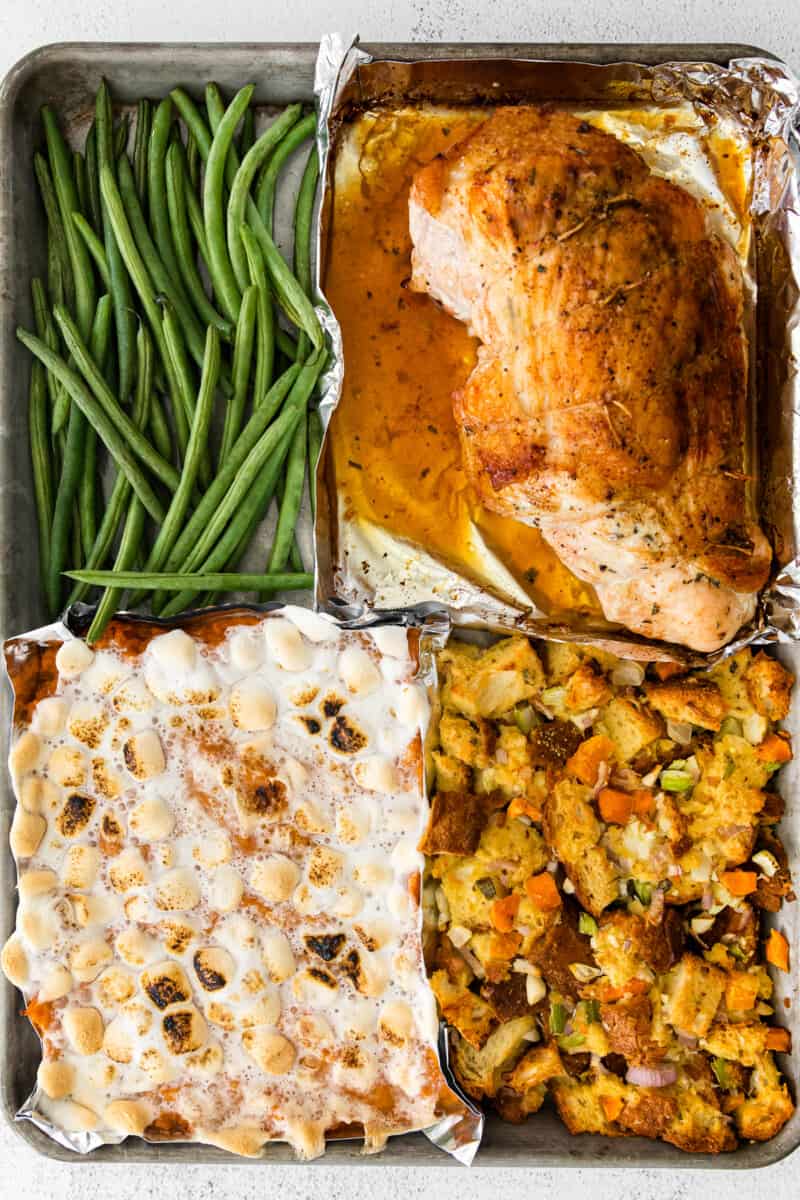 How to make Sheet Pan Thanksgiving Dinner with Turkey Breast
You can jump to the recipe card for full ingredients & instructions!
Place two foil bowls in a sheet pan.
Rub butter under the skin of the turkey breast and drizzle with oil and season.
Roast in one of the foil bowls in the sheet pan for 15 minutes.
Prepare the sides; the sweet potato casserole and dressing.
Add the sweet potato mix to the second foil bowl and top with marshmallows.
Spread the dressing in 1/4 of the sheet pan and spread evenly.
Roast for 15 minutes.
Finally add the green beans to the sheet pan and roast for a final time.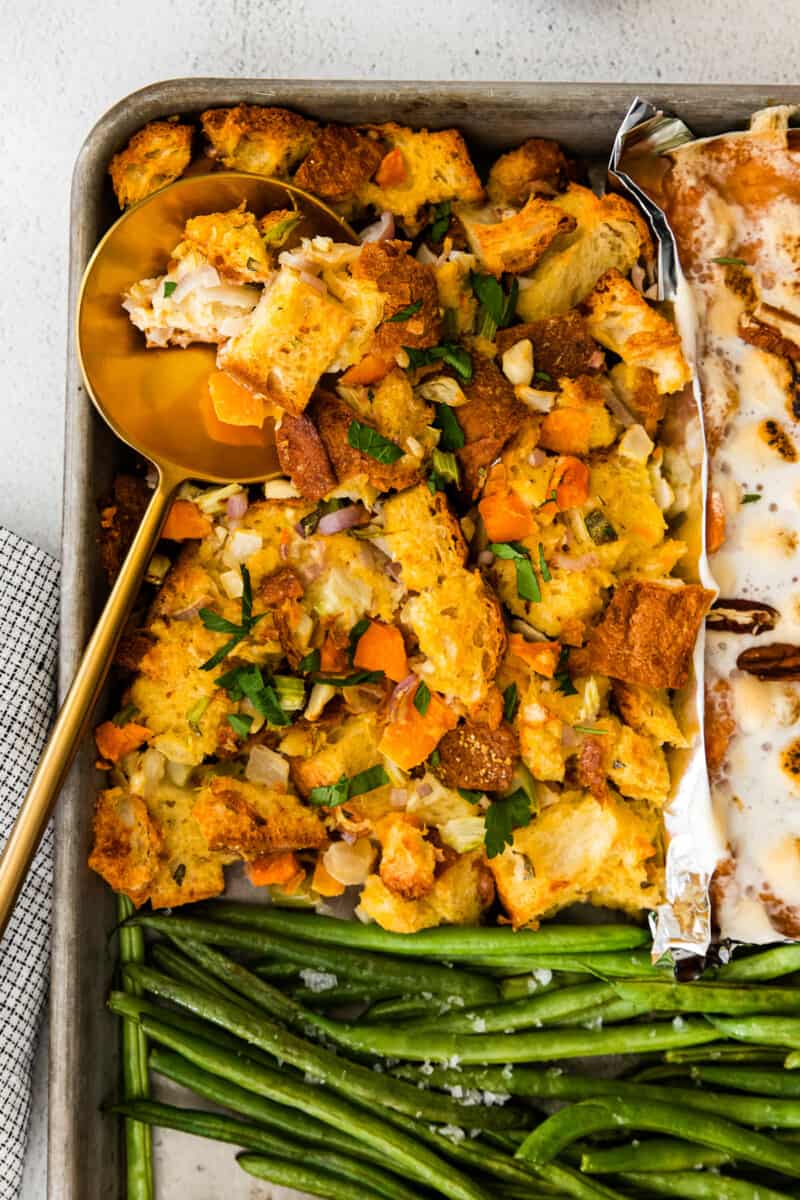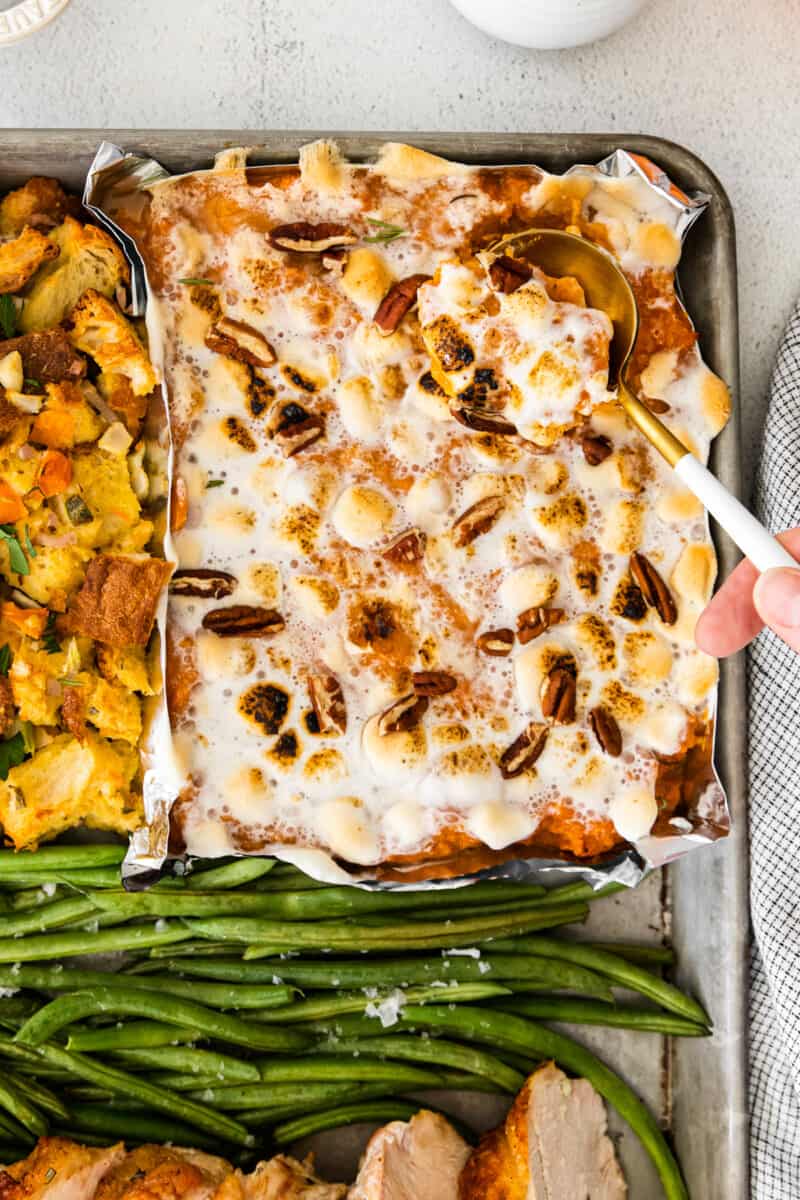 How many people does this sheet pan dinner serve?
This Thanksgiving dinner will serve four people, so it's a great option if you aren't cooking for many. If you are cooking for less people, the leftovers will keep well for 3 to 4 days covered in the fridge and can be reheated in the oven, covered with foil at 360F til warmed through.
Can I make this Thanksgiving dinner ahead of time?
This sheet pan dinner is best served close to it being ready for the best results. You can easily prep the sides the day before and keep them covered in the fridge until you are ready to cook.
Can I use chicken instead of turkey?
The timings for this sheet pan meal are for turkey breast, but you can adapt it for 3 to 4 chicken breasts if you prefer. They will only require about 20 to 25 minutes to roast, so just add them to the sheet pan as the same time as the dressing and sweet potato casserole.
What can I use instead of green beans?
If you are not a green bean lover, you can easily swap them for other seasonal veggies if you like. Halved Brussels sprouts, sliced carrots or cubed butternut squash are all great options.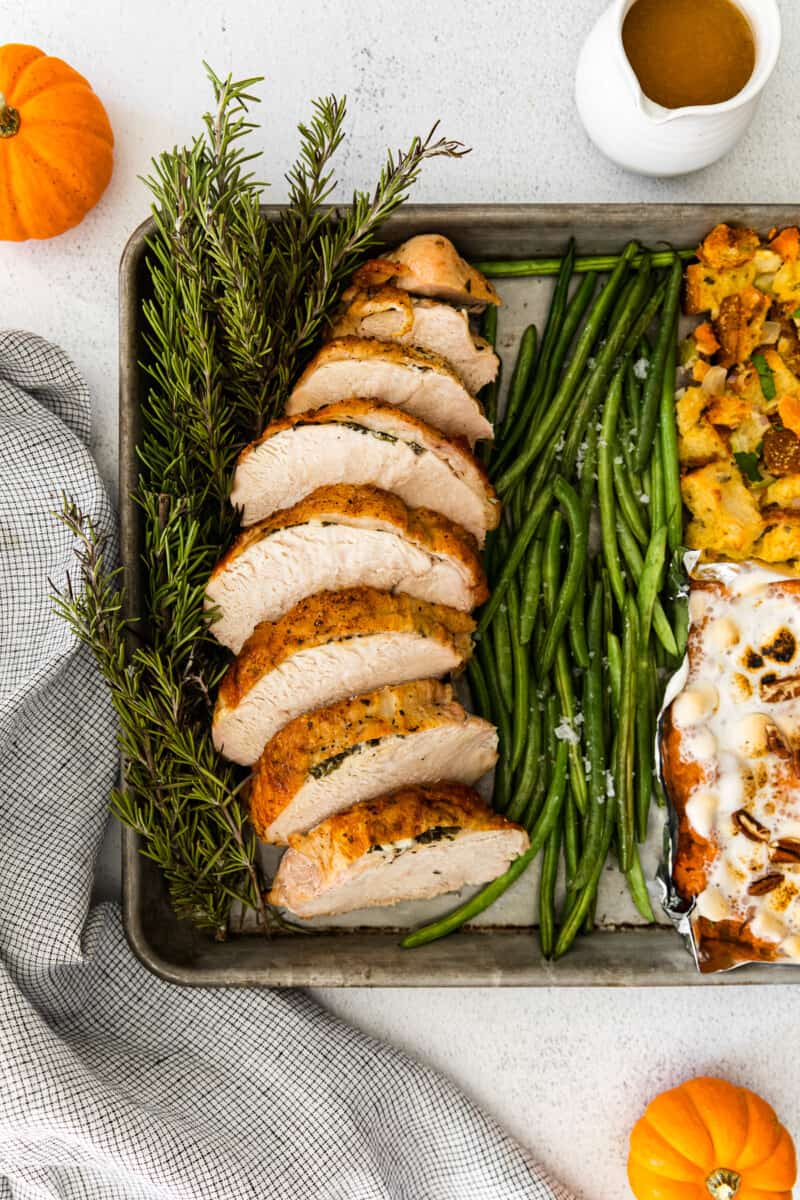 Thanksgiving Dinner Ingredients & Notes
Turkey: This recipe calls for a fully thawed, boneless skin-on turkey breast. Because turkey breast sizes will differ, make sure to check the temperature of your turkey with an instant read thermometer!
Butter: Butter helps hold the herbs between the skin and meat– plus it keeps the meat from drying out!
Fresh Garlic and Herbs: I use garlic and herbs for both the turkey and the dressing. I highly recommend freshly minced garlic and fresh herbs– it really makes a difference!
Olive Oil: helps the turkey and green beans roast and caramelize on the outside.
Sweet Potatoes: This recipe calls for fresh, raw sweet potatoes. I cook them in the microwave first to soften them– but you could also use canned yams if you prefer.
Milk: Keeps the sweet potato casserole light and fluffy.
Brown Sugar: Slightly sweetens the potato casserole.
Egg: Holds the casserole and dressing together and provides a bit more substance.
Cinnamon: Pairs perfectly with sweet potato and adds a bit of spice and warmth.
Mini Marshmallows: I love sweet potato casserole topped with mini marshmallows, but this is optional!
Stock: Chicken stock helps wet the bread in the dressing to create a soft inside and crusty exterior!
Dressing: I season the dressing with carrots, celery, and garlic but feel free to use whatever vegetables you like– shallot, leek, or mushrooms would be great substitutes.
Bread: If you don't have stale bread, you can roast the bread on a separate sheet pan during the turkey's first roast to dry it out.
Green Beans: I'm using green beans but any vegetable would work here– asparagus would also be delicious!
Serving Suggestions
This sheet pan turkey breast Thanksgiving dinner is a full meal by itself, but be sure to serve it up with your favorite holiday additions like:
For a fuss free holiday dinner, you can not go wrong with this! The bonus is, is that clean up is so minimal too! That's always a win in my book!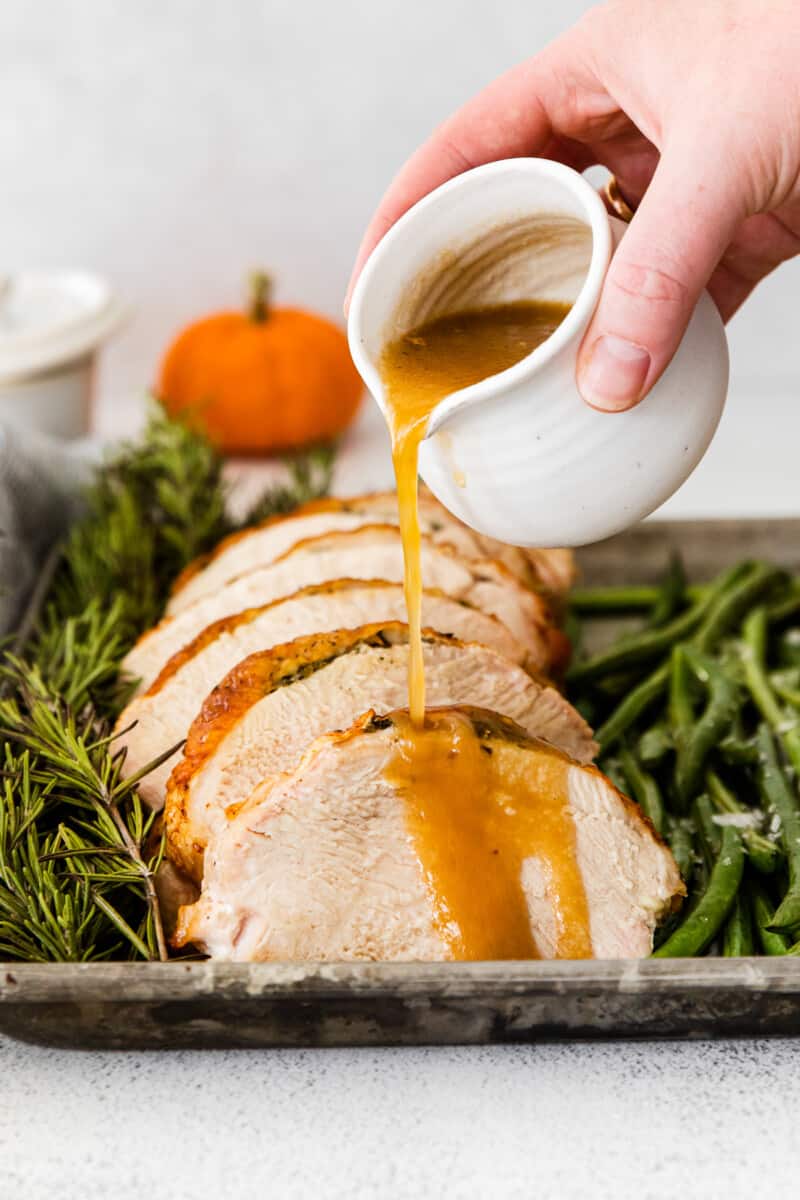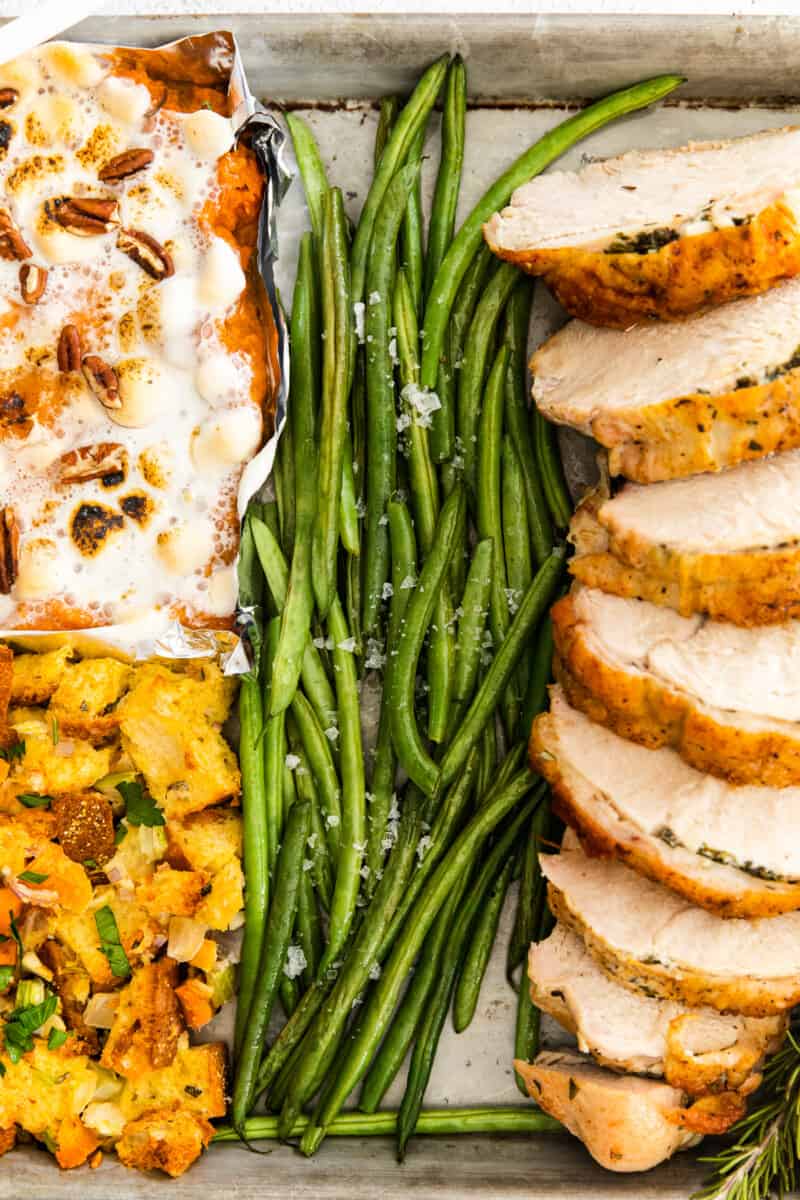 Tips!
If you don't have aluminum foil on hand, you can also place the sweet potato casserole in a small serving dish and bake it on the baking sheet.
To make the turkey breast golden brown and crisp, baste the turkey breast with juices from the pan while cooking (approximately every 10-15 minutes).
Use an instant read thermometer to be sure that the turkey breast is cooked through. It should register at 160-165F. (See our recommended thermometer below!)
More notes about the ingredients in the recipe notes
Skip the days of planning, and cook up a delicious family dinner for Thanksgiving easily. With all of your favorite sides included, everyone will be satisfied!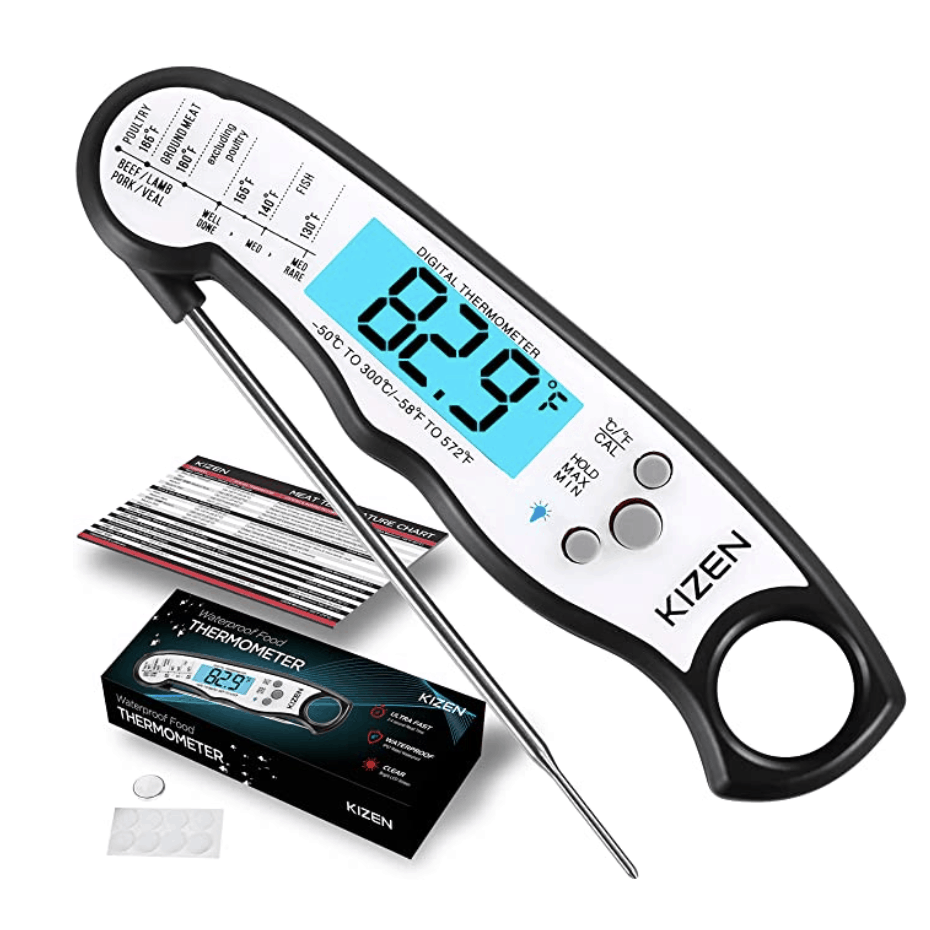 The Best meat thermometer!
I love using this meat thermometer for making sure the meat is at 165 degrees! Easy for beginners & totally worth the $10 cost!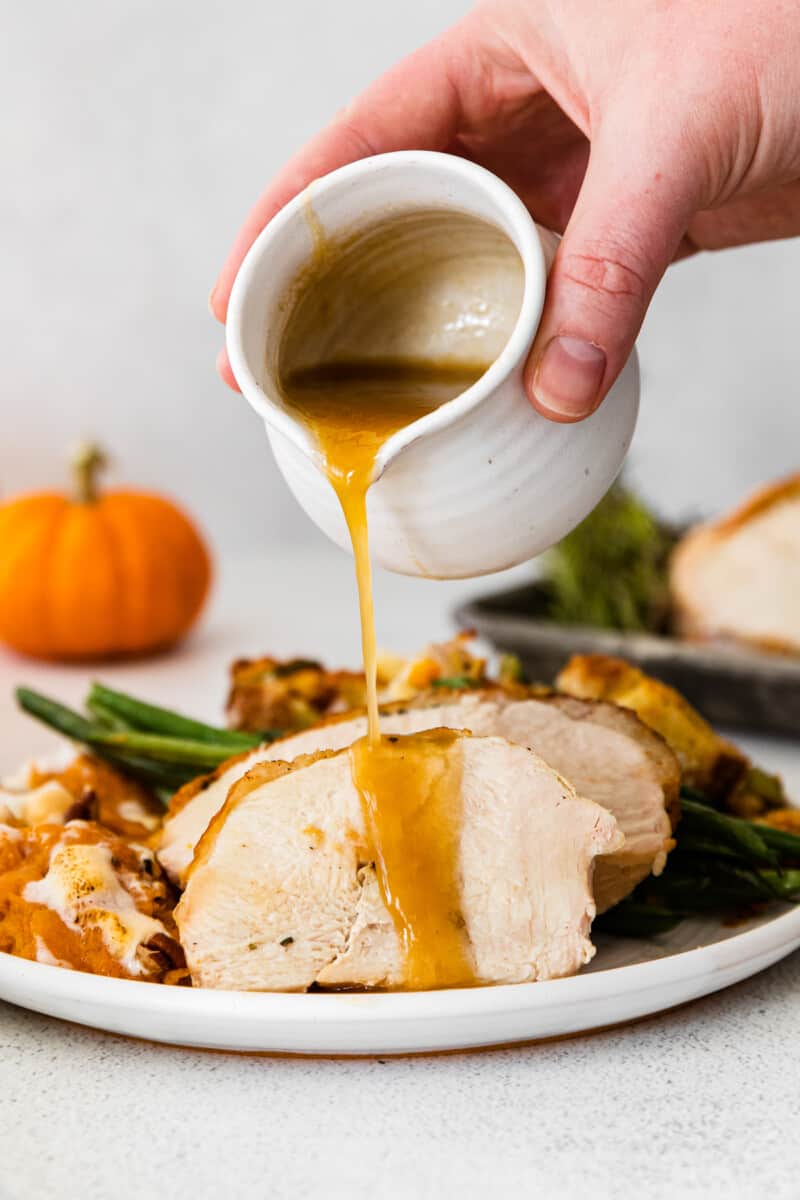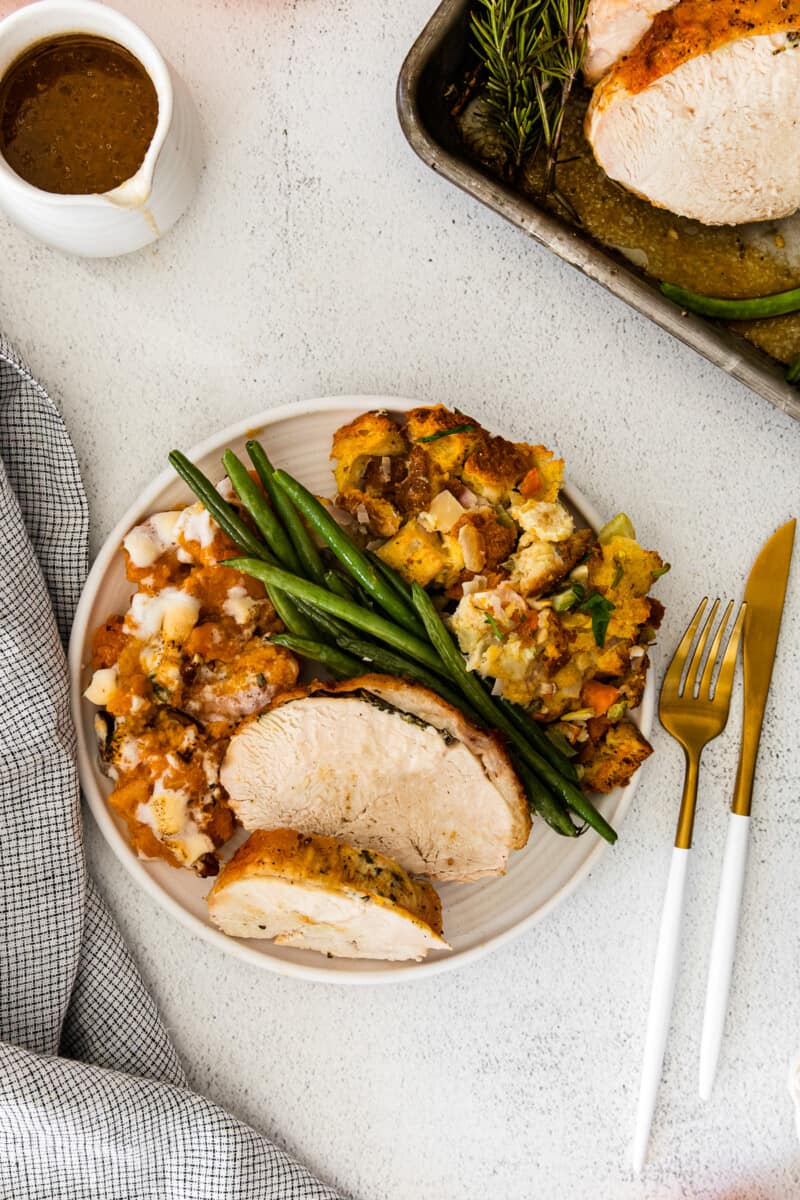 This sheet pan Thanksgiving dinner is one effortless way to enjoy a festive feast. The turkey breast is perfectly juicy and you can skip using all of your pots and pans! Take the guess work out of the big day!
If you make this recipe be sure to upload a photo in the comment section below or leave a rating. Enjoy! You can also jump to recipe.