This MAKE AHEAD GRAVY is an absolute must for an easy and stress free Thanksgiving! It's just as delicious with none of the fuss. Gravy at its best to pair with turkey, mashed potatoes, and more!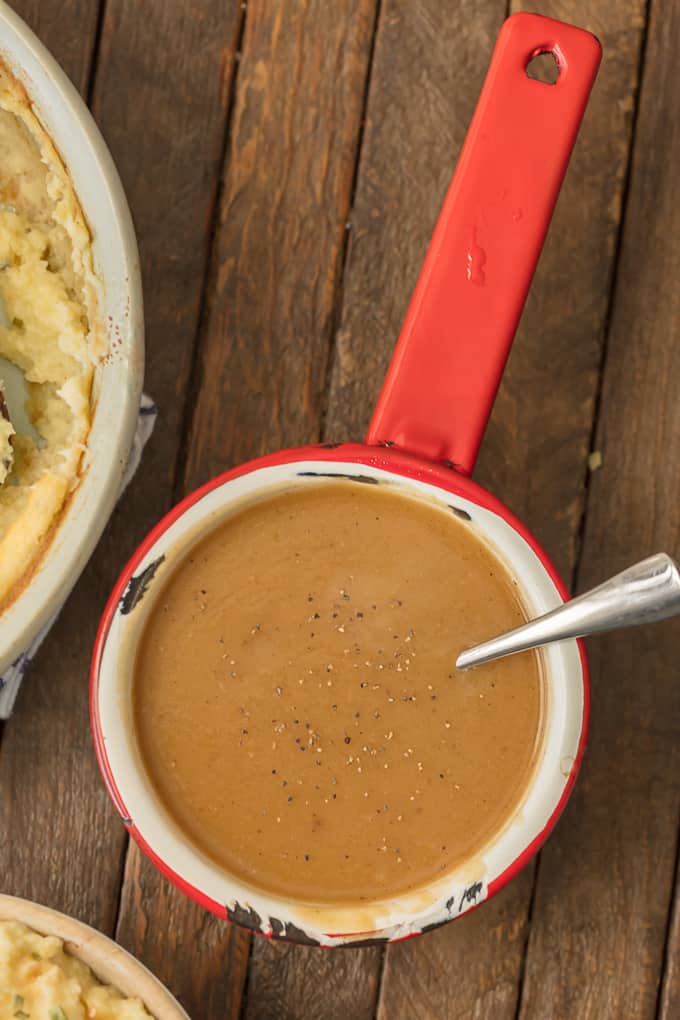 I'm here to make your easy Thanksgiving dreams come true. This week Mom and I (mostly Mom) put together the ultimate EASY Thanksgiving feast and it's coming to you right now! Earlier today I posted Instant Pot Turkey Breast and later today and throughout the week I'll be posting MAKE AHEAD MASHED POTATOES, Oatmeal Molasses Rolls, Spiked Cranberry Sauce, and Classic Turkey Stuffing. And don't you dare forget about the Brown Sugar Pumpkin Pie posted yesterday.
We have lots of favorite holiday recipes but this collection of simple and quick ideas is really all you need for the ultimate holiday. Let's dive right in with this Make Ahead Gravy!!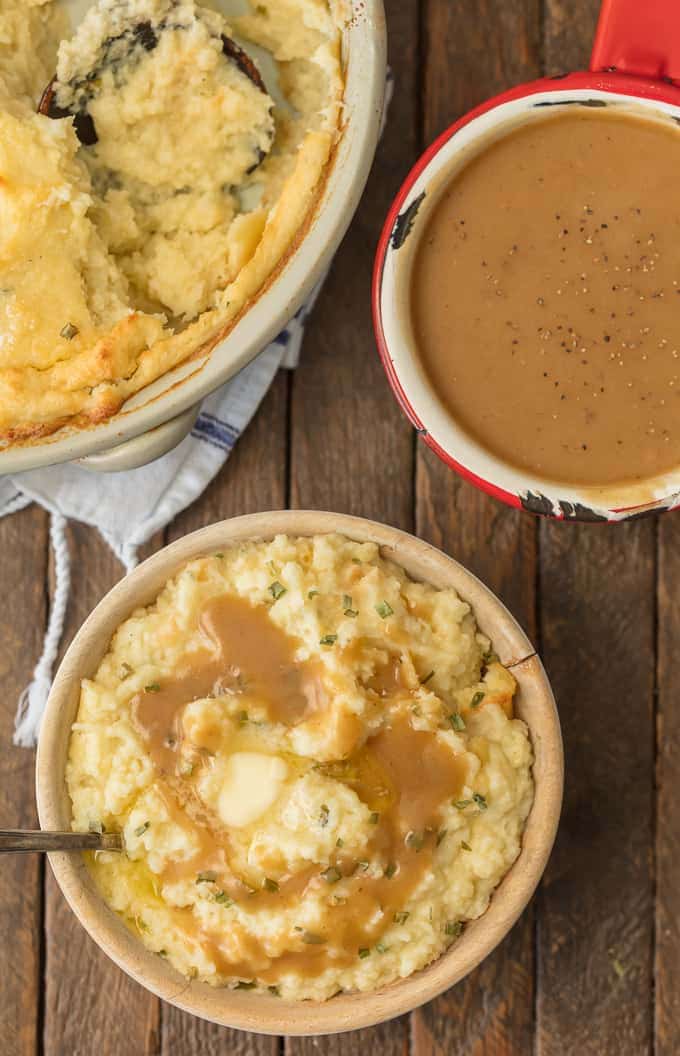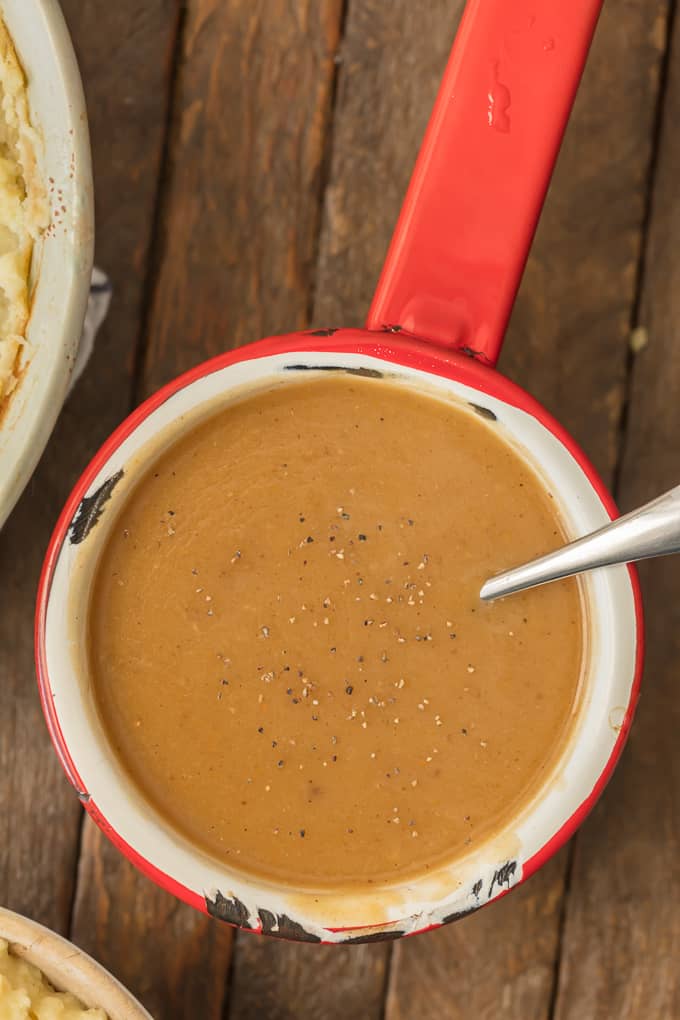 I'm not the girl who wants to be in the kitchen all dang day while friends and family hang out for Thanksgiving. I'm just not. Never have been, never will be. So easy recipes like this Make Ahead Gravy are just the ticket for me. I can still prepare an awesome meal and feed the ones I love, but I don't have to miss all the festivities. The more you can have done ahead of time the better.
This make ahead gravy still has all the flavor, so you won't be sacrificing any home cooking if you make it. It's so tasty and hearty!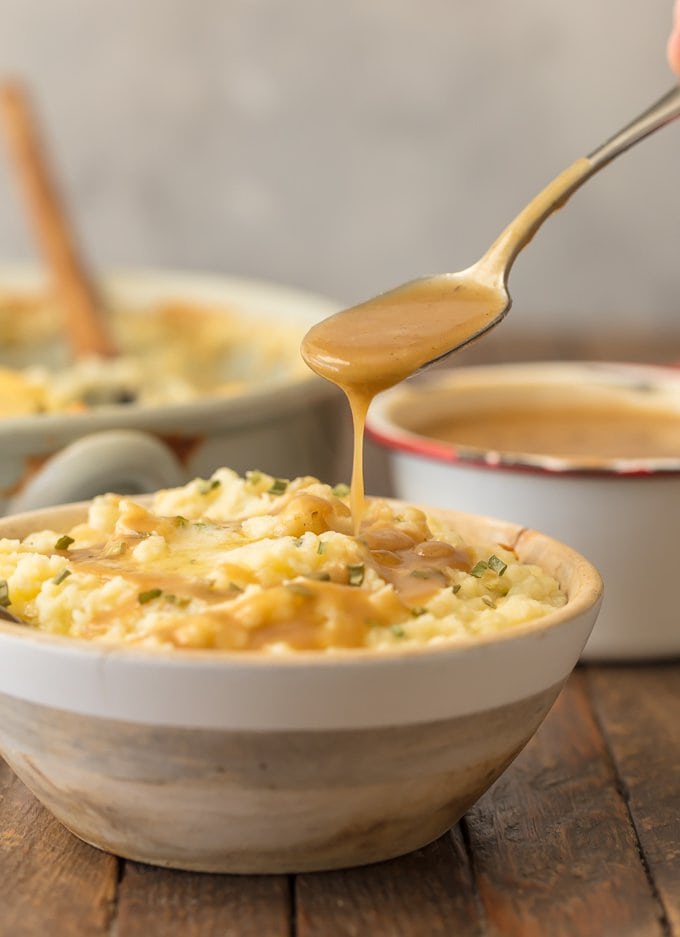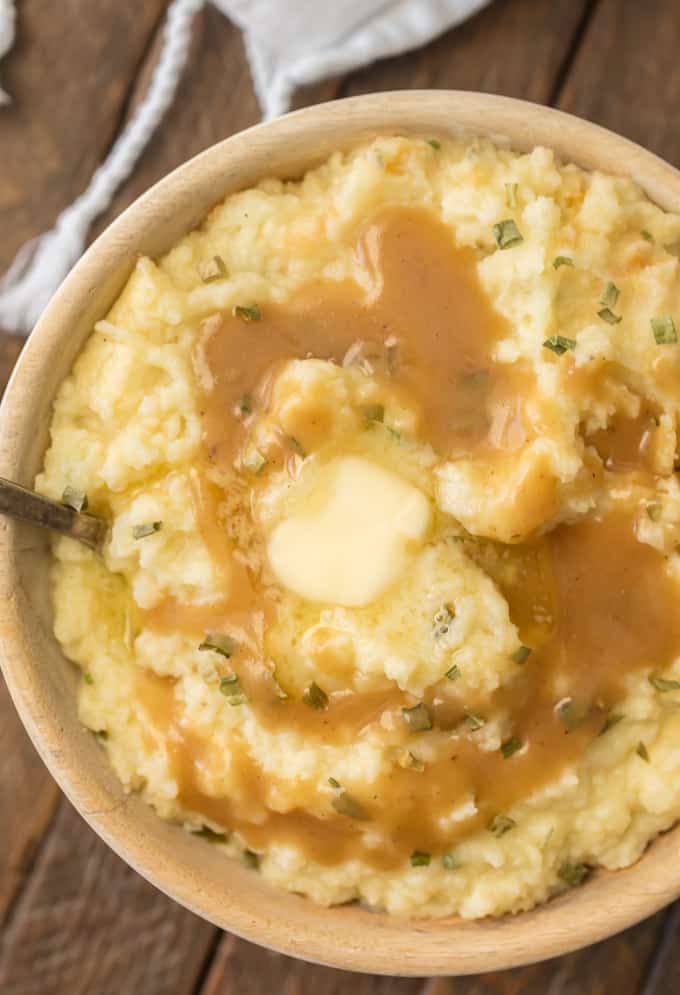 Our MAKE AHEAD MASHED POTATOES (make up to two days in advance!!! They're pictured above) are the perfect way to use all your Make Ahead Gravy. But if you'd rather let a crockpot do all the cooking (thumbs up), try our Slow Cooker Garlic Butter Mashed Potatoes. (They're my secret favorite).
Enjoy!
Make Ahead Gravy
This MAKE AHEAD GRAVY is an absolute must for an easy and stress free Thanksgiving! It's just as delicious with none of the fuss. Gravy at its best to pair with turkey, mashed potatoes, and more!
20 minPrep Time
1 hr, 10 Cook Time
1 hr, 30 Total Time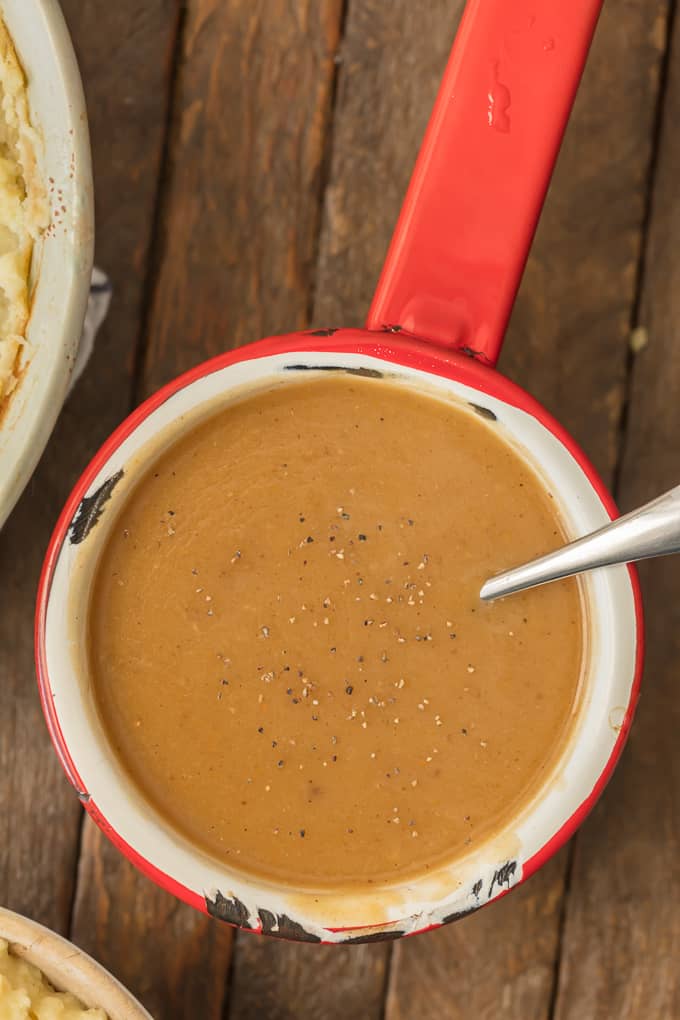 5 based on 2 review(s)
Ingredients
Kosher salt
Freshly ground black pepper
4 tablespoons canola or vegetable oil
1-2 pounds bone-in turkey pieces, a mix of neck, leg, wing pieces
2-3 stalks carrots, peeled
2-3 celery ribs with leaves
1 medium yellow onion, outer skin removed, quartered
¼ cup dry sherry or dry white wine, optional
8 cups homemade turkey stock or low-sodium chicken broth
5 sprigs fresh thyme
8 parsley stems with leaves
2 dried bay leaves
1 stick (8 tablespoons) unsalted butter
½ cup all-purpose flour
Instructions
Sprinkle the turkey pieces with salt & pepper. In a large Dutch oven or large saucepan, heat oil over MED-HIGH heat. Brown the turkey pieces 3-5 minutes on each side then add the carrots, celery and onion. Cook another 5 minutes, turning once, until vegetables have begun to caramelize and have some golden brown color. Turn heat to LOW, cover and cook for 15-20 minutes. Stir every 5 minutes.
Scrape the pan, while slowly adding the sherry or wine, to deglaze the pan. Continue scraping the pan while adding all except 2 cups of the chicken broth, stir continuously until broth has been added.
Add herbs, turn heat to HIGH and bring broth to a boil. Reduce the heat to LOW and simmer, uncovered, for 30 minutes. Skim excess foam off the surface as needed.
Pour broth through a fine-mesh strainer over a large heat-resistant bowl. Shred the turkey meat from the bones, and reserve ¼-½ the meat for the gravy. Freeze the remaining meat, in a freezer bag, for later use.
To make the roux, melt butter in a medium saucepan over MED-LOW heat and whisk in flour. Cook, stirring continuously, until the flour mixture is fragrant and nutty brown, 10-15 minutes.
While roux is cooking, pour the reserved broth back into the large saucepan and add the shredded turkey. Bring broth to a simmer.
While whisking vigorously, slowly add 2 cups of the hot broth to the roux (flour/butter mixture). Whisk until the mixture is smooth and there are no lumps. Whisk this mixture into the simmering broth in the large saucepan.
Season the gravy to taste, simmer and stir often, until thickened or about 20-30 minutes. Cover and set aside to cool to room temperature. You now have turkey gravy. Cover & refrigerate or freeze until ready to use.
Enjoy!
7.6.7
2470
https://www.thecookierookie.com/make-ahead-gravy/