MAKE AHEAD TURKEY GRAVY is an absolute must for an easy and stress free Thanksgiving! YES It's possible to make Turkey Gravy without drippings and YES you can make it ahead of the big day. Once we learned How to Make Turkey Gravy we have never gone back to store-bought. This Make Ahead Easy Gravy Recipe is genius.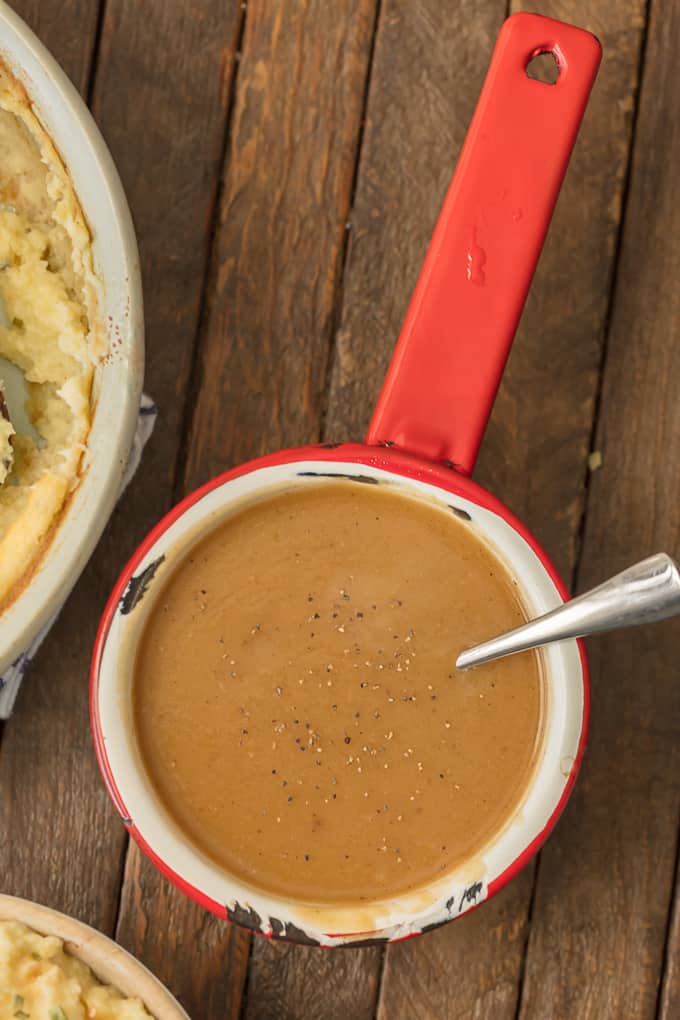 Easy Turkey Gravy Recipe
This Make Ahead Turkey Gravy Recipe is the ultimate Thanksgiving side. Making turkey gravy is simple with this easy gravy recipe!
This Homemade Turkey Gravy Recipe is going to change your life. I'm here to make your easy Thanksgiving dreams come true. This week Mom and I (mostly Mom) put together the ultimate EASY Thanksgiving feast and it's coming to you right now! This make ahead gravy recipe is just one of many easy dishes for the big feast.
Here's all of the easy recipes for Thanksgiving you need:
We have lots of favorite holiday recipes but this collection of simple and quick ideas is really all you need for the ultimate holiday. Let's dive right in with this Make Ahead Turkey Gravy!!
This Make Ahead Turkey Gravy is my go to easy gravy recipe for mashed potatoes, turkey, and everything else on Thanksgiving!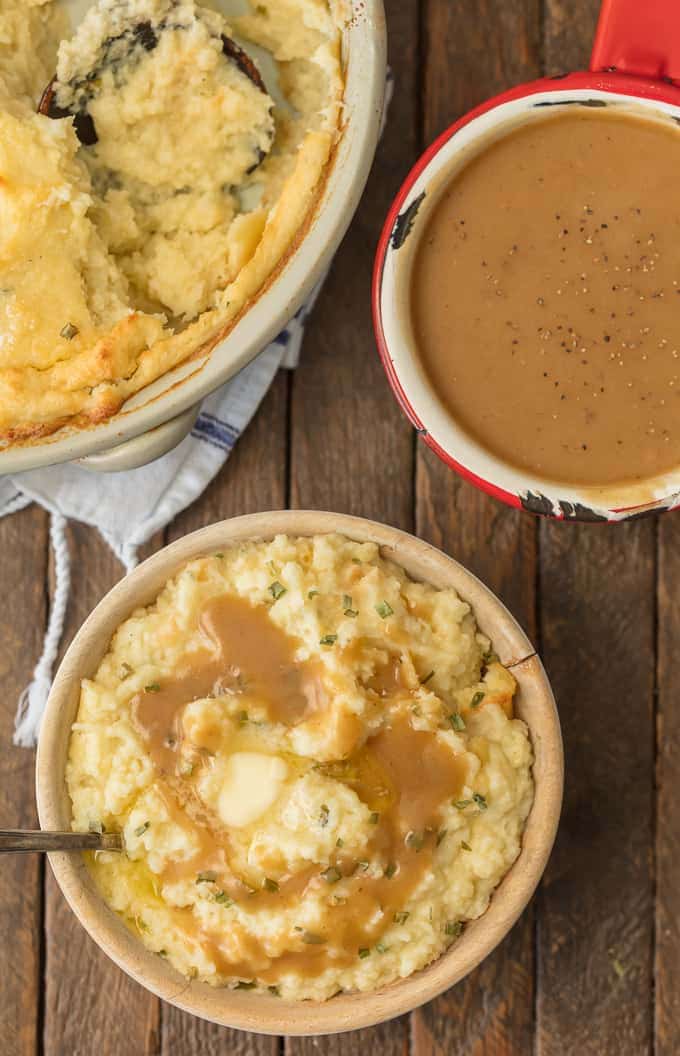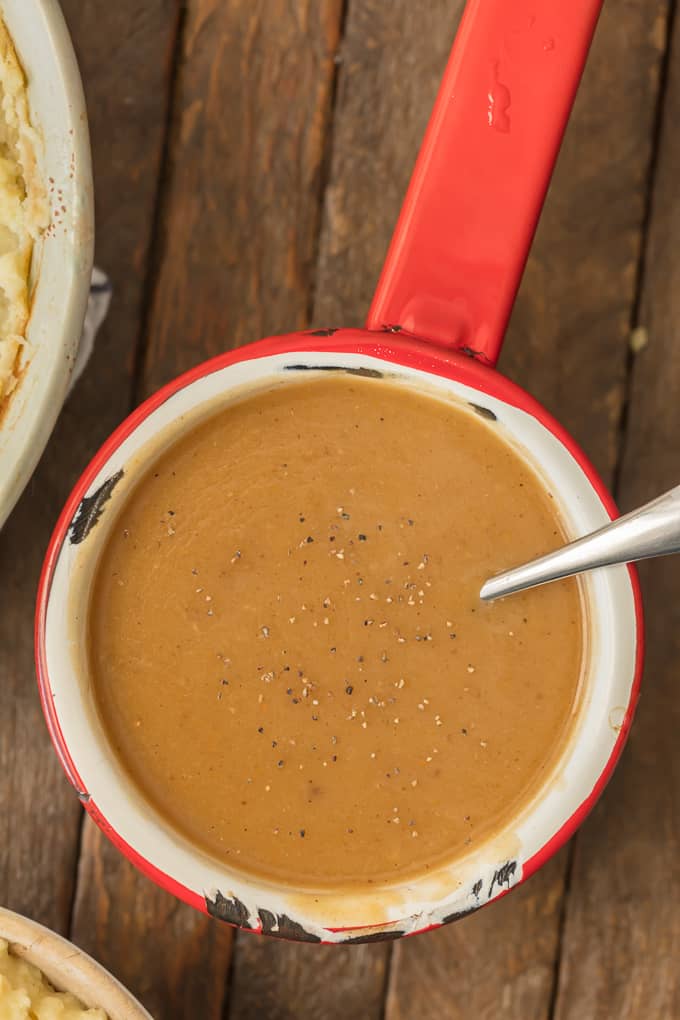 Easy Gravy Recipe
Make Ahead Turkey Gravy is the perfect easy recipe for the holidays. Thanksgiving isn't complete without the perfect easy gravy recipe to serve with turkey and mashed potatoes.
I'm not the girl who wants to be in the kitchen all dang day while friends and family hang out for Thanksgiving. I'm just not. Never have been, never will be. So easy recipes like this Make Ahead Turkey Gravy Recipe is just the ticket for me. I can still prepare an awesome meal and feed the ones I love, but I don't have to miss all the festivities. The more you can have done ahead of time the better!
This make ahead gravy still has all the flavor, so you won't be sacrificing any home cooking flavor if you make it. It's so tasty and hearty!
How to Make Turkey Gravy without drippings
You can check the recipe card below to get the full set of instructions for this make ahead gravy. But here's a quick overview of how to make this easy gravy recipe.
Cook turkey pieces on the stove with vegetables, then add in sherry and herbs and continue cooking.
Pour chicken or turkey broth through a strainer into a large bowl, and shred turkey meat from the bones.
Make the roux by melting butter in a pan and whisking in flour.
While the roux is cooking, pour the broth into a saucepan, add in the turkey, and bring to a simmer.
Add 2 cups of broth into the roux, whisking vigorously until smooth. Then whisk the mixture into the saucepan of broth and turkey.
Let the turkey gravy simmer for 30 minutes until it thickens, stirring occasionally.
You can make this easy gravy recipe up to 2 days ahead of time for your Thanksgiving meal.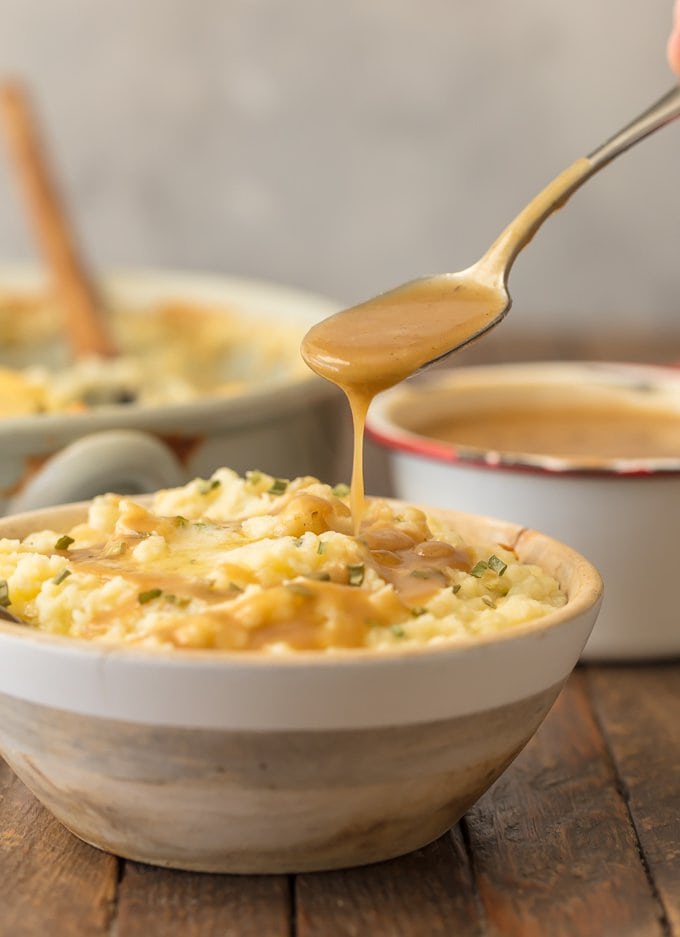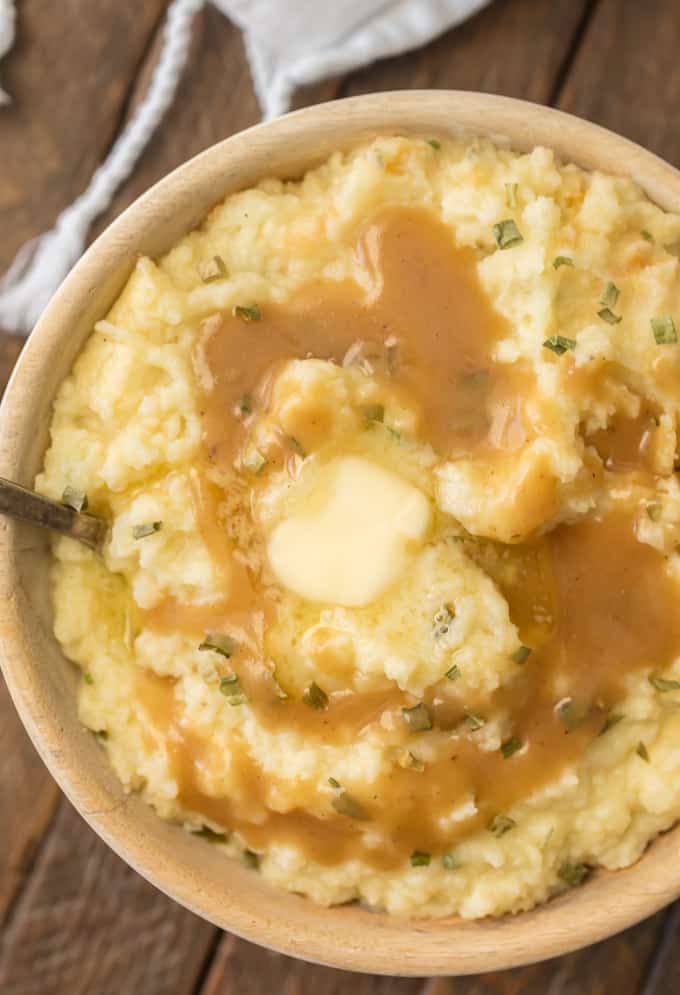 How long does Homemade Turkey Gravy keep?
Sadly, Homemade Gravy will only keep about 2 days in the fridge. You can, however, bring it back to life by boiling right before serving. Neat trick! You can also freeze this Make Ahead Turkey Gravy for up to 4 months. Boom!
Our MAKE AHEAD MASHED POTATOES (make up to two days in advance!!! They're pictured above) are the perfect way to use all your Make Ahead Gravy. But if you'd rather let a crockpot do all the cooking (thumbs up), try our Garlic Butter Slow Cooker Mashed Potatoes. (They're my secret favorite). If you prefer to make your gravy NOT ahead of time, we also have this great Classic Turkey Gravy Recipe.
See the recipe card below for full details on How to Make Turkey Gravy. Enjoy!
Plan your entire holiday menu with our guide to easy Thanksgiving recipes!