This is the best Shrimp Marinade for grilling shrimp because it's simple but packed with flavor! A mix of soy sauce, balsamic, dijon, brown sugar, garlic, and Italian seasoning adds a rich, sweet and savory taste. So be sure to add this marinated grilled shrimp to your summer cookout rotation to pair with veggies, rice, or any dishes you please!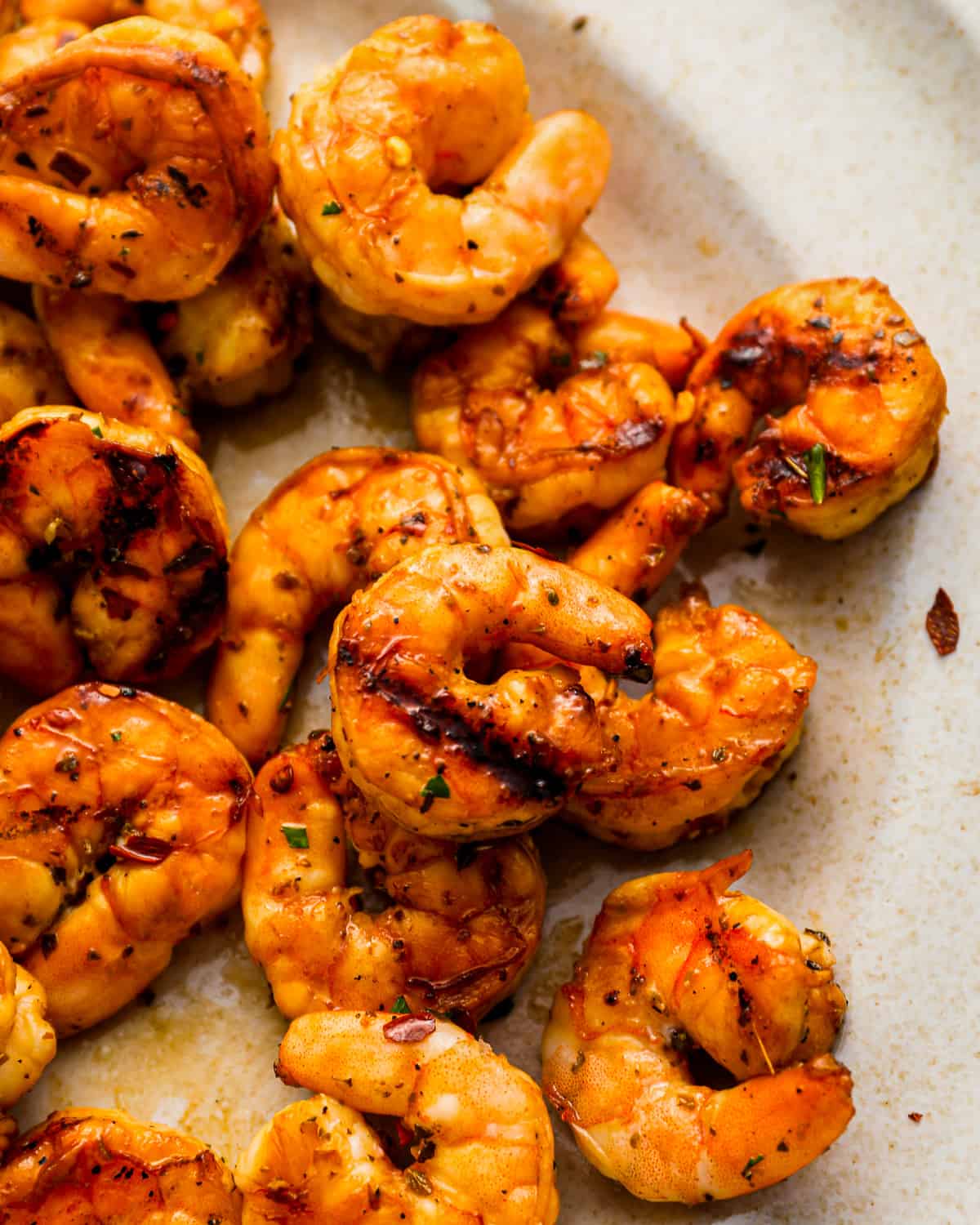 What's in Grilled Shrimp Marinade?
This shrimp marinade blends salty, sweet, savory, and tangy ingredients for a fresh and balanced flavor.
Olive Oil: Provides moisture to the shrimp and protects them from burning on the grill.
Balsamic Vinegar: Adds tanginess and a subtle sweetness to the marinade.
Brown Sugar: Adds sweetness and helps the shrimp to caramelize on the grill.
Soy Sauce: Adds umami flavor to the marinade and helps to tenderize the shrimp.
Garlic: Adds earthy and savory flavor to the marinade.
Italian Seasoning: Adds a classic Mediterranean flavor profile to the marinade.
Dijon Mustard: Adds tanginess and a touch of heat to the marinade.
Crushed Red Pepper Flakes: Adds a hint of spiciness.
Salt + Pepper: Enhance the natural flavor of the shrimp.
Shrimp: For this recipe, you'll want large peeled and deveined shrimp.
Pro Tip: For a milder recipe, omit the red pepper flakes.
Variations on Marinated Grilled Shrimp
This shrimp marinade is so versatile, but you can still customize it even more to suit the dishes you plan to serve it with. Try adding the zest and juice of a lemon or lime to make the marinade even brighter. Swap the Italian seasoning for Creole seasoning, blackened seasoning, taco seasoning, or herbs de Provence. You can also swap out the brown sugar for honey, agave, or maple syrup to change the flavor profile slightly.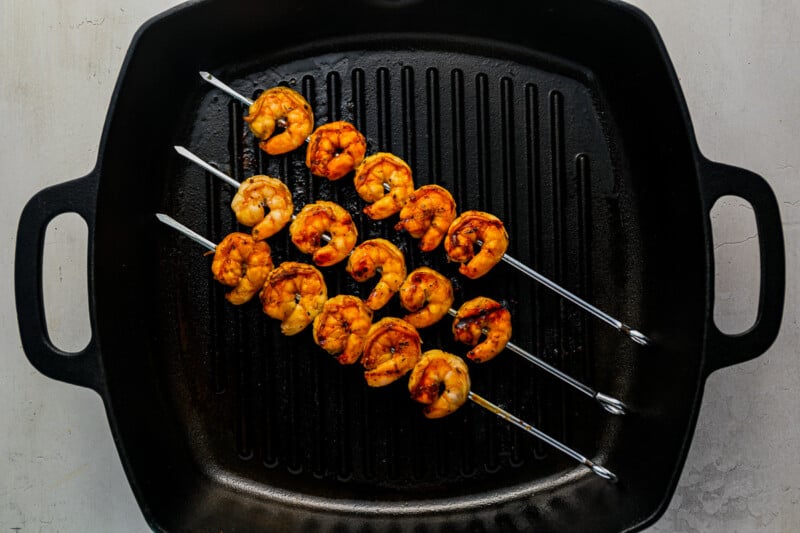 How long can you marinate shrimp?
You can marinate these shrimp for as little as 30 minutes or as long as 2 hours. Any longer than that, and the proteins in the shrimp will start to break down too much, leading to mushy shrimp.
What's the best thing to soak shrimp in?
While there's no need to pre-soak your shrimp for this recipe, you can soak them in a mixture of 1 cup of water, ¼ cup of sugar, and ¼ cup of salt for about 30 minutes before rinsing and marinating to help keep them tender and juicy.
How do I keep my shrimp from getting rubbery?
Shrimp cook super fast, so the key is to remove them from the heat right when the flesh is uniformly pink, with no brown or greyish-brown spots. Properly cooked shrimp should read 120°F on an instant-read thermometer.
Should I remove the tails?
I always recommend peeling the shrimp to allow the marinade to penetrate more deeply, but the tails can be left on or removed– the choice is yours!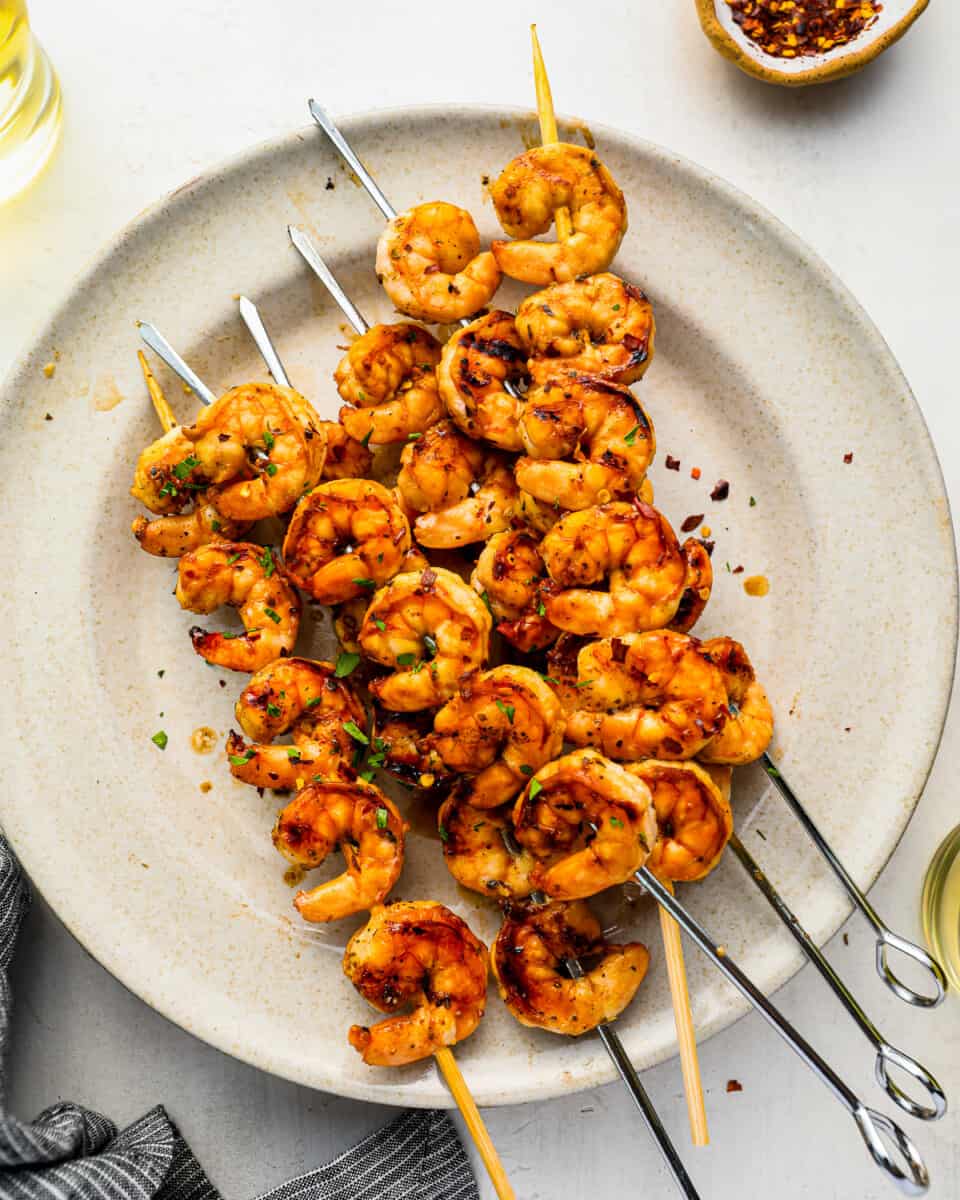 How to Store
Store leftover marinated shrimp in an airtight container in the refrigerator for up to 3 days. Reheat on the grill or in a lightly-oiled frying pan just until warmed through.
How to Freeze
Freeze cooked shrimp in a single layer on a lined baking sheet until solid, about 1-2 hours. Transfer to an airtight container or Ziplock bag to store for up to 3 months. Let thaw overnight in the refrigerator before reheating.
Serving Suggestions
Serve marinated shrimp with white rice, roasted potatoes, oven baked risotto, orzo salad, Parmesan polenta, quinoa salad, or tricolor pasta salad. A crunchy cucumber salad, fresh corn on the cob, grilled asparagus, or a grilled peach salad would also be delicious!
Or use these shrimp to make shrimp tacos, shrimp fajitas, grilled shrimp salad, or shrimp summer rolls.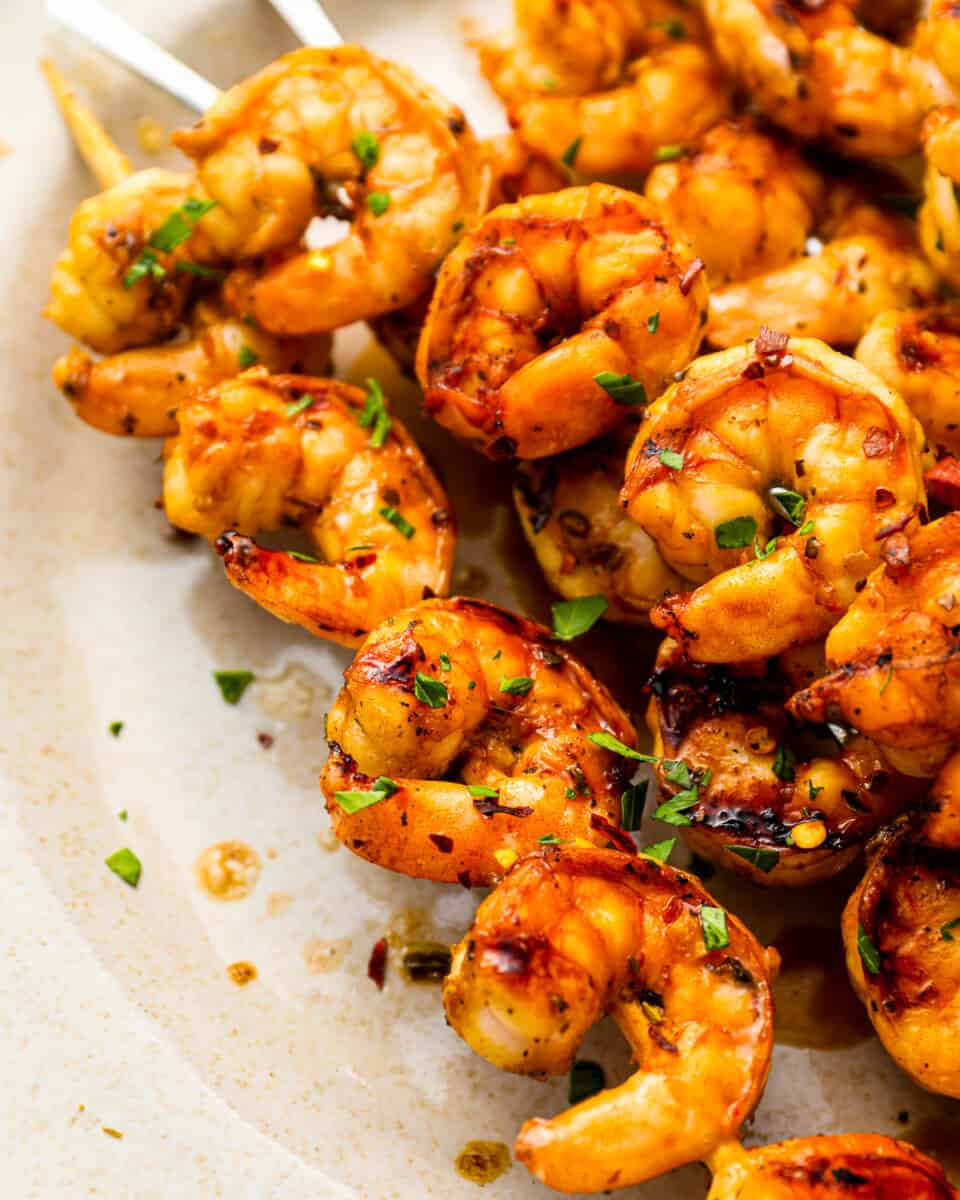 More Skewered Shrimp Recipes We Love
More Sauces and Marinades to Try
We love to boost flavor by creating simple spice rubs or easy sauces. It's such a quick way to pack your dinner with all the flavor with none of the fuss. Here are some favorites: