Cook spicy marinated shrimp to perfection with this quick Air Fryer Shrimp recipe. Juicy, crispy, and full of flavor, this shrimp is a versatile appetizer or dinner!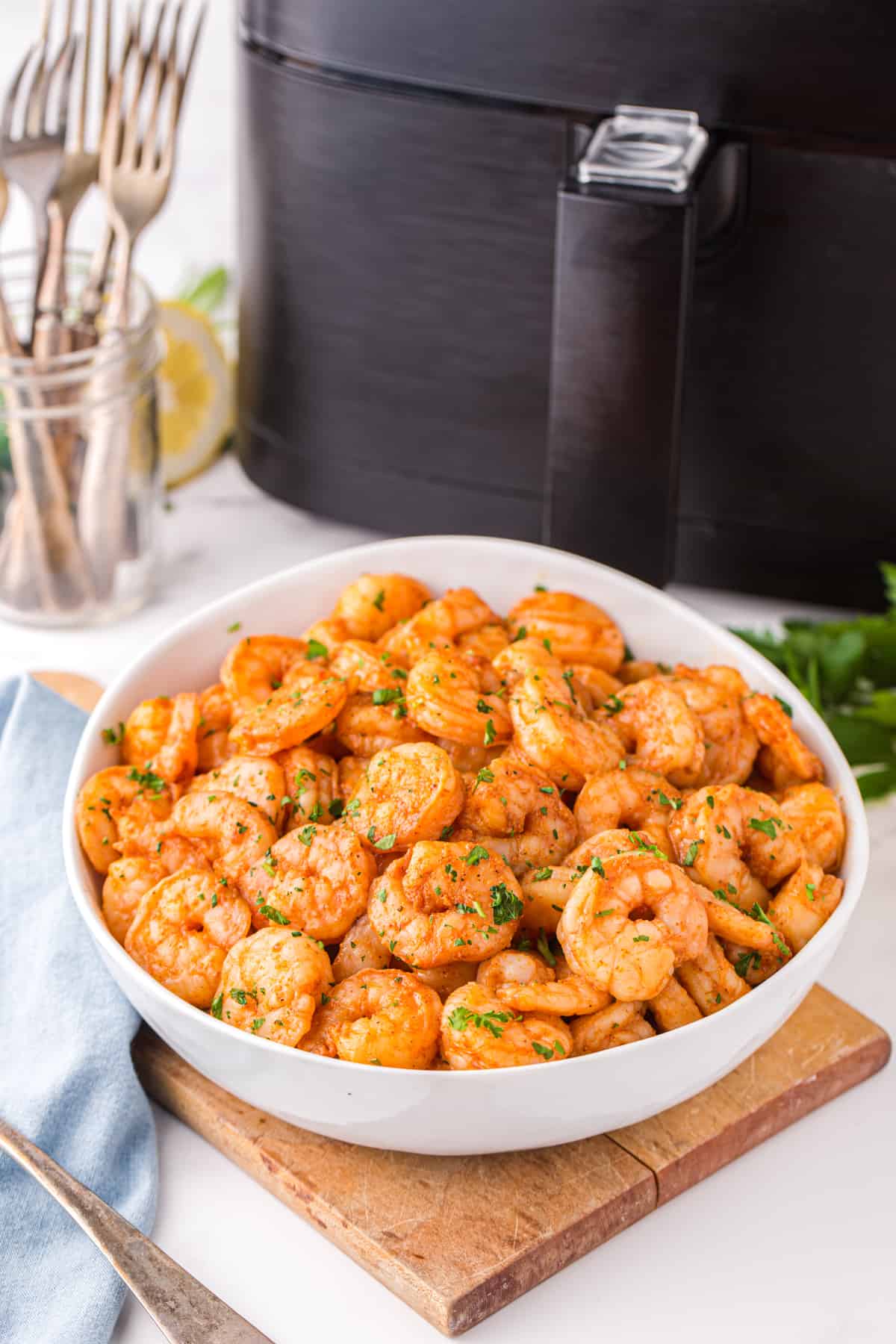 Easy Crispy Shrimp
Whether you serve this shrimp as a game day appetizer with a dip or as part of a main meal with pasta, you are going to love this simple air fryer recipe!
Marinated in lemon juice, garlic powder, taco seasoning, and more, this air fried shrimp is full of flavor with just the right amount of spice. Thanks to the air fryer, this shrimp stays moist and tender on the inside but wonderfully crispy on the outside.
Be sure to try my Shrimp Creole and Shrimp Fajitas too!
Why You'll Love this Spicy Shrimp Recipe:
FLAVORFUL: Made with cayenne, hot sauce, fish sauce, and more, this spicy shrimp recipe is packed with flavor. The longer the shrimp marinates, the more flavor it will have!
HEALTHY: No oily fried shrimp here! This air fried shrimp recipe is low fat, low carb, and high in protein.
EASY: It doesn't get much easier than air fryer shrimp. Simply combine all of the ingredients in a zip-top bag, marinate, and let the air fryer do the rest of the work.
Grab your air fryer and let's go!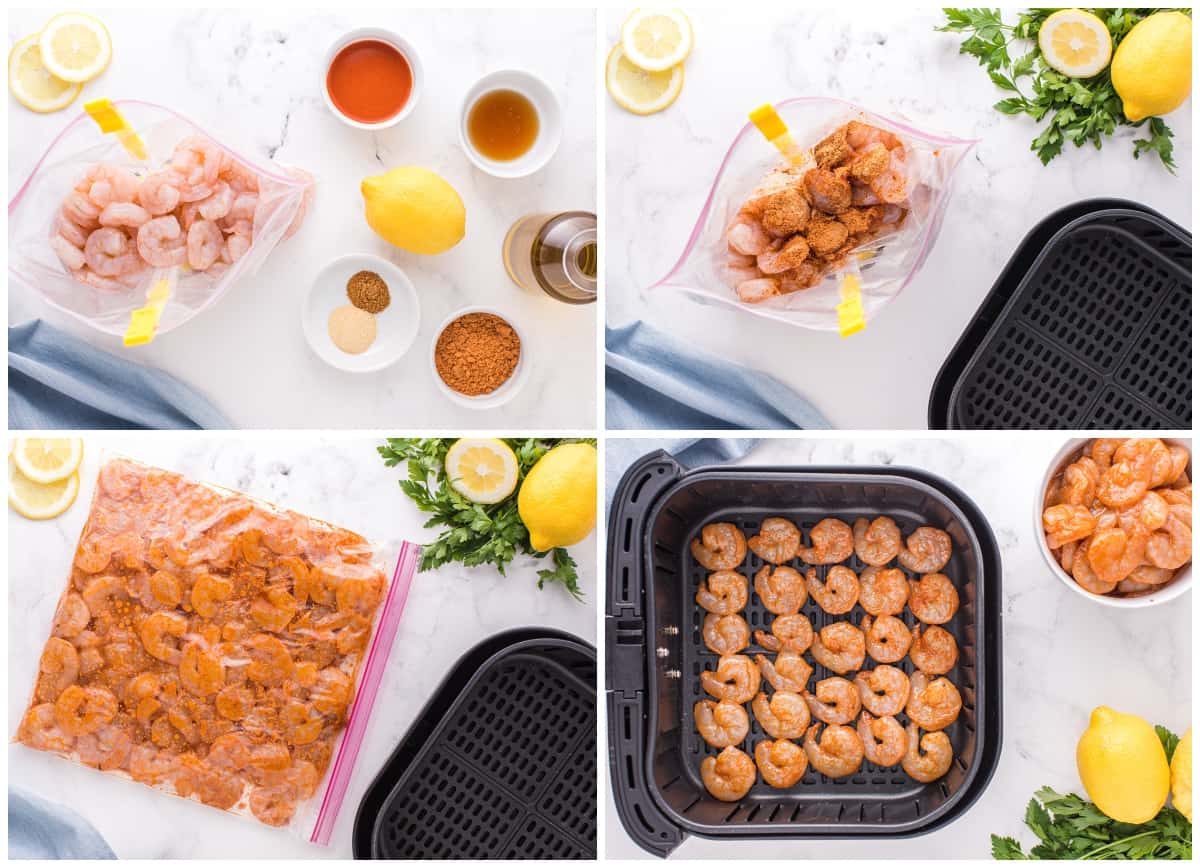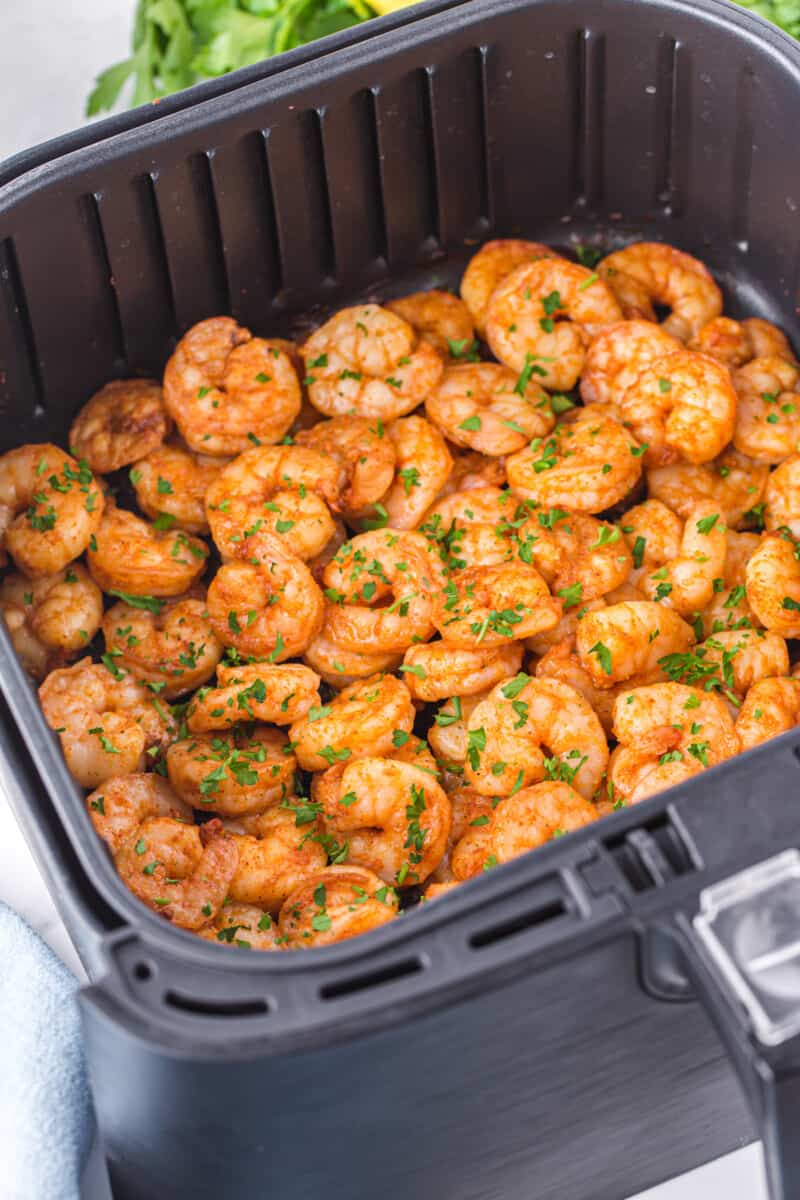 How to Make Air Fryer Shrimp
You can jump to the recipe card for full ingredients & instructions!
Combine the shrimp and marinade ingredients in a zip-top bag.
Marinate the shrimp for 30 minutes in the refrigerator.
Cook the shrimp.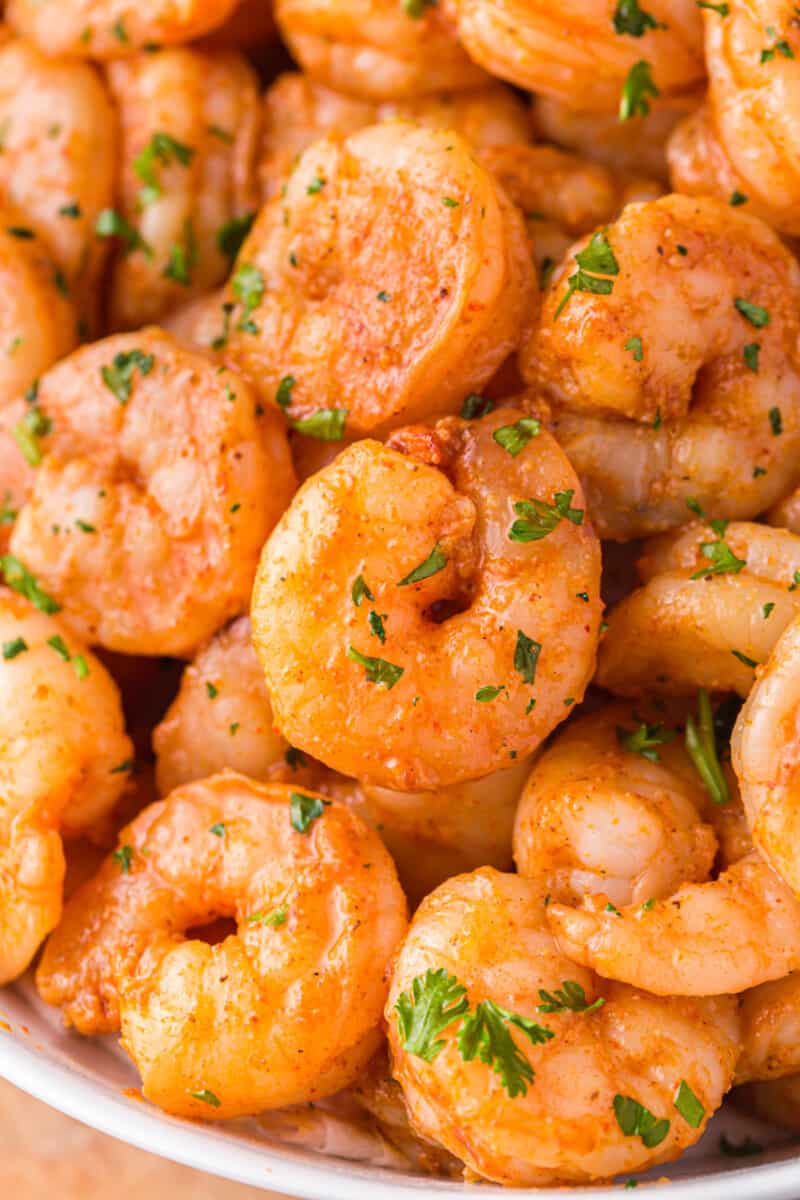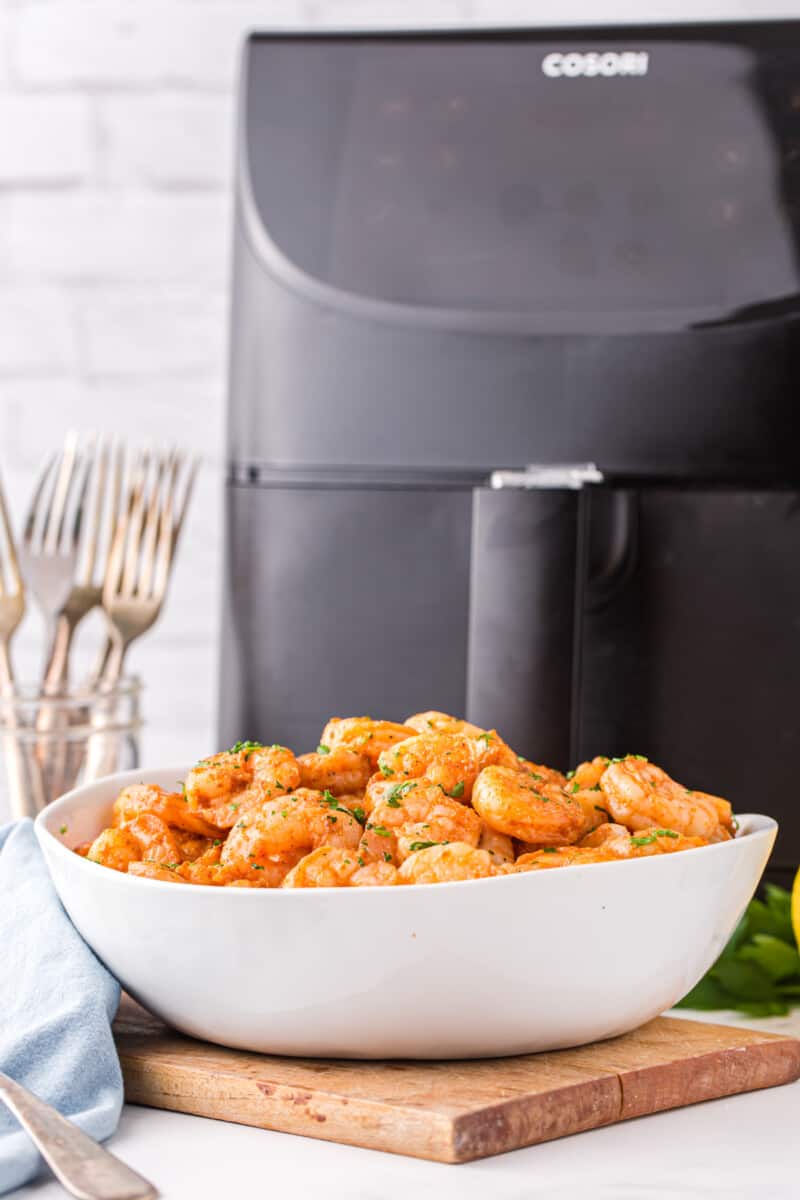 What kind of shrimp should I use?
Large, raw shrimp is best! You can also use smaller shrimp, but reduce the cook time by a couple minutes.
What can I use instead of fish sauce?
Instead of fish sauce, use the same amount of oyster sauce or soy sauce.
How long can I marinate the shrimp?
Marinate this shrimp in the refrigerator for at least 30 minutes or overnight.
How long should I cook this shrimp in the air fryer?
For juicy, just barely done shrimp, cook for 6-8 minutes in an air fryer set to 350°F. For more well-done shrimp, cook in an air fryer set to 380-400°F for 5 minutes.
What is the best way to reheat this shrimp?
To ensure the shrimp stays crispy, reheat leftover shrimp in the air fryer at 300°F until warmed through.
Serving Suggestions
This air fryer shrimp is incredibly versatile! Serve spicy shrimp:
As a stand alone appetizer with fresh lemon wedges
With a dip like Garlic Aioli
For dinner with pasta or rice
If you haven't tried cooking shrimp in the air fryer before, give it a try – you'll be hooked!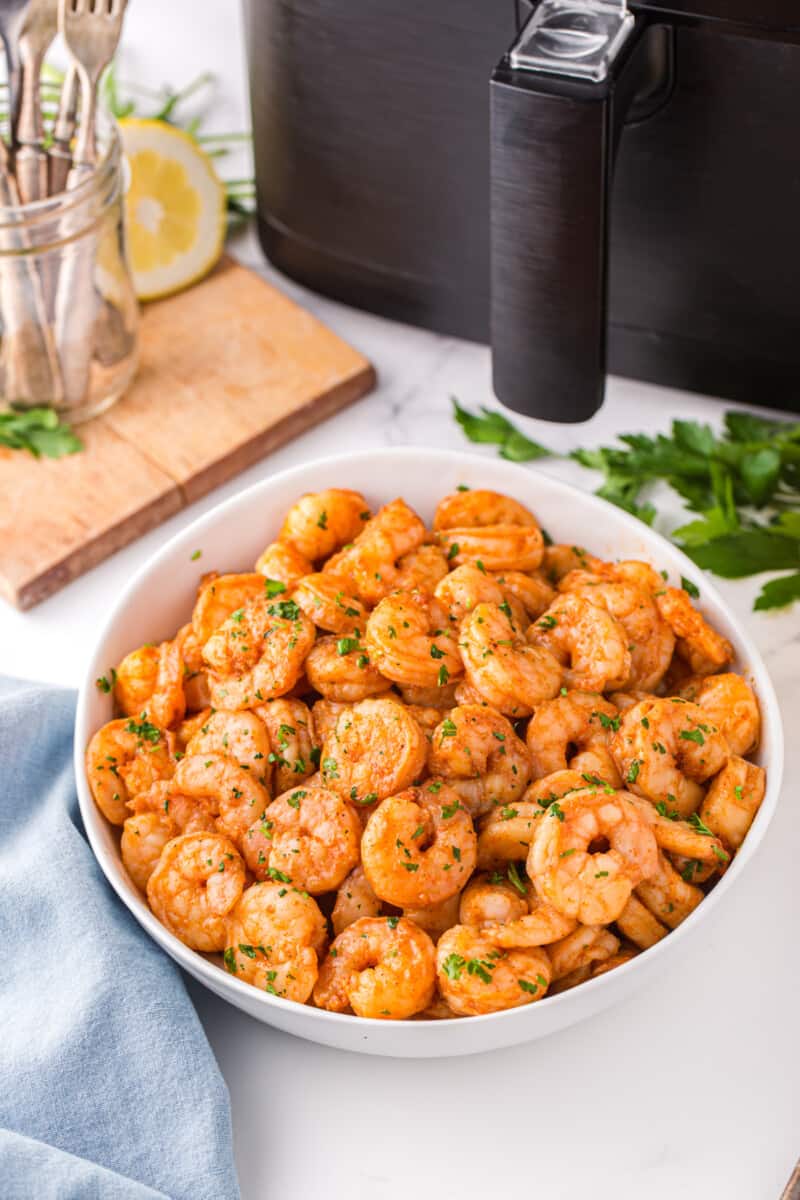 Tips!
For best results, use fresh, raw, deveined shrimp. If using frozen shrimp, let the shrimp thaw in the refrigerator before marinating.
Cook the shrimp in a single layer in the air fryer basket so they cook evenly. About halfway through cooking, give the basket a shake. If all of the shrimp don't fit in a single layer, cook the shrimp in batches.
All air fryer models are a little different, so adjust the cook time as needed.
Air fried to crispy perfection, these spicy shrimp are perfectly poppable and downright addictive!
Do I have to marinate the shrimp?
For the most flavor, let the shrimp marinate for at least 30 minutes. If you're in a rush, skip the marinate time, coat the shrimp with the marinade, and add to the air fryer.
How long does this shrimp last?
Store leftover shrimp in an airtight container in the refrigerator for up to 3 days or in the freezer for up to 3 months.
How can I make this shrimp less spicy?
For less spicy shrimp, use about half of the cayenne pepper and hot sauce.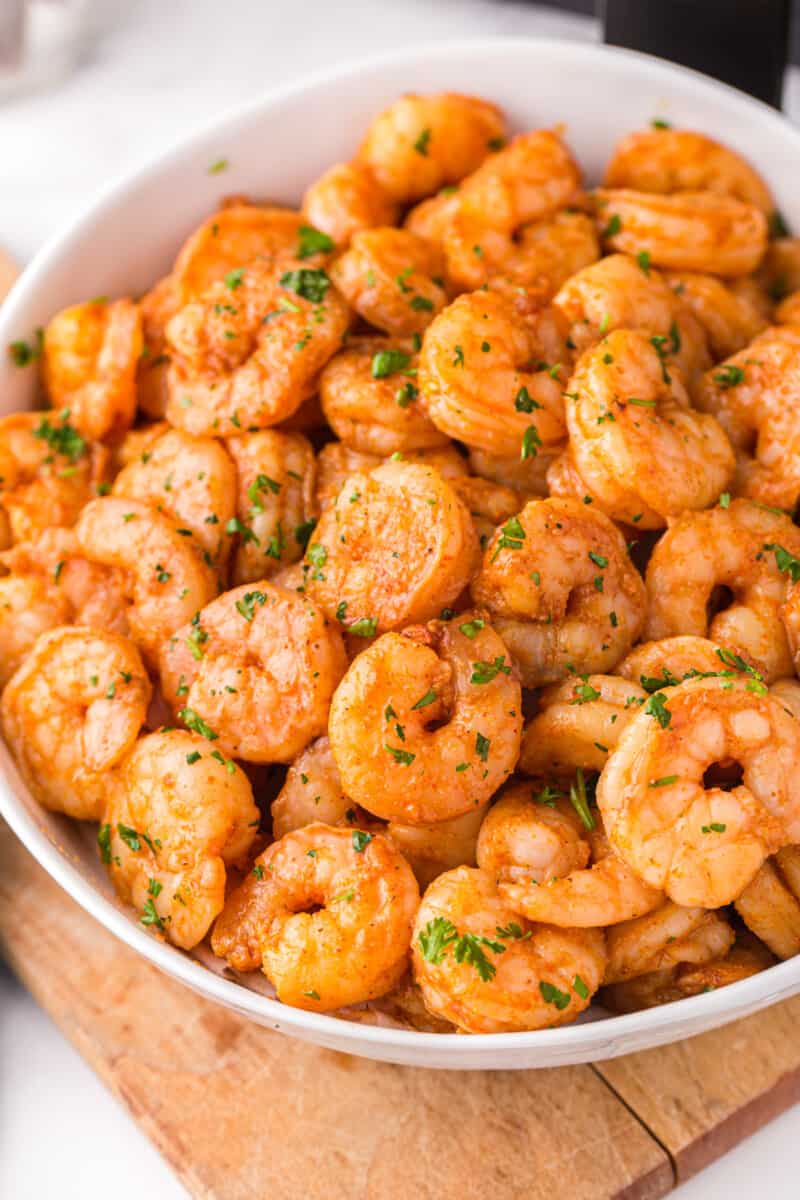 Entertaining is made easy with this quick yet flavorful air fryer shrimp recipe!
If you make this recipe be sure to upload a photo in the comment section below or leave a rating. Enjoy! You can also jump to recipe.