Sink your teeth into the best Breakfast Burger! A flavorful pork sausage and beef patty is all dressed up with cheese, a fried egg, crispy bacon, and any other toppings your heart desires, sandwiched between a toasted bagel. Perfect to serve for brunch or as a super fun weeknight dinner!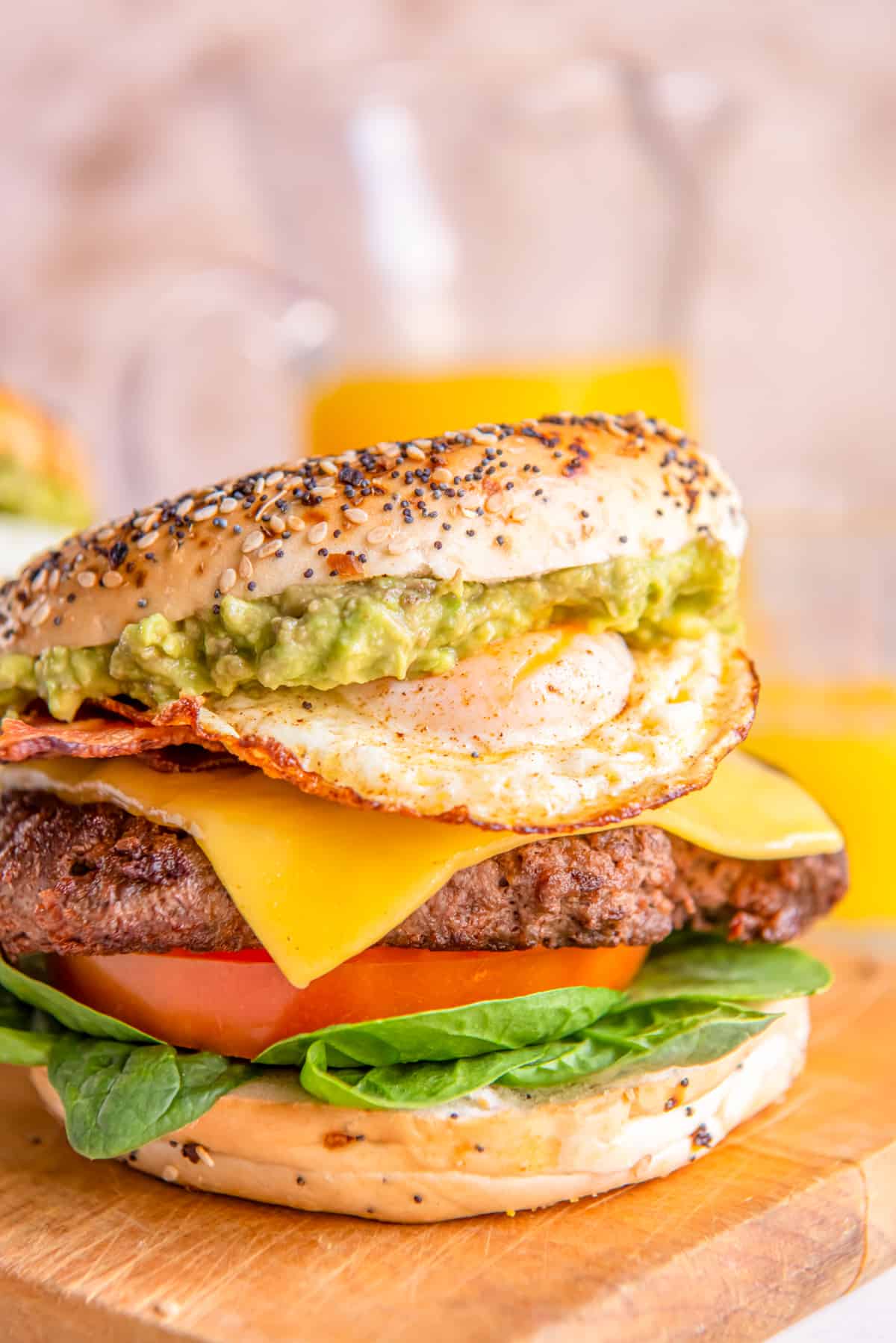 Fried Egg Burger
This breakfast burger recipe is just like your classic, all-American cheeseburger, but with a few breakfast-y additions like pork breakfast sausage, crispy bacon, and a runny fried egg. Serve it on a bagel instead of a hamburger bun to really seal the deal!
These fried egg burgers are pretty popular at brunch because they're delicious, but also because they make for a great hangover remedy. Serve some of these after a fun night out and they'll really hit the spot.
Why You'll Love this Breakfast Burger Recipe:
Bacon: I don't think it's a secret that bacon makes everything taste so much better!
Filling: This burger is seriously packed with protein. You're getting a pork and beef patty, bacon, and an egg all in one serving.
Homemade: When you make a breakfast burger at home, you can control exactly how your egg is cooked, how well done your burger is, and you can stack on as much bacon as you want with no extra fee.
How to Make a Breakfast Burger
You can jump to the recipe card for full ingredients & instructions!
Make the patties by combining the ingredients by hand.
Divide the patties into 6 equal portions.
Cook the patties in melted butter on a skillet.
Remove the patties from the skillet, then cook the eggs.
Assemble the burgers with all the toppings you like, and enjoy!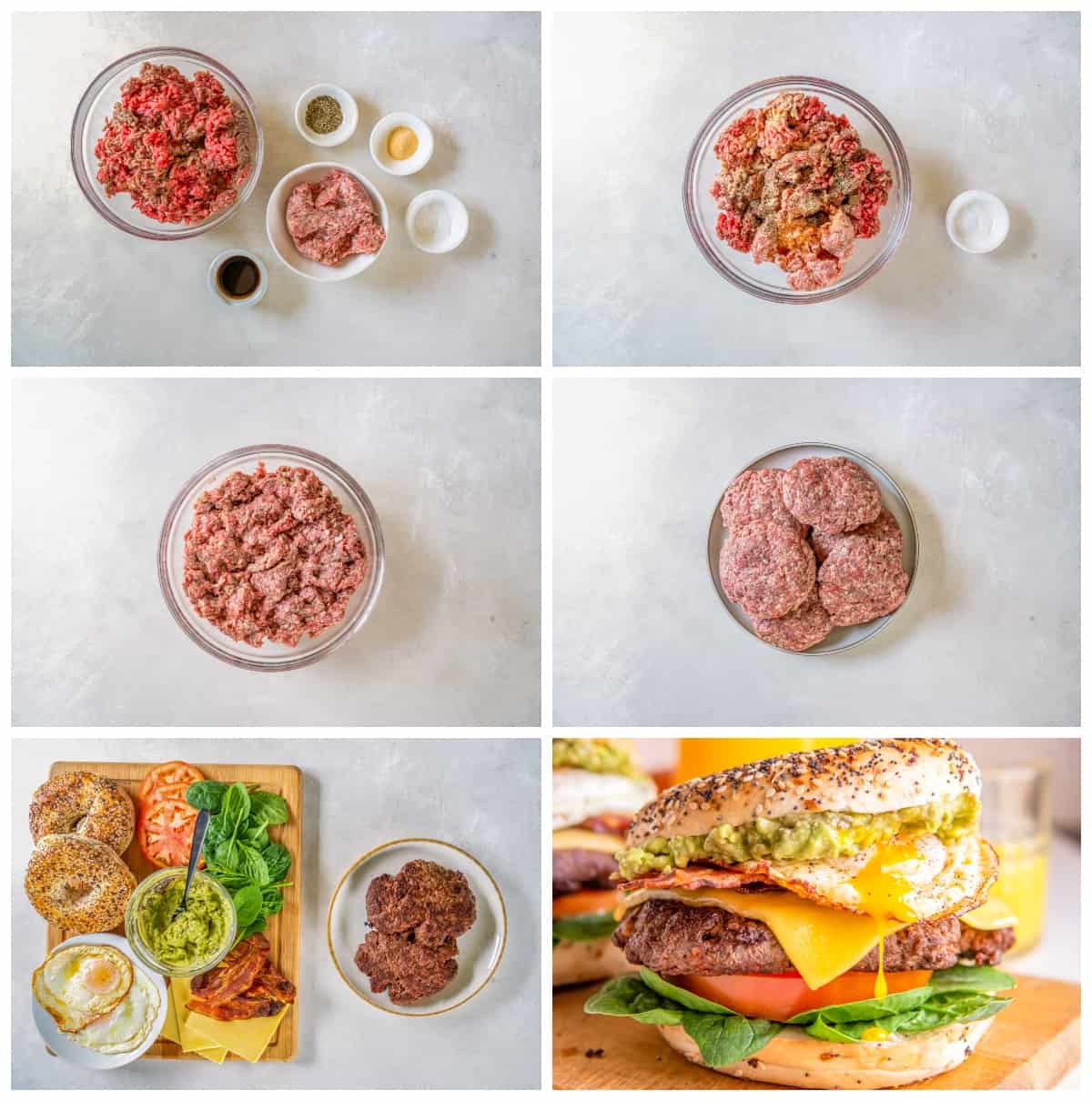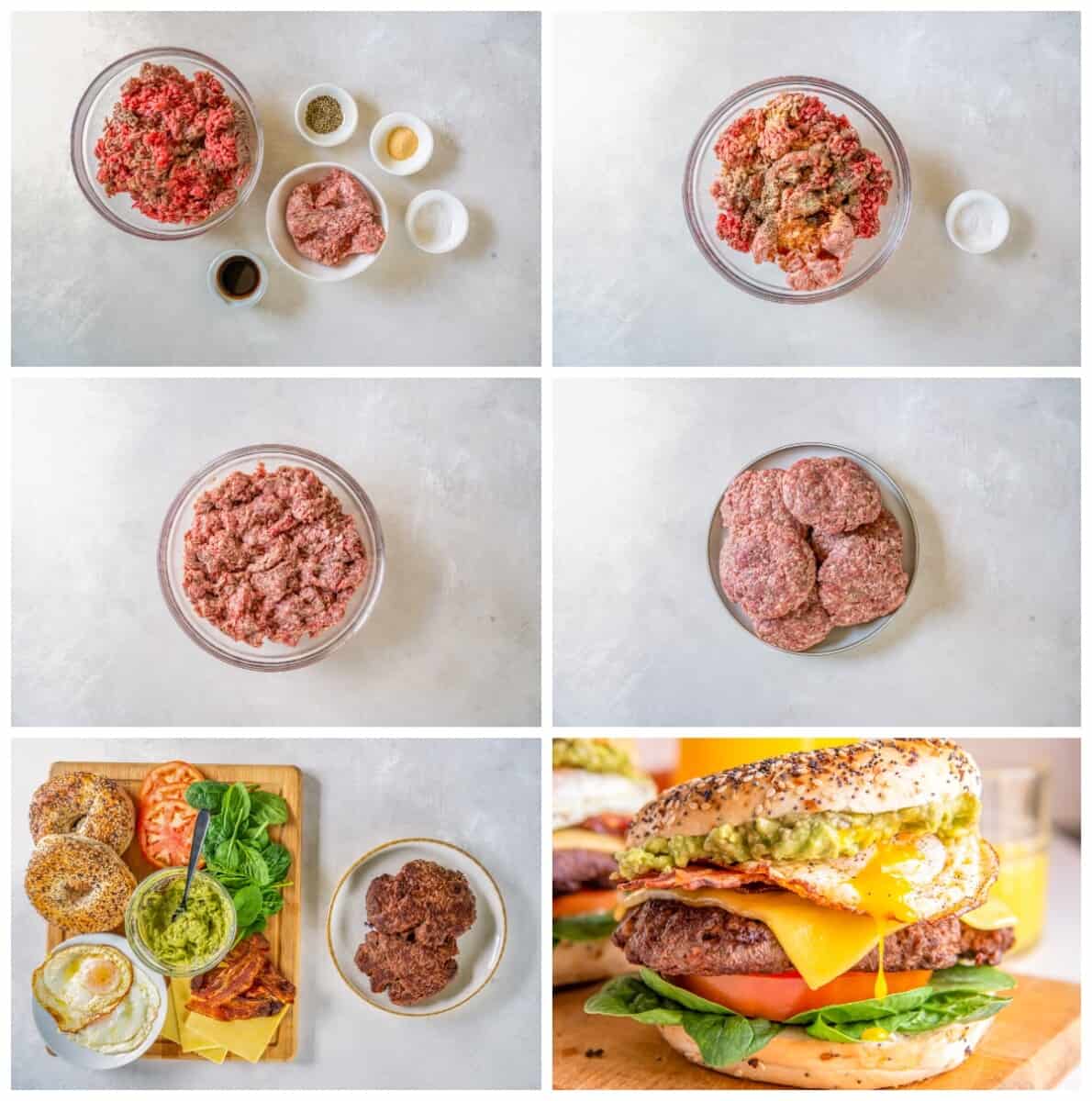 What does a breakfast burger have in it?
A breakfast burger is a combination of a cheeseburger and a breakfast sandwich. Ground beef is mixed with pork breakfast sausage into a juicy patty. It's then topped with cheese, a fried egg, and any other breakfast toppings you can dream of, such as bacon, tomato, or smashed avocado. It can be served on a traditional burger bun or on a bagel or English muffin!
Can I make a breakfast burger without pork breakfast sausage?
You sure can! You can absolutely make a regular, all-beef burger and top it with cheese, a fried egg, bacon, lettuce, and tomato!
What is the best cheese for a breakfast burger?
The best cheese for a breakfast burger is your favorite cheese! I like to use classic American, but you can use cheddar, Swiss, pepper Jack, or any other cheese you love. Feta or mozzarella would also be delicious!
Serving Suggestions
There are plenty of ingredients loaded up in these sandwiches, but if you need something extra to serve alongside them, cook up some home fries or avocado fries, or skip the fried egg and make scrambled eggs instead!
You can start or end the day with a classic Breakfast Burger. There's never a bad time to dig in! It's a great Mother's Day brunch or weekend pick-me-up!
Make Ahead Instructions
For the quickest assembly, cook the bacon ahead of time and store it in the refrigerator until ready to use.
You can shape the patties and store them in the refrigerator overnight so that they're ready to go when you are.
You can also prep any of the toppings of your choice the day before and store them in the refrigerator until ready to use.
I do not recommend cooking the eggs ahead of time, though!
Storage Instructions
Store leftover breakfast burgers in an airtight container in the refrigerator for up to 3 days. Reheat gently in the microwave.
Freezing Instructions
Freeze breakfast burgers tightly wrapped in aluminum foil for up to 3 months. Let thaw overnight in the refrigerator before reheating. I recommend freezing these burgers without any wet toppings, such as tomatoes, lettuce, or avocado, as they will become soggy once defrosted.
Variations
You can make these burgers with all ground beef if you'd prefer.
In place of the Worcestershire sauce, you can use soy sauce, tamari, or coconut aminos in a pinch.
In place of the butter, you can cook the burgers in oil.
Use whatever cheese you love, such as American, cheddar, Swiss, pepper Jack, or even feta!
Try these burgers on classic burger buns, English muffins, pancakes, or waffles!
Top these burgers with your sliced avocado, fresh guacamole, or homemade salsa for southwestern breakfast burgers.
Drizzle a bit of maple syrup on top for sweet and savory breakfast burgers.
Try mayo, garlic aioli, or burger sauce for a classic burger taste.
Add a layer of hash browns!
Tips for the Best Breakfast Burgers
Use 80% lean beef for the best burgers!
Don't overmix the patty mixture; otherwise, your burgers will be tough.
Bring the burger patty mixture to room temperature before cooking it to ensure that it cooks evenly.
Use a meat thermometer to determine when the patties are done to your preference.
Cook the eggs in the rendered fat from the burger patties for indulgent burgers.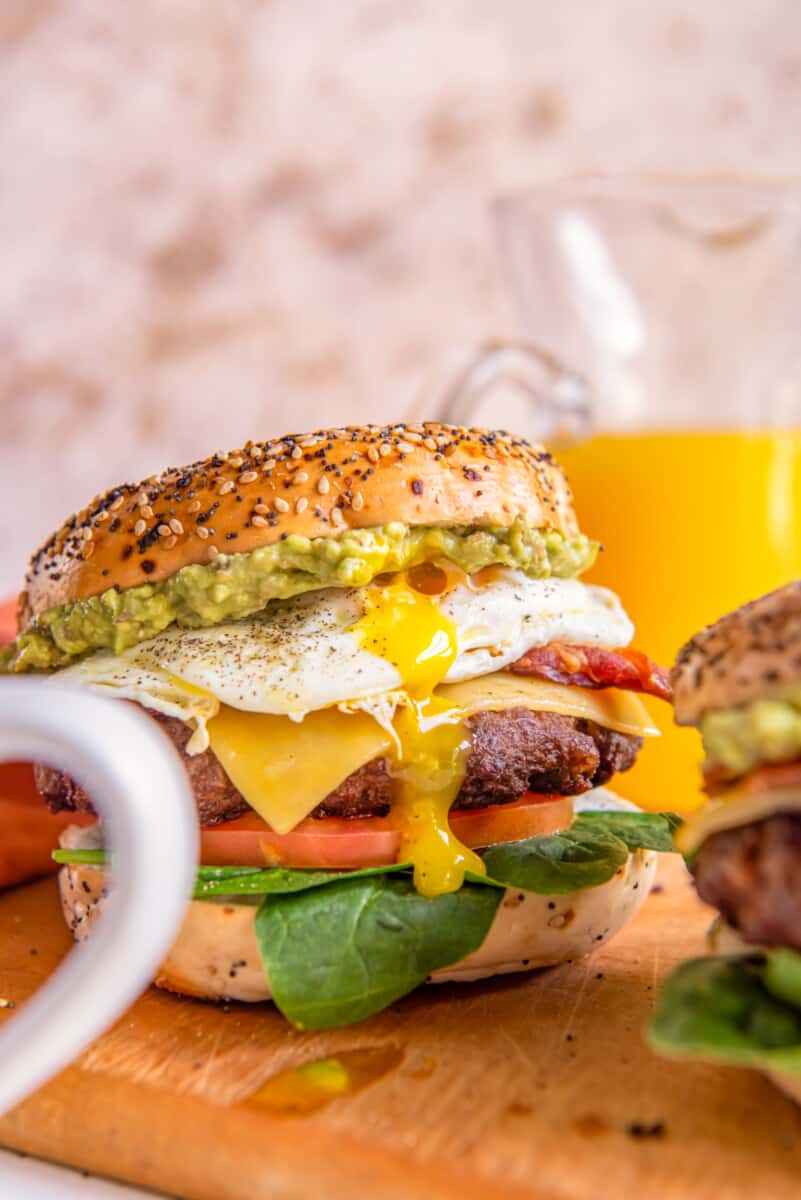 When you make a Breakfast Burger at home, you get to dress it up exactly how you like it! Plus, you can create your own bottomless mimosa station right in your very own kitchen. Enjoy this egg and bacon burger for breakfast, brunch, dinner, or any other time the craving strikes!
If you make this recipe be sure to upload a photo in the comment section below or leave a rating. Enjoy! You can also jump to recipe.