You only need three simple ingredients to blend up the best Strawberry Frosé! This frozen wine cocktail isn't just easy to make, it's also wonderfully easy to sip on all summer long.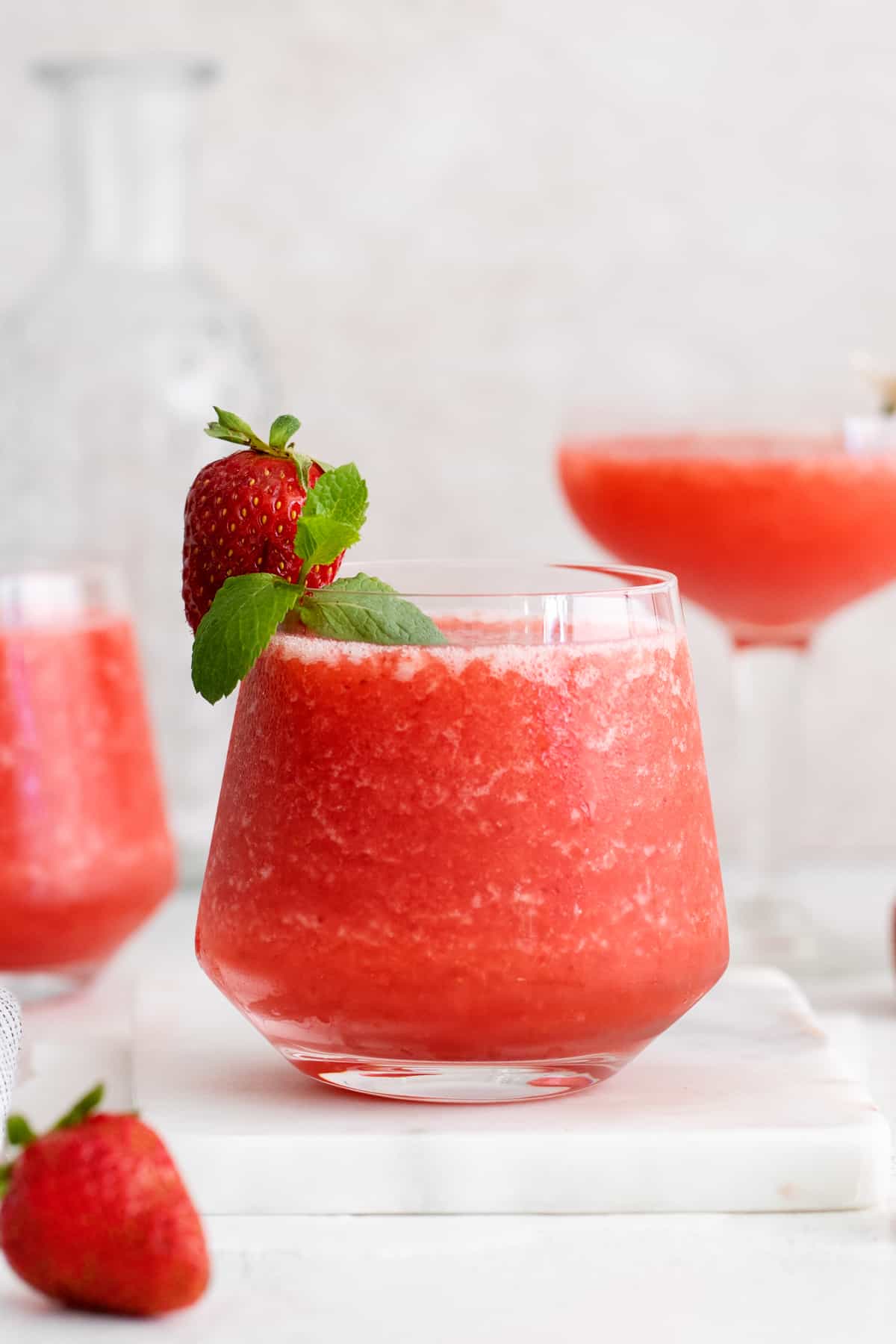 Frozen Rosé
Strawberry Frosé is the best summer cocktail, because it's refreshing, fruity, and perfectly sweet!
Frozen strawberries, rosé wine, and the sweetener of your choice get blended together to make classic frozen rose. You don't have to include simple syrup, agave, or honey, but you can add a splash or two to achieve your desired level of sweetness! Just keep in mind that the strawberries already lend a touch of natural sweetness to the rosé that's delightful.
You can serve this slushy frozen cocktail at your next pool party, beach vacation, or girls night with friends. No matter when you choose to blend it up, it'll always be a huge hit!
Why You'll Love this Frozen Rosé Recipe:
INEXPENSIVE: With only three ingredients required, this is a simple cocktail that won't break the bank. If you're hosting a party on a budget, this is a perfect recipe to utilize!
FRUITY: Strawberries lend some sweetness to these frozen drinks, and they give the frosé a delicious fruity flavor that's all natural.
EASY TO MAKE: Pop everything into your blender and let it do all the work. This cocktail recipe couldn't be any easier!
Another wonderful element of Strawberry Frosé is how well it photographs. Just look at that stunning color!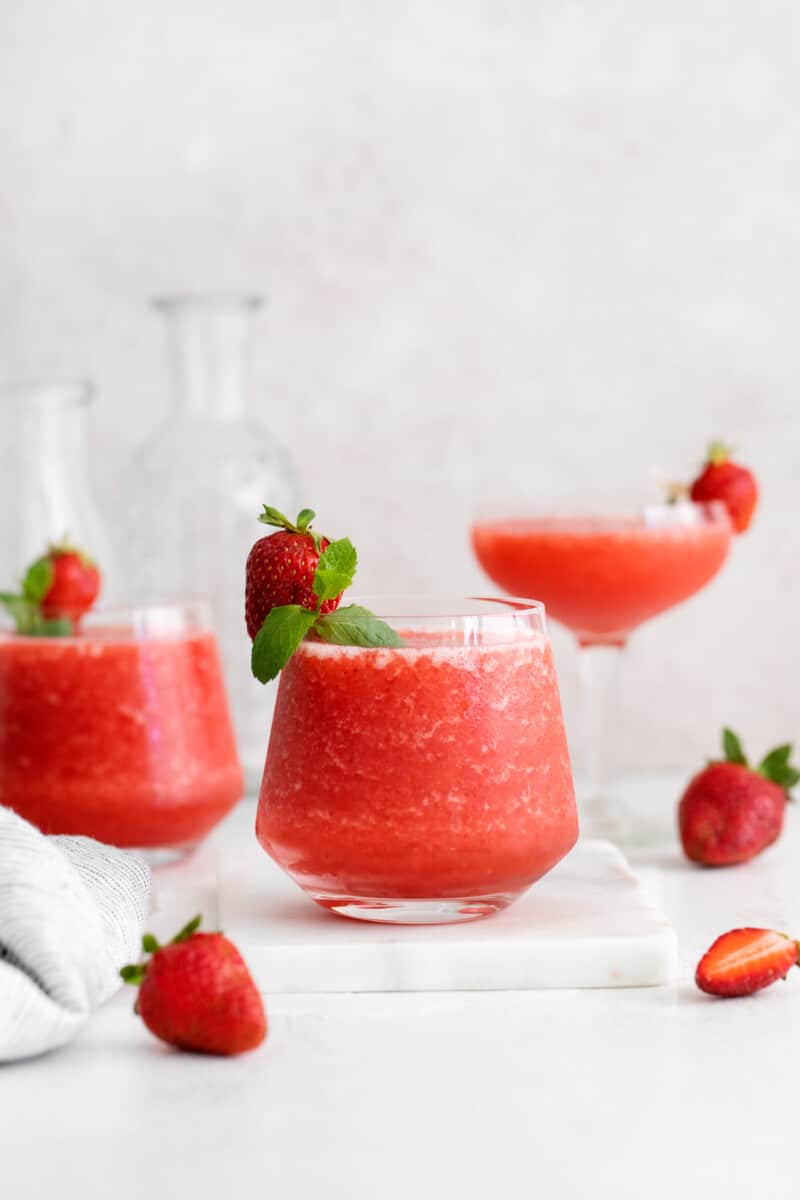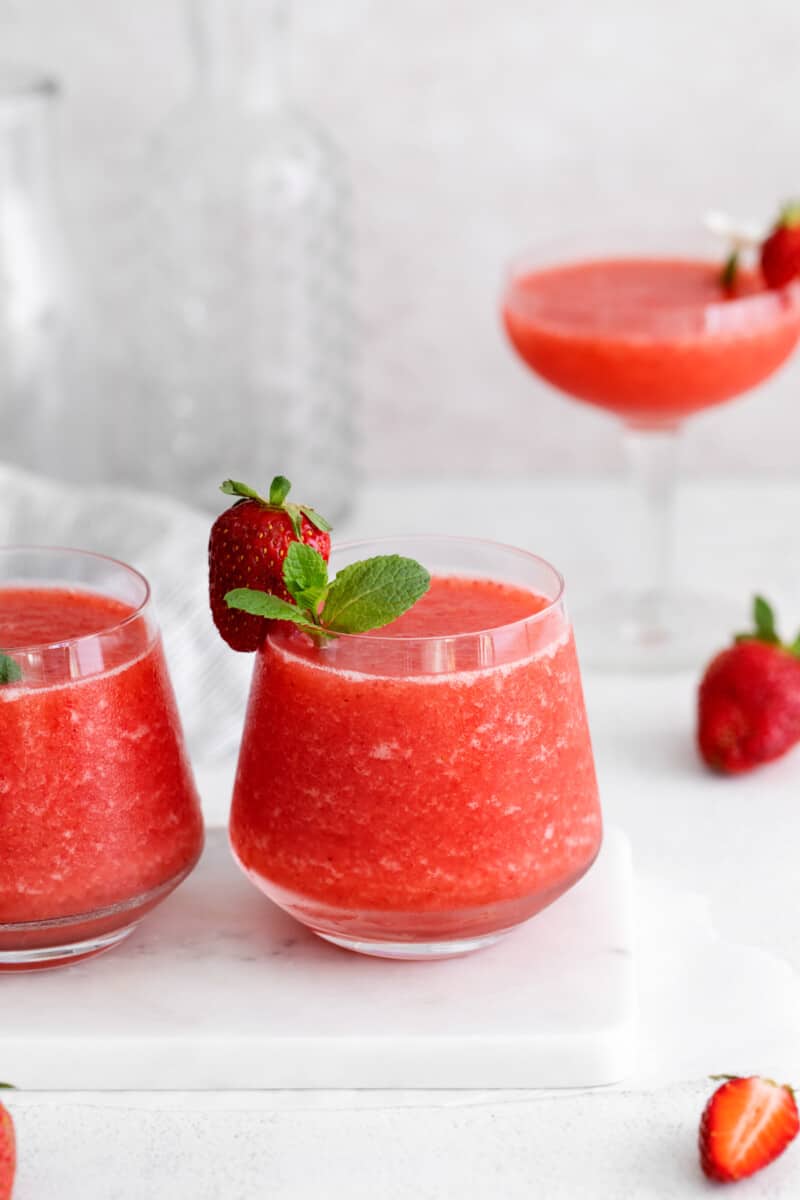 How to Make Strawberry Frosé
You can jump to the recipe card for full ingredients & instructions!
Add everything to your blender.
Blend until smooth (or make it more slushy if you prefer).
Pour into glasses and enjoy immediately.
Recipe Notes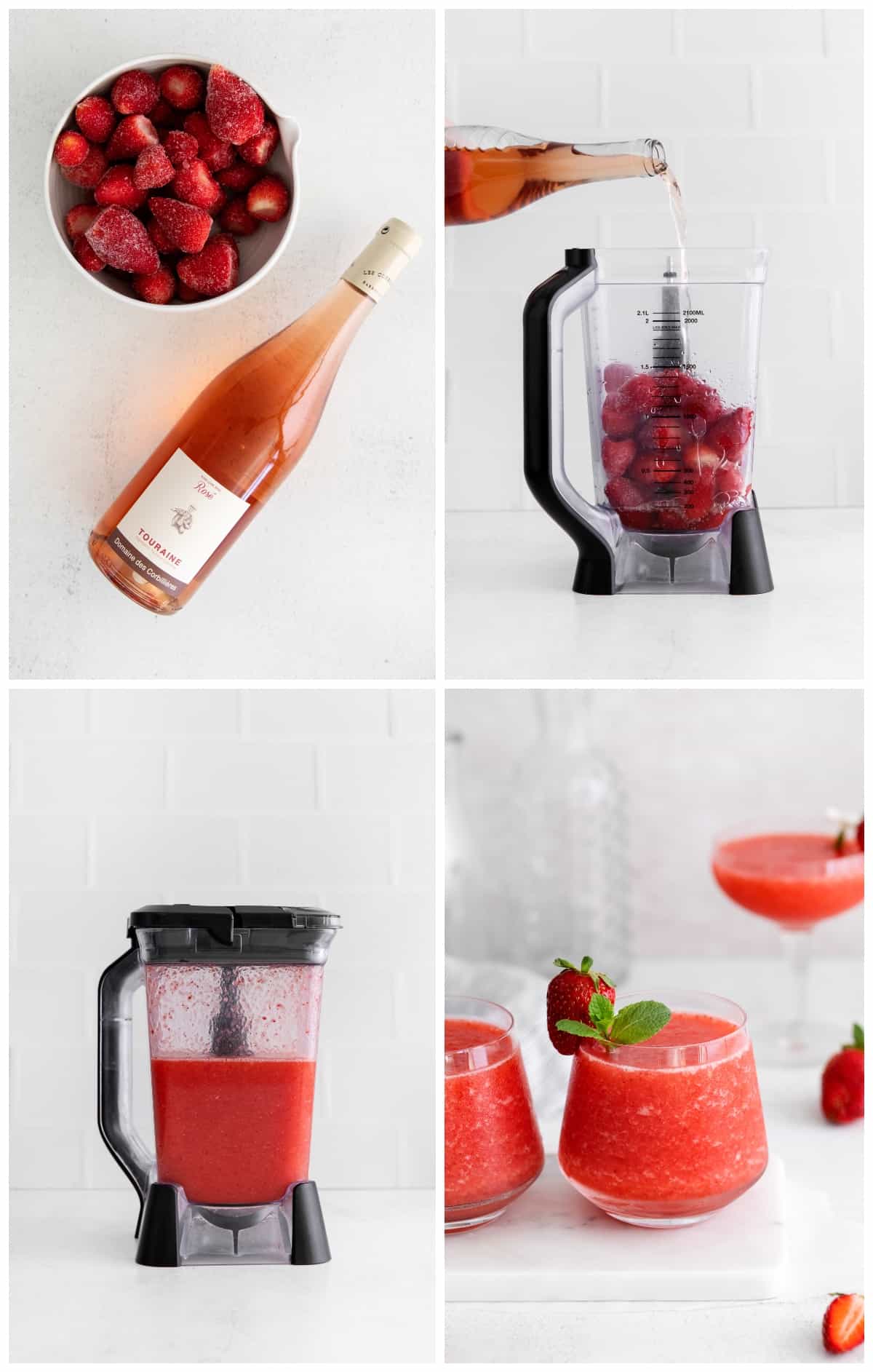 What is frosé?
Frosé is a frozen wine slushy made with rosé wine.
What is the best rosé for frosé?
There's no need to buy the most expensive bottle since you'll be mixing it with strawberries and sweetener. I recommend choosing a rosé you already know you love!
Can I make strawberry frosé ahead of time?
I do not recommend making these slushies more than a few hours ahead of time, as wine does not contain enough alcohol to keep it from freezing solid. If you'd like to save frosé for later, I recommend pouring it into an ice cube tray and reblending when ready to enjoy.
Can I make frosé with a different type of fruit?
Yes! Use any frozen fruit you love, such as peaches, raspberries, cherries, pineapple, watermelon, or mango.
Serving Suggestions
Hosting a summertime party? You'll need more than just Strawberry Frosé to serve to your guests. Here are some of my favorite party foods (both savory and sweet) that pair perfectly with these frozen drinks!
As much fun as it is to serve to friends, it's also nice to blend up and enjoy solo after a long day. After all, you deserve it!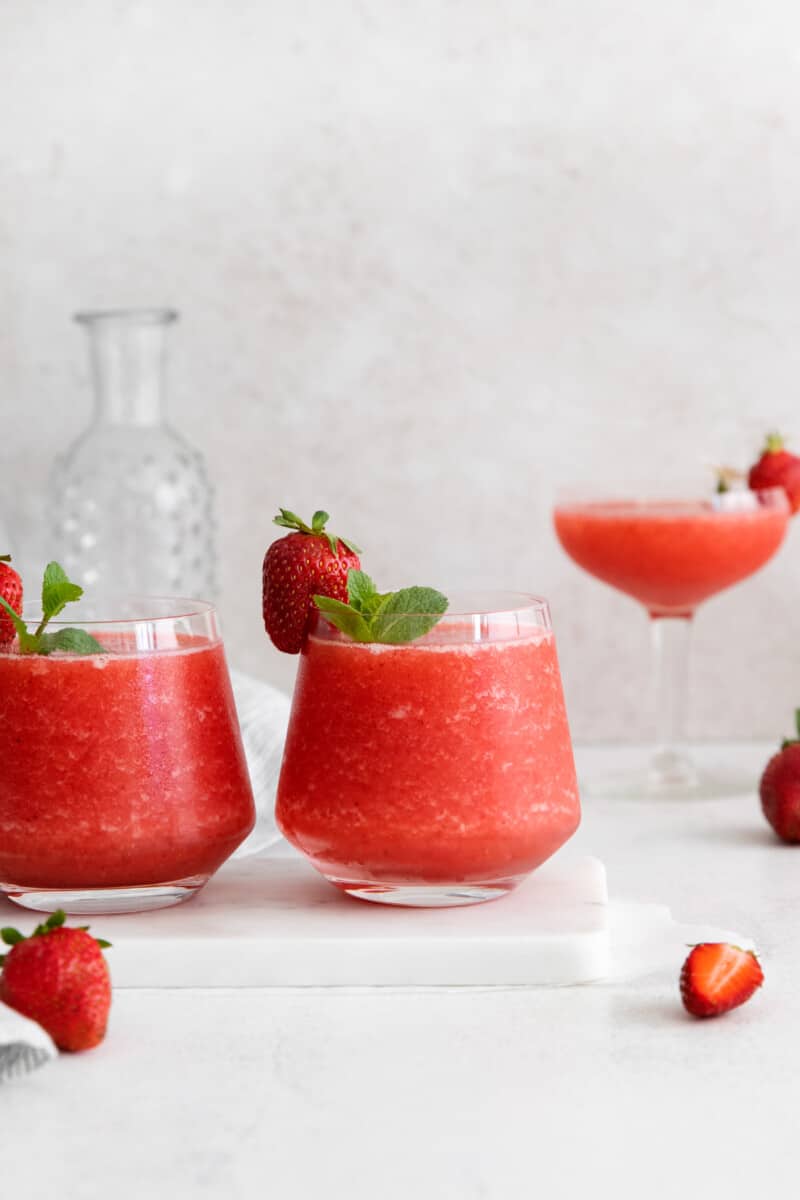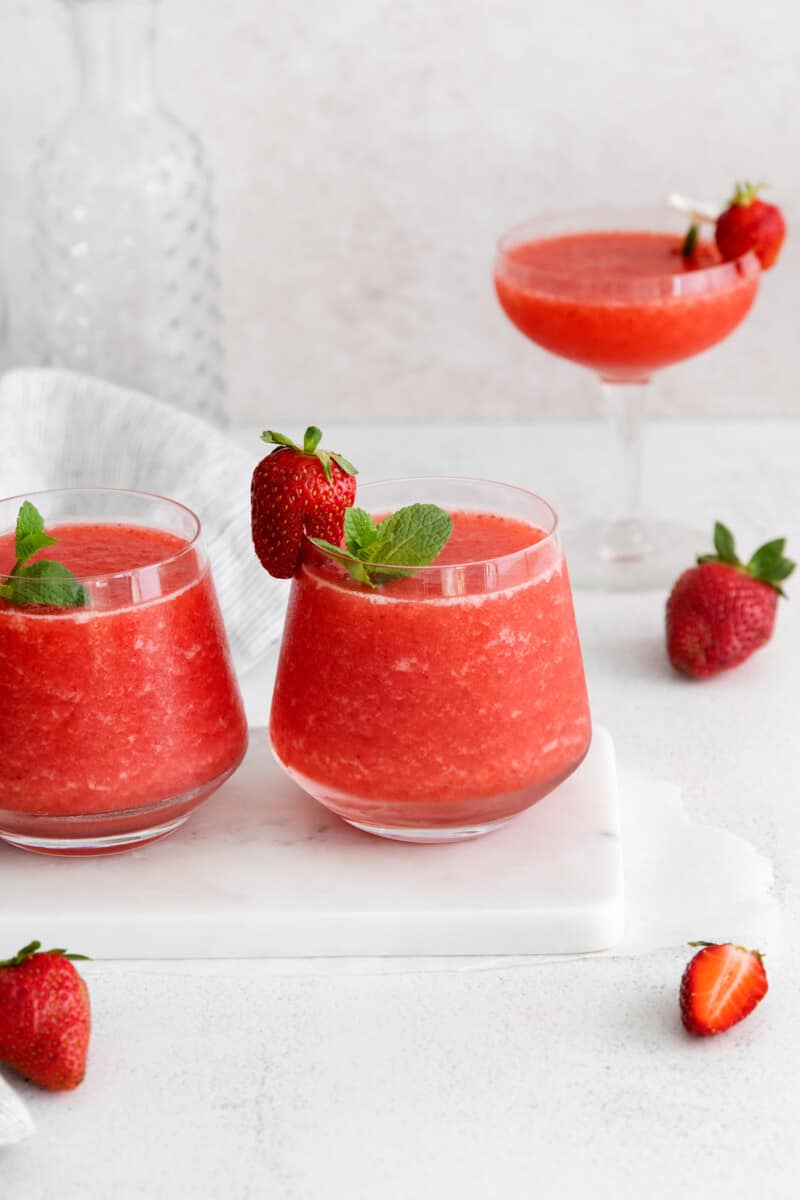 Make Ahead Instructions
Strawberry frosé can be made up to 4 hours ahead of time and stored in the freezer until ready to enjoy.
Freezing Instructions
Freeze leftover strawberry frosé in an ice cube tray until solid, about 6 hours. Transfer the cubes to a Ziplock bag and store for up to 3 months. Re-blend when ready to enjoy.
Variations
Feel free to add the sweetener if you like a sweeter rosé, or leave it out for a healthier, low-sugar cocktail.
For extra flavor (and alcohol), add ½ cup of vodka, peach schnapps, or triple sec in Step 1.
Use whatever fruit you have on hand, such as peaches, raspberries, cherries, pineapple, watermelon, or mango.
Frosé Garnishes
Here are some fun garnishes for your frosé cocktails!
A fresh strawberry, sliced ¾ of the way down the middle and set on the rim of the glass
Fresh mint leaves
Fresh or dried orange slices on the rim
A fun cocktail umbrella
Lemon or orange zest over top
A festive paper or metal straw
Strawberry Frosé is a simple summertime frozen cocktail that couldn't be any easier to make! Frozen strawberries, rosé, and the optional sweetener of your choice is all that's needed to blend up this warm weather staple. Cheers, friends!
If you make this recipe be sure to upload a photo in the comment section below or leave a rating. Enjoy! You can also jump to recipe.