This recipe shows you an easy way to make Blueberry Muffins with Pancake Mix! that's right, for this quick breakfast, you can use your favorite box of pancake mix to create the best homemade muffins. It's a great grab-and-go food for busy mornings, weekly meal prep, slow Sundays, and special occasions with the whole family.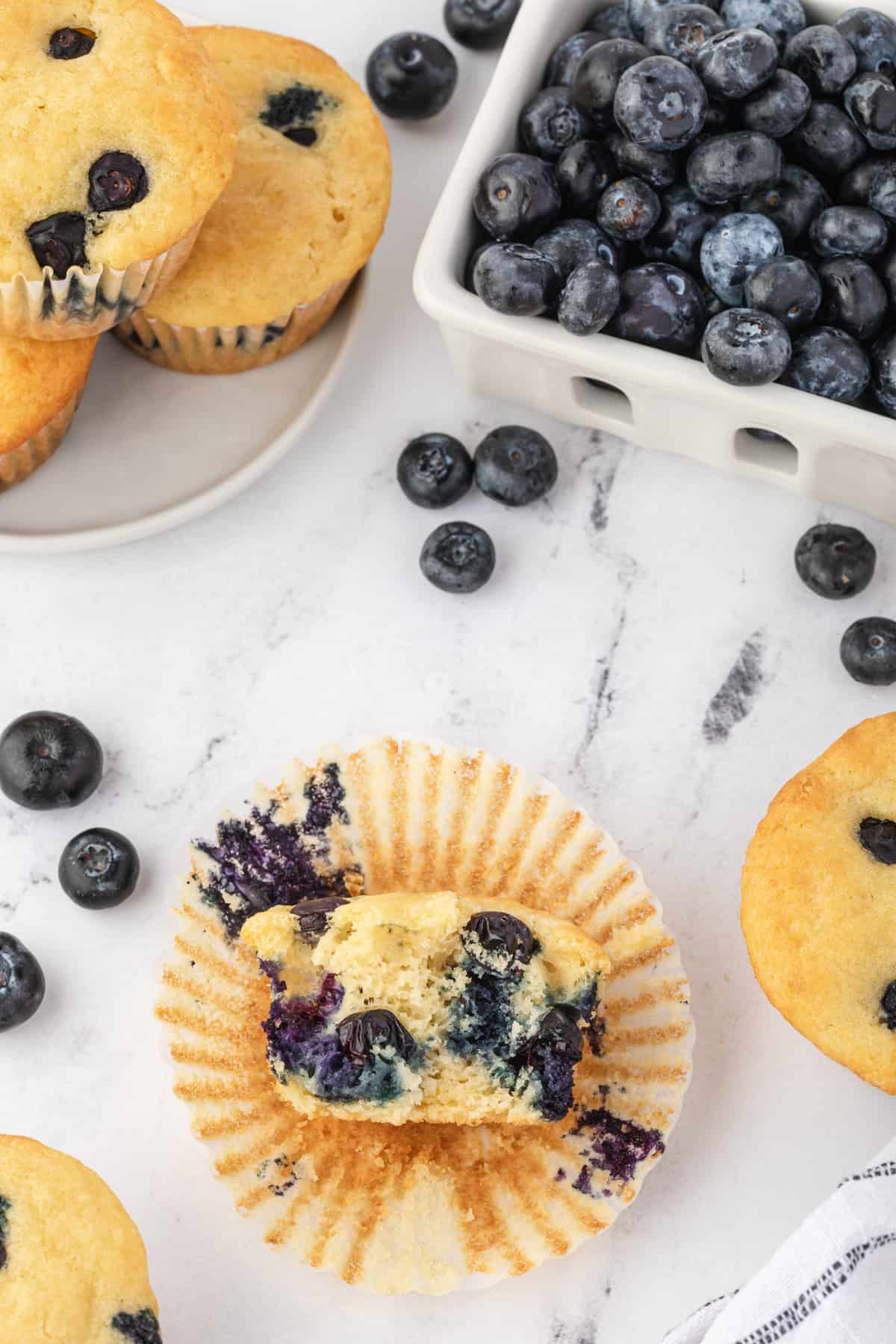 What's in Blueberry Pancake Muffins
The beauty of using a box of pancake mix is that you only need 4 ingredients to make these blueberry muffins!
Pancake Mix: Any pancake mix will work for this recipe. We're using blueberry, but choose your favorite!
Milk: Whole milk will make the richest muffins, but 2% or nonfat milk will work fine too.
Oil: This adds moisture to the muffins. Use your favorite baking oil, like canola oil or vegetable oil.
Vanilla Extract: The vanilla adds flavor that makes these muffins taste like they are scratch made!
Blueberry Pancake Mix Muffin Variations
There are so many different things you can do with these muffins!
Use ¾ – 1 cup of inclusions. You can even choose several different flavors and recipe variations and bake a few muffins of each type. Try chocolate chips, funfetti sprinkles, raspberries, strawberries, walnuts, bananas, or white chocolate chips.
Try making a cinnamon streusel topping! Add ½ teaspoon of ground cinnamon to the batter. Then measure ½ cup of all-purpose flour, ¼ cup packed brown sugar, ½ teaspoon of ground cinnamon, and 3 tablespoons of butter, cut into cubes.
Mix the flour, sugar, and brown sugar. Then cut the butter into the mixture until you have small crumbs. Sprinkle the streusel mixture evenly over the tops of each muffin cup. Each will get about 2 tablespoons of the streusel. Gently press the topping into the muffin batter, then back according to package directions.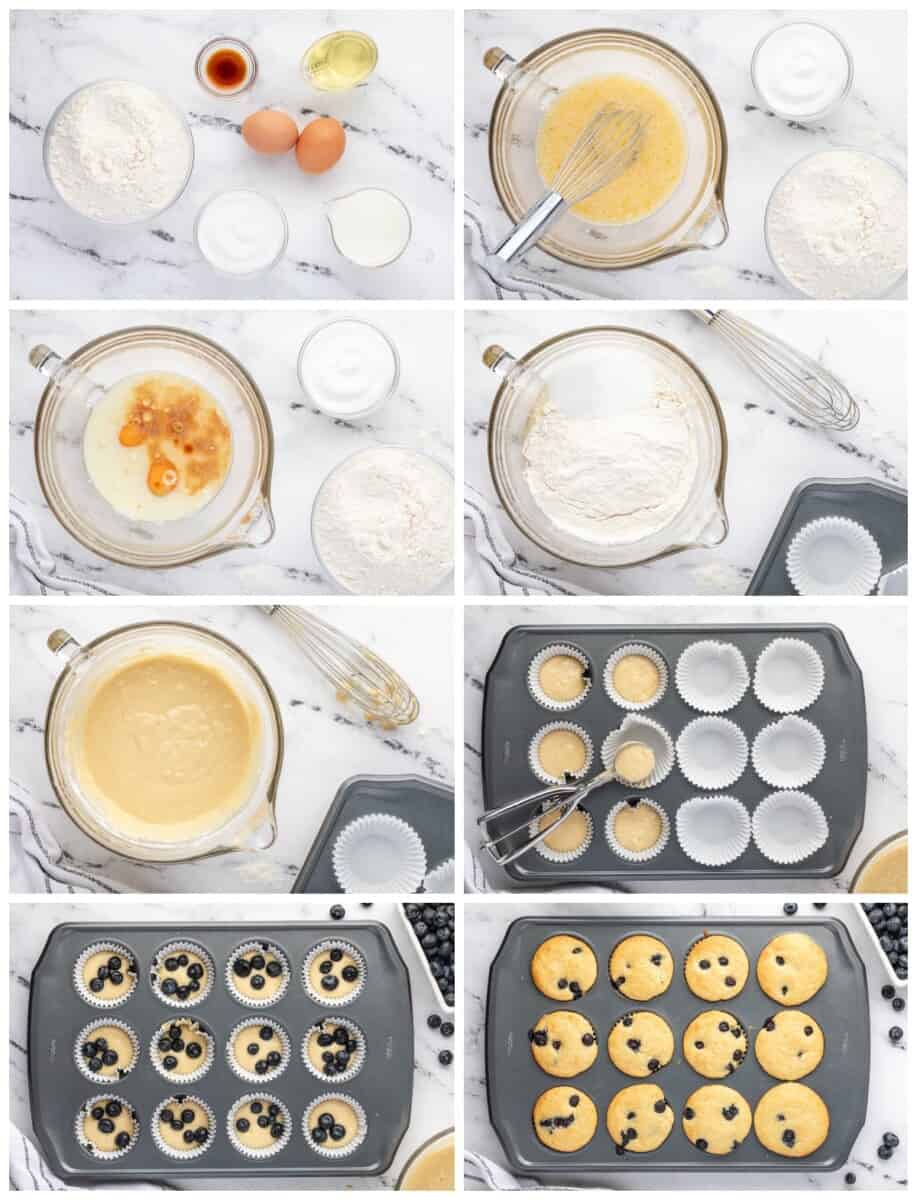 What kind of pancake mix should I use?
Any kind of dry pancake mix works great. I love Bob's Red Mill, Stonewall Kitchen, and Kodiak Cakes brands for this muffin recipe, but use your favorite.
Can I use the "just add water" pancake mix?
Yes, any boxed pancake mix will work, and you don't need to change the recipe at all for different types of mix! I have a slight preference for using the mix that just needs water added, as the muffins end up a little bit more moist than the basic pancake mix.
Do I prepare the pancake batter and use it in this recipe?
No. Use 2 cups of dry pancake mix in the muffin batter. Do not prepare the pancake mix!
What kind of milk should I use?
Any dairy or non-dairy milk works great. Use your favorite!
Can I make mini muffins?
Absolutely! Bake mini muffins at 350°F for 11-13 minutes, or until a toothpick inserted into the center comes out clean.
Can I use frozen blueberries?
Yes, you can use frozen blueberries for this blueberry muffin recipe, although I prefer using fresh blueberries. Frozen blueberries may tend to bleed into the batter and will color the batter. When using frozen blueberries, bake the muffins for up to 10 minutes longer. Baking times may differ depending on your oven, so make sure to check on the muffins periodically when baking.
What other add-ins can I use?
Use ¾ cup of your favorite add-ins like chocolate chips, chopped strawberries, sliced bananas, granola, dried fruits, chopped nuts, or sprinkles.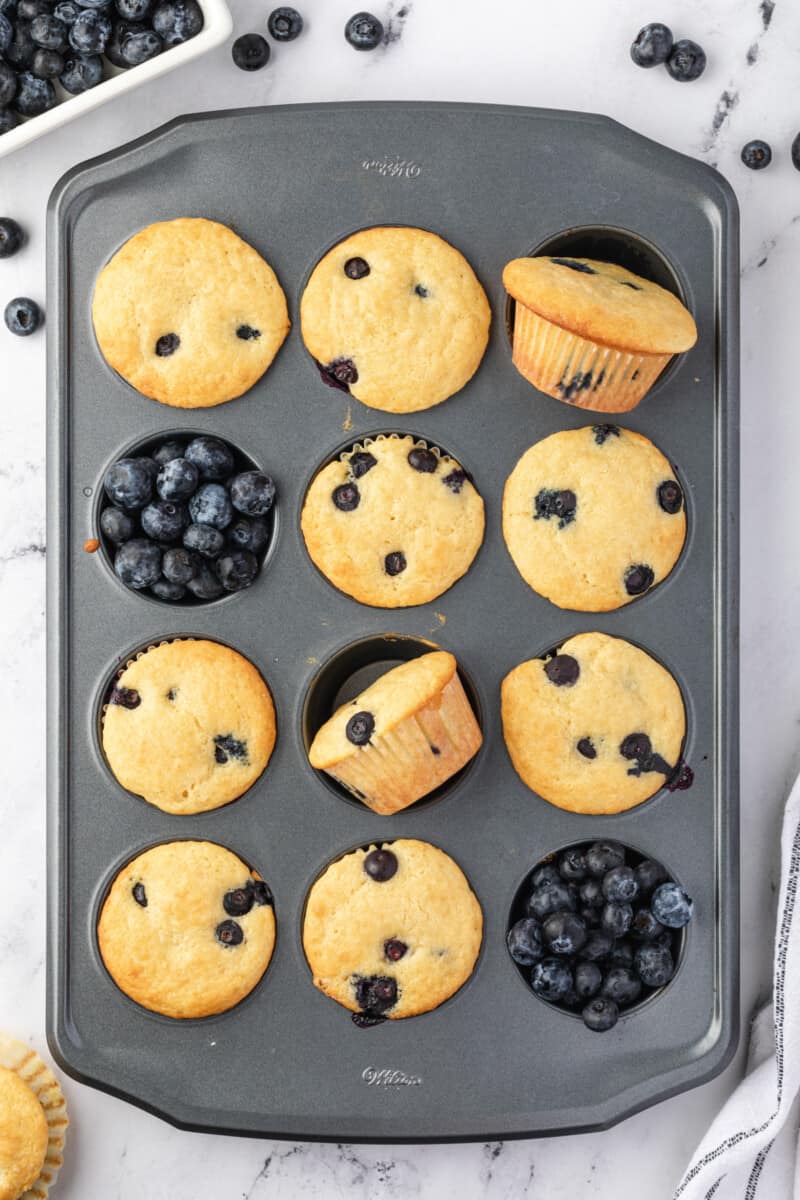 How to Store Pancake Mix Blueberry Muffins
Store leftover blueberry muffins in an airtight container at room temperature for up to 3 days or in the refrigerator for up to 5 days. Enjoy cold, warmed gently in the microwave, or toasted!
How to Freeze Pancake Muffins
These muffins freeze beautifully. Place them in an airtight container or resealable freezer bag and freeze for up to 3 months. Let thaw overnight in the refrigerator or in 30-second bursts in the microwave before enjoying.
Serving Suggestions
These delicious blueberry pancake mix muffins go great with all sorts of breakfast items and bakery-style treats. I love them with a Frozen Coconut Caramel Frappe, Chocolate Coffee, Creamy Green Smoothie, or Coffee Smoothie. They're also great paired with a sausage breakfast casserole, fresh fruit, bacon, or egg bites!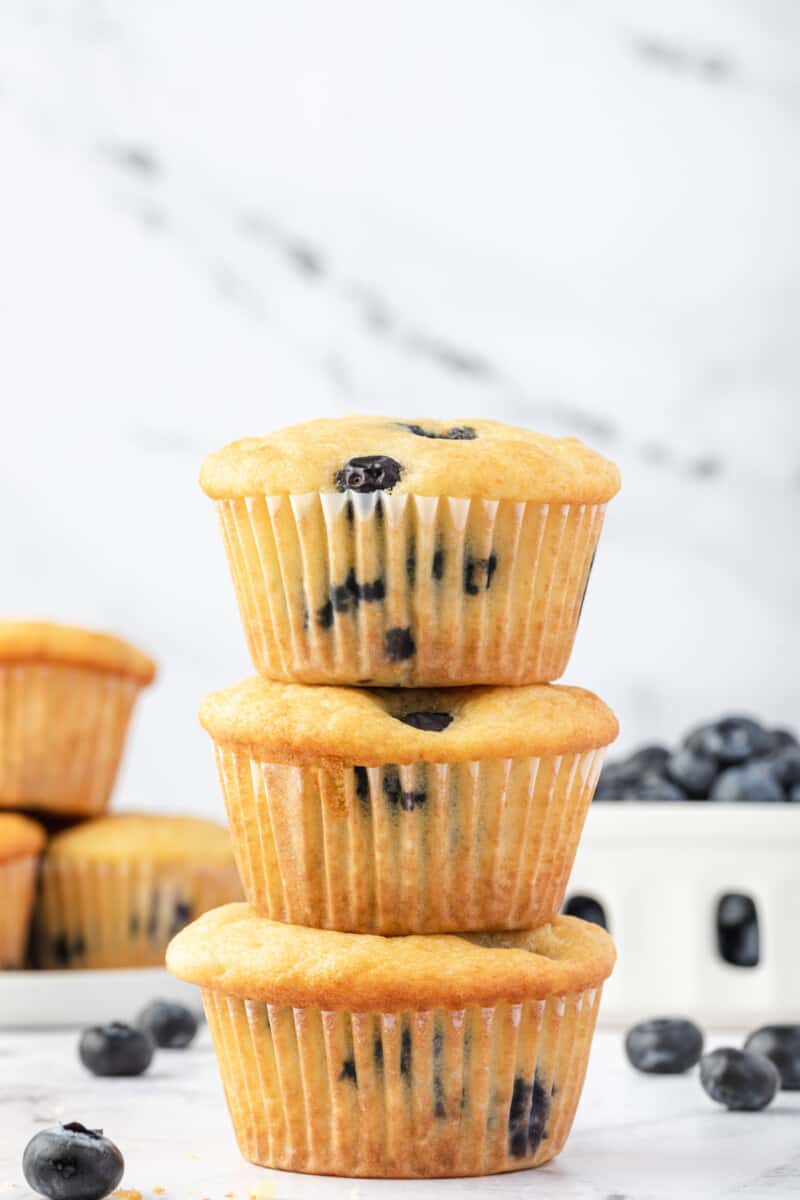 If you make this recipe be sure to upload a photo in the comment section below or leave a rating. Enjoy! You can also jump to recipe.