Strawberry Truffles are made flavorful with fresh strawberries and sweet white chocolate! They're perfectly coated in milk chocolate to really send them over the top. A decadent sweet treat that's truffle heaven and so easy to make for special occasions.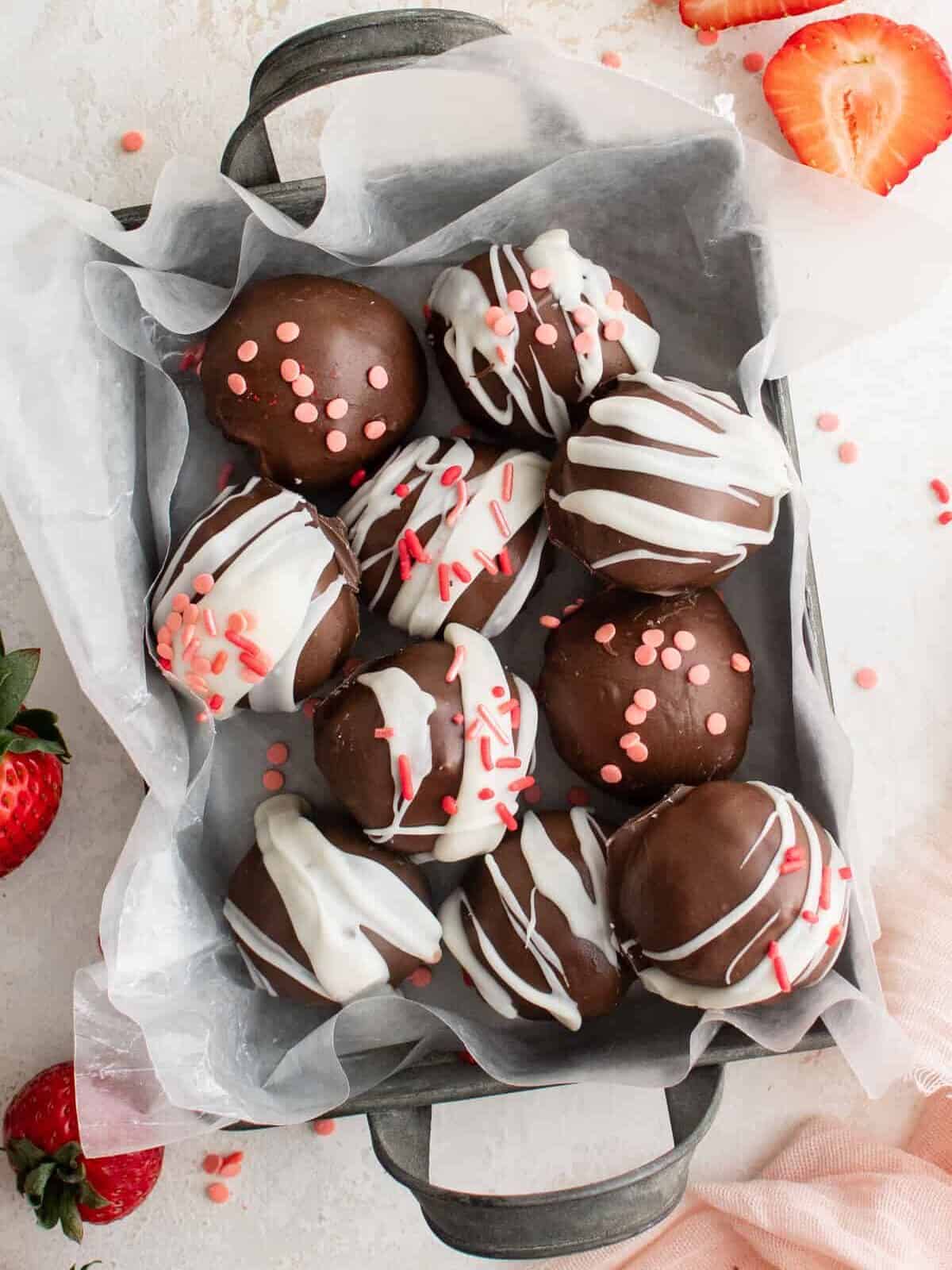 What's in Strawberry Chocolate Truffles
Creamy white chocolate mixed with wonderfully sweet and tart strawberries, encased in milk chocolate…every element of these chocolate truffles is pure bliss!
White Chocolate Chips: Feel free to add a few drops of red food coloring to give the melted white chocolate a pink or red appearance.
Heavy Cream: Do not substitute this ingredient with any other dairy product.
Strawberries: Fresh strawberries are always the most flavorful, but you can substitute frozen berries if needed. Just be sure to fully defrost them first.
Pure Vanilla Extract: You can use imitation if that's what you have on hand, but you'll be missing out on rich vanilla flavor.
Kosher Salt: Just the tiniest pinch.
Milk Chocolate Melting Wafers: Have any extras? Use them to make some adorable Princess Leia Oreo Truffles!
Some of my favorite toppings for these strawberry truffles include red or pink sprinkles, crushed freeze-dried strawberries, and of course some melted white chocolate for drizzling!
Chocolate Truffles Variations
For vegan truffles, use coconut cream and vegan chocolate.
For chocolatier truffles, use milk or semisweet chocolate in place of the white chocolate and use dark chocolate in place of the milk chocolate.
For raspberry truffles, replace the strawberries with raspberries.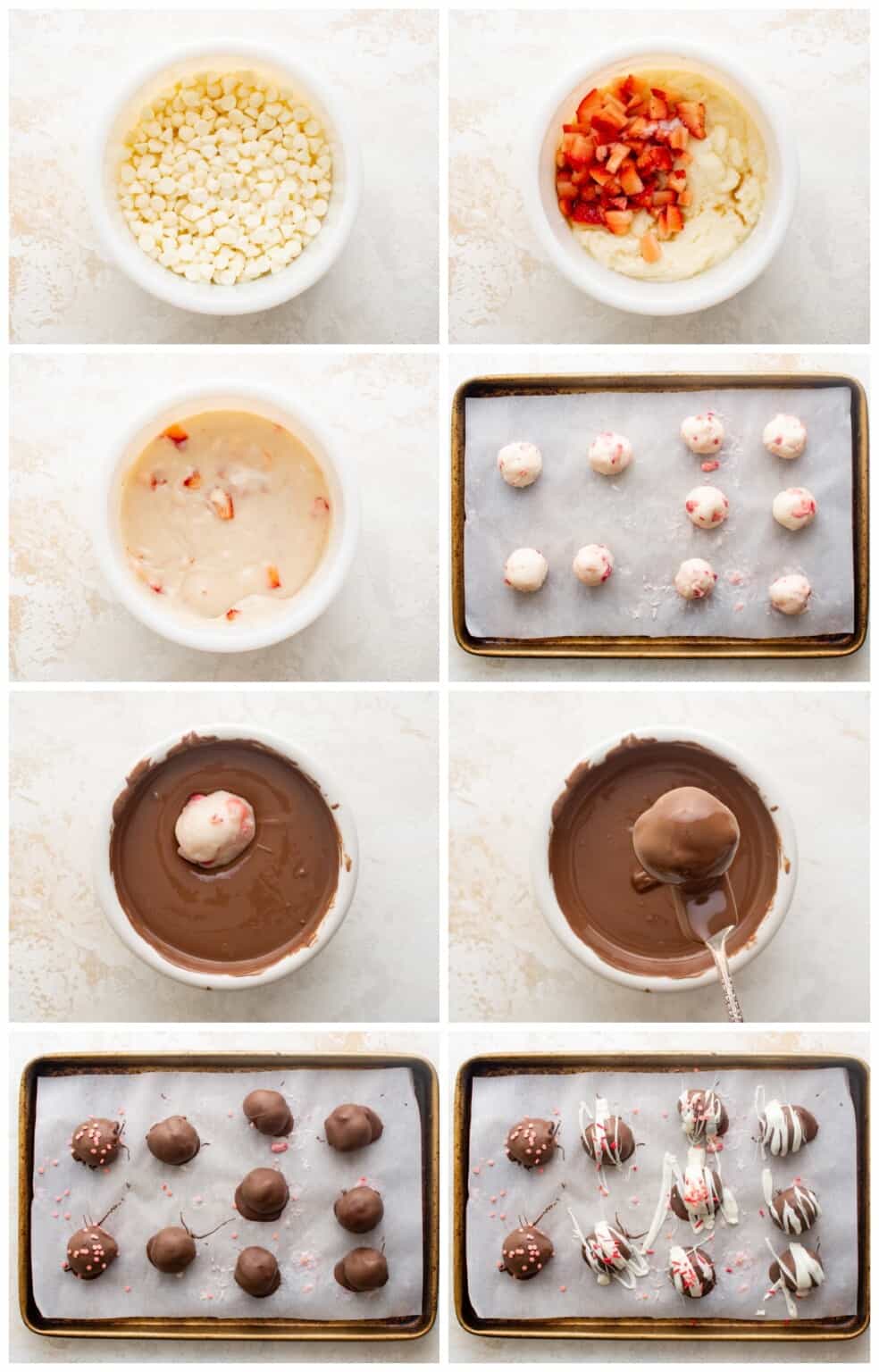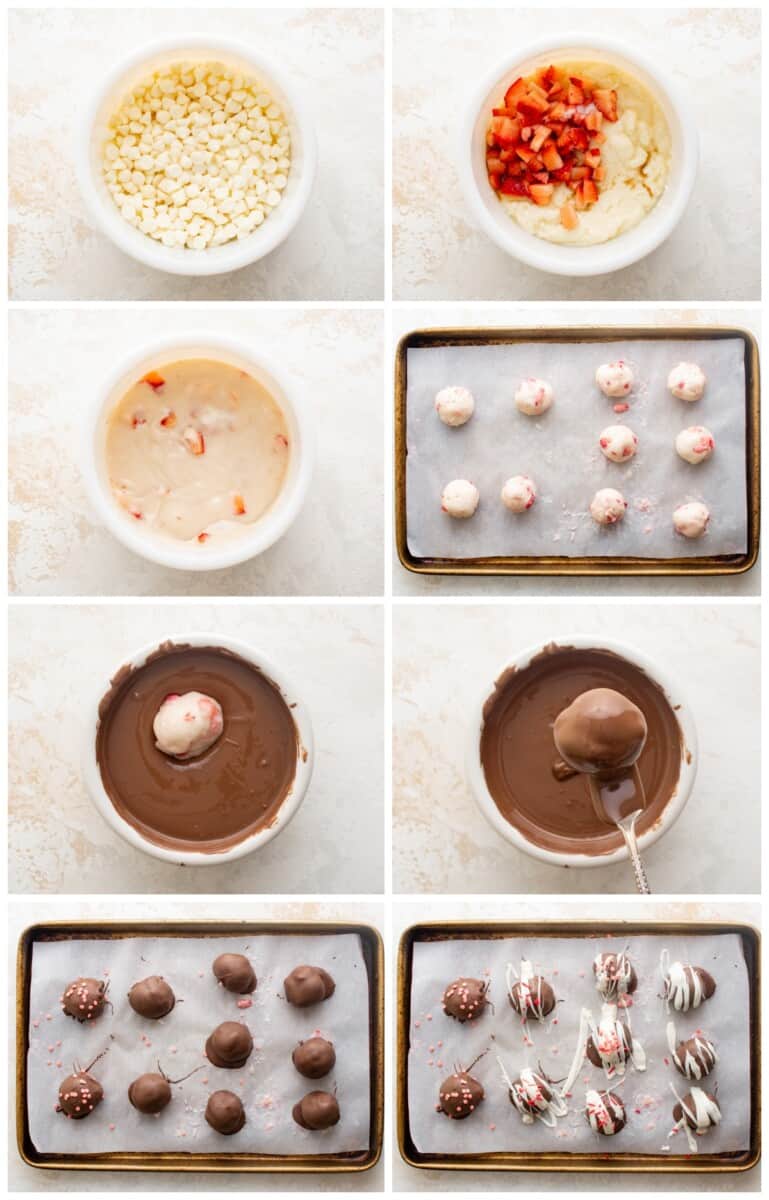 How do you thicken ganache?
A properly-made ganache should not need to be thickened. However, if your ganache is too runny, you can thicken it by either adding more chocolate or chilling it for up to 2 hours.
What's the best way to shape truffles?
I like to use a cookie portion scoop to get even-sized truffles, then roll them into balls between my palms.
How do I keep truffles from melting?
The best way to keep strawberry truffles from melting is to store them in the refrigerator until you're ready to enjoy them. You can enjoy them cold or let them come to room temperature for that melt-in-your-mouth truffle experience.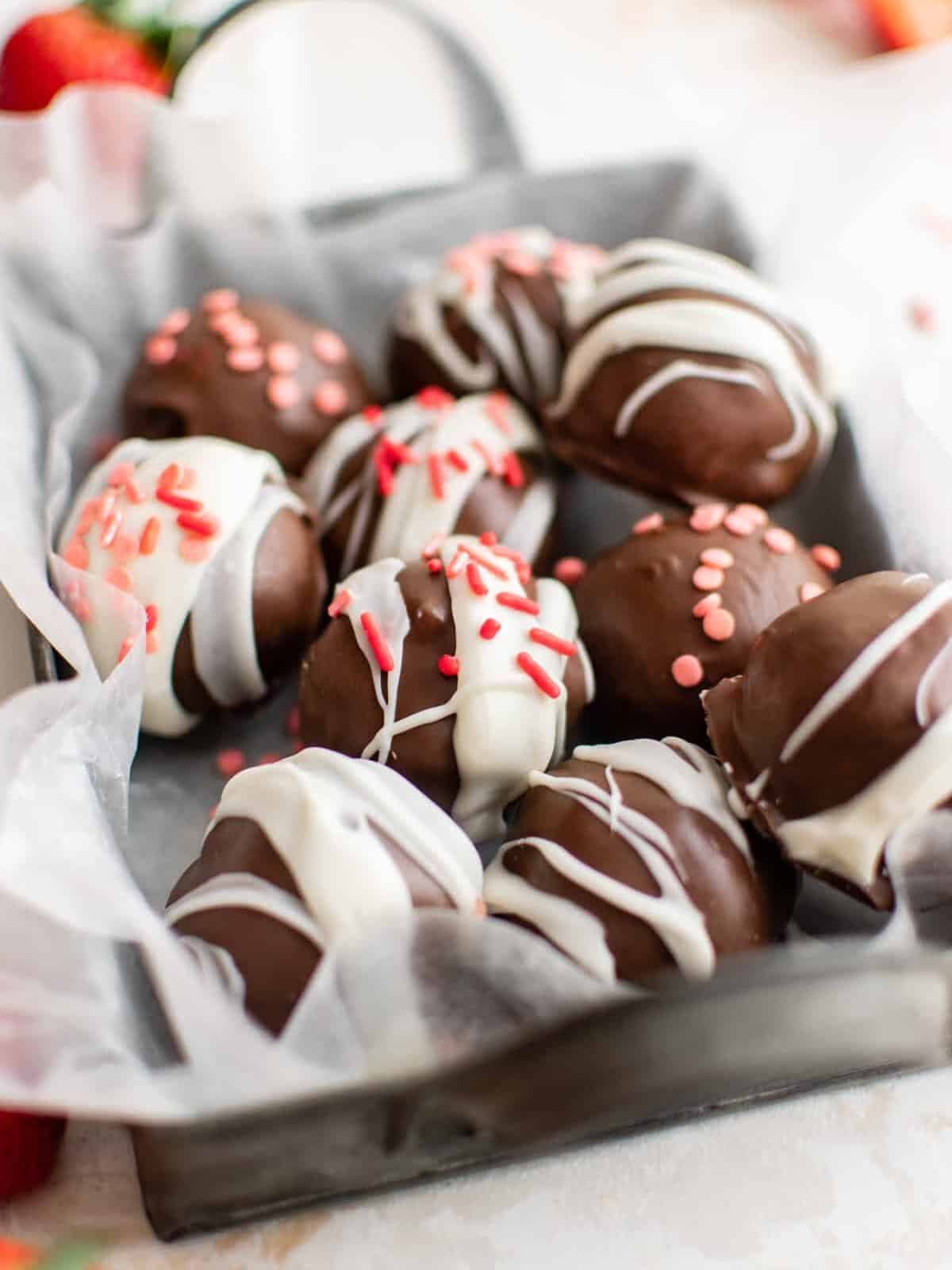 How to Store Strawberries and Cream Truffles
Store leftover strawberry truffles in an airtight container in the refrigerator for up to 4 days. Enjoy cold or let them come to room temperature for 30 minutes for the melt-in-your-mouth truffle experience.
How to Freeze White Chocolate Strawberry Truffles
To freeze strawberry chocolate truffles, lay them in a single layer (without touching) on a lined baking sheet and freeze until solid. Transfer to an airtight container or resealable bag for up to 3 months. Let come to room temperature for about 1 hour before enjoying.
How to Serve Milk Chocolate Strawberry Truffles
These two bite treats make the cutest gift! Hand them out to friends and loved ones as a Valentine's Day treat or any other time you want to sweeten someone's day. You can also pierce them with a lollipop or popsicle stick for a portable treat!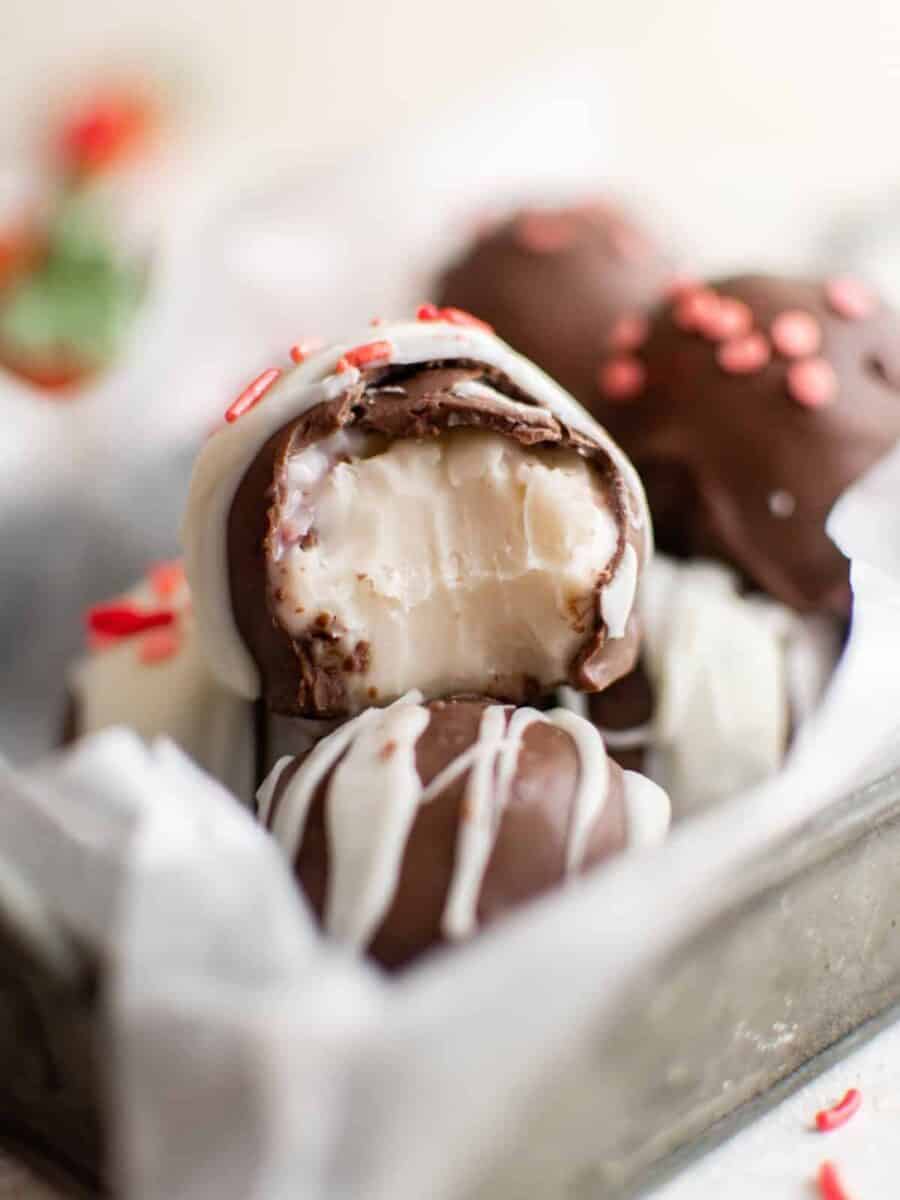 More Strawberry Dessert Recipes We Love