Strawberry Brownies are the perfect mix of sweet, fruity, light strawberry flavor and rich, delicious chocolate. You've got the flavor of chocolate covered strawberries in brownie form! This easy brownies recipe is a delectable dessert that everyone will devour!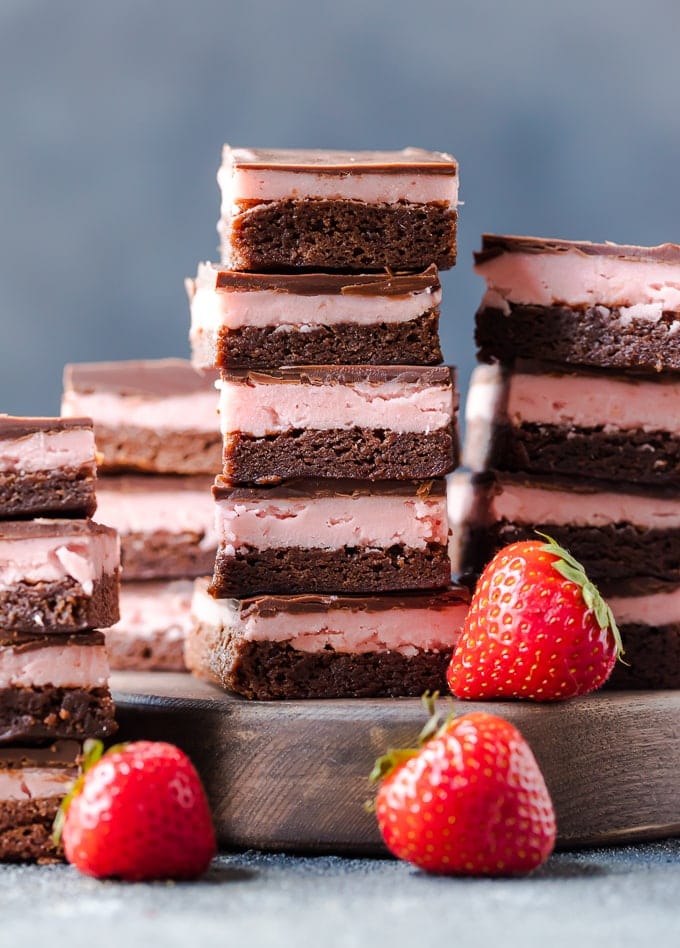 Strawberry Brownies Recipe
This strawberry brownies recipe is a sweet and chocolatey dessert made for every occasion. A layer of chocolate and a layer of creamy strawberry filling are the perfect match!
I have a true love for anything chocolate, and a bit of a soft spot for strawberry too. So combining the two flavors in this strawberry brownies recipes is almost like heaven! Inspired by chocolate covered strawberries, this easy brownies recipe is just so delicious.
These Chocolate Covered Strawberry Brownies are a dream. Start by baking a layer of traditional chocolate brownies, then add a layer of cool and creamy strawberry filling, and top it off with a thin layer of melted chocolate for the final touch.
Just like chocolate dipped strawberries, but better. Yes BETTER, because you get the same flavor but you also get a brownie. Nothing is better than fresh, soft baked brownies.
These strawberry brownies would make a beautiful Valentine's Day treat! But they'd be just as fun to bake for holidays, parties, or just because any day is a good day for a batch of brownies.
Try this Chocolate Covered Strawberry Brownies recipe for a Valentine's treat or any time you're craving the flavor of a chocolate dipped strawberry!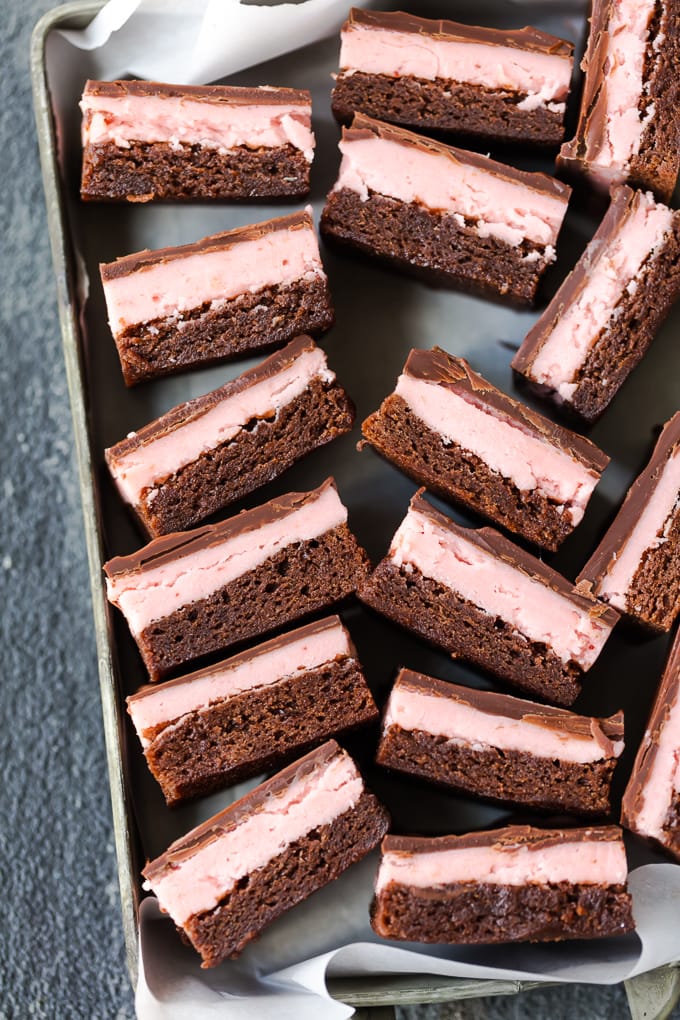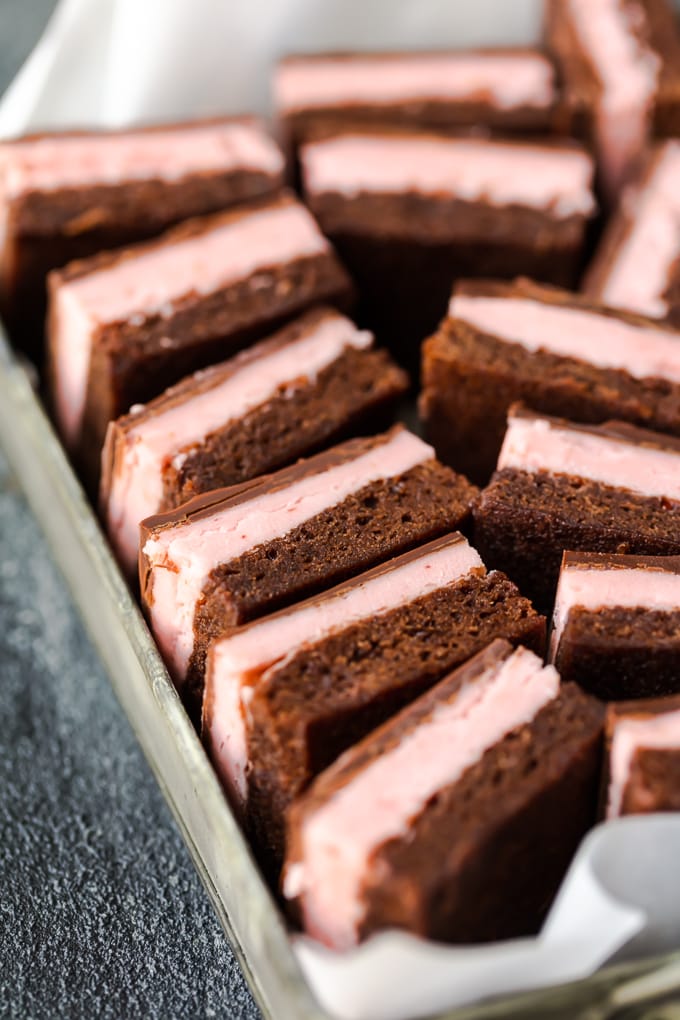 Chocolate Covered Strawberry Brownies
Chocolate Covered Strawberries are a Valentine's Day classic. You get the beautiful, fresh red strawberries dipped in deliciously melted chocolate, and that crispy cool bite after setting them in the refrigerator. Now don't get me wrong, those are SO GOOD.
I love a good chocolate dipped strawberry. But you know what's even better? That same amazing taste in the form of a soft brownie.
This Chocolate Covered Strawberry Brownies recipe is the perfect mix of chocolate and strawberry, with a soft, fresh brownie later and a creamy strawberry layer.
And you get that hard chocolate layer to top it off! I will definitely be serving these up next Valentine's Day.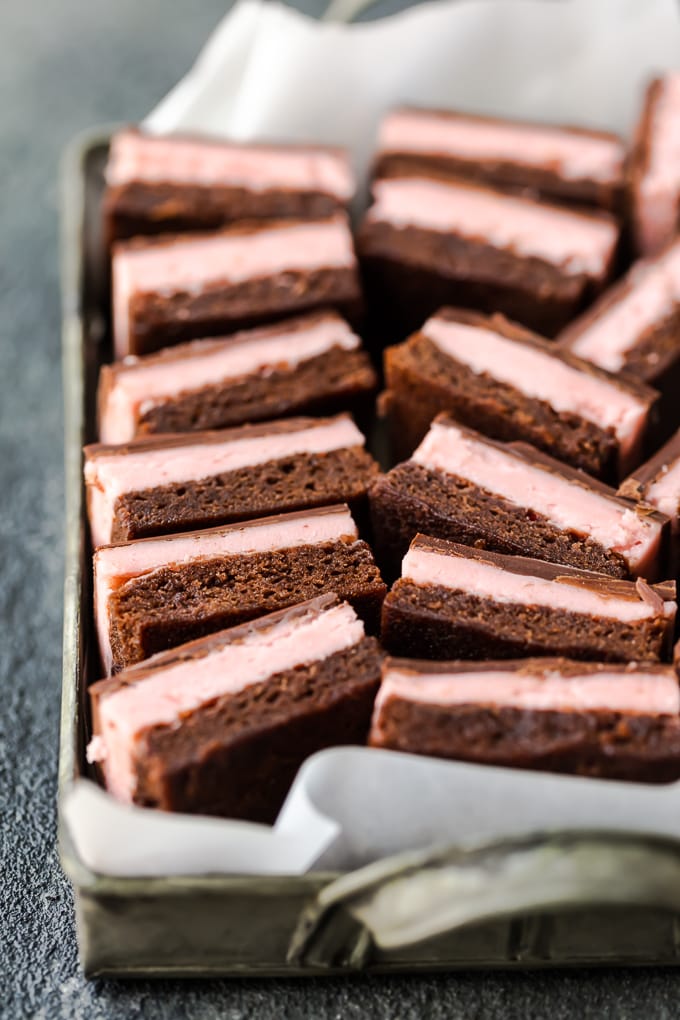 How to Make Strawberry Brownies
This easy brownies recipe is a lot simper than it looks. You start by baking the brownie layer, then make the strawberry filling to add in next, and top it off with the layer of melted chocolate.
You will have to factor in some time for the cooling process while the layers set, but other than that, this is a pretty quick and easy recipe.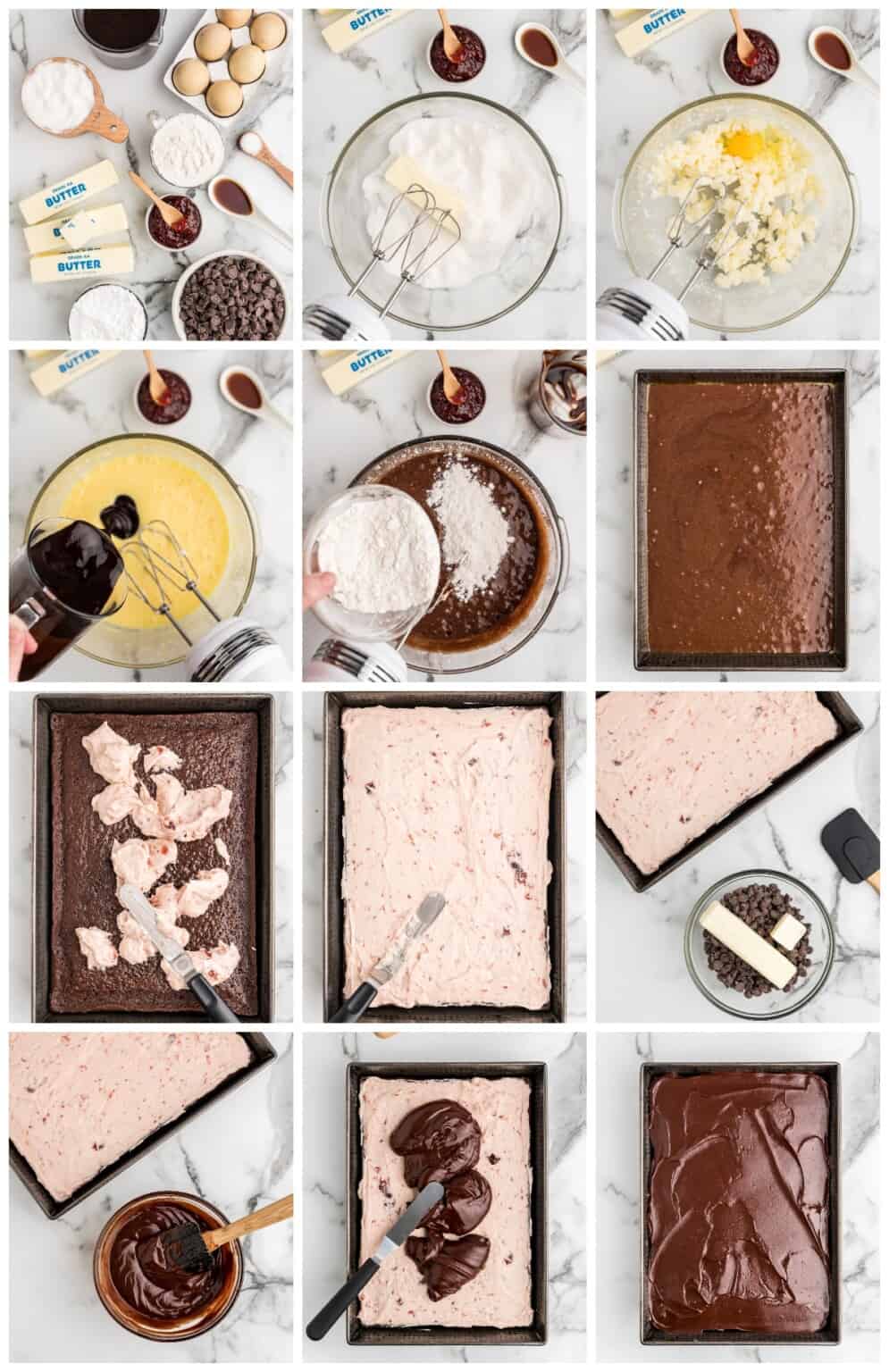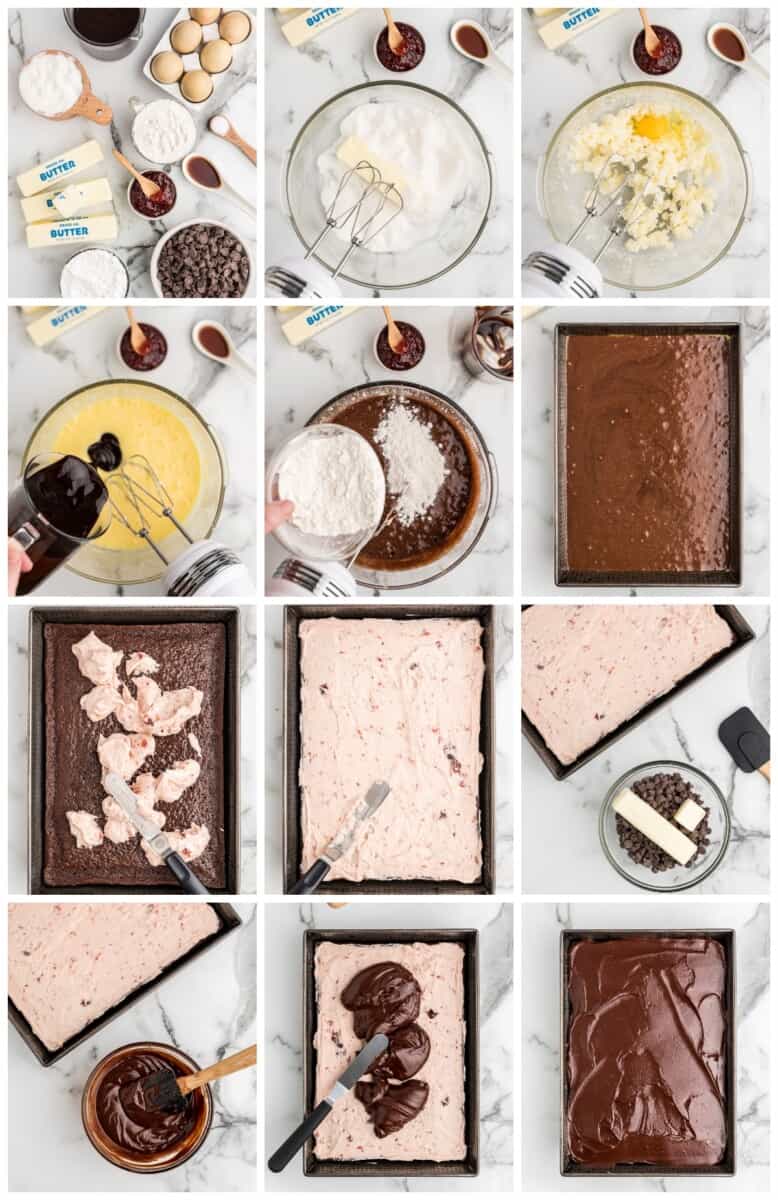 How to make chocolate covered strawberry brownies:
Prepare the brownie layer – After properly combing your ingredients, you'll pour the mixture into a 13×9 inch baking pan. Bake the brownies for 30 minutes at 350°F.
Make the strawberry filling – While the brownies are cooling, combine your ingredients to create the strawberry filling. Spread a layer of it over the brownies once they have cooled. Cover and set in the refrigerator.
Top it off with chocolate – While the brownies set in the refrigerator, melt butter & chocolate chips together and mix well. Let the mixture cool for at least 30 minutes. Then spread a layer of the chocolate on top of the strawberry layer.
Place the brownies back in the refrigerator until everything has set.
These strawberry brownies are just so delicious! You can store them in the refrigerator for up to 1 week if you have extra. Check the recipe card for full details and instructions.
If you like this caramel brownies recipe, try some of our other favorites brownies: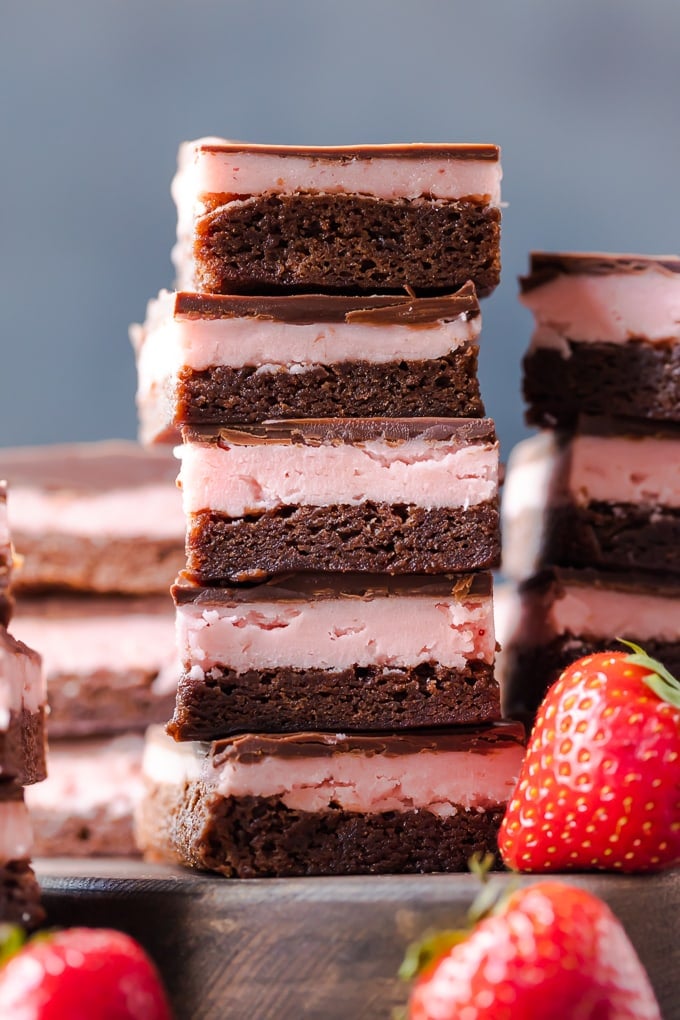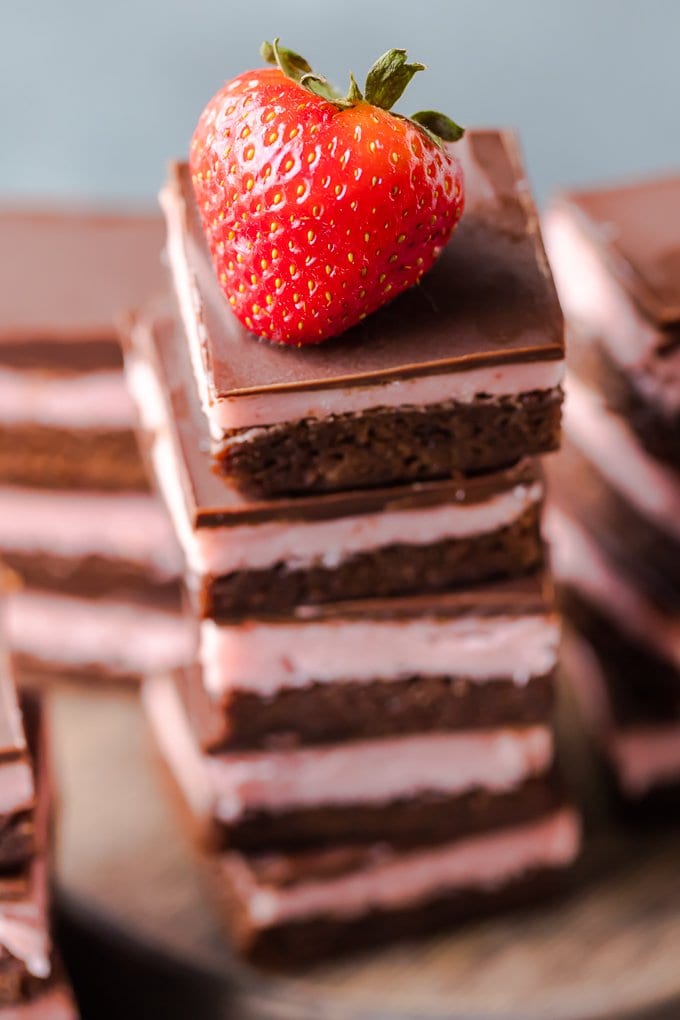 This Chocolate Covered Strawberry Brownies recipe is a real winner! The best blend of chocolate and strawberry in one delicious dessert. This easy brownies recipe is perfect for Valentine's Day, Easter, or any time you need a dose of chocolate.
If you like these strawberry brownies, you'll love these other dessert recipes too:
If you make this recipe be sure to upload a photo in the comment section below or leave a rating. Enjoy! You can also jump to recipe.