Chocolate Truffles are a must make recipe for any chocolate lover. This Easy Chocolate Truffles Recipe is made with only 5 ingredients and has a unique and amazing flavor. If you've wondered how to make chocolate truffles, this recipe is for you. Softer than fudge, bite-sized, and utterly perfect, you simply can't miss these homemade truffles.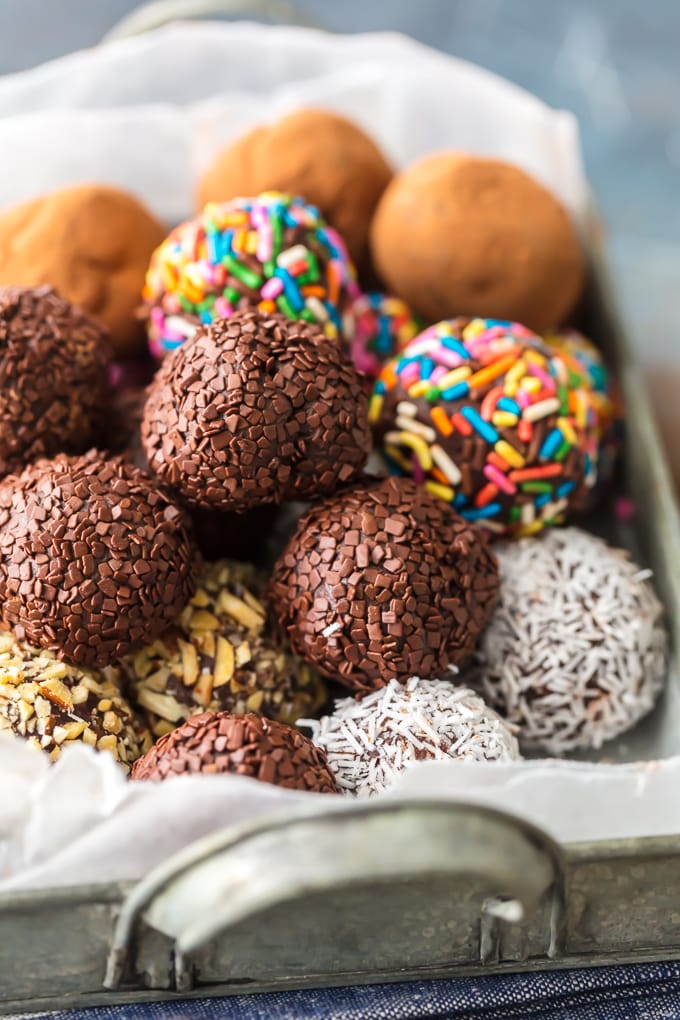 Chocolate Truffles
If you love chocolate as much as I do, then this easy chocolate truffles recipe is about to change your life! Learn how to make chocolate truffles at home, so you can have a special treat anytime.
This Chocolate Truffle Recipe is everything I want in a dessert. It's EASY, it's small enough to slip by as guilt-free, and it doesn't require any baking!
I love that you can make these homemade truffles in almost any flavor you can dream up and that they are 100% foolproof. These easy Chocolate Truffles are the perfect sweet treat to make for your sweetie as a Valentine's Day treat!
They're also great for a crowd at Christmas…but let's be honest, they're pretty awesome year-round, and I encourage you to make them for no reason at all. Sometimes we just need a little chocolate in our lives!
Indulge in homemade chocolate truffles any time. Whether it's a special occasion or just a regular old Monday, you deserve this chocolatey treat!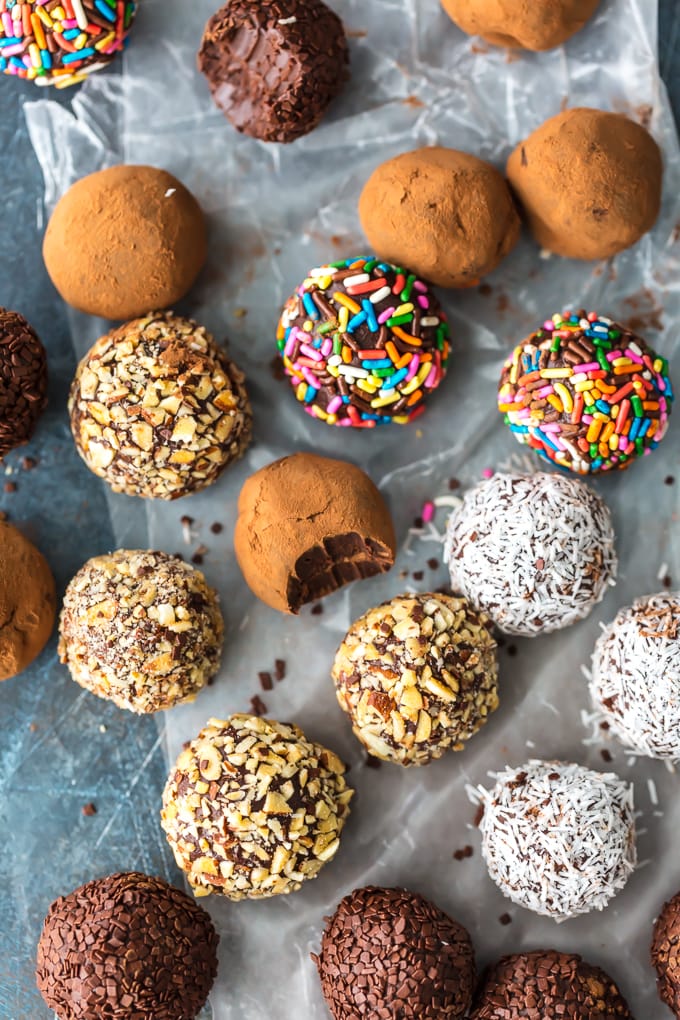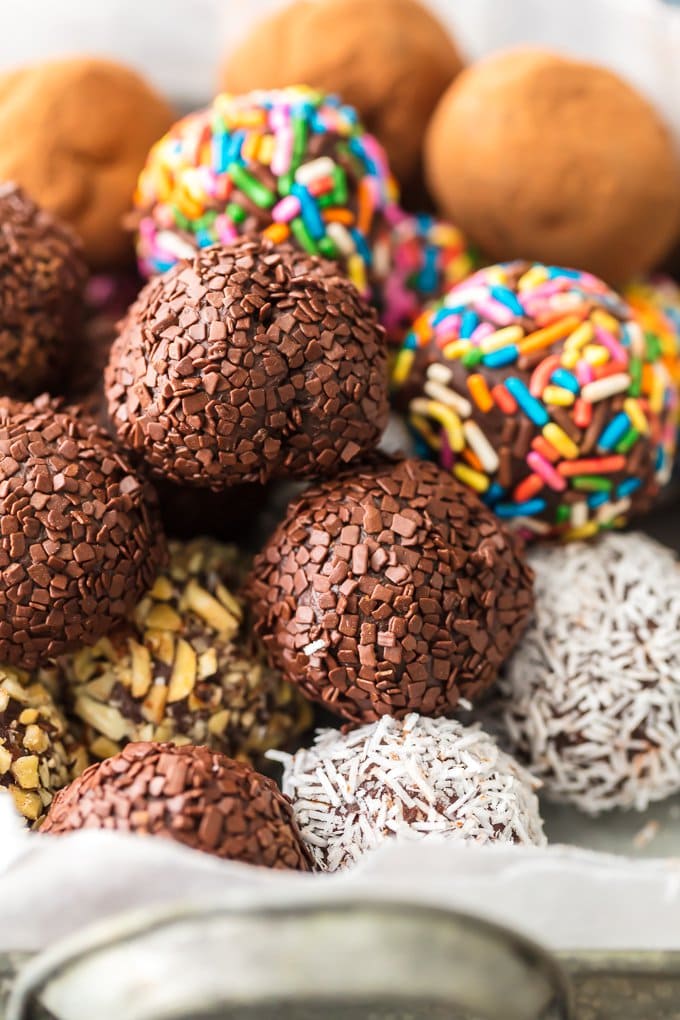 What is a Chocolate Truffle?
Chocolate Truffles are a type of chocolate confection made with a ganache (cream and melted chocolate) center and coated with whatever you choose.
Traditionally, chocolate truffles are coated in things like cocoa powder and chopped nuts, but the sky is the limit! You can coat them with whatever you want, even making each one unique.
The reason they're called chocolate truffles is because they resemble truffle mushrooms. But don't worry, there are no mushrooms in these tasty little chocolate treats.
Easy Dessert Recipe
I never thought I'd be making chocolates at home. I mean, baking is intimidating enough; the idea of making fancy chocolate you typically buy at a specialty shop?
That seemed a bit crazy to me. But this EASY chocolate truffles recipe has changed my mind. This recipe is actually much easier than baking!
Sure, we're not literally making chocolate. I'll definitely leave that to the chocolatiers of the world. But I am so happy that I can now make my own chocolate treats with these homemade truffles.
Those Valentine's Day chocolates are going to feel way more special when you make them yourself (or casually send this recipe to your significant other so THEY can make them for YOU).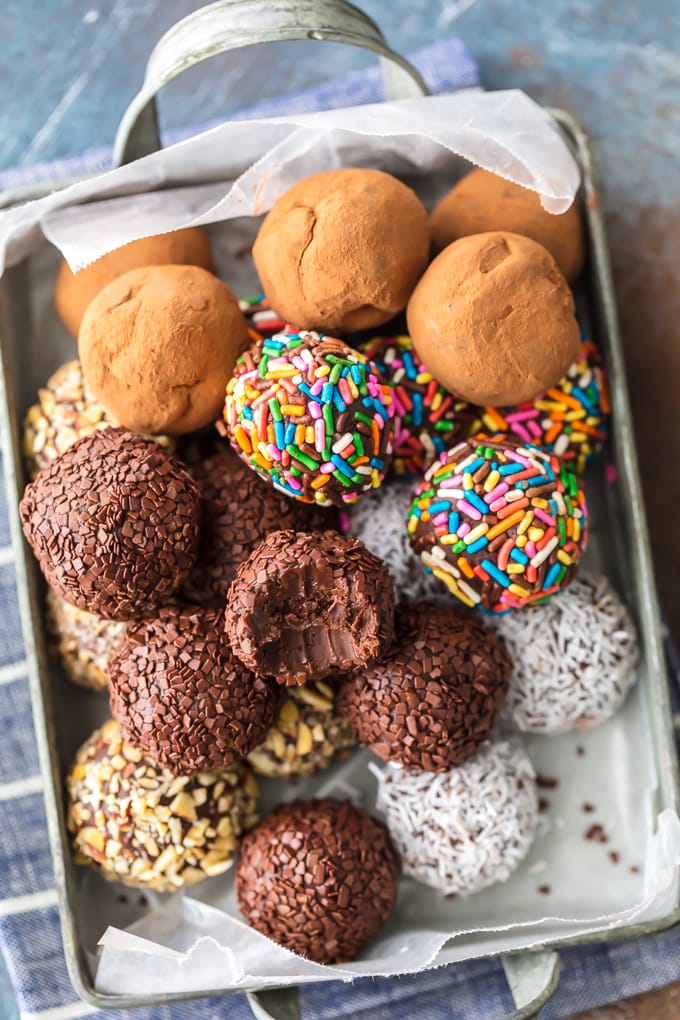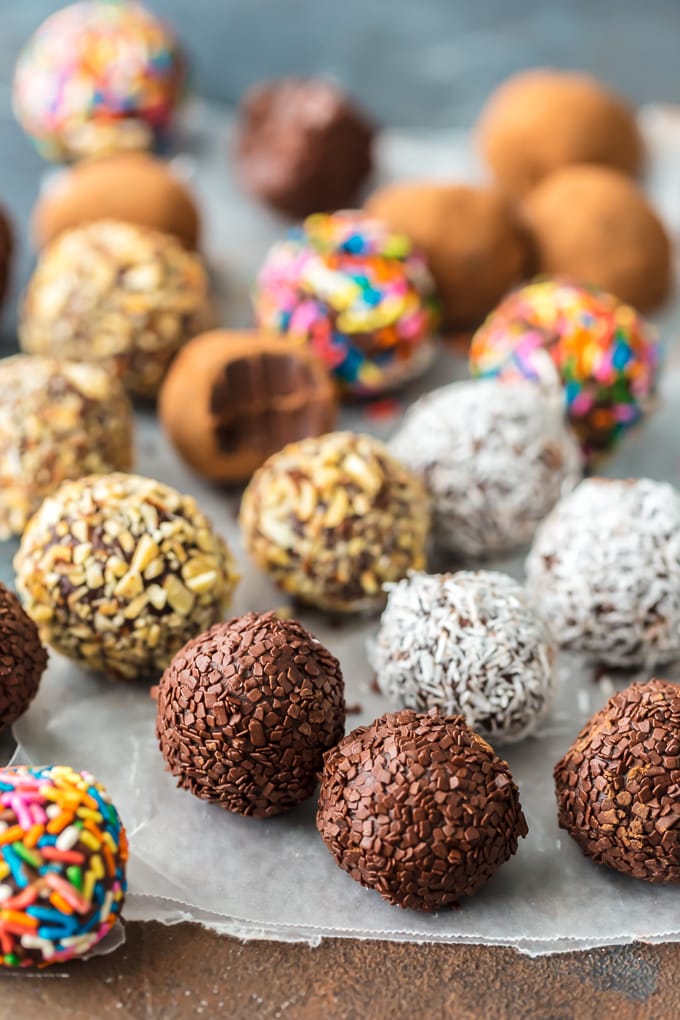 How to Make Chocolate Truffles
My favorite thing about this chocolate truffle recipe is the fact that you can make every single one unique if you want to. Add whatever toppings/coating you prefer and have fun with it.
You can roll in sprinkles, chopped nuts, cocoa powder, coconut flakes, chocolate shavings, anything.
You can also add in different flavor extracts to really change things up. I made this batch with orange liqueur, but next time I plan to use strawberry extract. Chocolate Covered Strawberry Truffles, anyone?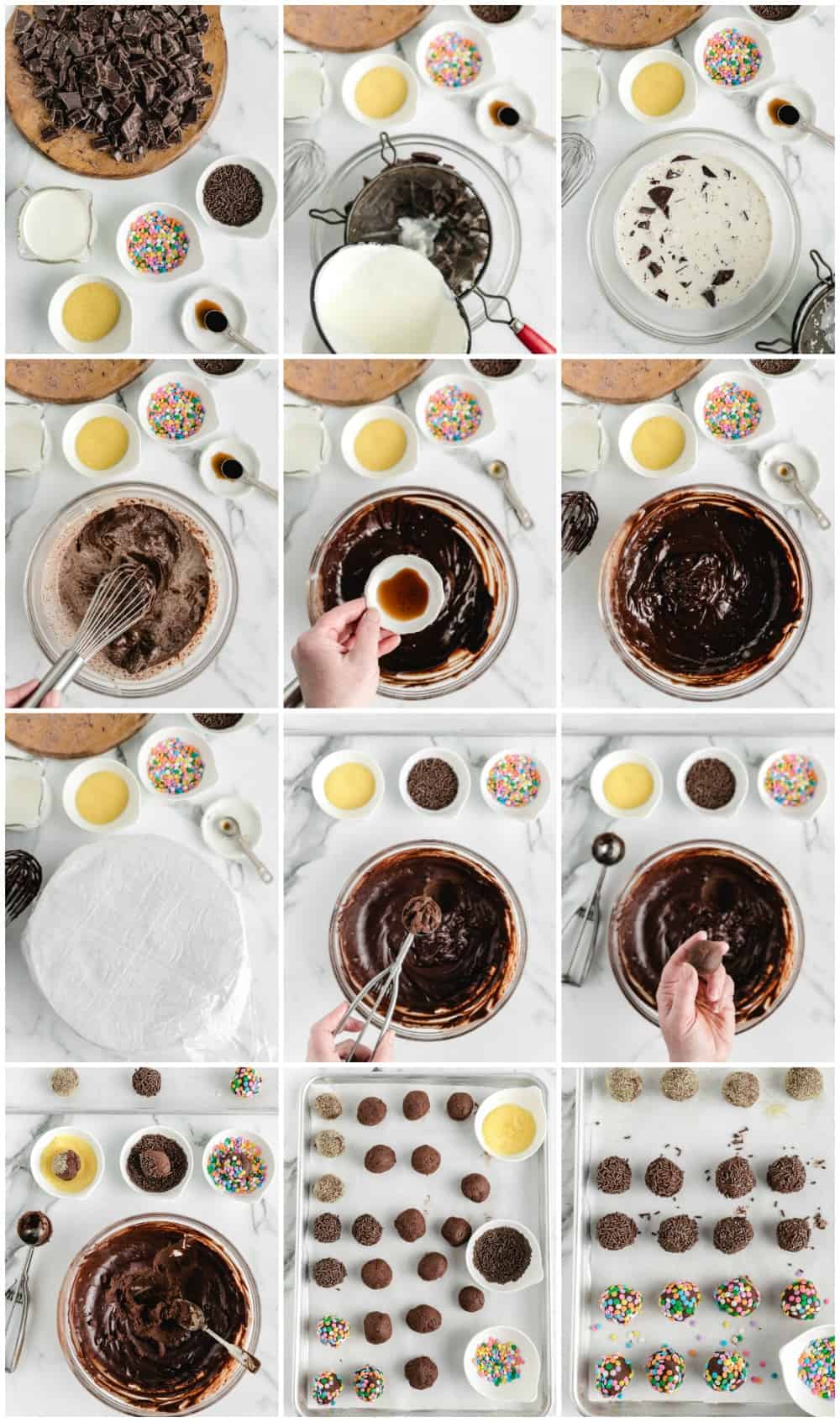 Step by Step Instructions:
You can jump to the recipe card for full ingredients & instructions!
Chop up the chocolate and place the pieces in a heat-safe bowl.
Heat up the heavy cream on the stove, just until it starts to boil. Then pour it through a fine-mesh sieve, into the bowl of chocolate.
Whisk the cream and chocolate together until melted and smooth, then stir in the vanilla extract (and liqueur if using).
Place the chocolate in the refrigerator for about an hour.
Spoon balls of the chocolate, and roll them into shape, then roll them into your preferred toppings.
You can keep these in the refrigerator. Be sure to store in an airtight container.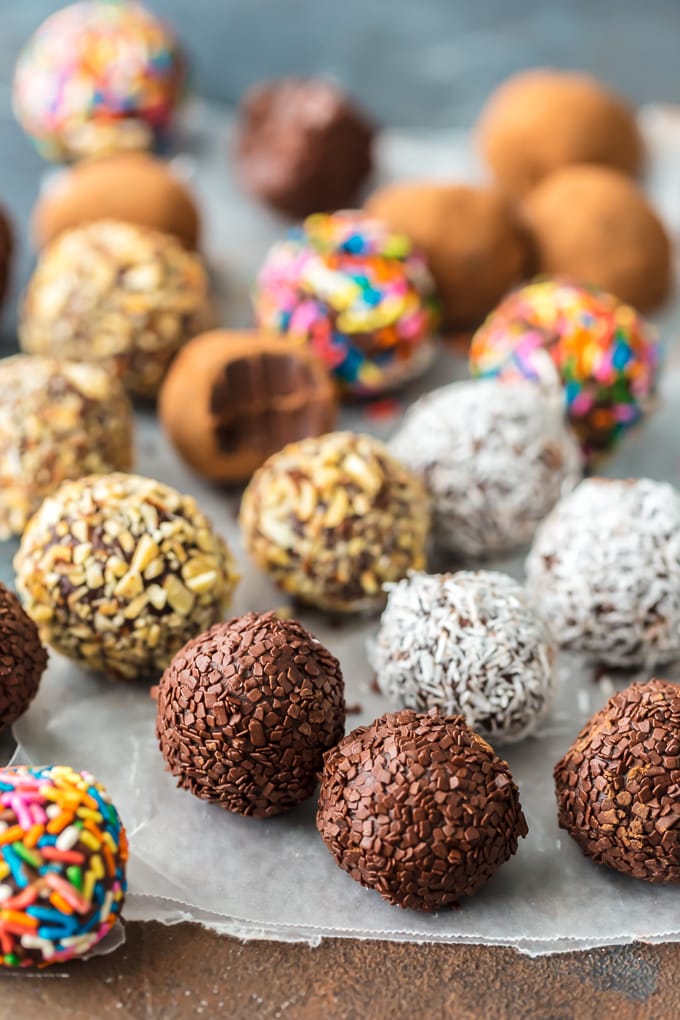 Storing Instructions
These chocolate truffles will keep for 3-5 days on your counter in an airtight container. Or keep them in the fridge for up to 2 weeks.
I think they are best served at room temperature (so they get just a little bit soft and melty), but you can keep them cool until about an hour before you're ready to serve, and then take them out of the refrigerator. I cannot wait for you to try these!
Easy Chocolate Dessert Recipes
This easy chocolate truffle recipe is just one of many delicious chocolate dessert recipes here on the site. I'm a big chocolate lover, so I'll take it in any form I can get.
These homemade truffles are just amazing! But chocolate cakes, pies, and cookies are welcome around here too.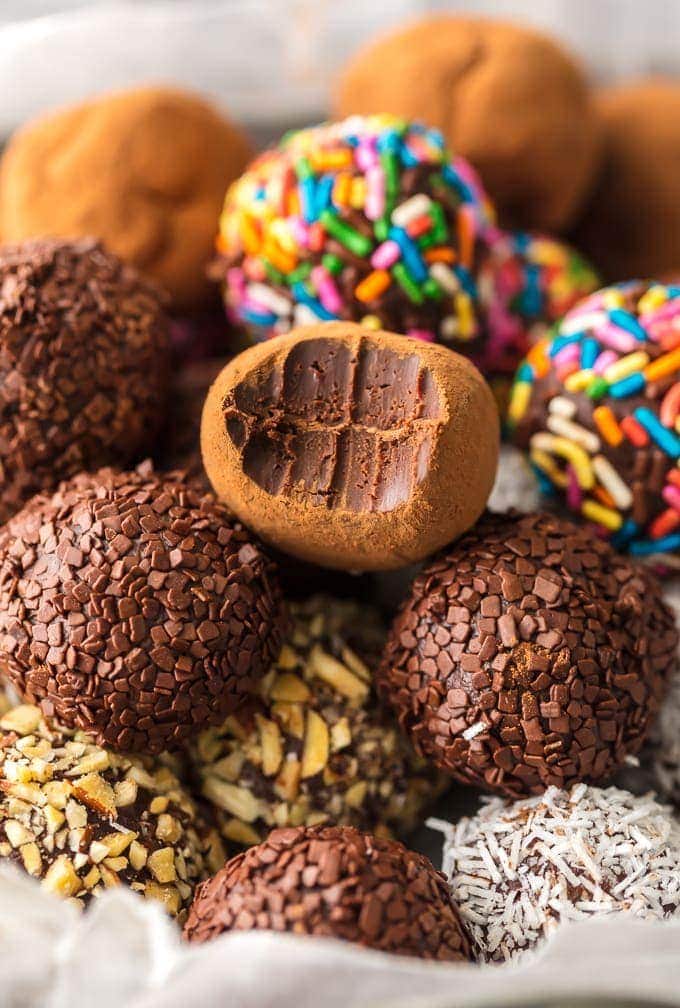 More Chocolate Desserts
These Chocolate Truffles are just one of our favorite chocolaty desserts. After you devour these, be sure to check out some of our other go-tos.
See All Chocolate
I hope you love this recipe as much as we do. These Chocolate Truffles are a must-make for any chocolate lover. They're just too easy not to try. Get ready to indulge in chocolatey decadence. SO YUM!
If you love these chocolate truffles be sure to upload a photo in the comment section below or leave a rating. Hope you enjoy!