These Street Corn Nachos take classic Mexican Elote and layer the corn onto loaded nachos! Crispy chips are all dressed up with seasoned corn kernels, cheese, and a tangy cream sauce. Perfect for Cinco de Mayo parties or game day snacking!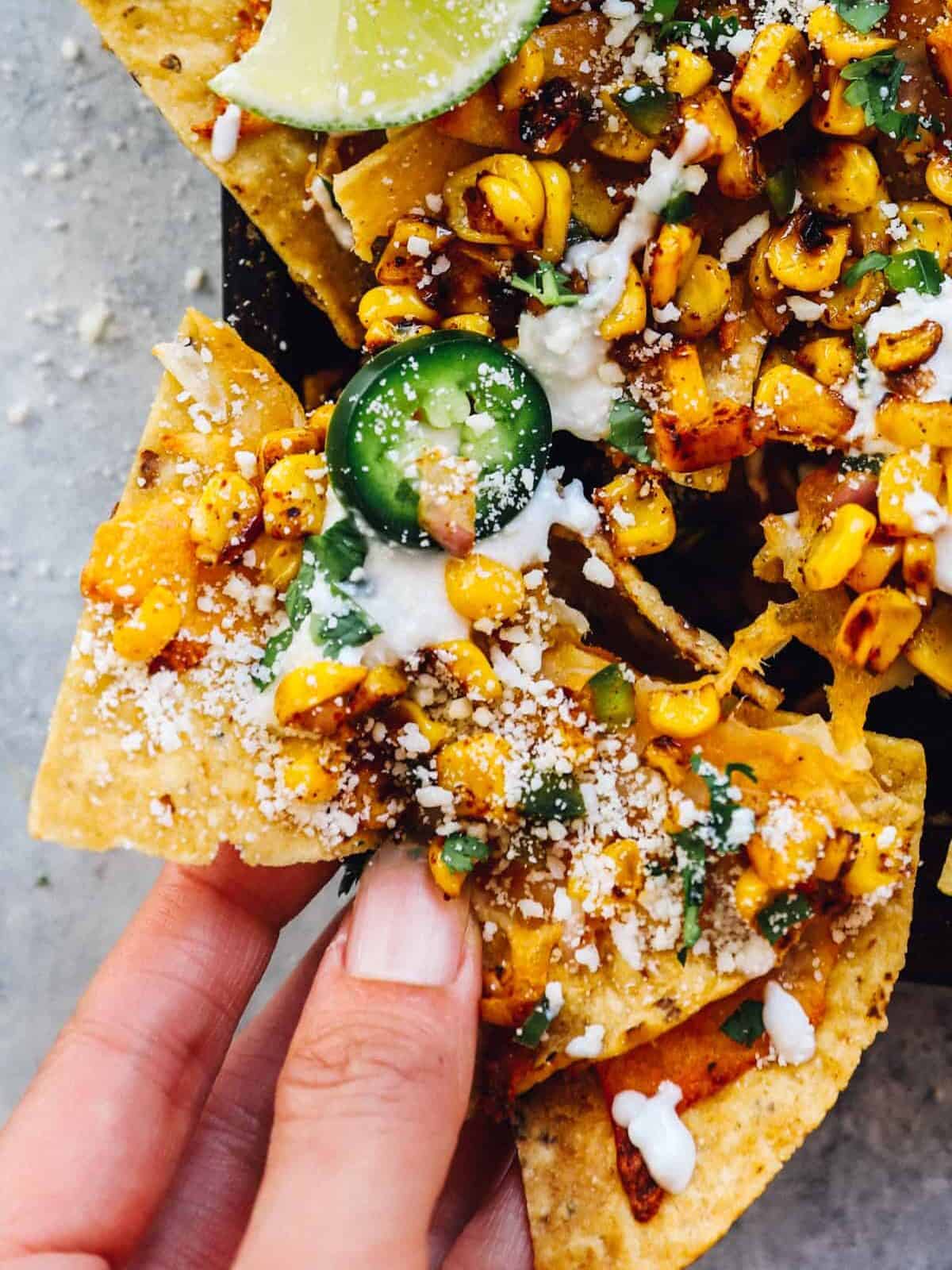 What's in Mexican Street Corn Nachos
Corn kernels are toasted and seasoned with spices, then layered onto crunchy nachos with cheese and creamy, zesty lime sauce. An appetizer that's perfect for parties, game day, and Cinco de Mayo!
Corn Kernels: Fresh, canned, or frozen corn all works. Drain canned corn, and thaw frozen corn.
Tortilla Chips: Use your favorite brand of chips, or make these homemade tortilla chips. I recommend using thicker chips that will hold up better under the heavy toppings.
Cotija Cheese: Cotija is a crumbly Mexican cheese with a salty and milky flavor. "Young" cotija cheese has been described as tasting similar to a mild feta, while aged cotija tastes more like Parmesan.
Red Onion: I don't recommend replacing this bold onion with any other type. However, if you're really not a red onion fan, use chopped green onions instead.
Jalapeño Peppers: Want to really turn up the heat? Replace these with serrano or habanero peppers!
Garlic: Freshly minced garlic yields much better flavor than pre-minced.
Shredded Mexican Cheese: Arguably the best part of any nacho recipe, right?
Mayonnaise: Try my homemade mayonnaise recipe for the best results!
Sour Cream: You can use low-fat sour cream if you'd like, but it may yield less creamy results.
Lime Juice: Freshly squeezed lime juice is what you should be using – nothing from concentrate!
Chili Powder: This adds a depth to the savory flavor with just a touch of spice.
Fresh Cilantro: You can omit this if you're not a cilantro fan! Leave it out entirely or swap it with parsley.
Salt: I prefer using kosher (coarse) salt over iodized.
Olive Oil: You can swap this with avocado oil if preferred.
Pro Tip: Be sure to take the time to char the corn; this is where a lot of the authentic elote flavor comes from.
Variations to Try
There are quite a few ways to customize these street corn nachos! For a milder dish, remove the seeds and ribs of the jalapeños. That's where a lot of the heat in the pepper is. If you can't find cotija cheese, use queso fresco or feta instead.
Also, you can replace the mayo and/or sour cream with plain Greek yogurt for a healthier swap! If you want to bulk up with some protein, add shredded chicken or beef, black beans or refried beans, or sangria pork.
What is street corn?
Street corn, or elote, is a popular street food in Mexico. It consists of grilled corn on the cob smothered in a tangy sauce made up of mayonnaise, sour cream, and lime juice and topped with cotija cheese, chili powder, and fresh cilantro.
What can I use instead of cotija?
You can use crumbled feta cheese.
Are street corn nachos spicy?
Street corn is not exceptionally spicy, but these nachos amp up the spice with the help of jalapeños. If you're not a fan of spicy, remove the ribs and seeds of the jalapeños for a milder flavor.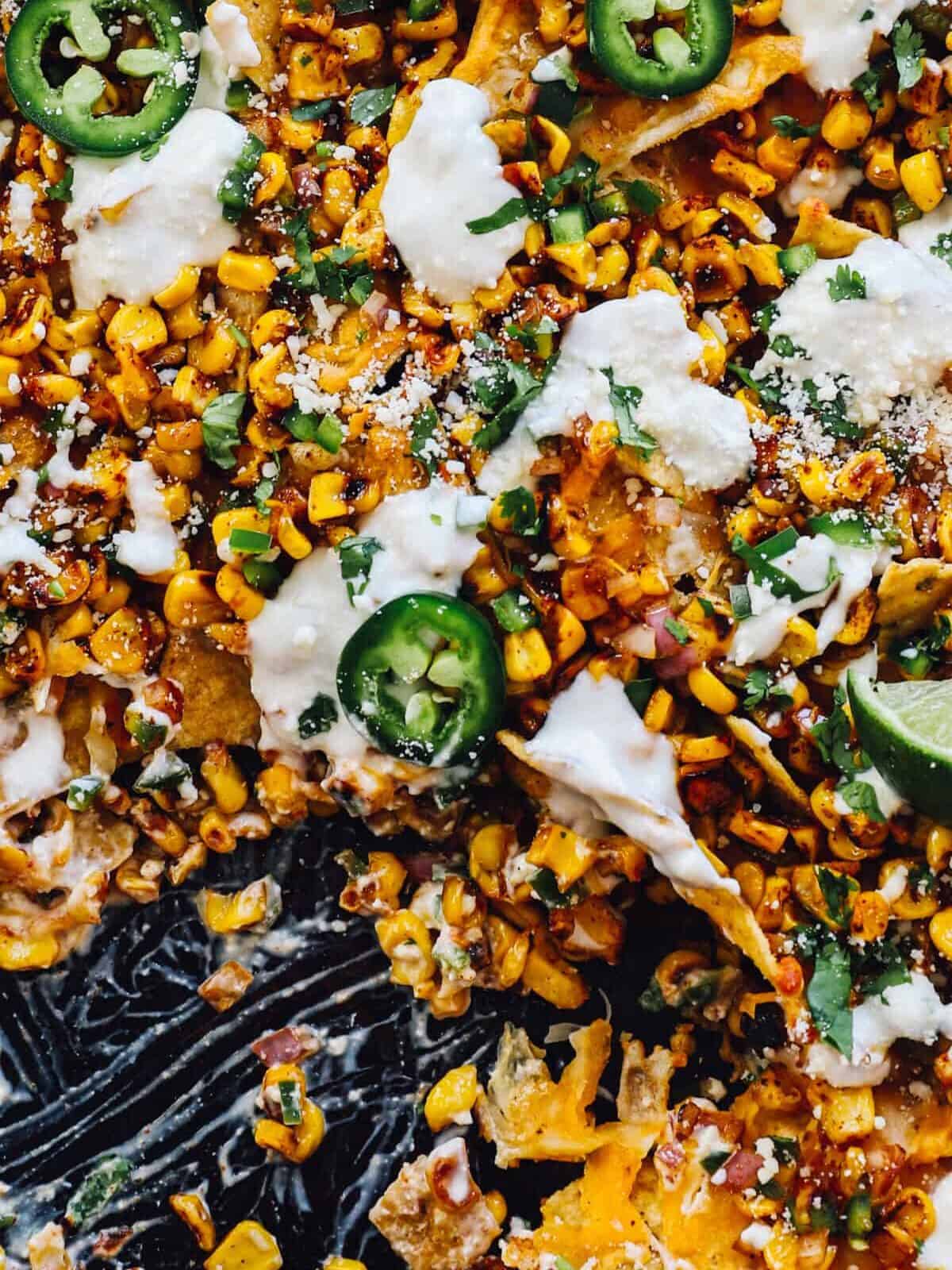 How to Store and Reheat Loaded Nachos
Store leftover street corn nachos in an airtight container in the refrigerator for up to 3 days. I recommend removing any especially wet toppings, or toppings you would like to stay cold when reheating, and placing them in a separate container. To reheat, place the nachos on a sheet pan in a 350°F oven for 10-15 minutes. Add any cold toppings after reheating. I do not recommend freezing these nachos.
What to Serve with Street Corn Nachos
These nachos are a party in a sheet pan. Wash them down with margaritas and follow them up with something sweet like churros at your Cinco de Mayo party!