Skip the lackluster store bought stuff and make Homemade Pizza Dough instead! It's so soft, easy to make, and perfect for enjoying with all of your favorite pizza toppings. The best part is that you only need seven simple ingredients to make this dough!
Homemade Pizza Crust
Have you ever wanted to toss pizza dough around like they do in so many movies? Well, I can't promise you won't drop it…but I can guarantee that if you use this recipe, it'll turn out tasty every time!
It's not only fun to make your own crust, it's also delicious! Homemade Pizza Dough is oh so soft on the inside and crusty on the outside. The flavor is neutral, so it pairs well with whatever toppings and seasonings you choose. But it can easily be tossed with something like garlic powder or dried basil to add a little extra touch of flavor directly into the crust.
Next time you see that box of frozen or refrigerated pizza dough at the store, pass it and pick up the ingredients for this homemade dough instead. In fact, you may not even need to do that, as all of these simple ingredients are likely in your kitchen right now.
Why You'll Love this Homemade Pizza Dough Recipe:
BUDGET FRIENDLY: Only 7 simple ingredients (all pantry staples) are required to make this Homemade Pizza Dough! Now that's budget friendly.
BRAG WORTHY: It's always worth bragging about when you can say that your entire pizza is made from scratch!
DELICIOUS: From the texture to the flavor, this dough is perfectly delicious!
Whether you prefer your pizza with red sauce or like to change things up with a creamy white sauce, you'll love smothering either one onto Homemade Pizza Dough!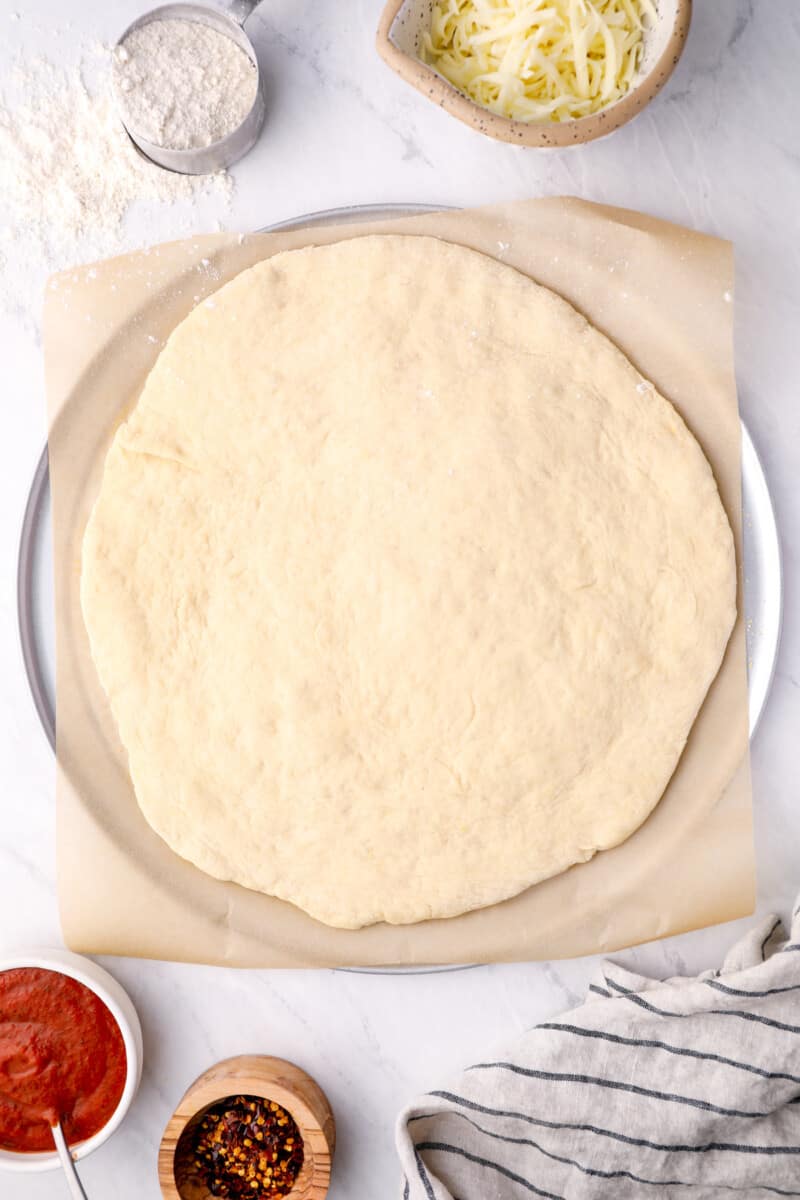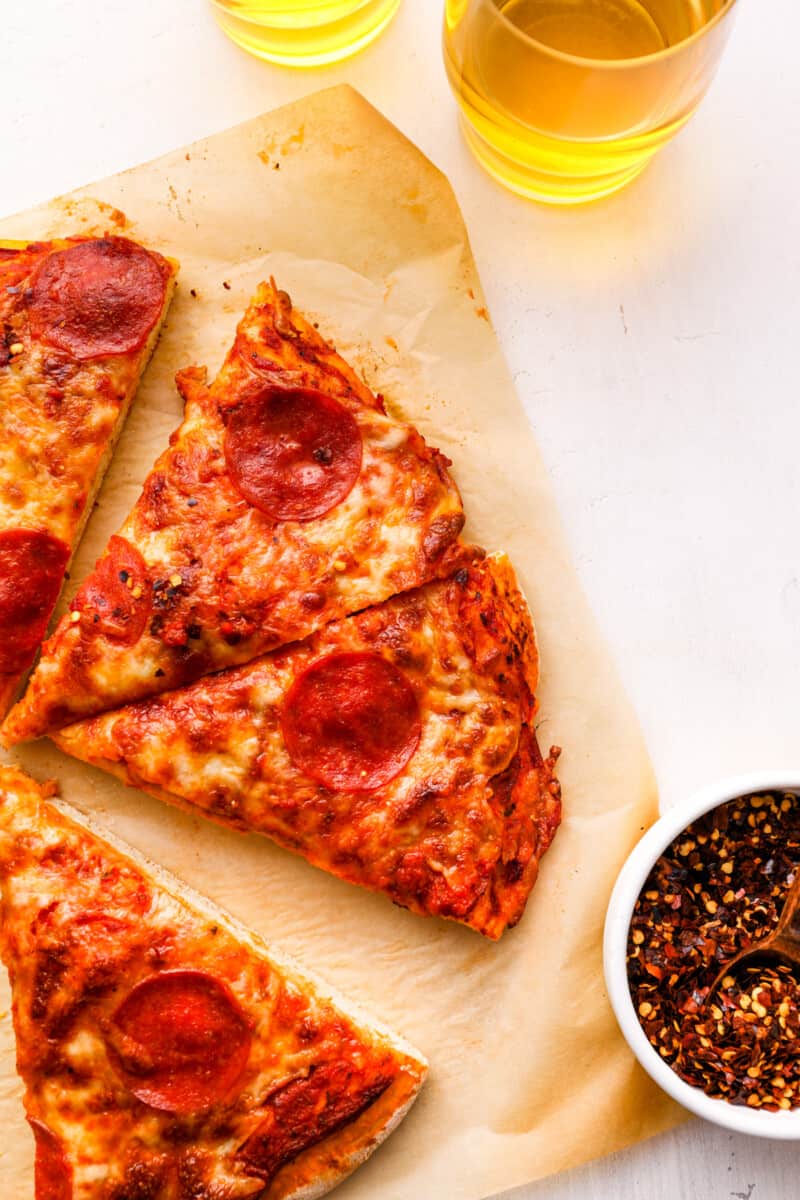 How to Make Homemade Pizza Dough
You can jump to the recipe card for full ingredients & instructions!
Combine the flour, yeast, sugar, and salt.
Add in the olive oil and water.
Let the dough rise.
Roll the dough into a circle.
Bake.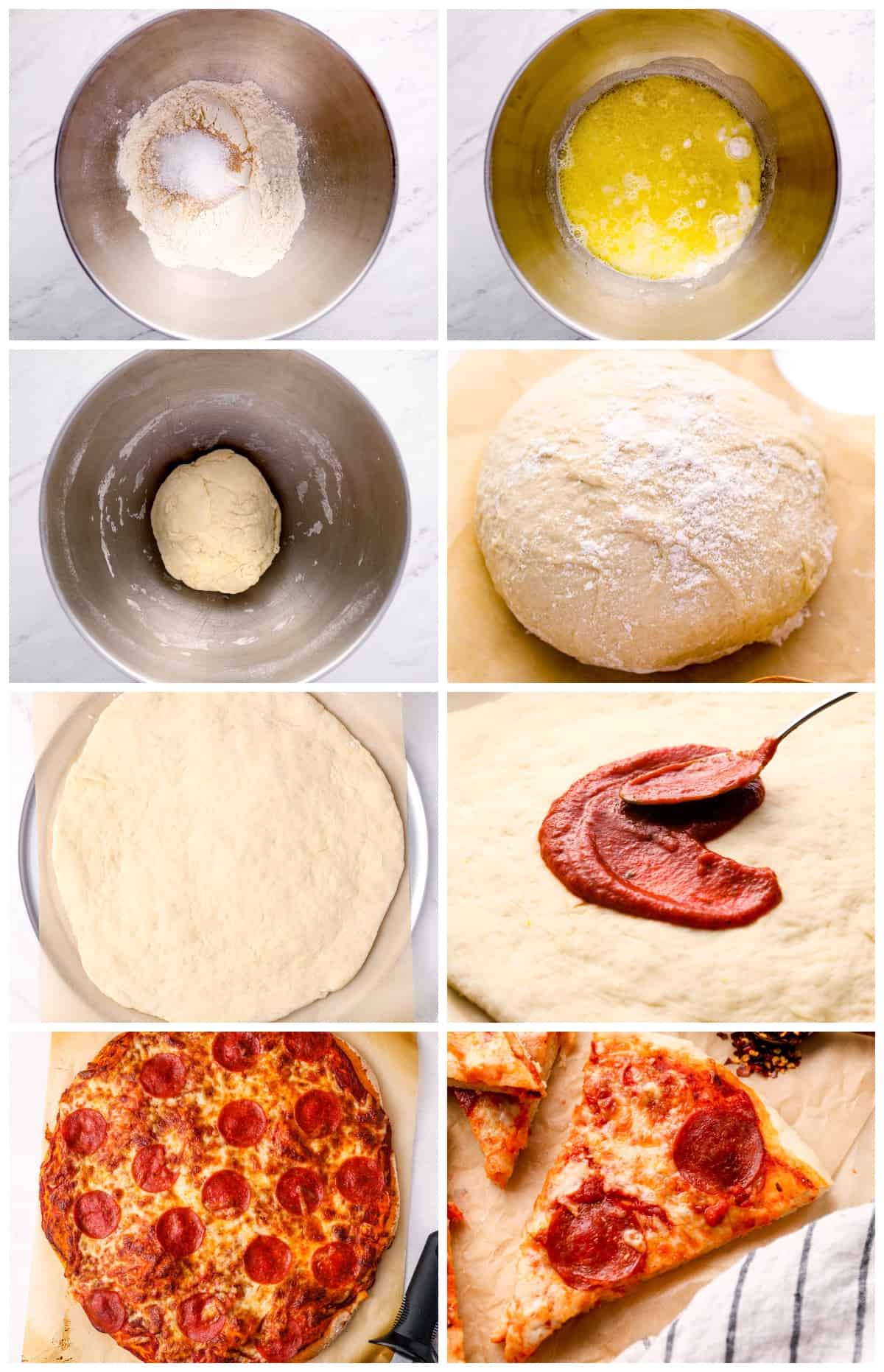 What size pizza can I make with this pizza dough?
This pizza dough recipe will make one 12-inch pizza. You can easily double the recipe to make one larger pizza or two 12-inch pizzas.
What is the best flour for homemade pizza dough?
This recipe was designed with ease in mind, so you can simply use all-purpose flour. For a chewier crust, use bread flour instead.
Can I make this pizza dough gluten-free?
While I have not personally tried this, I recommend using gluten-free 1:1 baking flour in place of the all-purpose flour.
Do I need to bloom the yeast for homemade pizza dough?
Nope! We're using instant yeast here, which can be mixed up immediately without the need to bloom in warm water first. I still recommend using warm water in this recipe in order to keep the dough warm enough to rise properly.
Can I flavor this pizza dough?
Yes! Feel free to add ¼ teaspoon of garlic powder or dried basil leaves in with the flour.
Why didn't my pizza dough rise?
If your pizza dough did not rise properly, your yeast may be expired, the water may have been too hot, or your kitchen may be too cold. Check the expiration date on your yeast and discard if it is out of date. Be sure to use lukewarm water (105-110°F) and no hotter; otherwise, you could kill the yeast. Finally, be sure your kitchen is not too cold or drafty. If your kitchen seems cold, let the dough proof in a turned-off oven with the light on.
Making your own Homemade Pizza Dough is such a simple way to elevate your everyday pizza. Use whatever sauce, cheese, or toppings you like to finish it off, and you'll have the best pizza night ever!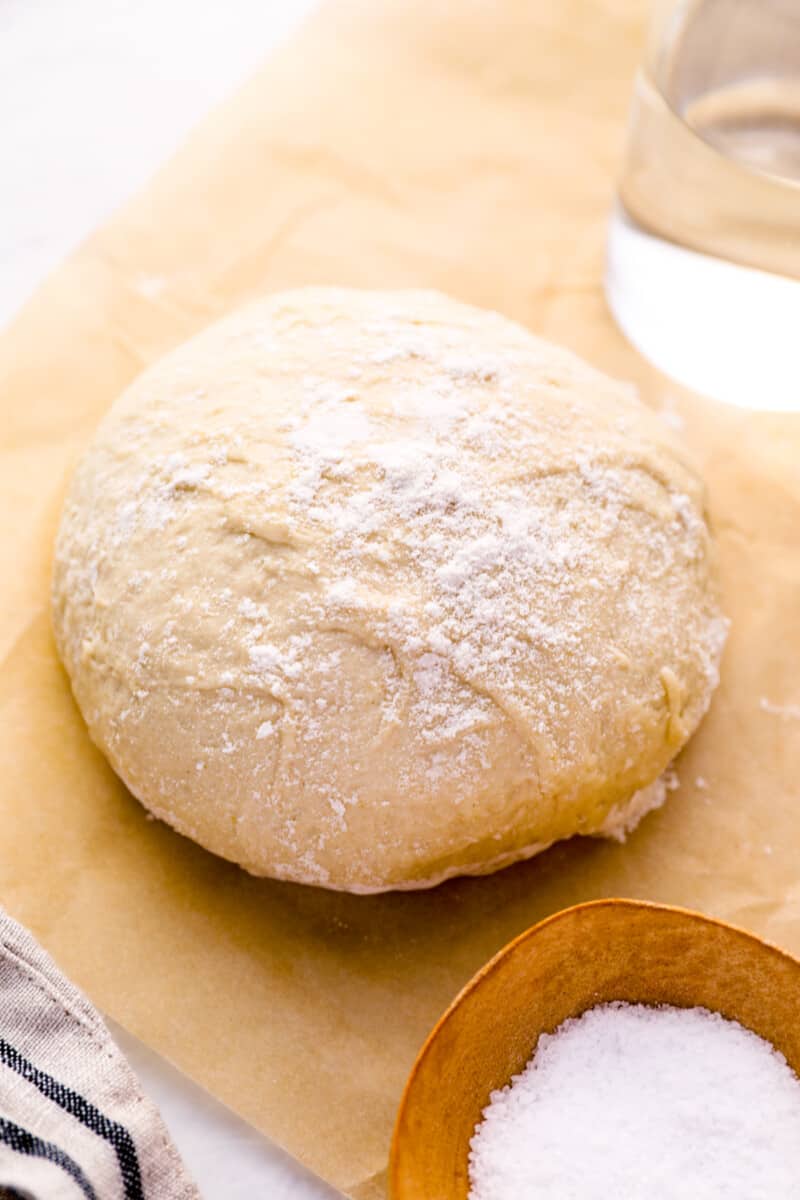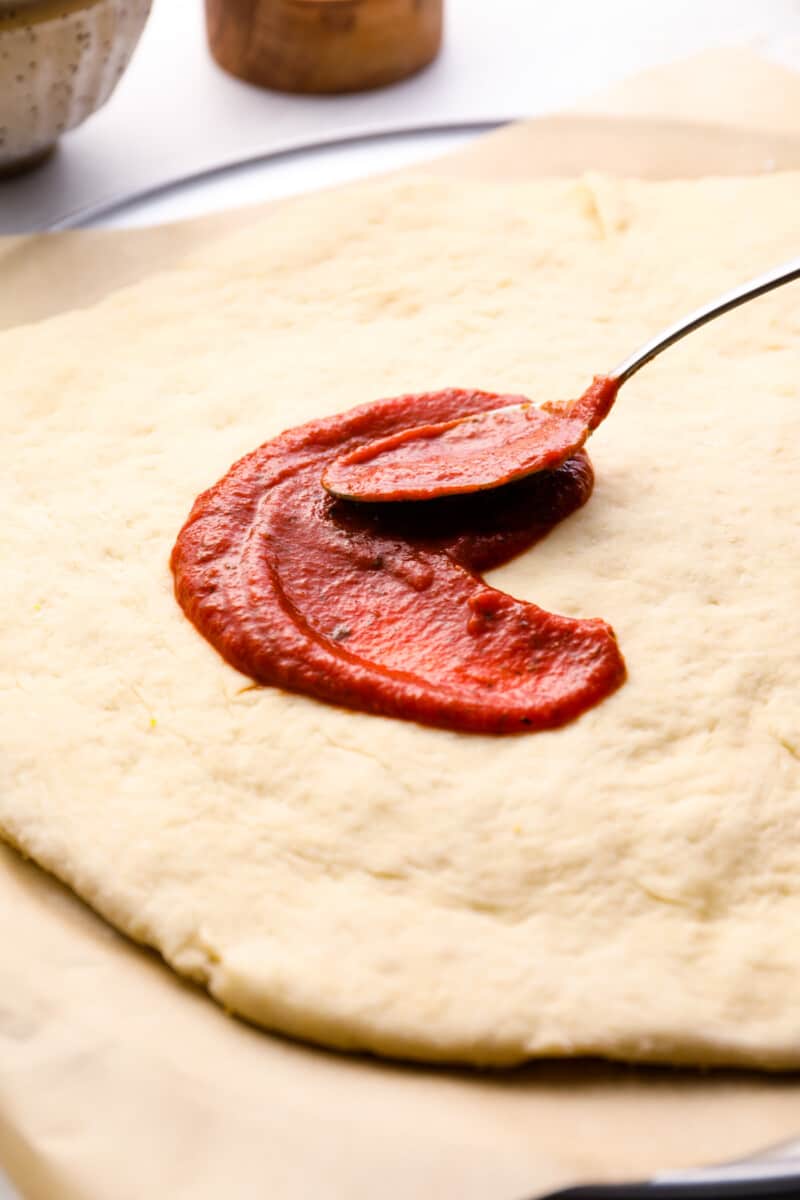 Make Ahead Instructions
This dough can be made up to 1 day in advance of when you plan to bake it. Simply place the dough ball into the refrigerator covered with plastic wrap overnight instead of letting it rise on the counter. Remove the dough ball from the refrigerator 30 minutes before rolling it out.
Storage Instructions
Store the unbaked pizza dough ball tightly wrapped in plastic wrap in the refrigerator for up to 1 day. Once topped and baked, homemade pizza will keep in an airtight container in the refrigerator for up to 3 days.
Freezing Instructions
Freeze the unbaked pizza dough ball tightly wrapped in 2 layers of plastic wrap for up to 3 months. Let thaw overnight in the refrigerator before using.
Alternatively, you can shape and par-bake the crust before freezing. To do this, simply bake the pizza without any toppings in a 425°F oven for 5 minutes. Let the crust cool, then wrap tightly in plastic wrap and freeze for up to 3 months. Let thaw overnight in the refrigerator before topping and baking.
You can also fully assemble a pizza and freeze it before baking. To do this, fully assemble the pizza, then freeze on a lined baking sheet until solid, about 1-2 hours. Tightly wrap in plastic wrap and store for up to 2 months. Let thaw overnight in the refrigerator before baking.
Substitutions
You can use bread flour in place of the all-purpose for a chewier pizza crust.
You can substitute up to ½ cup of all-purpose flour for whole wheat flour, if desired.
You can use honey in place of the sugar.
You can use any neutral-tasting oil in place of the olive oil.
Pizza Ideas
This dough is a great all-purpose pizza dough. You can add just about any toppings you like in order to make a pizza that satisfies.
Use your favorite store-bought or homemade marinara sauce.
Try topping your pizza with pesto or barbecue sauce.
Use your favorite melting cheese, such as mozzarella, cheddar, or provolone.
Add your favorite veggies, such as mushrooms, peppers, onions, broccoli, or eggplant.
Add some meats, like pepperoni, sausage, bacon, or chicken.
Once baked, top your pizza with fresh chopped herbs, such as basil, rosemary, or oregano.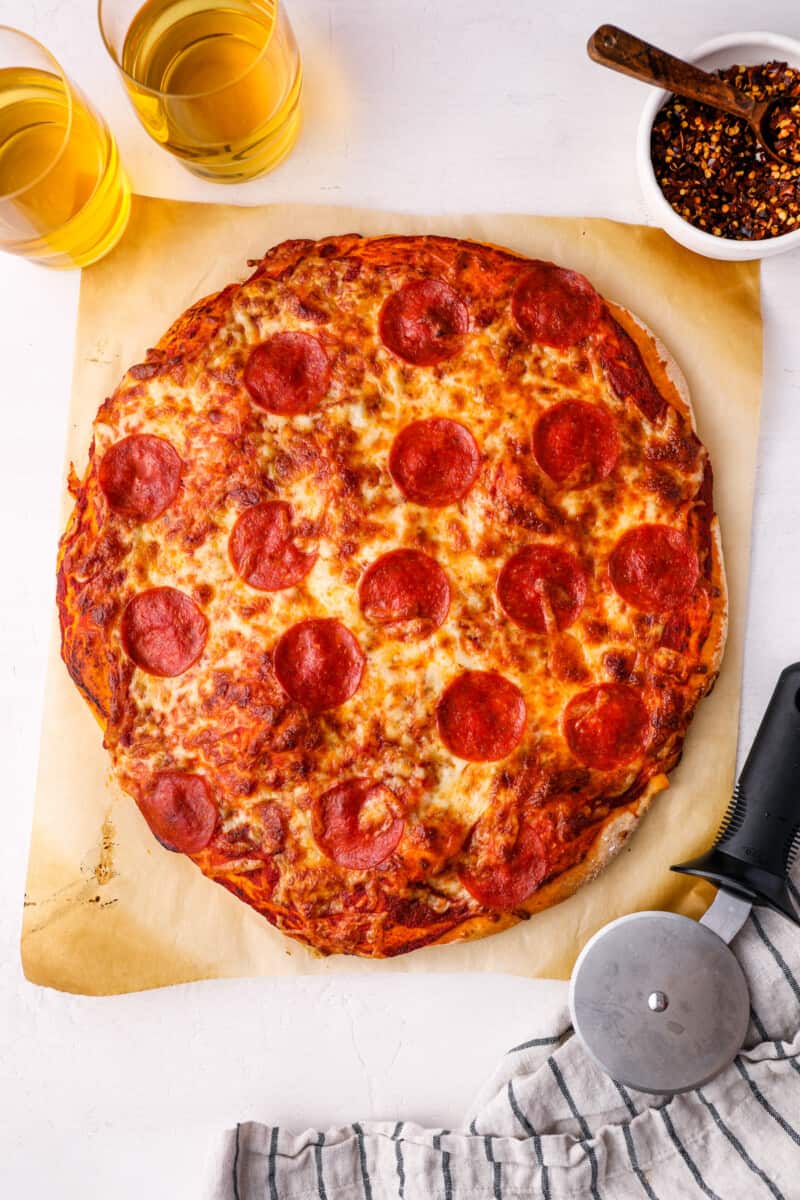 Once you master making your own simple (and delicious as can be) Homemade Pizza Dough, you'll feel like a real home chef! With only 7 ingredients and easy to follow steps, there's no reason you shouldn't make your pizzas the best that they can be with this tried and true dough recipe.
If you make this recipe be sure to upload a photo in the comment section below or leave a rating. Enjoy! You can also jump to recipe.